Who doesn't love a party? I sure love a party, especially a big party. From hosting events myself to attending formal events, there is nothing more pleasing than gathering with other people and celebrating. We recently traveled out to Napa Valley, California to attend the wedding celebration of our dearest NYC friends – Miriam and Alex. The wedding was hosted at the famous Meadowood Hotel and the setting was just exquisite. From the natural beauty of the surroundings, to the charming allure of the hotel property covered with detailed florals and fine event design touches – this wedding was fit for a King and Queen!
We started on the croquet lawn for an intimate ceremony involving the exchange of vows, a few special readings and a kiss to seal the deal. And yes, there were some water works the moment I saw my best friend come down the aisle in her custom Vera Wang gown – boy oh boy, was she breathtaking. I started bawling (of joy of course), the moment I saw her. So much for all the time I spent doing my make-up, after watching Miriam walk down the aisle my face was smothered with tears of happiness for such a special friend that I have grown to love over the last decade. I am just so proud of her accomplishments and so deeply happy that she found such an amazing man to call a husband. There's nothing better, and more emotional, than seeing a girlfriend's dream come true.
Immediately following the ceremony, a line of servers waited militantly along the piercing green lawn holding freshly shaken and chilled custom cocktails. The bride and groom had spent time prior to the wedding taste-testing cocktail concoctions to ensure each signature drink would be enjoyed by their guests. They are a couple who appreciates fine food and strong drinks so they wanted to be sure all guests were indulged. As I glanced over at the servers awaiting my grab, I chuckled to myself with a smirk, "indulge this lady all night long," I thought. Without a cloud in the sky and the blazing sun above us, I snatched a "MirPops" fruity adult beverage and made my way to the wedding dinner. Scroll down for more.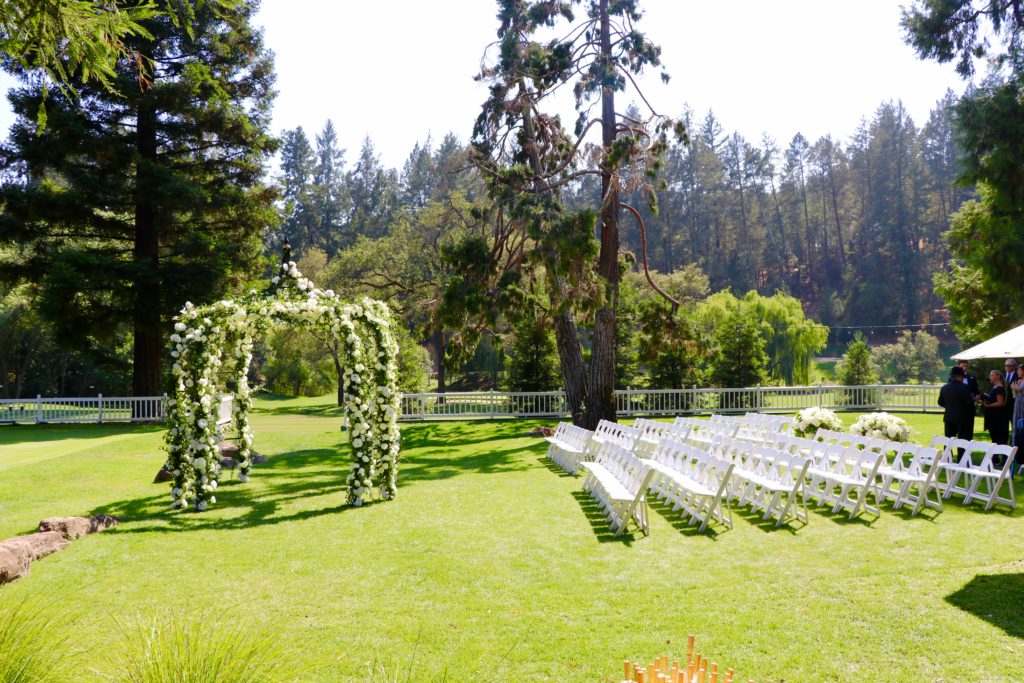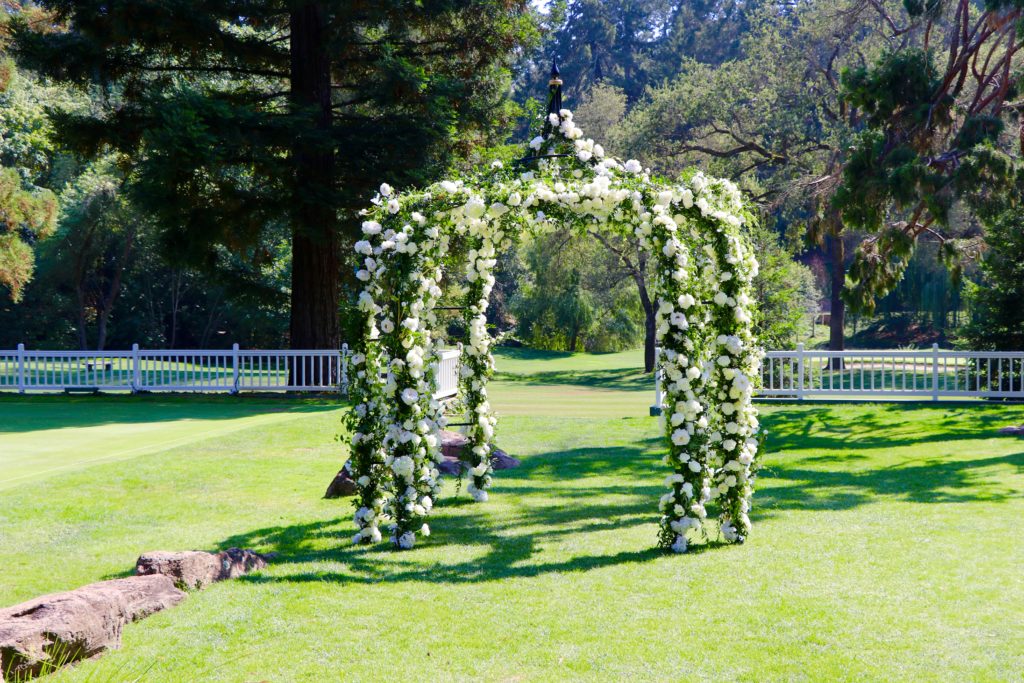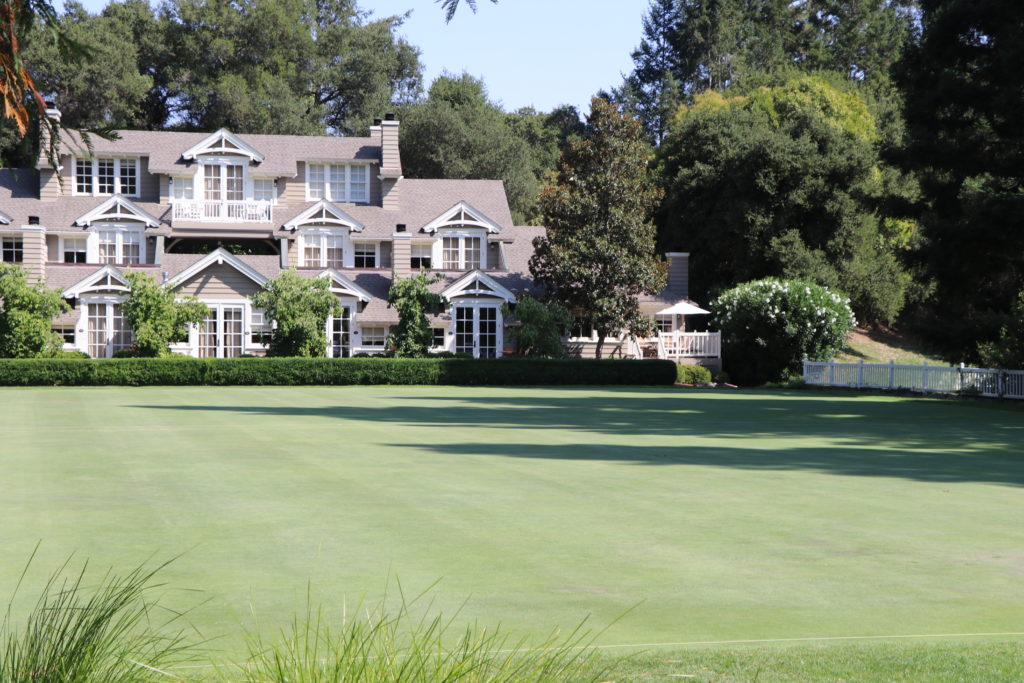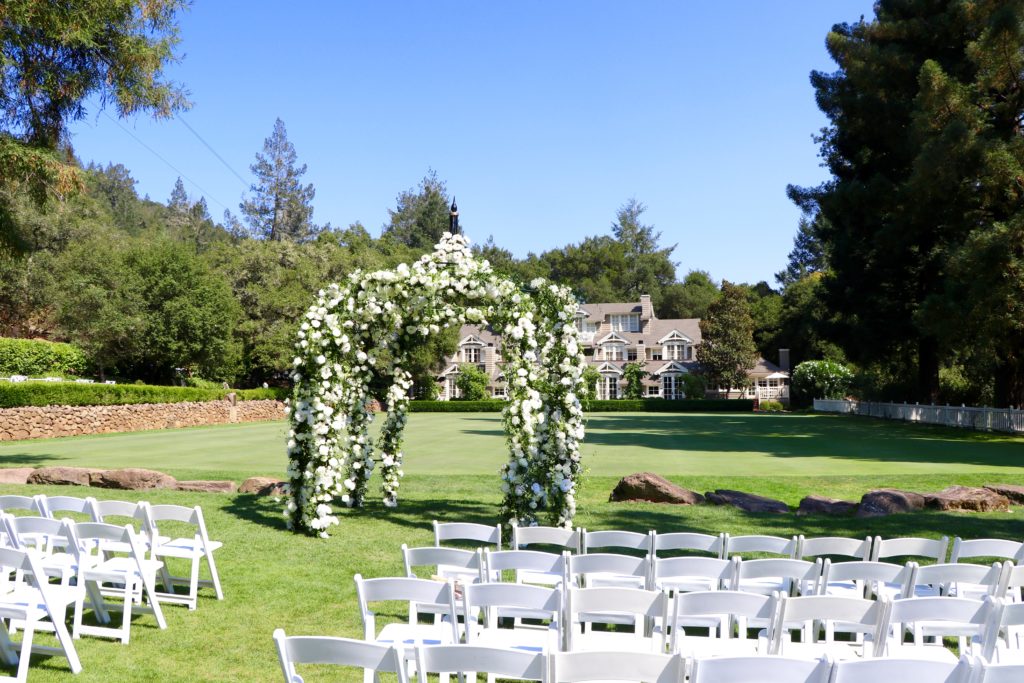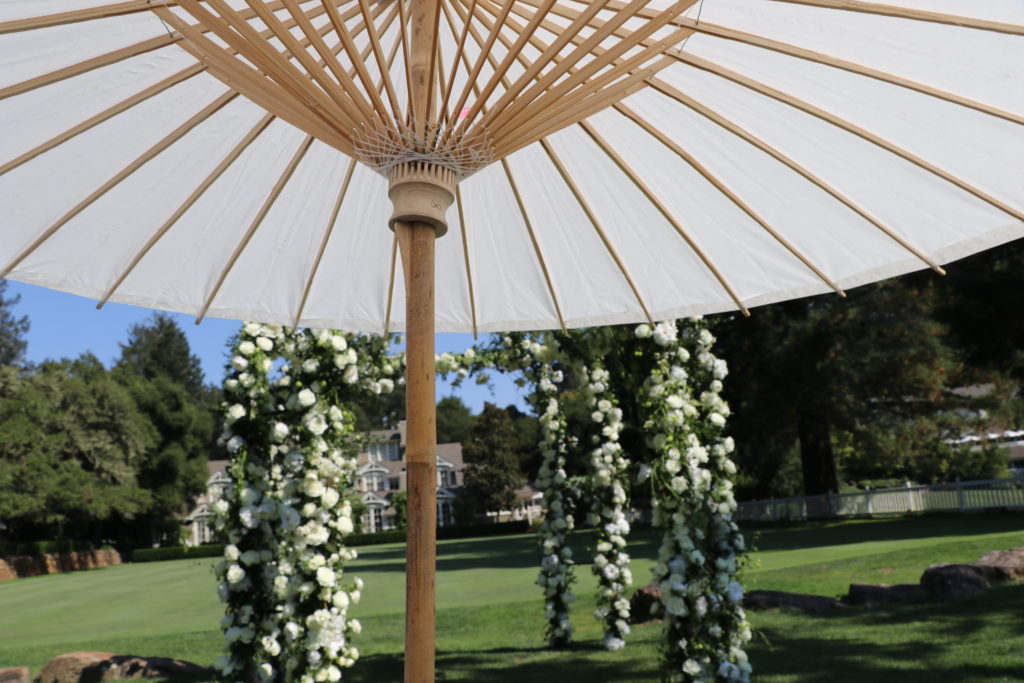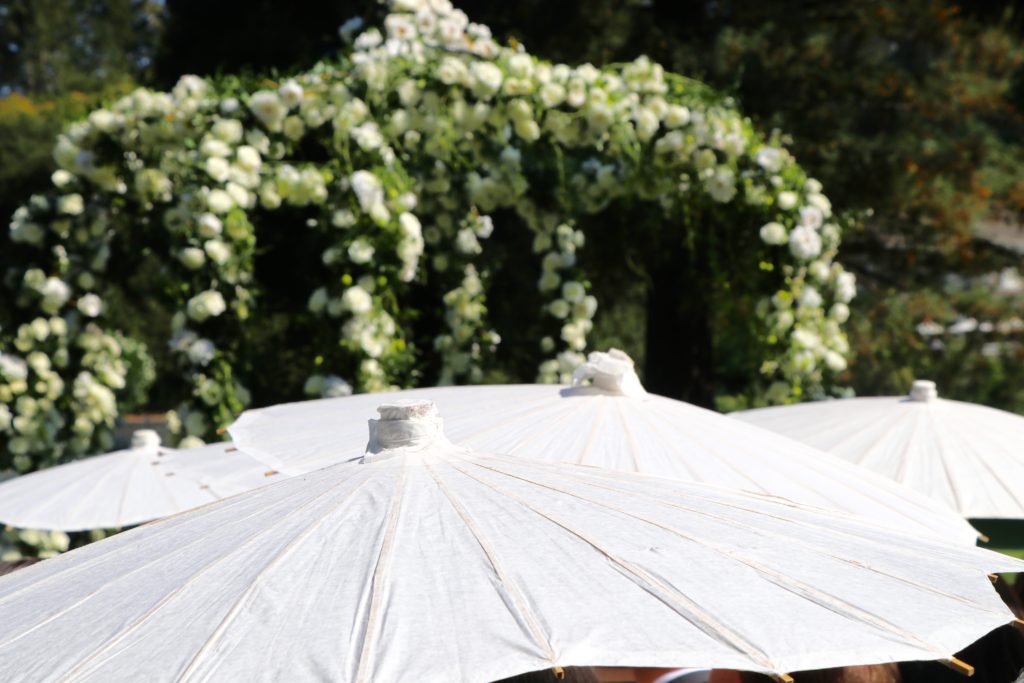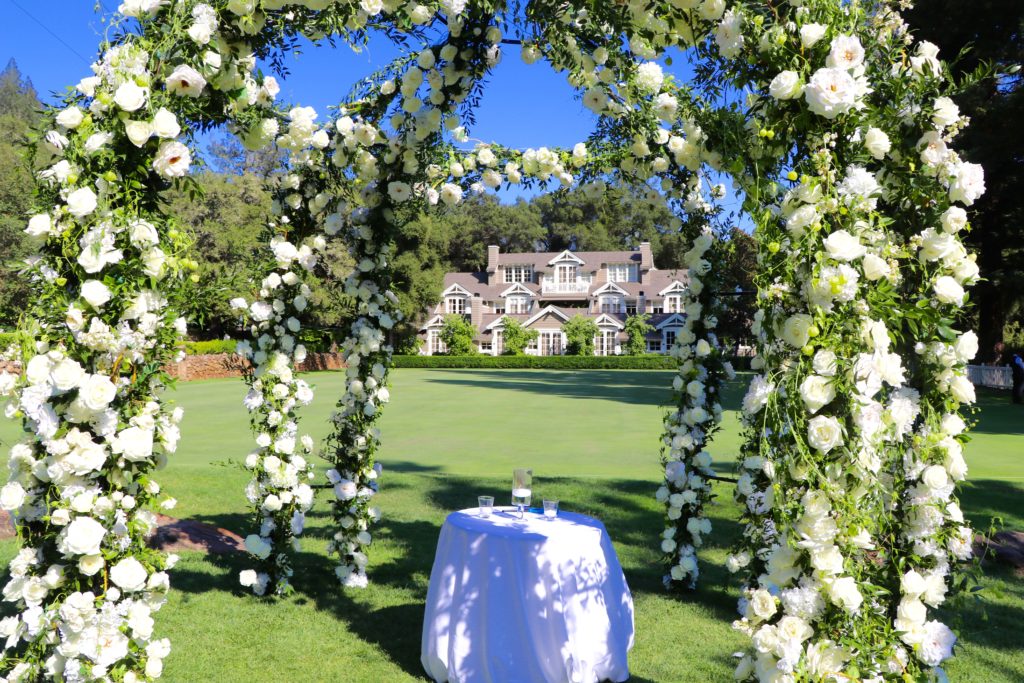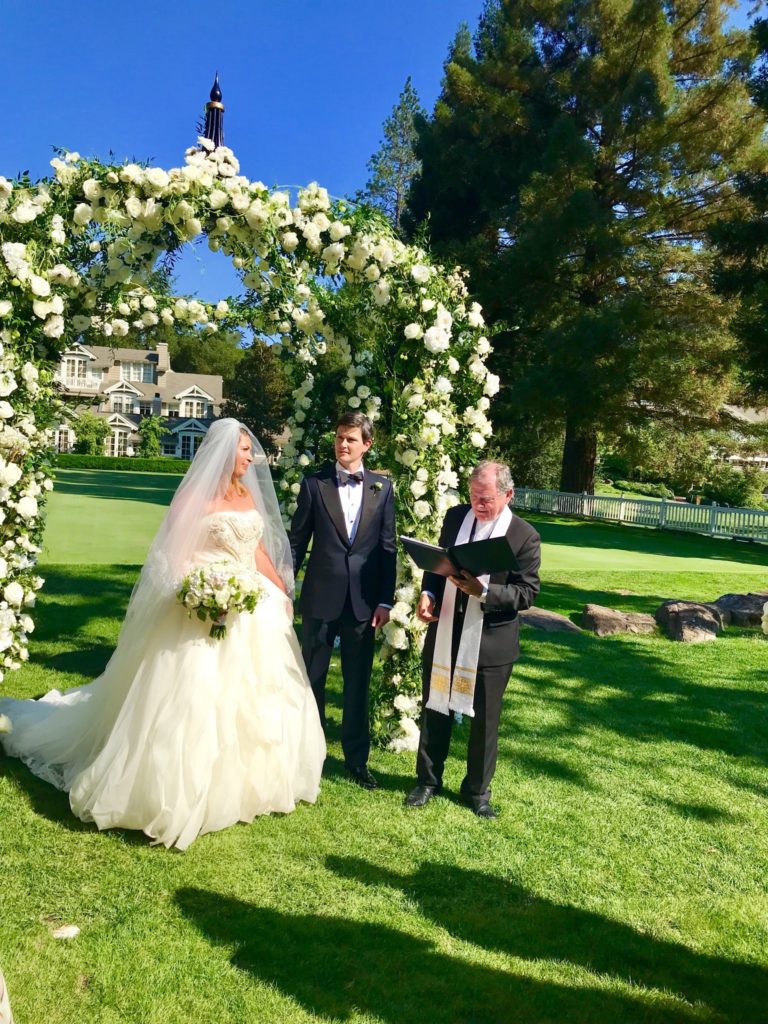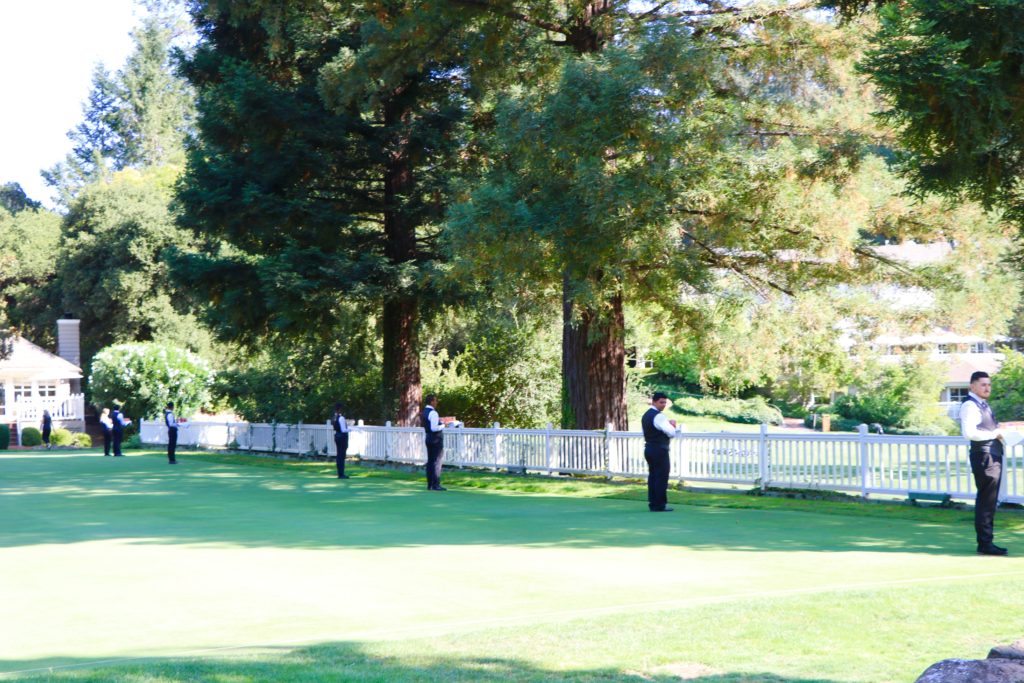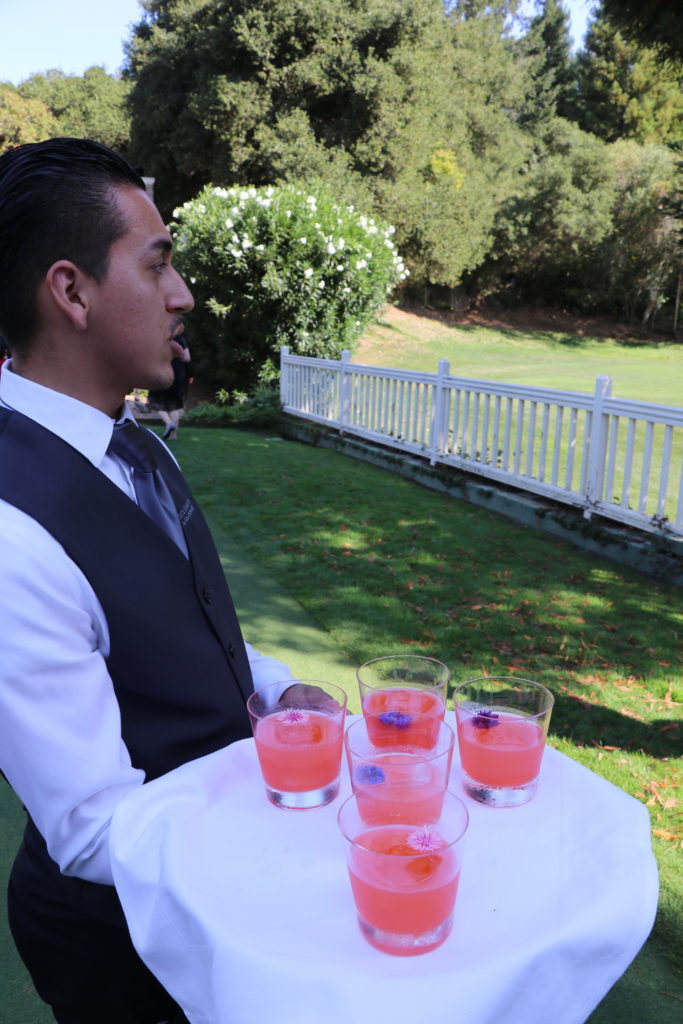 With parasol and cold cocktail in hand, we arrived to the "secret garden" for even more surprises. Oozing with fresh hydrangea and white roses, the scene was quintessential California glamour. While the flower arrangements were simple in color and placement, they created a "wow factor" juxtaposed against the natural wine country backdrop – sometimes it's best to just go with the simpler classic option for the best effect. Each table was adorned with luxury linens and customized place settings beneath lanterns and lights hung from above.
At my place setting, which was found by a pretty caligrpahy place card, I was absolutely delighted with the foodie friendly menu. We started with a light summer citris salad, then enjoyed a chilled lobster avocado appetizer, followed by either filet mignon or lobster served in a truffle risotto for the main course.  Each phase of the decadent meal was paired with a carefully selected Napa wine for a savory experience.
Sitting at the head table with all of our close friends made for one of the happiest dining experiences imaginable. We laughed and cried through several intimate toasts, roasts and cheers for the happily married couple. The highlight of my night was looking over to the head of the table to see how happy Miriam and Alex looked – they deserved the most amazing wedding day ever, and it was nothing short of just that.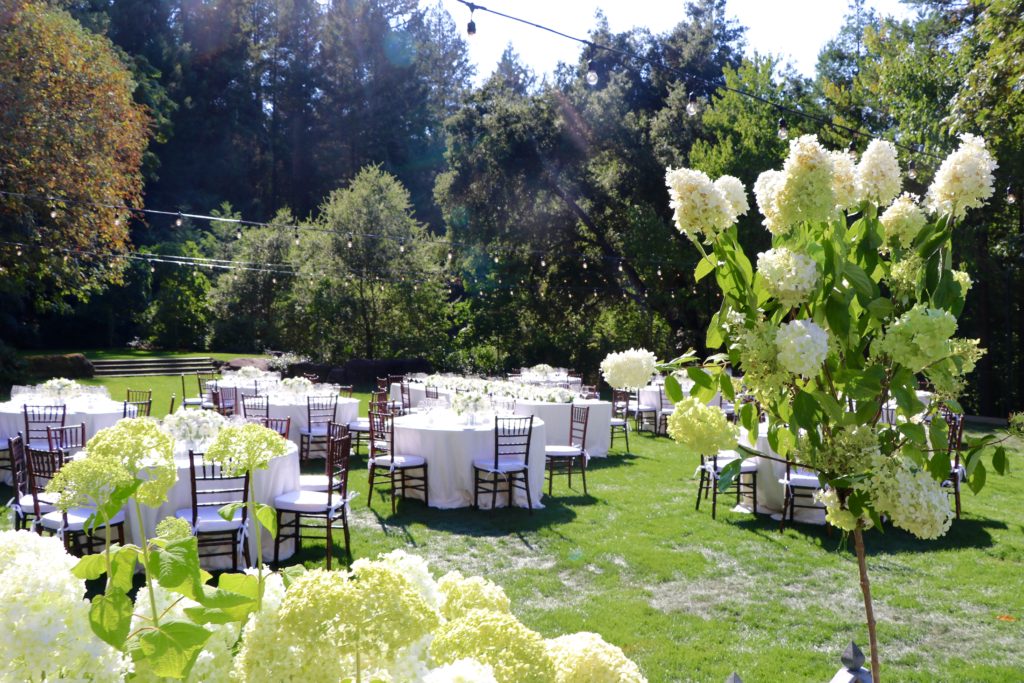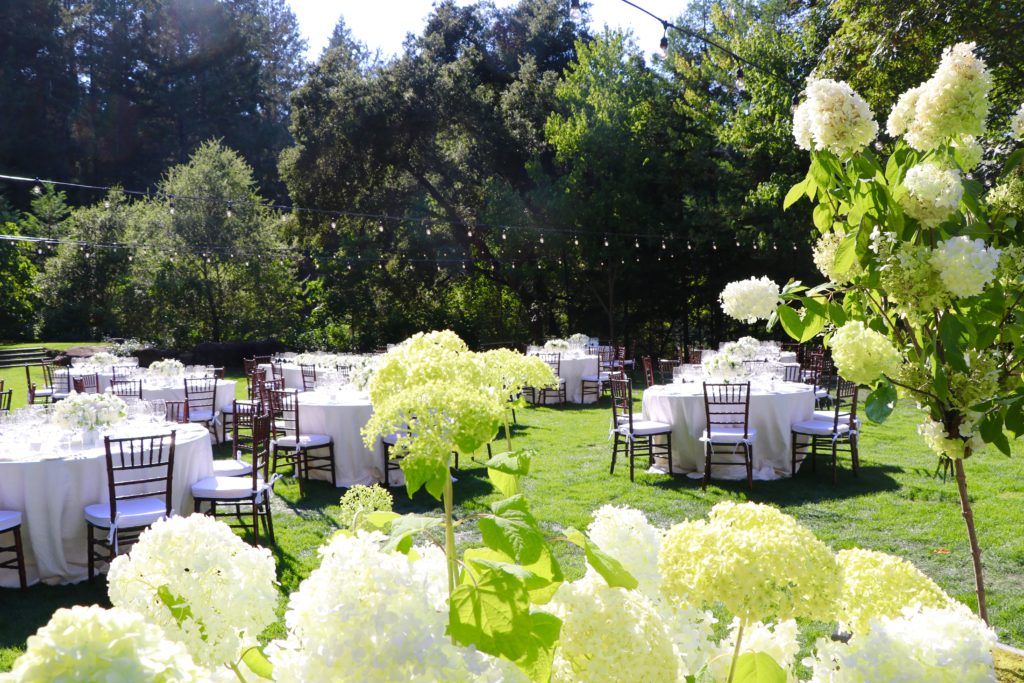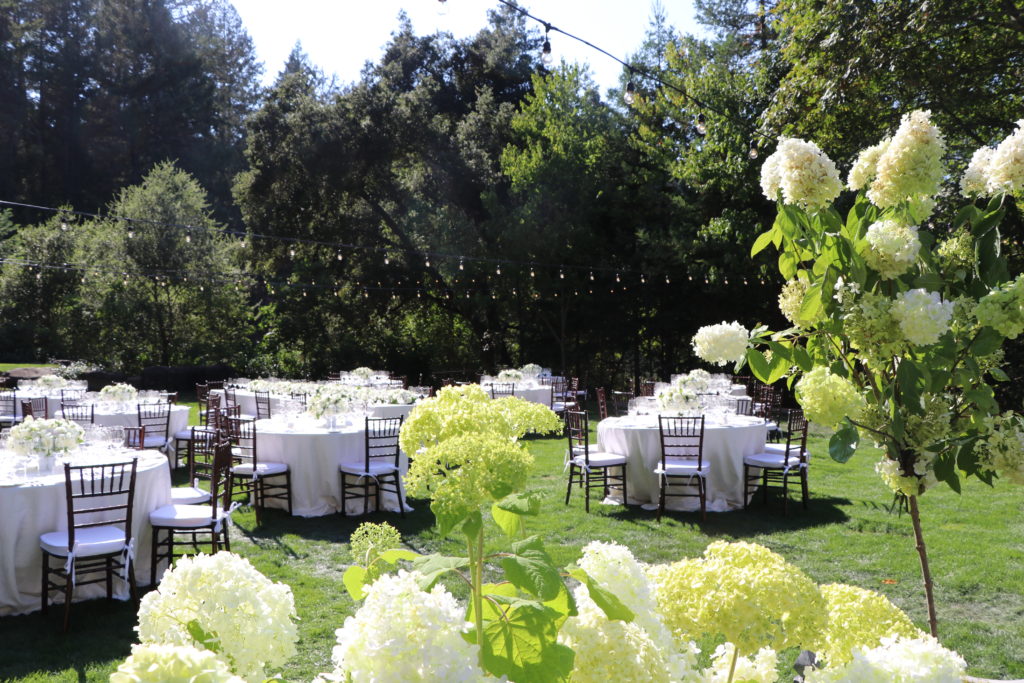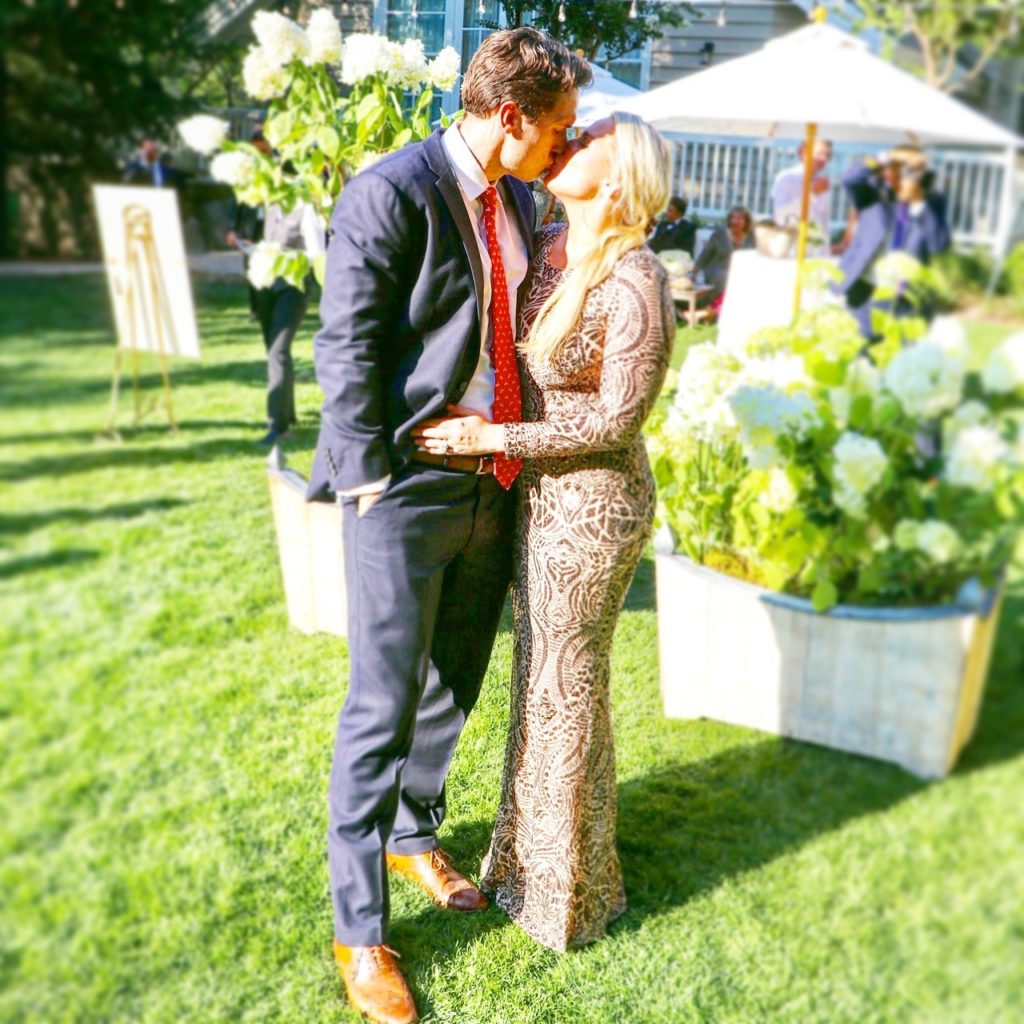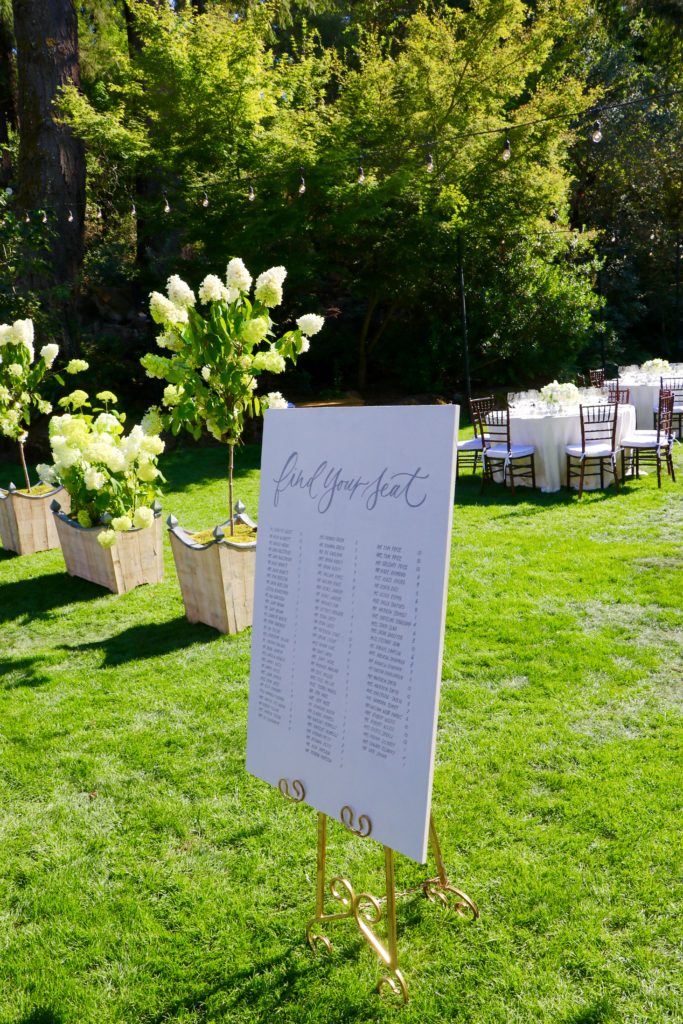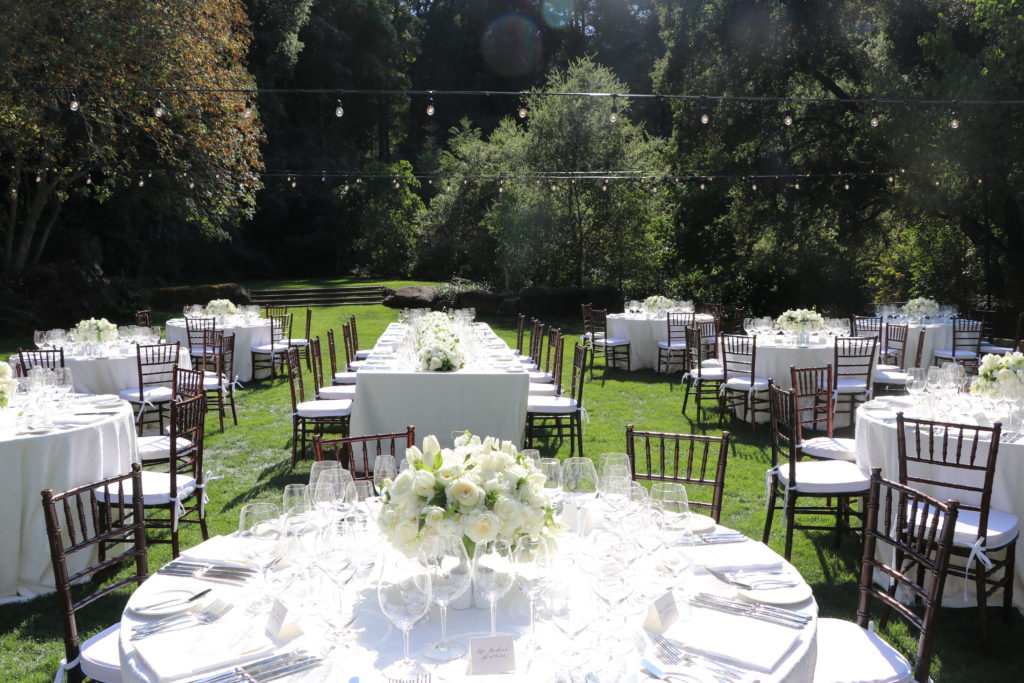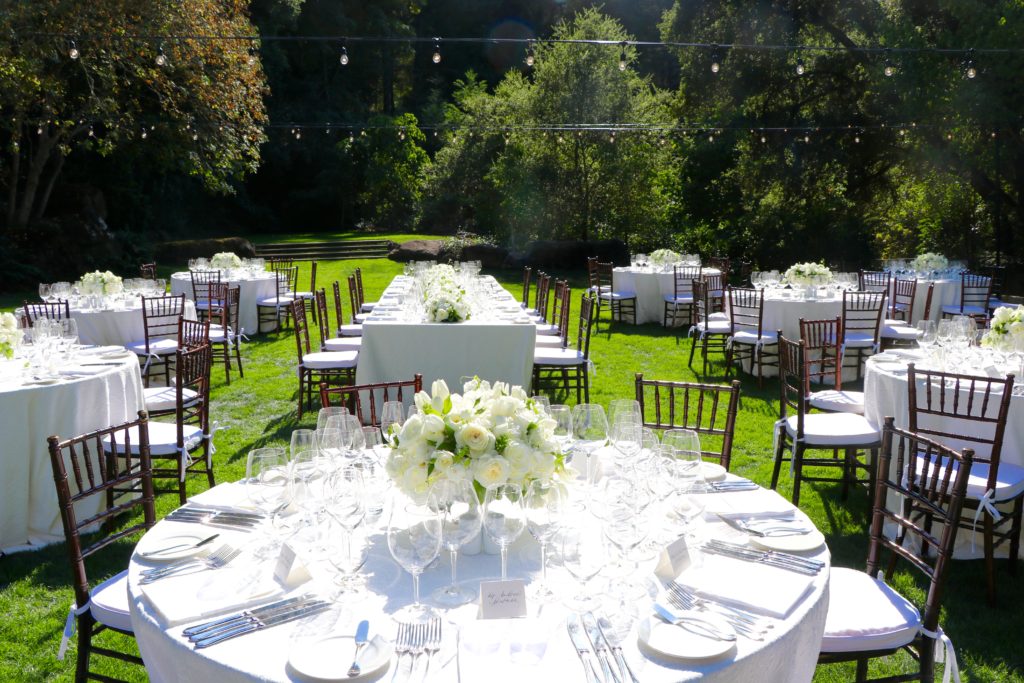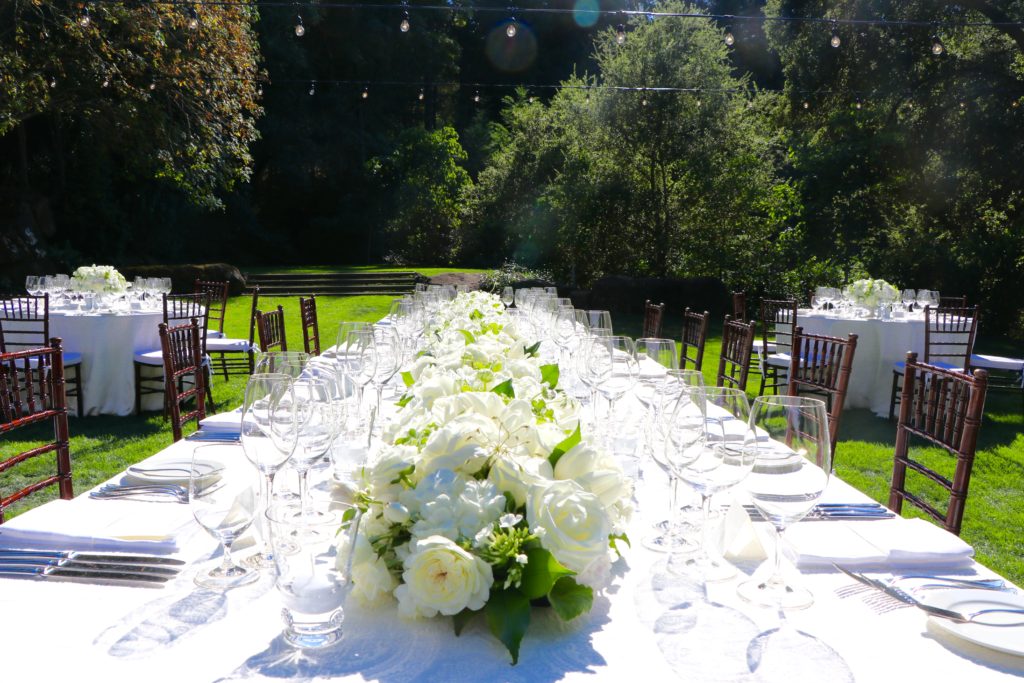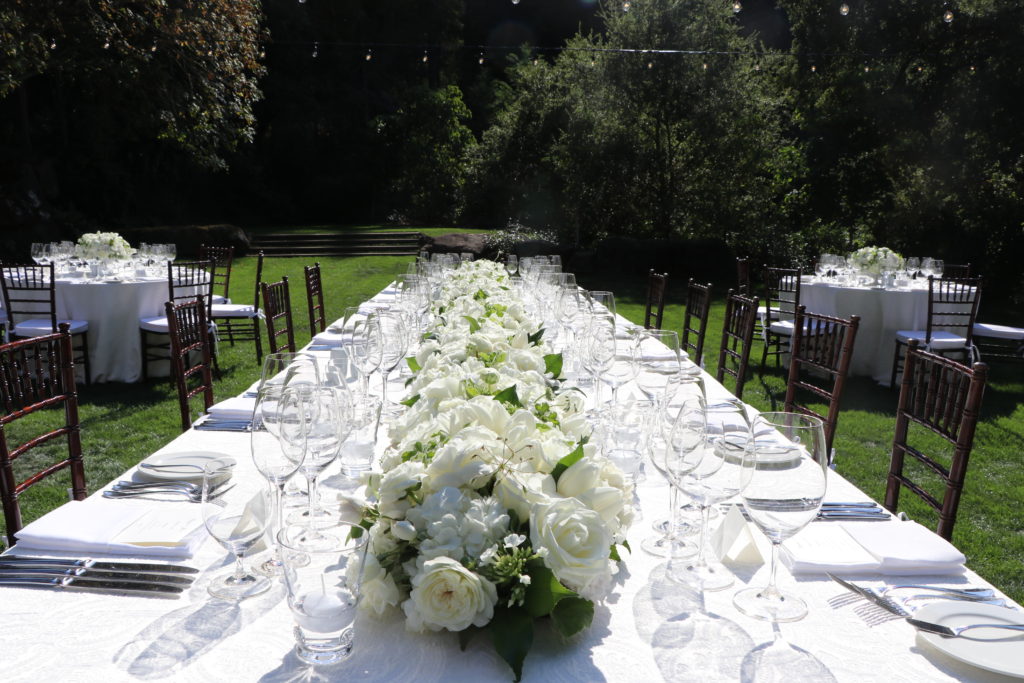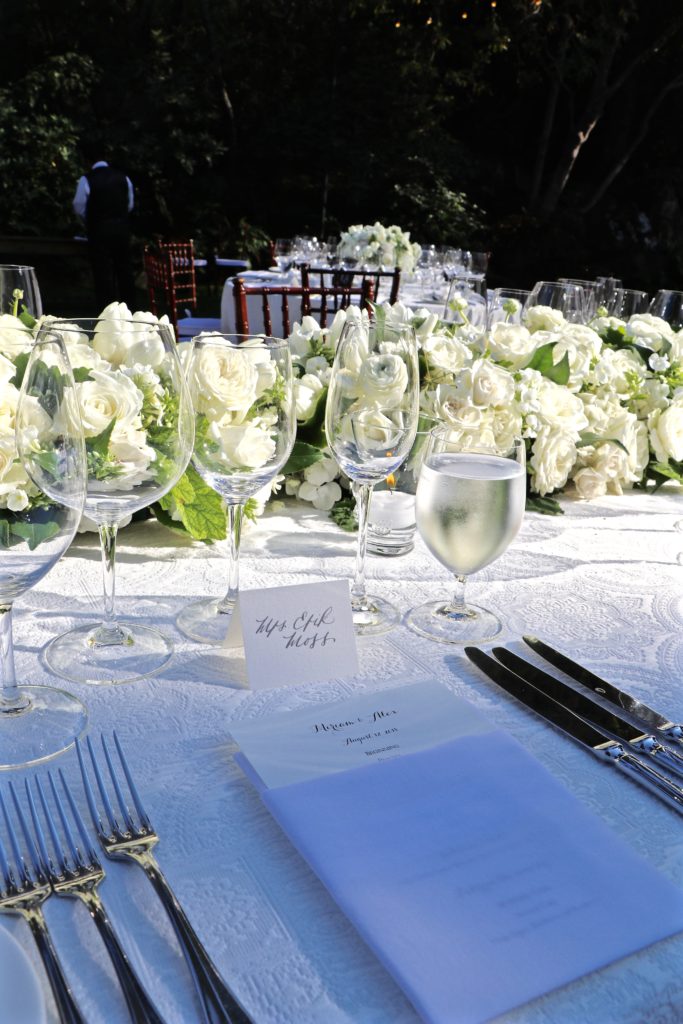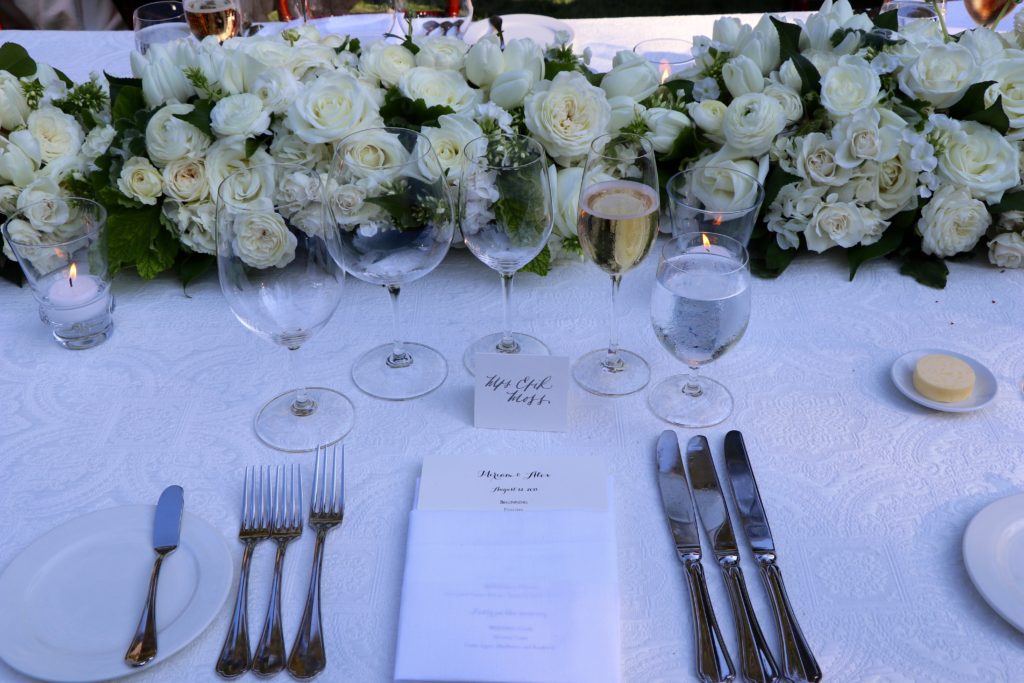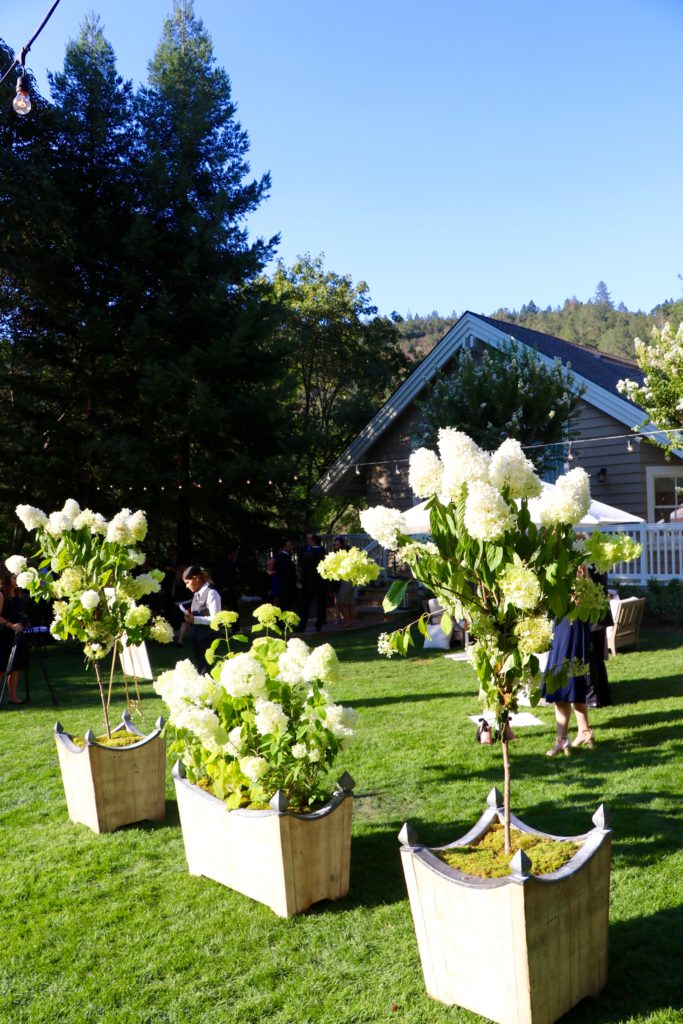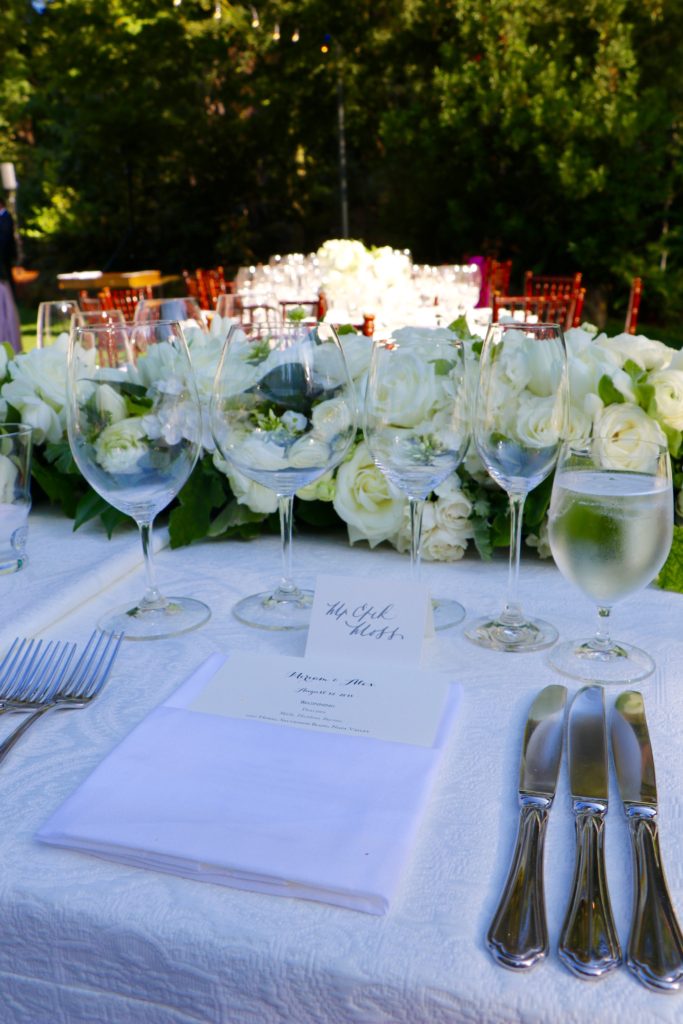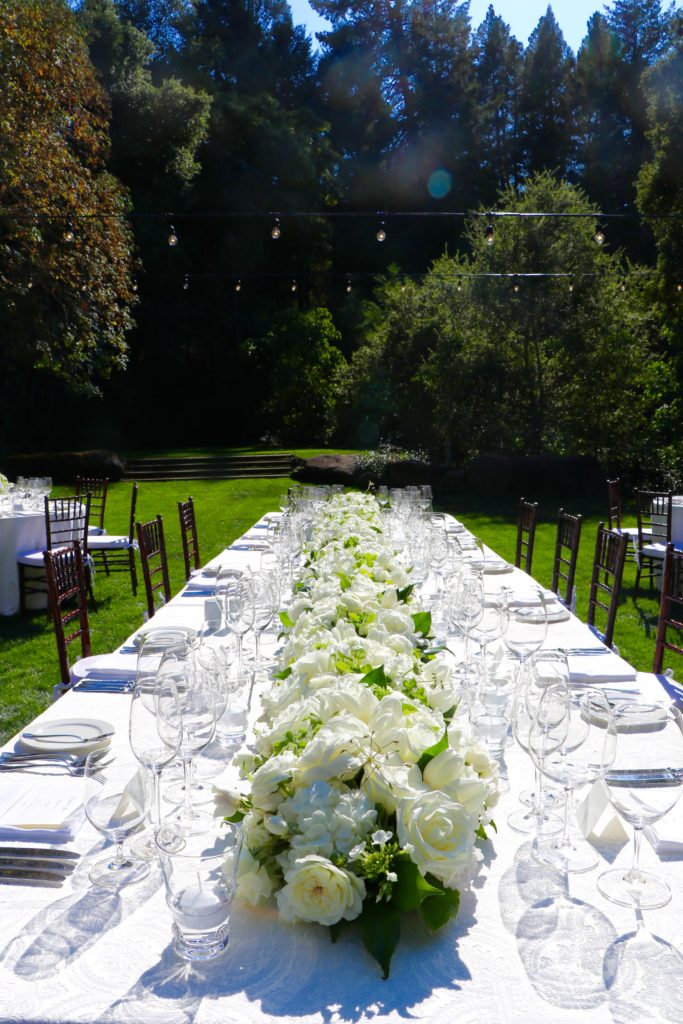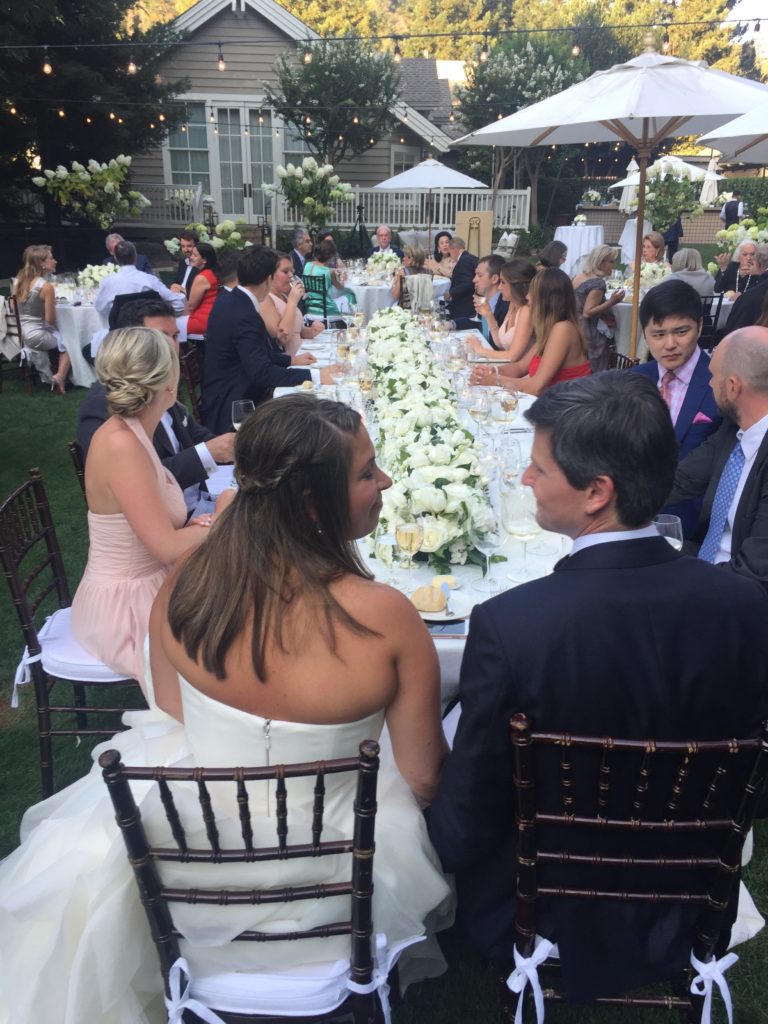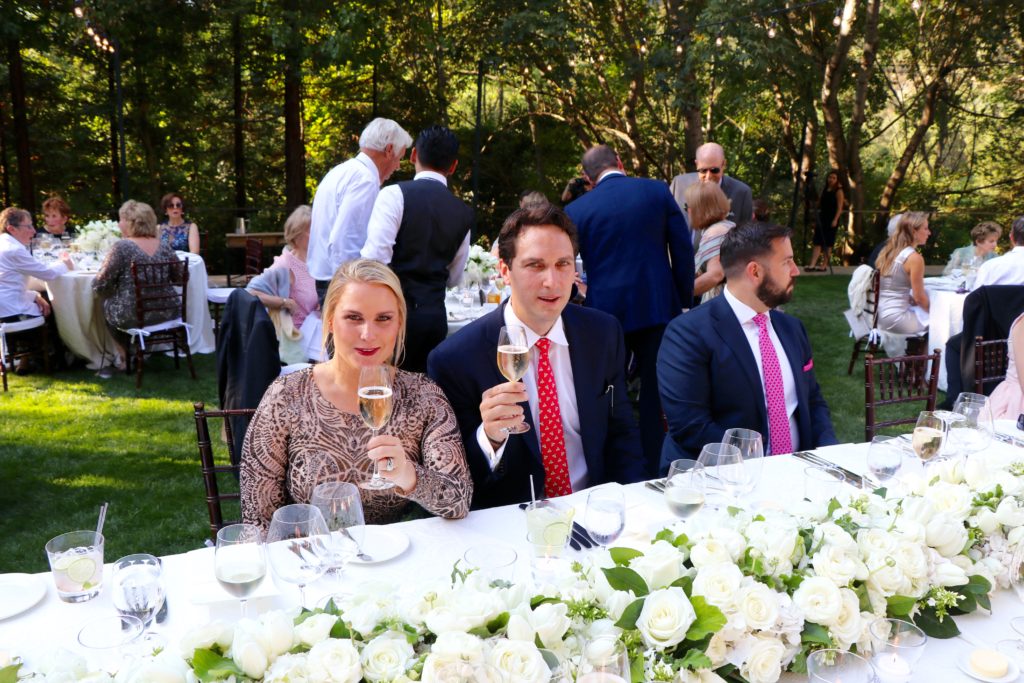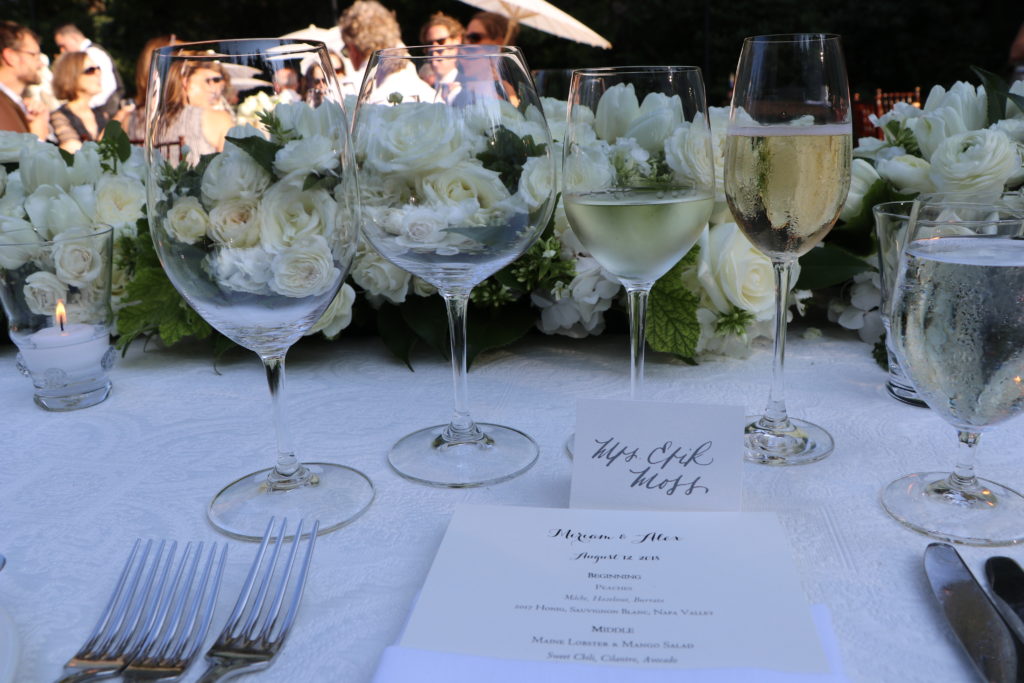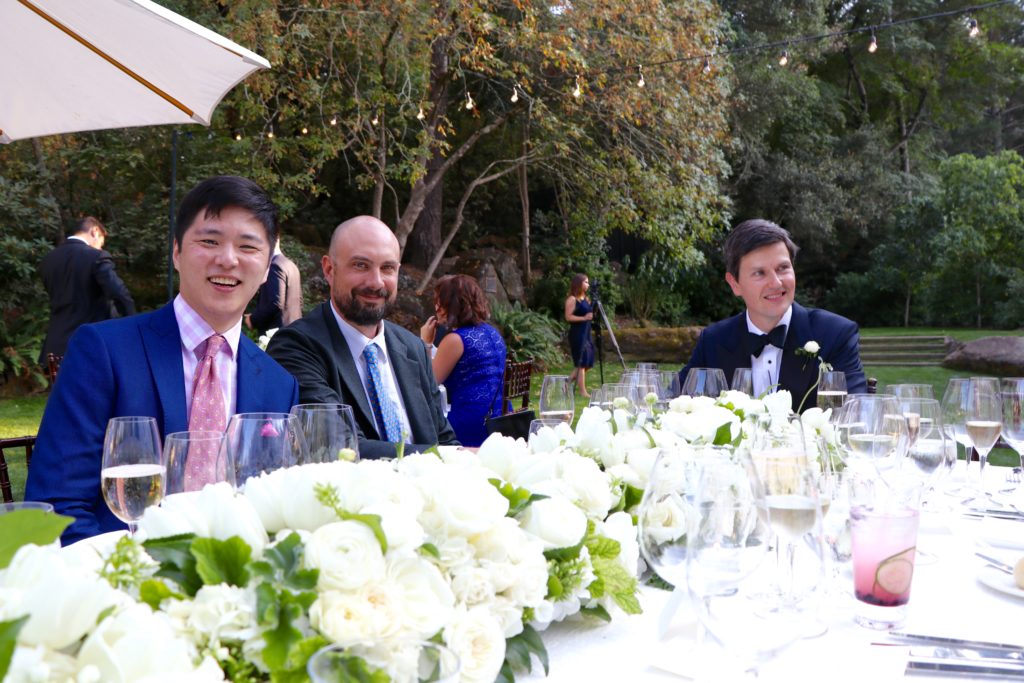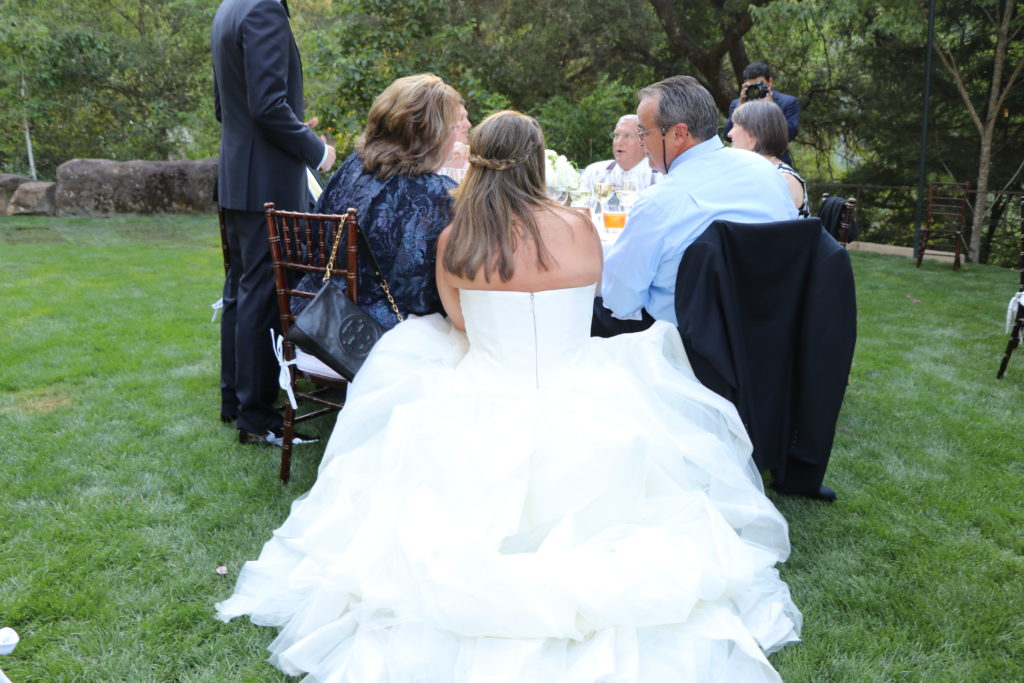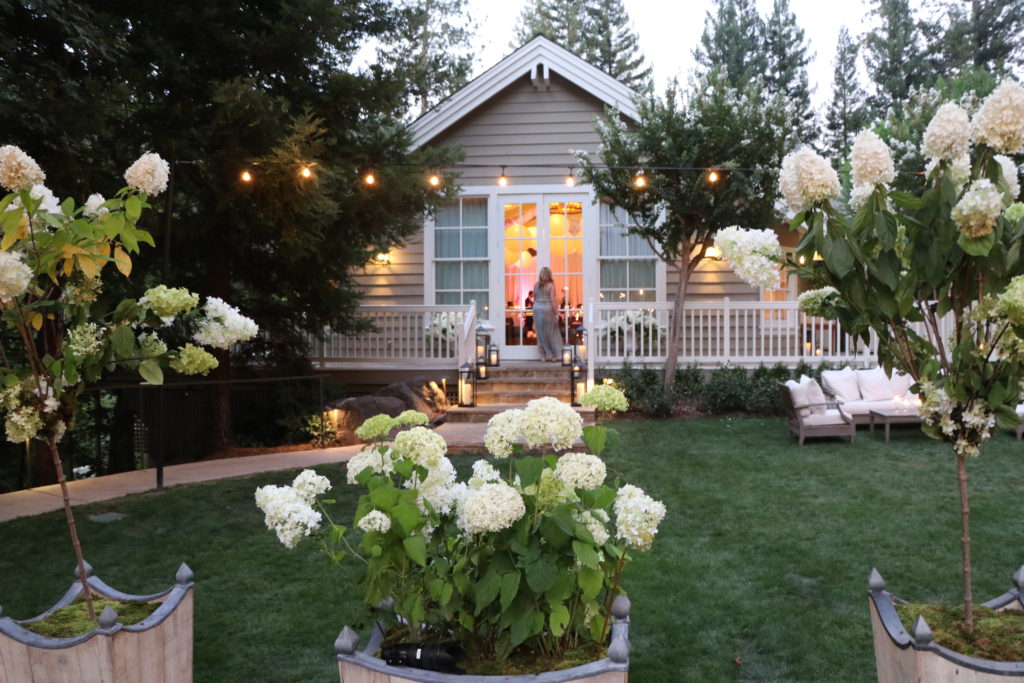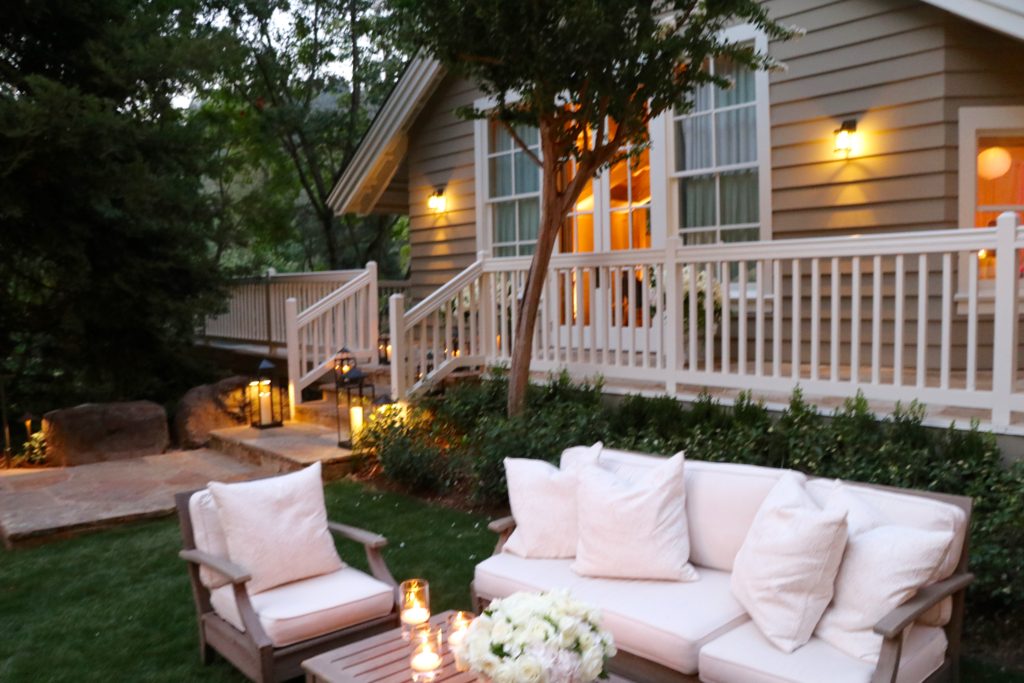 As the sun set over the spectacular scene, guests crowded the bar for more cocktails and fine Napa wines to prepare for the dance floor waiting inside. Following the sounds of familiar songs blasting, we made our way to a vaulted room with hanging lanterns. Crazy dancing ensued and I am lucky that my tight gold dress did not split from all the "splits" I was attempting on the dance floor! Seriously. Let's just say Ladyhattan had a blast.
We danced the night away to great tunes and cheered on the couple as they cut their cake for a sweet dessert. When the band exclaimed last song, we made the most of every second of the Dirty Dancing classic – The Time of My Life… I personally begged for the band to play forever, but sadly the night did have to come to an end. We concluded back outside under the moonlight and to the warmth of an outdoor fireplace eating late night treats – mini grilled cheeses and sliders. I can't thank my dear friend Miriam Davina and her mother, Laleh Zelinsky enough for one of the best weekends and weddings of our lives. Thank you for planning such a magical event that will forever be a beautiful memory. Congratulations and cheers to the happy couple as they jetset off to the Amalfi Coast for a fun-filled honeymoon!
If you would like to read all about the bridal shower I helped host for my dear friend Miriam in Manhattan, you can read about it here. And if you can't get enough of Napa Weddings, you can read all about my friend Katie's wedding that I attended at The Solage here. Thanks for following along the fun! Until the next celebration.