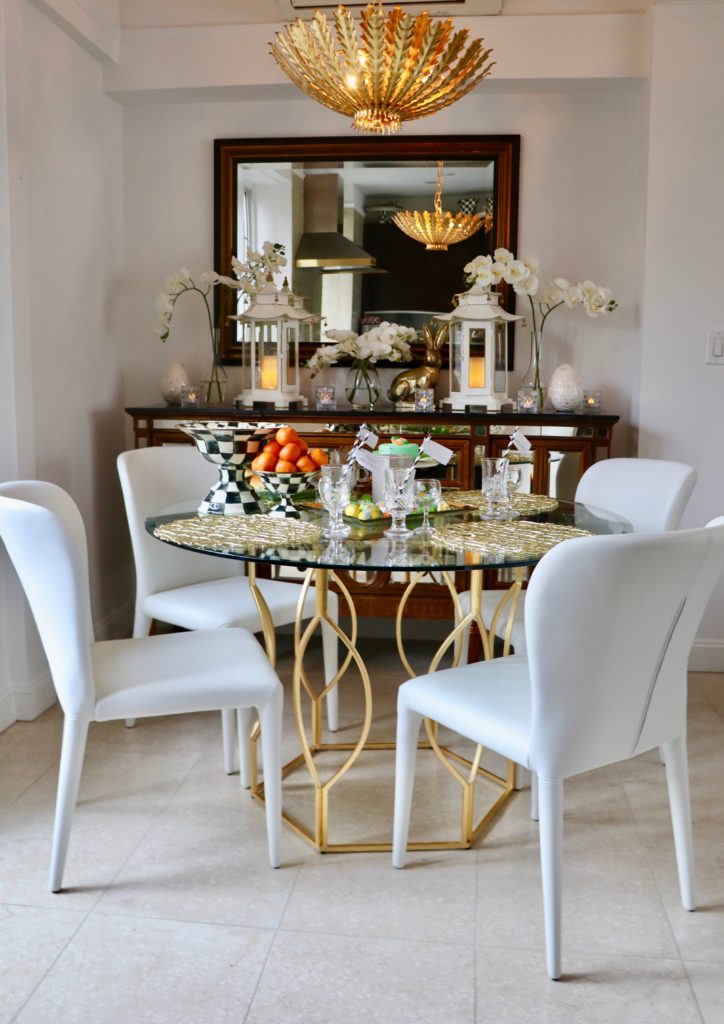 We have been settling into our new home in the city. It has been a stimulating process for me to decorate the space in hopes of creating an environment conducive for gathering with friends, family and sharing celebrations. With an expansive living and kitchen layout, our new home is perfect for hosting and entertaining the ones we love – an aspect of life that my husband and I enjoy even more than traveling!
Now that we are finally a bit more settled, I am delighted to share some of the updates on the home decorating process along with a glimpse into a recent family gathering we hosted. If you love what you see in this post, you can click here to find some of great deals I discovered at serious bargains to decorate and plan a themed family party.
A big thank you to Kelly Interiors and The Enchanted Home for helping me turn this city "house" into a creative and special "home" through some detailed touches.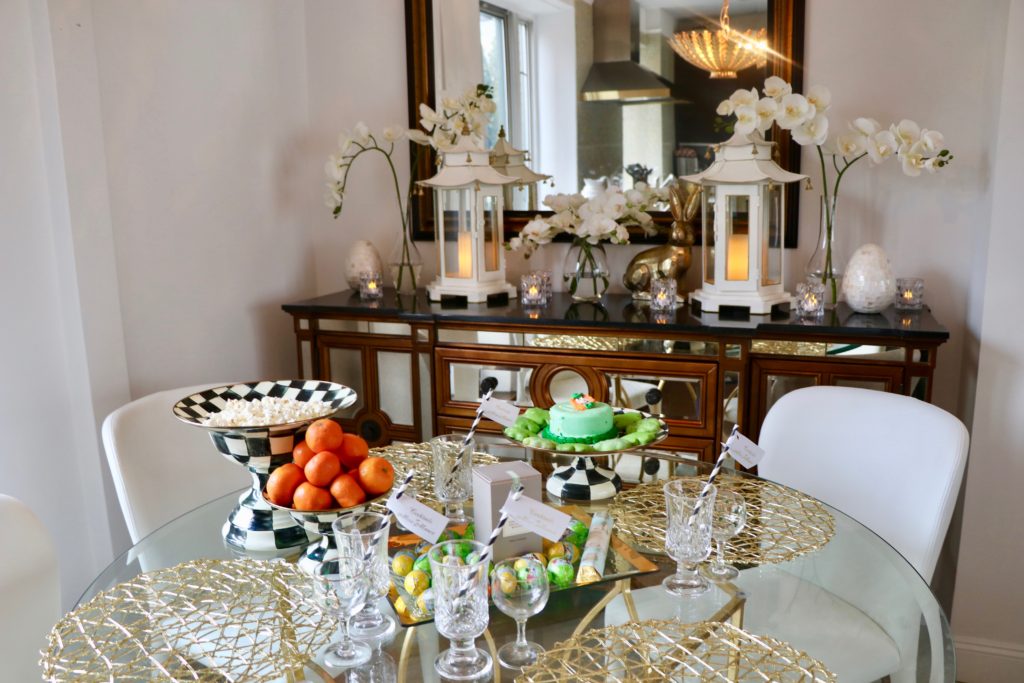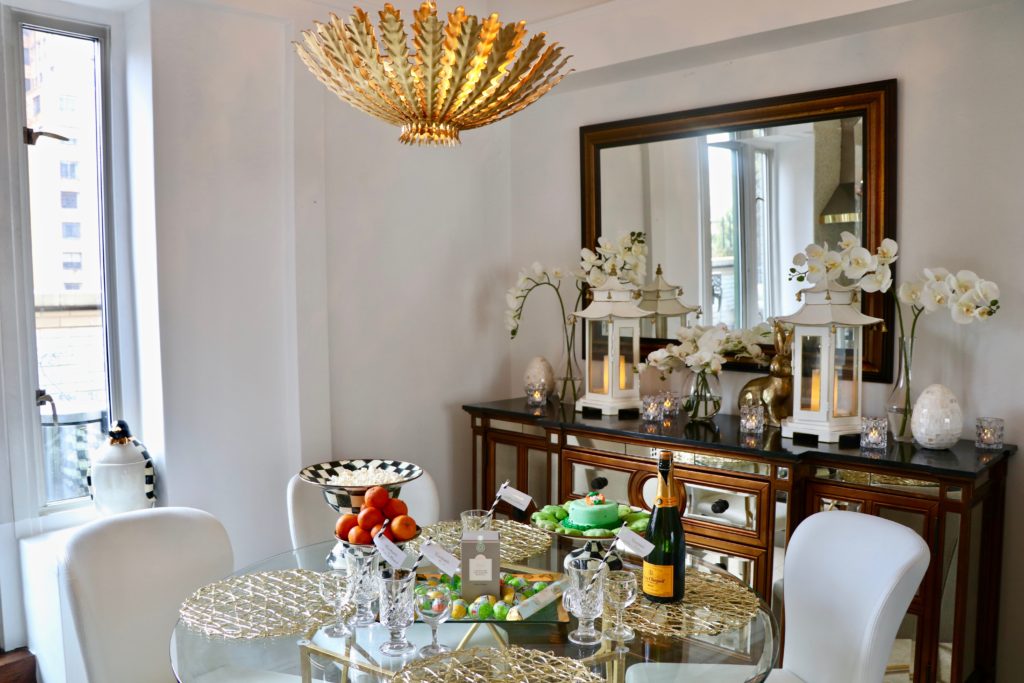 Perfecting the Entrance with a Classic Lantern
One of my childhood best friends has grown to run a successful interior design business, Kelly Interiors. Servicing clients from Connecticut to Manhattan, Dana and her mother-in-law, Christine, were gracious to come join me for a night of wine and design brainstorming. They walked through our new place and gave brilliant advice on furniture layout, light fixture selection and wallpaper guidance. One of the key elements of the home they assisted me on was determining a classic yet elegant light fixture for the entryway foyer.
As you enter our home there is a stunning mosaic tile design of a star in a pretty sizable circular foyer. The circular foyer is surrounded by pieces of historic mirrored glass that was leftover from the construction of the Empire State Building. The iconic glass pieces have been part of the home for over fifty years on the walls of this entryway. Dana and Christine helped select a classic gold lantern to illuminate the home the moment you walk through our front door. What I love most about this fixture is that I will never get sick of it – it's a timeless piece that can work with all décor styles and grow with changing times.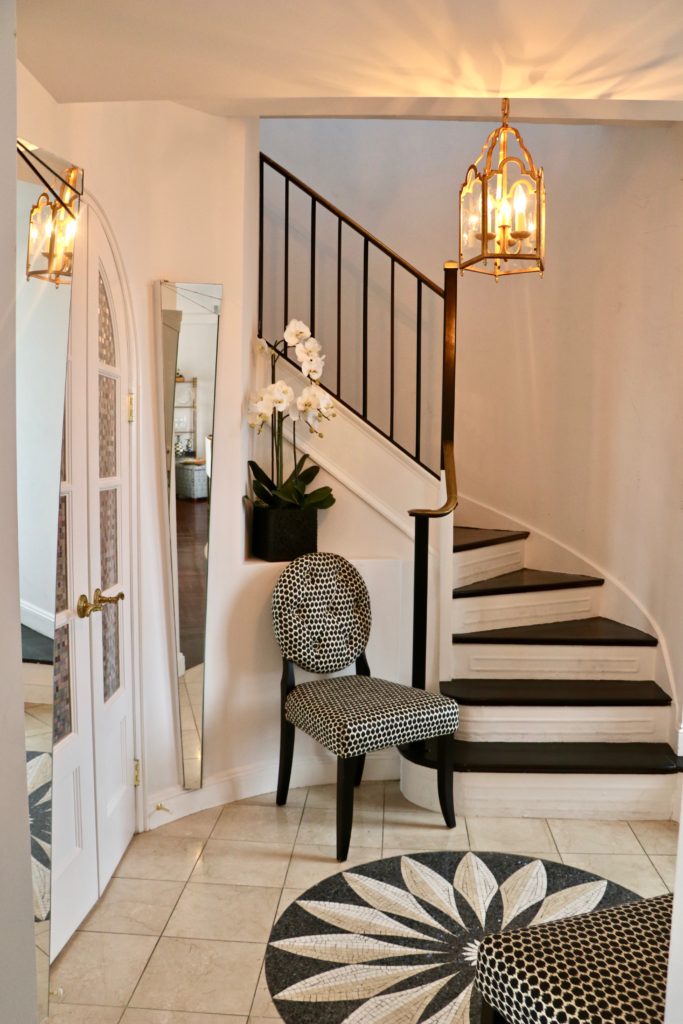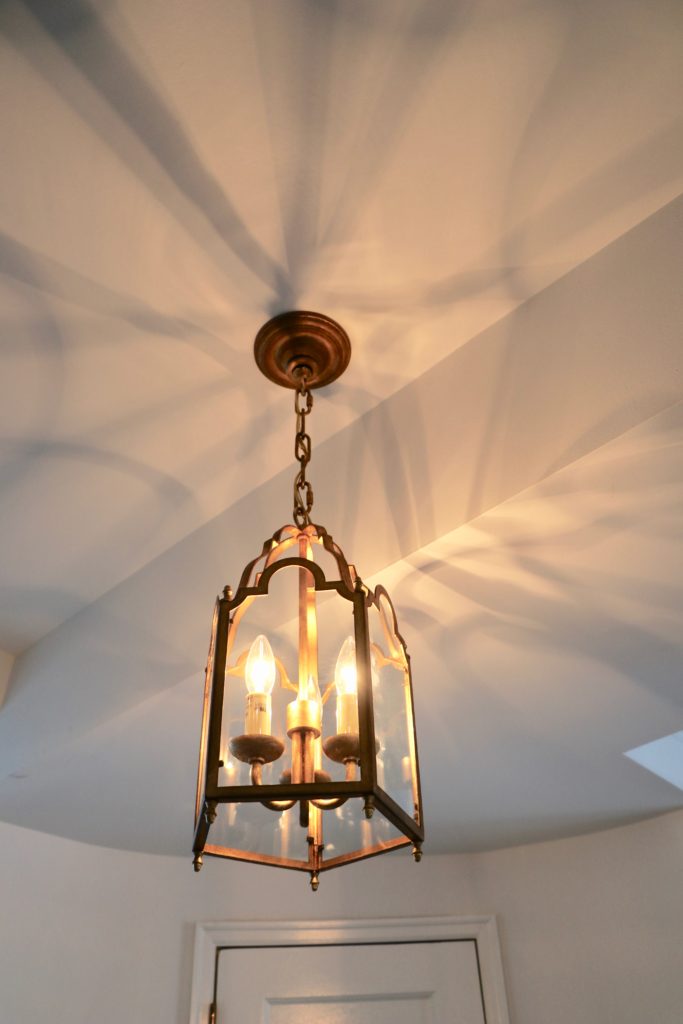 The Irish Chop Off
For our first celebratory gathering in the new home, we decided to host our aunts and cousins for an annual family tradition – the cole slaw "chop off" party in honor of St. Patrick's Day.
My Great Grandmother ("Grannie") was an immigrant to New York City from the country of Ireland. Interestingly, her nephew, so a far distant relative for me, was the famed Prime Minister Haughey (Prime Minister of Ireland). Grannie settled in a poorer area of the Bronx where she raised two children in hopes of a great life – the American Dream. Her only son was my Grandfather ("Mickey") who grew up to be a man of many trades – professional basketball player, successful bar owner, NYC police officer, husband, father and even politician. Mickey married my Grandmother, the Amazing Grace, who was from a more affluent family of Dutch background – they had a gorgeous mansion in Riverdale, a wealthier neighborhood in the Bronx. Although from very different backgrounds, the two fell madly in love at a young age and ran off to be married when Grace was just 18 years old. Together my grandparents, Mickey and Grace, shared eleven – yes eleven children, my mother being one of them.
My mom is super close with her sisters, who are women that I am lucky to call my aunties. My aunts are the most amazingly strong and supportive women in my life. Through the ups and downs of personal tragedies, my aunts were the first people there to pick me up and wipe off the most painful of tears from my face. They held my heart during the hardest moments of life, including the recent loss of my father – a pain that frankly, I am still struggling to cope with.
Being around my aunts brings the greatest of joys. First off, they are lovely and funny women, but second, they are all incredible cooks. One of the best family recipes that my aunts have mastered through the years is a cabbage cole slaw dish. As a tradition, we celebrate St. Patrick's holiday with a family "chop off" which is a competition to taste who has chopped the best cole slaw.
This year, with our apartment finally ready to enjoy, we hosted the annual "chop off" party with the family. To get into the theme, I purchased a few fun leprechauns from Home Goods and provided a delicious spread to pair well with the varieties of fresh family-made slaw. We prepared filet mignon sandwiches with a blue cheese and horseradish sauce on a potato bun, tator tots, a cheese spread, and a green cake for dessert. As for drinks, we sipped on favorite beers and wine, but made a specialty Irish creamed coffee for something sweet. It was such a fun afternoon and just another reminder that I am so lucky to have such loving family members here in New York continuing to live out the legacy of our Irish ancestors.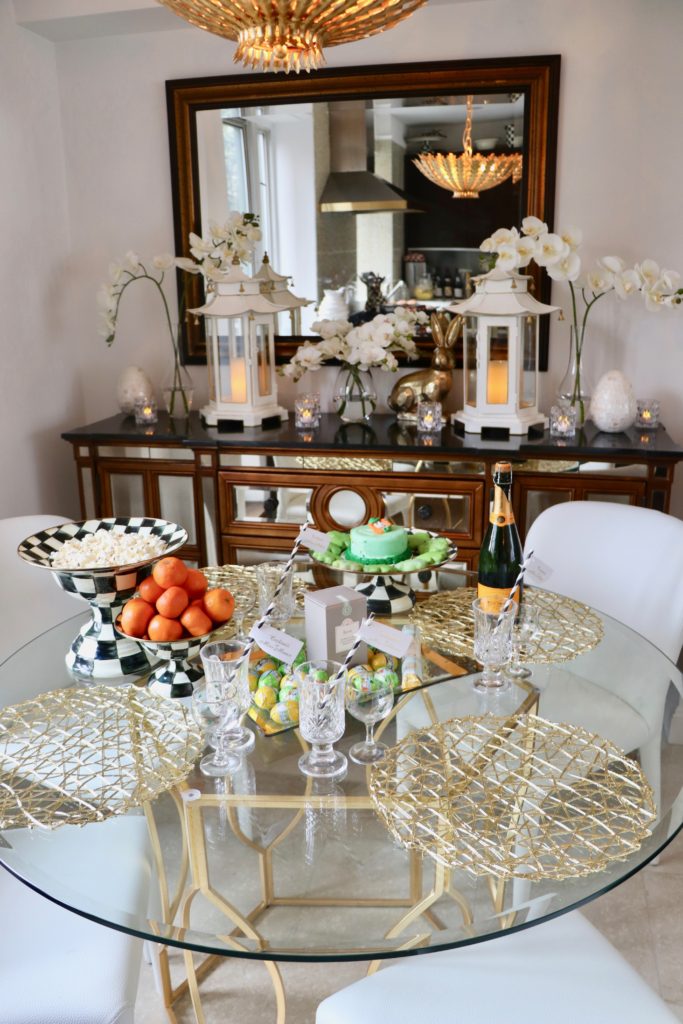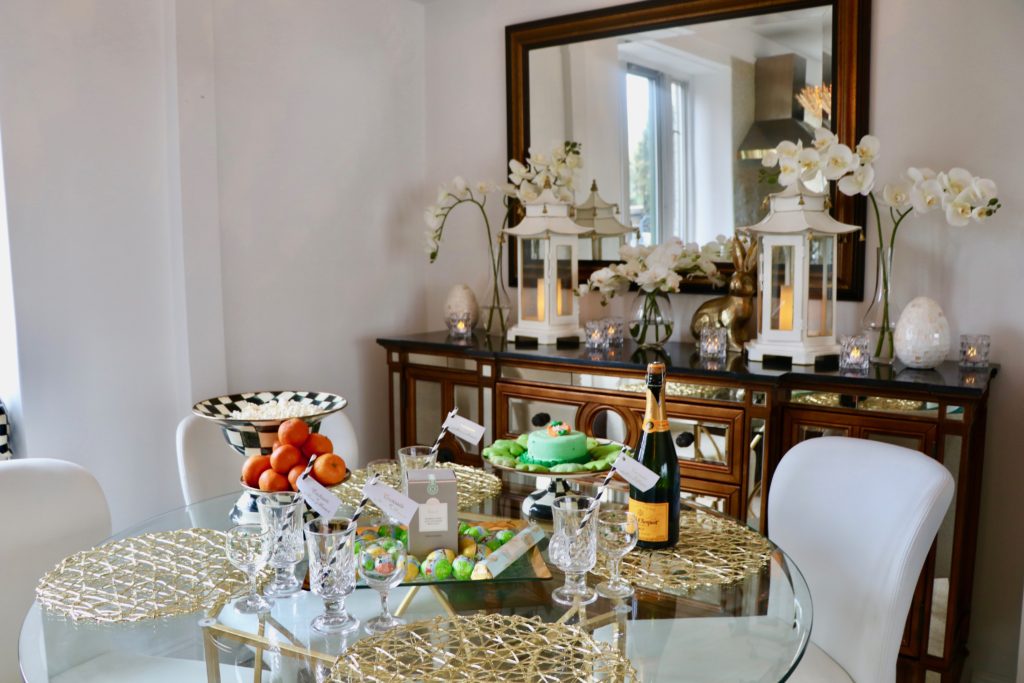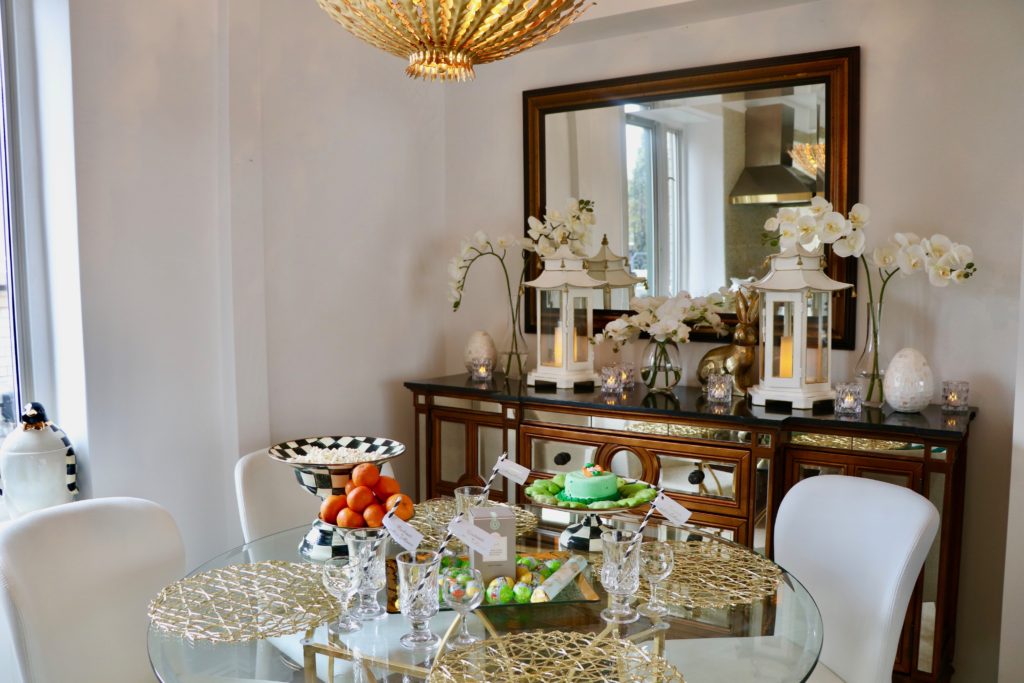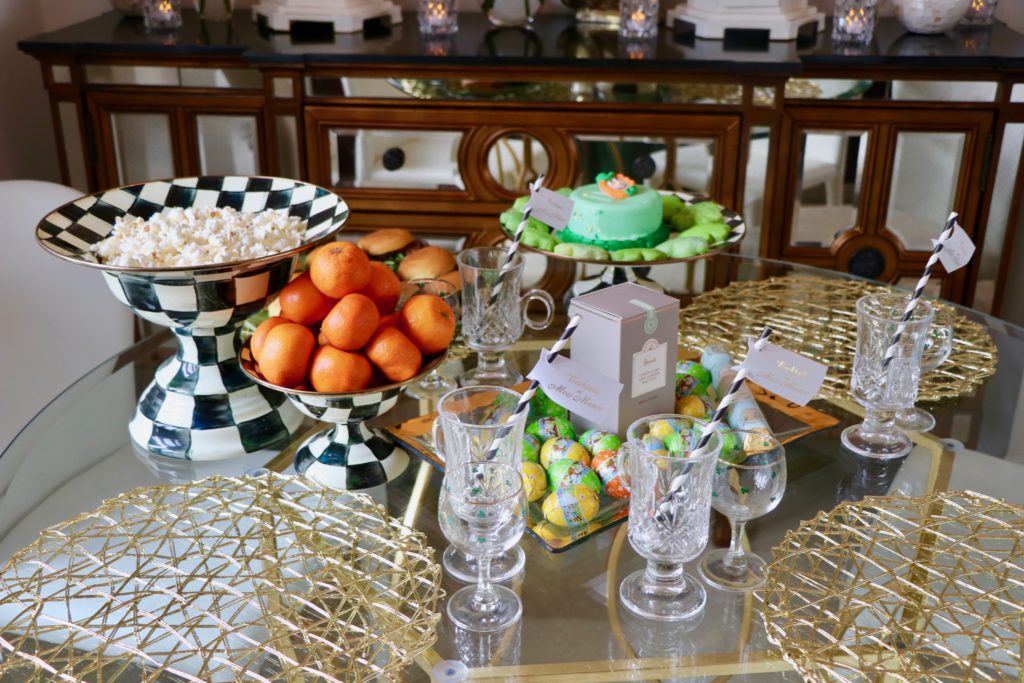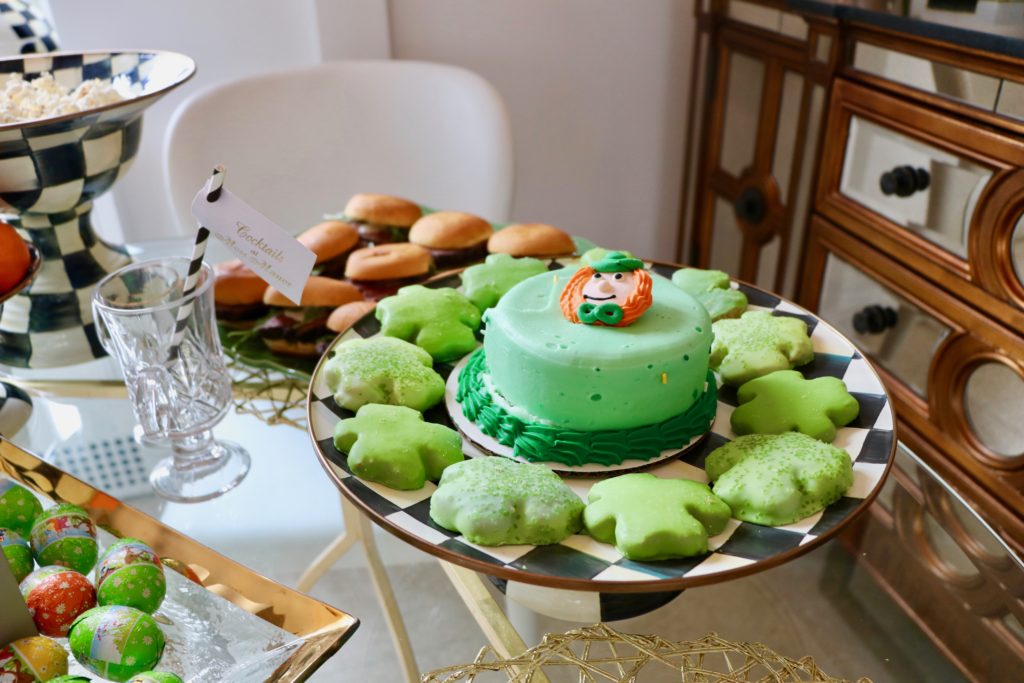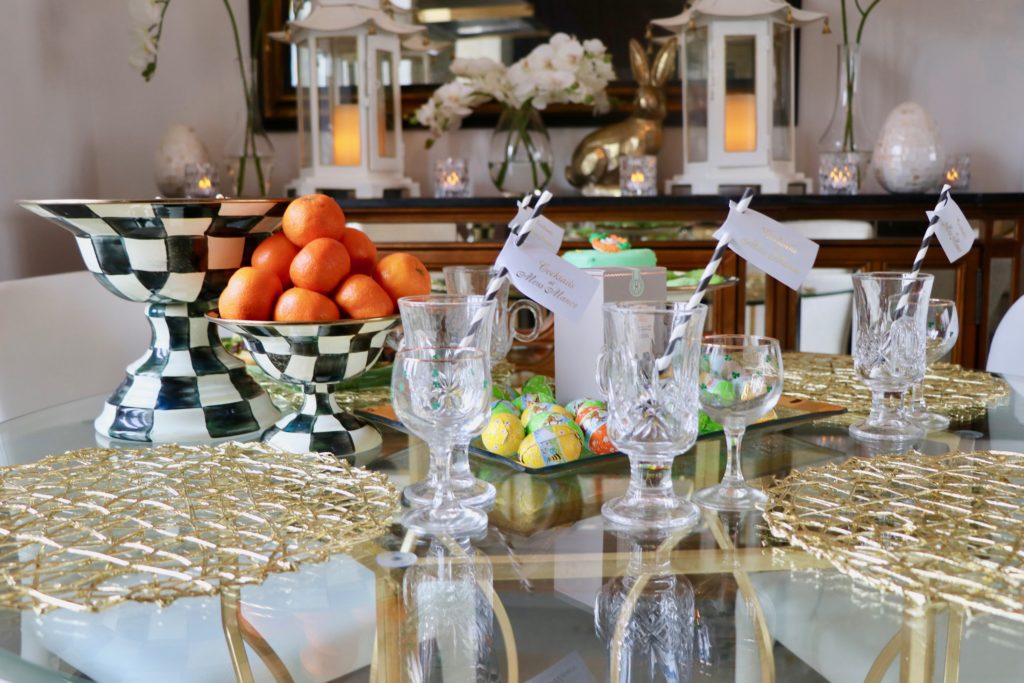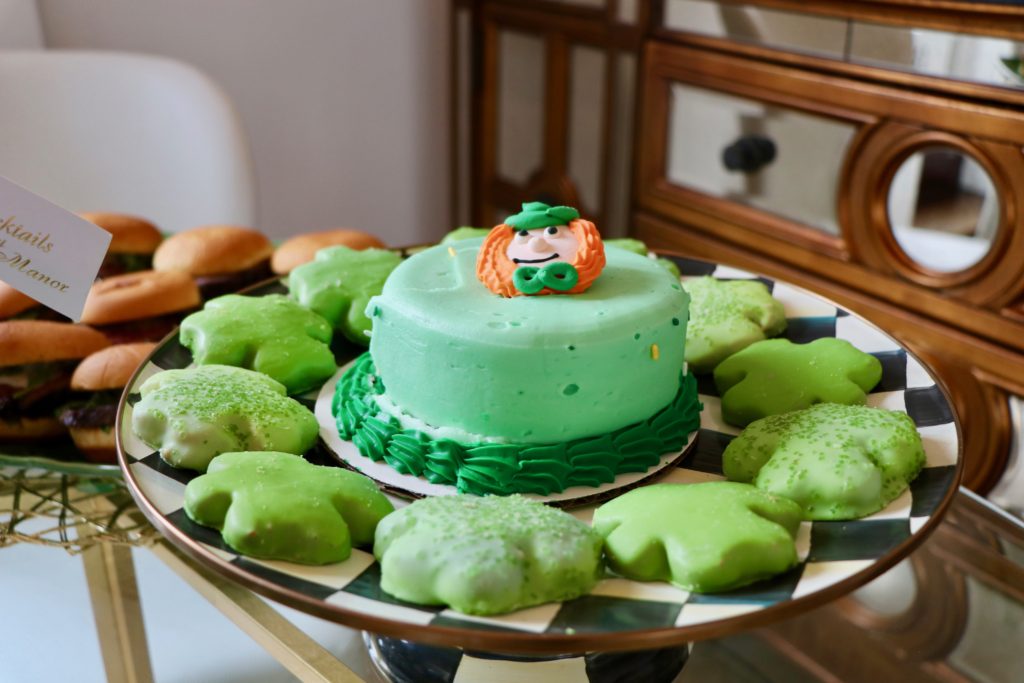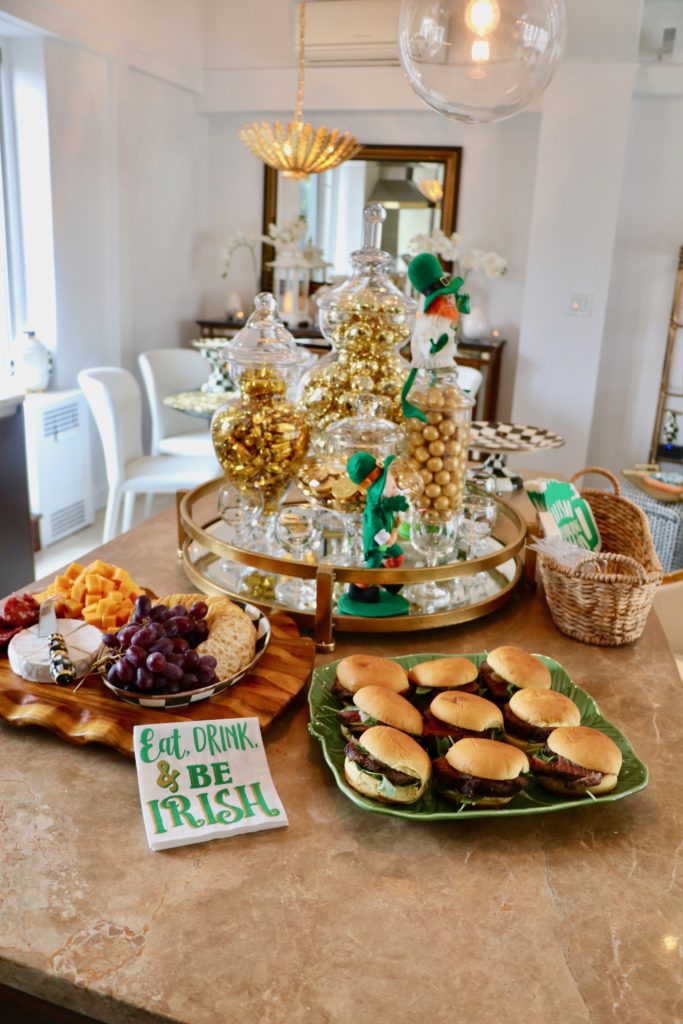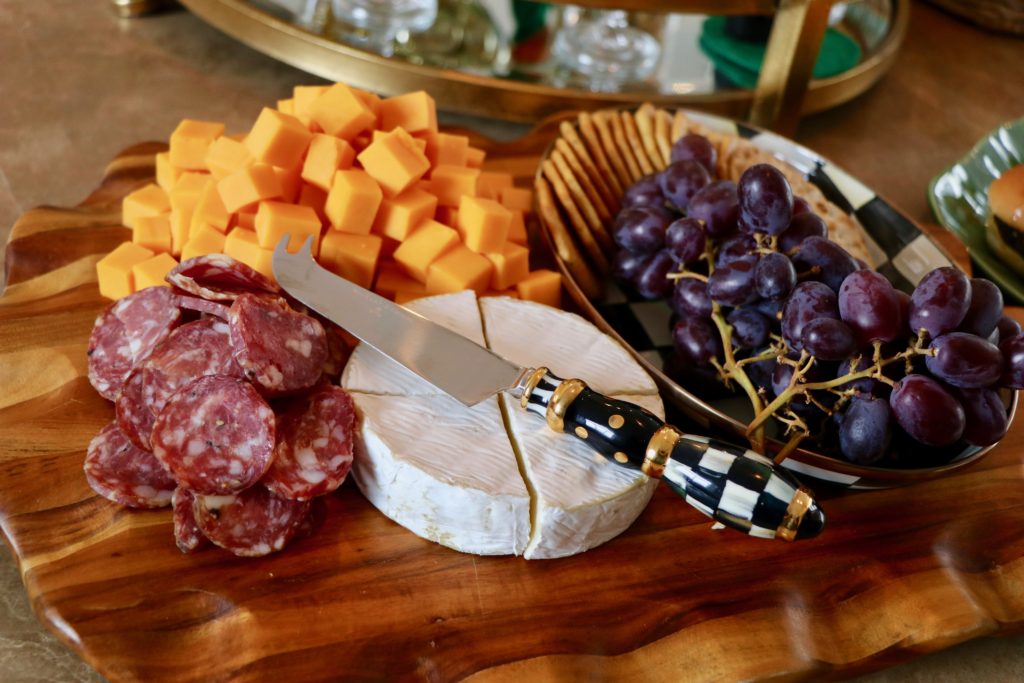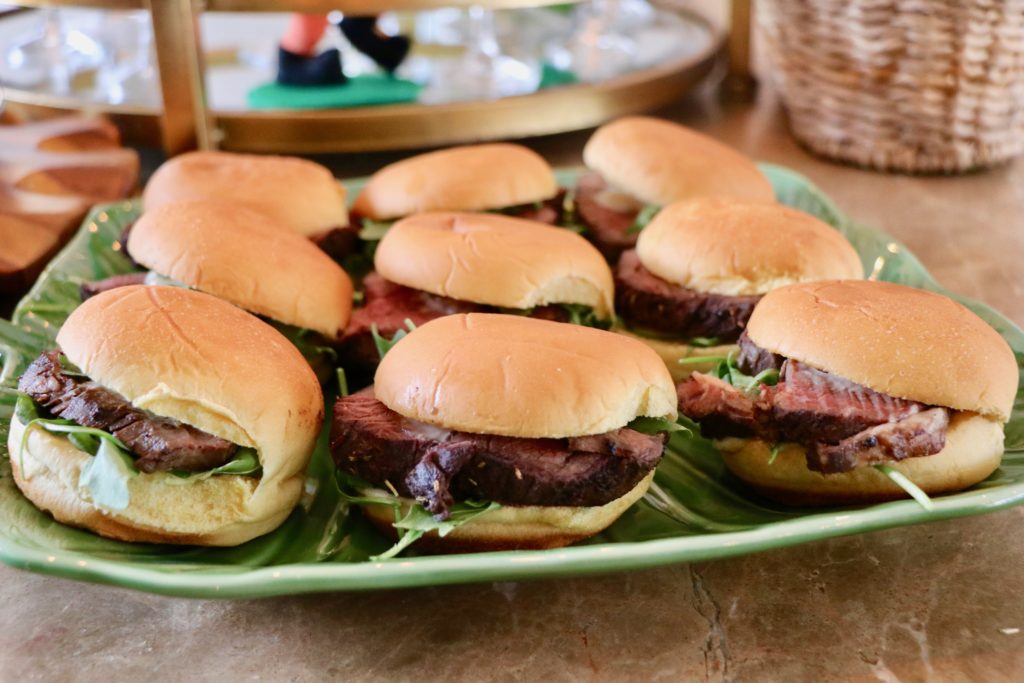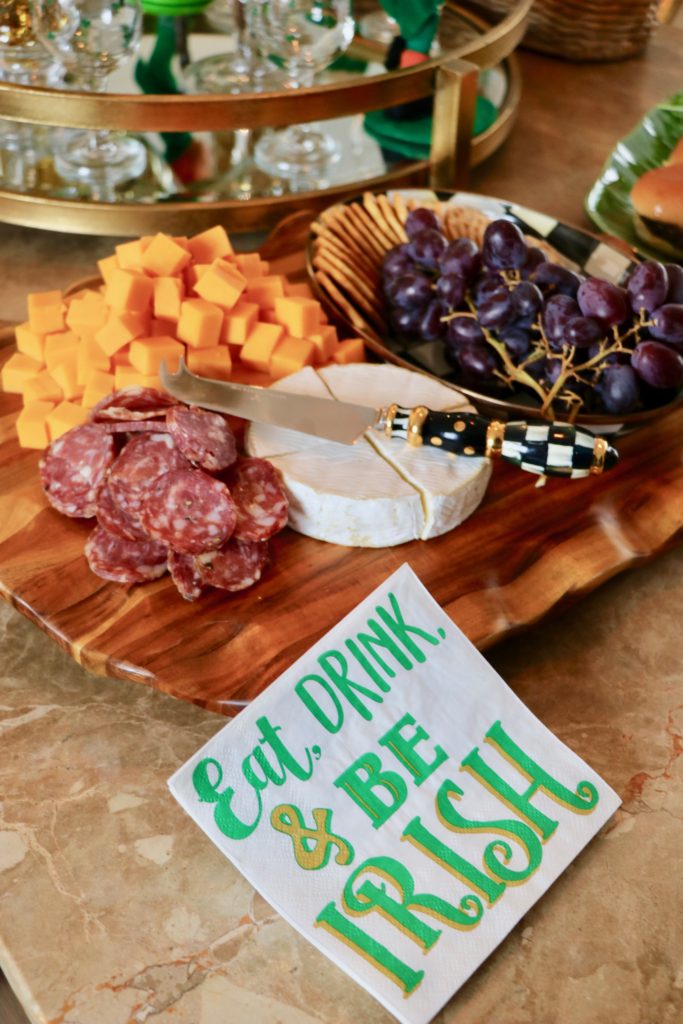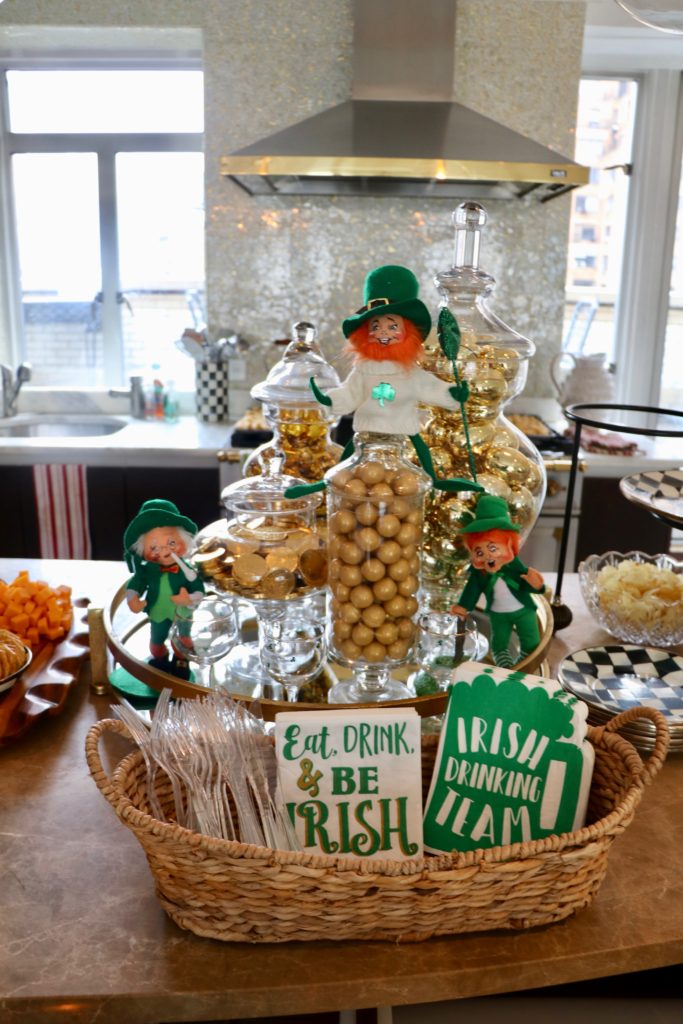 Enchanted Home Accents
Just in time for the family party, I discovered the most enchanting home décor shop on the internet – The Enchanted Home! This shop boasts some of the most beautiful blue ginger jars, trays, and fine home pieces that have been carefully curated from around the world by an inspiring interior design blogger, Tina.
In my first purchase from The Enchanted Home, I purchased ivory and gold pagoda lanterns, stunning black serving trays and the Staffordshire dogs for my bookshelf. See for yourself in a few glimpses below, but these small accents make a big impression. You guys have to check out this online shop – The Enchanted Home! The team confirmed my order and packaged the items that same day for fast arrival – I will definitely be ordering again soon and look forward to sharing my selections with you all.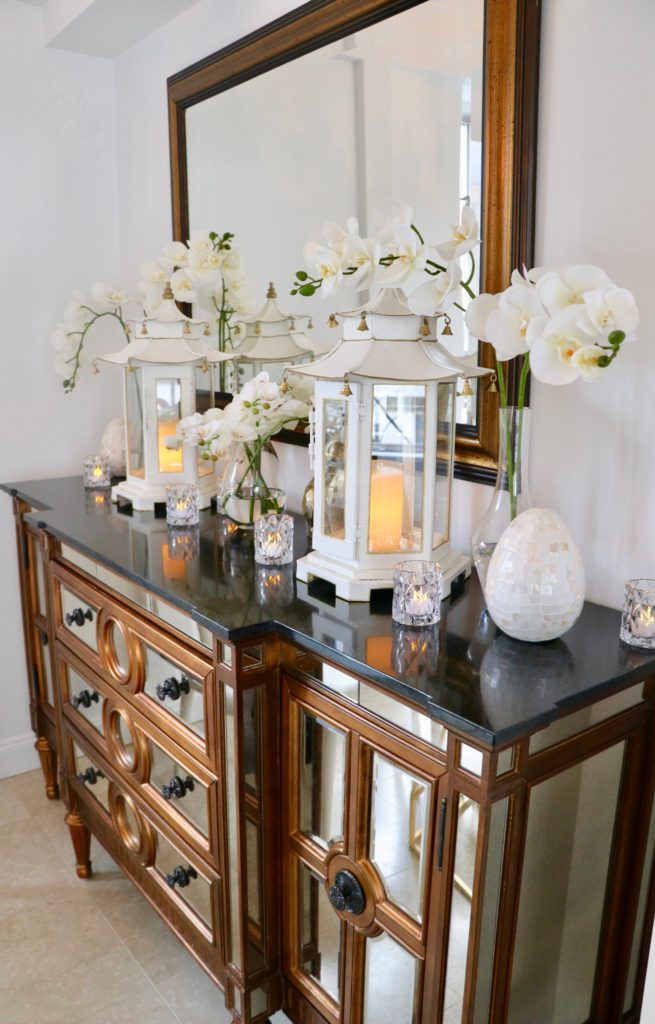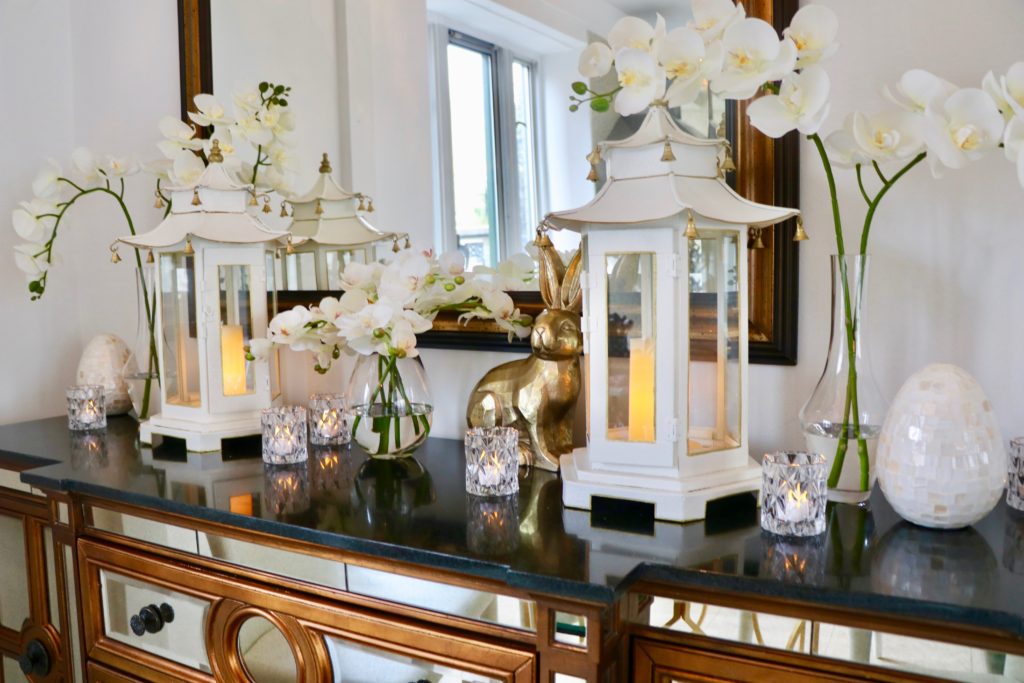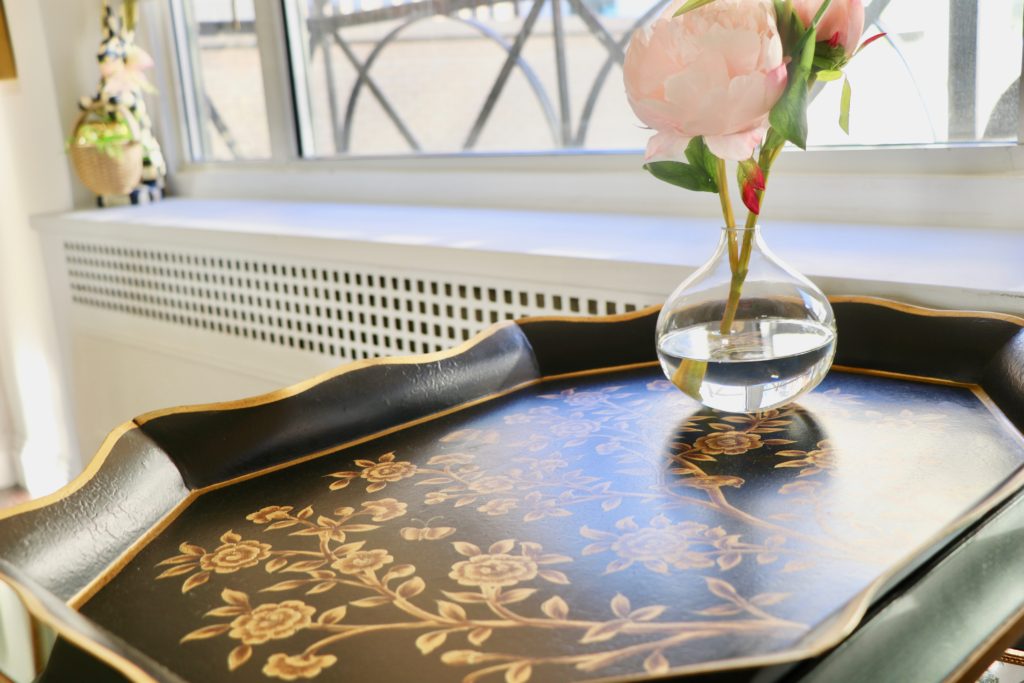 And now with the party behind me, I am already looking ahead to the next festive and fun celebration that I can host. The cold winter days are growing longer and the sun is getting stronger, as Spring creeps in slowly but surely. April cannot come soon enough and I have already decorated our living room fireplace mantle with some colorful Easter treats to get us in the spirit.
To all my friends, fam and followers gearing up for Spring Season – happy decorating, happy St. Pat's and happy almost Easter! Thanks for following along on this "City Home" focused feature – be sure to checkout my new storefront for some great bargains I snagged for a glamorous home.