Follow me through a magical day on a tiny tropical island wrapped in soft white sands, surrounded by a vibrant coral reef, lapped by warm turquoise waters and hidden in the heart of a UNESCO biosphere reserve.
Ladyhattan is here to take you through my first day arriving at a magical island called Milaidhoo located in the Maldives.
Opened in November 2016, Milaidhoo is a boutique luxury resort in the Baa Atoll UNESCO biosphere reserve, close to Hanifaru Bay, 126km north west of Male.
To get here, you land in the nation's capital of Male (typically via Dubai or Abu Dhabi if traveling from the USA), and then take a short sea plane directly to Milaidhoo. The sea plane is safe and enjoyable, as you look out over the spectacular scenery for about a 45 minute direct ride. We took off from the ocean water and then landed on the ocean water just a short distance to the entrance of the hotel.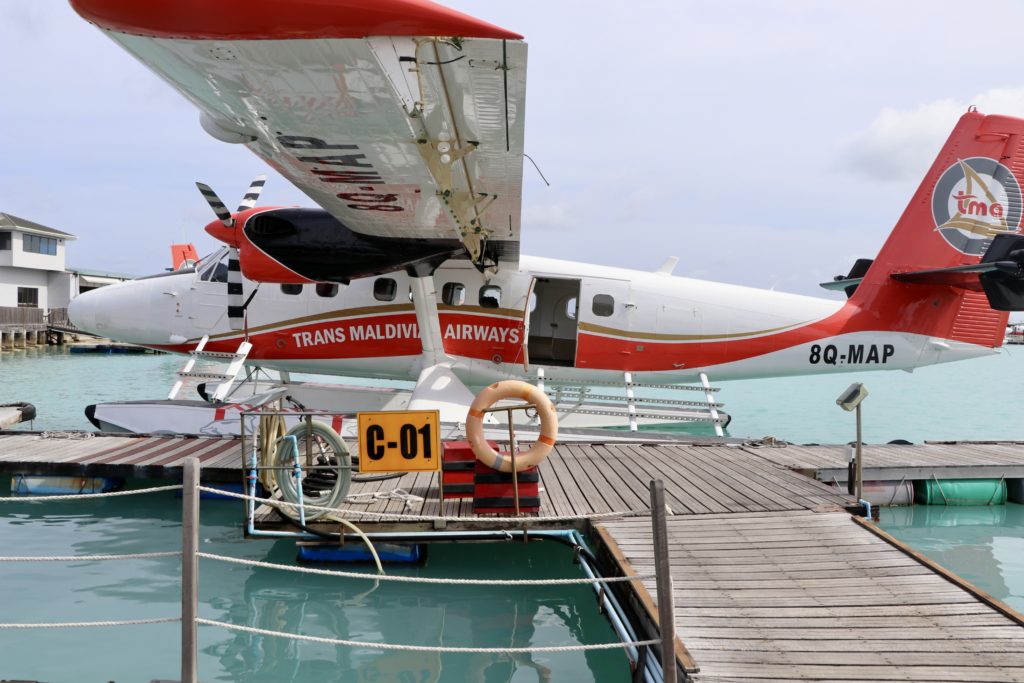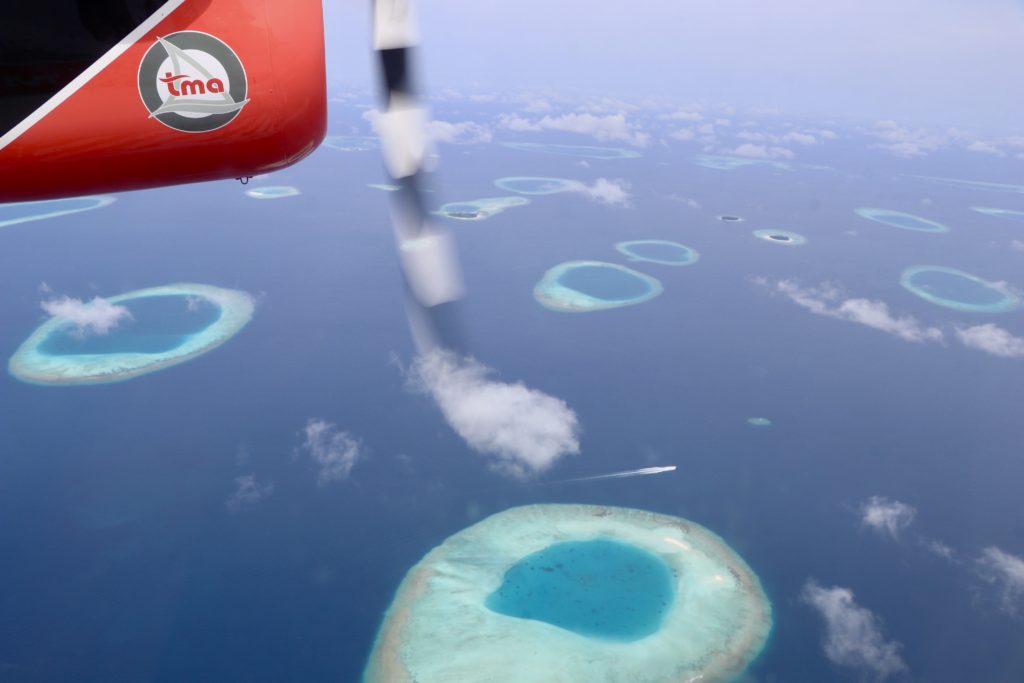 Milaidhoo Island is an adult only oasis. Children under the age of nine are not allowed, there are no water slides, beach volley or Zumba classes, and all obnoxious motorized water sports are also banned to keep the island as tranquil as possible for your vacation. The resort is perfect for travelers seeking romance, natural beauty, and tranquility. So yes, this hotel is the ultimate selection for honeymooners or lovers celebrating a special occasion.
The island itself is remote, tiny and barely populated even when the resort is at max capacity because there is a limited number of suites at this exclusive destination. You can walk around the island on a footpath in about 8 minutes – or 15 if you want to stay on the perfect, natural-sand beach.
Ladyhattan here, all checked-in and heading to our traditional overwater bungalow room. Scroll on down below for an insider room tour.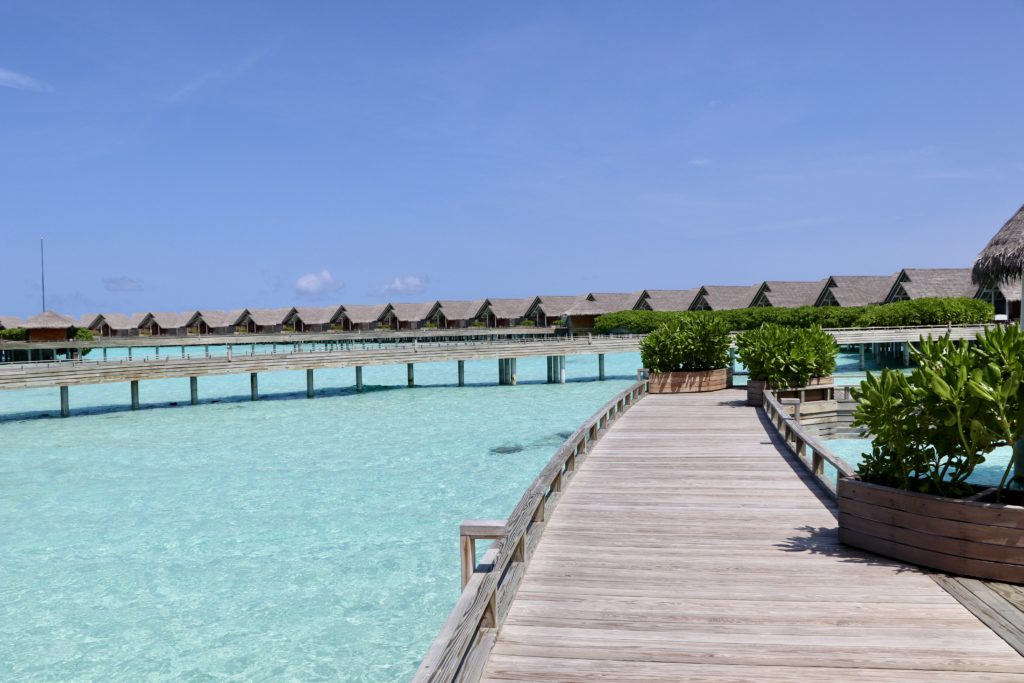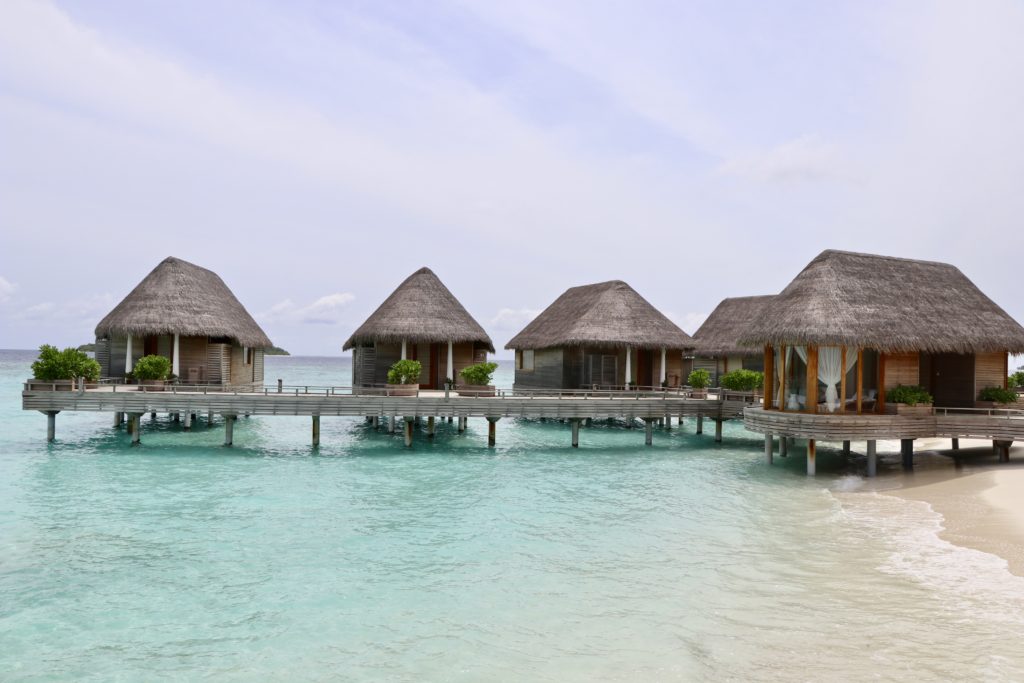 For your room choice, you can opt for either a Beach Villa (with your own private beach access) or traditional Overwater Bungalow (built on stilts above the water with direct ocean access).
With a spacious atmosphere, high ceilings, a large walk in dressing room, indoor- and outdoor-showers and a beautiful bathtub, all the rooms here are gorgeously designed as stunning thatched-roof villas and feature the highest of luxury amenities, products and perks inside.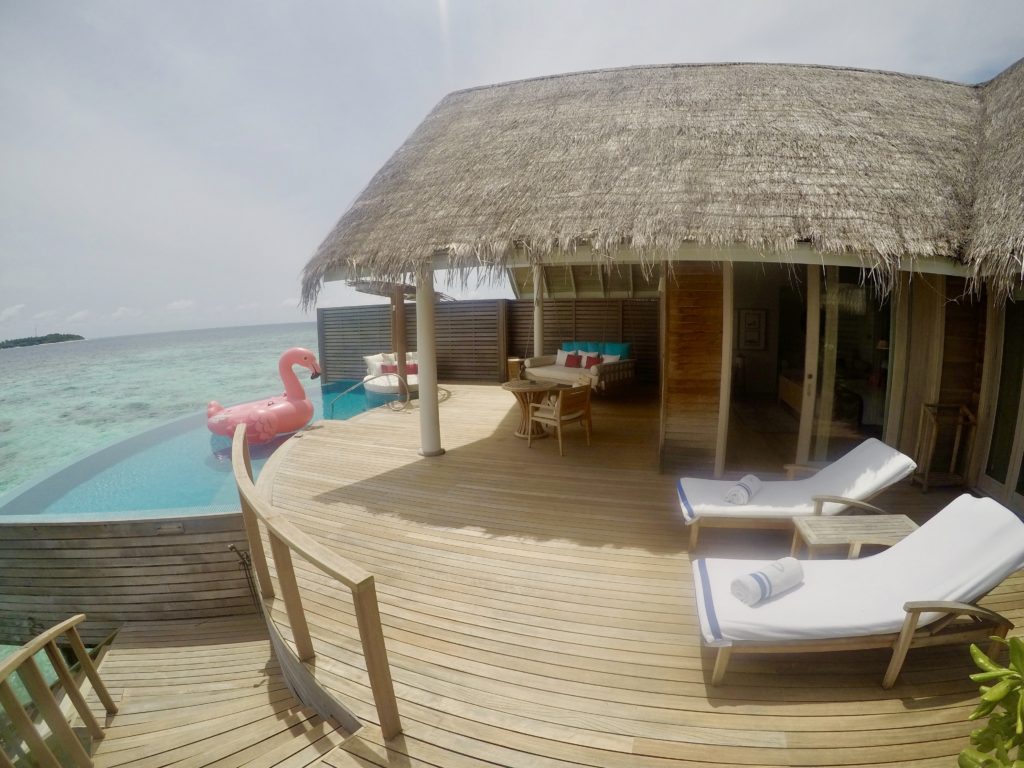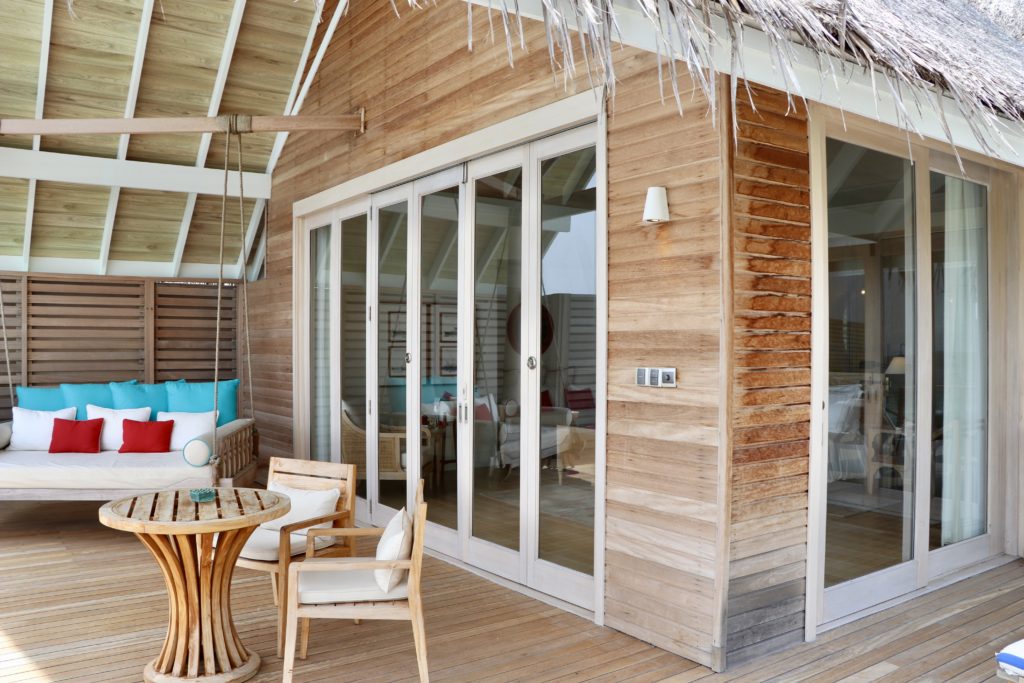 The villa itself opens up to a huge sundeck which has a private freshwater infinity pool, Maldivian-style swing bed, sunloungers, umbrella, table with chairs, an oversized daybed by the pool and private staircase into the ocean for easy access to the nearby coral reef.
You can also contact the friendly Milaidhoo family ahead of time and request your favorite pool floats and toys for your arrival. Ladyhattan opted for the extra pink and extra large flamingo. What else would you expect from me?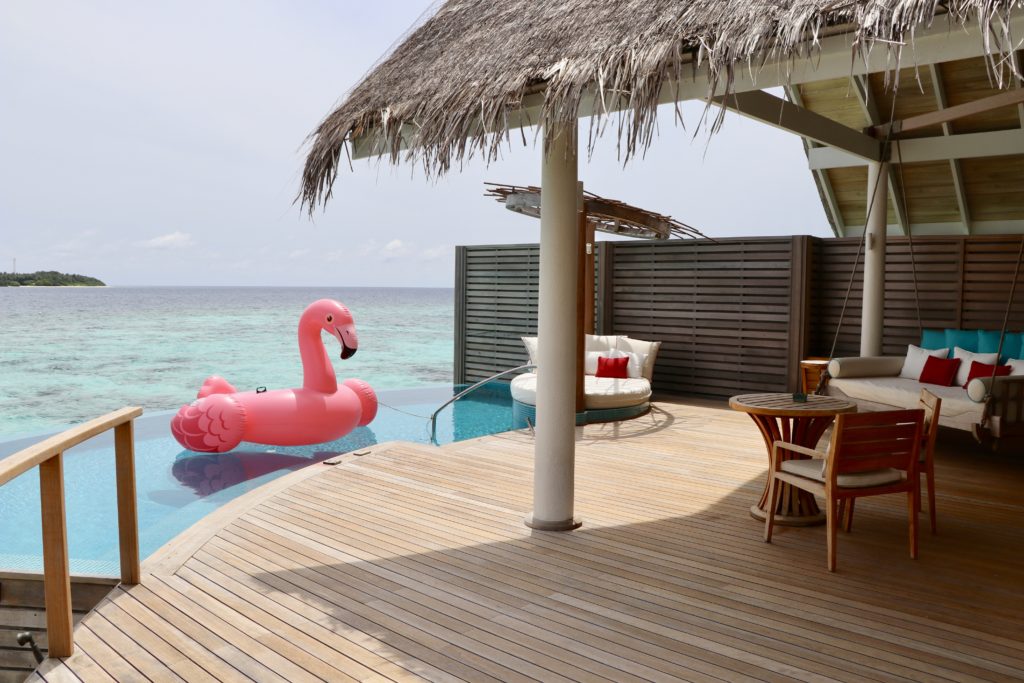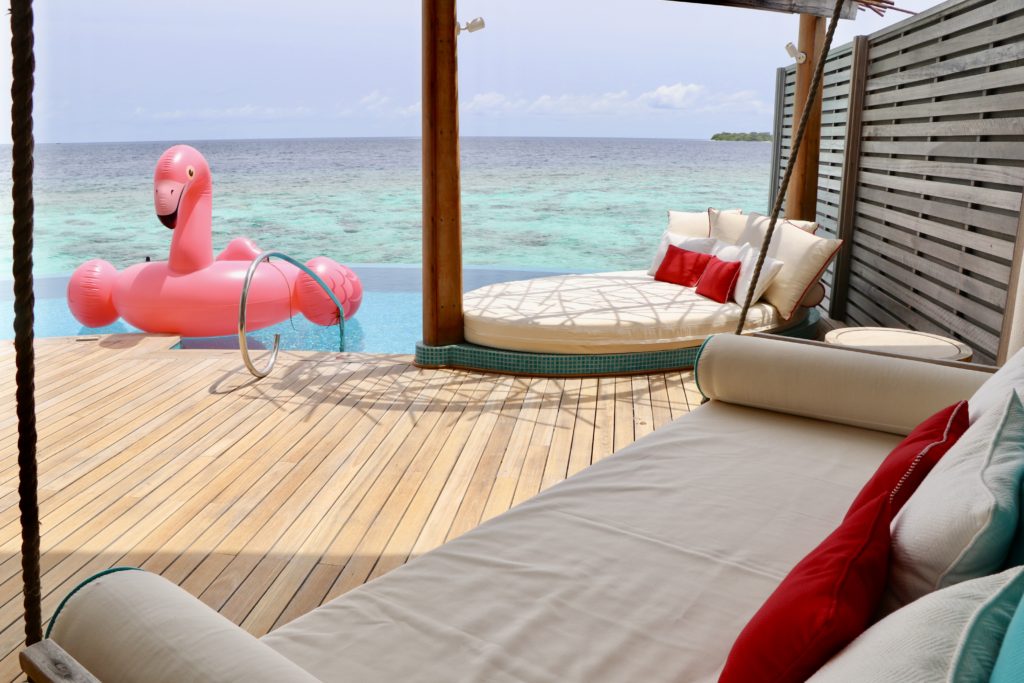 The overwater bungalow option allows for direct ocean access to enjoy swimming or snorkeling. At any moment of the day, you can grab your snorkel gear and utilize the private staircase that leads you down into the most crystal clear waters in the world. Breathtaking coral, underwater wildlife and scenery are all just seconds away from your bungalow.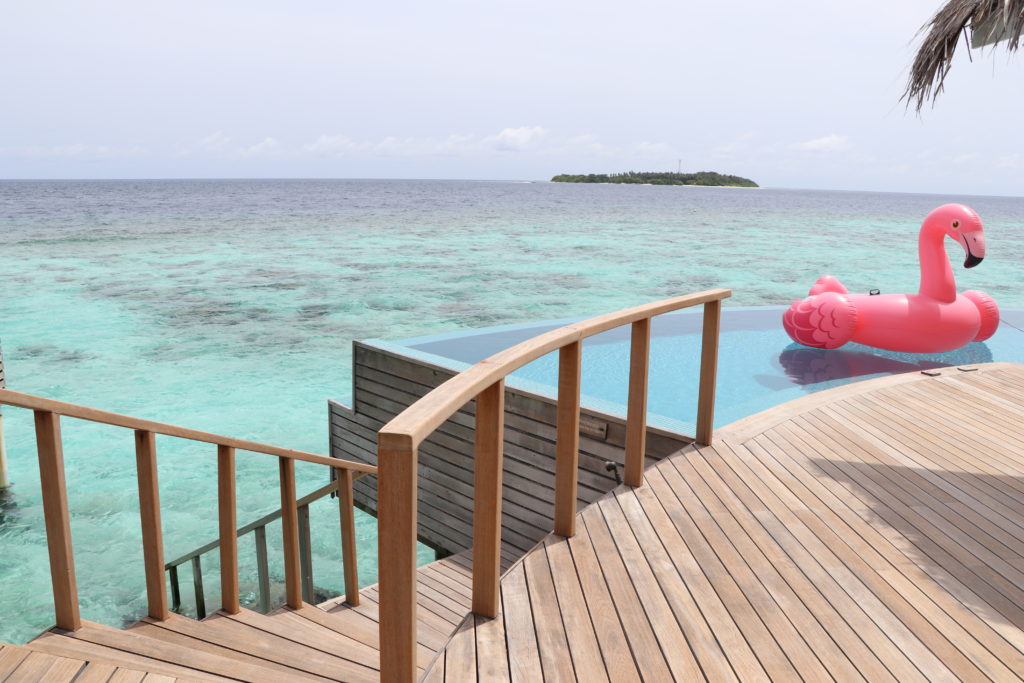 Inside the overwater bungalow, refreshments and fresh fruit were waiting in the living space of the bungalow. All guests receive complimentary bubbly and fruit baskets upon arrival.
The detailed and thoughtful touches provided by the Milaidhoo family always went above and beyond. While a guest on the island, they take the time to learn your favorite drinks, foods, treats and vacation goals to ensure every second of the stay is exactly as you dreamed for it to be. And let me tell you, this was a total dream come true.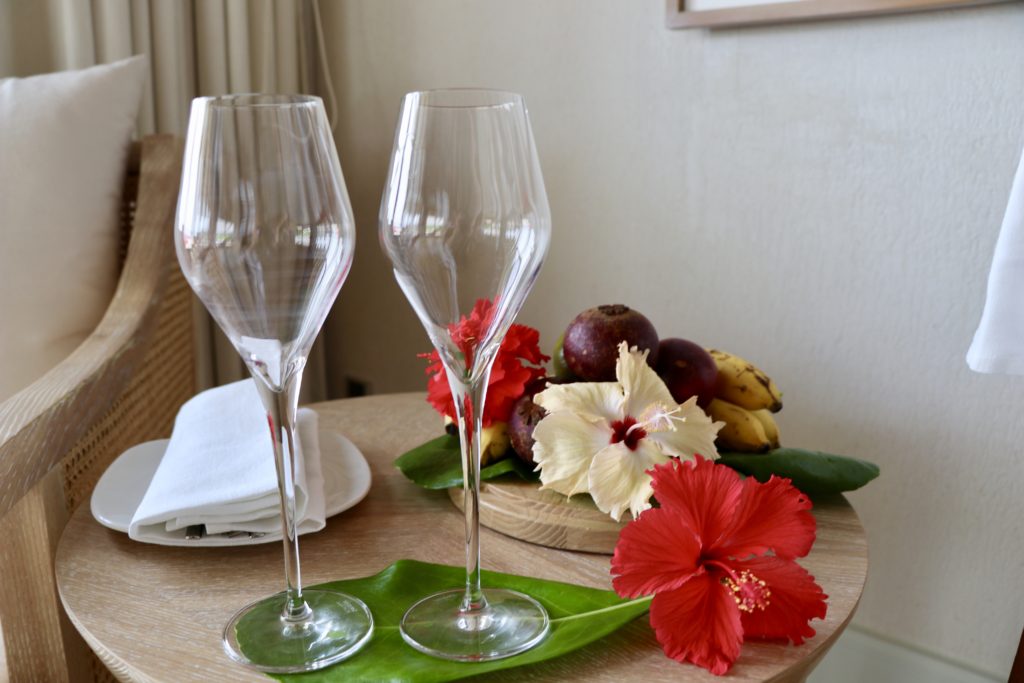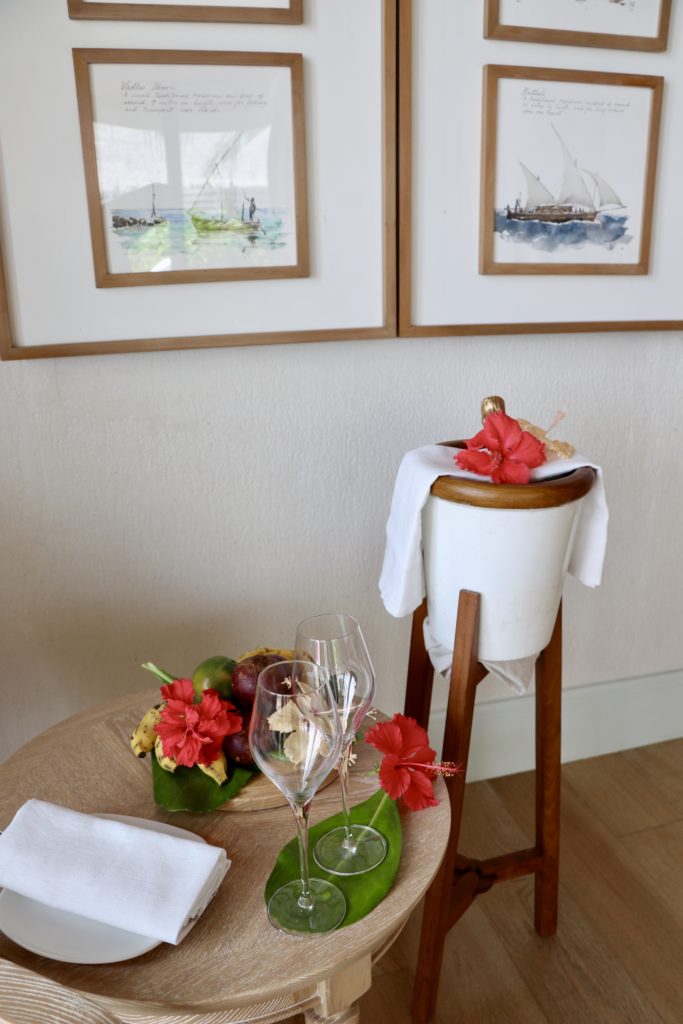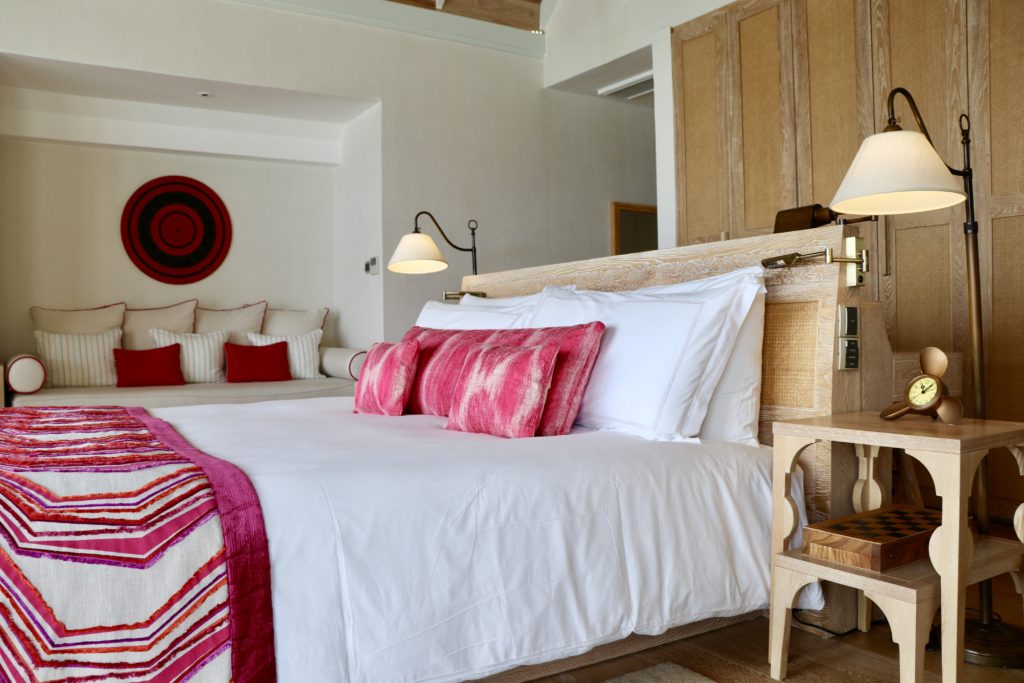 Inside the vaulted ceiling villa is a king bed facing the ocean, a discreet flatscreen-TV, private wine fridge, full size fridge/mini bar, coffee machine, ceiling fan and air conditioning.
The interior design is inspired by Maldivian heritage and culture, with furnishings custom-made for Milaidhoo. I absolutely loved the pops of hot pink against the natural wood furniture.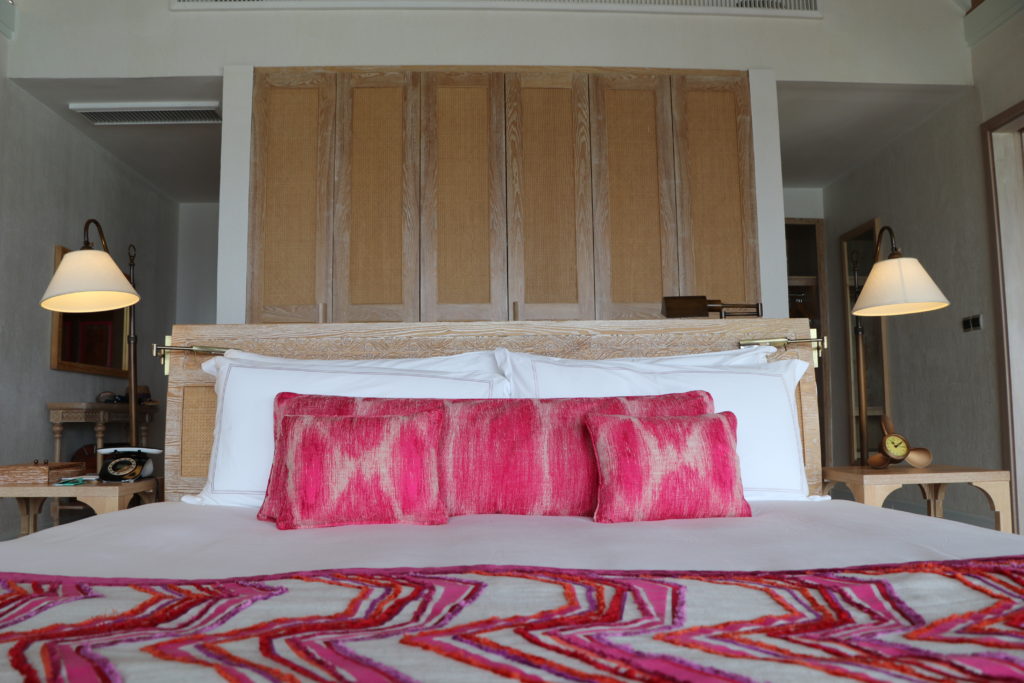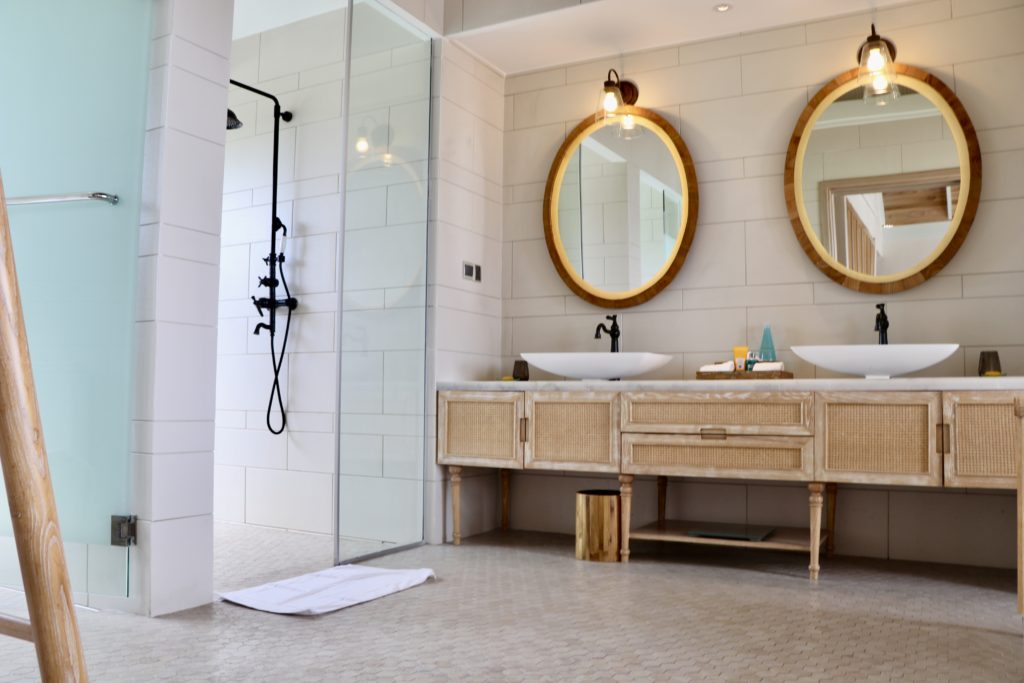 The huge bathroom has a separate deep bathtub with sliding doors that open directly out to an ocean view and tropical rainshower with a glass wall offering views of the sea below.
You can stand in the shower with hot water running down your back and look down at your feet to see colorful tropic fish swimming in the ocean below you through the glass flooring. And of course, this 5-star luxury property only offers guests the finest of toiletries with Italian made Aqua di Parma products.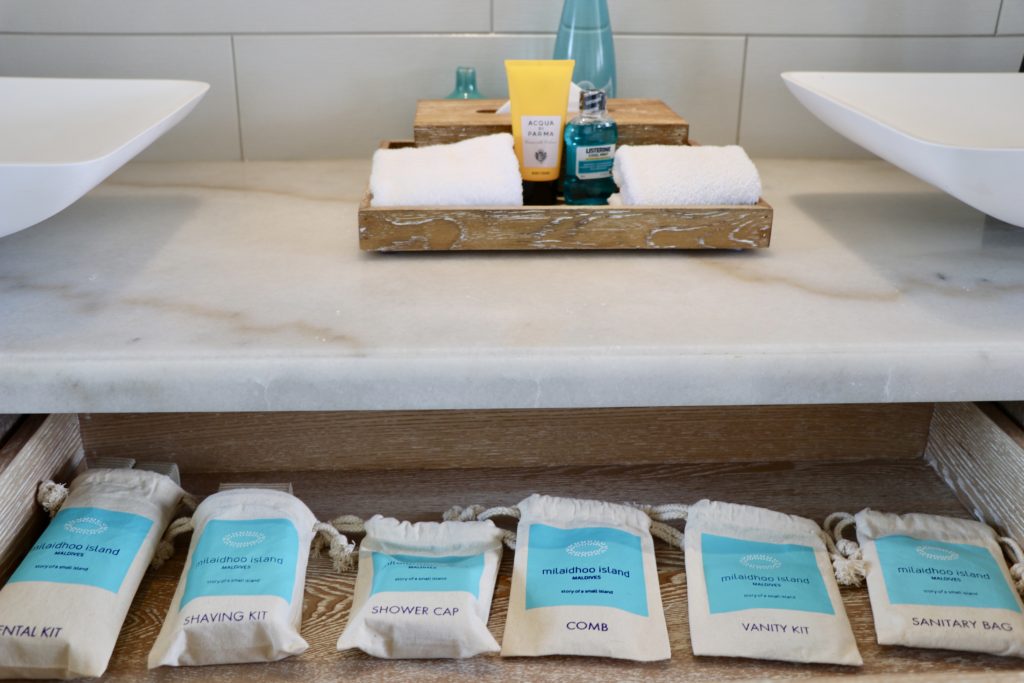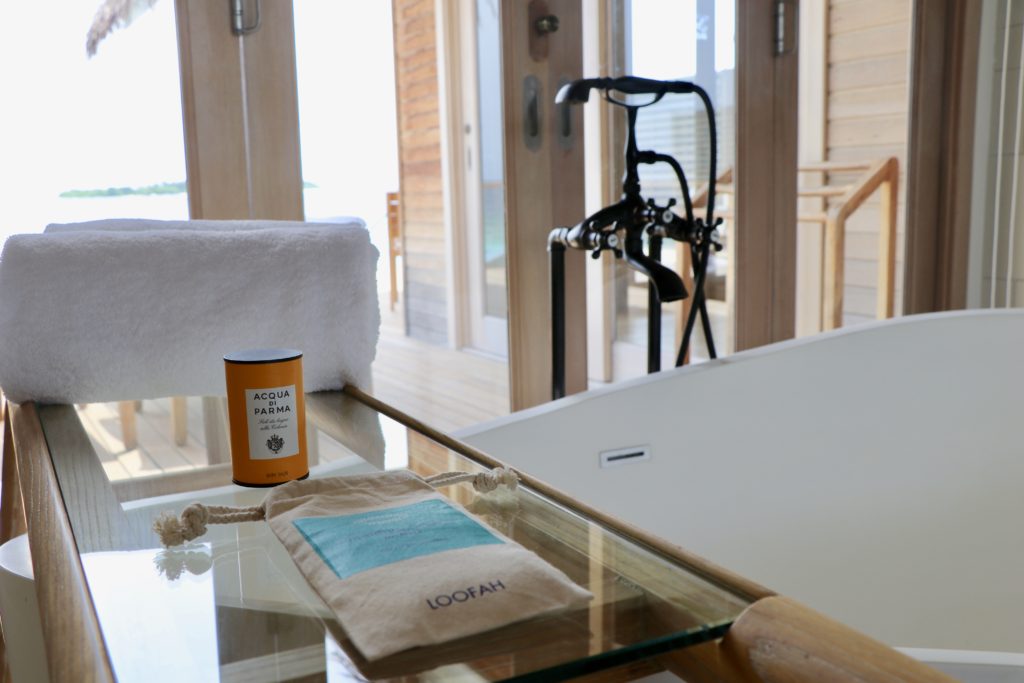 The large walk-in closet and dressing room inside the bungalow made unpacking and staying organized on vacation seamless. Guests are provided with clean bathrobes, plush slipper and fluffy beach towels provided daily.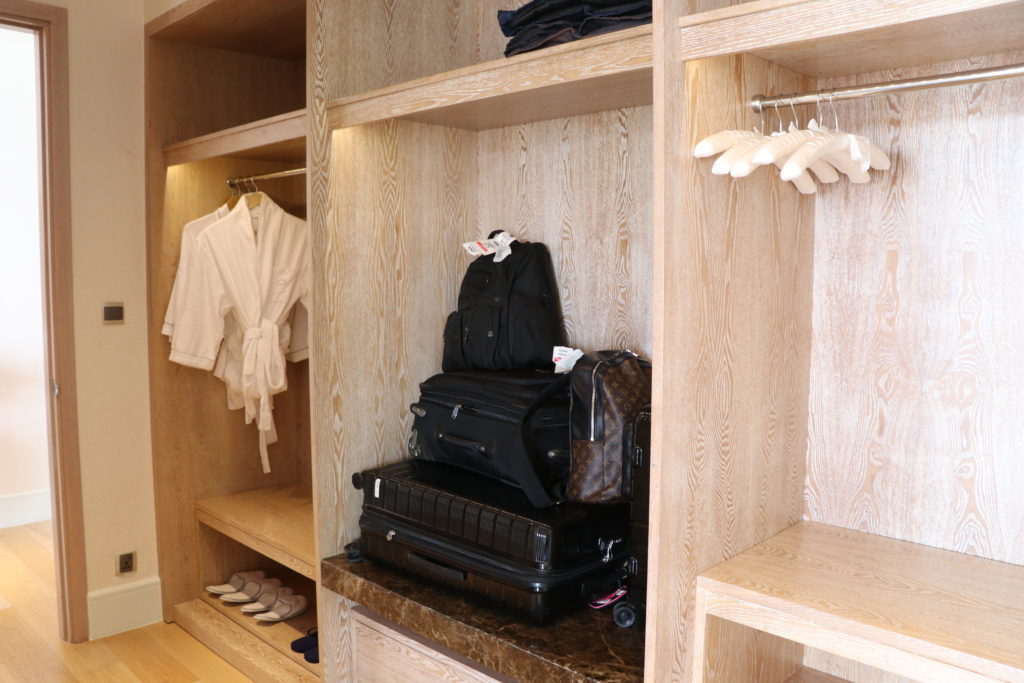 After getting settled, unpacked and hanging sundresses in the closet, it was off to lounge on the private deck with a cold glass of bubbly before brunch.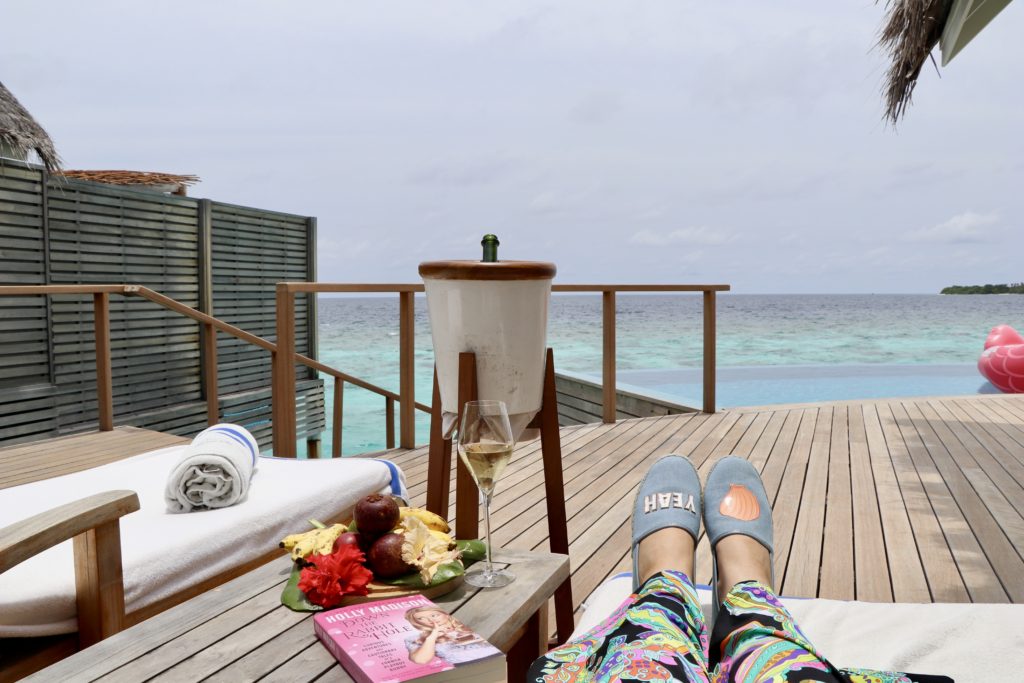 After diving into the first few chapters of my chick book, we were feeling hungry and headed over to one of the main restaurants for a late breakfast/brunch. As part of our nightly rate, our breakfast was included on each day of the stay.
Milaidhoo Island offers three restaurants and two bars that are designed to appeal to your senses, offering outstanding dining in wonderfully informal settings. Although the food and ambiance is ultra high-end, the attitude is relaxed beach casual — shoes are not required at any of the restaurants as guests are encouraged to slip off those heels and dig toes into the soft sand as you taste, sip and savor.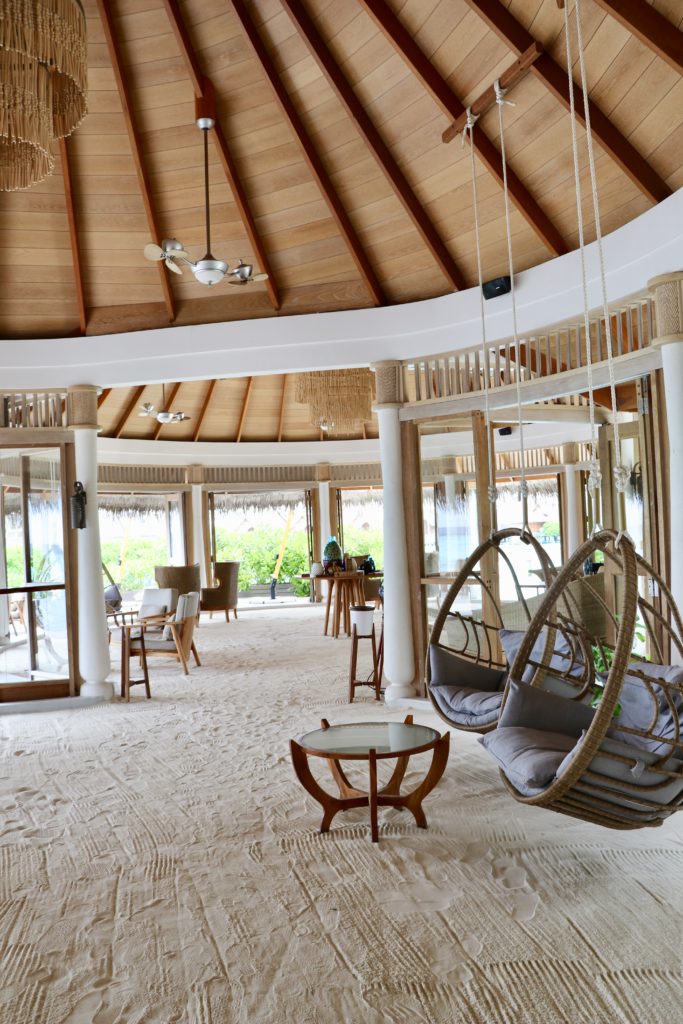 Gorgeous cocktail lounges and tastefully designed dining spaces feature floors made of the purest natural white sand.
Although I packed an entire suitcase of sexy strappy sandals and resort style wedges, I never needed to them wear them and my feet loved me for it. Here at the hookah cocktail bar, as you can see, the floors are just completely covered with silky sand. I completely embraced the barefoot vacation vibes and my feet felt like they were constantly being massaged by the texture of the sand in all the dining spaces.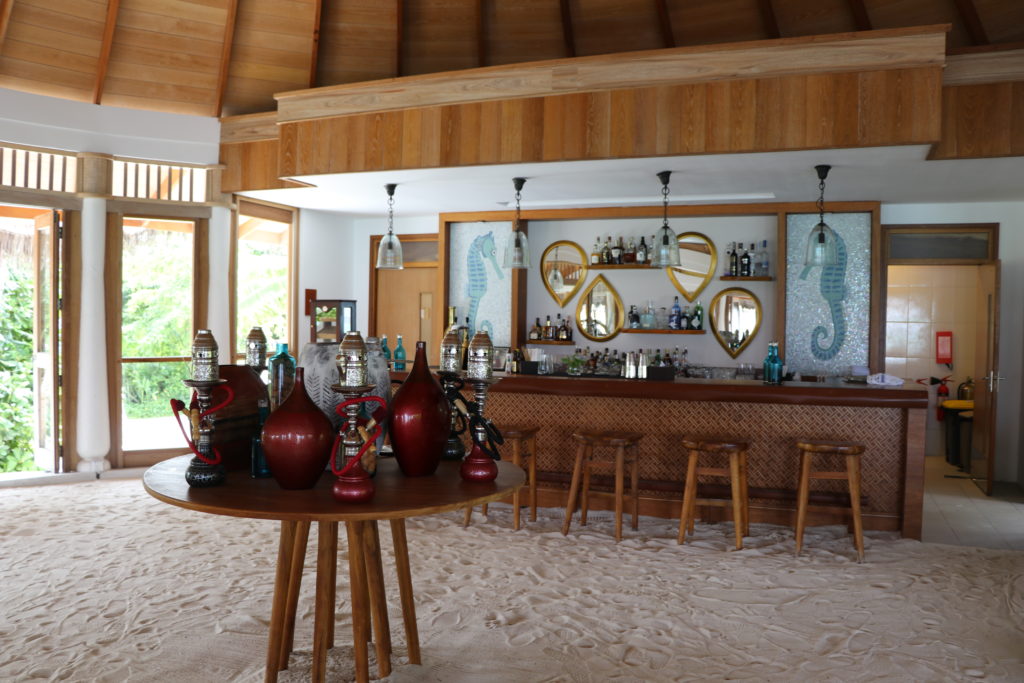 Each morning at the main restaurant for breakfast, there were a variety of speciality coffee concoctions, fresh pressed juices, and healthy smoothies. The drip coffee was infused with different flavors and spices. I personally loved the vanilla infused creamy latte.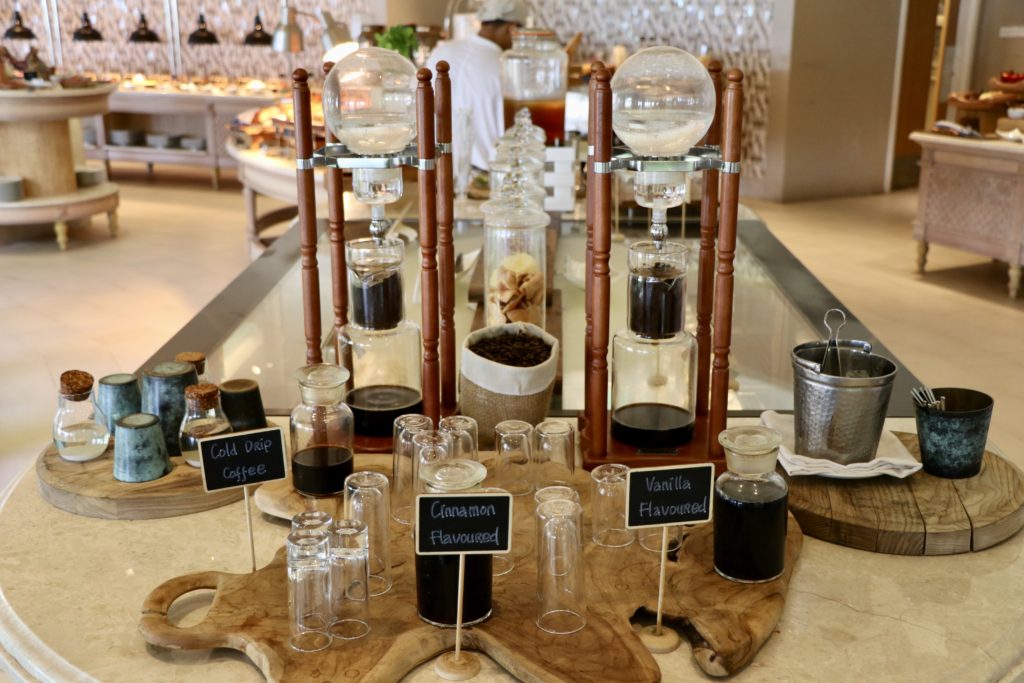 Fresh fruits from the region were carefully carved and served. There was even a "fruit bar" available at brunch where you could select any freshly picked item and have it custom carved by the onsite fruit barista.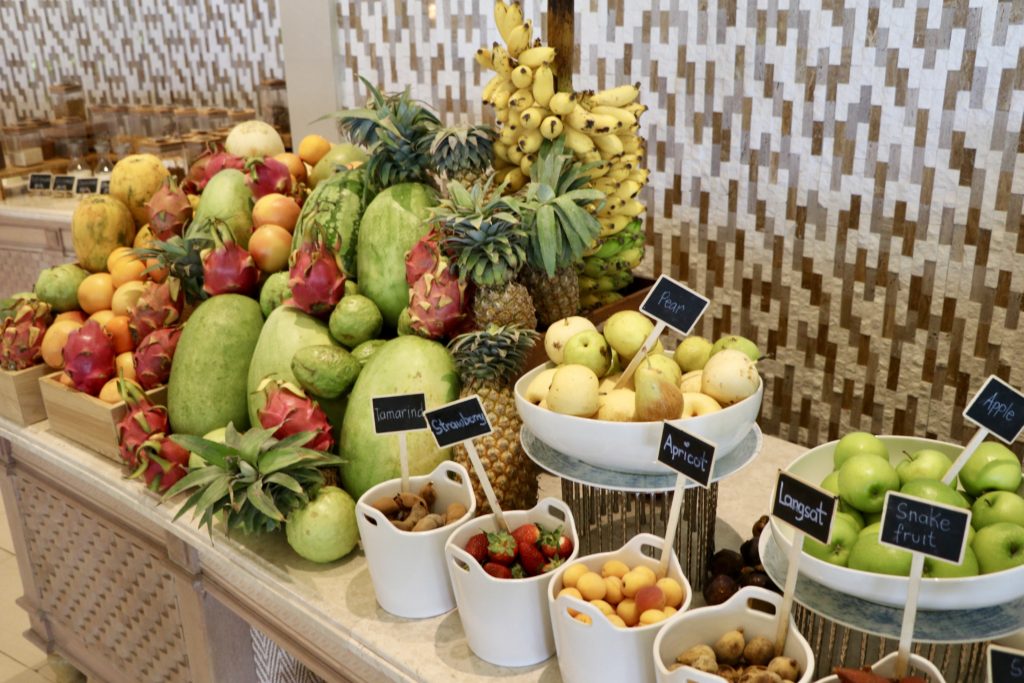 If there were a prize for the best breakfast in the Maldives, Milaidhoo would get it. My jaw dropped with the endless array of fresh breads, muffins, cakes, cheeses, hand-cut charcuterie, and more. Gluten-free, vegan and other dietary requirements are well catered for if you are a picky eater.
An assortment of the world's finest cheeses, jams and spreads was on display each day. I loved making a little slice of a warmed baguette drizzled with honey over a hearty brie flown right in from French farms. Even though you are on a remote island in paradise, you can still expect to have access to the finest of foods and international delights flown in daily from around the world.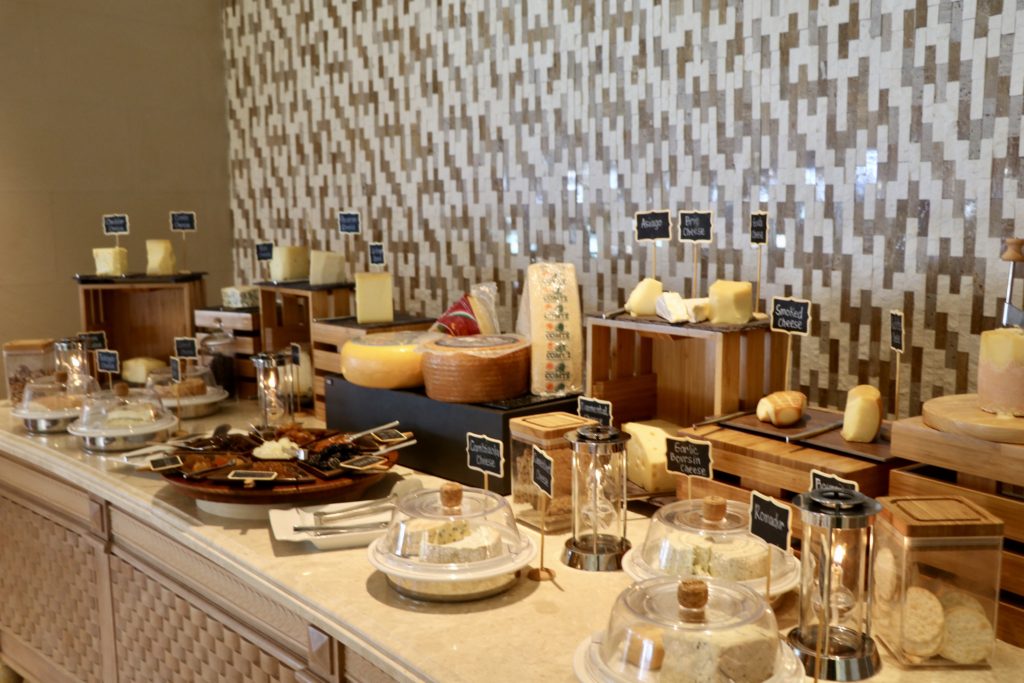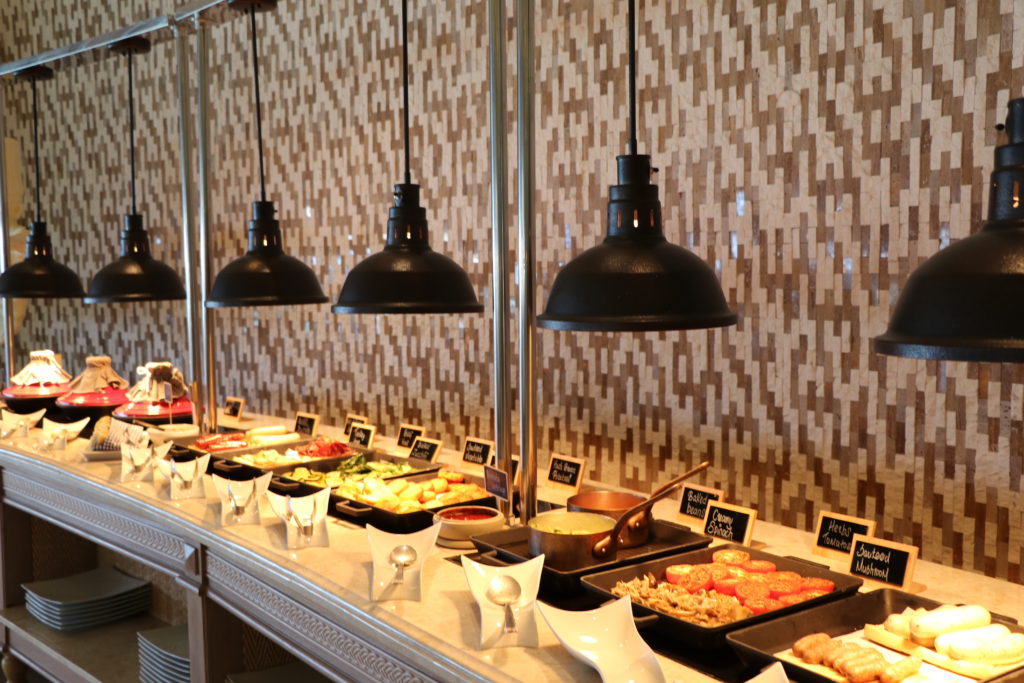 Just steps from the main restaurant where breakfast is served, there is a large infinity pool and poolside bar open to all guests for enjoyment. You can ask the waiters to set-up your breakfast here at the pool area or down on the beach for even more privacy.
If this is not exclusive enough for you, there is always the option to opt for direct room service to your villa or overwater bungalow which is available at anytime of the day.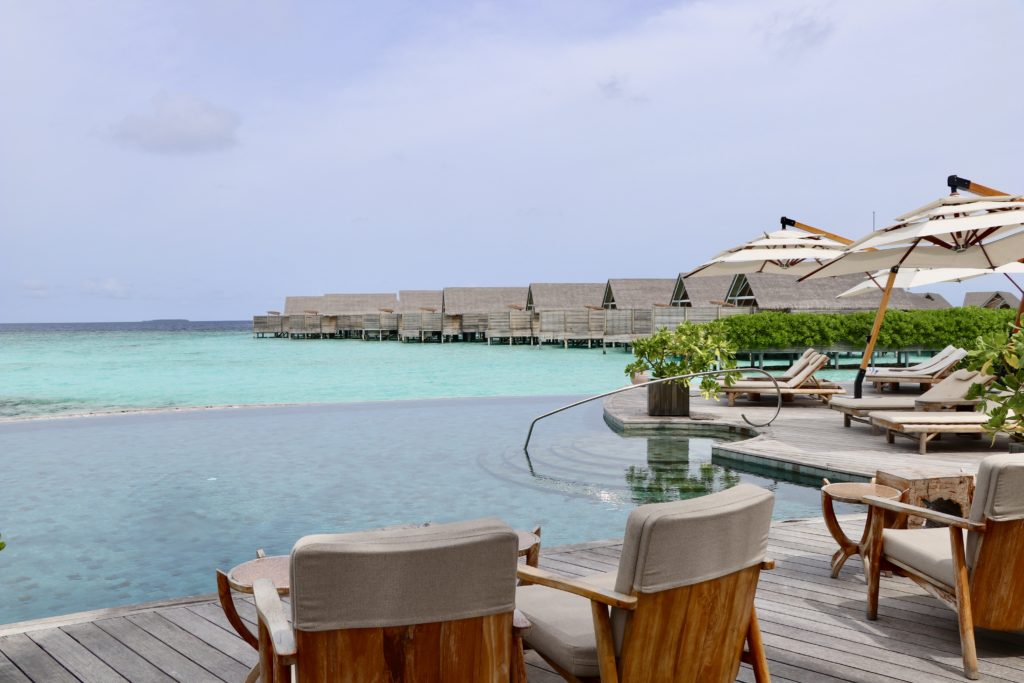 We had our brunch set-up on a white sand beach about six feet away from the heavenly ocean water. The colorful spread of our fresh foods against the turquoise shades of blue captured a total insta-food moment that I posted for my Ladyhattan readers enjoying an insider peek of the Maldives through a lady lens.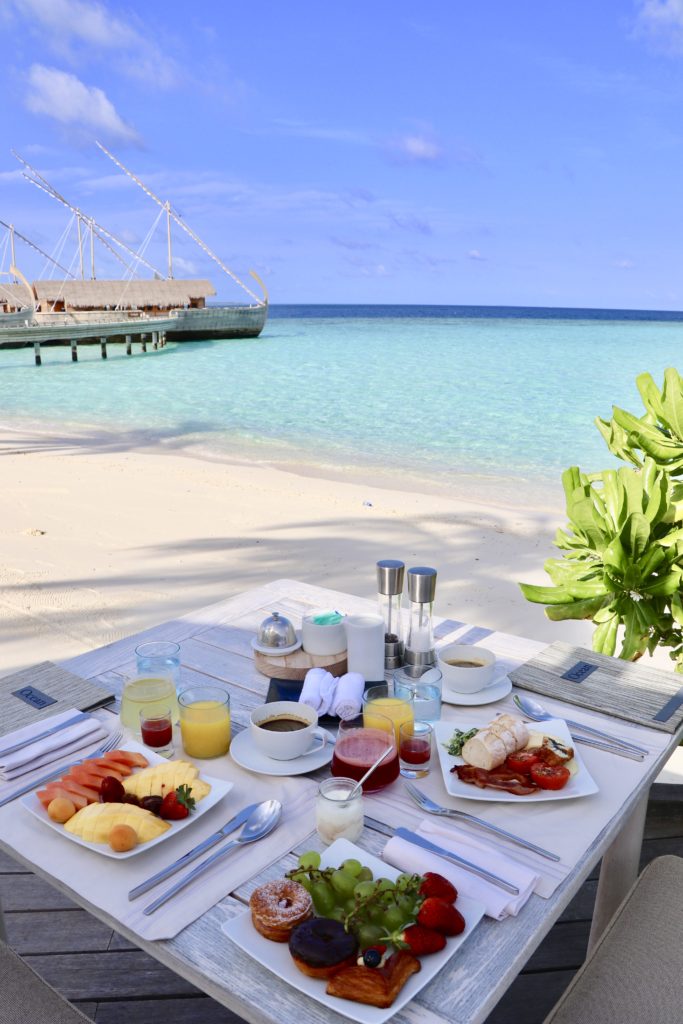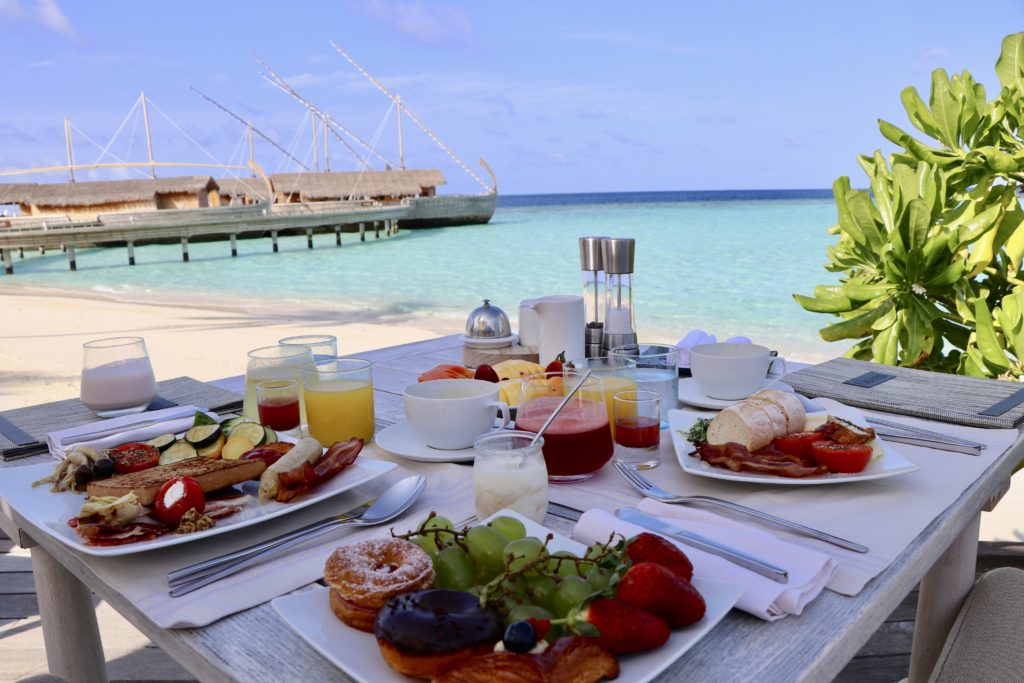 After brunch on the beach, it was time to head to the island's spa facility for an afternoon of blissful relation for the body and soul.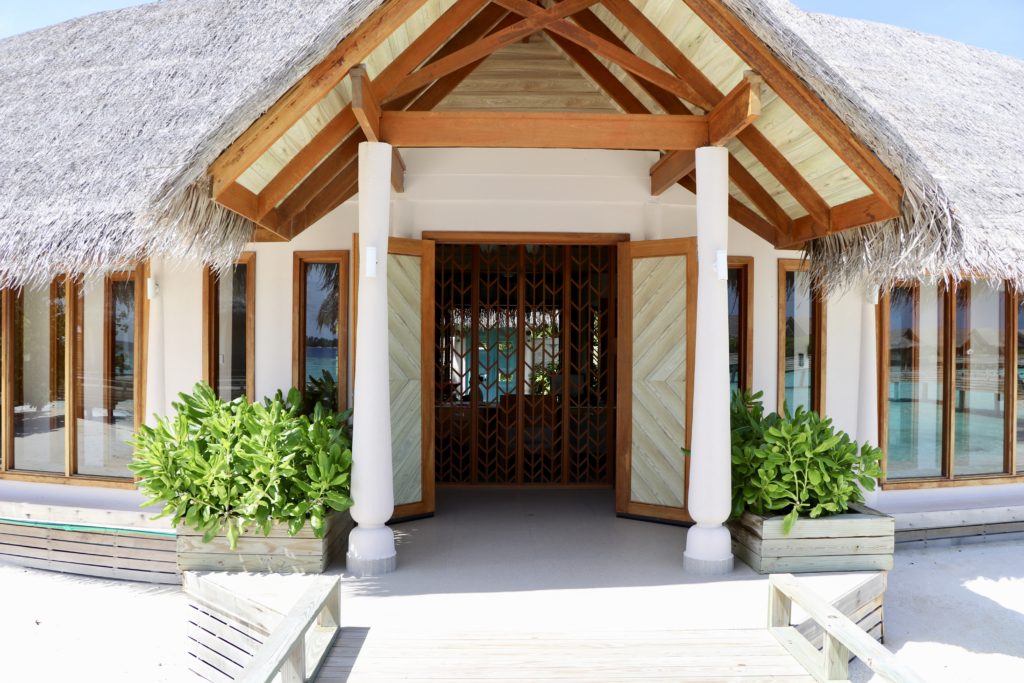 The Milaidhoo Spa offers holistic treatments which incorporate the powers of botanicals combined with entrancing healing traditions from Africa, using local herbs and plants. For the facial treatments you can expect only the finest of skincare products from my personal favorite beauty brand, Elemis.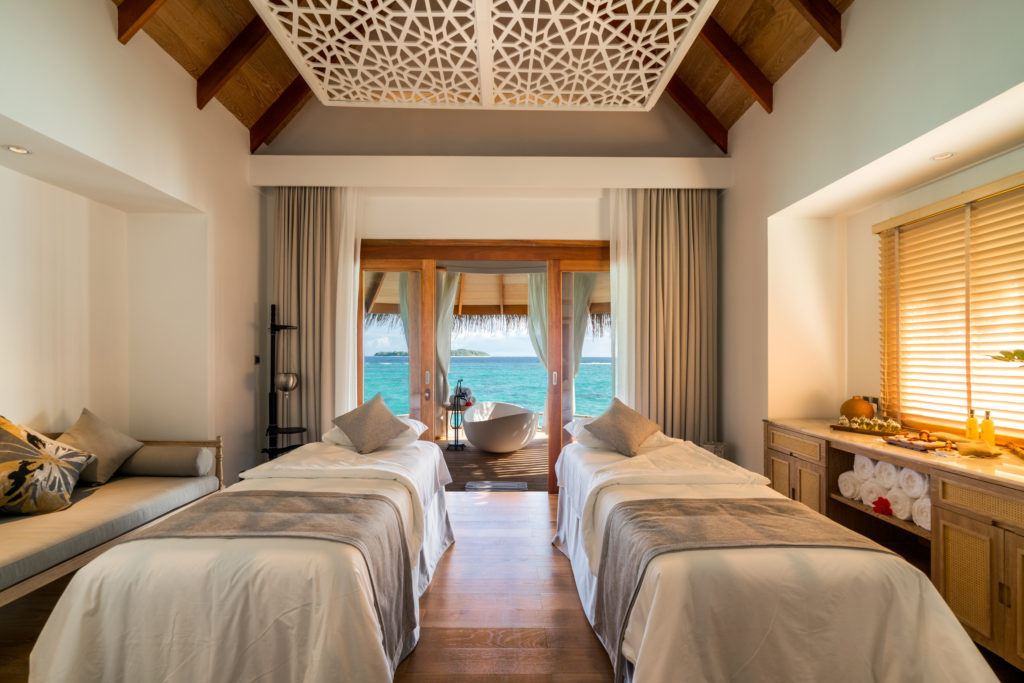 The treatment rooms are all in individual overwater bungalows for privacy and tranquility. Nearby the treatment rooms, the spa also features an expansive over-water yoga pavilion that hosts complimentary daily yoga or meditation sessions where all you have to focus on is your mind, body and soul.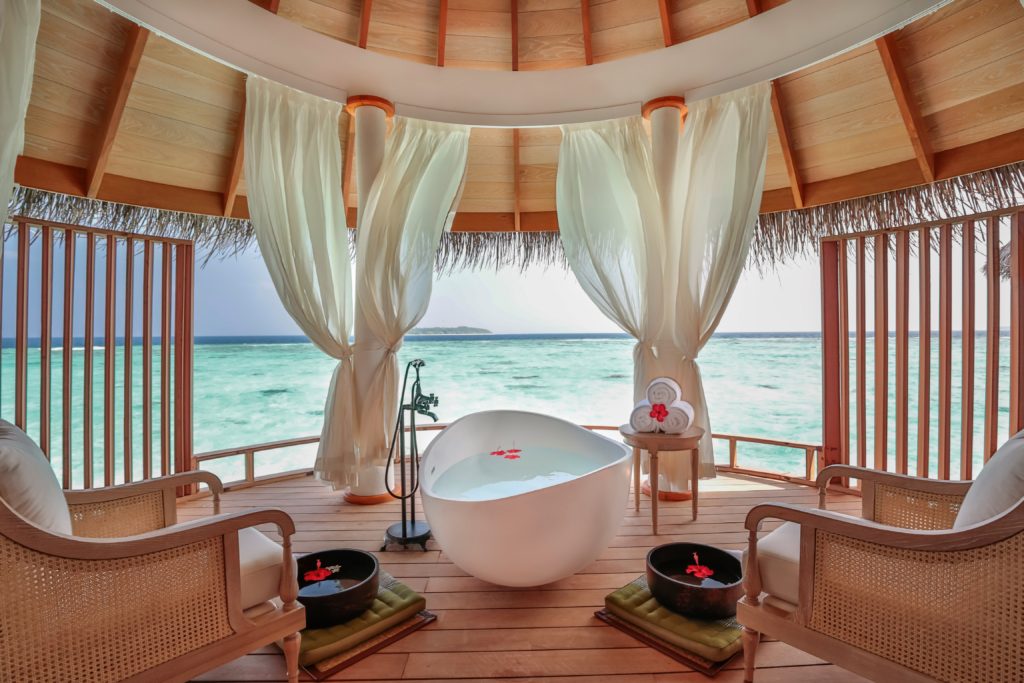 At the end of a body massage treatment, I rolled off the bed in a hazy and ultra relaxed state. And to my surprise realized that the tub had been filled with a dreamy bubble bath adorned with flowers and love – literally.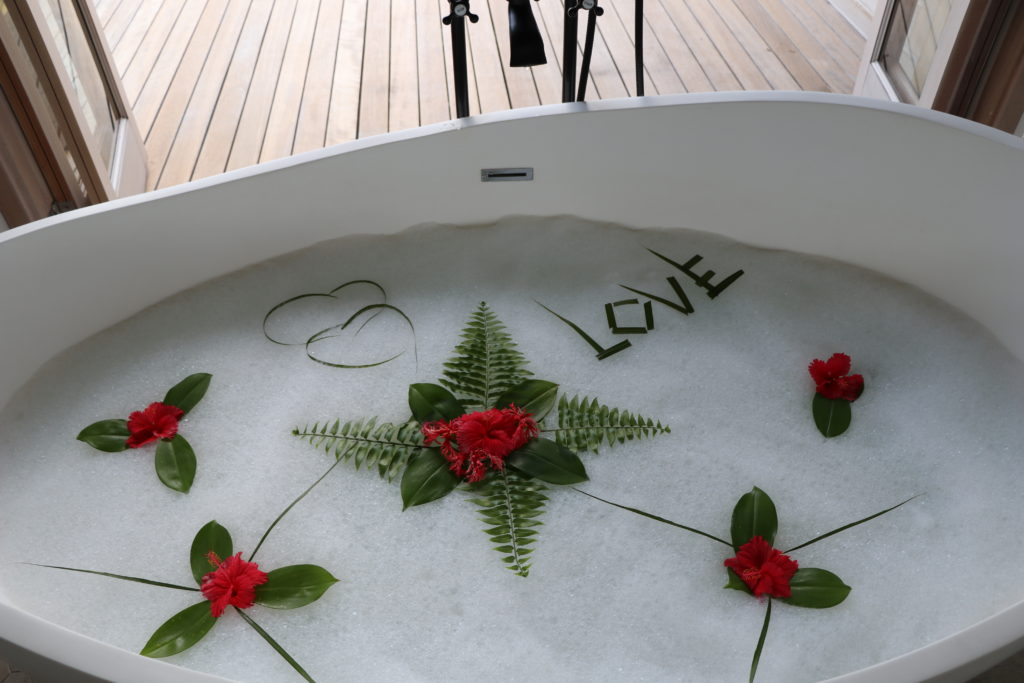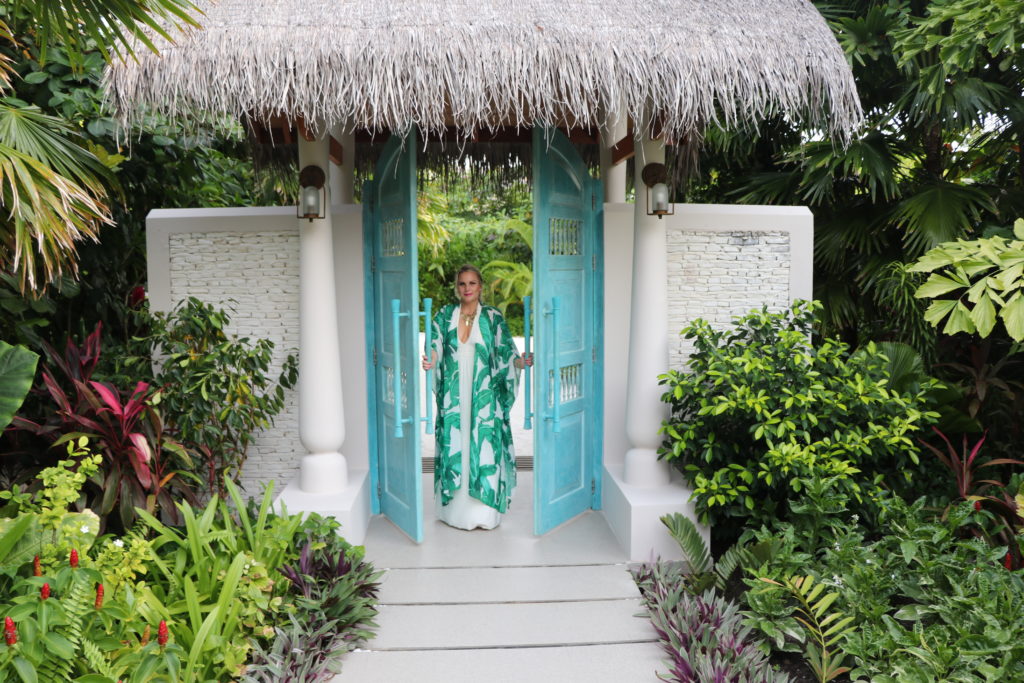 After soaking in the Milaidhoo-made bubble bath at the spa, I slipped into a maxi with a palm-inspired robe to match the natural green surroundings. I left the spa to head back to our private bungalow to catch the sunset before dinner plans later that evening.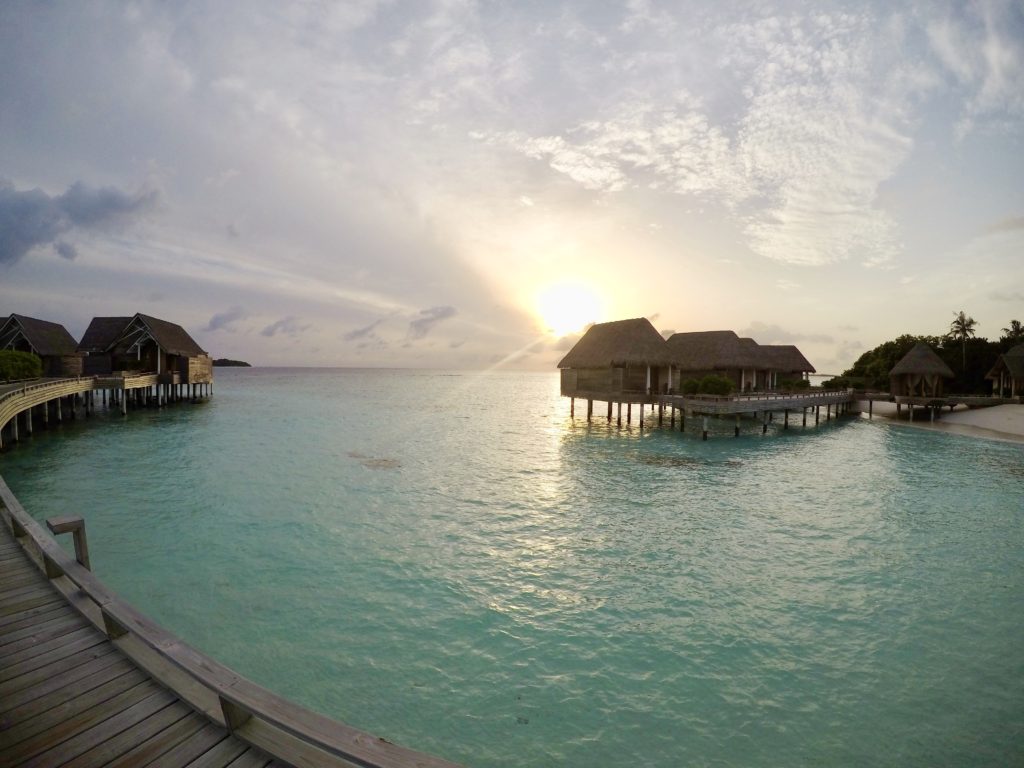 The sunsets on this island oasis are everything. Shades of vibrant yellow, orange, pink and red explode over the expansive sky as the perfect day comes to a quiet end on Milaidhoo. I cannot think of a more romantic place to sip a cocktail and enjoy a sunset, especially in the privacy of your own bungalow house.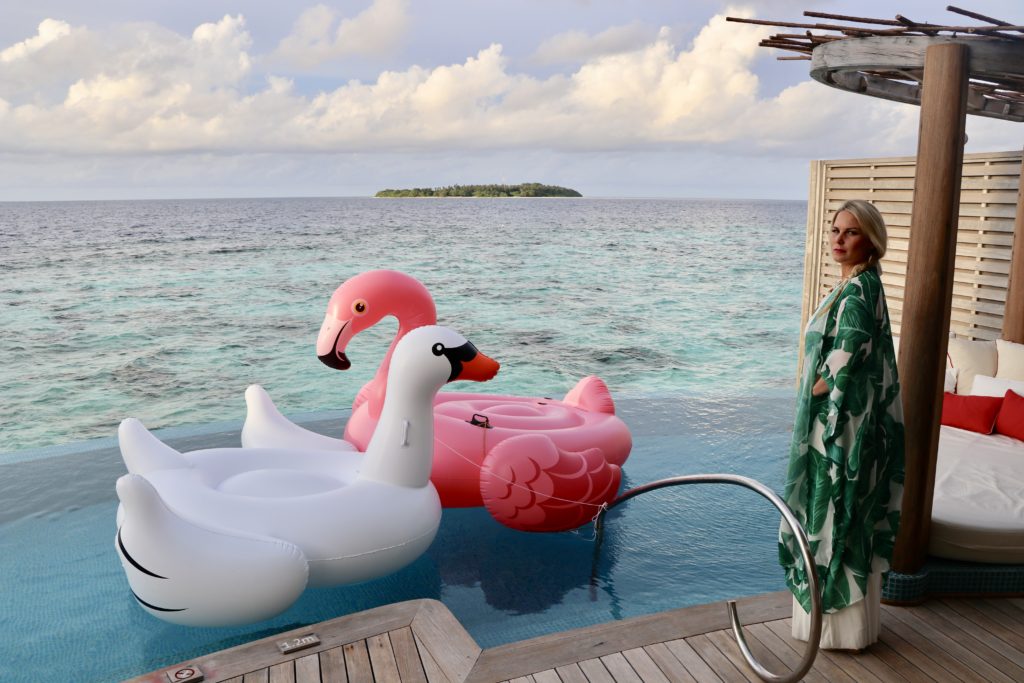 From the bungalow, we walked back over to the central part of the island resort to enjoy our first dinner at Milaidhoo's Ba'theli Lounge – the resort's premiere restaurant.
The restaurant itself is constructed as a gorgeous wooden boat that resembles how you would likely envision a luxurious Noah's Ark to look.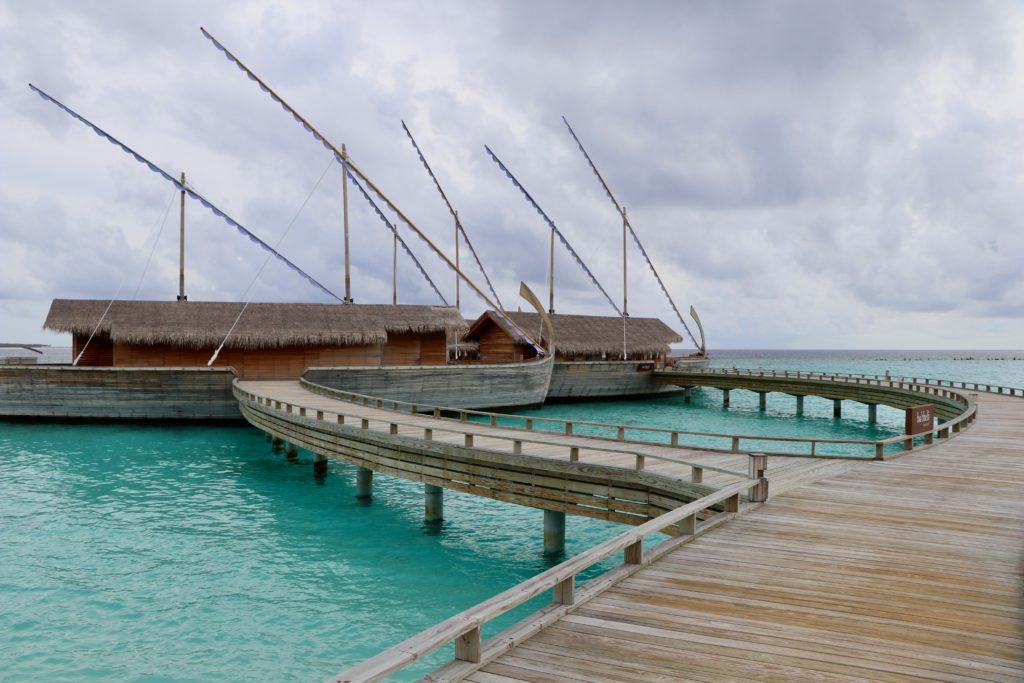 Upon arrival, I was welcomed aboard the only restaurant in the world set on a boat in a lagoon featuring gourmet dishes of inspired island cuisine from the Maldivian Spice Route.
All of the dishes highlight the epicurean delights of the old Spice Routes using only the finest ingredients, blending herbs and spices to enhance natural flavors. We ate fresh fish marinated in creamy coconut flavors, an assortment of sushi, and some spicy sides of veggies and rice.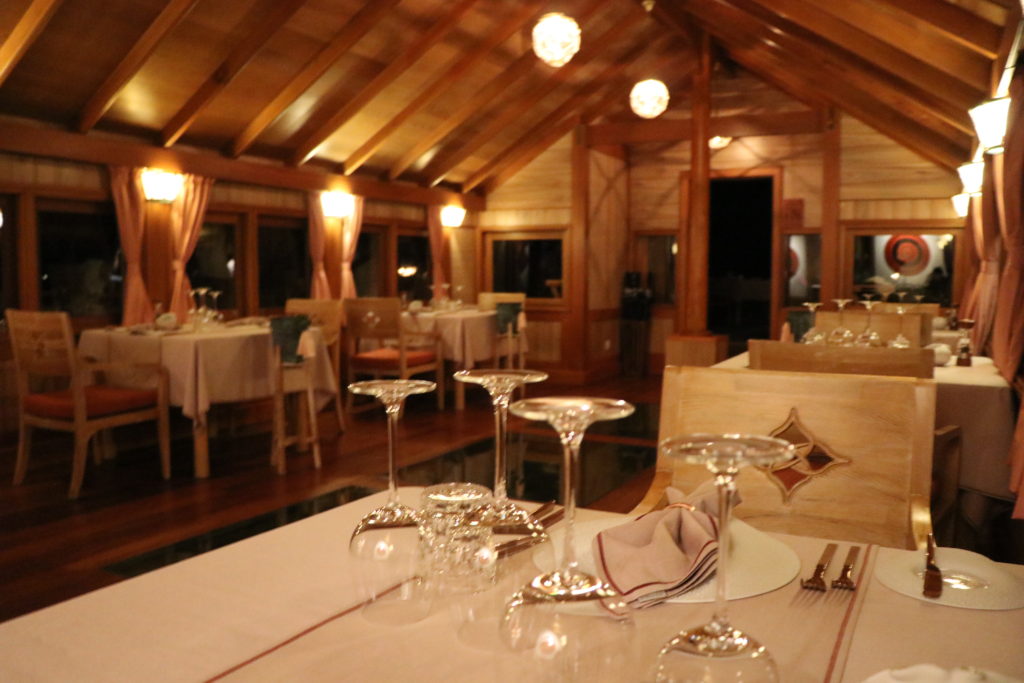 You can dine outside on the 'deck' of the boat where underneath a pitch black sky lit millions of stars that look like little candles in the sky. There's also indoor seating in air-conditioned comfort where you can watch the sea-life below through glass floors.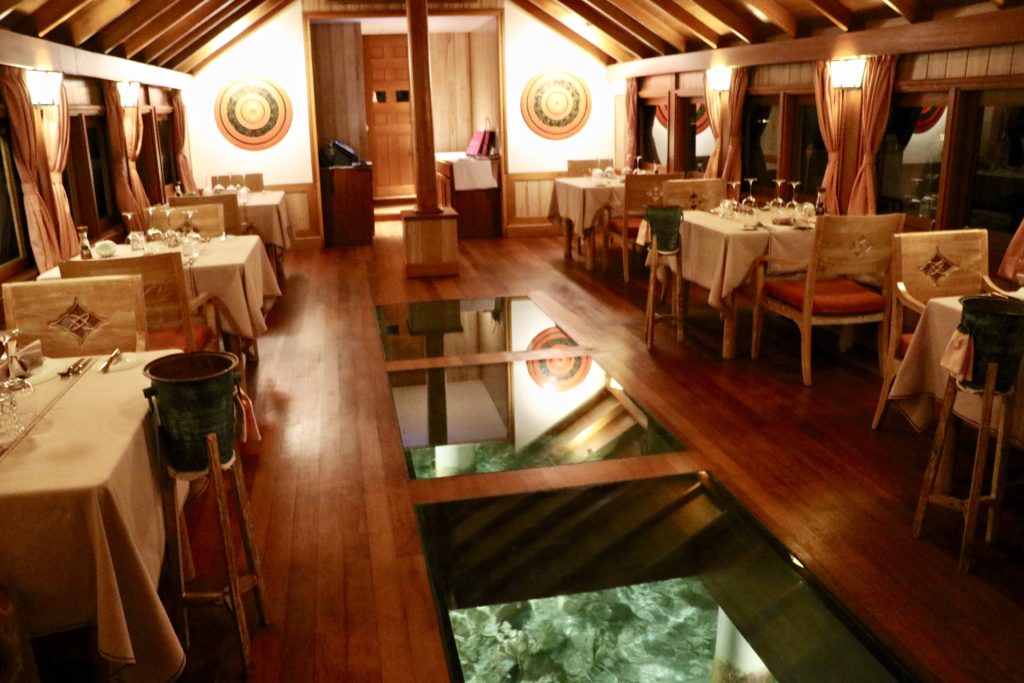 After a mouthwatering dinner inside the "boat" I made my way back to the bungalow to dive into a perfectly turned down king bed for one of the best sleeps of my life. Everything about the first day in a Maldivian paradise was exactly how I dreamed – epic.
For more on this incredible 5-star resort in the Maldives, you can checkout the Milaidhoo website or message Ladyhattan directly at [email protected] with any questions you may have on ensuring your vacation dreams come true too.