I'm heading back to Africa to visit Kenya with Natural World Safaris and I could not be more excited. Packing for a safari is exhilarating. You are packing items to prepare and dress yourself to be within a few yards of some of the world's most majestic animals – lions, zebra, leopard, cheetah, elephants, rhinos and more. While this is an exciting packing experience, it is definitely a challenging task. The typical vacation "resort attire" will not fare well in Africa, especially if you plan for an active African safari adventure.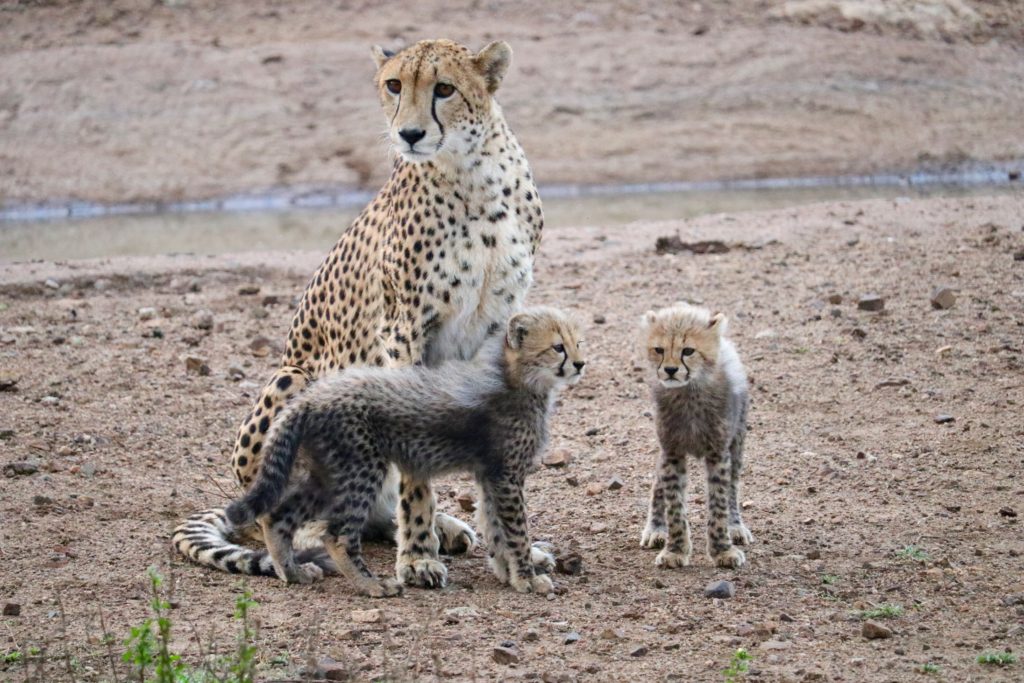 The goal of this Ladyhattan Packing Guide, is to prepare female travelers around the world with safari essentials and packing tips to plan for a chic, but safe, trip of a lifetime to Africa.
SAFARI CHIC
Mastering the art of "safari chic" is no easy feat. See, a safari is truly an outdoorsy and adventurous activity requiring the proper colors, gear and safety measures. Safari travelers are encouraged to avoid bright colors and black by dressing in neutral colors such as tans, browns and dark green to camouflage with the natural scenery (and cough, cough… to avoid attracting beastly animals like a pride of lions).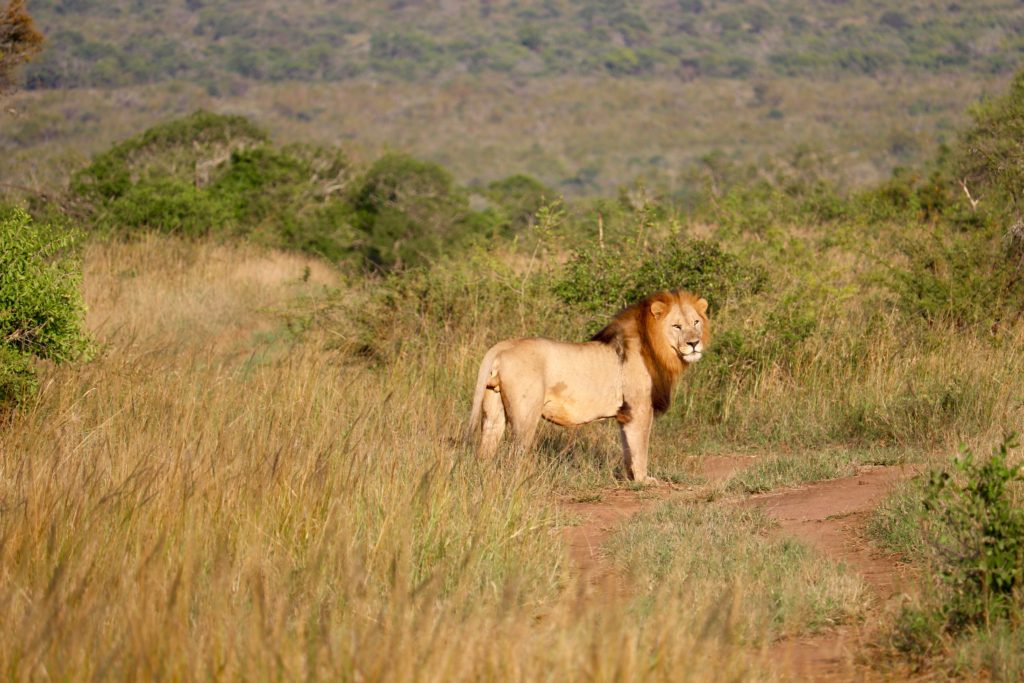 Additionally, the weather in wide open African terrain can change at any moment – from blistering hot temps under the sun, to a sudden rush of rain showers or cold winds during early morning game drives. Typically during your stay at a safari lodge, you will take two game drives to view animals per day – early in the morning before the sun rises, and again in the evening just after the sun sets. This means that layers are crucial for adjusting to the changes in climate.
Wearing clothing that is windproof and waterproof is also a good idea, as the elements when outdoors for long periods of time can be unpredictable. Thankfully I found several items from one of my favorite adventure travel brands, Orvis, that are absolutely perfect for a safari adventure. Orvis has special clothing items (in tan colors) with features such as UV protection and even insect repellent built-in to keep you safe while having fun viewing animals. I have yet to find a better company out there that has all the "outdoor safari essentials" for women that are both practicable and attractive looking.
Here are the Safari Essentials that I am packing from Orvis:
Easy Packable Kaftans for Lounging at the Camp
When you are not out in the jeep cruising the bush, you will find yourself with down time at the camp or lodge. Typical activities involve enjoying dinners, lounging by a pool with a stellar view and great book, or just relaxing in a beautiful environment on the camp. This is a prime time to undress from your "outdoor clothes" and transition into something still in theme with the location, but comfortable and stylish.
Kaftans and robe-like coverups are the perfect option for this portion of the trip. The reason why these items are my go-to packing essential, is because of the fact that they take up mere inches of my suitcase when rolled up tightly. They also look fantastic on any body type, as most kaftans/robes are one size fits all. See, when I pack for a safari, my suitcase space is dominated by bulkier outdoor clothing items (hats, vests, jackets, pants). So for my lounge attire, I always turn to the kaftan as the premiere option that is stylish but easy to pack in a carry-on bag.
A few years ago when I visited Bali Island, I connected with new friends at an Australian/UK based kaftan designer company – TheSwankStore. I went back to Swank in preparation for this trip because not only do they have gorgeous kaftans, robes and flowy tops, but the styles are beautiful and many come in bold animal prints. You can check out the store by clicking here. I suggest considering the new Tigress Collection of various kaftan lengths/styles for eye-catching animals prints with a splash of glamour that immediately create that safari chic look.
But seriously ladies, not only are these kaftans stunning, you can literally roll them up and squeeze them into a suitcase or even a purse because they take up a tiny bit of space! The silk material is great to pack because you will never need to worry about wrinkles or pressing your dress, you just unroll it and voila, you're ready to look gorgeous during downtime at the lodge.
A Splash of Glam with the Right Accessories
To pull together these safari essentials, from outdoor clothing to animal print kaftans, I suggest you pack a few "pops of glam" through your accessory selection. A classic Louis Vuitton leather bag or an animal inspired piece of jewelry can add a fun touch of glam to this adventure filled travel experience.
The recent Gucci lines have had such a focus on animals, specifically lions, that you can always find fun designer pieces to take your "safari chic" look to the next level. As a more affordable alternative, you can find countless designer inspired items such as animal print scarves, safari hats and bold jewelry choices from Amazon.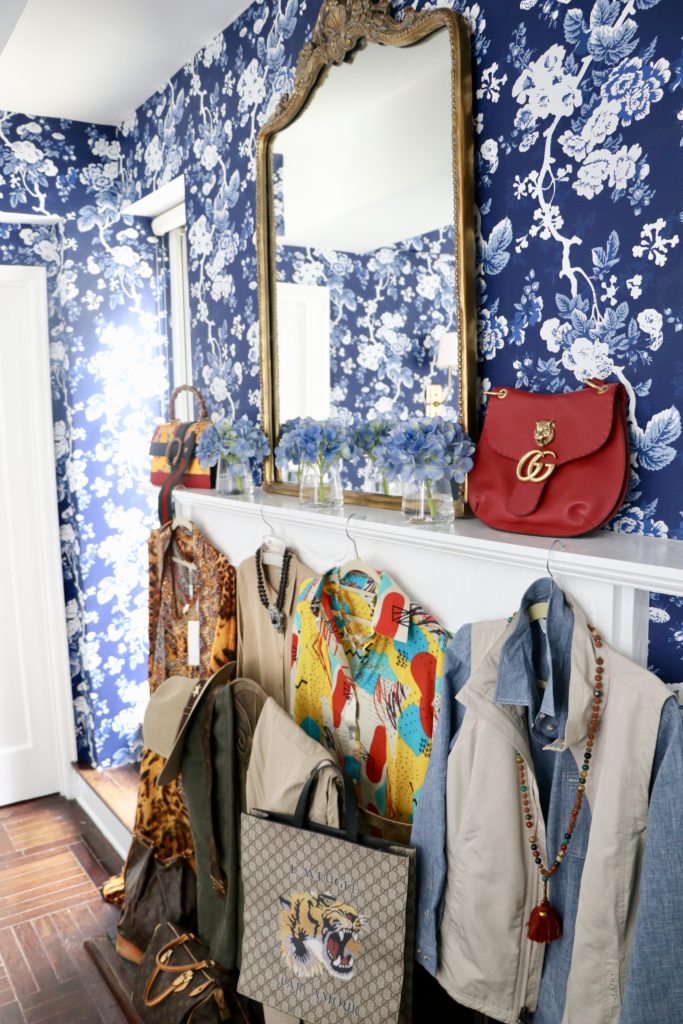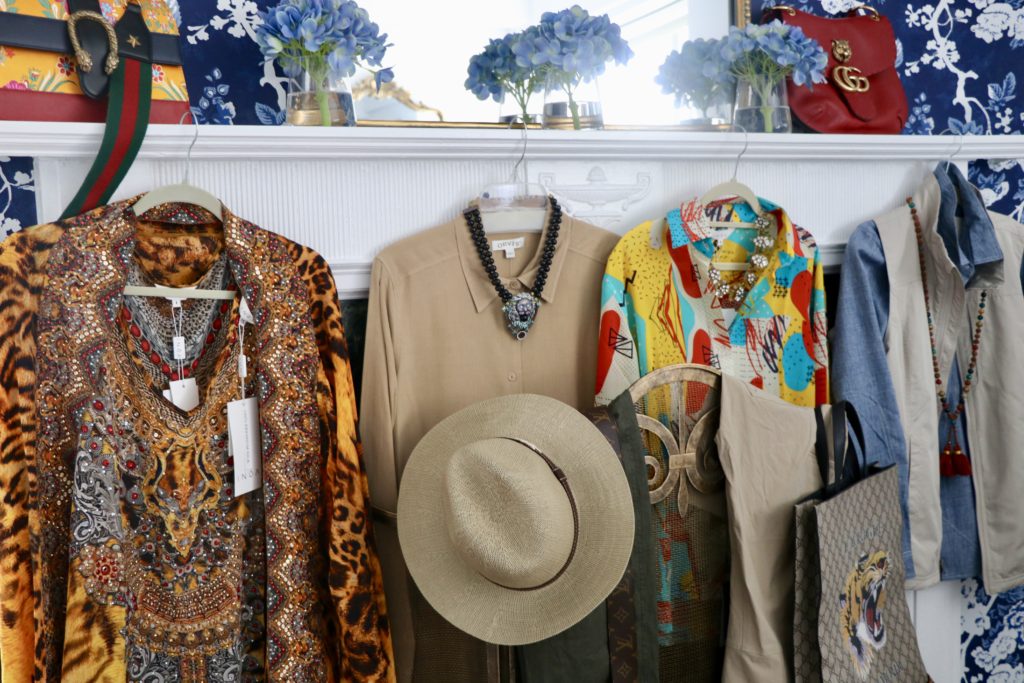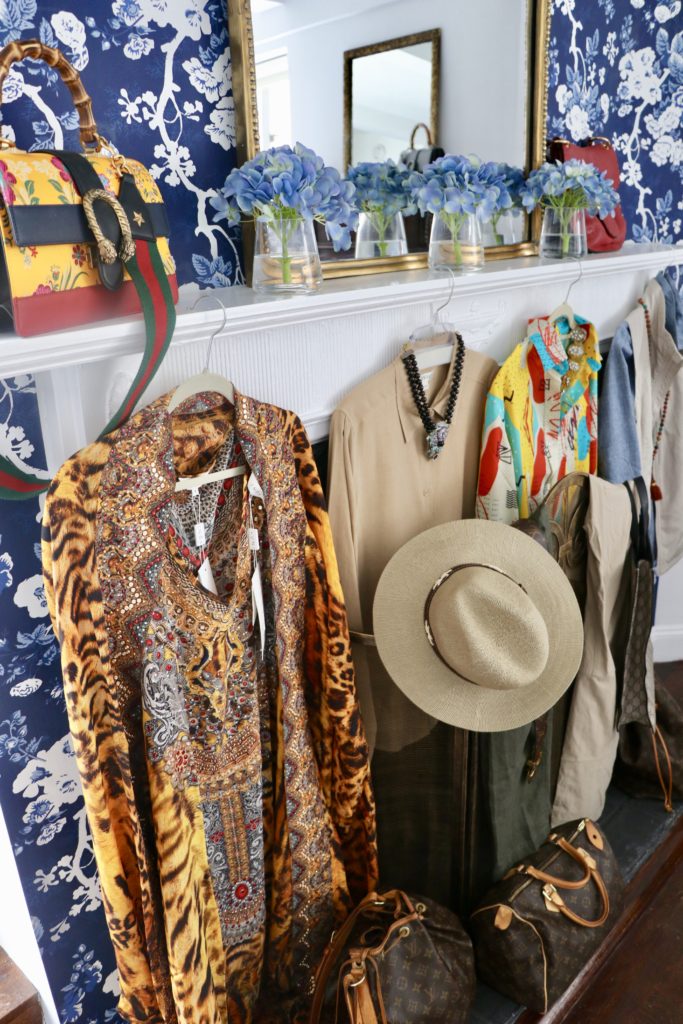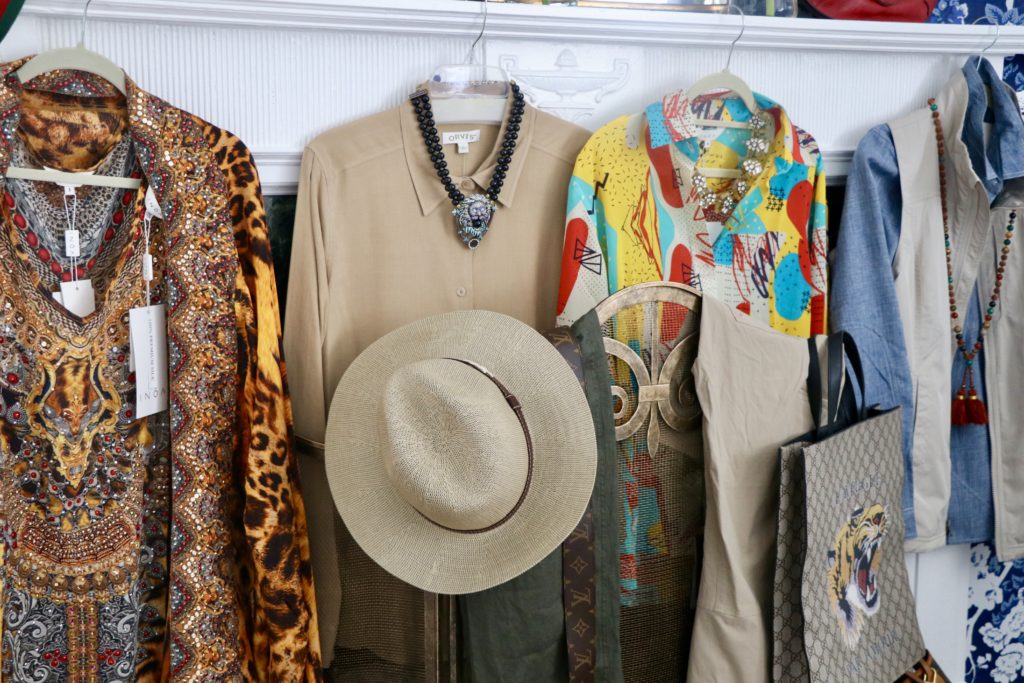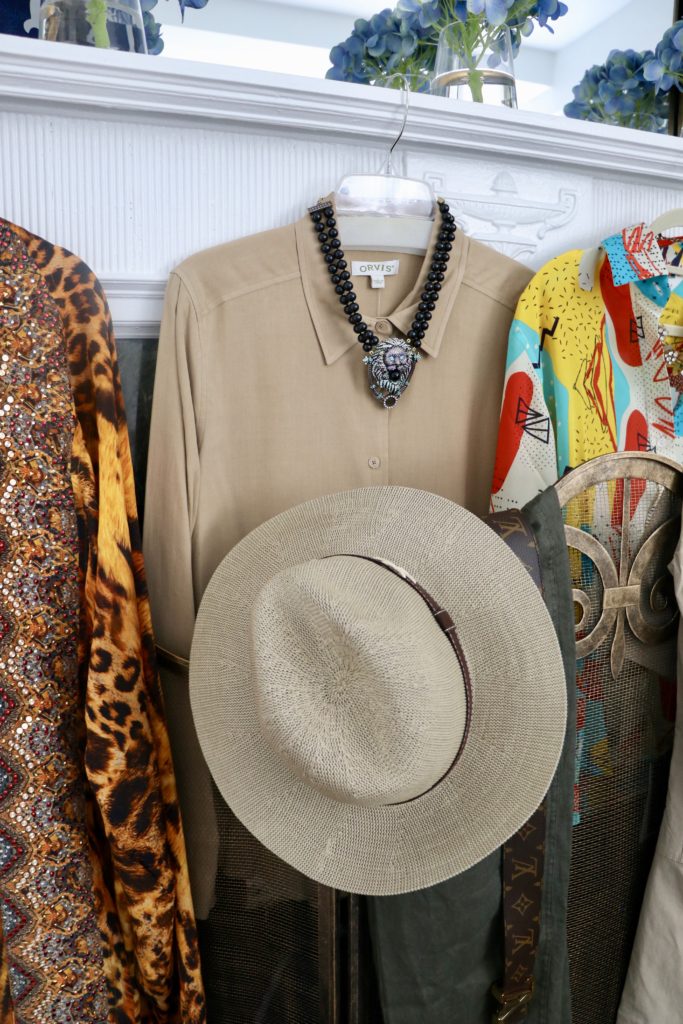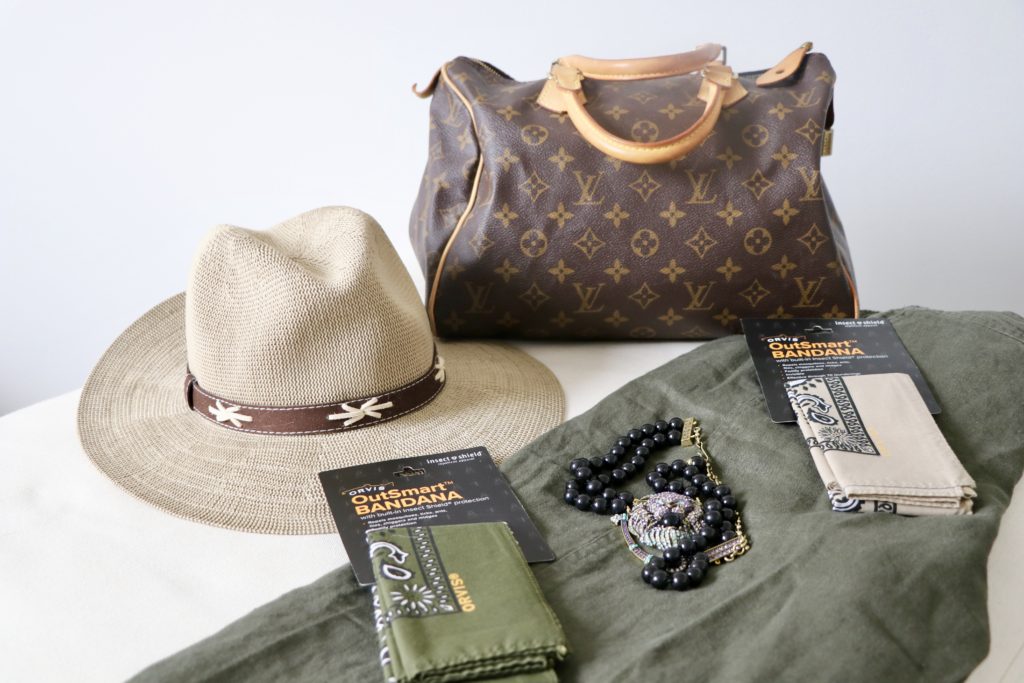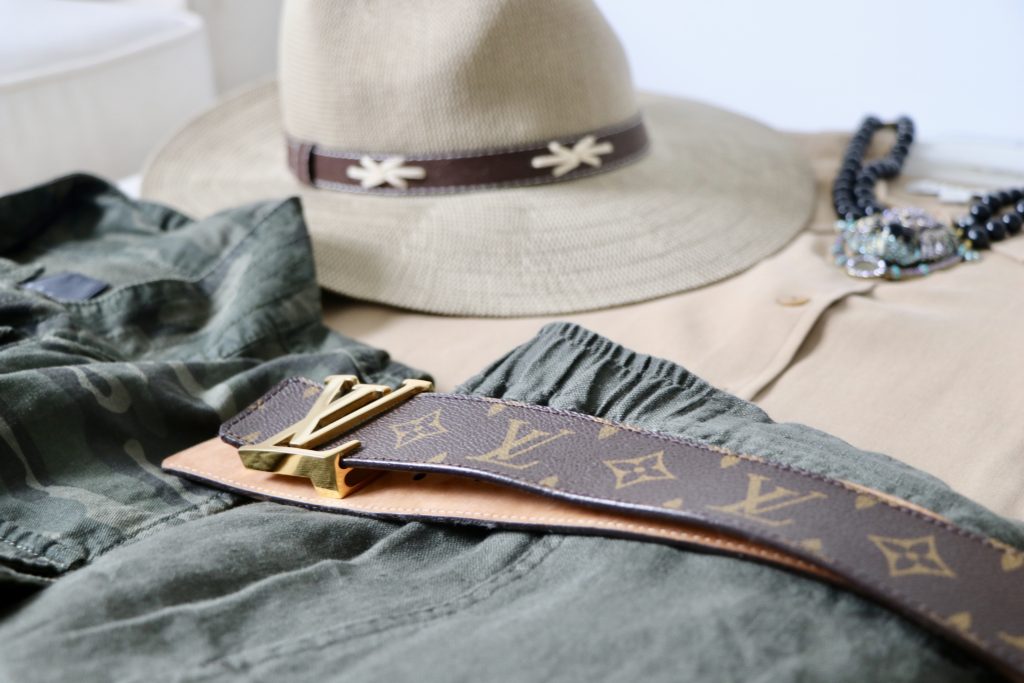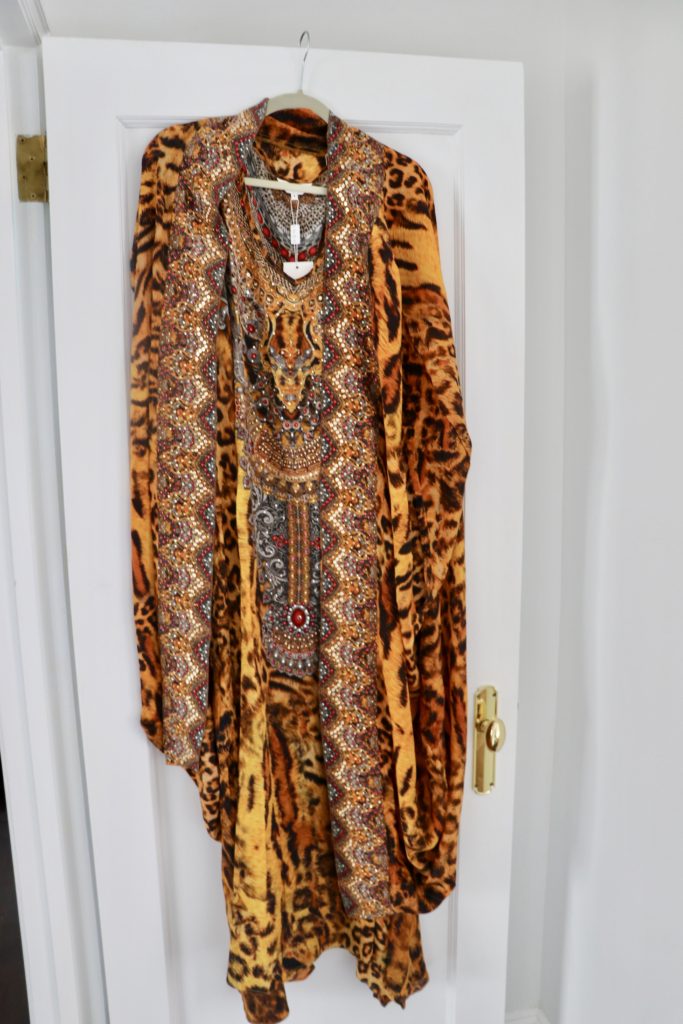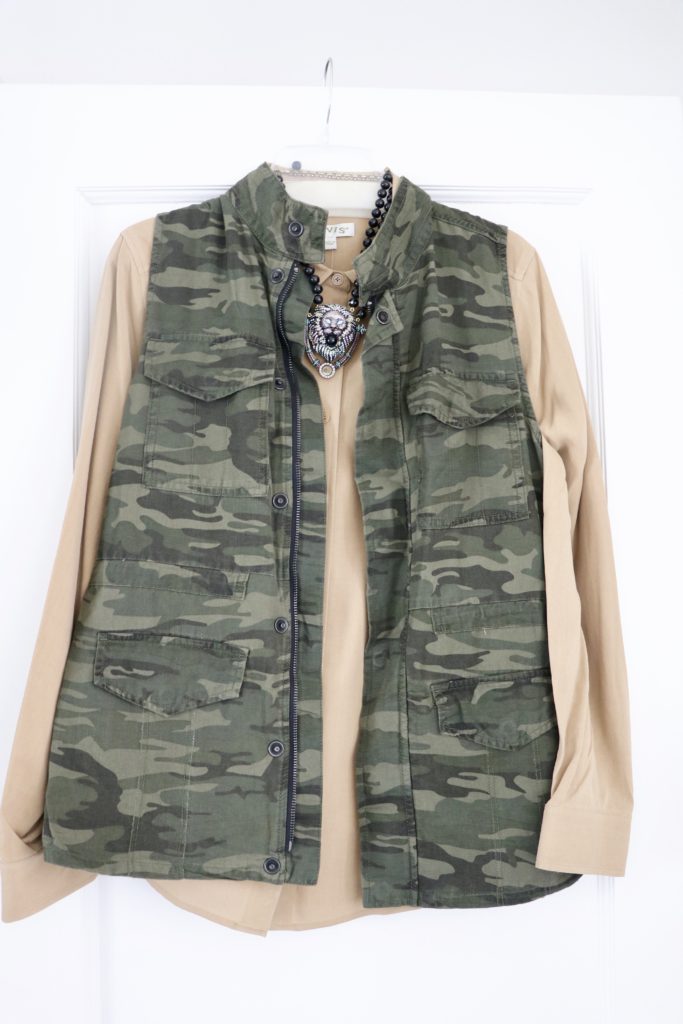 Safari Safety and Beauty Essentials
Traveling to Africa is a big deal. And while it's great to look cute while on safari, it is vital to stay safe and healthy so you can properly enjoy this bucket-list experience. Accordingly, a visit to Africa requires ample preparation to ensure you have a safe and healthy trip. You will want to visit your doctor or a local medical travel clinic to ensure that you are up to date on all the required vaccinations.
For a trip to Kenya it is technically required that you have the Yellow Fever vaccination. This vaccination, once taken, is good for your lifetime. After you have the vaccination, the doctor will give you a "certified yellow card" and you must travel with this when entering Kenya. I immediately put this card inside my passport for safe keeping.
My doctor explained to me that you can likely pass through border control in Kenya without having to show your "yellow card" and that if you did not have one, if you are traveling from the US (which is not a yellow fever zone), you would likely still be allowed entry. However, if you do get stopped and need to show your "yellow card" it just makes the process much easier to simply demonstrate that you are indeed vaccinated. I decided to play it safe and just get the vaccination.
Aside from vaccinations, we are packing tons of insect repellent – both for our clothing and lotion for our skin. We also plan to pack sunscreen, including travel size packs to bring out on lengthy game drives for quick re-application.
Although we do not anticipate getting sick from food or drinking water, there is always a slight risk whenever you travel to a new or foreign place. We are packing Pedialyte in the rare chance of falling ill which can cause severe dehydration. Pedialyte provides medical-grade re-hydration with the optimal balance of sugar and electrolytes to help you recharge should travel take a toll on your body.
Last but not least, I am packing Biossance balancing oil for my face. After being on a plane for an extensive period of time, and then in new elements like sun or wind, my skin often gets very irritated and turns red. To soothe and cool my skin I found that Biossance oil is the best solution — I smother it on my face during the day and night to keep my skin slick, smooth and calm with this soothing oil. It has been a go-to beauty essential for these longer haul trips and made a significant difference in preventing redness while I travel.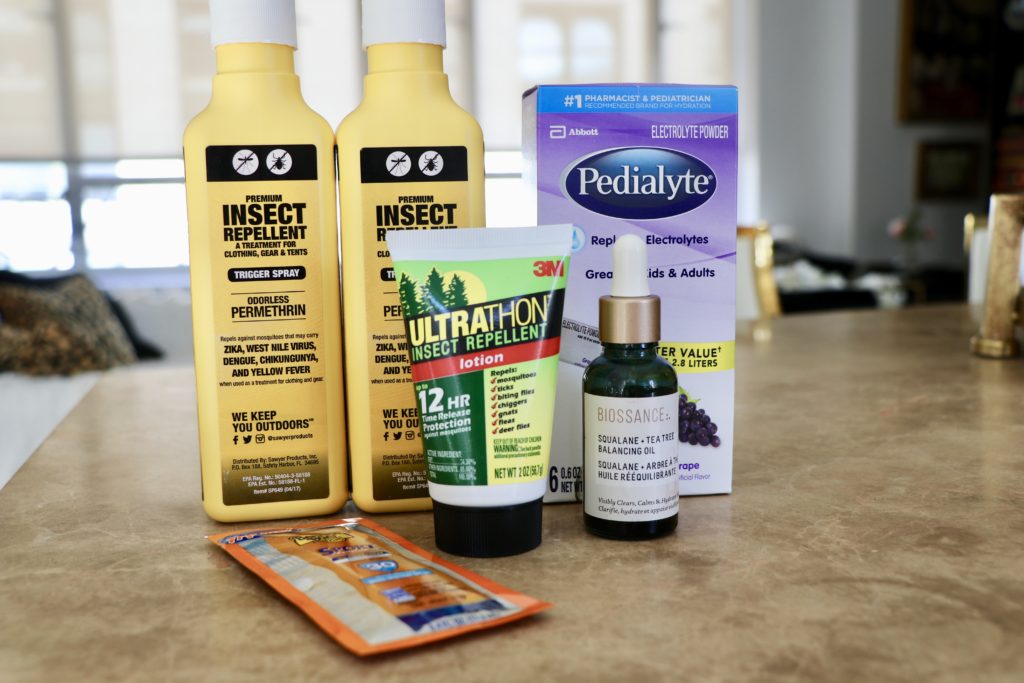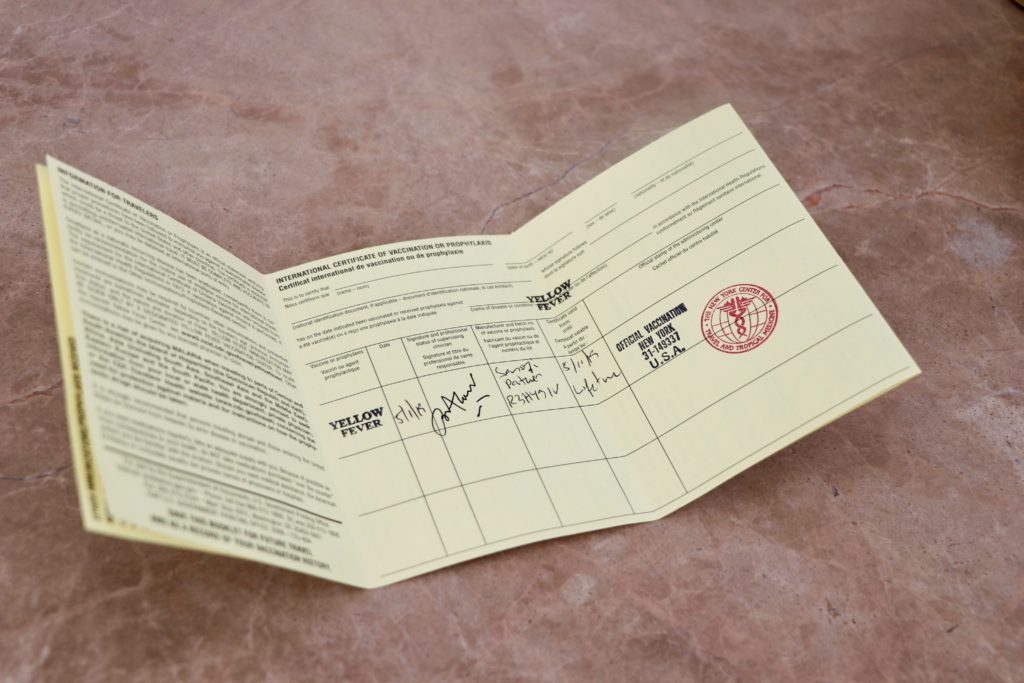 Packing Cubes to Stay Organized
Now that you know what essentials to pack for an African safari, the next step is how to pack. When you are heading on a longer adventure and likely changing lodges or camps within your vacation, the process for how you pack and organize your items is crucial.
Packing cubes have been a game-changer for me. They are the best $10 investment I have ever made in my quest to travel and see the world. The reason I love the packing cubes is because they eliminate stress when I get to a new destination and help me keep super organized. Plus, by using the packing cubes, I somehow take up much less space in my suitcase, allowing me more room to pack additional items like purses or accessories.
With a set of packing cubes, which I purchased on Amazon, I separate my items strategically. I create a packing cube with all of my game drive clothes (the outdoorsy style clothing), a packing cube with my loungewear for the lodge, a packing cube with my under garments and swimsuit, a packing cube with socks, and a packing cube with scarves/accessories. It is almost like creating a customized "suitcase dresser" inside your suitcase.
Another packing tip is that I typically wear my bulkiest jacket, shoes and hats (stacked together on my head) with me on the plane. I do this for a few reasons. First, it keeps the overall weight of my suitcase lower to avoid extra fees. Second, my bulky sneakers tend to be more comfortable for walking through airports. And third, I do not want items like my hats to get smashed inside a stuffed bag.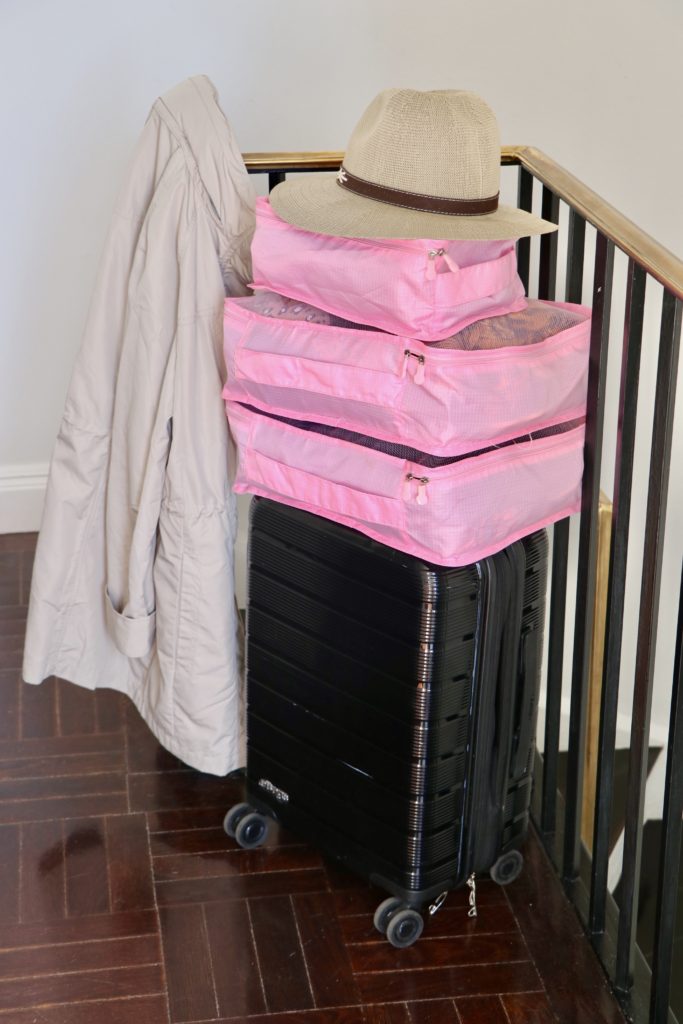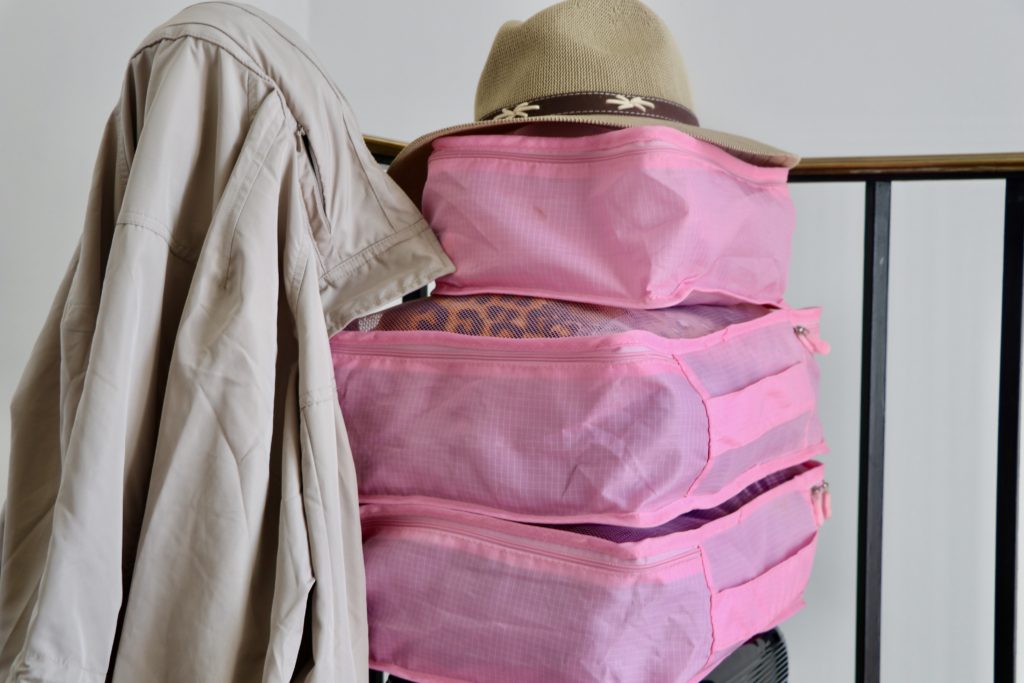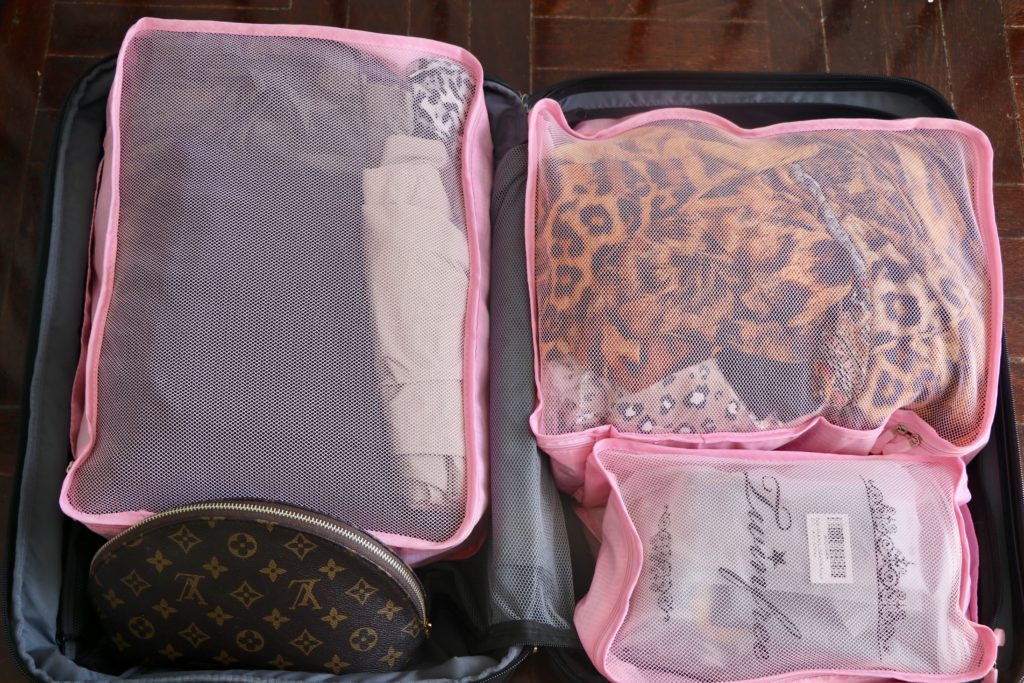 Hoping that this Ladyhattan packing guide for a super chic African Safari is helpful for your next adventure. As always, for additional questions or comments, you can contact Ladyhattan. Stay tuned for additional information coming from Ladyhattan featuring various luxury safari lodges in Kenya!