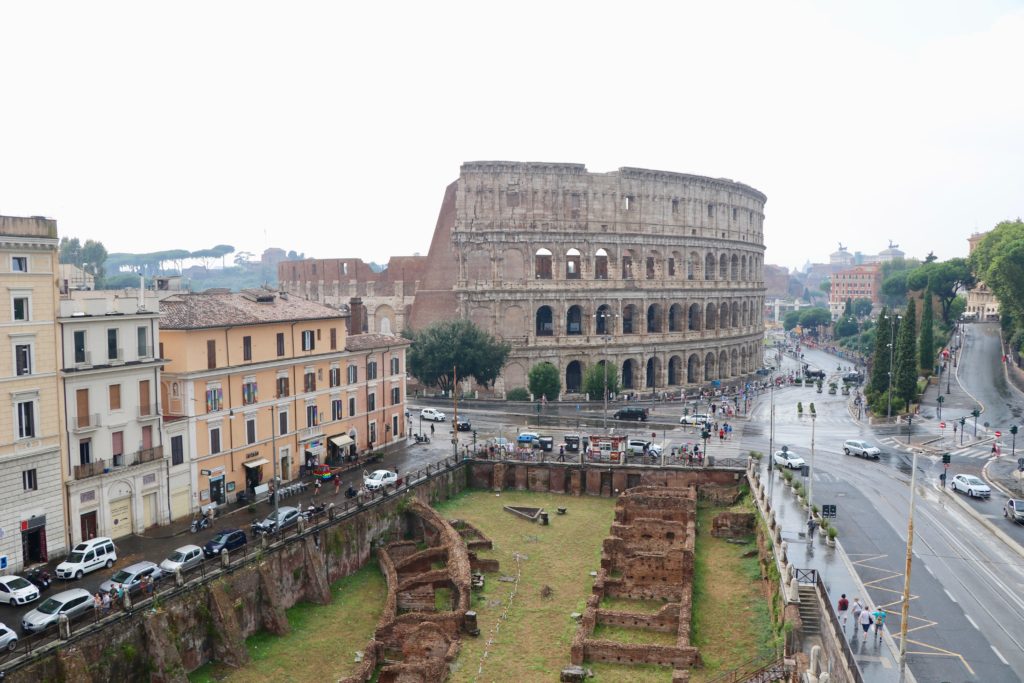 Rome is one of my favorite cities in the world and I will likely keep coming back every few years. There is truly no place like Rome. When people ask me why I love Rome so much, my responses are quick and direct:
Tell me where else in the world you can walk for hours through a free (no admission ticket required) outdoor museum with ancient structures, artwork, historical buildings and mind-blowing architecture? Tell me where else in the world you can have the best bowl of pasta and glass of wine in a lifetime? Tell me where else do the men politely speak to you in a charming accent, delighted to help an American tourist? And tell me, where else in the world can you shop some of the best designers on the market – Gucci, Prada, Valentino, Fendi…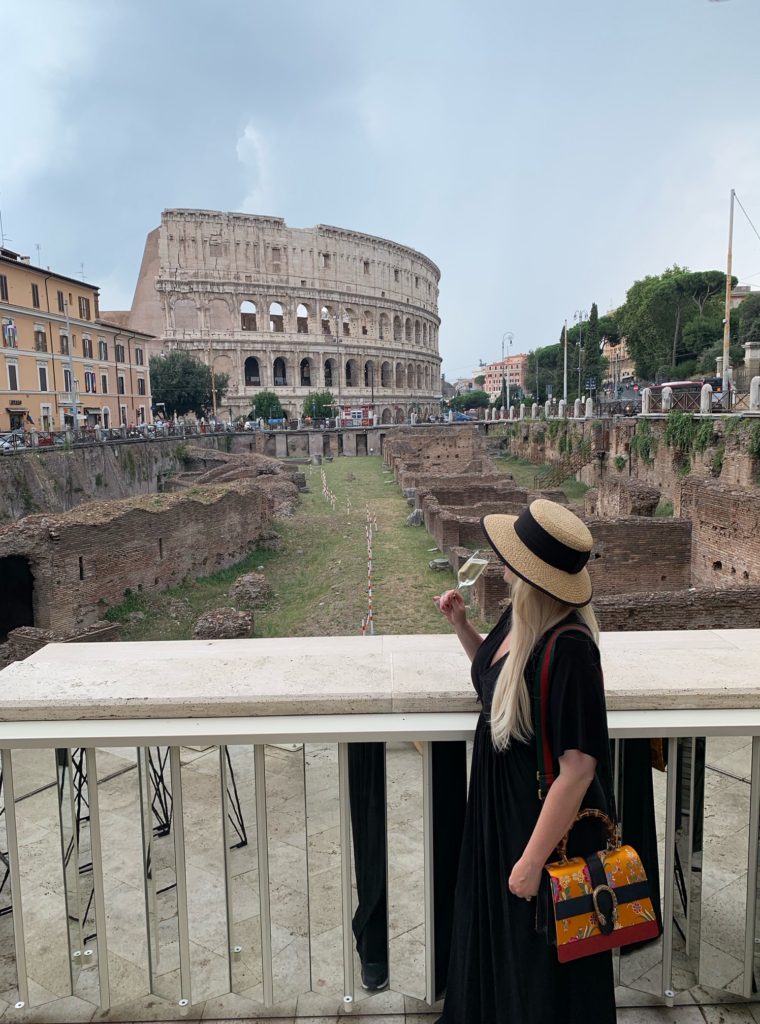 For my recent stay in Rome, I chose to book the Palazzo Manfredi, a Relais & Chateaux property with charming rooms, a killer brand new bar, and hands down the best rooftop view in the entire city. This hotel was the perfect accommodation for a weekend trip. In today's featured post, I will give you an insider glimpse of my stay at Palazzo Manfredi highlighting the key reasons why this is an ideal accommodation for holiday in Rome.
As always, if you are in a hurry and want to skip the full recap, you can scroll on down to the bottom of this full-length post for a comprehensive Ladyahattan Guide with tips, key information and booking details to help with your future travel planning.
Benvenuti a Roma
After landing, we had an easy 30 minute taxi ride from Fiumicino Airport to downtown Rome. The rate is currently fixed at 48 euros (just make sure you have cash because our driver did not accept cards). When we pulled up to Palazzo Manfredi our jaws dropped with the most obvious factor of all – the close proximity of this hotel to the biggest attraction in the city – the Colosseum!
The entrance is simple with a nicely furnished lobby area that feels like a luxury urban living room featuring swanky decor. An assigned manager will handle the check-in process for you, help with coordinating all reservations and plans, and then show you the details of your luxury accommodation.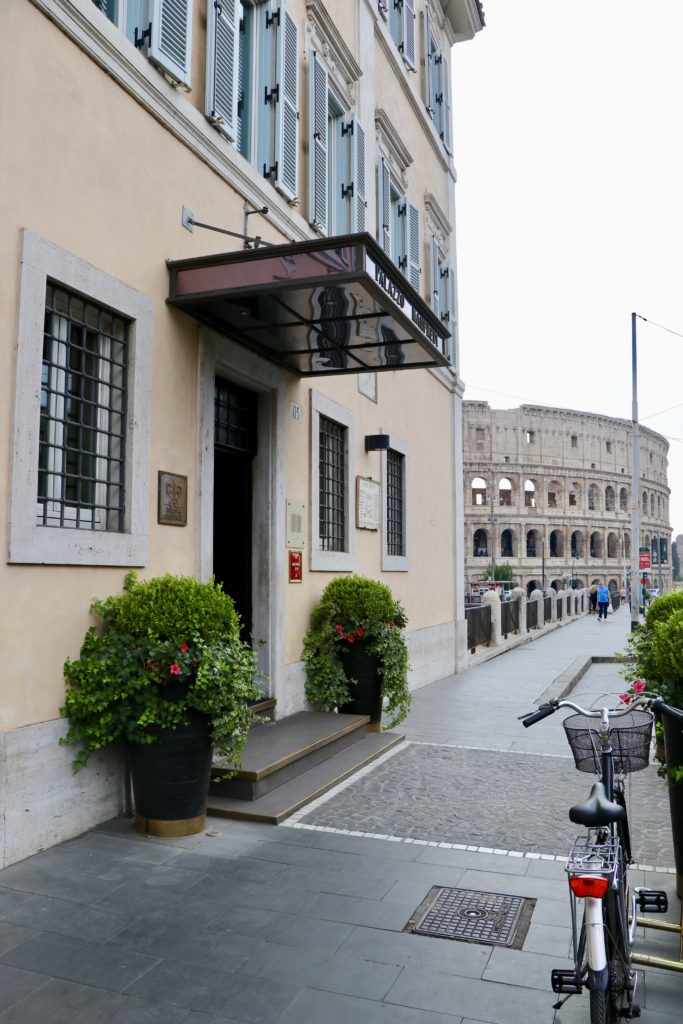 The hotel offers guests the option to borrow the complimentary bicycles out front for leisurely strolls through the nearby city streets or parks.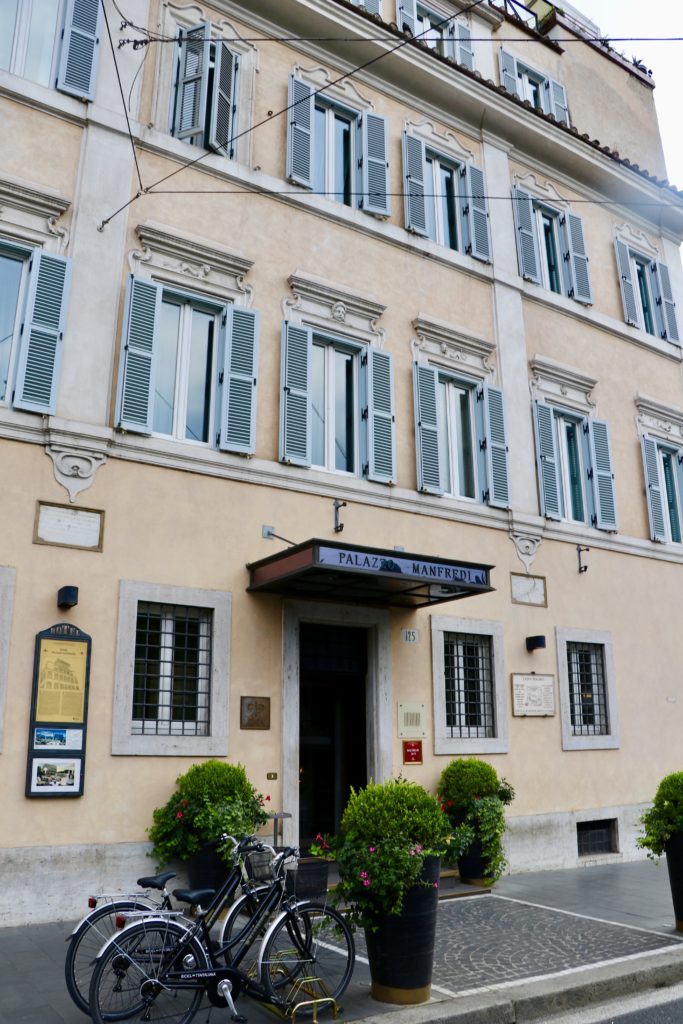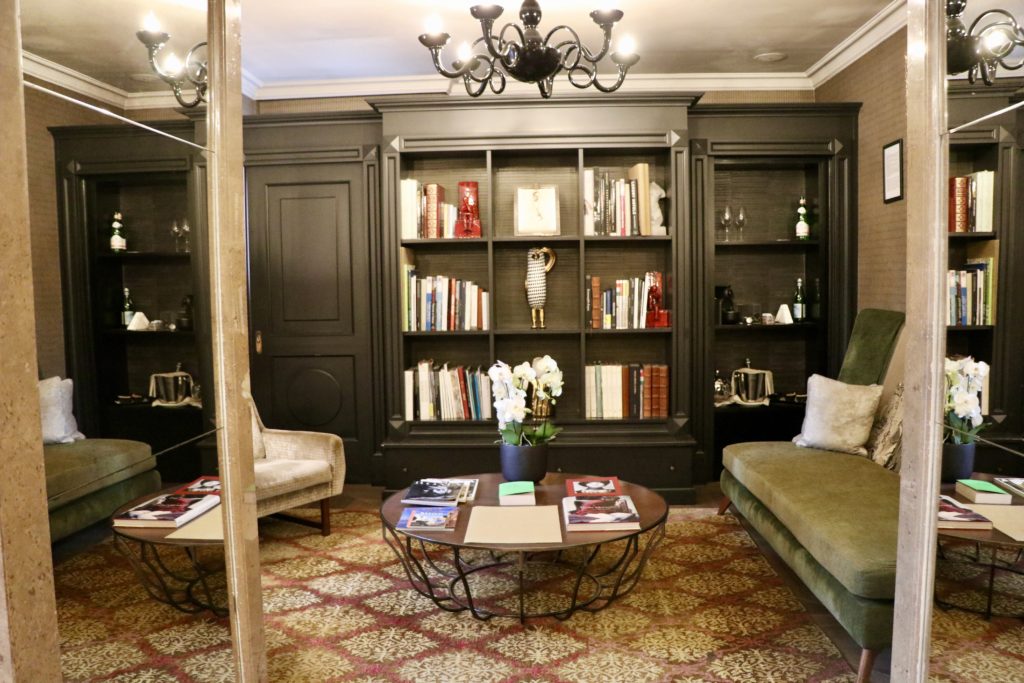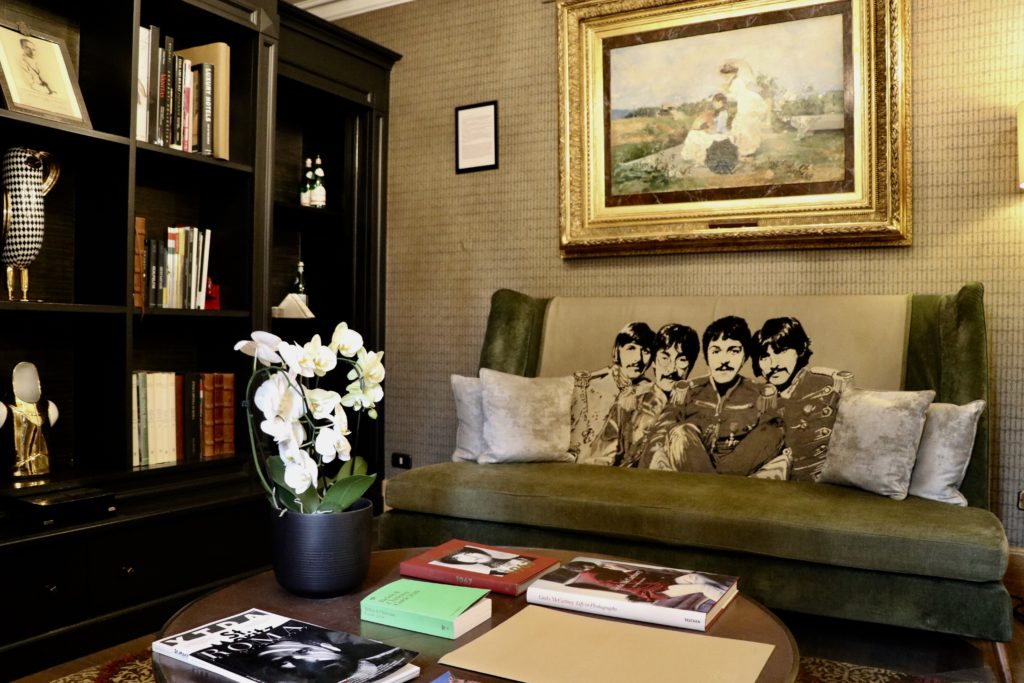 Room rates range from around $330 all the way to $1,000+ for the premiere suites (with private terraces facing the Colosseum and other luxury features).
We stayed in a standard king-sized bedroom which was perfect for our short but sweet stay in Rome. I always emphasize to my fellow travelers that if you are visiting a destination and plan to be actively touring and busy for 70% of the day, then just focus on a hotel with an amazing bed, hearty breakfast and premiere location — these are all key factors for holidays in major cities. Room size is not a priority to me when I am really only using the room for sleeping/dressing, with most of my activity outside the room.
Regardless, the standard size room was an open studio feel and provided everything we needed for a comfortable stay. The room welcomed us with delicious house-made shortbread cookies, chilled bubbly and plush bedding to guarantee a good night's sleep.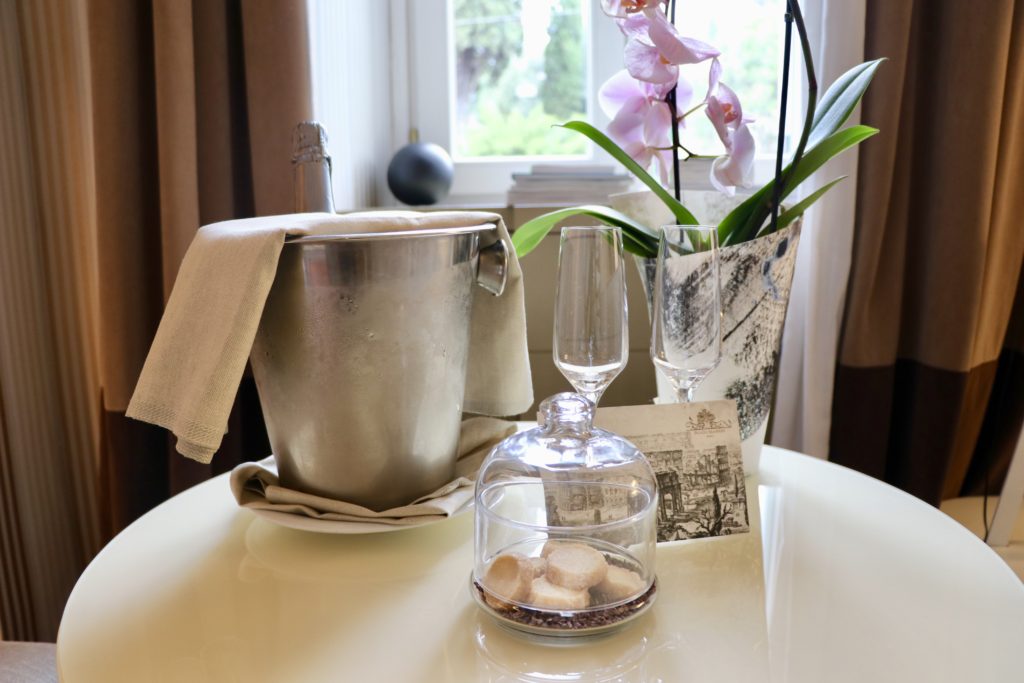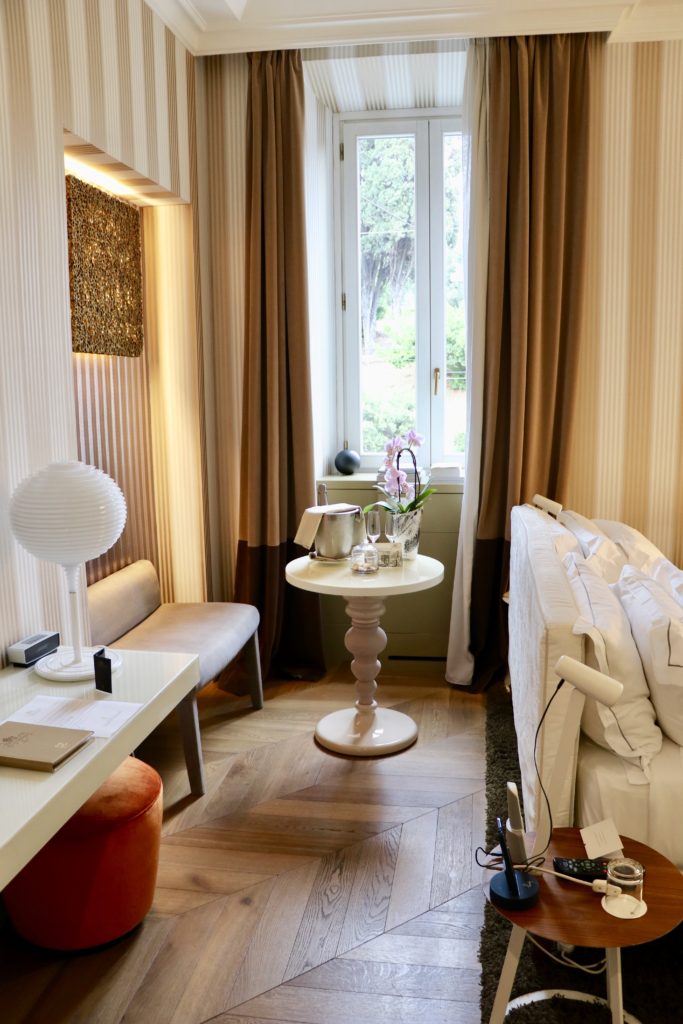 The hotel even offers a "pillow menu" to ensure that your sleep is extra cozy with the right firmness, aroma or texture of the pillow that works best for you and your sleeping needs.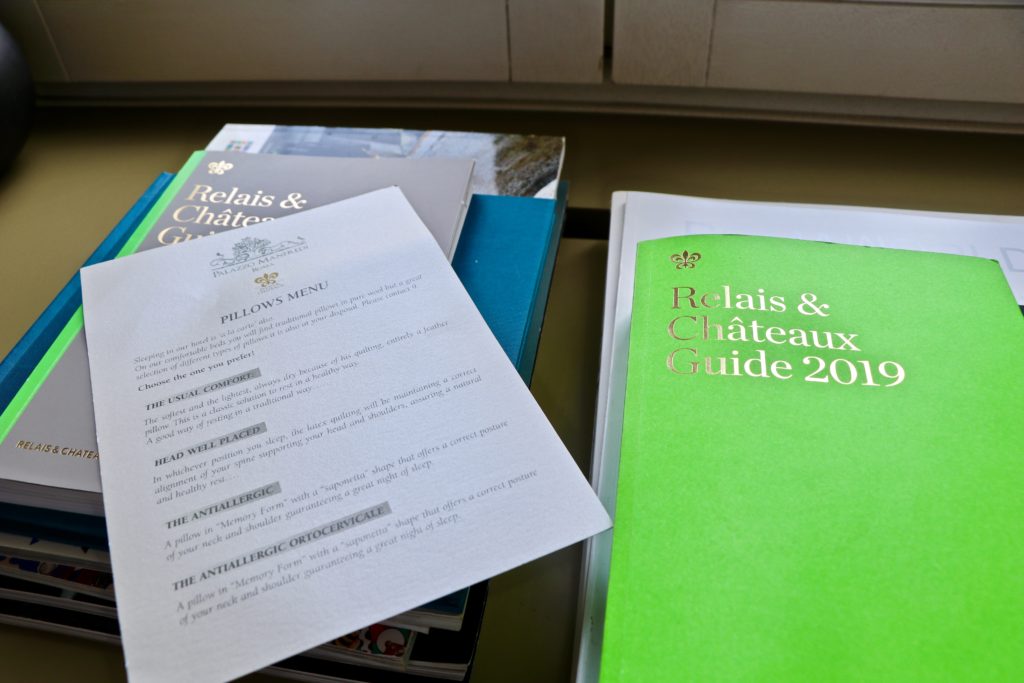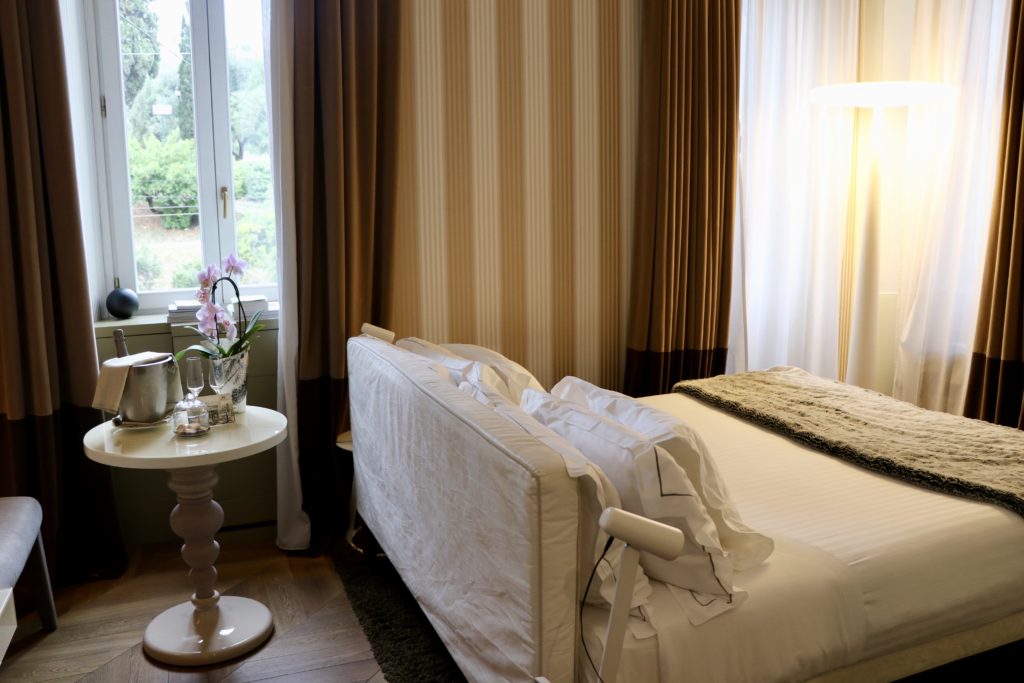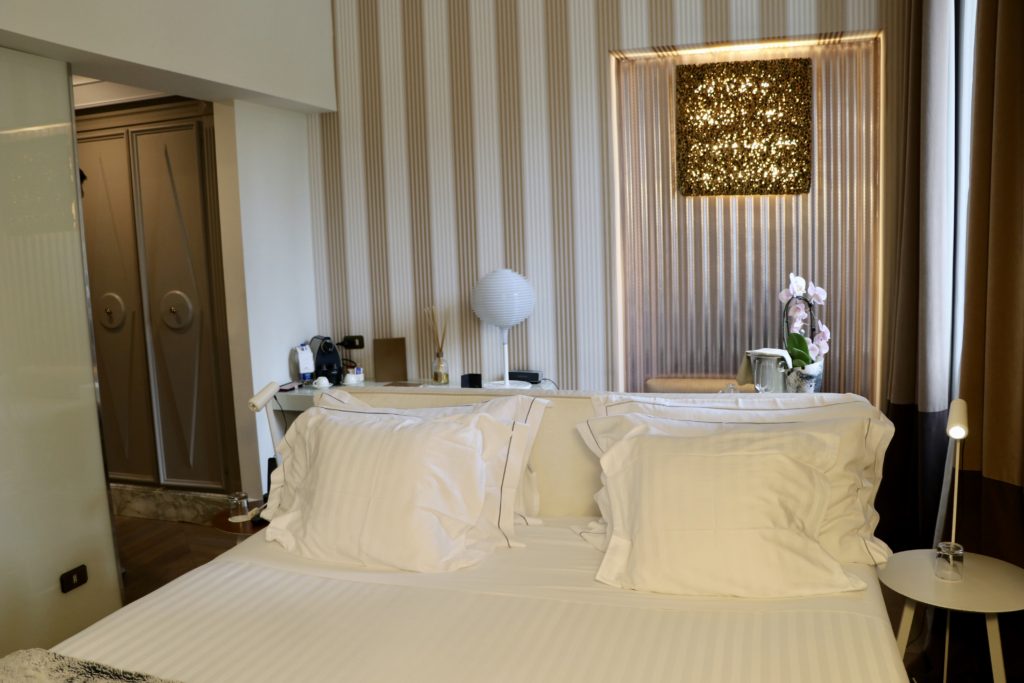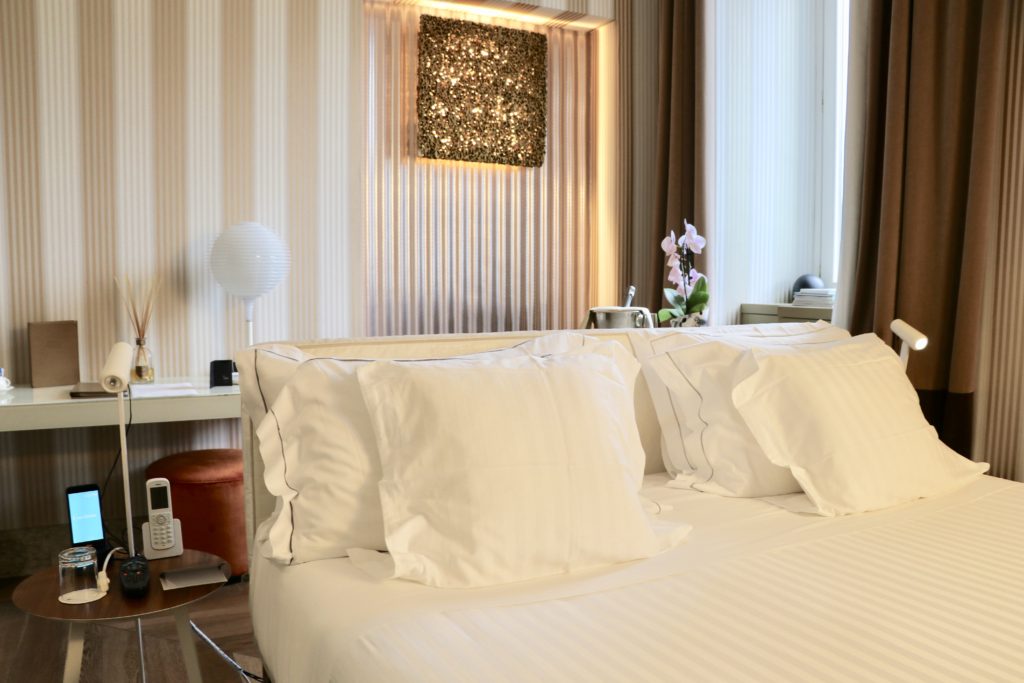 One of my favorite aspects of choosing to stay at a luxury accommodation in Italy, is that most of the premiere Italian hotels offer the best of bath products. Here at Palazzo Manfredi you can indulge in the finest of Italian soaps, shampoos and bathing gels by Acqua Di Parma. The scent of these products just oozes with Italian luxury.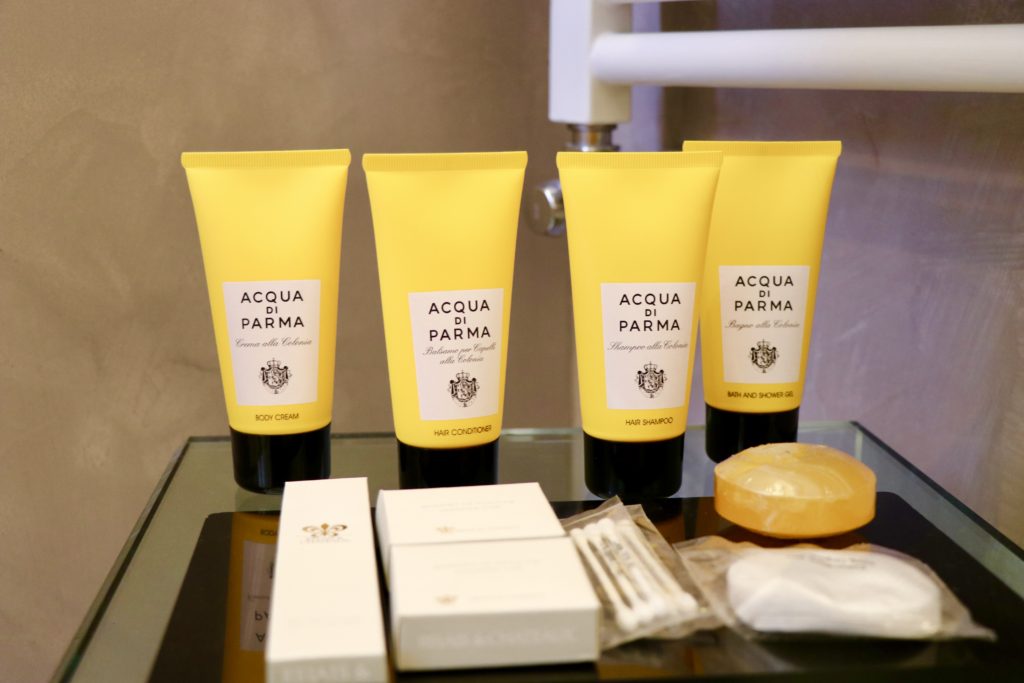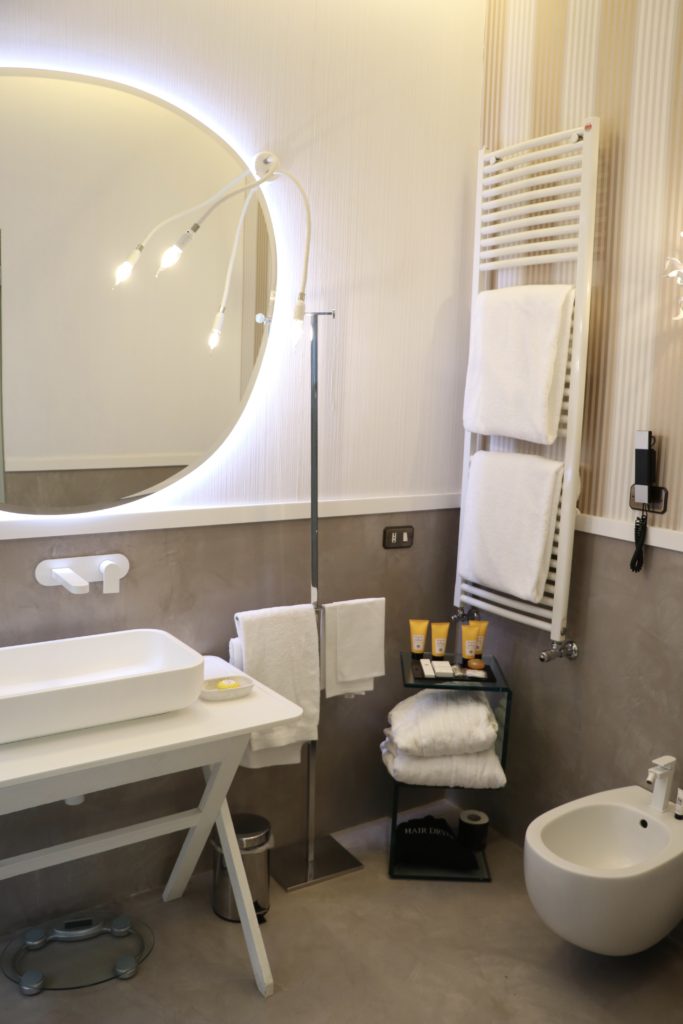 Complimentary Rooftop Breakfast for Guests of the Hotel
Included in your nightly rate at Palazzo Manfredi is the best breakfast you will ever have in Rome. Seriously ladies, this is truly the most epic breakfast experience when in Rome.
After a jam packed day walking, shopping and touring our favorite neighborhoods of Rome, we dove right into bed and woke up after about 8 hours of solid slumber on our customized pillow selections. From our room, we made our way up to the rooftop terrace and garden area. The sun was illuminating over the Colosseum and, in the background, its rays bathed imperial Rome and the dome of St. Peter's Basilica – the view was magnificent. This can be your view at complimentary breakfast served each morning from the Aroma Restaurant's terrace on the top floor of Palazzo Manfredi.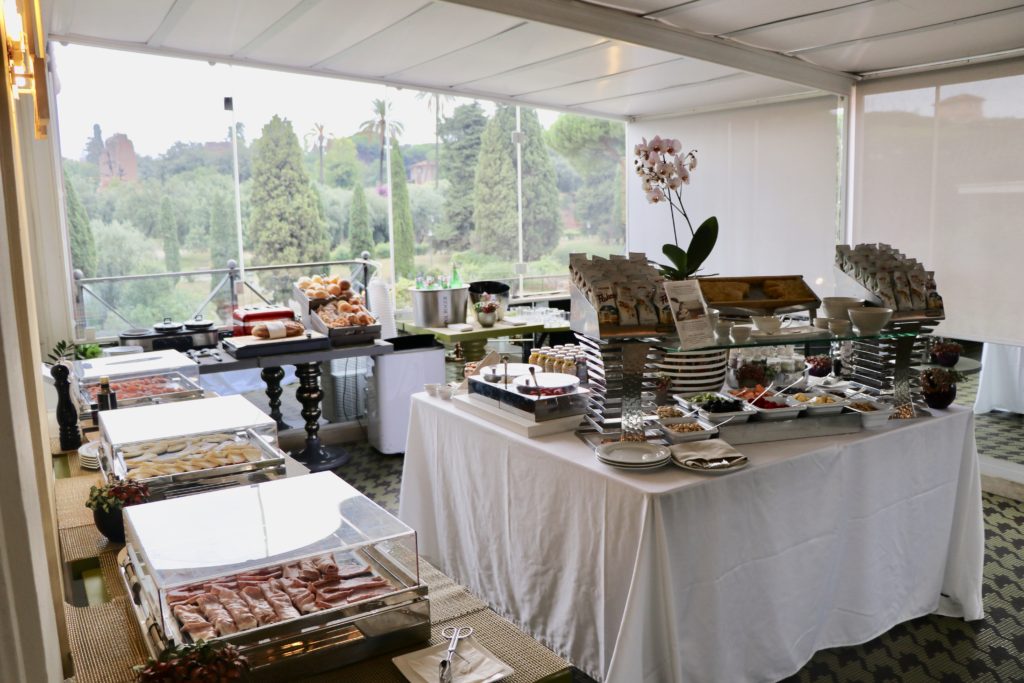 There is a rich buffet and hot breakfast à la carte, with tables of fresh fruits, pastries, cheeses and meats. The staff is incredibly gracious and makes specialty hot Italian coffees, offers an assortment of fine teas and freshly pressed juices as you sit on the terrace and take in the magnificent views of Rome. Give yourself the gift of the best breakfast in all of Rome and book a night or two at Palazzo Manfredi. You will thank me!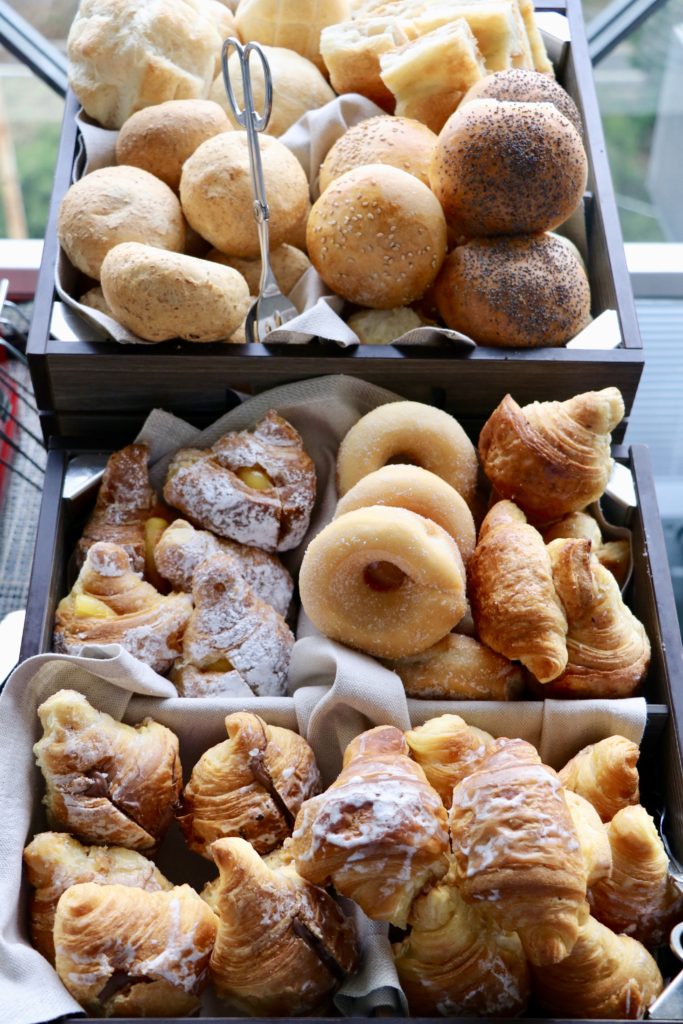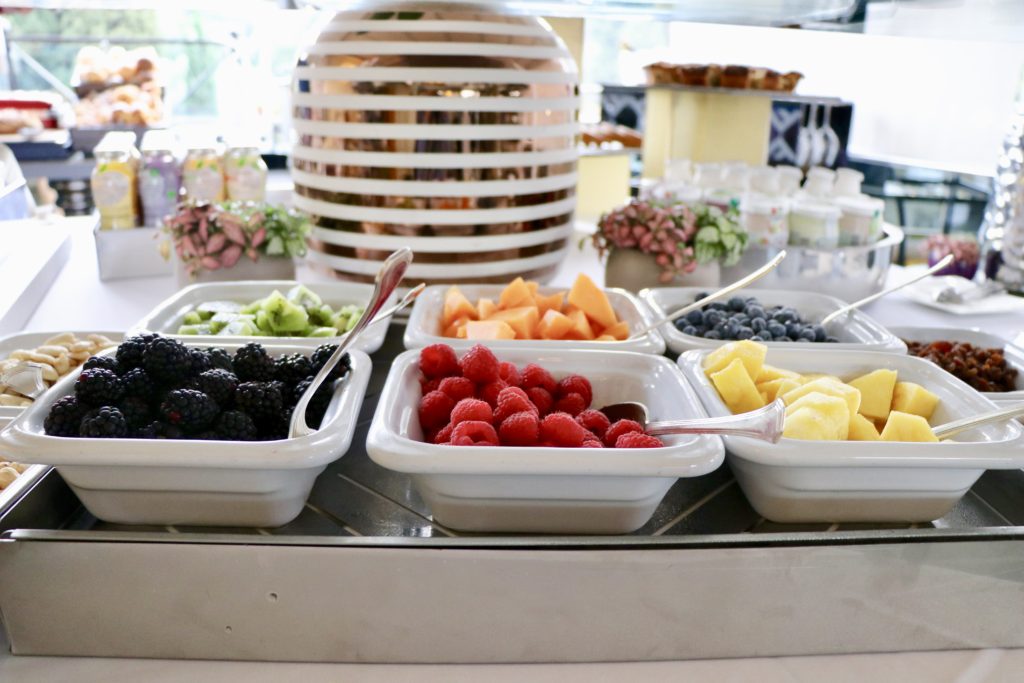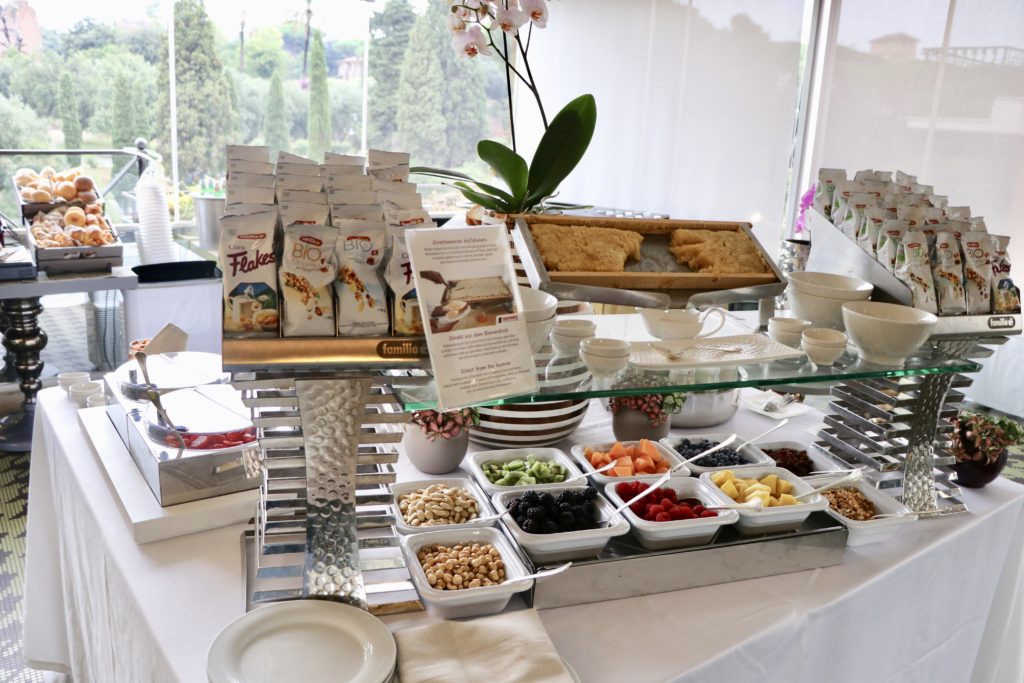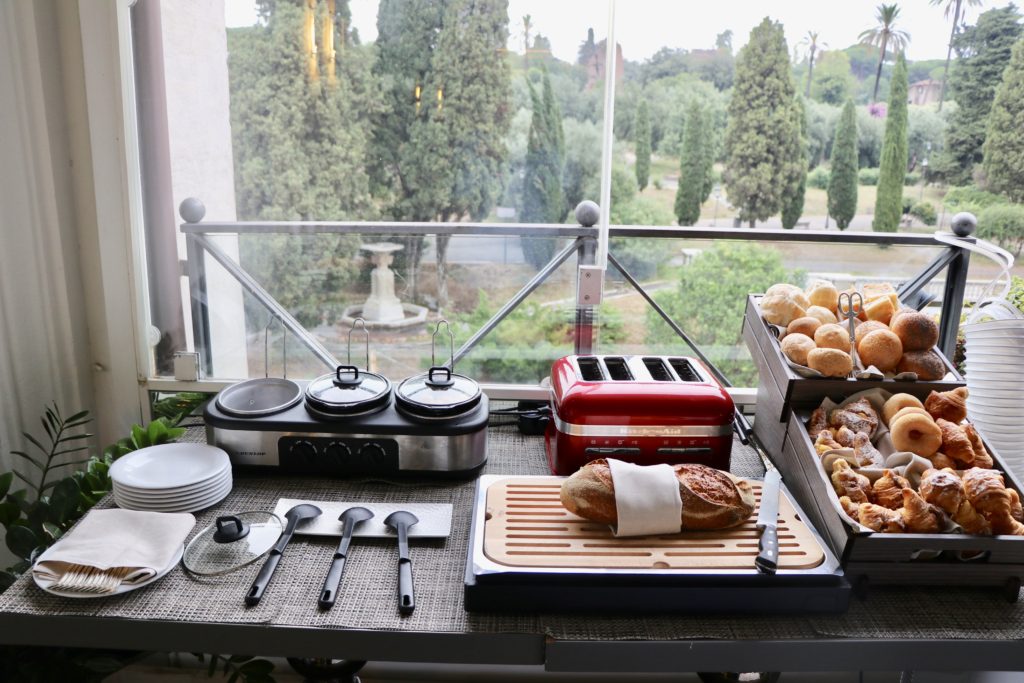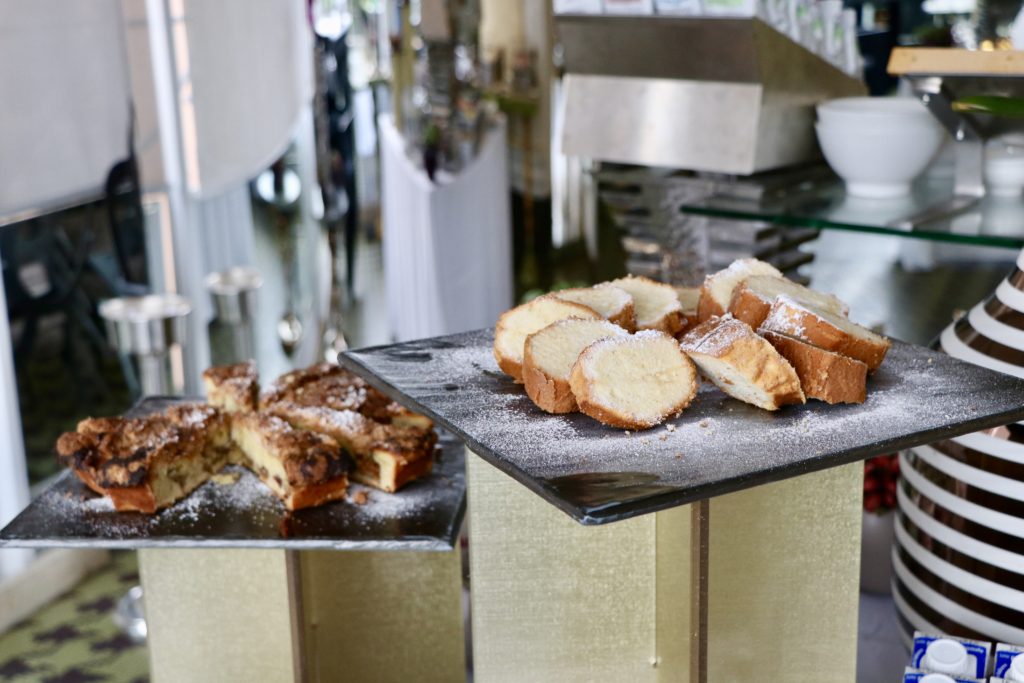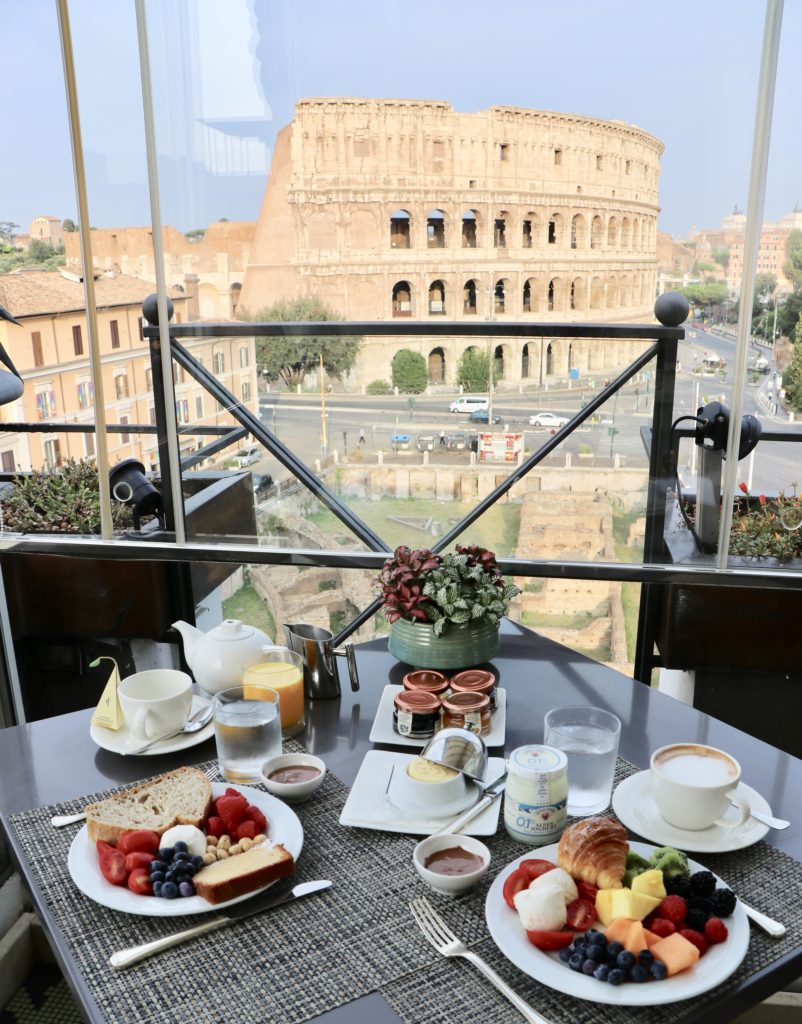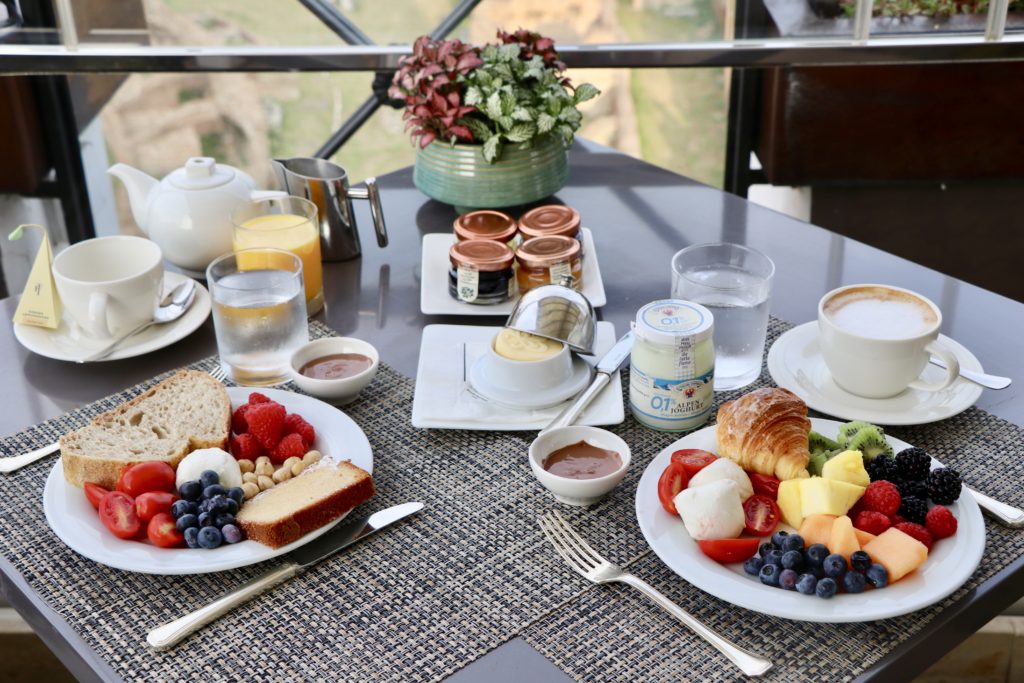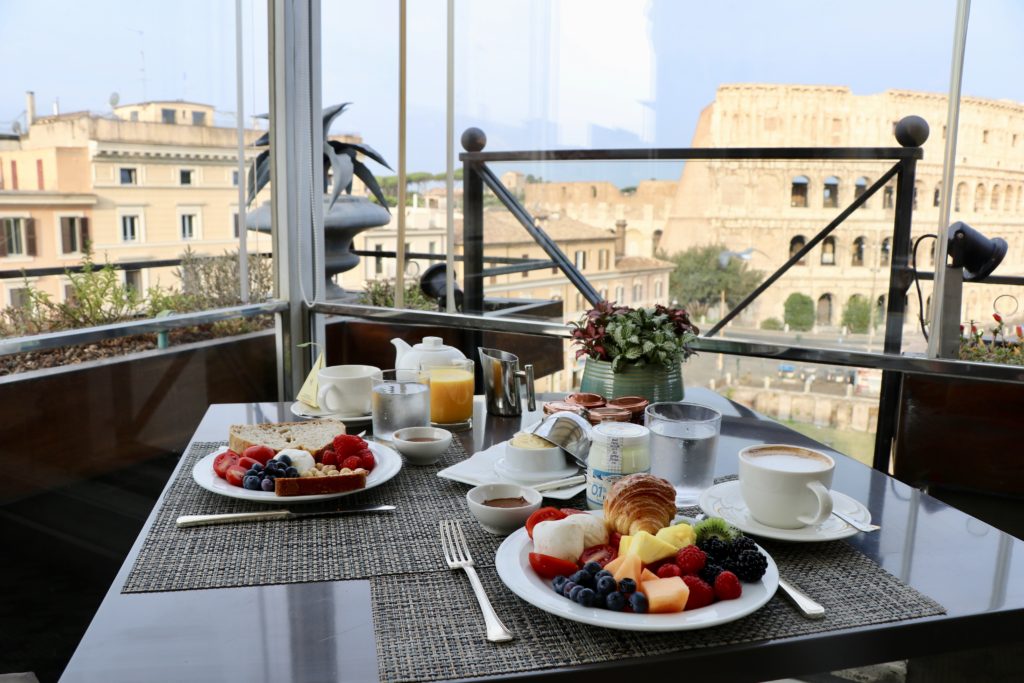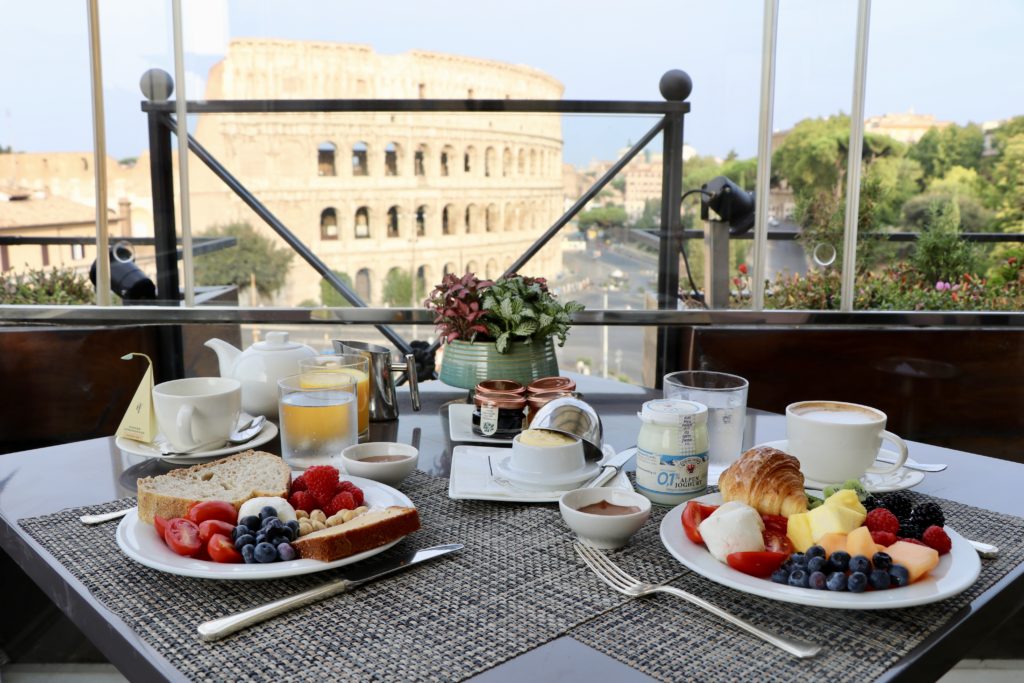 The Brand New "Court Cocktail Bar" inside the Hotel
But could it get any better? An onsite Michelin Star restaurant, sumptuous pillow menus in each luxury accommodation, complimentary bikes and breakfast with direct views of Ancient Roman landmarks, all at the fingertips of guests at Palazzo Manfredi. But just wait, ladies, because I saved the best for last to share.
Just this year, a highly anticipated cocktail lounge bar premiered here inside the Palazzo Manfredi hotel. With unparalleled views of the Colosseum and the Ludus Magnus (the ruins of the most important school of gladiators in the Empire) guests can enjoy an impressive cocktail menu curated by mixologist Matteo Zed.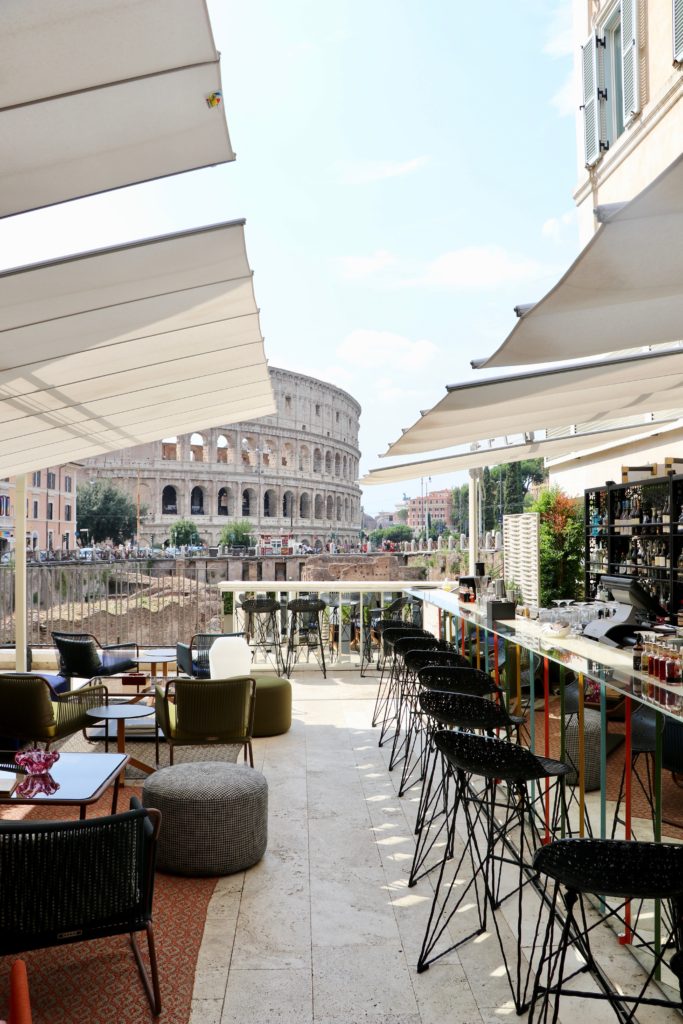 Among his signature cocktails, be sure to try 'The Rising Sun' which includes gin, yuzu juice, powdered matcha green tea and honey, served in a traditional matcha teacup and prepared using the traditional chashaku and chasen to blend. And can you believe this drink with a view? It feels as though you are immersed in a sunken living space surrounded by the ruins of the gladiator school with the Colosseum just a stone's throw away.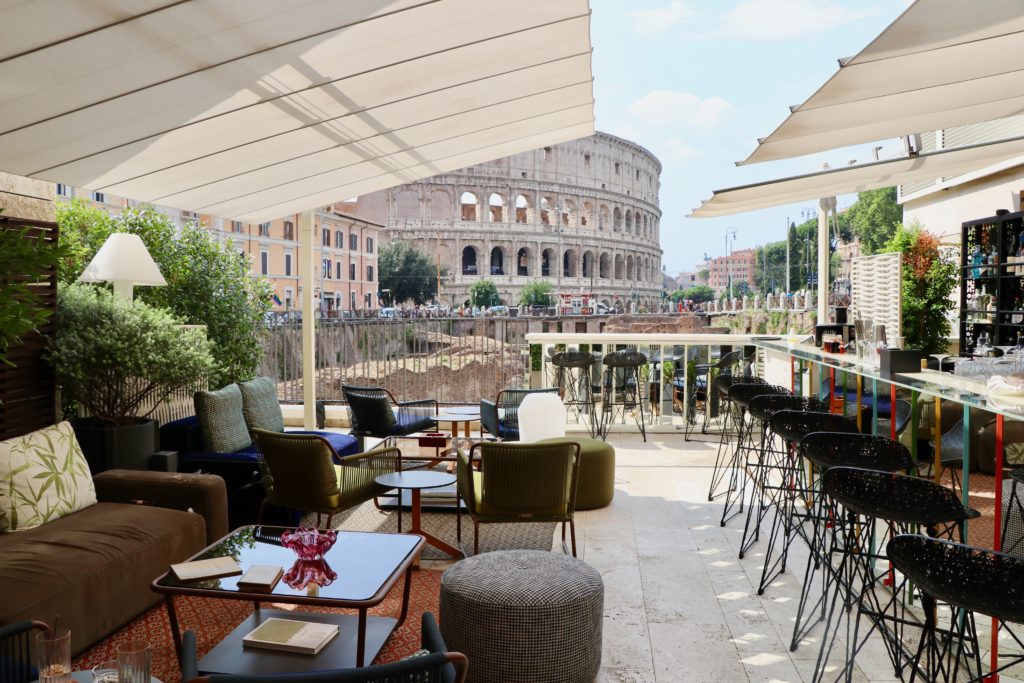 The brand-new space was designed by LotoAd Project Studio and they focused on selecting exclusively Italian brands and accents to furnish the new bar. While staying at the hotel we frequently popped down into this beautiful bar space to enjoy a refreshing cocktail before heading out on the town. Close access to this fantastic lounge enhanced our overall trip experience.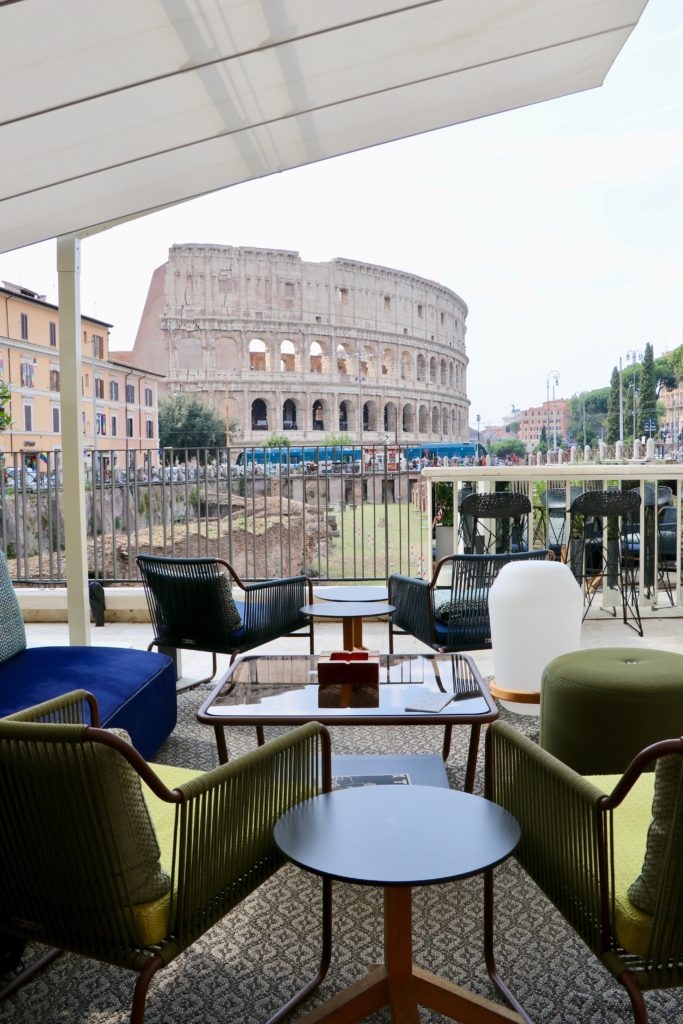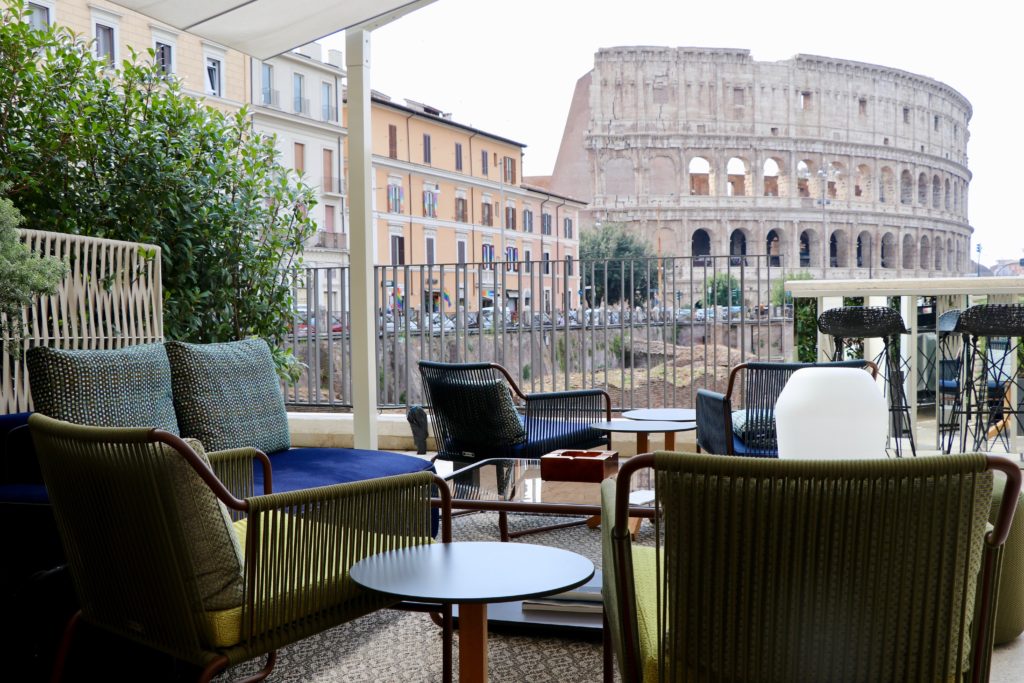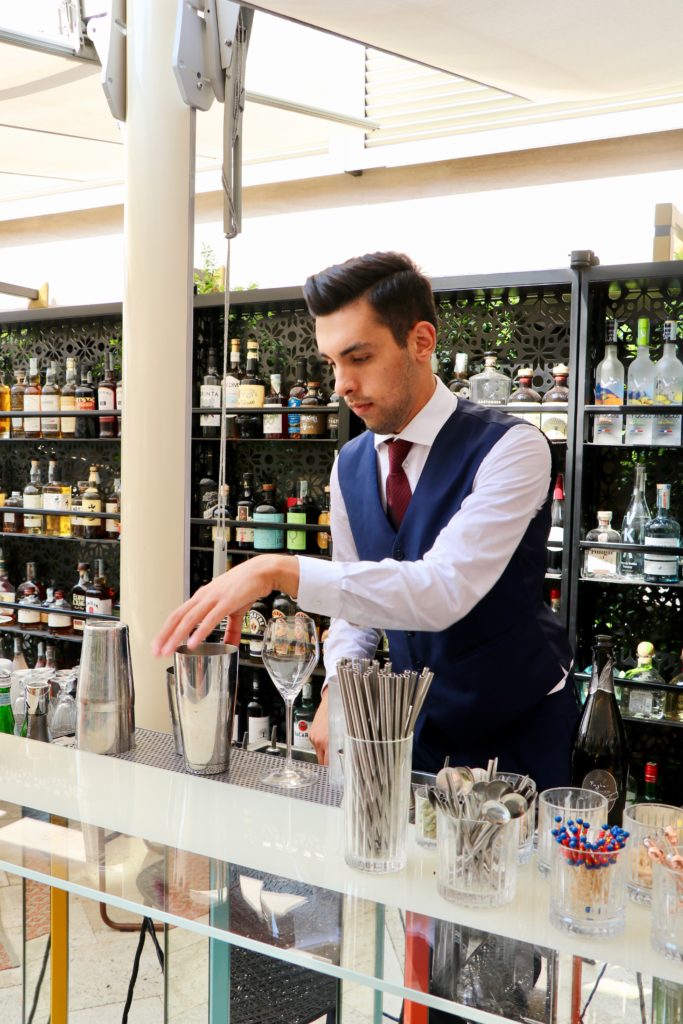 Between direct access to major Roman landmarks, superb service, a Michel Star Restaurant and a groovy new urban cocktail bar, this hotel offers the ultimate option for a Roman vacation.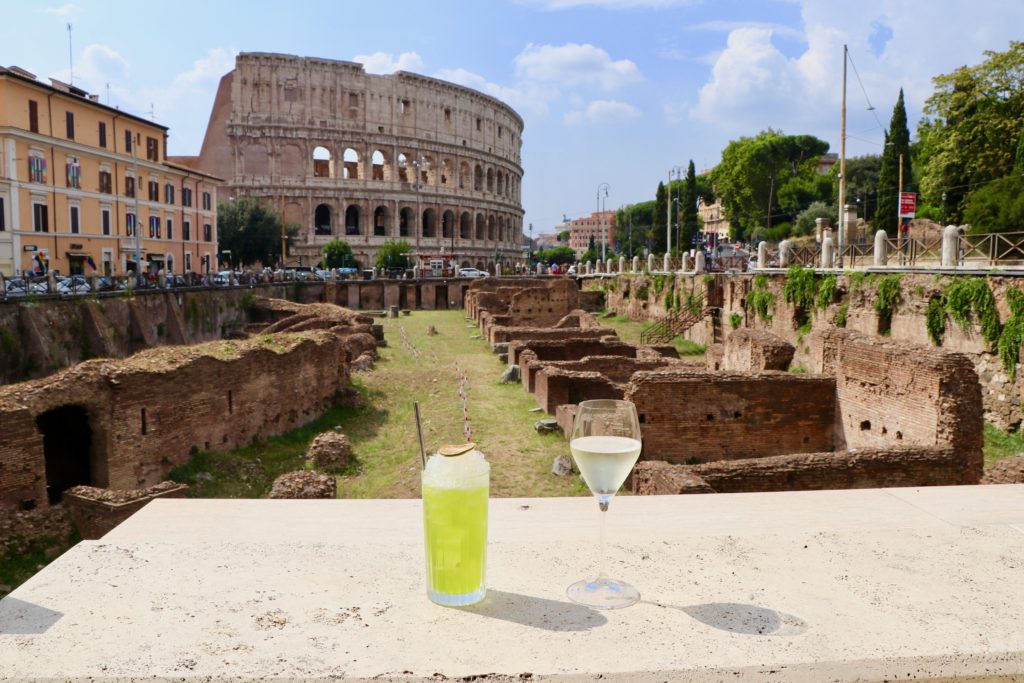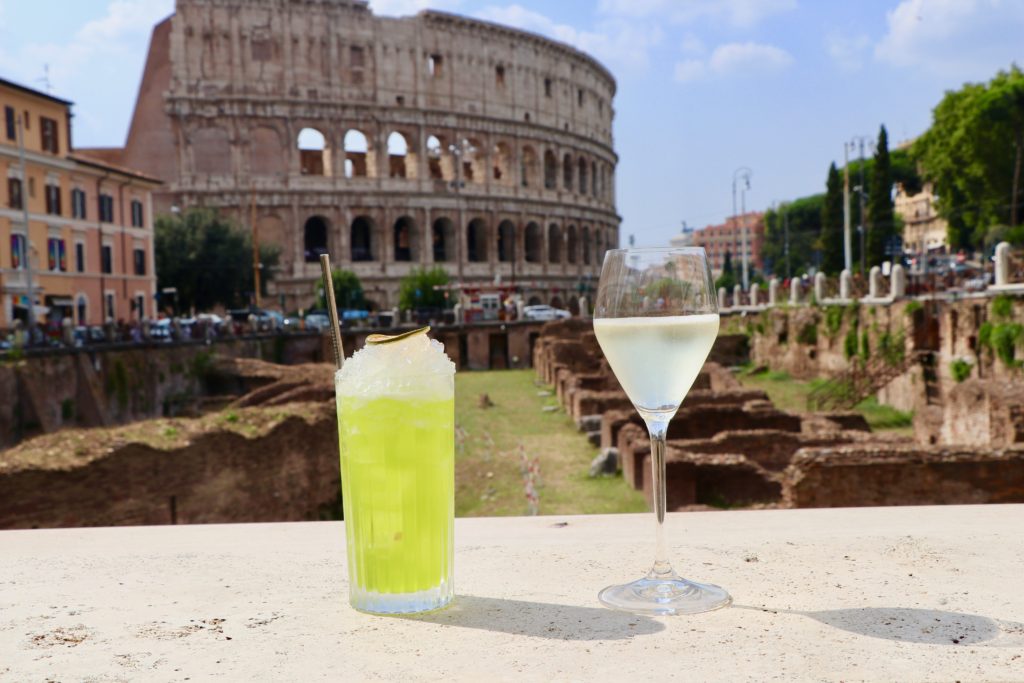 Thank you to the Palazzo Manfredi for ensuring that my stay was one to remember forever. This hotel property was exquisite and I highly recommend to all my Ladyhattan readers and travel lovers.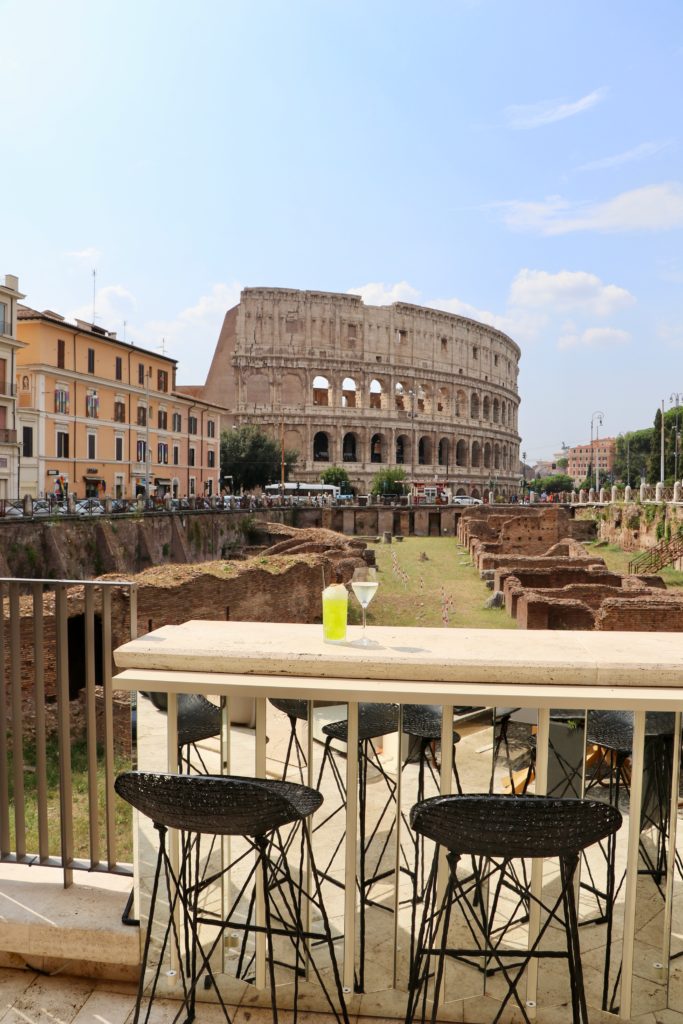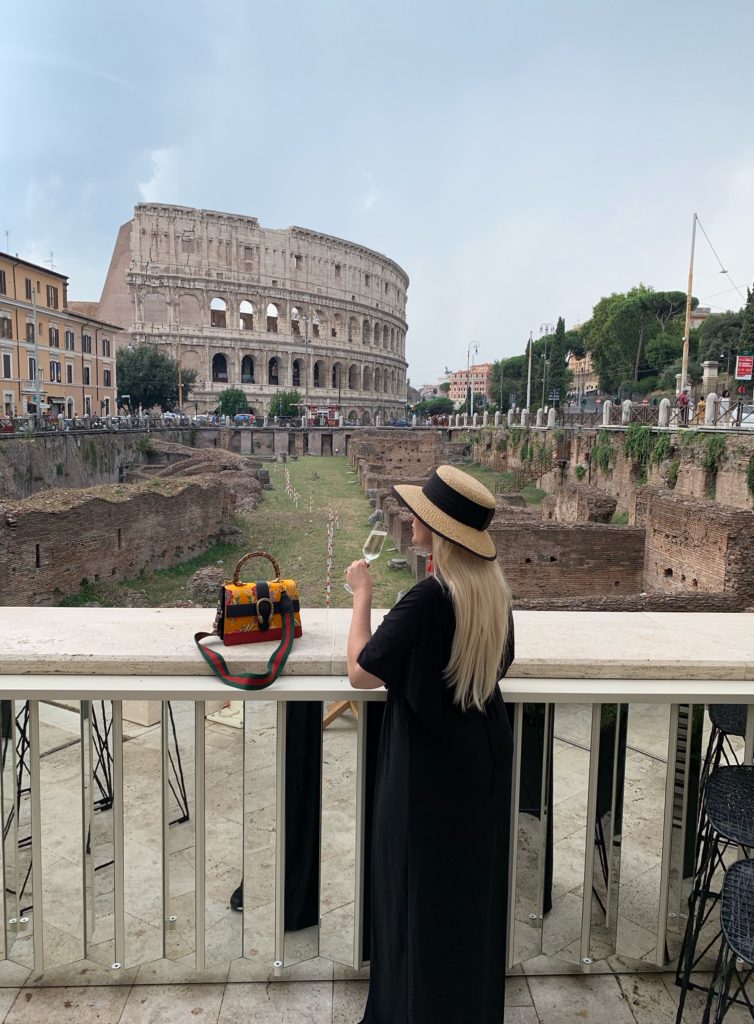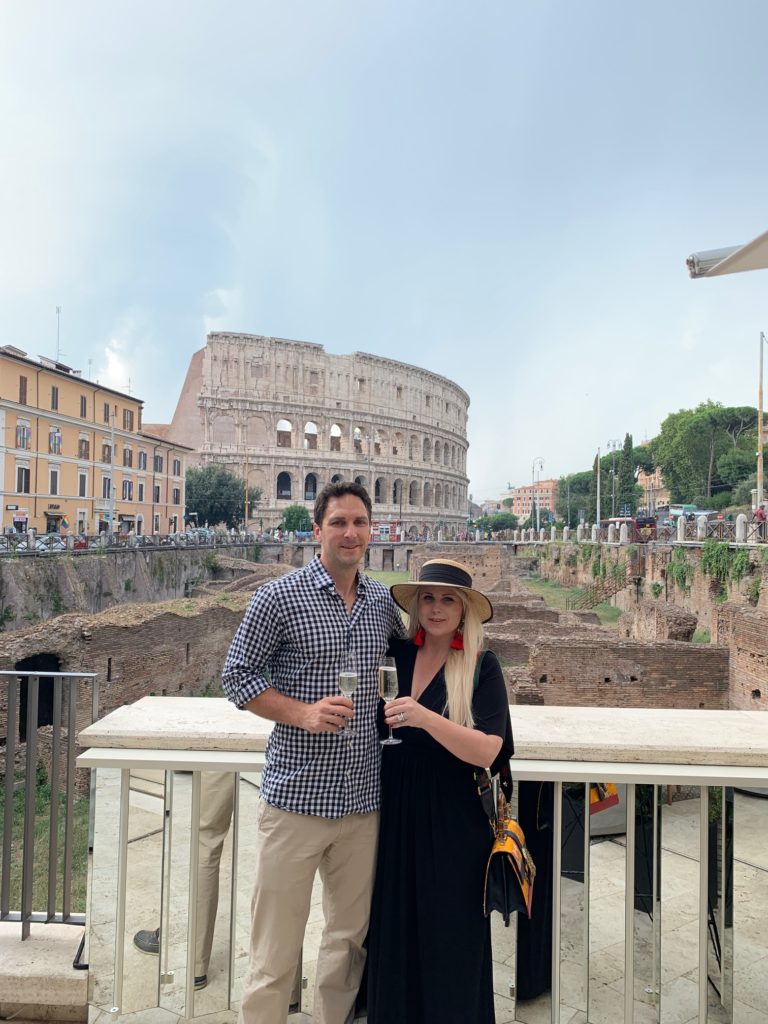 Ladyhattan Guide to Palazzo Manfredi in Rome
8 hour direct flight from NYC's JFK Airport to Rome, Italy.
30 minute taxi ride from Rome's major airport to downtown – 48 Euro flat rate fare (be prepared to pay in cash).
Palazzo Manfredi is a Lavish boutique hotel packed with unobstructed Colosseum views (Relais & Chateaux Property).
Although a former 17th-century palazzo, the space has mainly modern interiors with 14 chic rooms featuring luxury amenities including Bose surround sound, Acqua di Parma toiletries, bathrobes and slippers, well-stocked minibars, and Nespresso machines.
Prices depending on whether you get a smaller/standard room versus a luxury suite, but generally range from roughly $368 to $1,000+ depending also on the time of year – peak season is August through October so expect higher rates during these months.
Hotel offers complimentary bikes and will happily arrange airport transfers, car service throughout the city, and assist with making local reservations at Rome's top dining establishments.
Michelin-starred rooftop restaurant, Aroma, is one of the best lunch and dinner options in all of Rome; here you can enjoy the finest of Italian cuisine with direct Colosseum views.
Complimentary hot a la carte breakfast and a generous buffet of fruits, cheeses and pastries is served daily for hotel guests inside the Aroma Restaurant rooftop area.
To get the other major Roman attractions (i.e., Spanish Steps, Trevi Fountain, Pantheon), it is an enjoyable leisurely walk that takes about 20 minutes (2 miles). Alternatively, a 7 minute taxi ride can get you to these hotspots quickly for about $15.
Just this year, the hotel space opened one of the hottest craft cocktail bars in Rome – "Court Cocktail Bar" which is offers VIP access to guests of the hotel. Here you can enjoy refreshing drinks overlooking the ancient ruins of the Gladiator School and of course the iconic view of the Colosseum.
Hotel offers multiple access points to some of the most epic views you can find in all of Rome through private guest rooms, the newly opened Court Cocktail Bar and of course, the rooftop restaurant where guests can enjoy breakfast each morning or a fine dining experience at Aroma.
https://www.palazzomanfredi.com/en/
Email here to book now and let them know Ladyhattan sent you for the extra special treatment: [email protected]