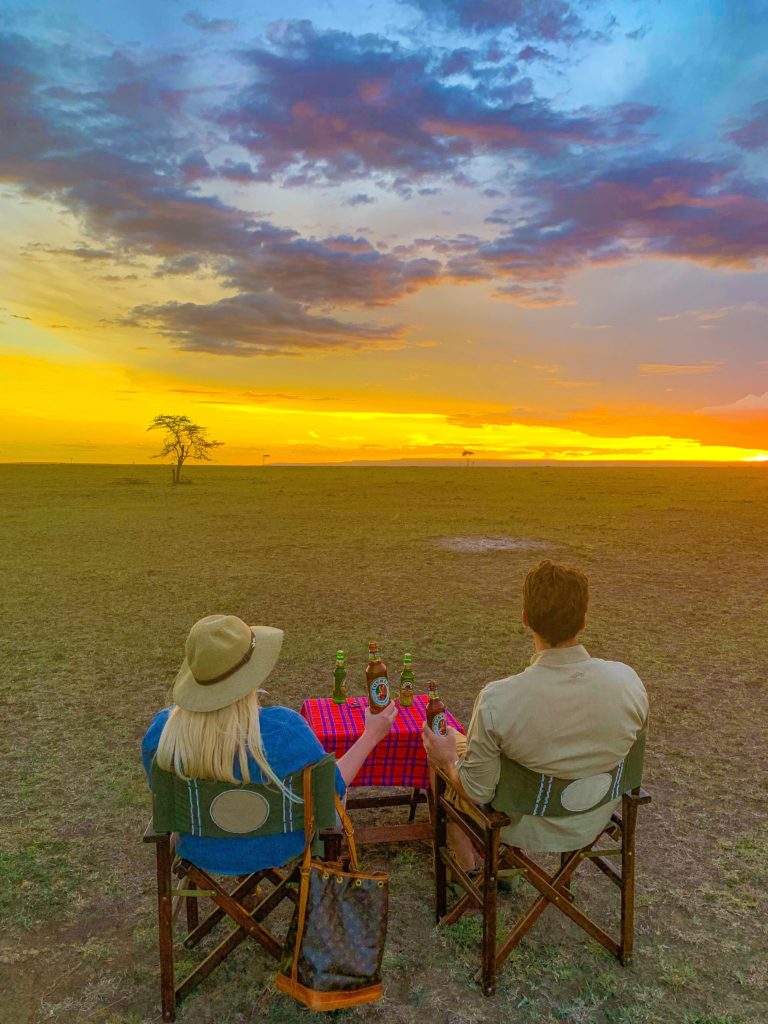 Earlier this year I started planning a dream adventure safari with Natural World Safaris ("NWS") to Africa. In the early planning stages, I was not sure where exactly I wanted to go, but was certain that I wanted a traditional and authentic safari experience where I could take in the natural surroundings, local culture, and of course, the majestic animals.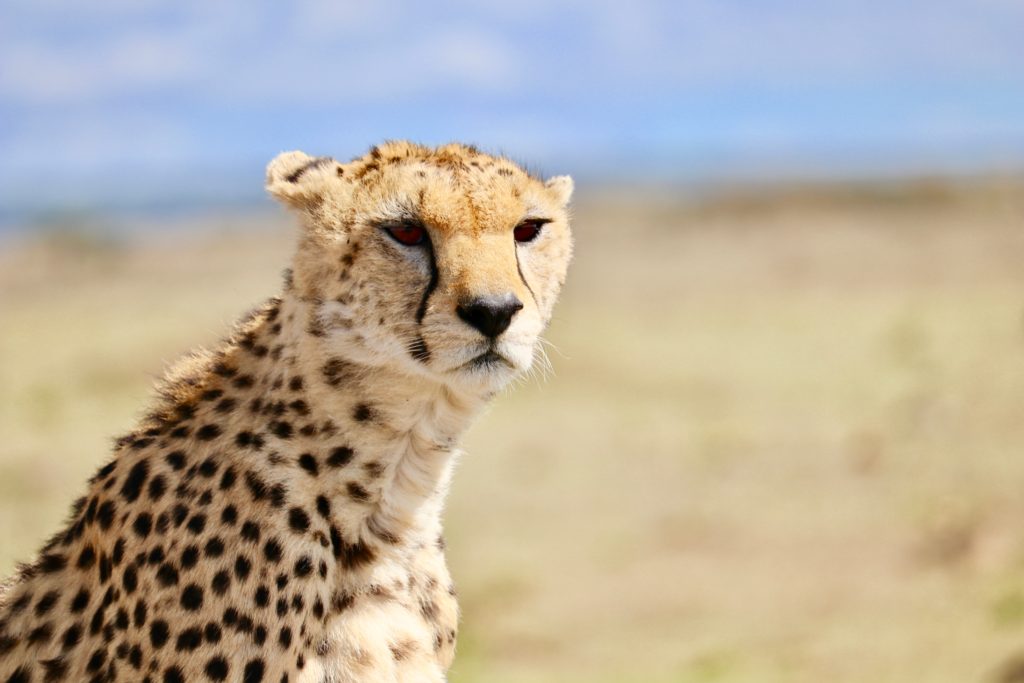 When I expressed what I wanted in a safari experience to NWS, they immediately suggested Kenya. Being that this was earlier in the year and the same week there was a tragic terrorist attack in Nairobi, I would be lying if I said that I initially considered halting my plans to move forward with finalizing the safari trip to Kenya. The press was making the country out to be dangerous, and like any anxious traveler, I was a bit nervous and hesitant.
Canceling this trip would have been the greatest mistake of all my life travel plans, because Kenya ended up being the most impactful and memorable place I have yet to visit.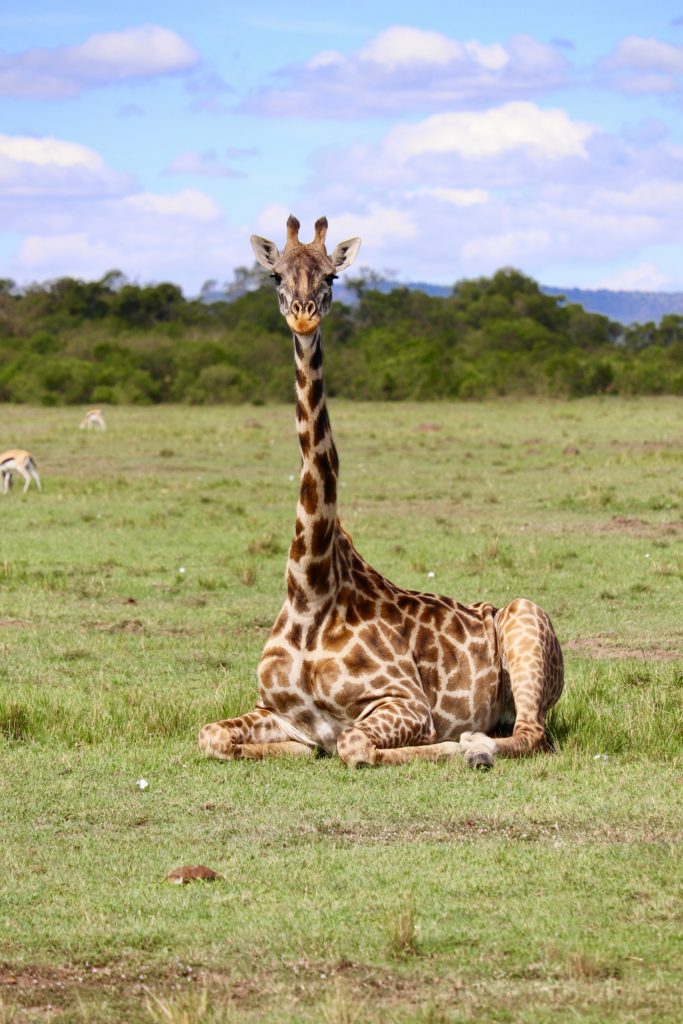 Should I have been afraid and passed on the chance to visit Kenya, I would have never had the opportunity to fall so madly in love with this new place in the world. I say this to travelers who may feel hesitations following the isolated attack earlier in the year. It is also important to note, that during my entire trip through Kenya as a young American woman, including time spent in downtown Nairobi, I never felt unsafe or in harms way – so I encourage travelers to continue visiting this amazing country and experience the magic of Kenya, one of the safest places to visit in Africa.
Not only is Kenya safe, welcoming and culturally rich for visitors, there is now a groundbreaking connection available between America and Kenya.
See, in the past it would take almost two full days of transit time to make the journey from New York to East Africa (Kenya, Tanzania, Botswana). However, Kenya Airways recently started flying a direct easy route from New York's JFK Airport right into Nairobi, Kenya! Typical transit time is cut in half. Travelers are able to get from one part of the world to another with zero connections or layovers in as quickly as 12 hours! How amazing is that?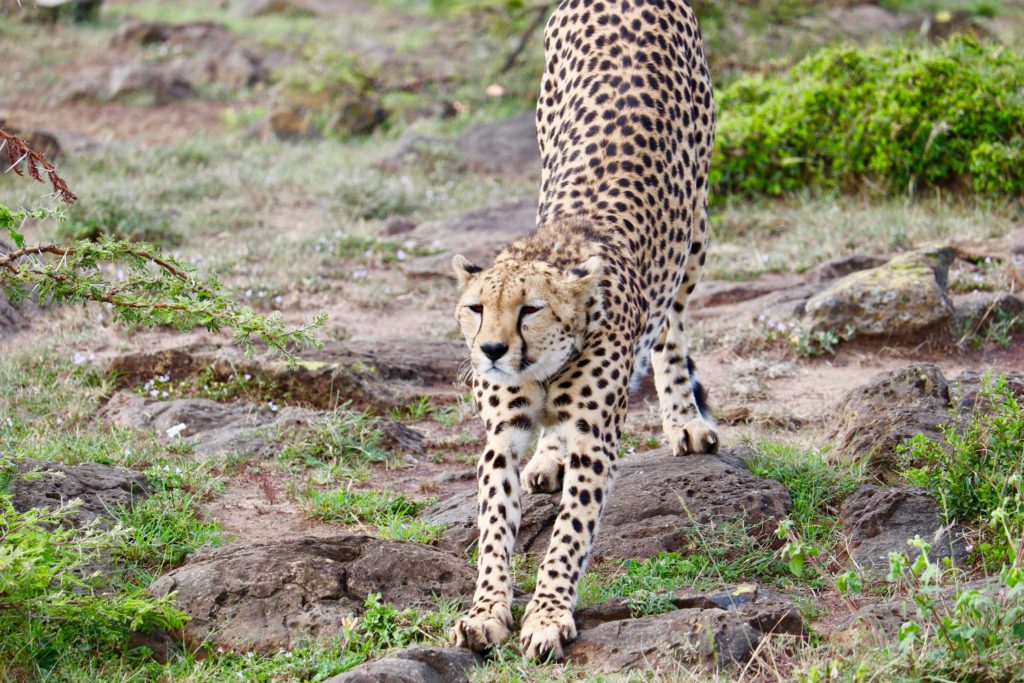 When I took the flight myself, we left at 1pm on a Friday in NYC and landed by 8am the next day, Saturday, in Kenya. The flight was only 12 hours take-off to touchdown which was easily spent sleeping and enjoying a few great films. When we landed at 8am Saturday morning, a driver coordinated by NWS took us to our connection flight via Safari Link. This was an easy 30 minute puddle hopper flight that brought us right to our first camp on the itinerary – Richard's Camp.
I am still in awe over the fact that I was eating a burger for lunch in NYC on Friday afternoon, and found myself in a Land Rover looking at lions in the Maasai Mara the next morning. This convenience is only now possible with the new direct flight via Kenya Airways – it really makes the safari experience, and Africa in general, much more accessible than ever before! Plus, you can often find roundtrip fares for as low as $600 economy if you plan in advance.
The Camp and Tented Suites
Arriving at Richard's Camp for the start of our first safari adventure in Kenya was absolute perfection. NWS picked a casually luxurious tented camp with an authentic vibe for our first taste of Kenya.
We stepped off the small plane on a landing strip nearby the camp where we were immediately greeted by our personal guide, Johnson, a member of the local Maasai Mara tribe. He put our luggage in the jeep, and off we went to say hello to a few animals en route to the camp. In our brief ride to camp, we started giggling with excitement as hundreds of animals popped up across the lush green land. It was a moment like no other, a moment we found pinching ourselves – is this real? The natural beauty of the land, the density of animals and the massive sky above – it is all just astonishing to take in for the very first time while on safari in Kenya.
The camp itself is comprised of a general living/dining lodge with eight individual tents scattered along the river. The furnishings in the common space and sleeping tents are the epitome of "glamping" (glamorous camping). Careful detail, creativity and thought went into the layouts and decorative accents throughout the camp.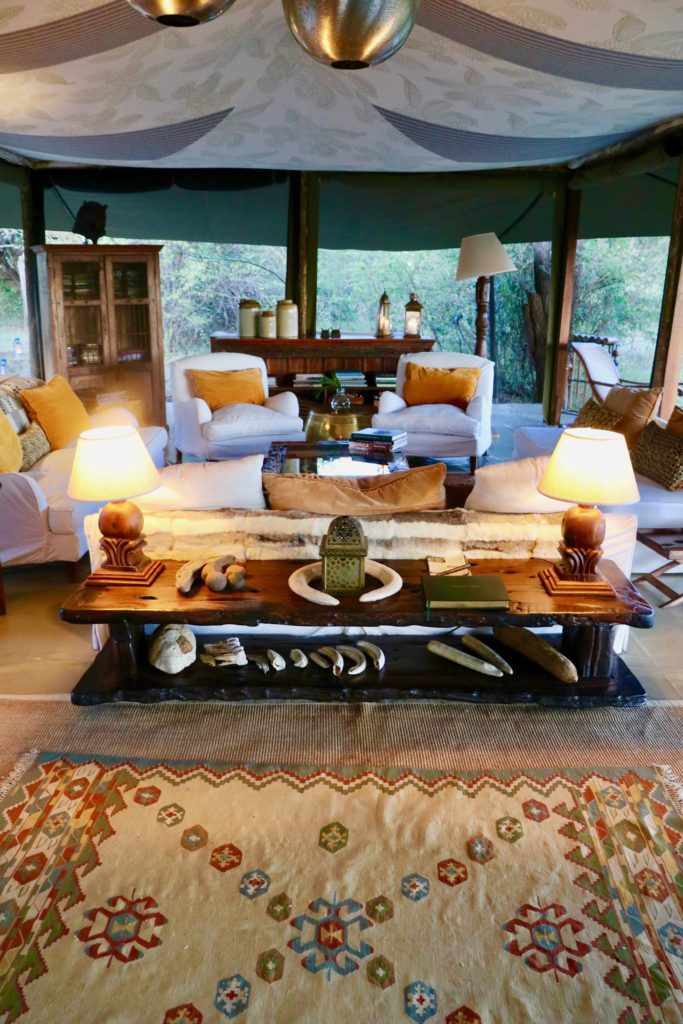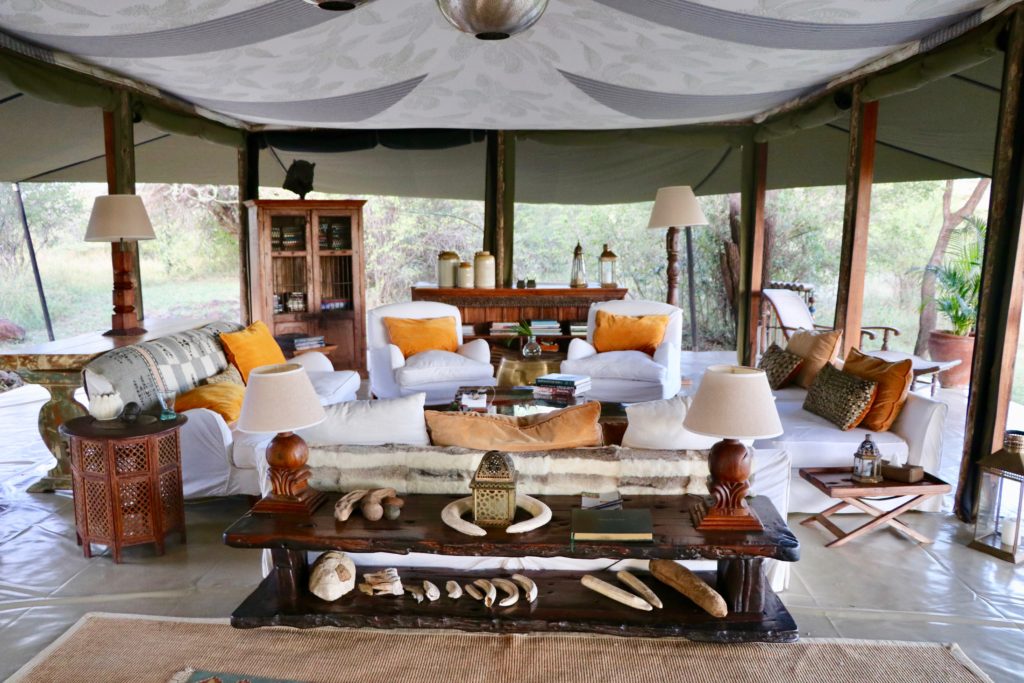 Richard Roberts and Liz Fusco, the owners of the camp, have been in Kenya for decades (Richard is a third-generation safari expert and conservationist). The camp was initially built as a family home away from home, which really sets the foundation for why the accommodations feel so welcoming and charming. The private oasis is now open to lucky guests who seek the most authentic and intimate of travel experiences right in the heart of the bush.
Liz has exquisite taste in design, crafts and décor, which reflects the carefully curated selection of items throughout the camp. The premises scream safari-chic with textiles and clever finds from all over Africa. From coffee table books to etched glass water jugs, there is so much charm and character to make you feel as though you are in a safari fairytale.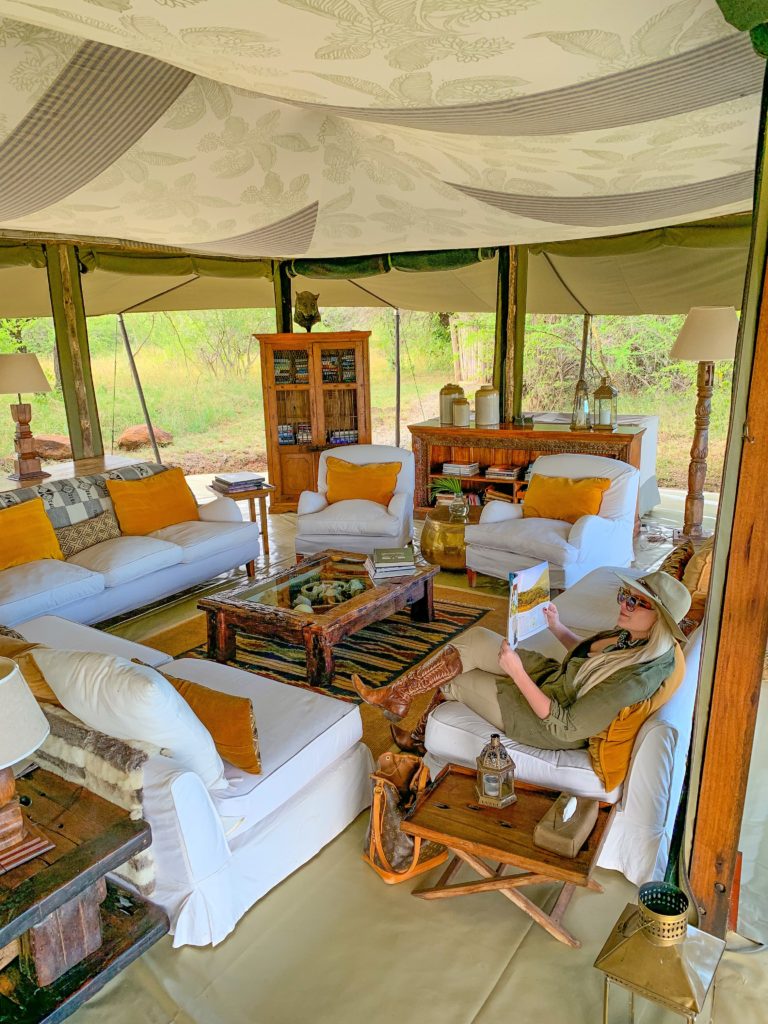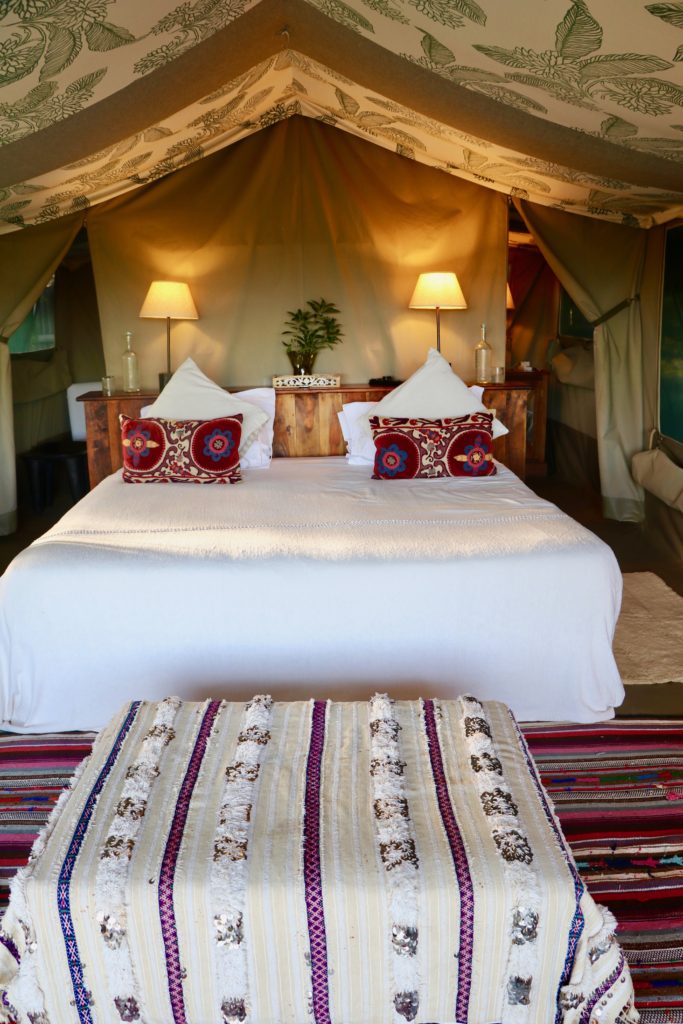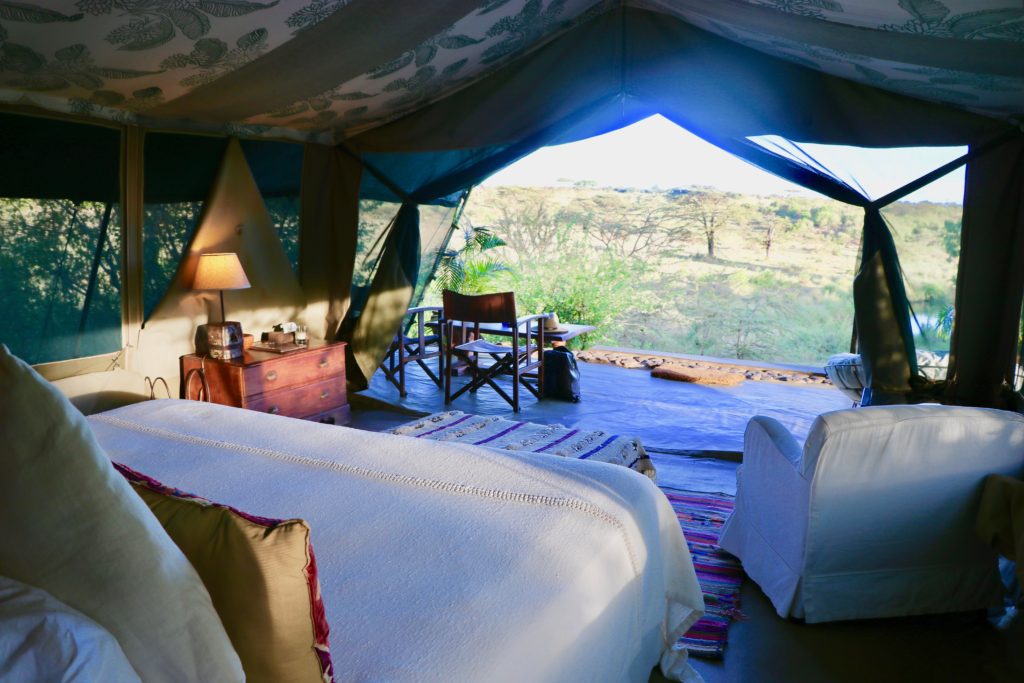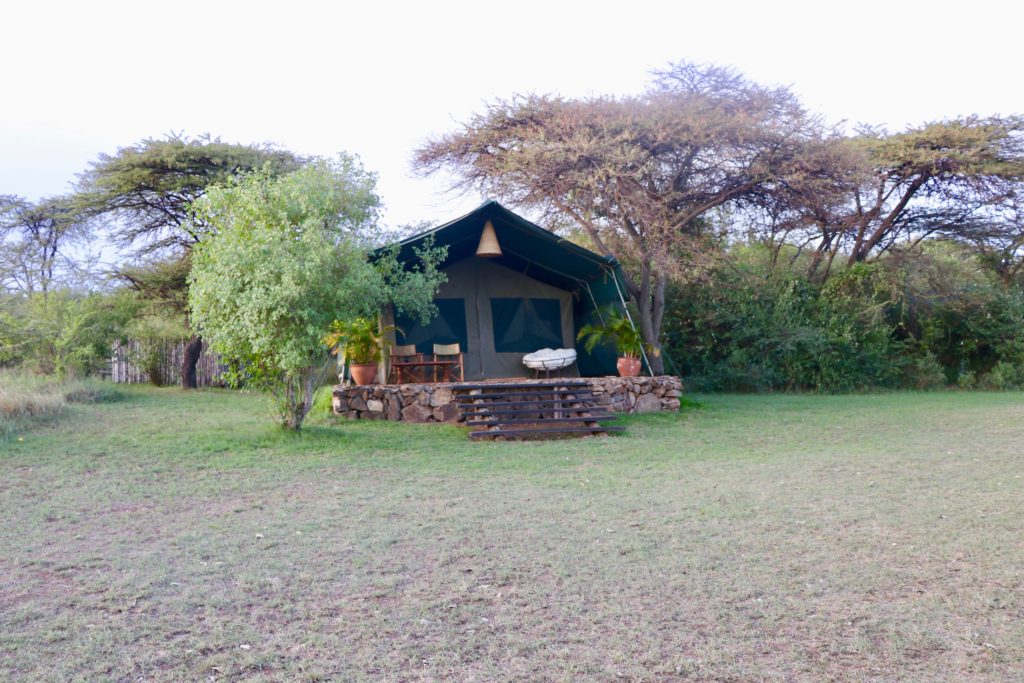 Here at Richard's camp you can enjoy drinks by the fireside under a sky filled of stars, massages on-demand in your tented suite, mouthwatering meals cooked by the onsite chef and nonstop sounds of the nearby animals. At night we fell asleep to a lion's roar and hungry hippos looming out of the nearby waters to eat their share of grass. One of my favorite aspects of the camp was the staff – such warm, attentive and thoughtful people, hired from nearby villages, the staff worked hard to ensure we were always smiling. I really appreciated how attentive and thoughtful the staff members were at Richard's Camp.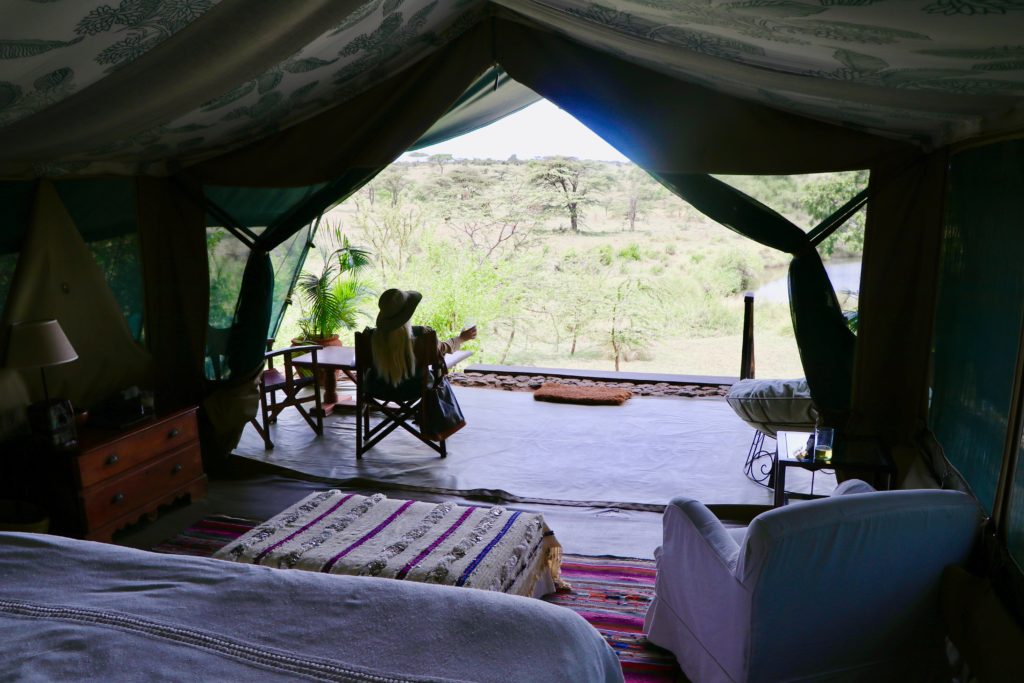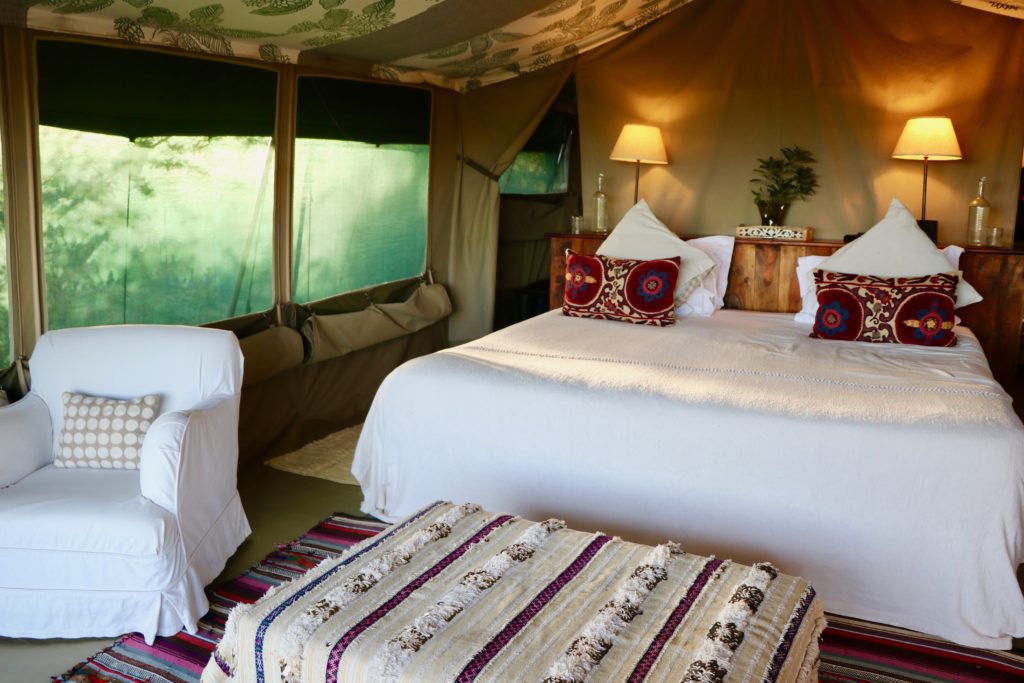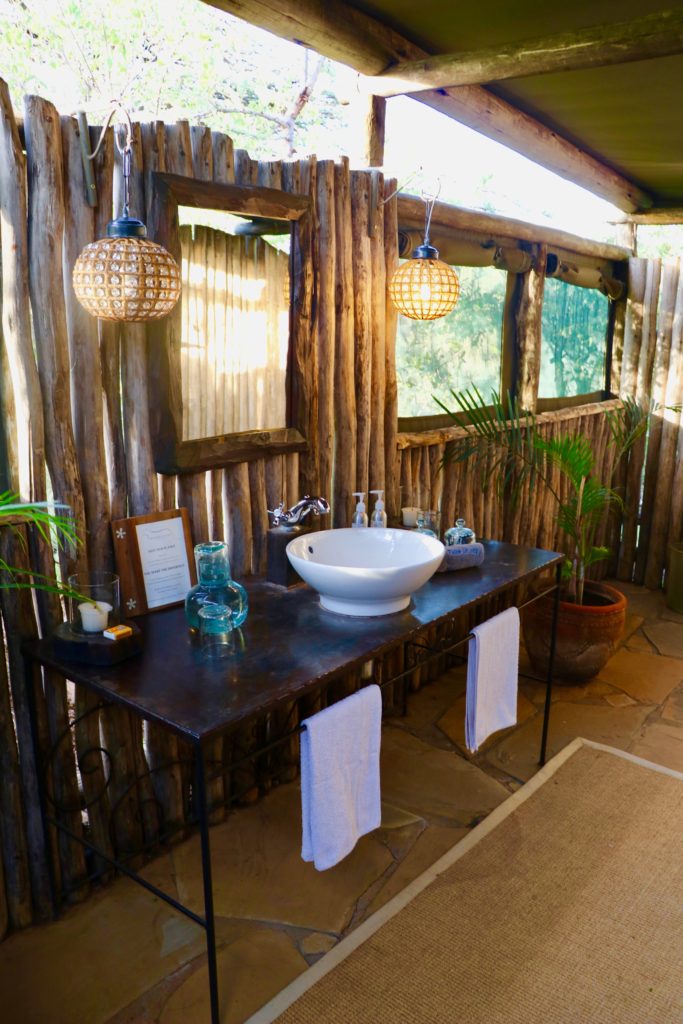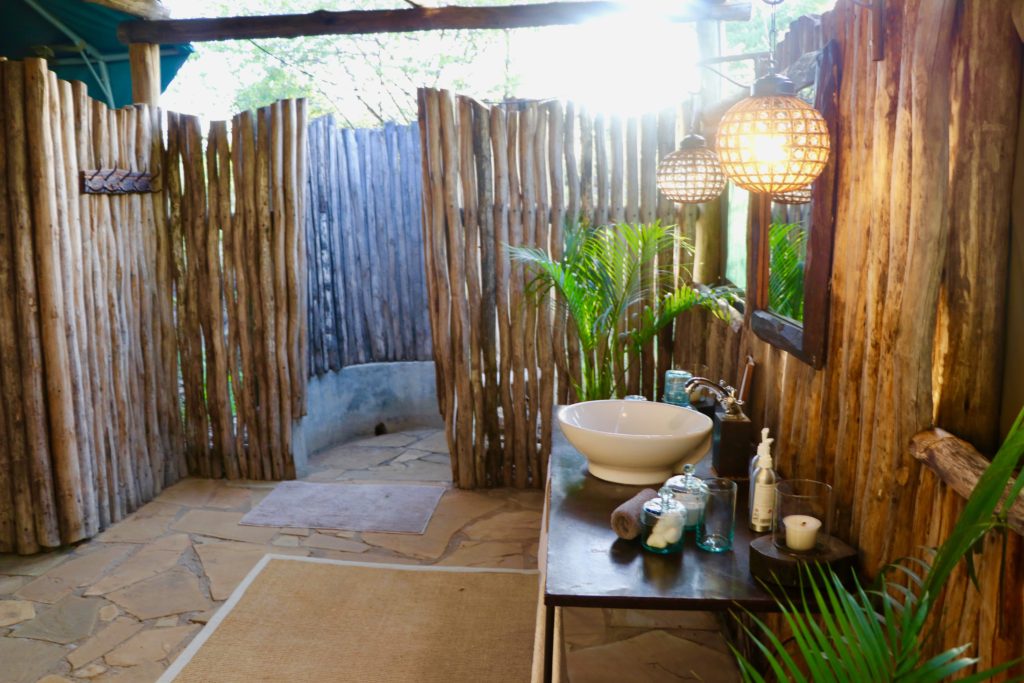 Typical Day at Richard's Camp
Now let me take you through an insider recap of a typical day spent with Richard's Camp so you can fully appreciate the details of this authentic, yet luxurious, safari experience.
The camp manager plans a wake up call for you just before sunrise; for us this was 6:30am but it's completely up to you and when you would like to get up to go see animals in action. Your itinerary and preferences are completely customized to your liking, with suggestions from the expert guide and camp manager, all to ensure you have a trip catered to your desires.
At this arranged wake up call, a polite staff member comes to the tent and gently wakes you up by announcing there is coffee/tea with biscuits on your patio. You wake up, sip your coffee while dressing in safari gear for the morning. When you are ready to go, you meet your guide by the jeep and head out to spot animals in their natural environment just waking up for the day of survival ahead. We drove around for about two hours, spotting countless animals and snapping photographs. The amount of life we saw in just those brief two hours was enthralling.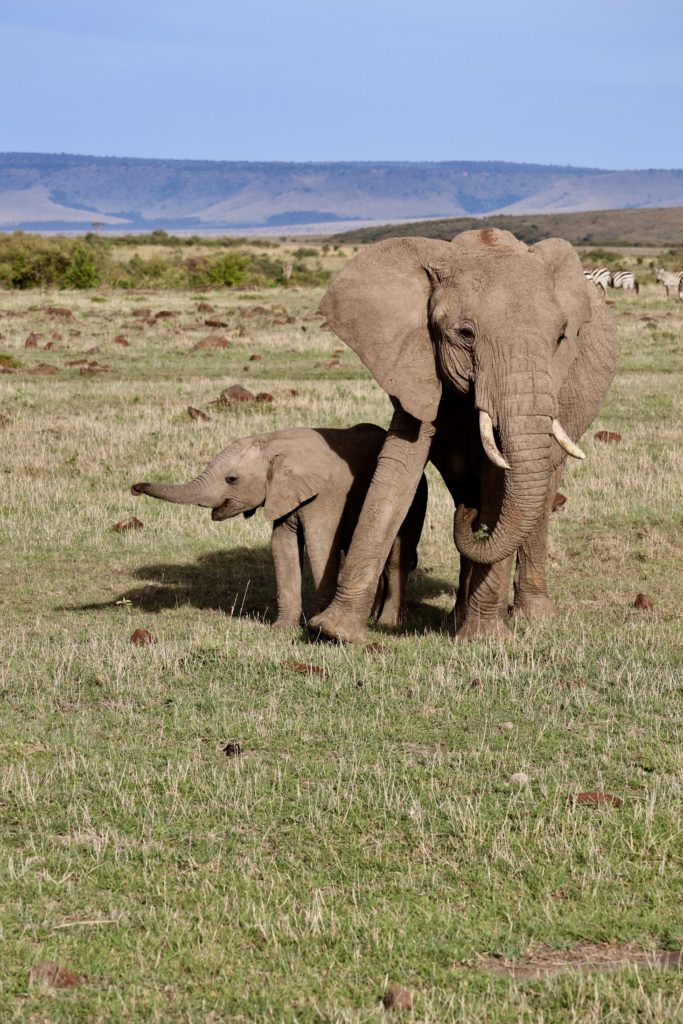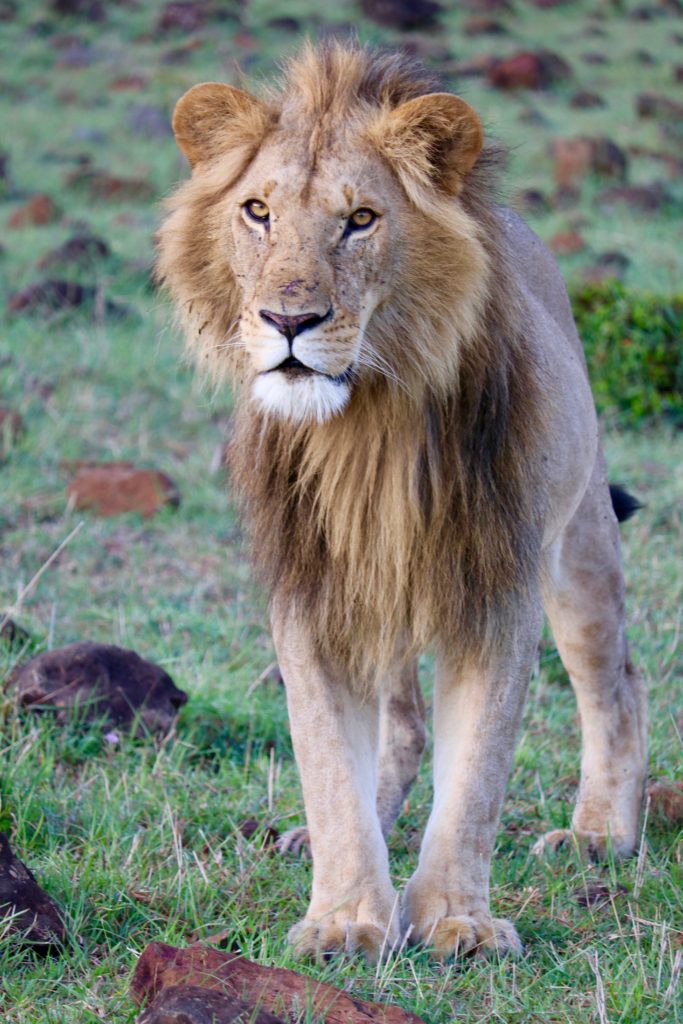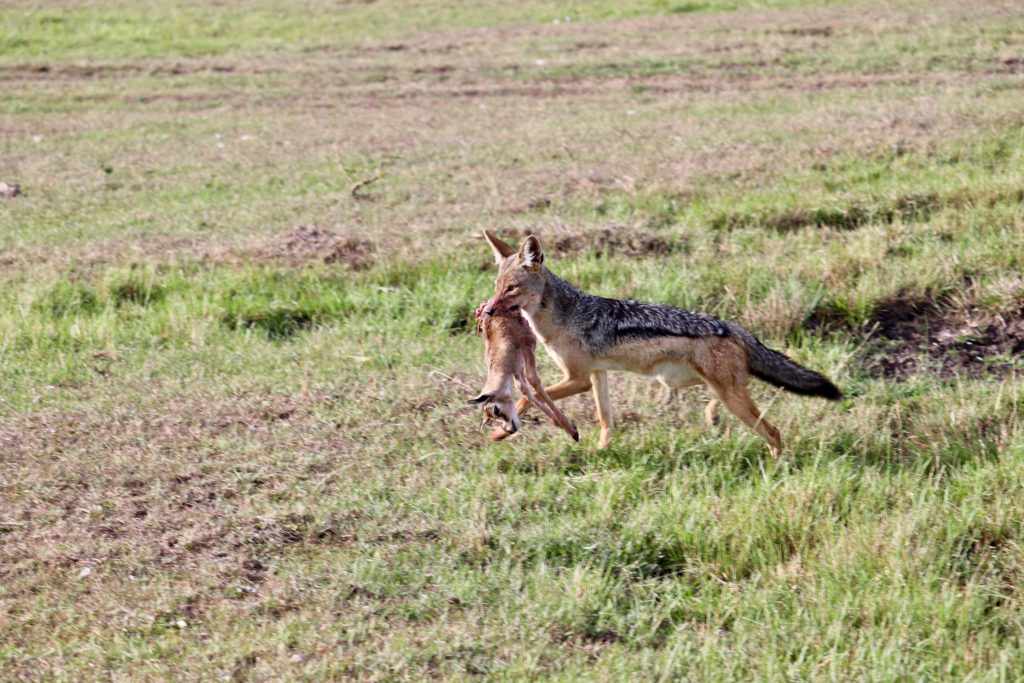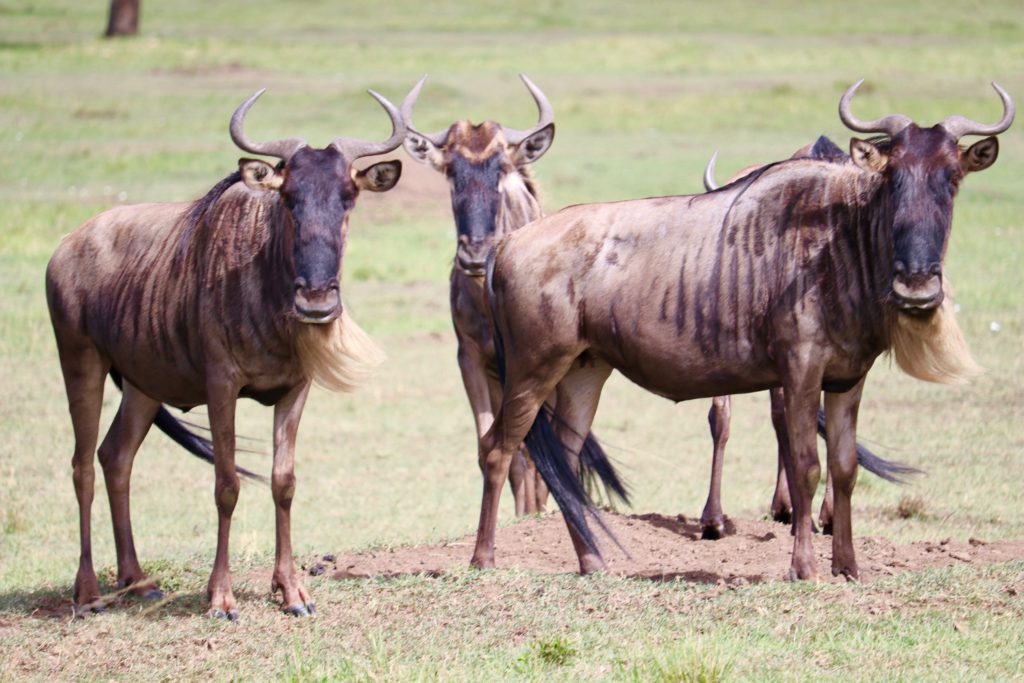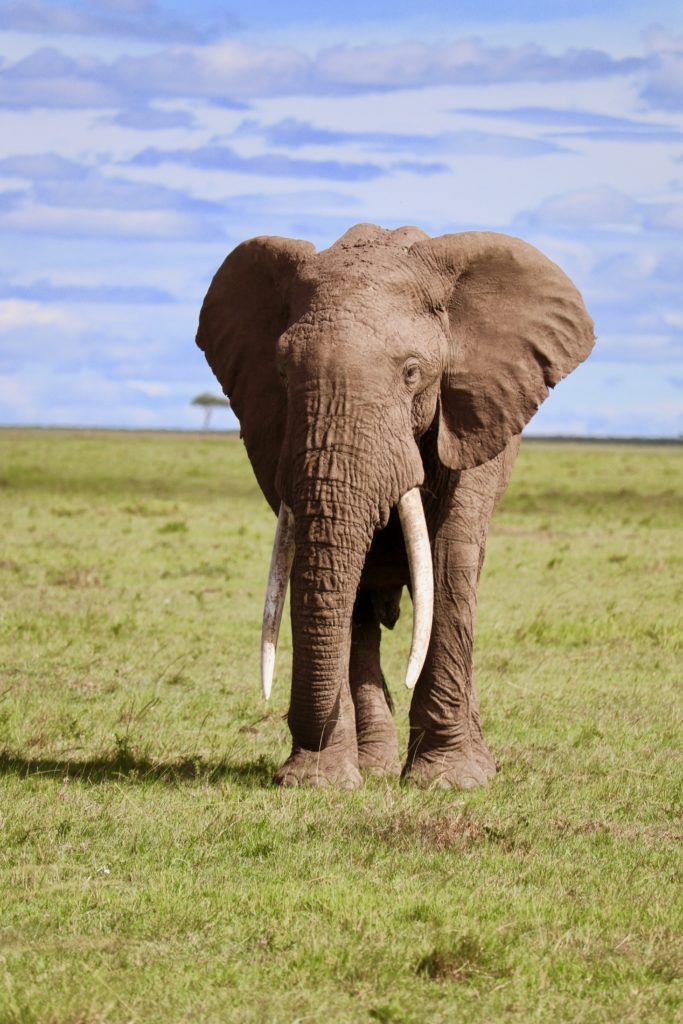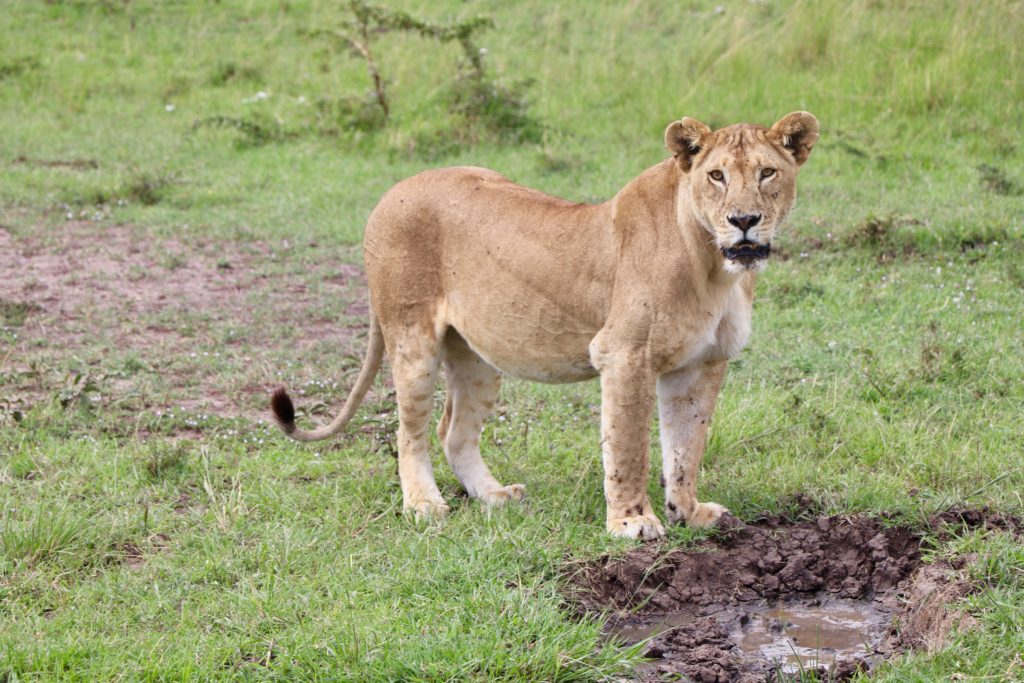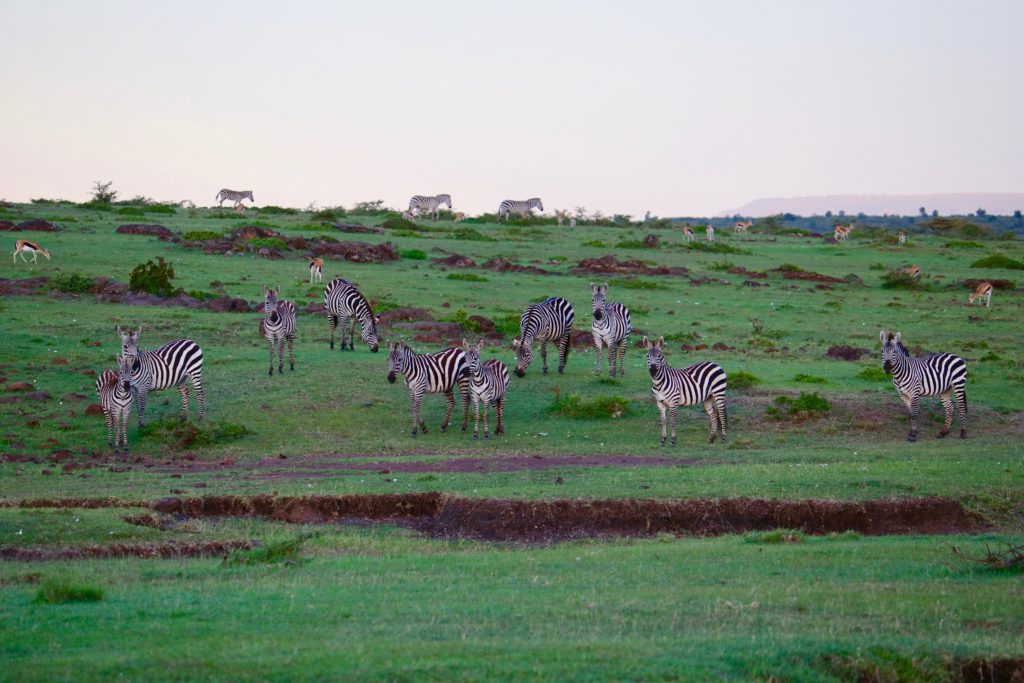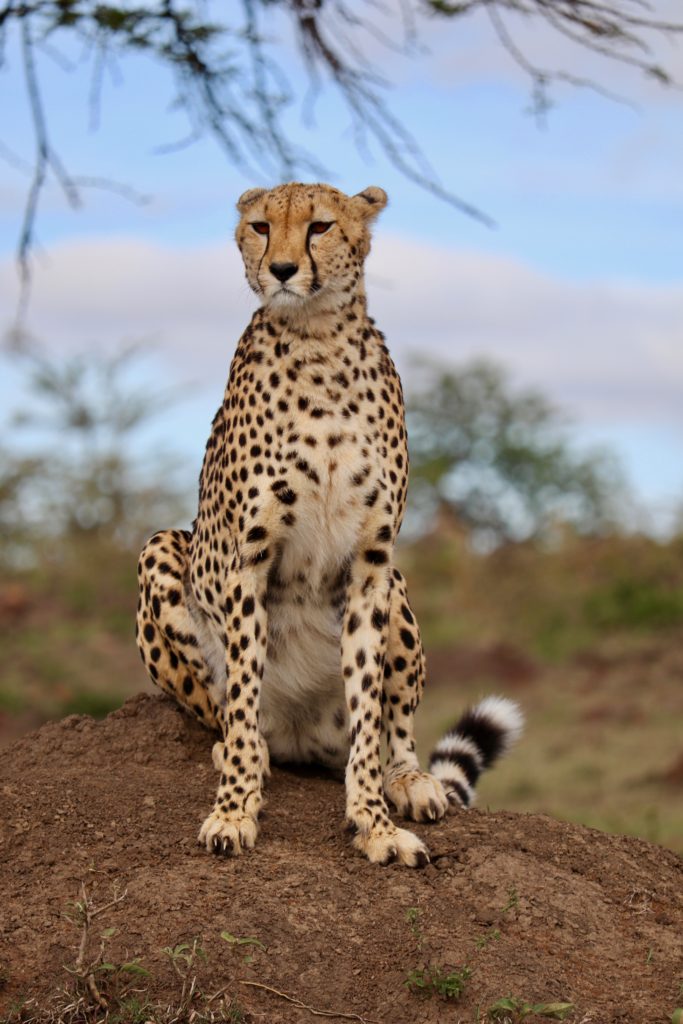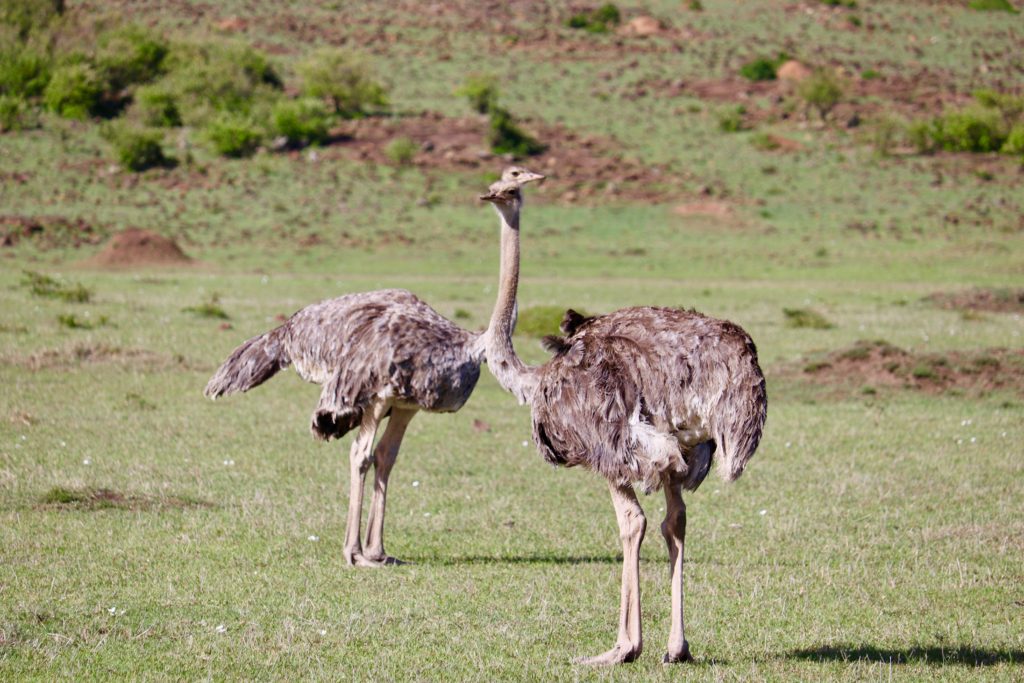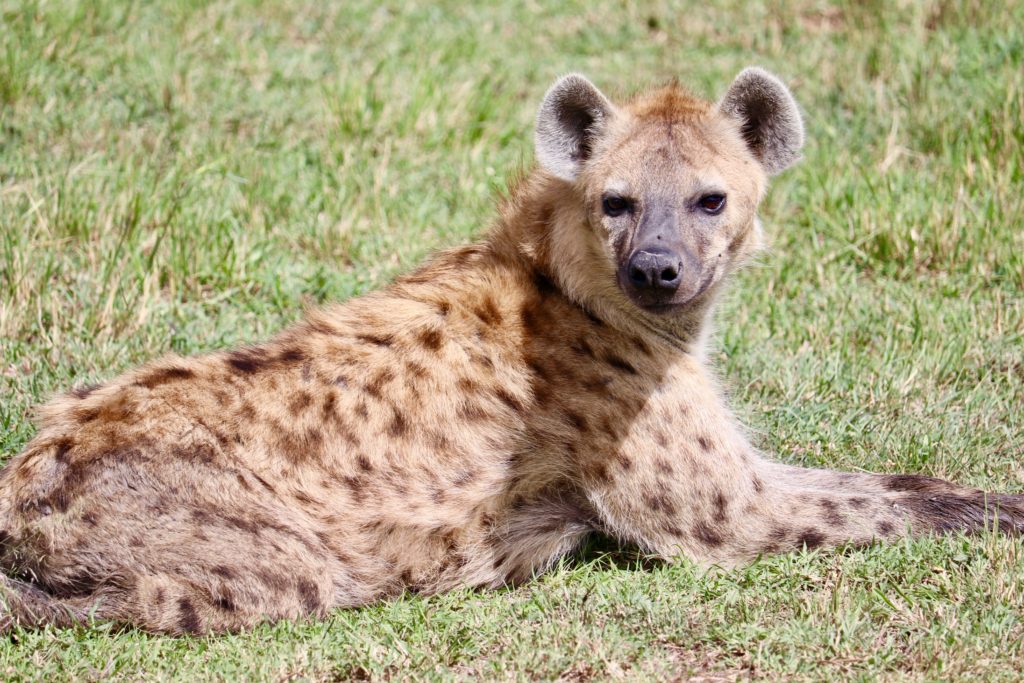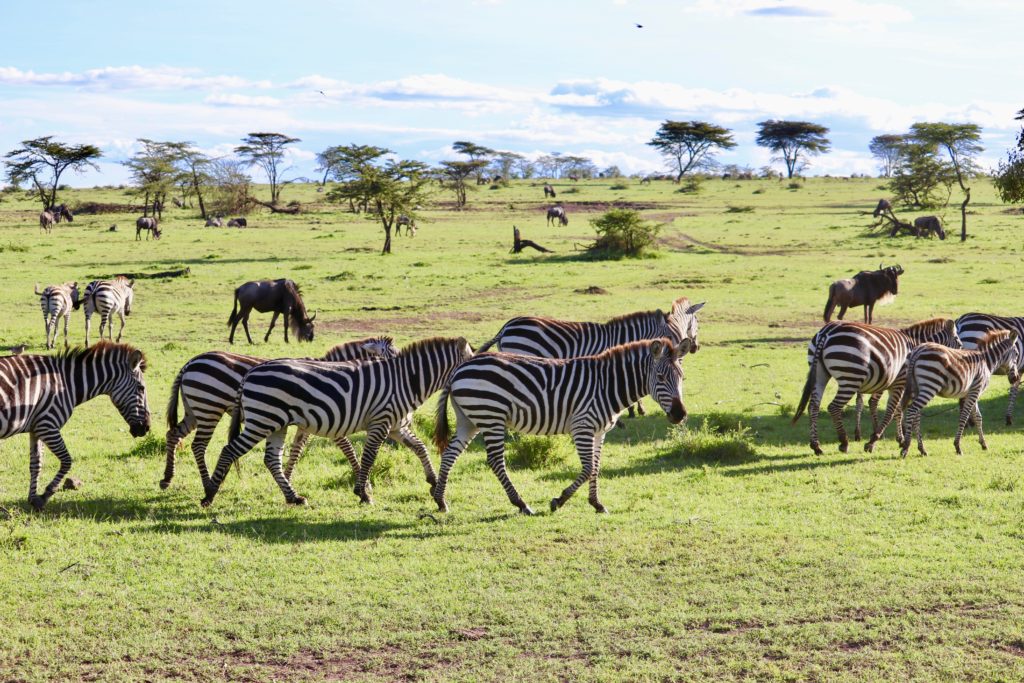 From there, our guide Johnson picked a beautiful location in the bush to set-up a breakfast spread he had packed for us with the help of the camp's chef. We take a break and enjoy breakfast in the bush for about an hour. The evening before our game drive, the chef asked us for our favorite breakfast items that she would pack for the morning outing, but even surprised us with a few special treats such as homemade baked banana bread – delicious!
Fresh fruit and pressed coffee with a front row seat to the animals in action. How cool is this spread and view? We loved our early mornings out on the bush – despite waking up early, it was actually quite relaxing to feel the wind on our faces as we cruised through the motherland taking in life and then savoring a yummy breakfast.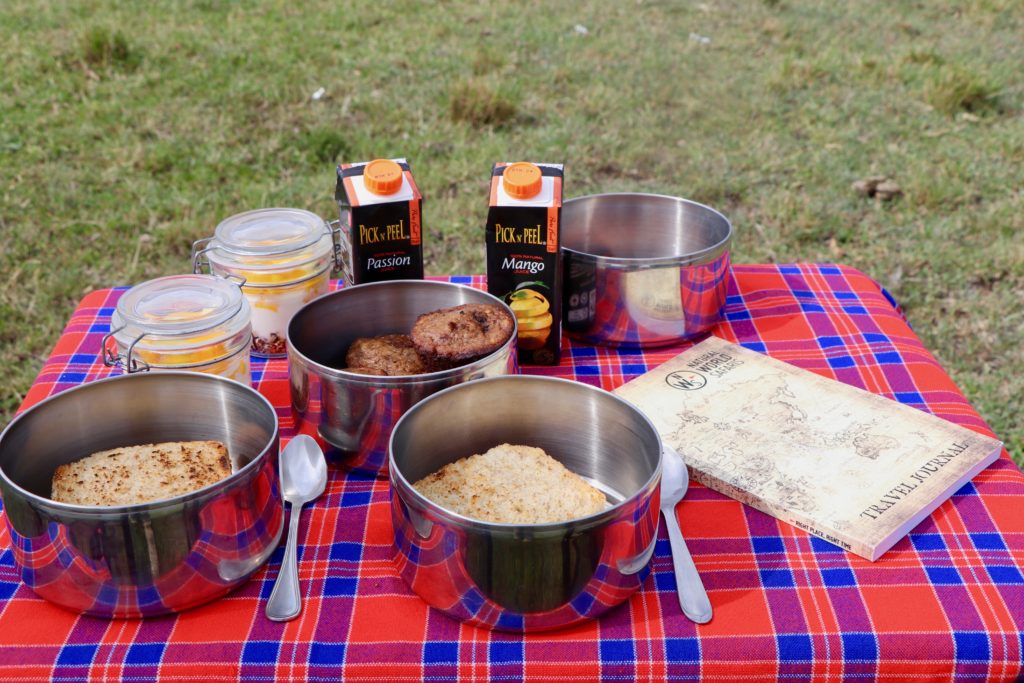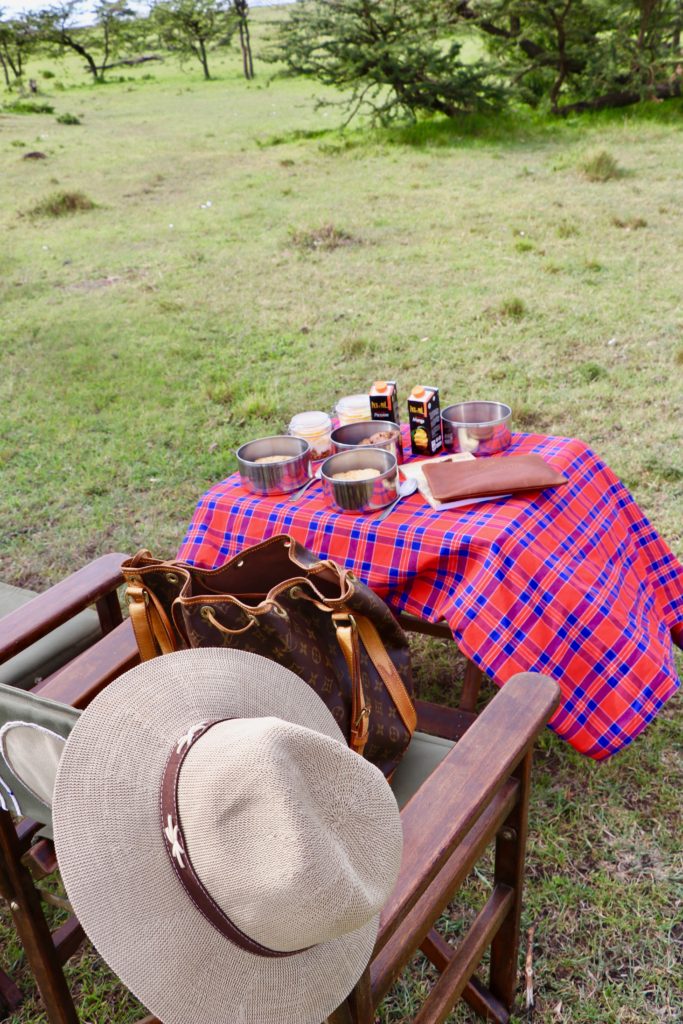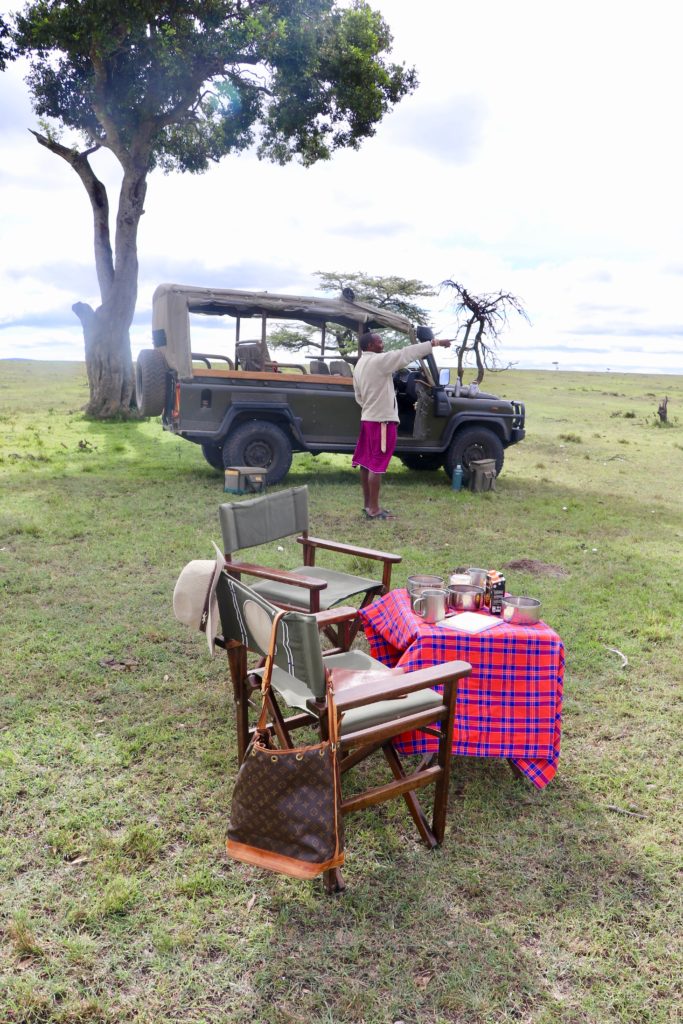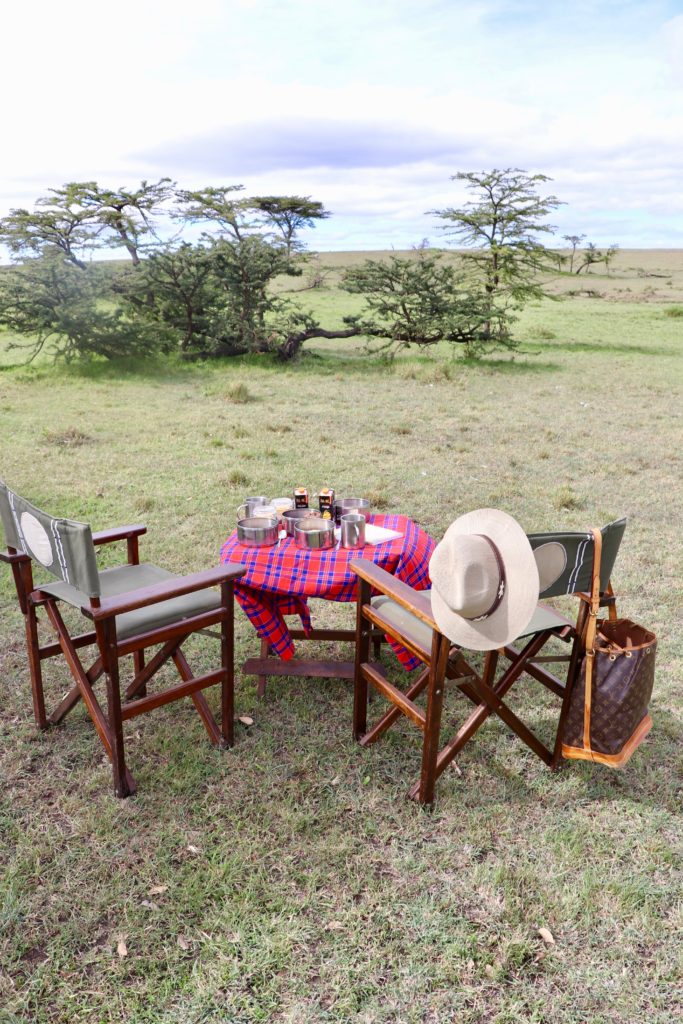 Following breakfast, we continue to drive to a few more strategic spots out in the bush to view animals for a bit longer. After we've seen plenty, we then head back to the camp at around 10am. Some people choose to stay out much longer or even take a full-day game drive. You can even opt for walking safaris if you are feeling adventurous and want to get out of the jeep. Richard's Camp really lets you do it all and see it all.
Back at the camp we have a few hours of "down time" before our next activity. During this time, we indulge in some relaxation – long deep tissue massages right inside our private tent, a long leisurely lunch with profuse amounts of rose wine, followed by a bit of reading on the animals via the collection of books Liz has selected for guests to enjoy.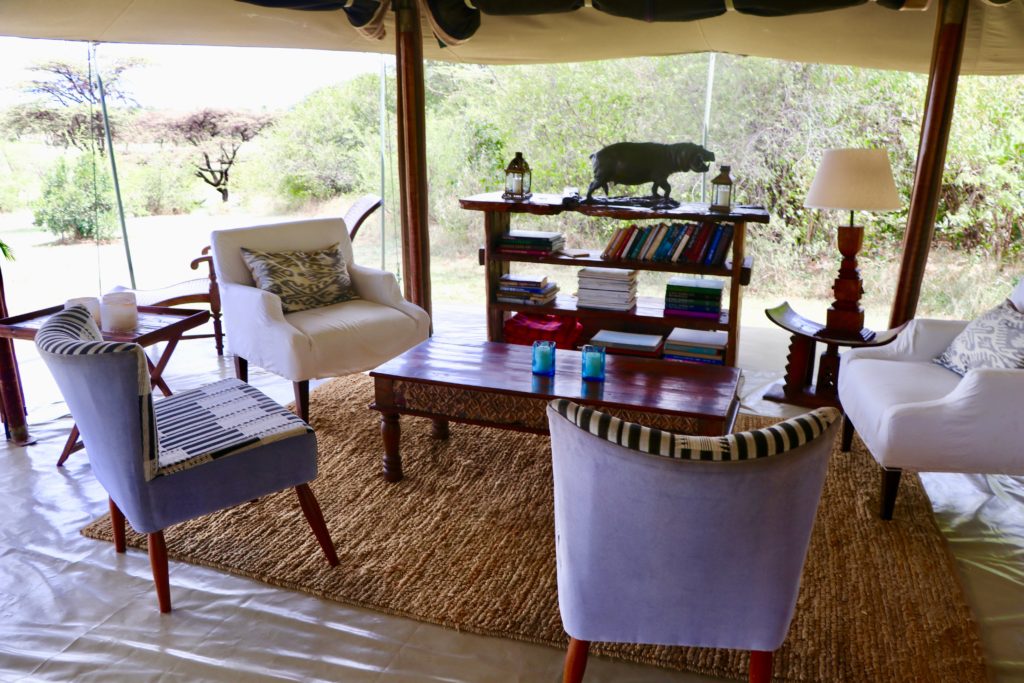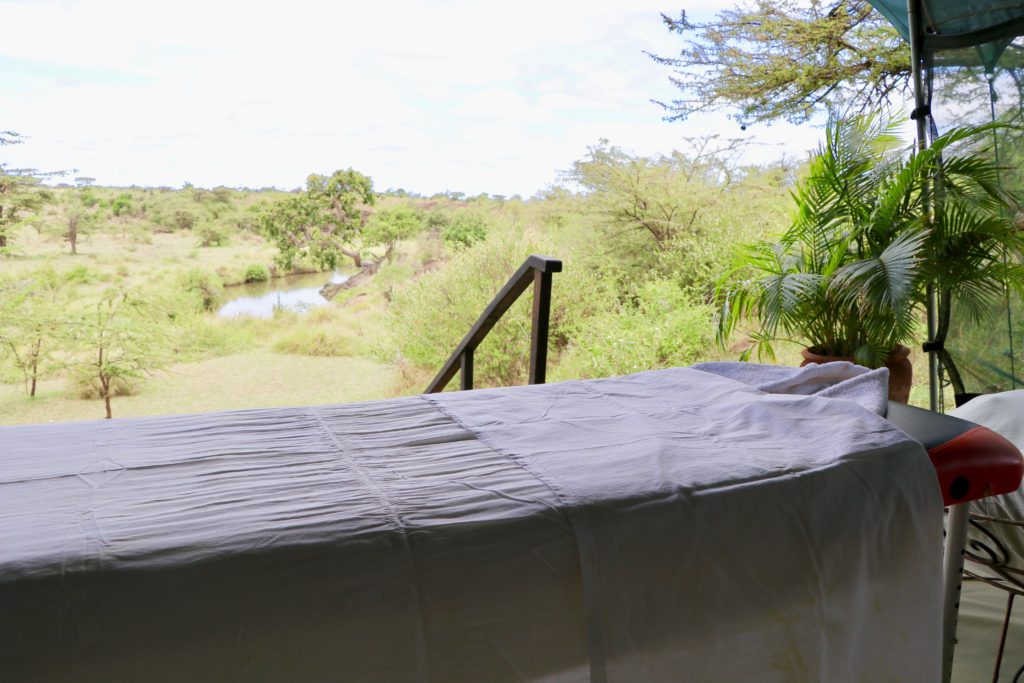 At around 4pm, I get dressed for the evening game drive and change clothes into something that is "photo friendly" since dusk is the best time to take photos while out on safari. I wanted to be sure my husband and I could get a photograph of us with the sunset light to remember this trip forever.
Right as we are leaving our private tent, I spot hippos in the river just a few feet away. We meet up with our guide again and head out for the evening ride. Who knows what will we see on this next ride, it's always an exciting feeling leaving camp for another adventure!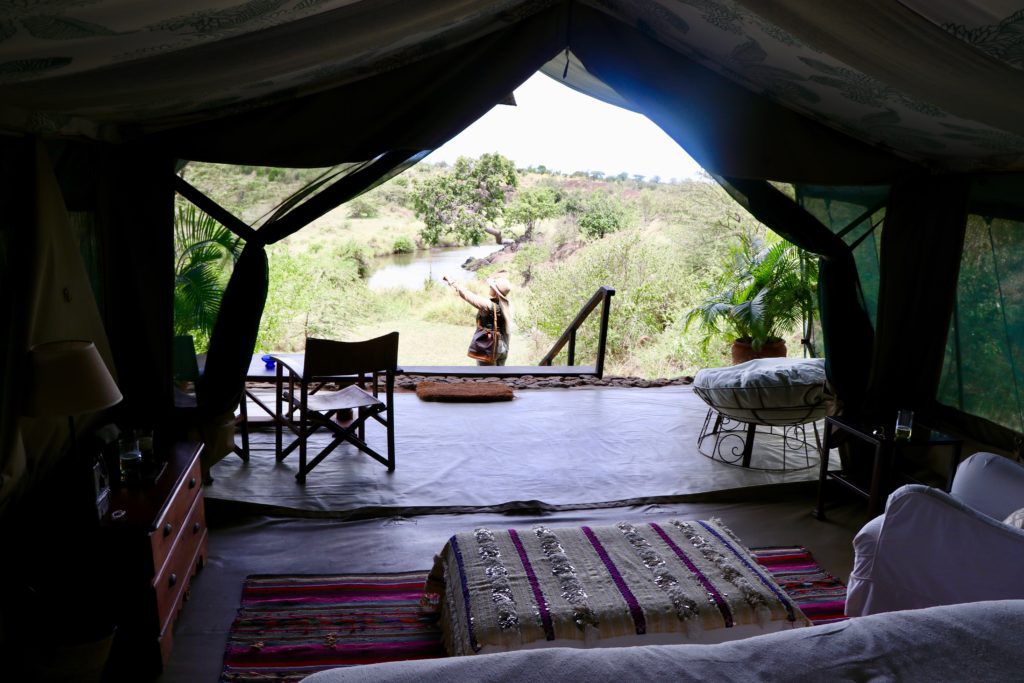 At the evening ride we see even more animal action, including a lioness nursing her newborn cubs. It was mesmerizing to get so close to this beautiful mother caring for her babies. The theme of the night was definitely mothers and their newborns, because we also spotted an elephant protecting her three month old baby, as well as a newborn giraffe still figuring out how to walk with those super long legs.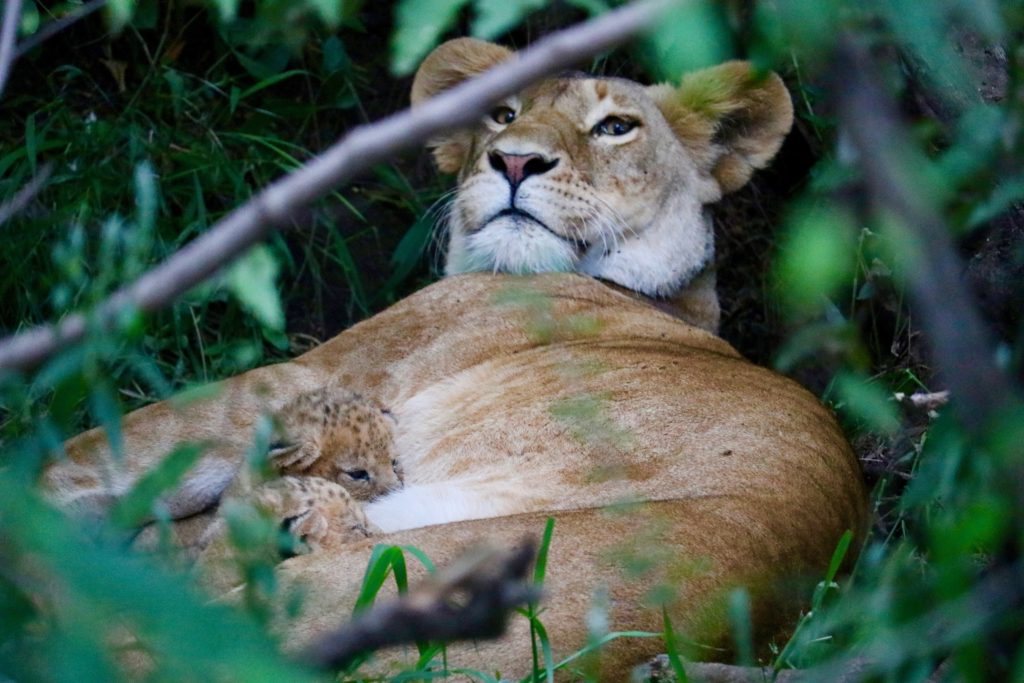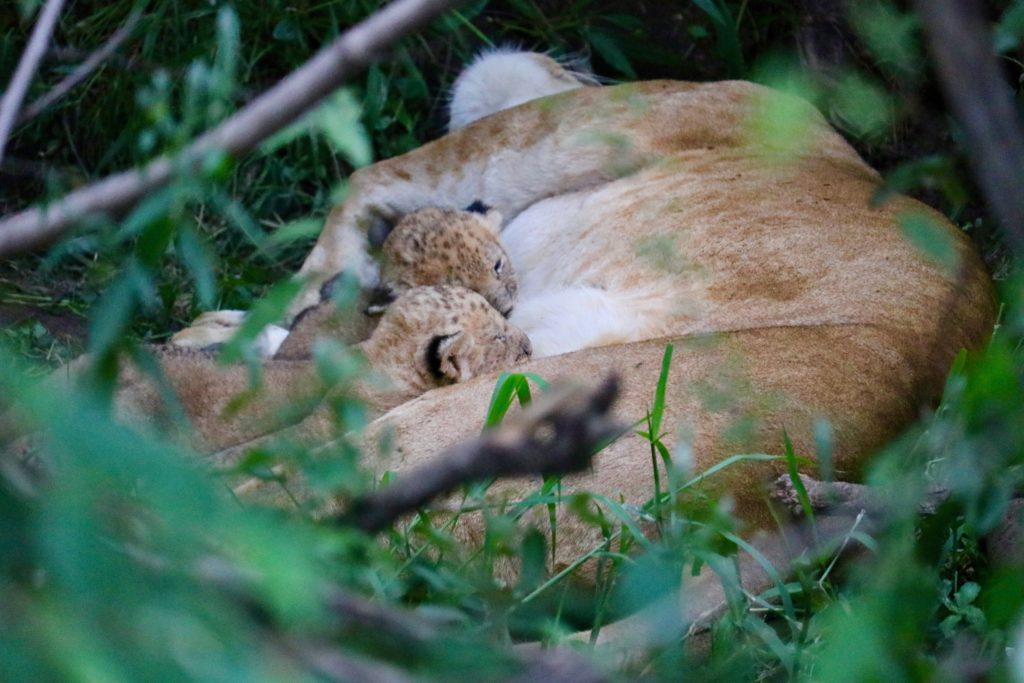 Ah but those cheetah spots! They sure do melt into the backdrop so seamlessly! We spotted a female cheetah on the hunt and she was such a beauty to simply observe for a while.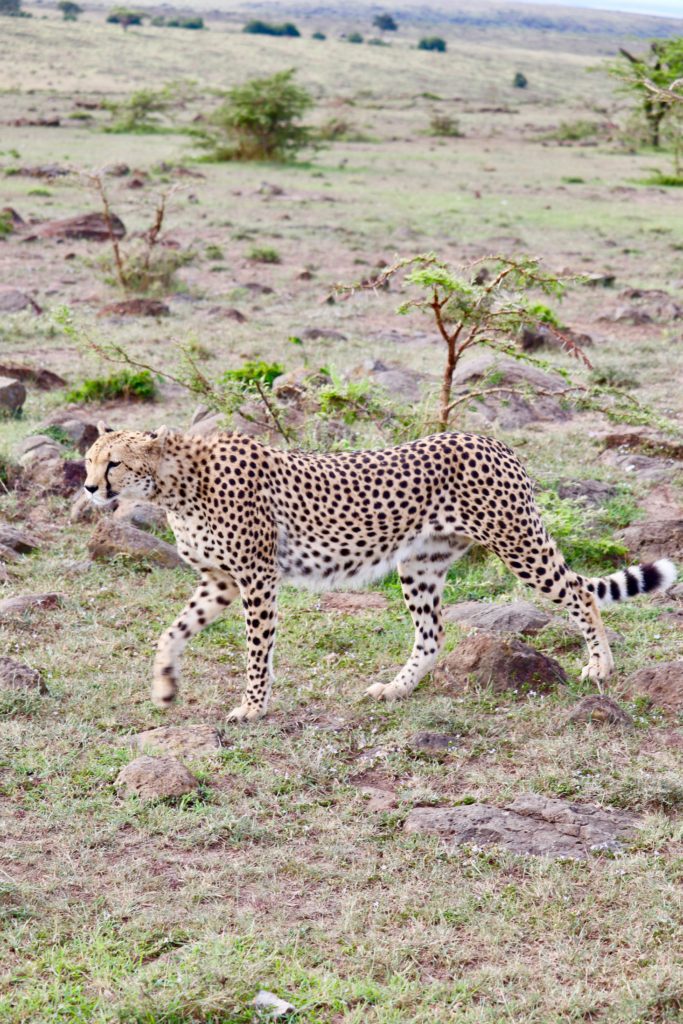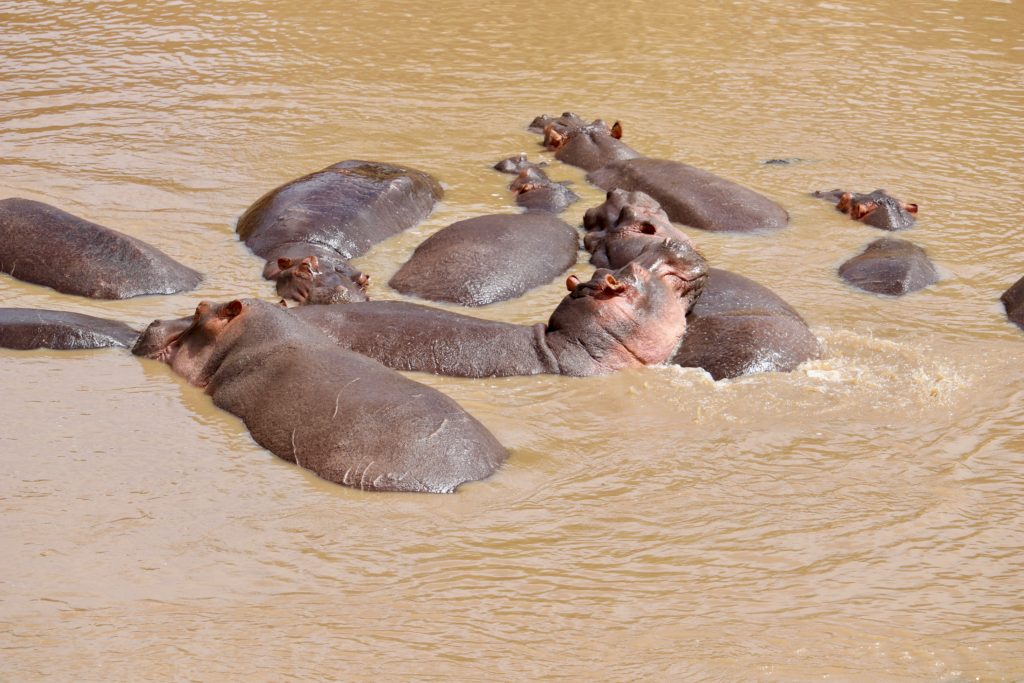 Another fun sighting was the jackal – a small little fox that has such funny habits. The jackal is one of the few animals you will see on safari that has a single mate for life – and with their mate, they do literally everything together (eat, sleep, hunt, mate, raise offspring). We saw a "husband and wife" pair of jackals eating dinner together and it was pretty gruesome, but also eye-opening for the realities of survival out in the wild.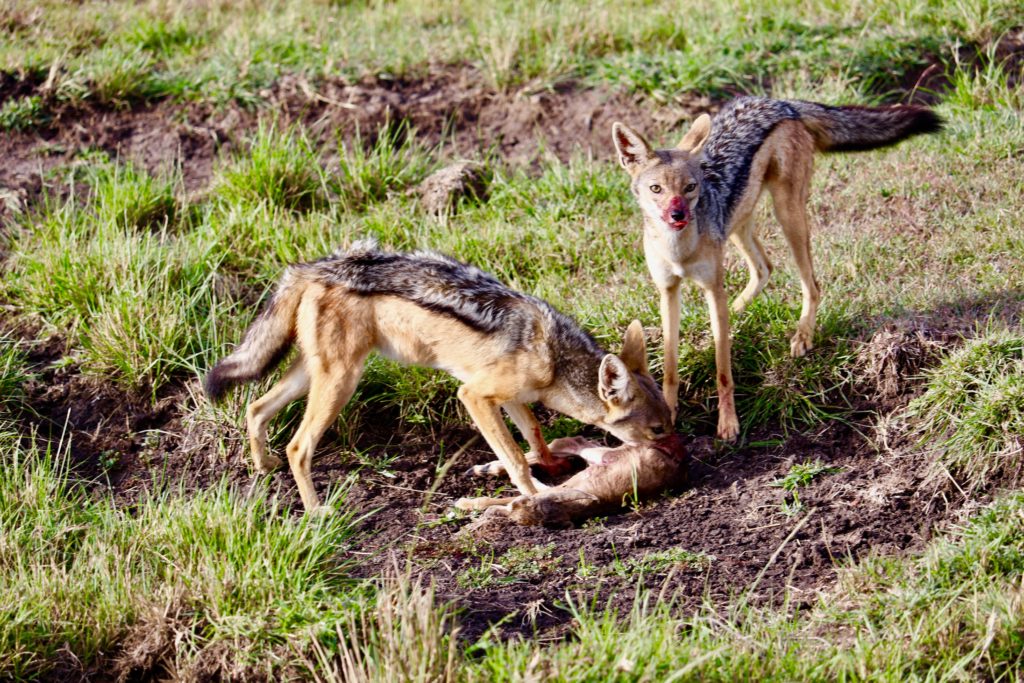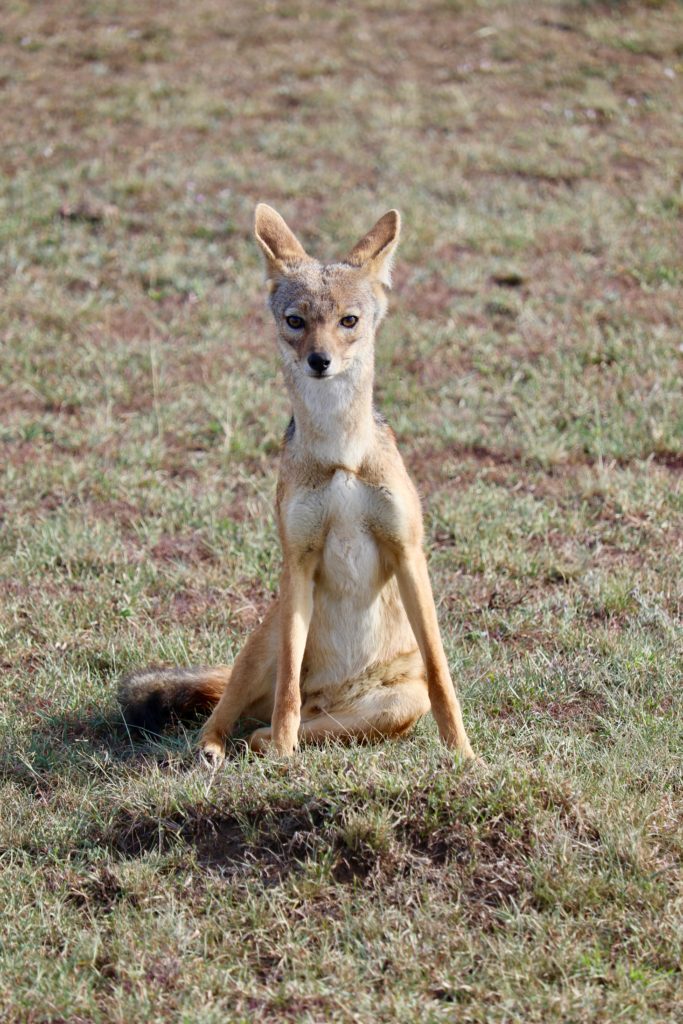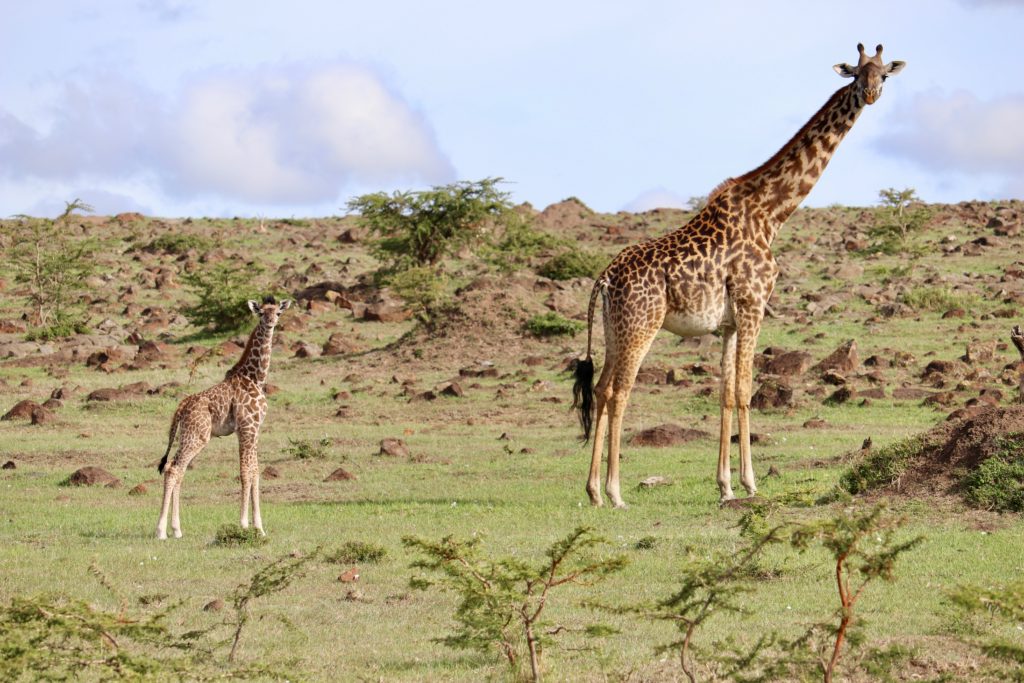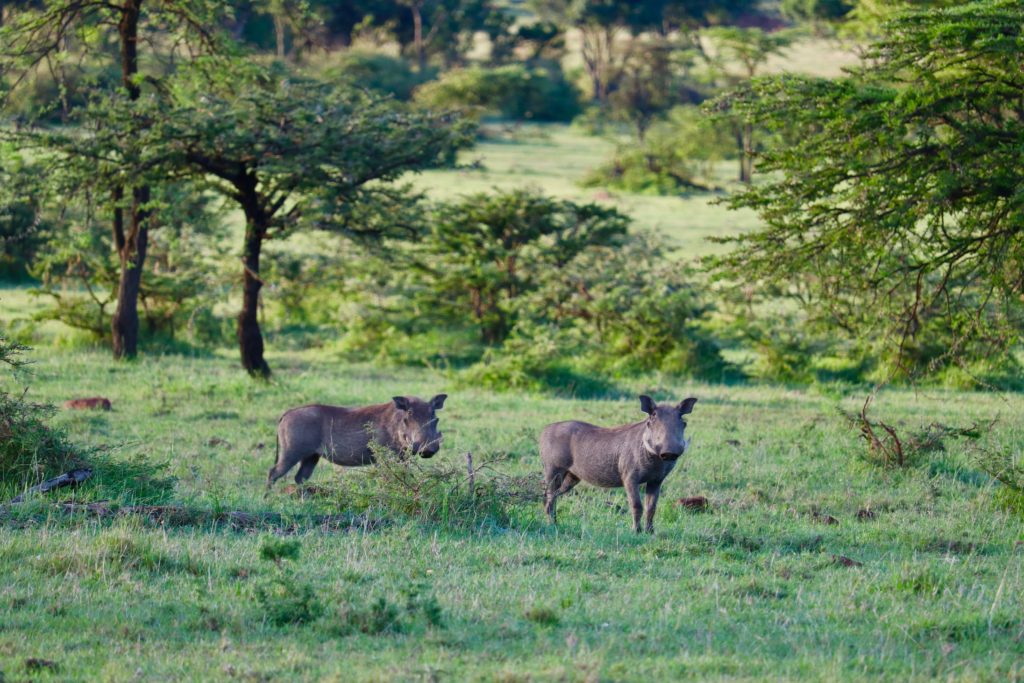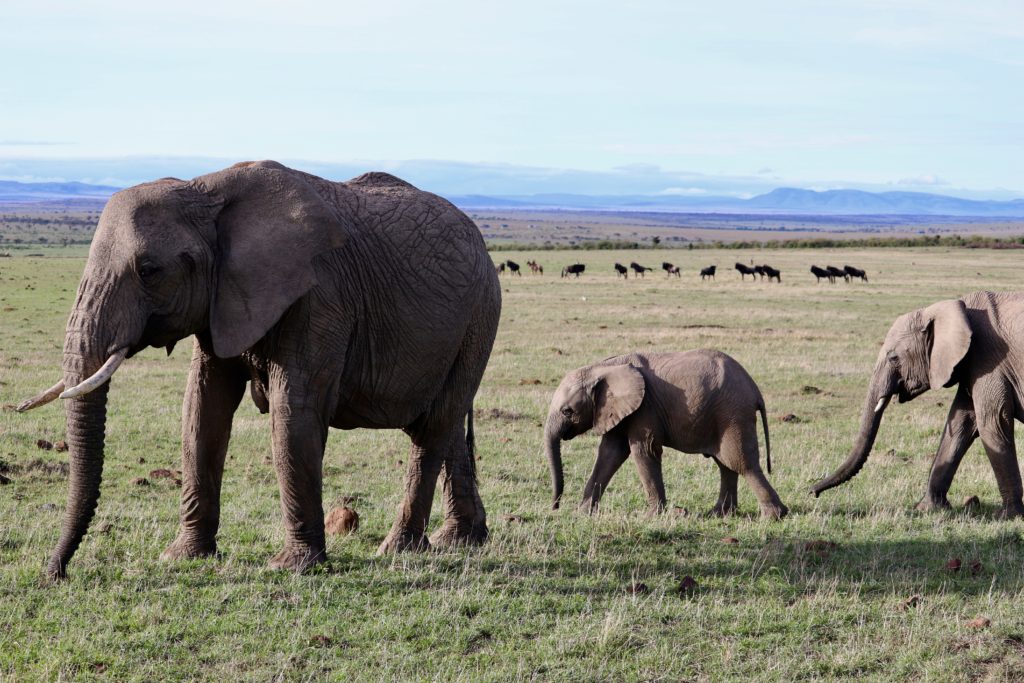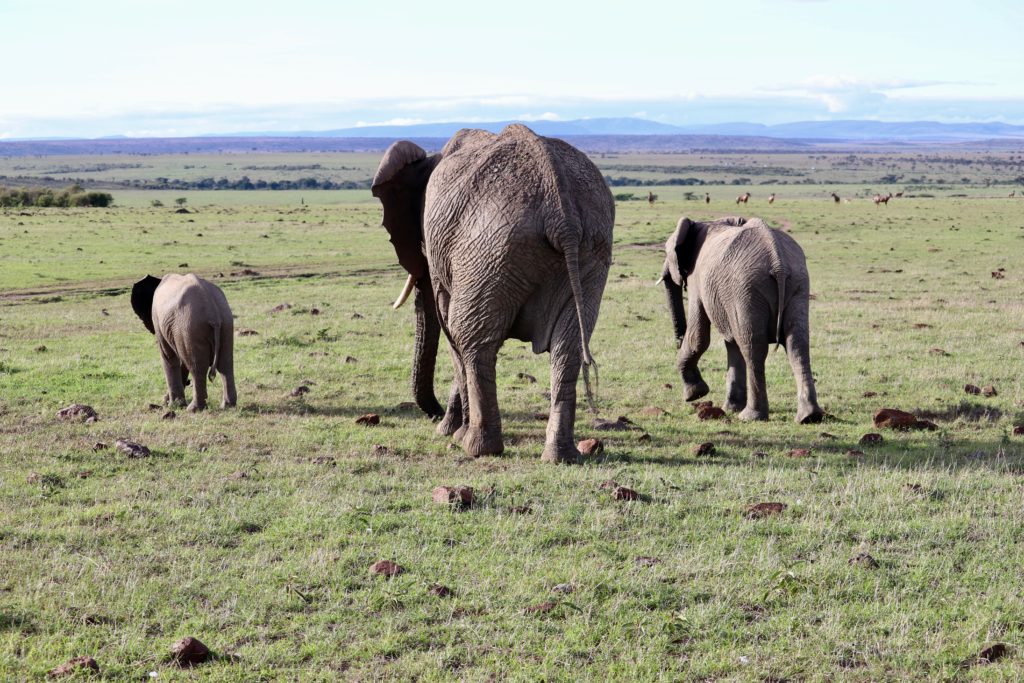 From there, just before the sun starts to set, our guide sets up another spectacular scene for us — he pops up a table, pulls out cozy blankets and pops the bubbly — this my friends is what Kenyans call a "sun downer" (or what we think of as cocktail hour).
My husband and I watch the the sky explode with vibrant colors and the sun slowly sets on the horizon as light continues to dissolve into the earth. We talked a little walk with Johnson and Junior on lookout for danger, then sip drinks and munch on snacks while laughing and talking about the crazy sightings we had — the beauty of the animals, the magic of the land and the spirit of Kenya.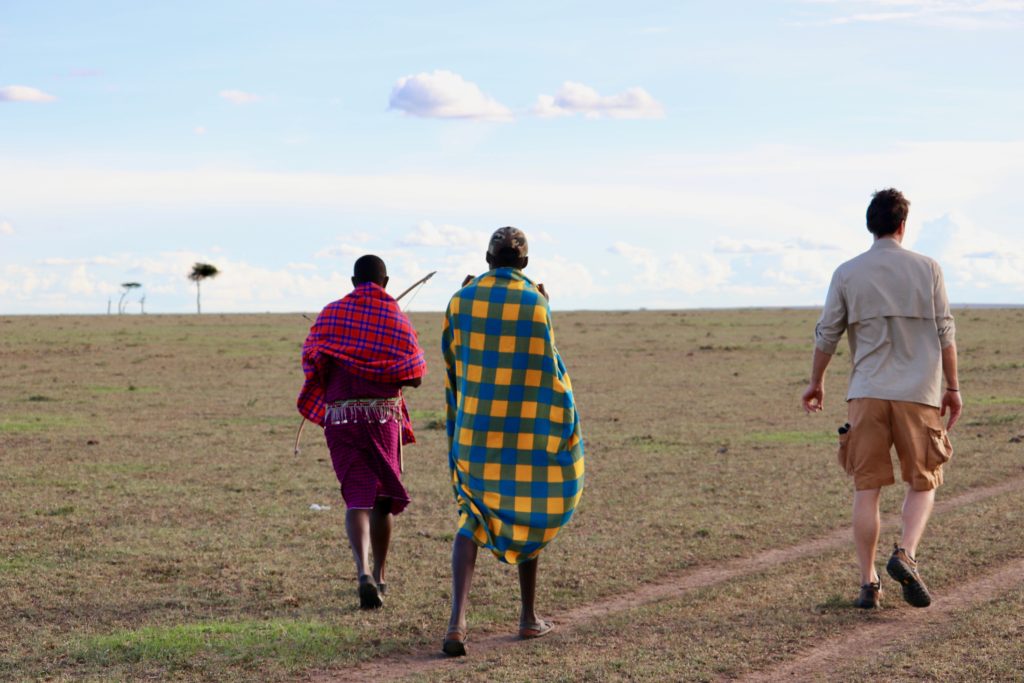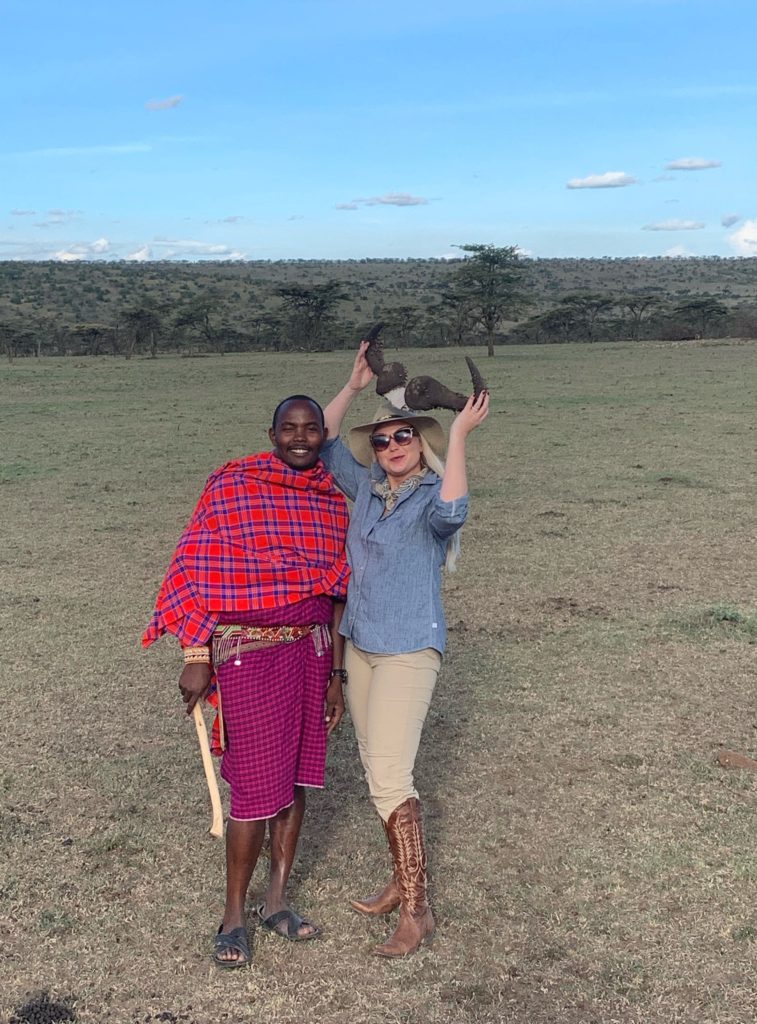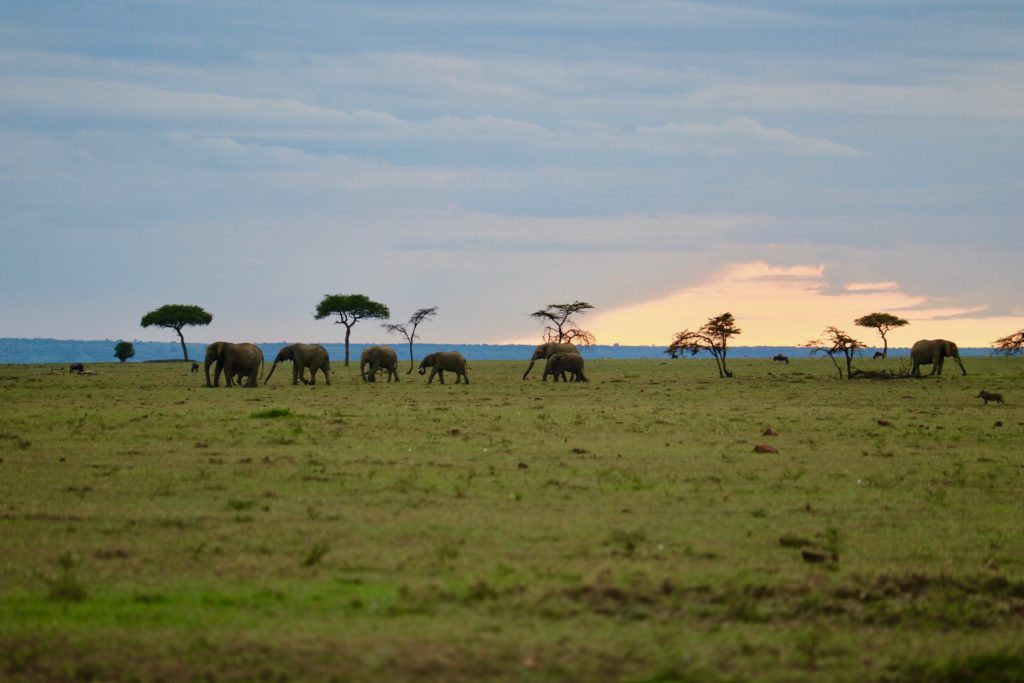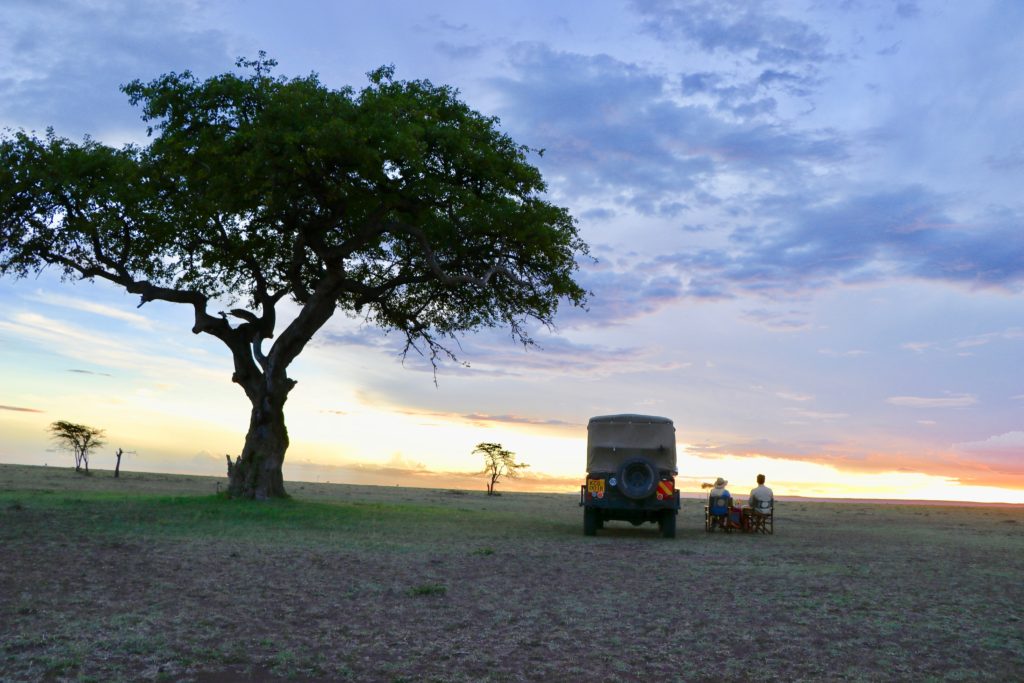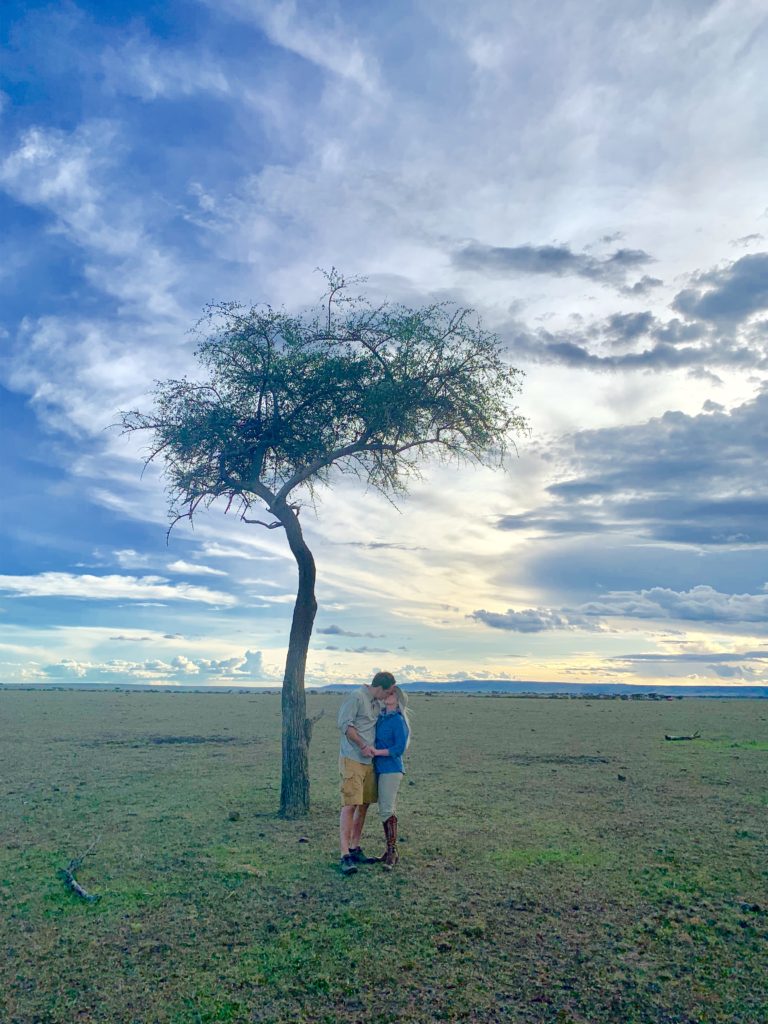 When we return back to Richard's Camp, the staff had thoughtfully lit hundreds of lanterns and candles all throughout the premises. There is a large bonfire out back with a cocktail bar set-up for pre-dinner drinks. We grab a cocktail, sit by the fire and chat with our friends back at the camp before enjoying a mouthwatering three course dinner prepared by the onsite chef. Following a lengthy candlelit dinner under the stars, we retreat back to our private tent and fall into a deep slumber to repeat it all again the next day.
I should also note that some of the best and most vivid dreams of my life happened while sleeping in a tent at Richard's Camp – maybe it was something in the air, the water, or the energy buzzing through my body from the adventure of our daily game drives, but my mind slept so peacefully with vivid dreams that even included visits from the spirits of loved ones I miss so dearly. To say that sleeping, eating and just being at Richard's Camp was magical is an understatement – it was surreal.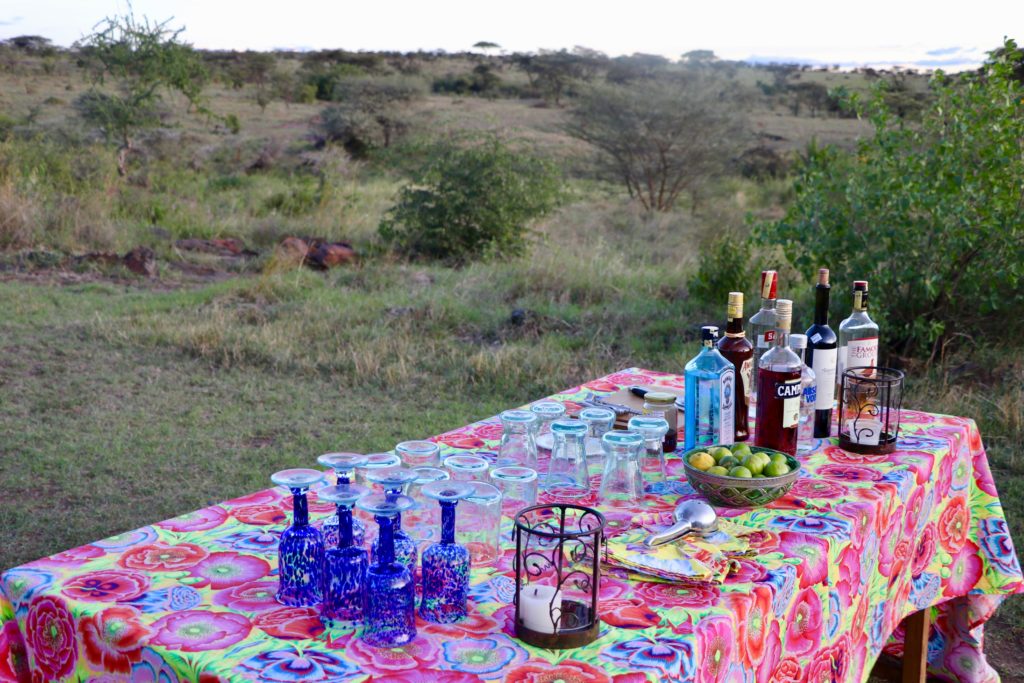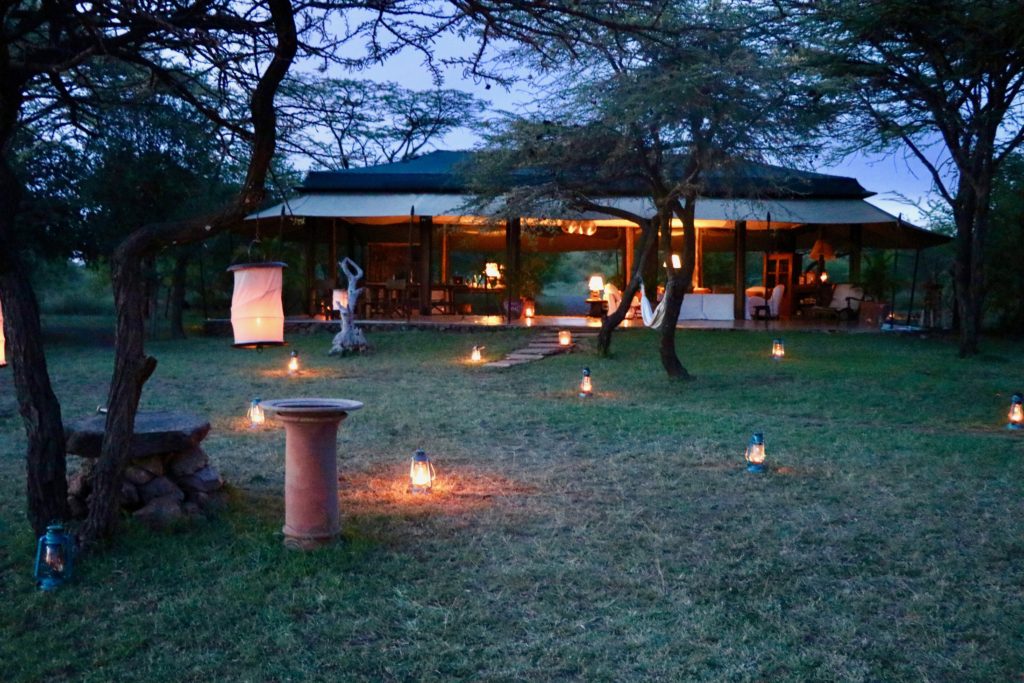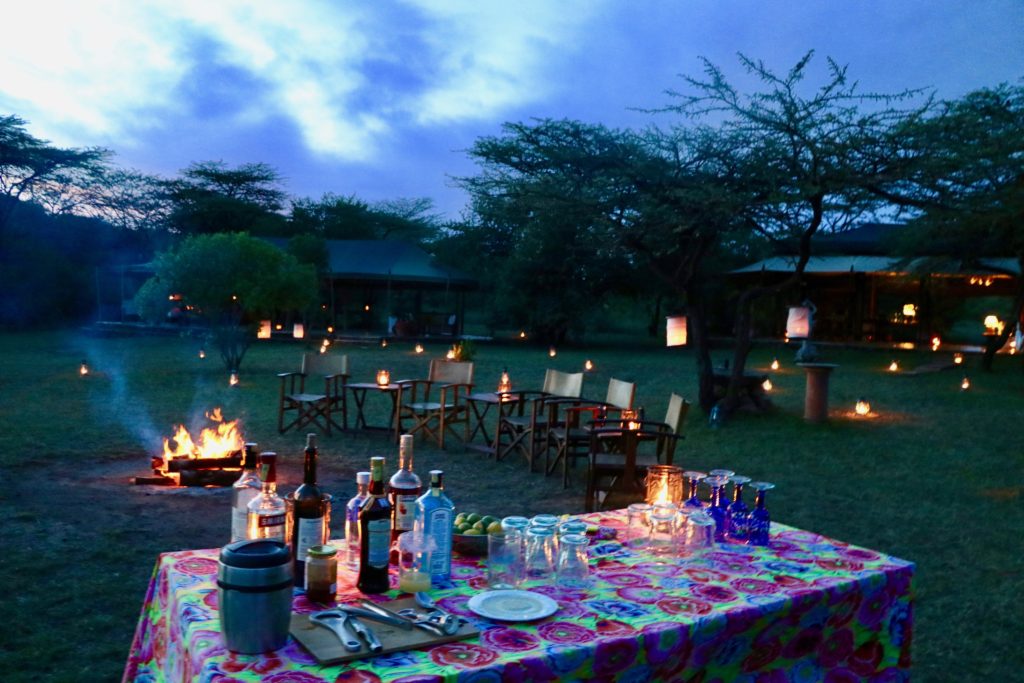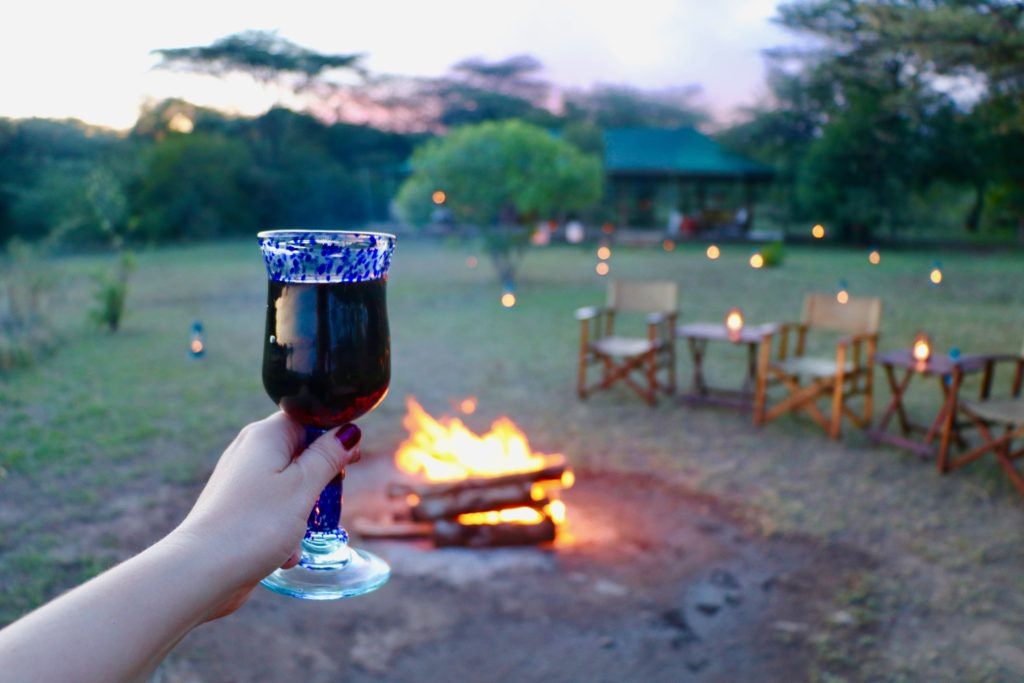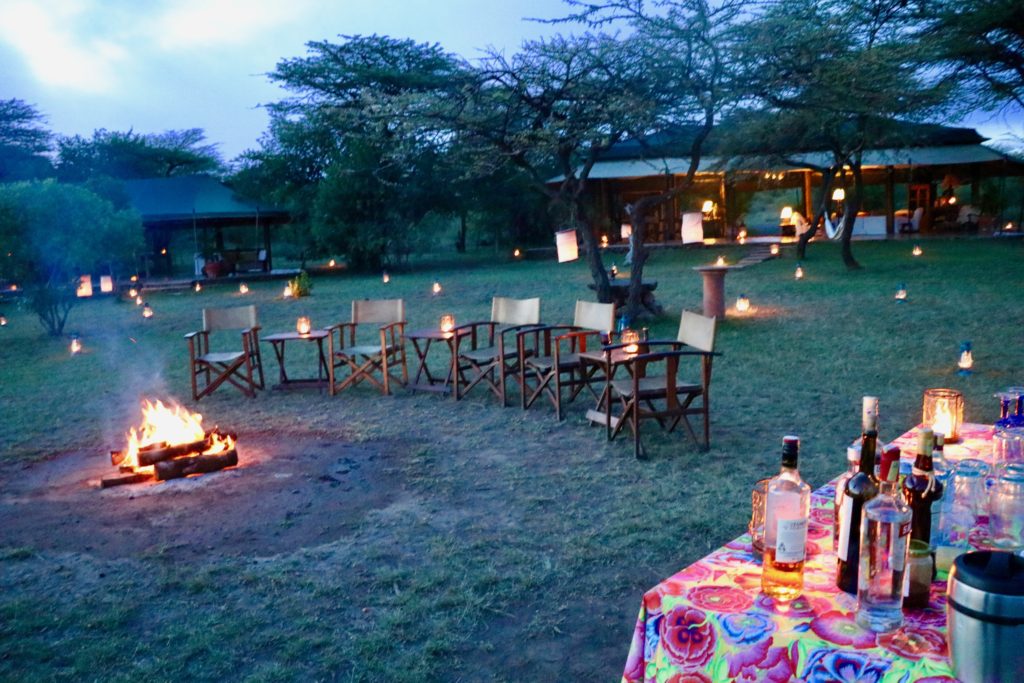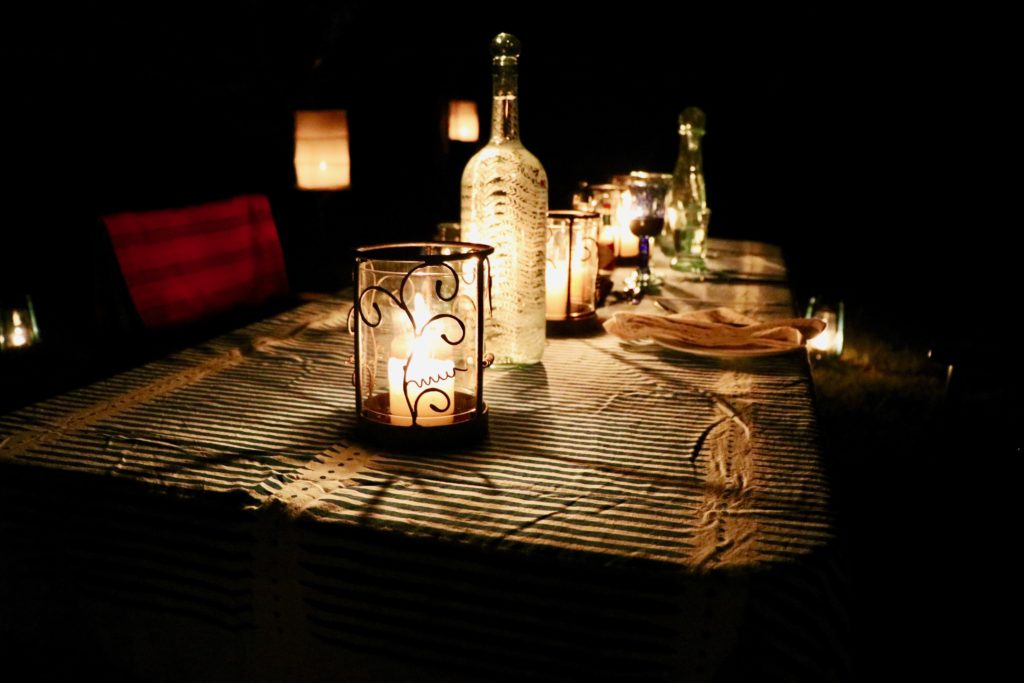 Hoping you enjoyed this insider recap on booking my first trip to Kenya and a rundown of a typical day spent at Richard's Camp. For an authentic, luxurious and memorable safari experience, Richard's Camp is the winning choice. Plan the trip of a lifetime with Natural World Safaris for access to these exclusive and intimate camp locations, like Richard's Camp.
Traveling to Africa for the ultimate safari experience has never been so accessible and convenient – now is the time to see it for yourself. Seriously, the direct flight access from NYC brings the magic of Kenya to our fingertips!
Thank you to my new friends at Richard's Camp for a trip we will cherish forever. Until I see you all again, cheers and asante sana to the amazing family of incredible people at Richard's Camp!