If you are looking for the ultimate safari in Africa but do not want to skimp on luxury then Mara Bushtops Camp is just for you.
Mara Bushtops boats a sensational location in front of the largest natural salt lick in the Maasai Mara. You can find this luxurious camp on a private conservancy bordering the Maasai Mara and less than 3 miles from the main gate into the Mara National Park. There are plenty of nearby airstrips that make this camp super convenient to get to via a short (40 minute) shuttle flight from Wilson Airport in downtown Nairobi.
I would like to take you through some of the highlights of this extravagant property by sharing glimpses and details through the Ladyhattan lens.
Through my lens I captured the featured perks of this Wild Luxury experience that can only be found at Mara Bushtops. Starting with the accommodations, I should note that this is not a traditional hotel but rather an actual camp built in the middle of breathtaking natural habitats of wild animals. Each private pathway (photographed below) separates individual tented suites. And ladies, don't let the word "tent" fool you, these suites might be the most high-end and well decorated designer accommodations I have ever stayed in.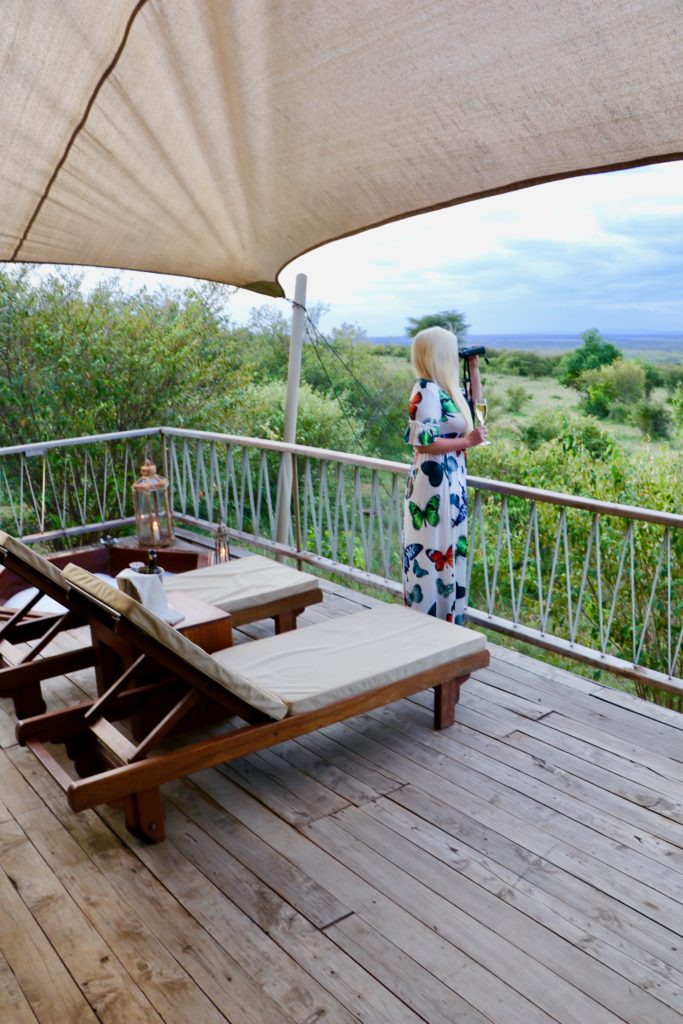 A Private Luxury Tent for Every Guest
You walk down the private pathway and suddenly find your own exclusive tent zipped up – a five-star luxury hotel room wrapped and tented in canvas. The assigned butler will carefully unzip each side of the canvas tent to expose a plush king sized bed, a glamorous double sink vanity and bathroom, as well as ample shelving and closet areas for your belongings. With the tent now exposed to the natural elements, your room morphs into an open-air oasis for relaxation. There is an outdoor soaking tub and shower located on the expansive private deck that provides sweeping views of the landscape and wildlife. At night, the butler returns again for an evening turn-down service where your tent is safely zipped up and secured around the bedroom area.
Going to bed in this tent and waking up to a breathtaking African sunrise at our fingertips was quite the vacation experience in Kenya. If you have ever heard of the phrase "Glamping" (glamorous camping), well then this style and quality of a tented room is the ultimate example of that very phrase – glamping.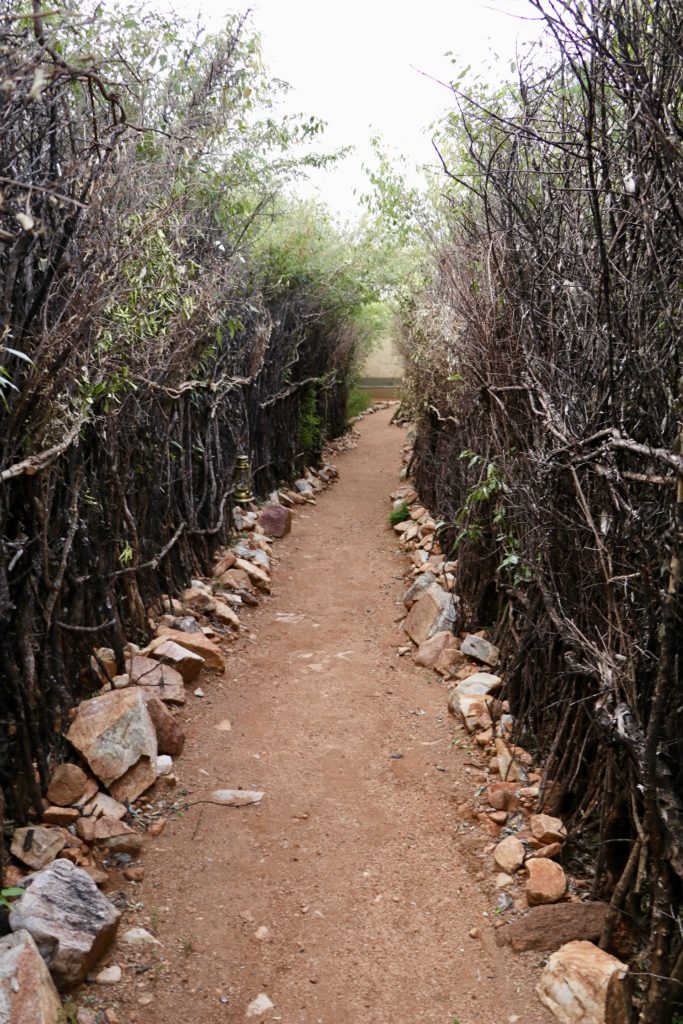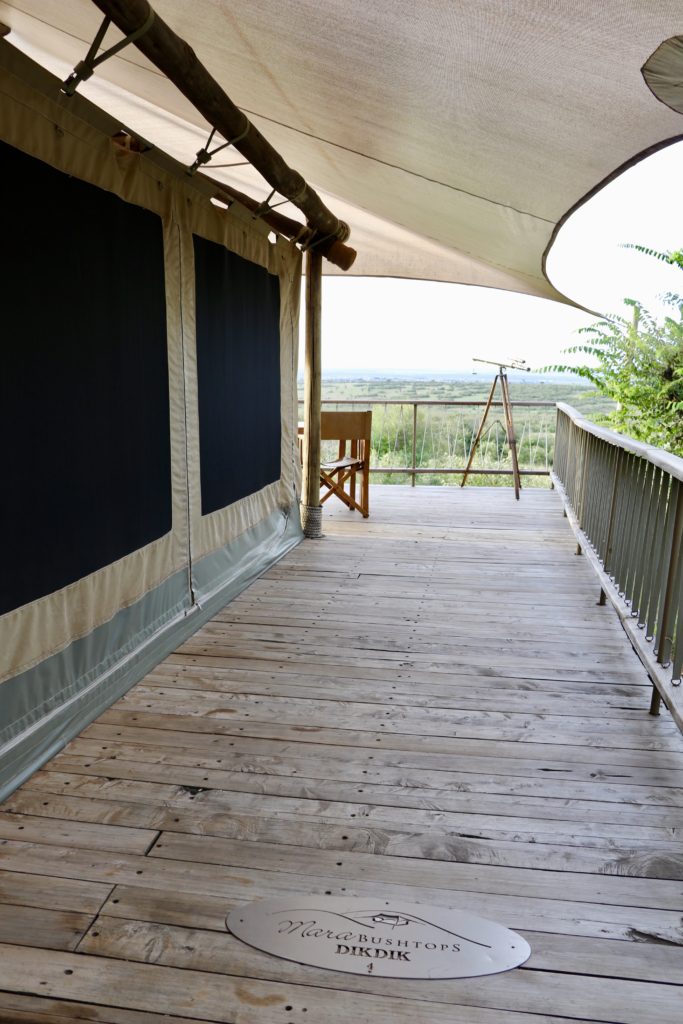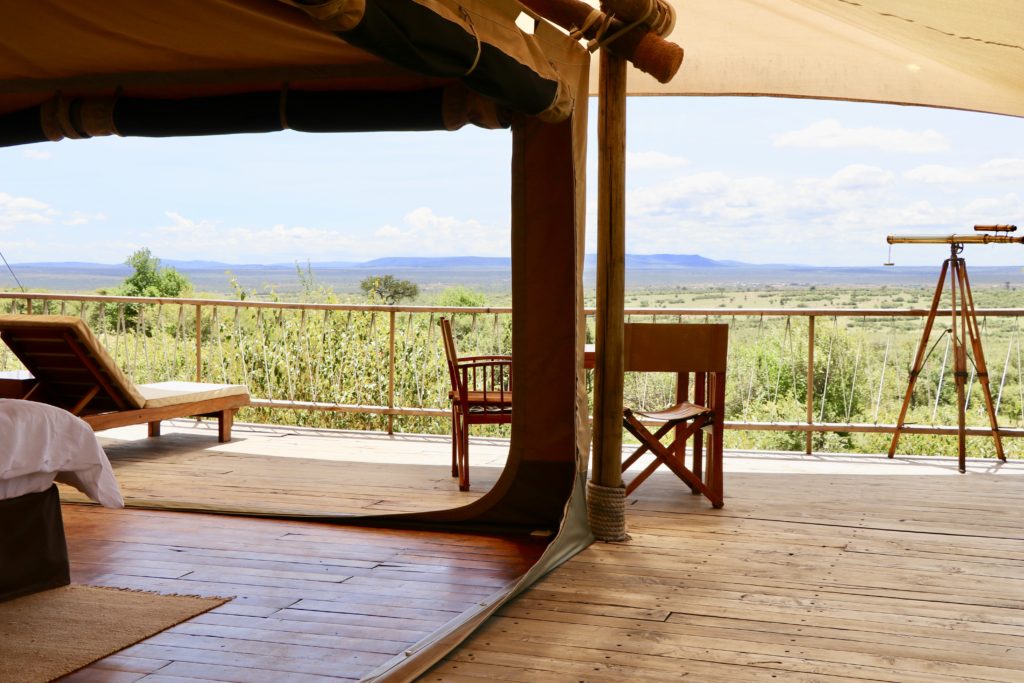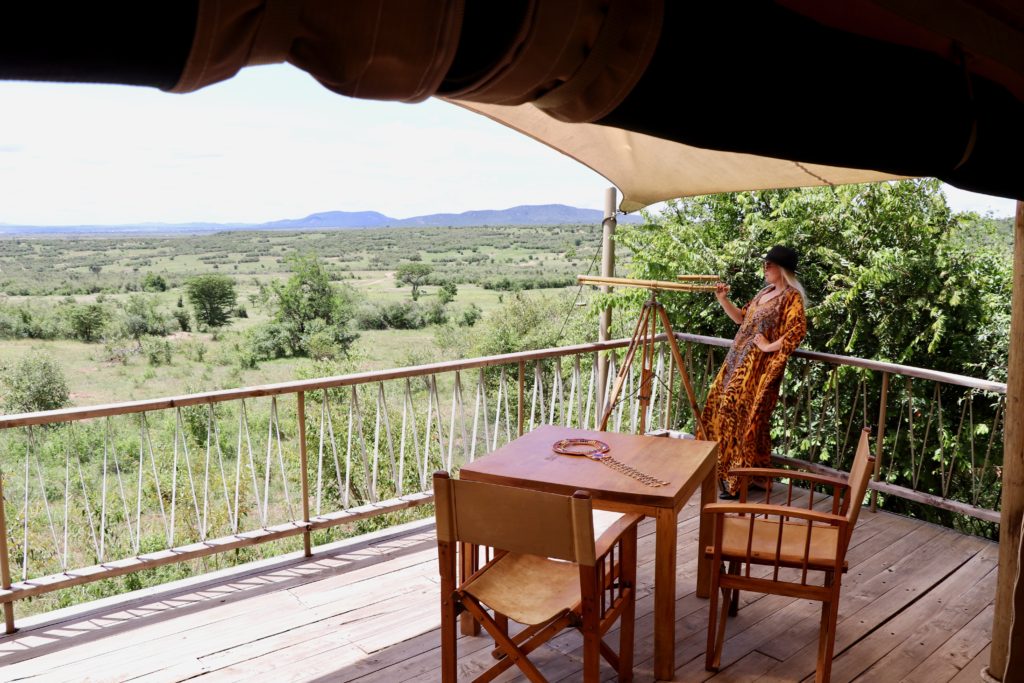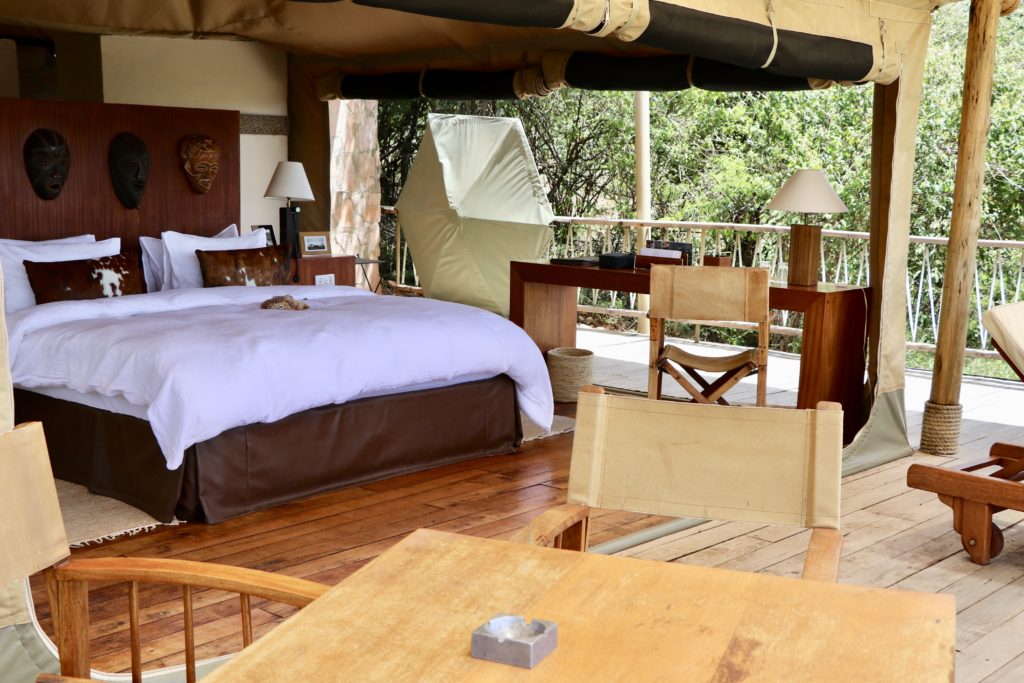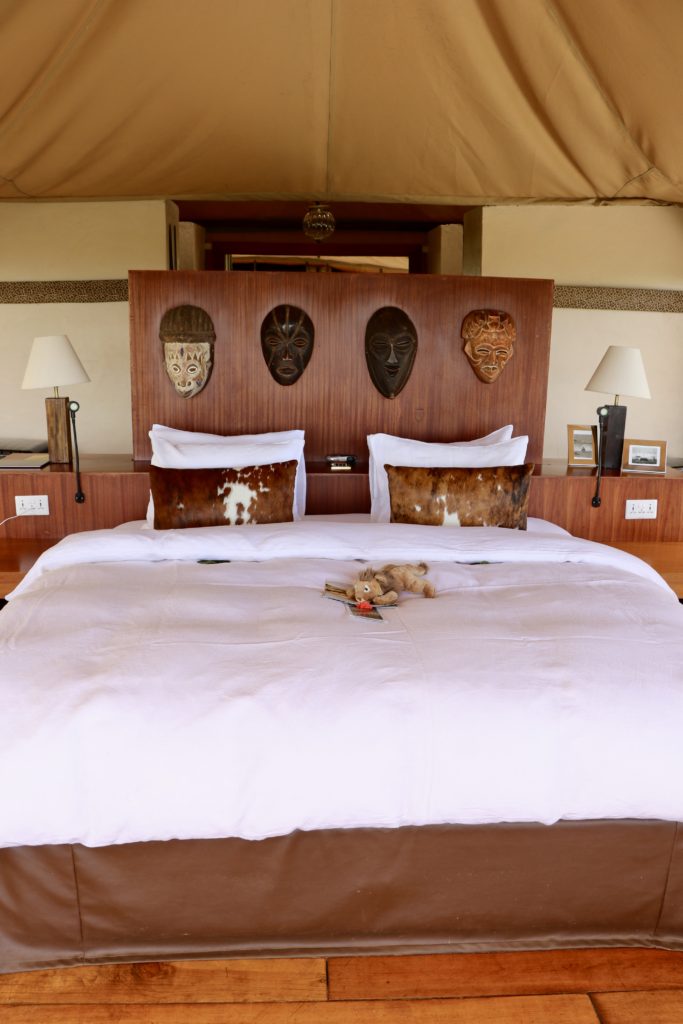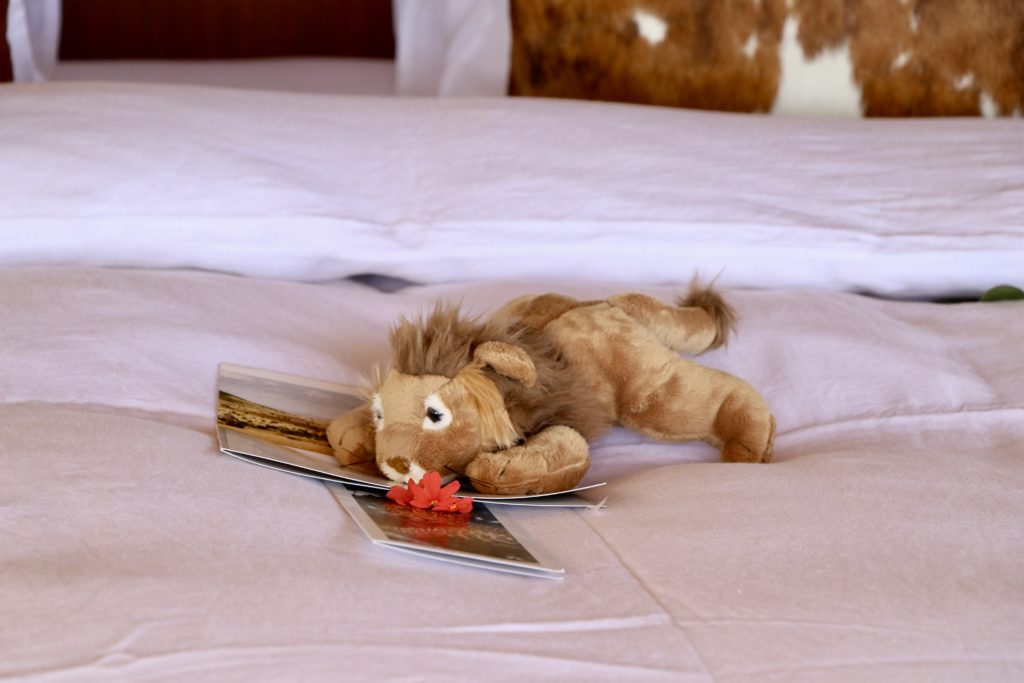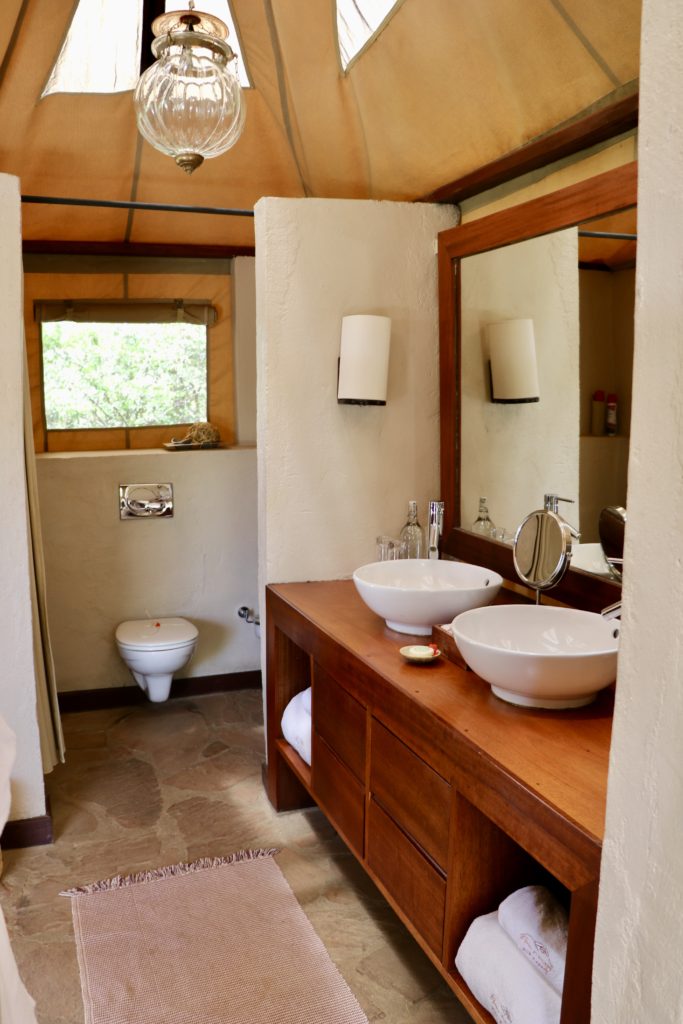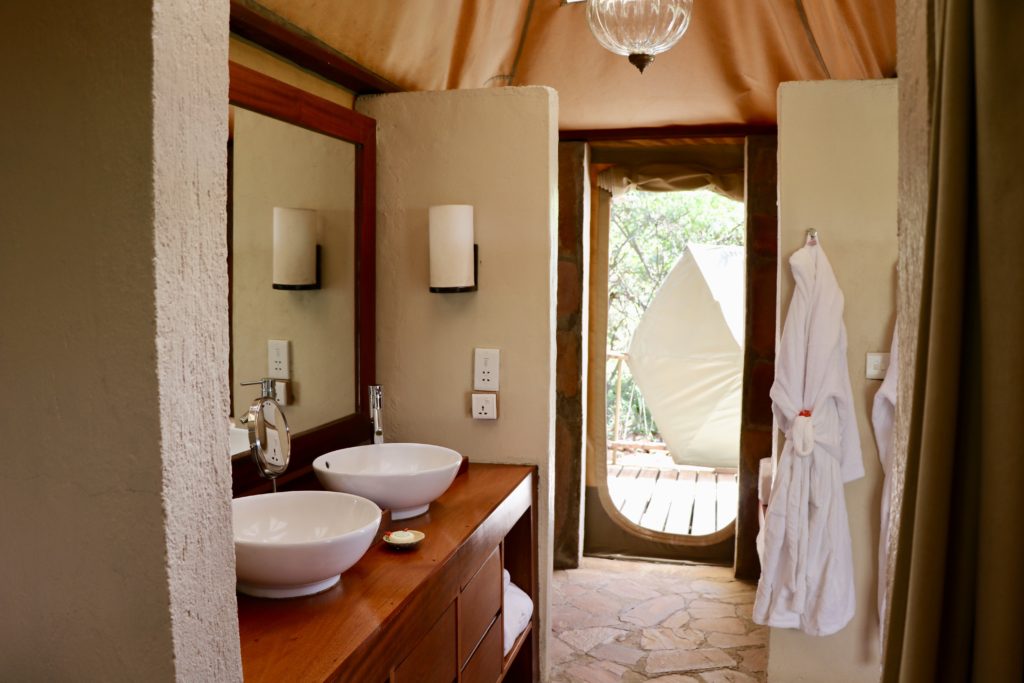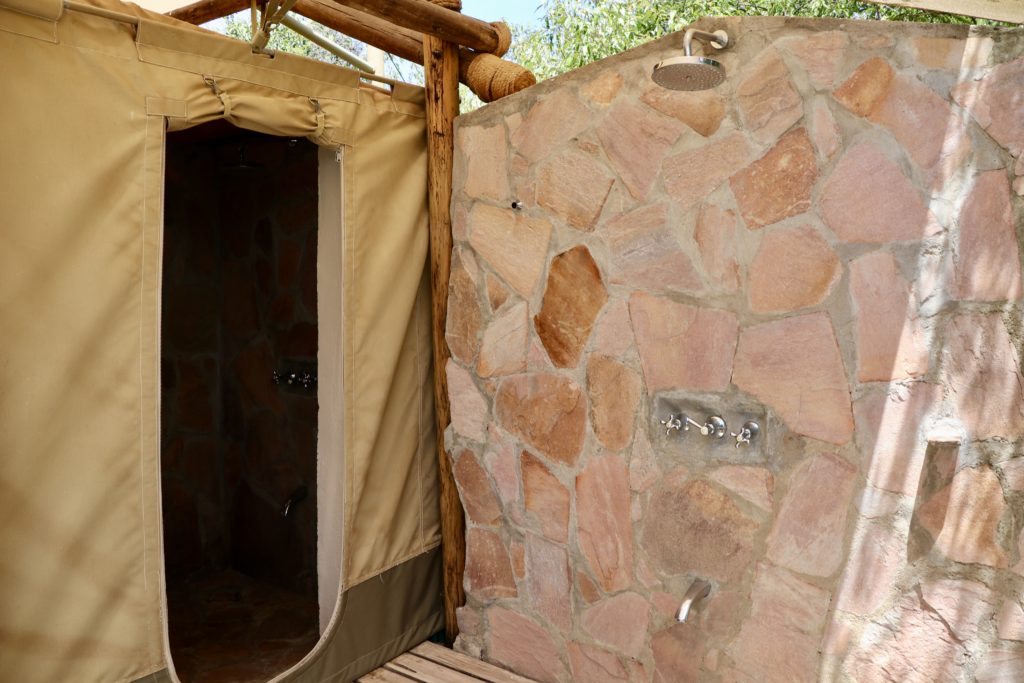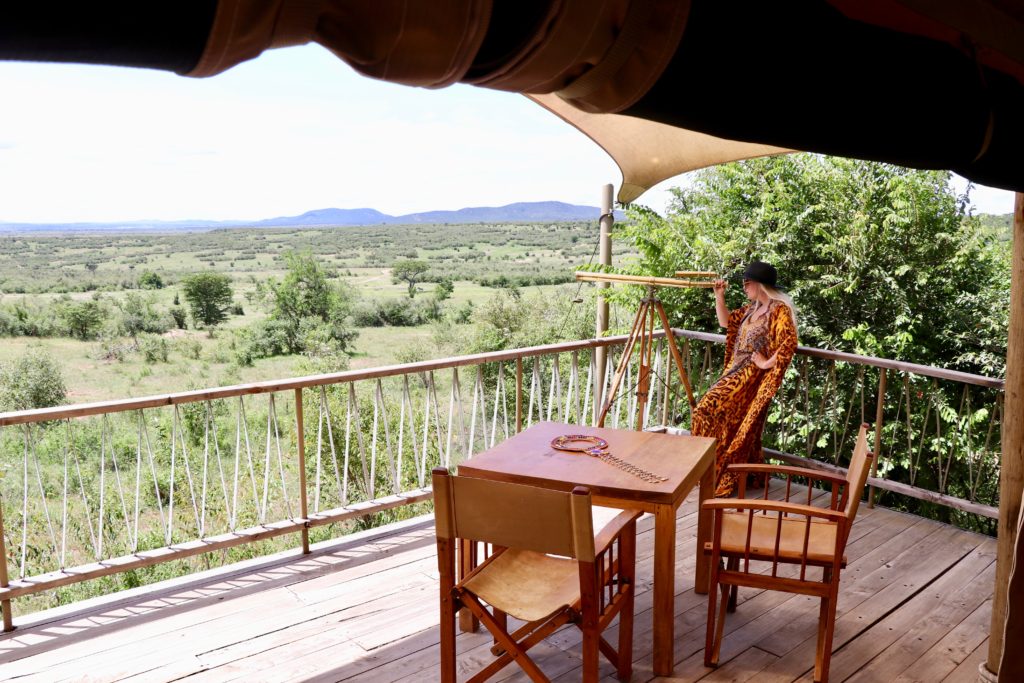 Amazing International and Local Specialty Cuisine
The restaurant at Mara Bushtops overlooks a watering hole and salt lick where wild animals constantly peruse in and out the landscape. You dine overlooking this beautiful site and can indulge in anything from local Kenyan dishes to the best of international flavors. Just because you are in Africa does not mean that you cannot enjoy the fresh mozzarella of Italy or a tasty truffle pasta dish like I did.
You can find the finest of steaks, fish and more on an extensive dining menu included in the guest camping rates. I was further impressed by Mara Bushtop's extensive wine list and the manager even gave me a tour of the exclusive wine cellar which hosts some of my favorite bottles from Napa to France and Italy. Everything you could wish to sip, taste and savor after a beautiful day of activity will be available to you here at Mara Bushtops.
I should also note that if you are not up for eating in the gorgeous dining room area, you can always opt to dine in your room or picnic out in the conservancy space. The options are endless, and surely delicious too!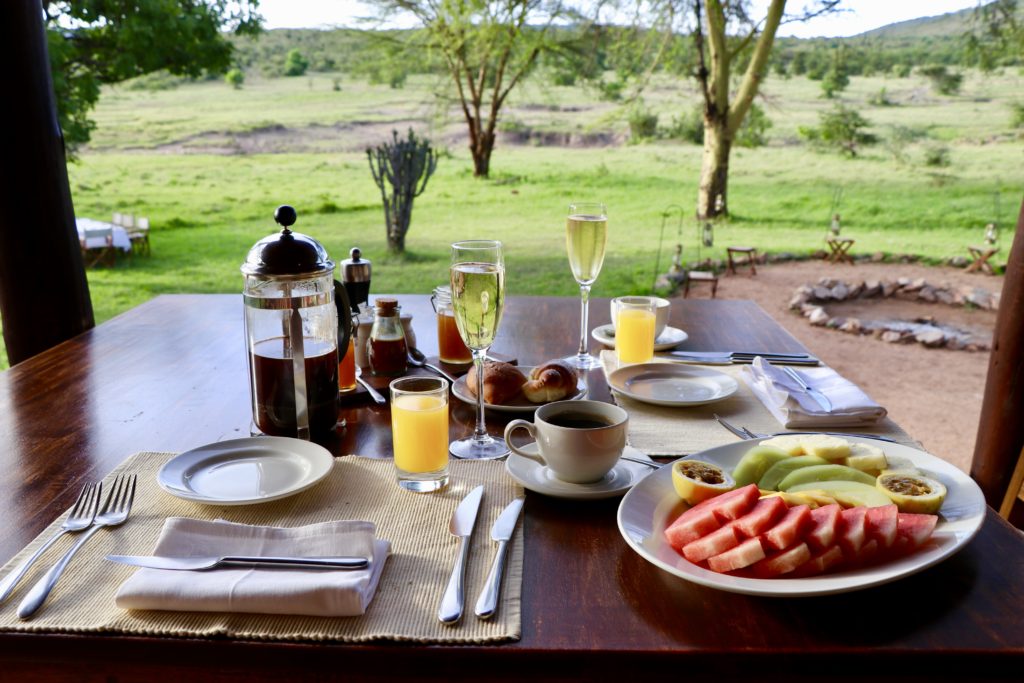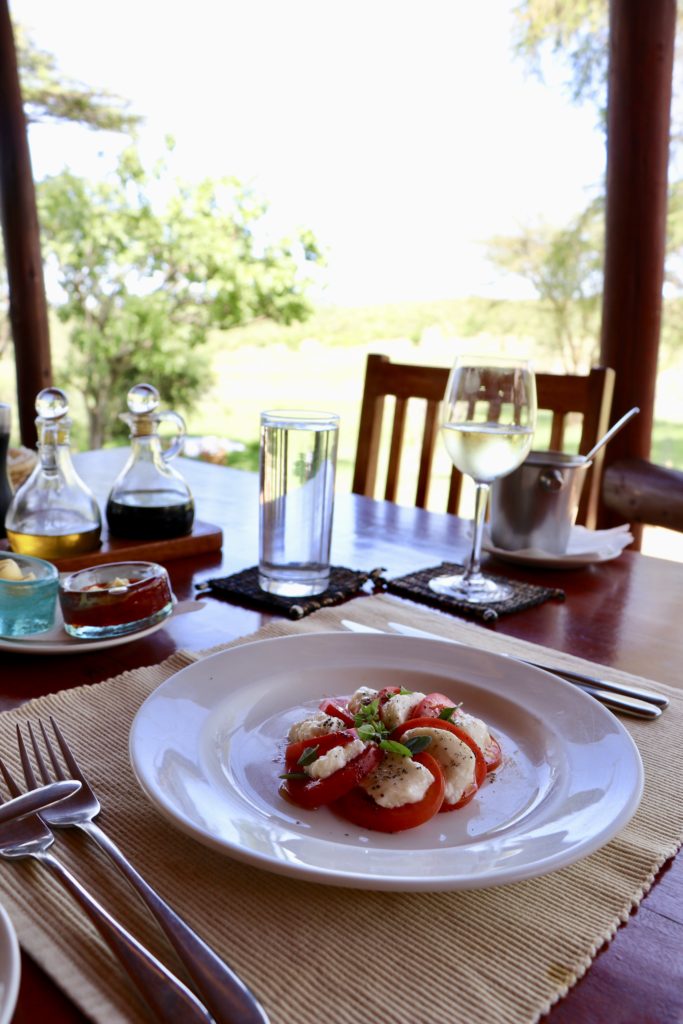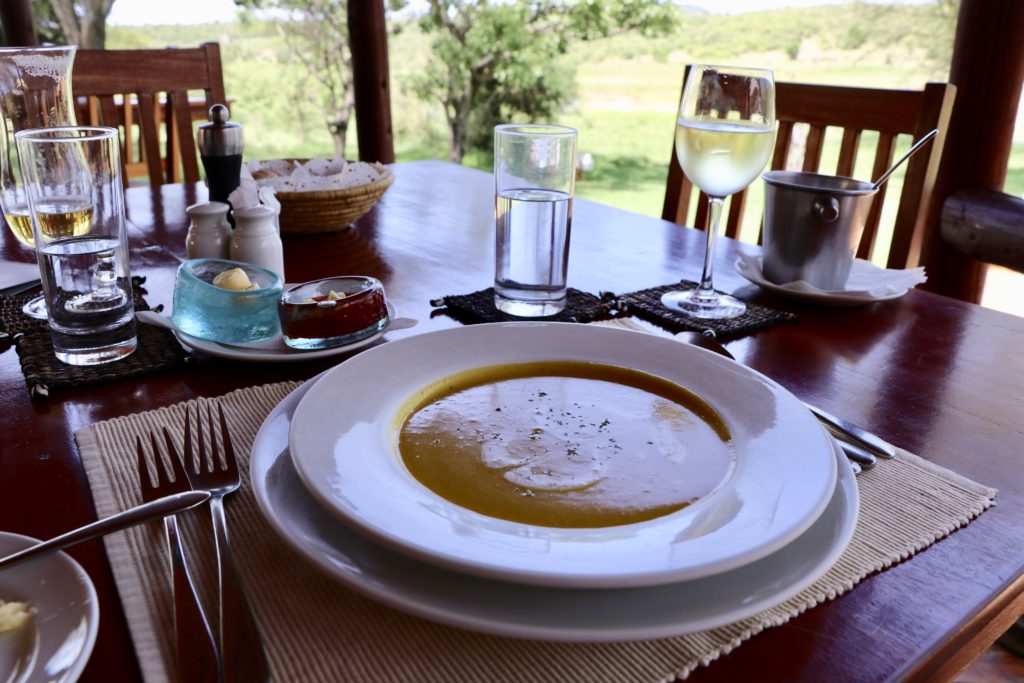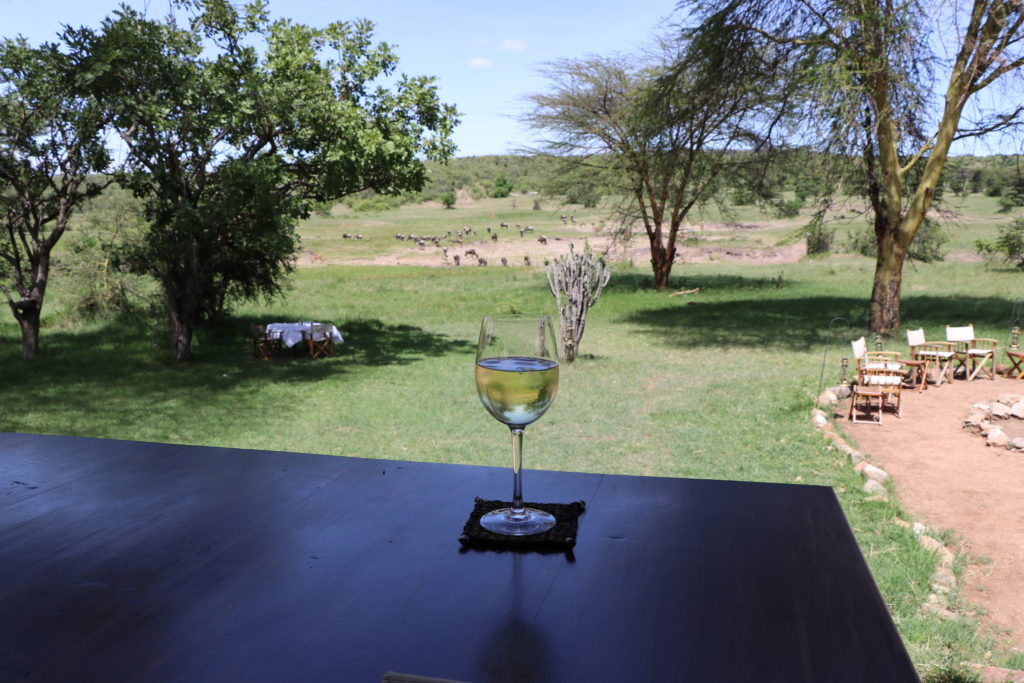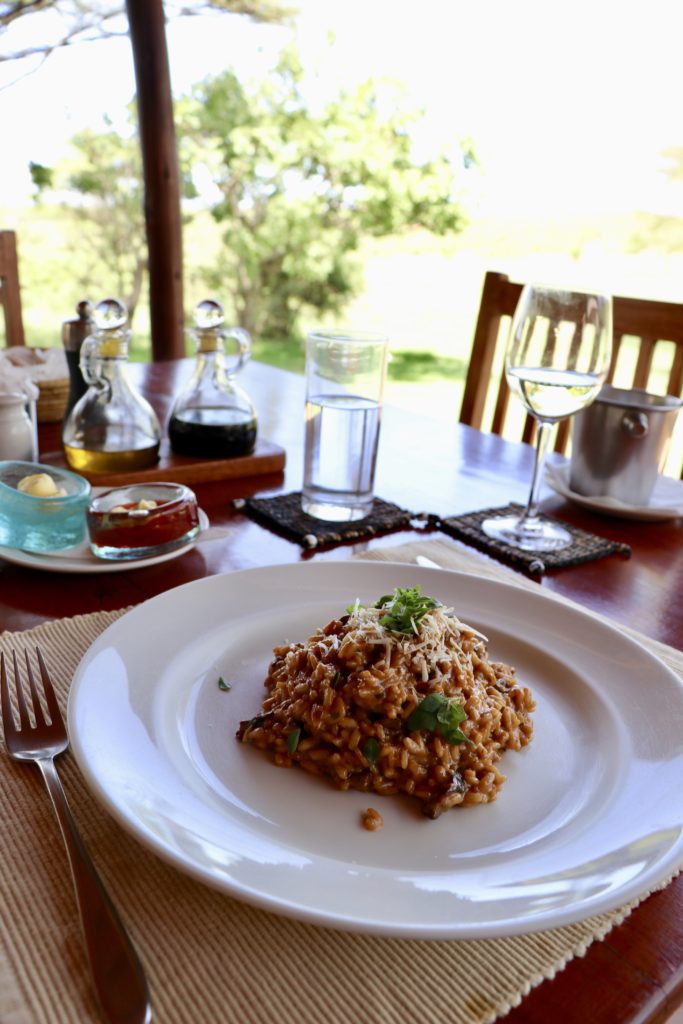 Camp Grounds and Spa Facility
The grounds and facilities at Mara Bushtops are spectacular. A gorgeous wrap-around library and living room terrace overlooks the conservancy and provides daily tea. There is a pool/lounge area for guests to enjoy anytime of the day as well. A robust security team walks the property 24/7 to ensure everyone is safe and sound from the nearby animals.
One of the highlights at Mara Bushtops is the award-winning safari spa. This is one of the most authentic and beautifully designed spa facilities that I have ever seen or experienced. It adds luxurious pampering, peace and tranquility to the excitement of game watching, culinary excellence and the comforts of the camp. For the traveler who wishes to have it all on safari, this property's spa will be one of the highlights of your trip.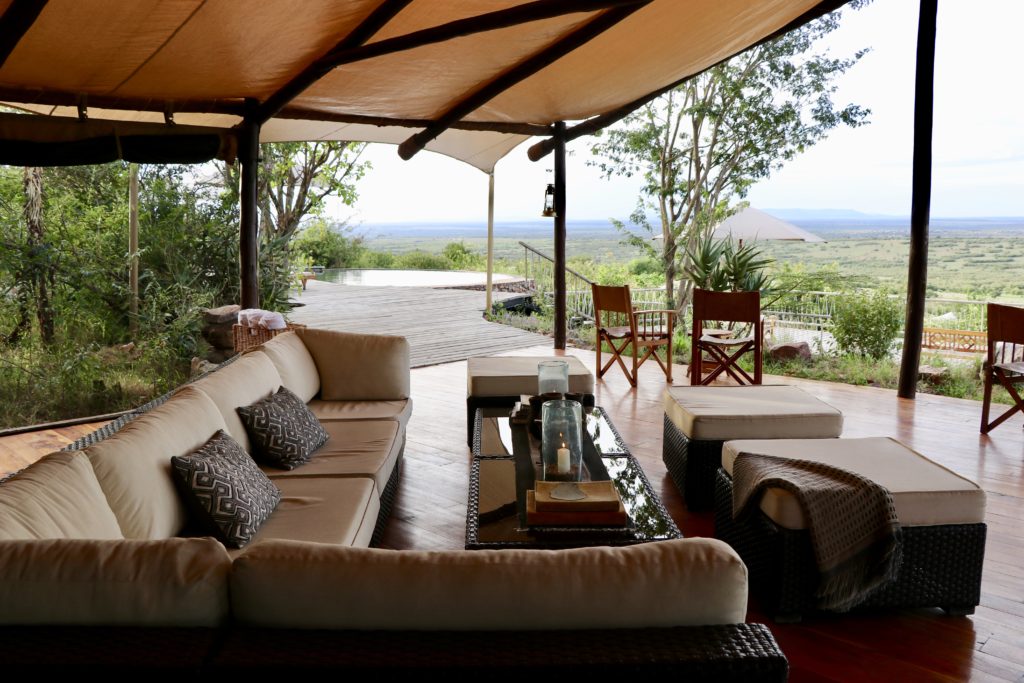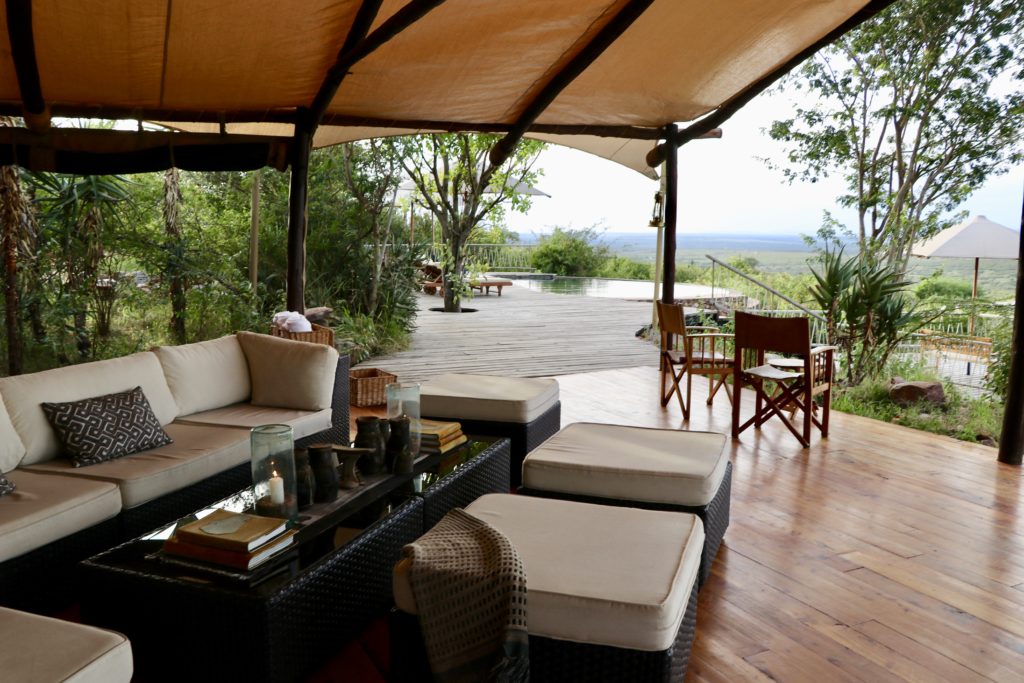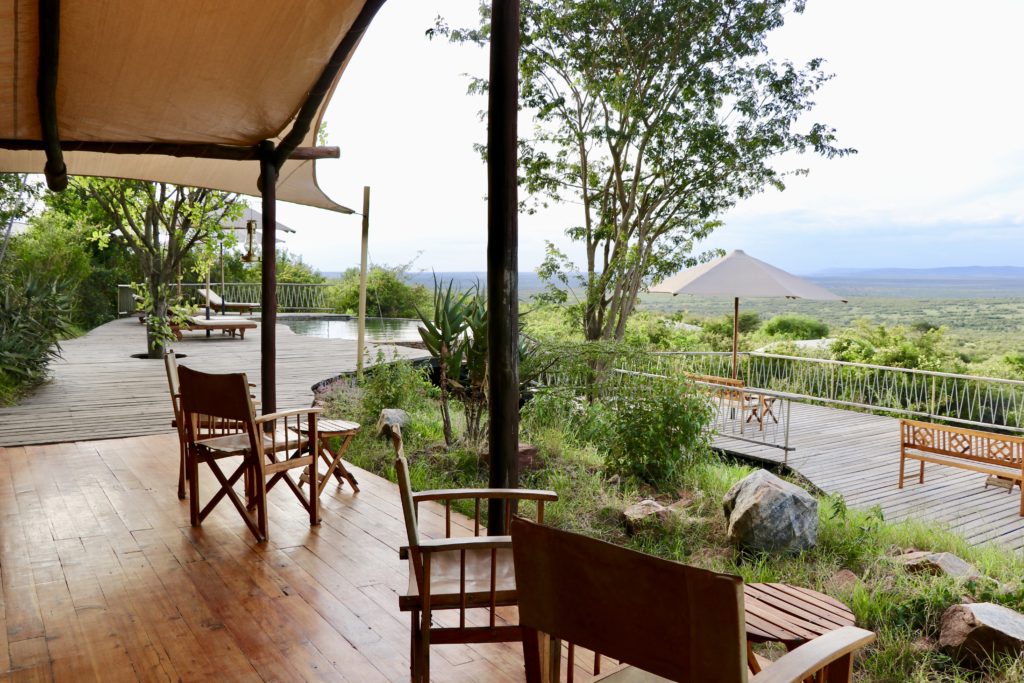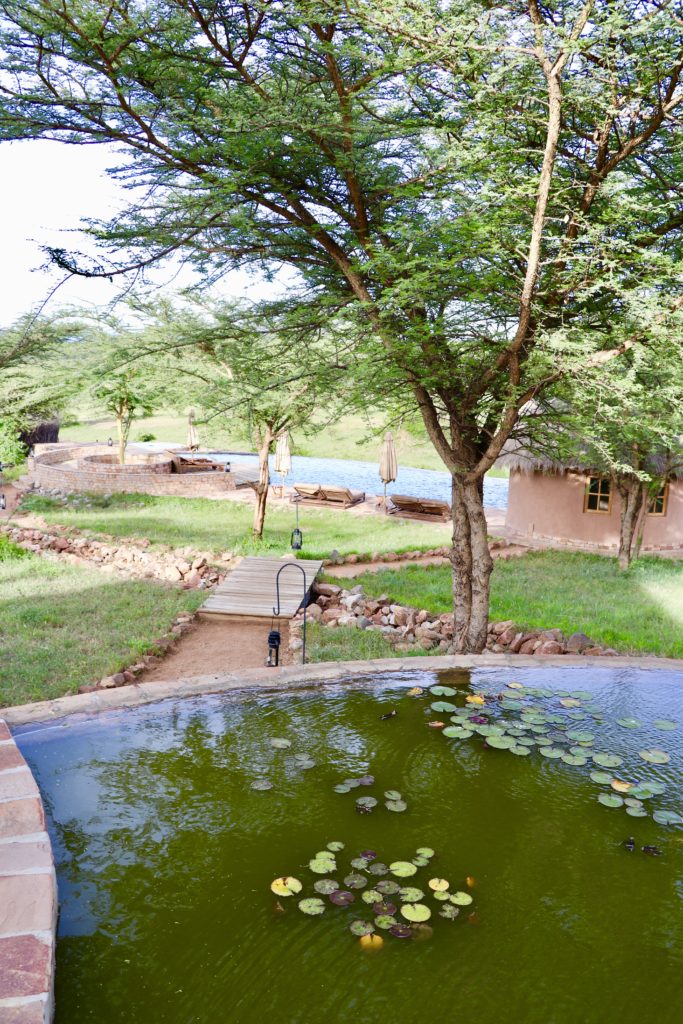 On a hot day when I had already seen nearly every animal imaginable, I encouraged my husband to go out and enjoy a day-time game drive without me. While he was out viewing the animals, I stayed behind to indulge in some serious pampering and specialty African treatments. I tested out the African massage which uses ancient African warrior sticks to deliver long deep pressure strokes. The strokes of the wooden sticks provide deep tissue manipulation while promoting pain reduction, improved blood and lymph circulation. Warm oils and flowing movements work together to rapidly reduce muscle tension in the body – what better spa experience could a lady ask for!?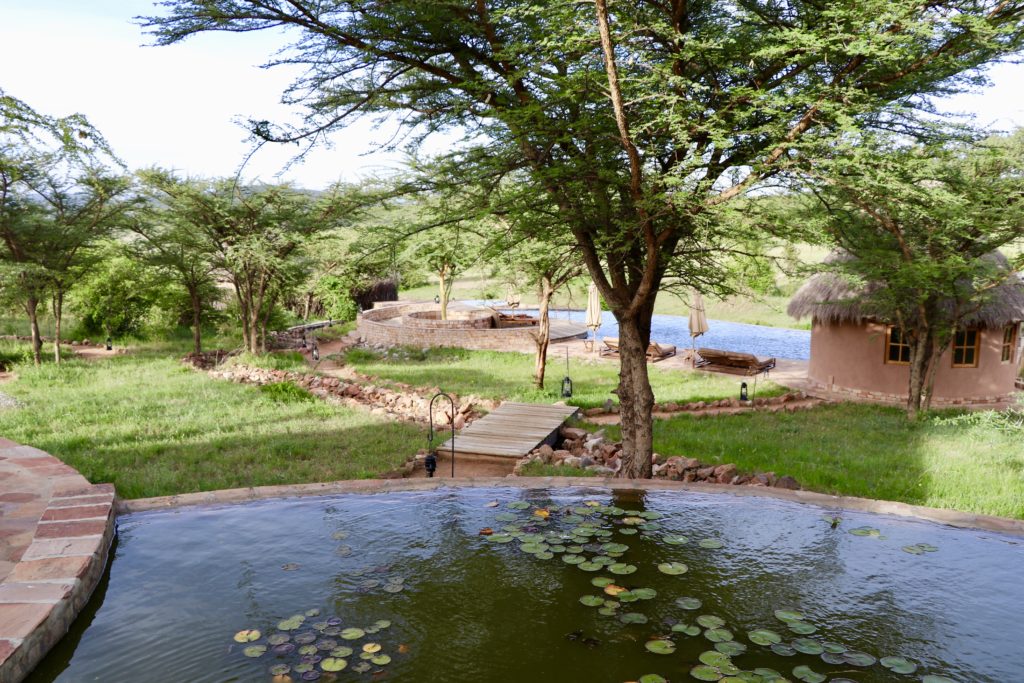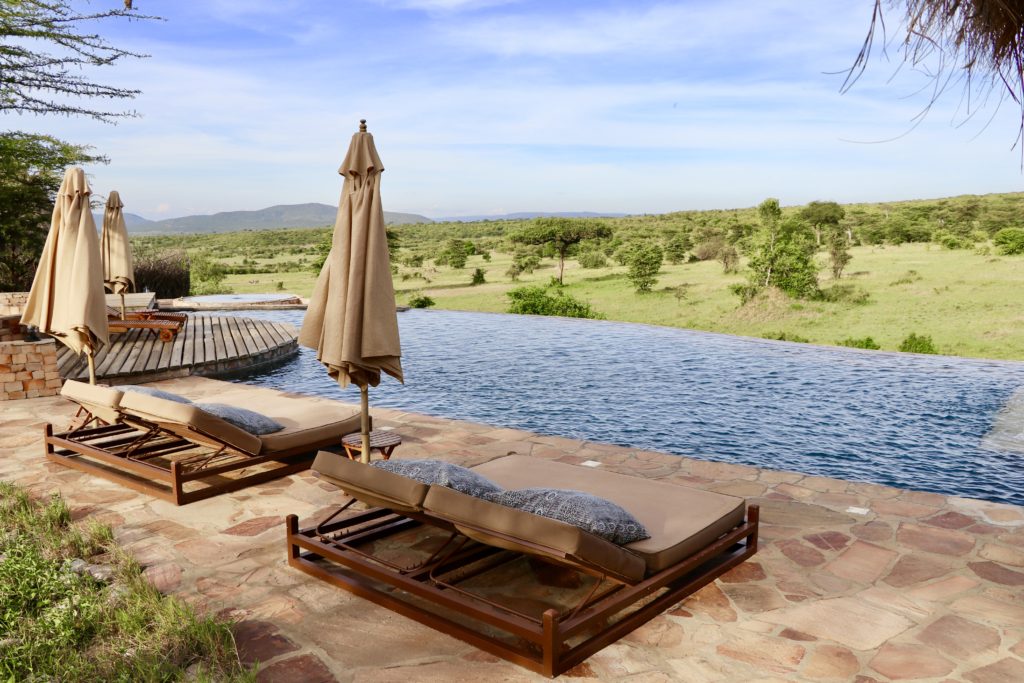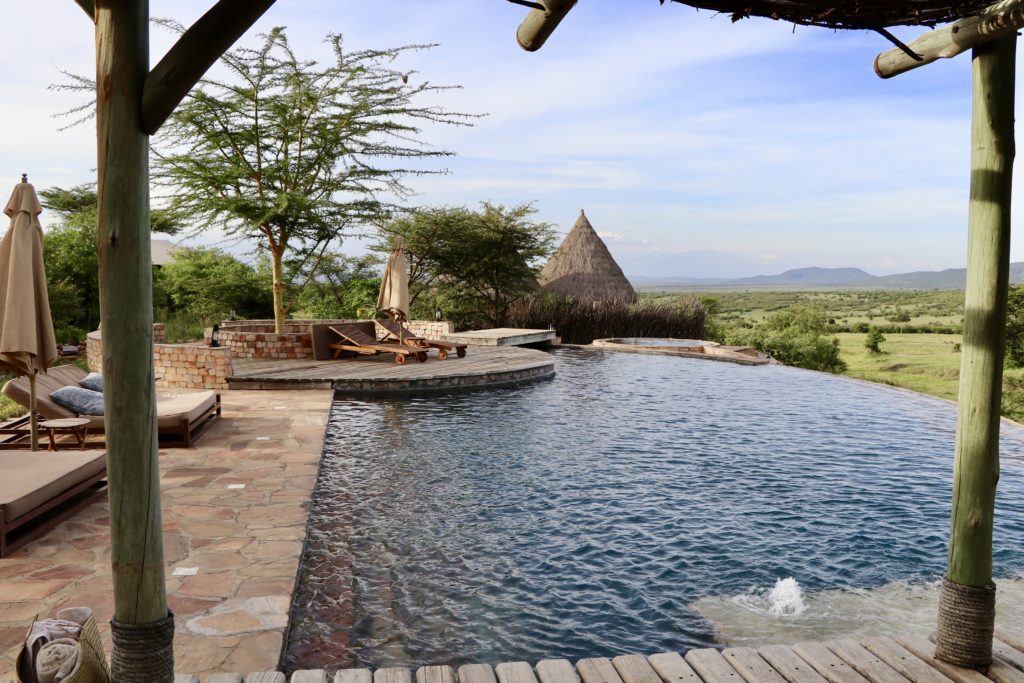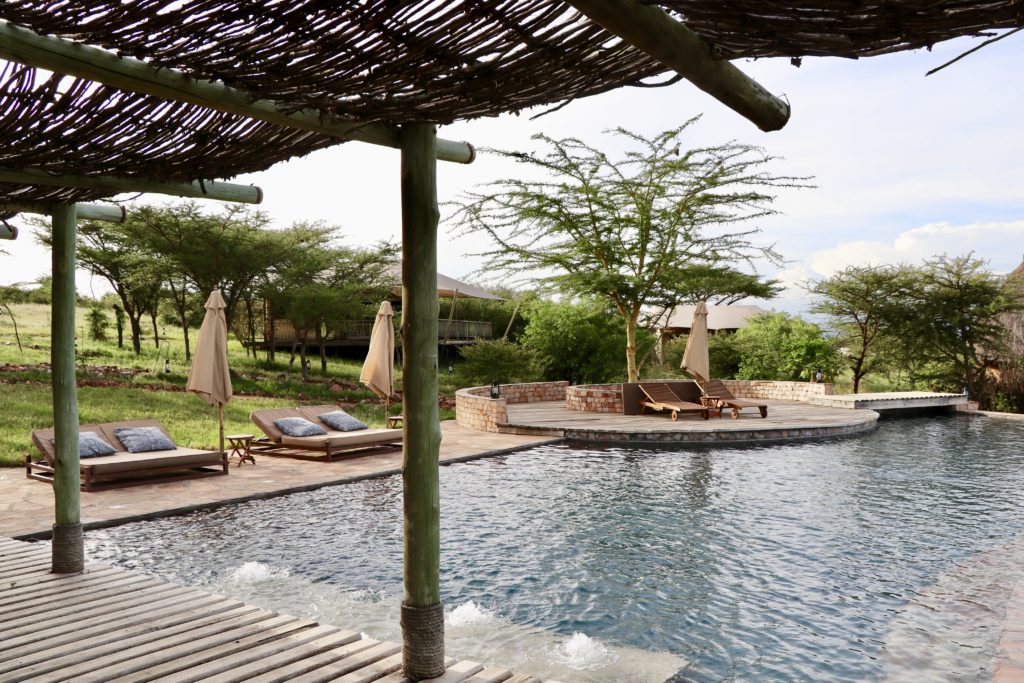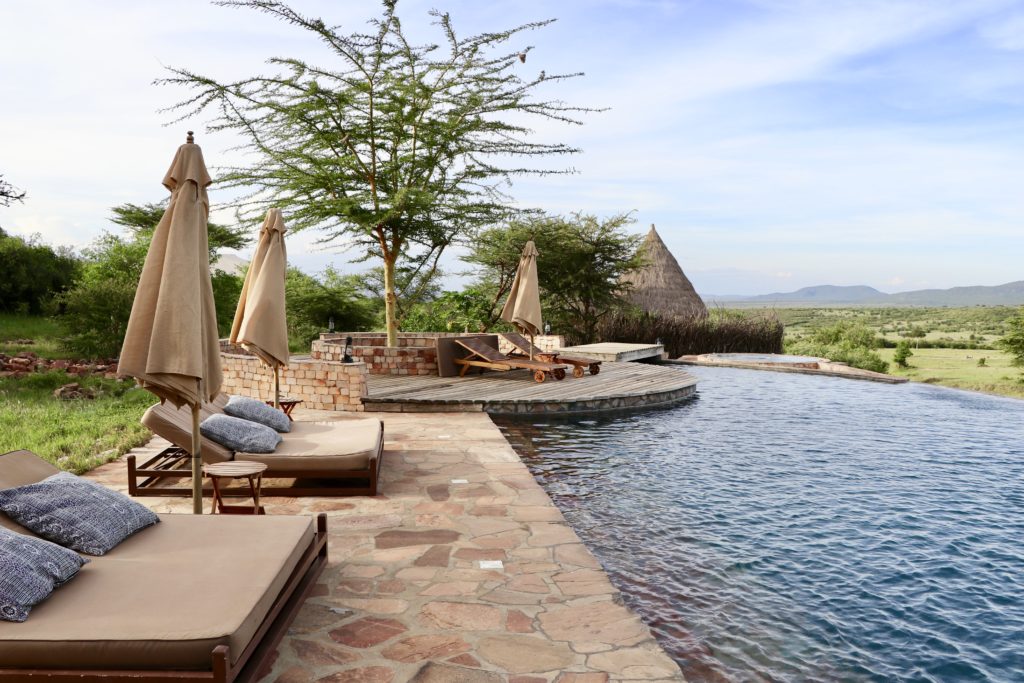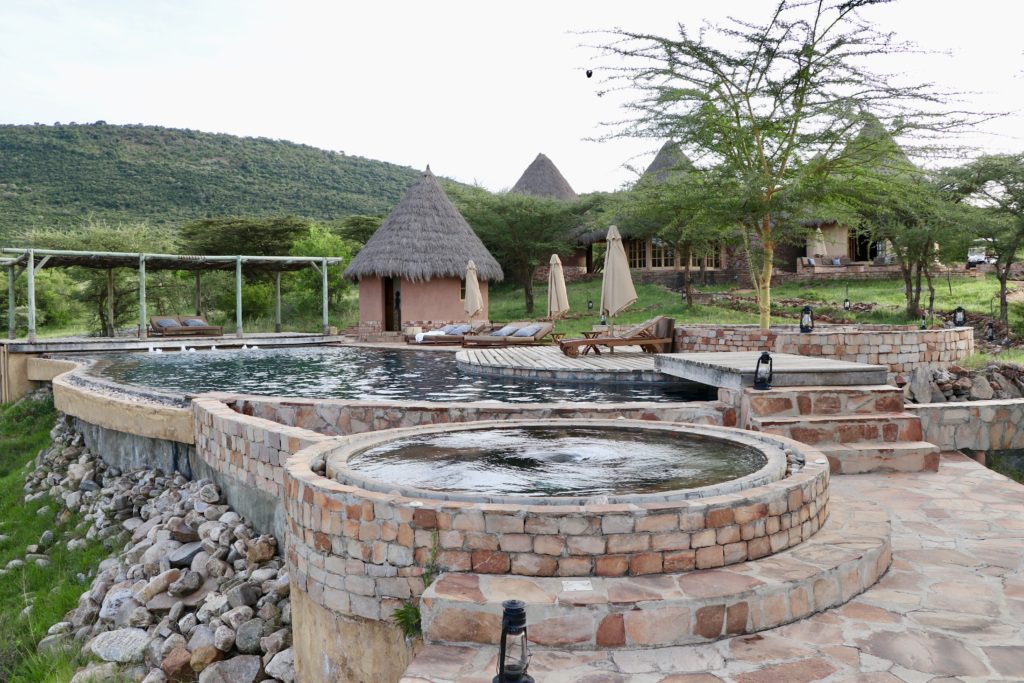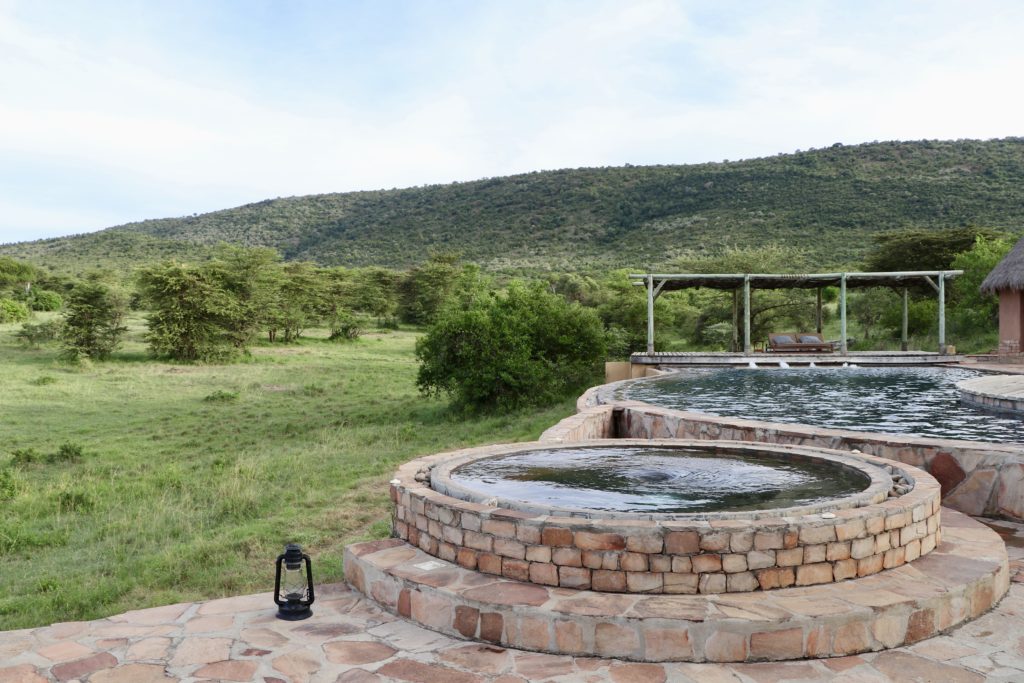 A Very Rare Spotting of the Elusive Leopard
The animals viewed from Mara Bushtops provided the ultimate safari experience.
We saw everything from exotic birds, to large herds of elephants, prides of lions, troops of monkeys, cheetah and even the most allusive of all wild cats – the leopard! The leopard is the most elusive and secretive of the large felidae (cats). They are extremely difficult to trace and locate in the wild, even with the company of expert guides at safari camps across Africa.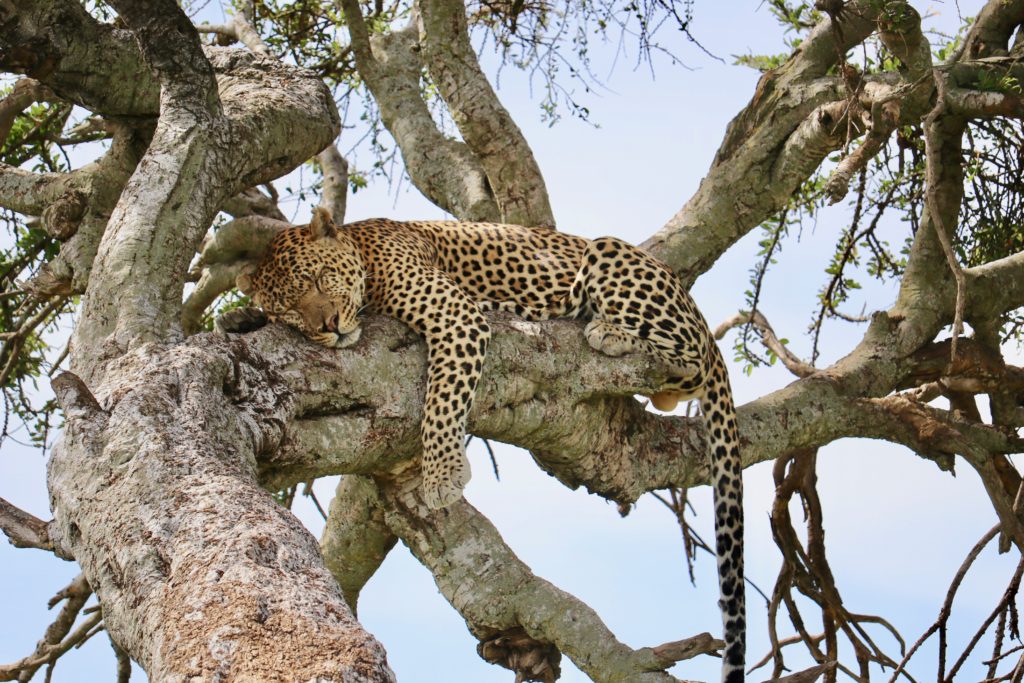 Our sighting of the large and powerful male leopard napping in a tree was hands-down the most epic moment of our safari with Mara Bushtops. Our guide Alex took us carefully toward the tree, just close enough to catch an insane view. From there, our guide then helped us learn more about this fascinating animal. Below I share a few "fun facts" about the leopard along with snaps that we captured while watching this magnificent animal in its natural habitat.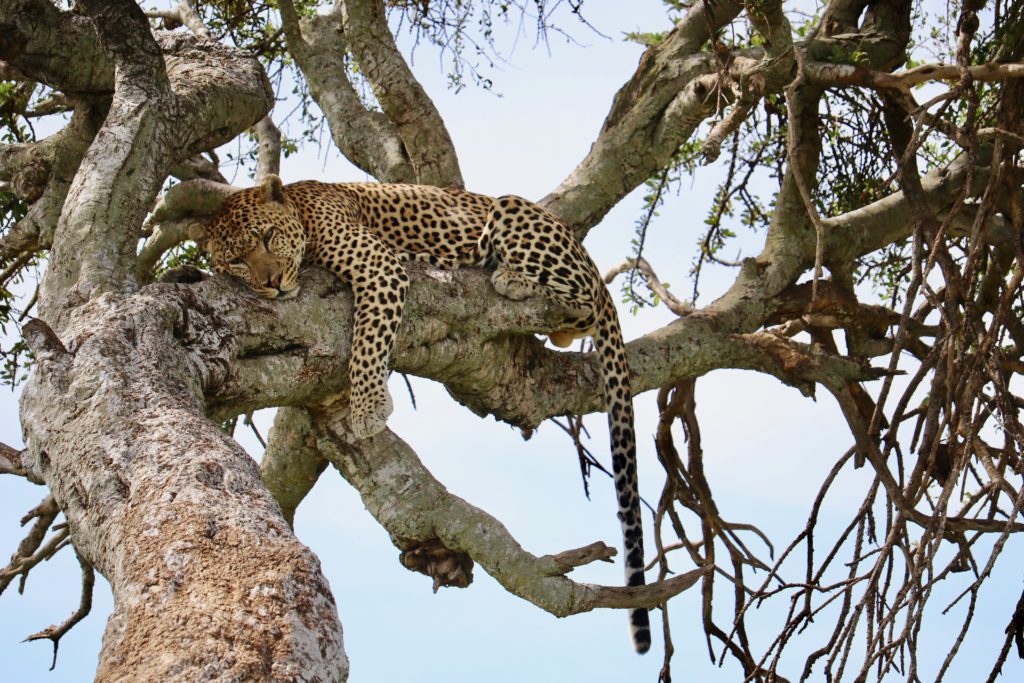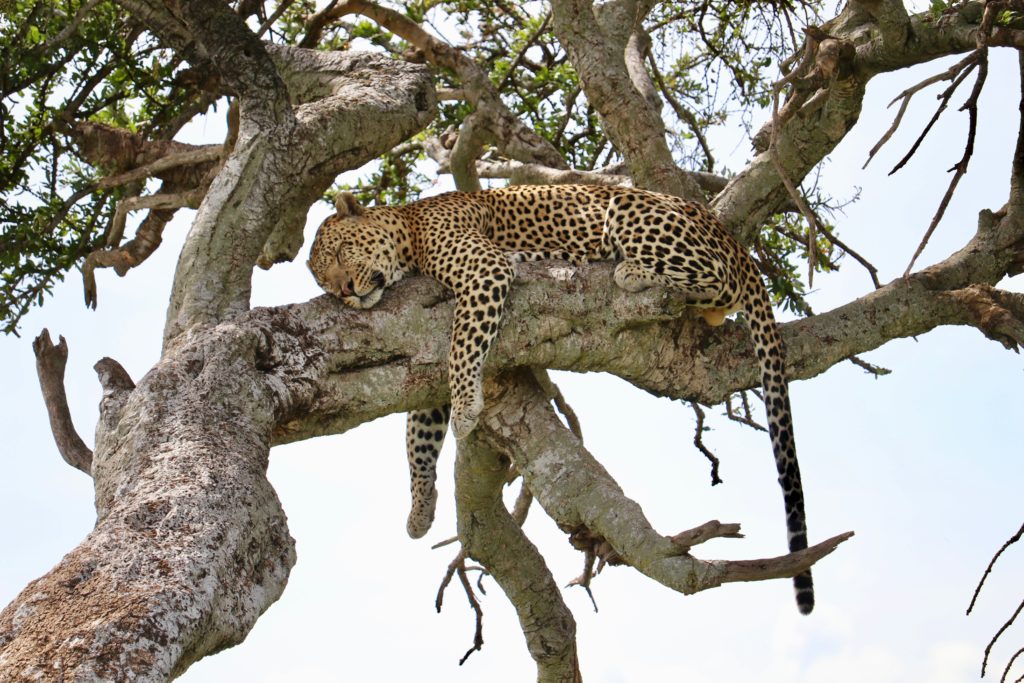 Leopards are predominately solitary animals that have large territories. They mark territories with urine or by leaving a claw mark on trees to warn others to stay away.
A leopard's tail is just about as long as its entire body. This helps it with balance and enables it to make sharp turns quickly.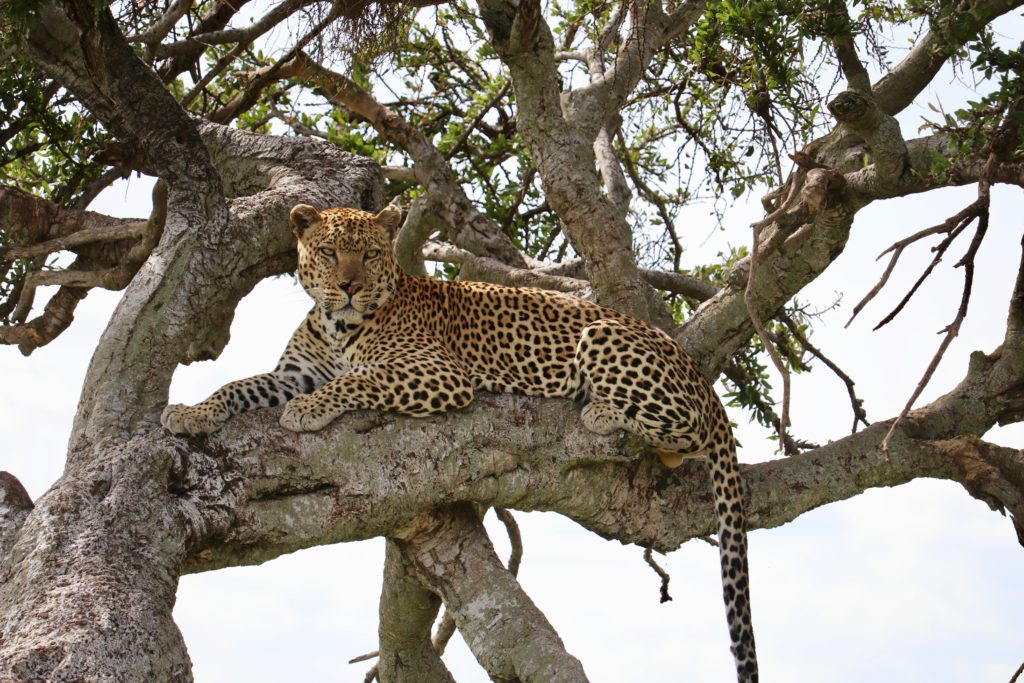 They prefer to sleep high up in the trees and they even have the strength to physically drag prey (food) back up into the trees so they can enjoy the meal without pesky intruders like hyena or lions.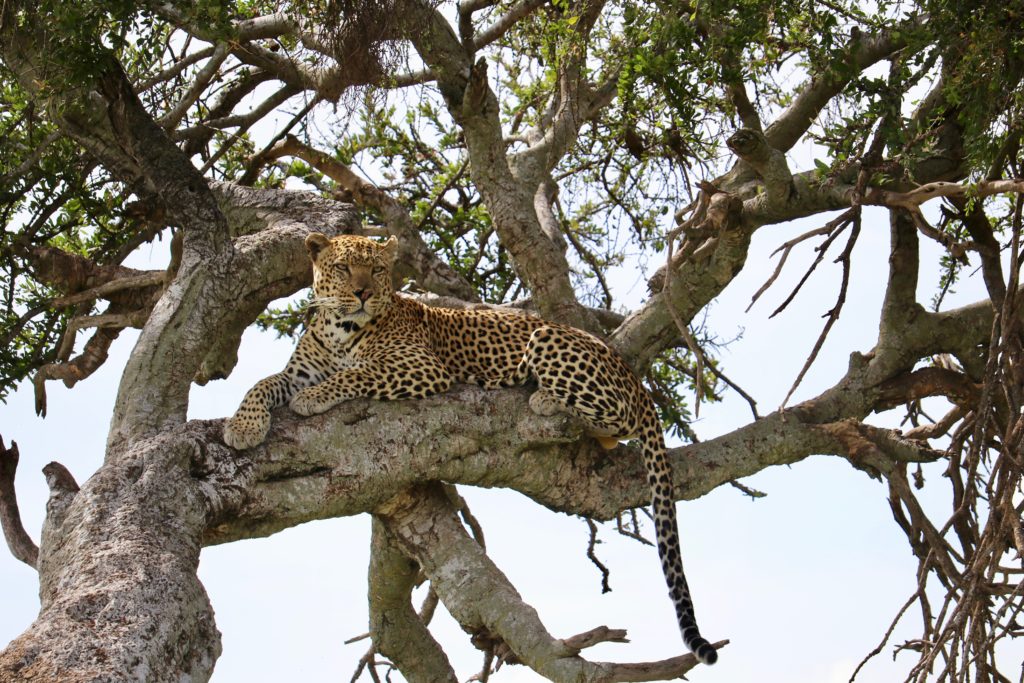 Like cats kept as companions, leopards will growl when angry and purr when content. They have various vocalizations such as a rasping cough which they perform to announce their presence to other leopards.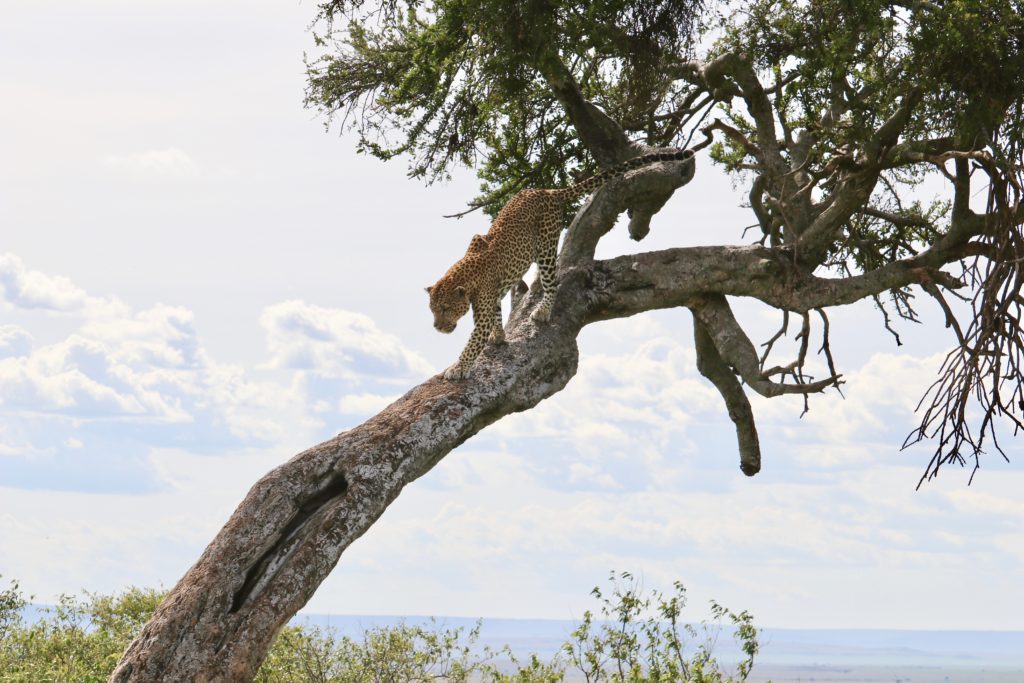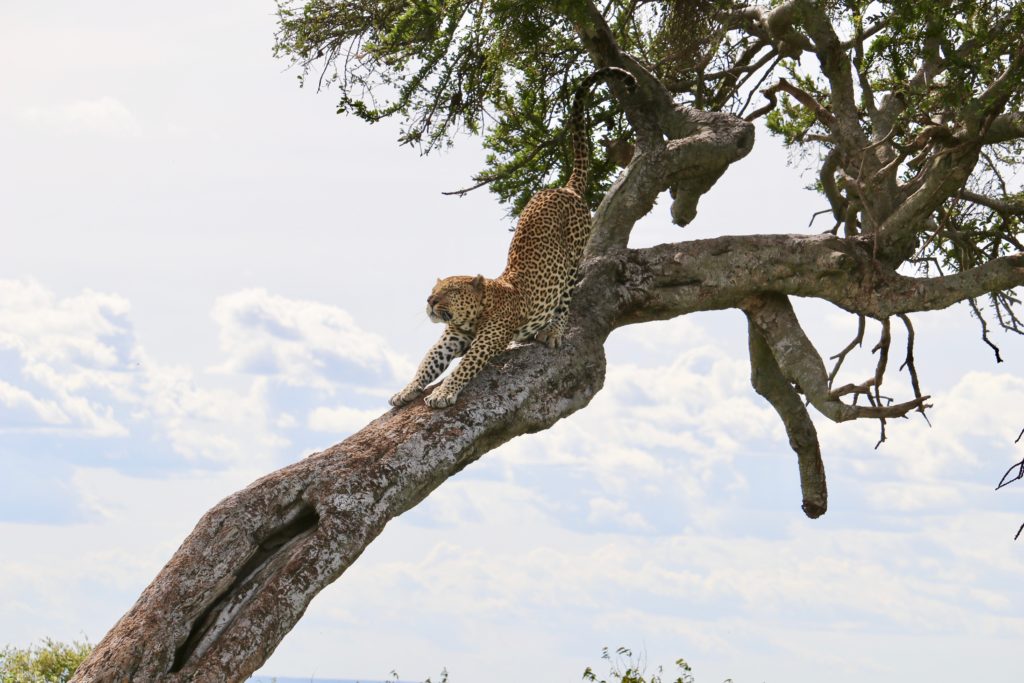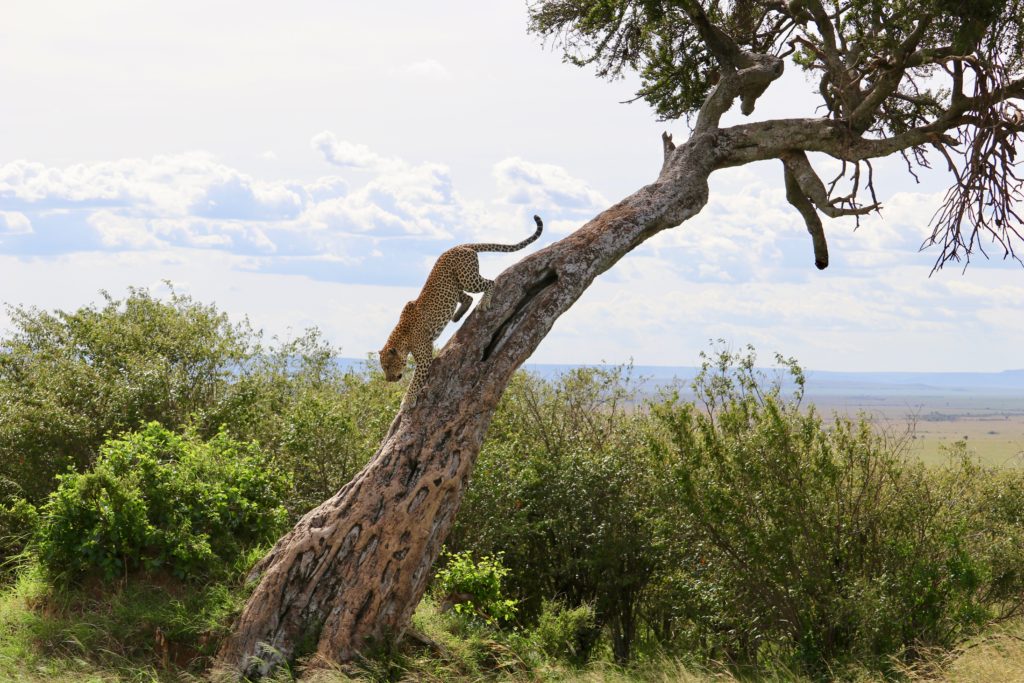 During an episode on National Geographic, a wild leopard killed a baboon in order to feed herself. However upon noticing an infant baboon clinging to the dead baboon, the leopard amazingly carried the infant up to the safety of the tree to guard the baby from hyenas. She groomed and cuddled the baby throughout the night, caring for him/her as she would her own cub. While the leopard is known to be a vicious killing machine, the large cat does indeed have a maternal side in certain instances like this rare moment captured by National Geographic.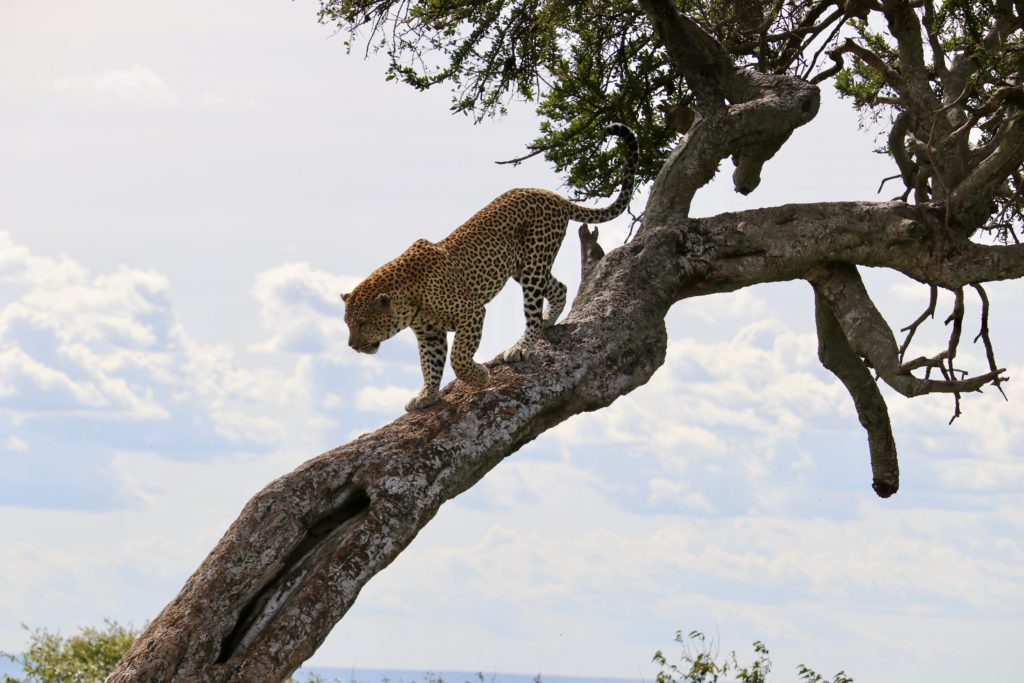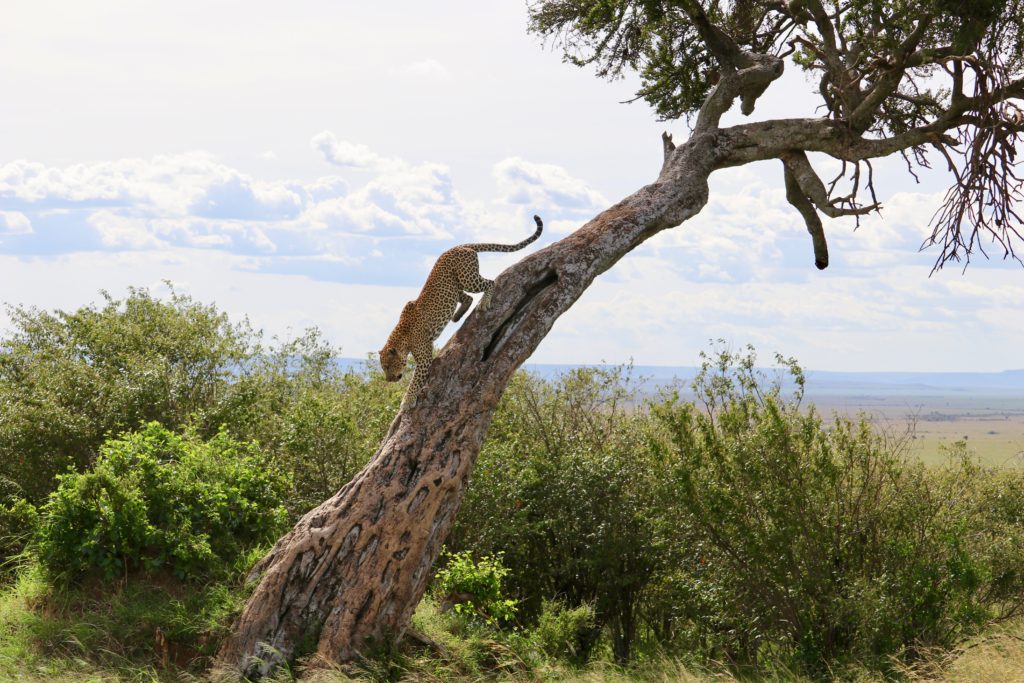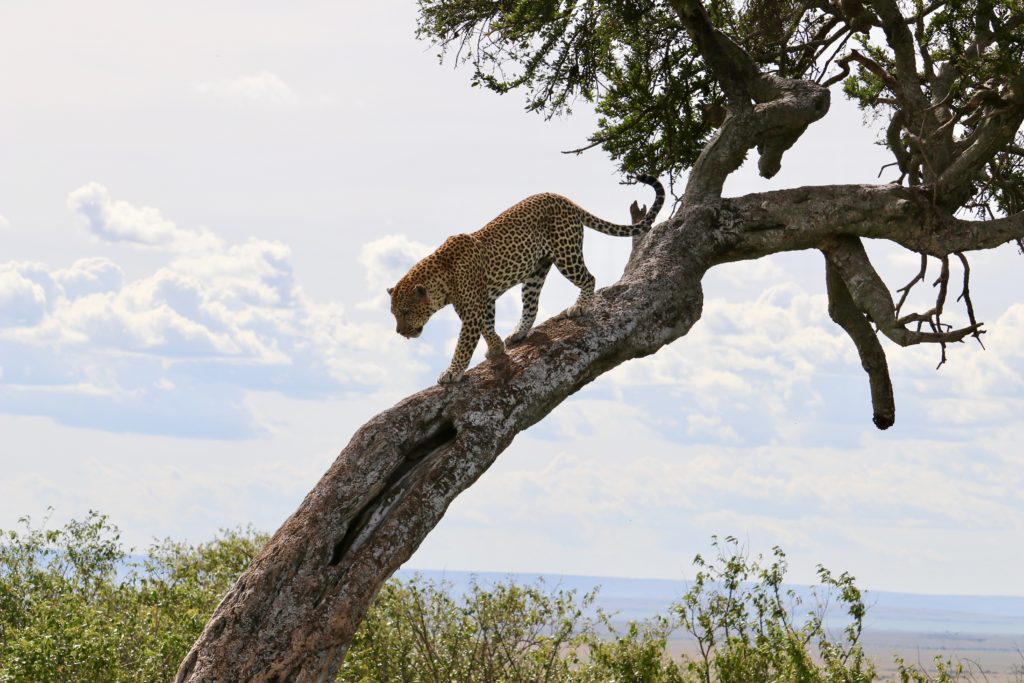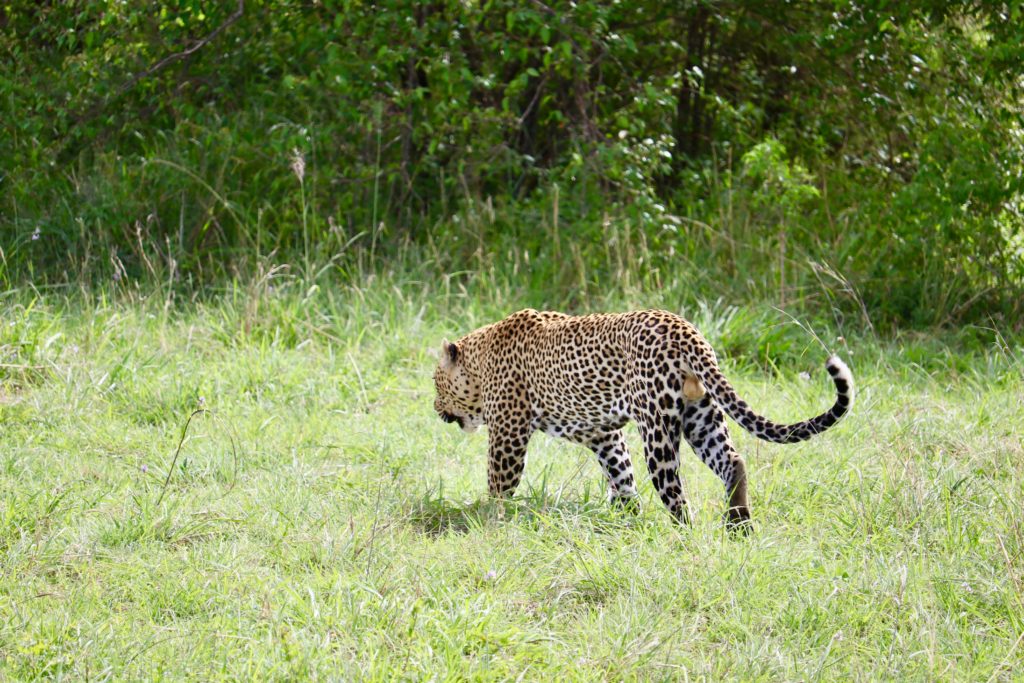 Bubble Baths and Sun Downers to End the Perfect Day
The highlight of my time at Mara Bushtops were definitely the evening activities the camp planned for us. Each night, the camp staff would prepare a beautiful bubble-bath in our private hot tub on the terrace of the tented suite. The bubble bath would be drawn with hot water and soothing organic oils, creating an oozing bubbly oasis. Thoughtful touches such as a chilled bottle of champagne, warmed robes and slippers with plush towels were always placed beside the hot tub.
At dusk I would use the binoculars to gaze out at the horizon and look at the various animals roaming the grass – giraffes, elephants, and sometimes even the occasional lion or two on the prowl. My husband loved the nightly bubble bath service and said that it was so soothing for his muscles after daily workouts and adventure in the safari truck.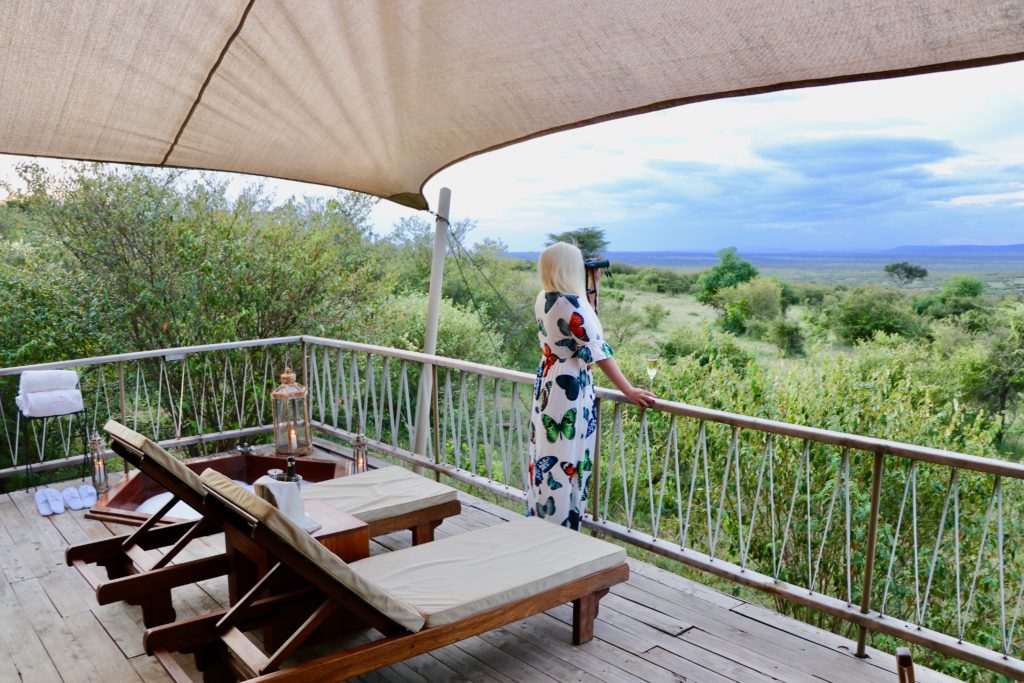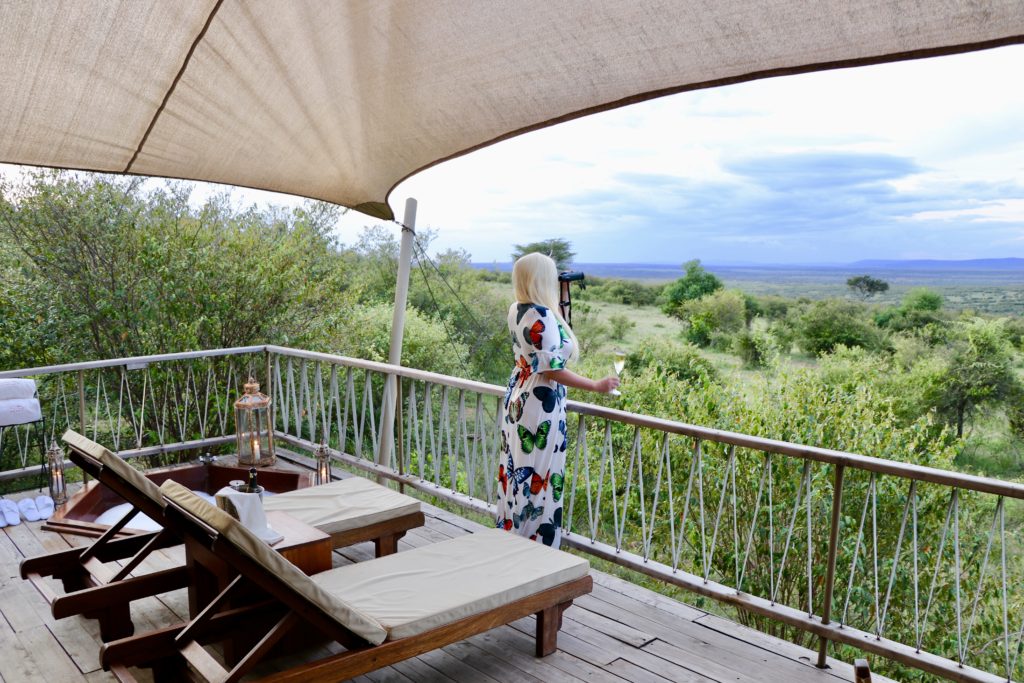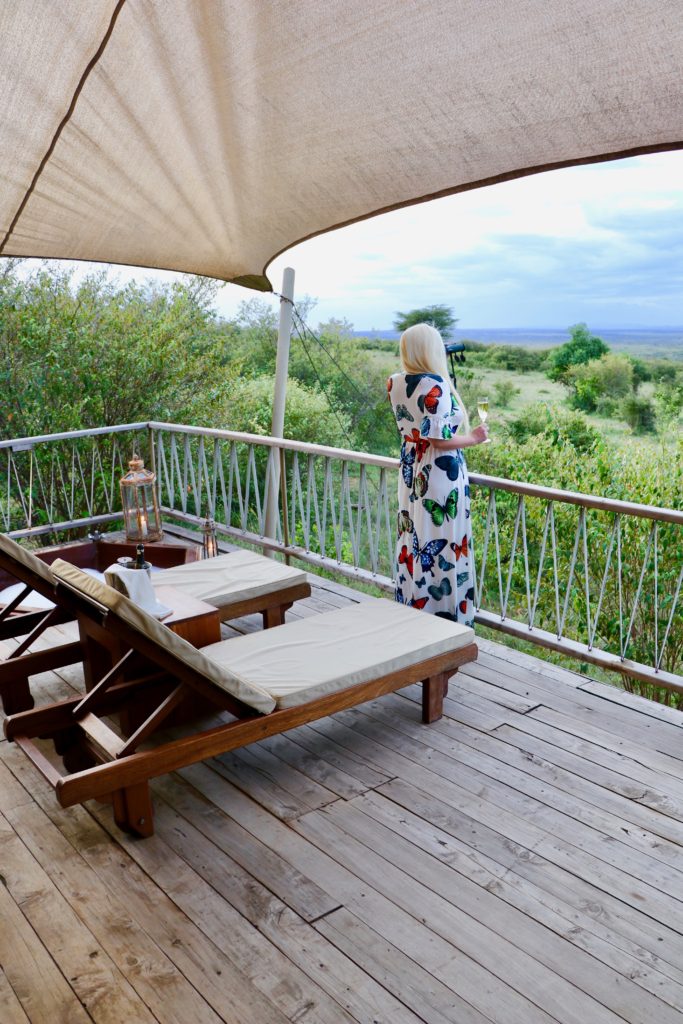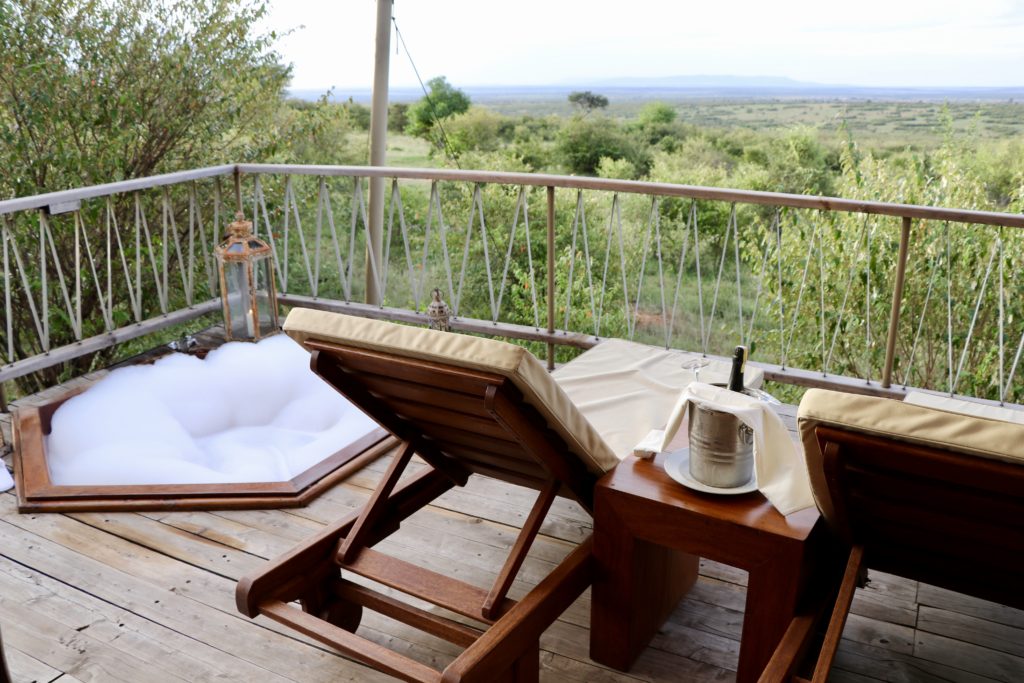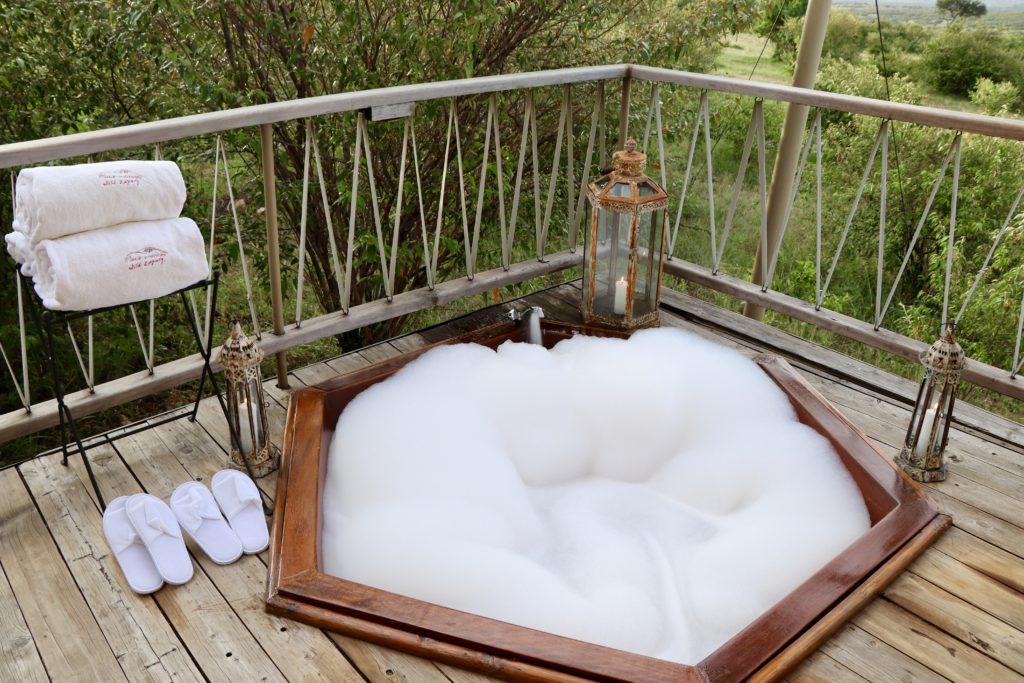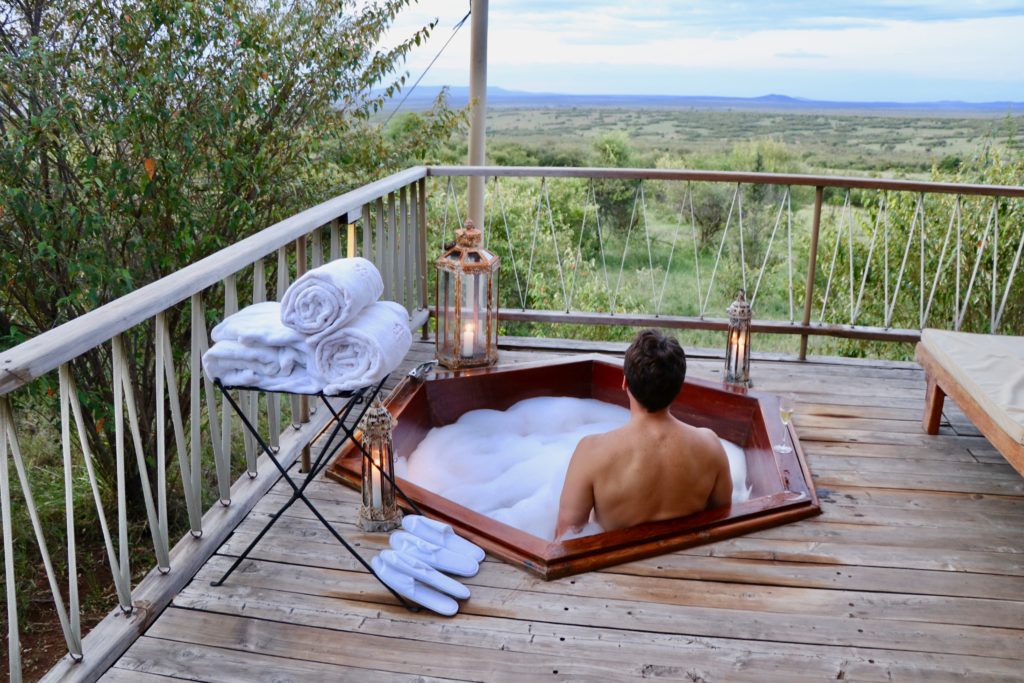 From there, we would leave this luxurious tented oasis for one last activity of the night – a sun downer. The camp staff would drive us out to a scenic spot on the property and build a camp fire, provide delicious cocktails and allow us to enjoy a "happy hour" amidst stunning grounds as the sun slowly melted away the perfect day.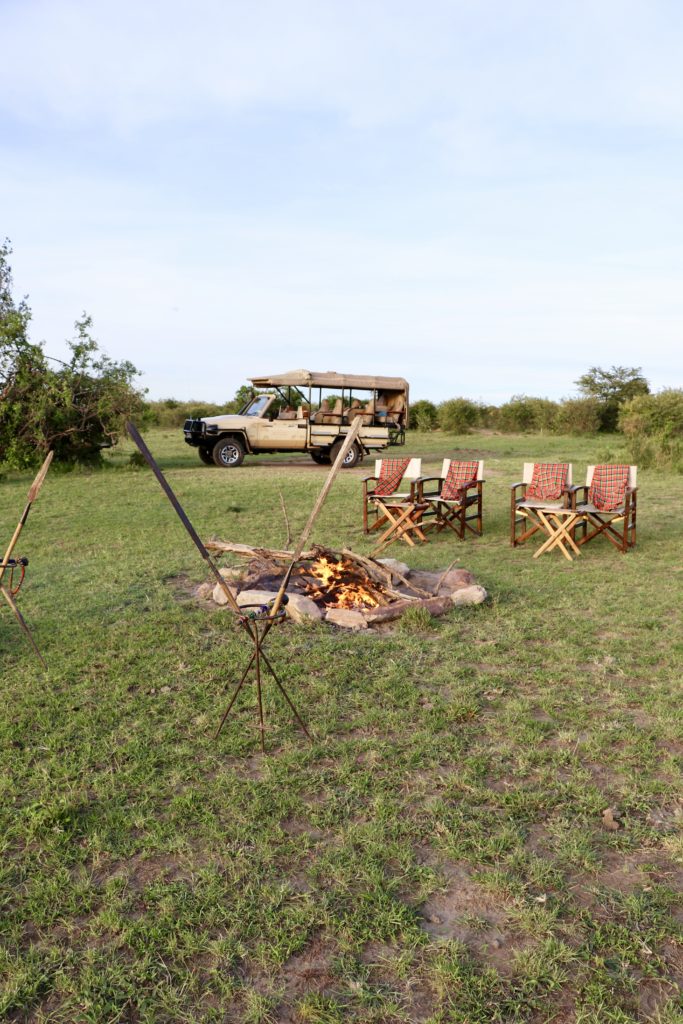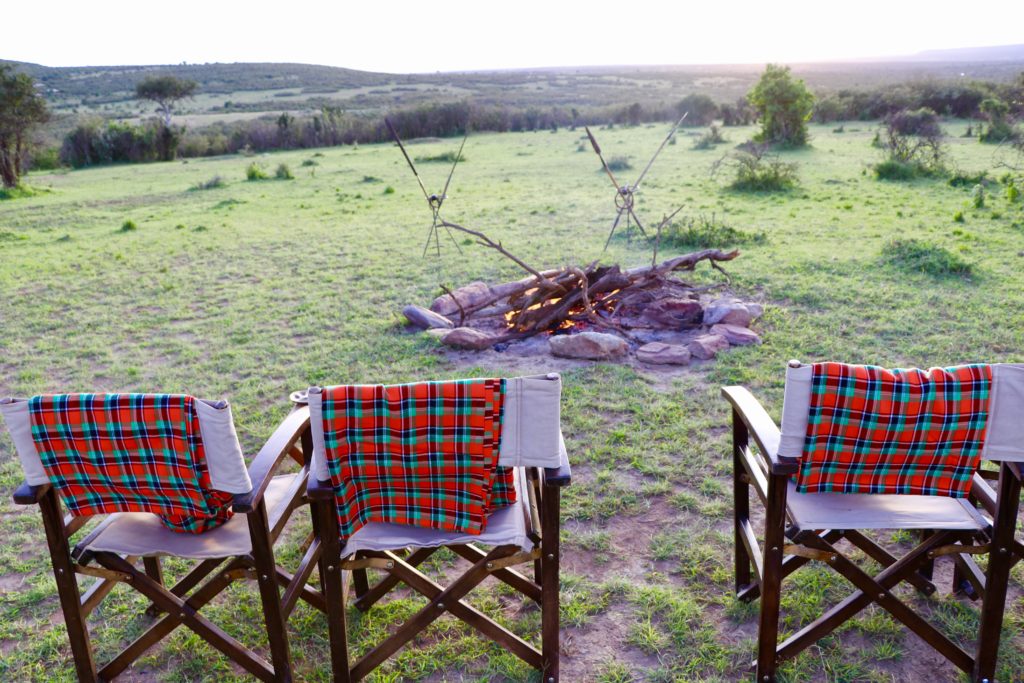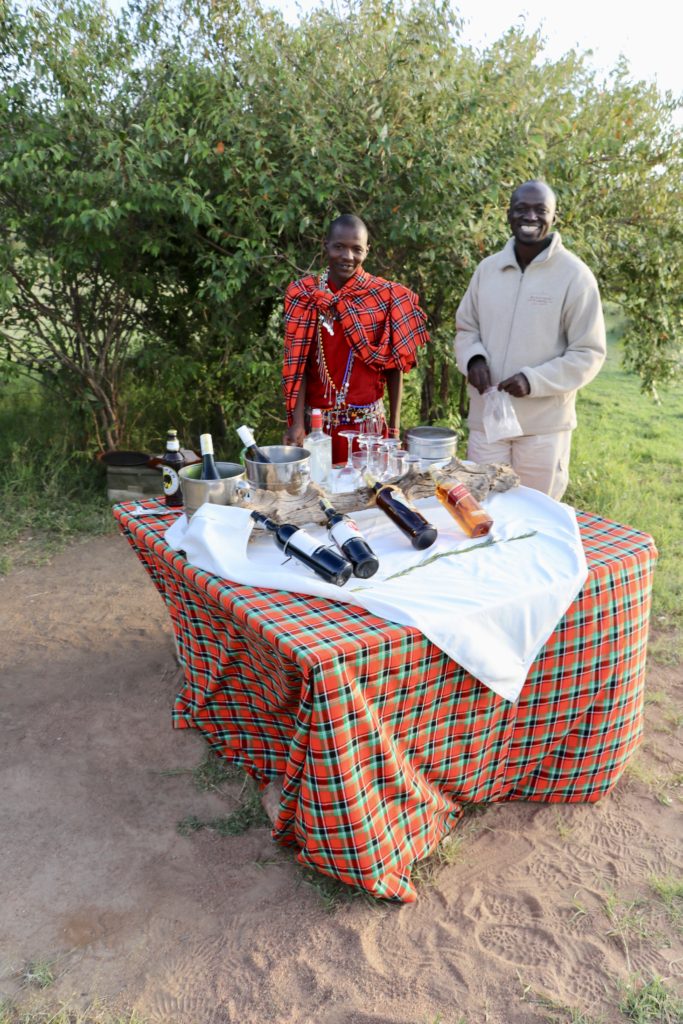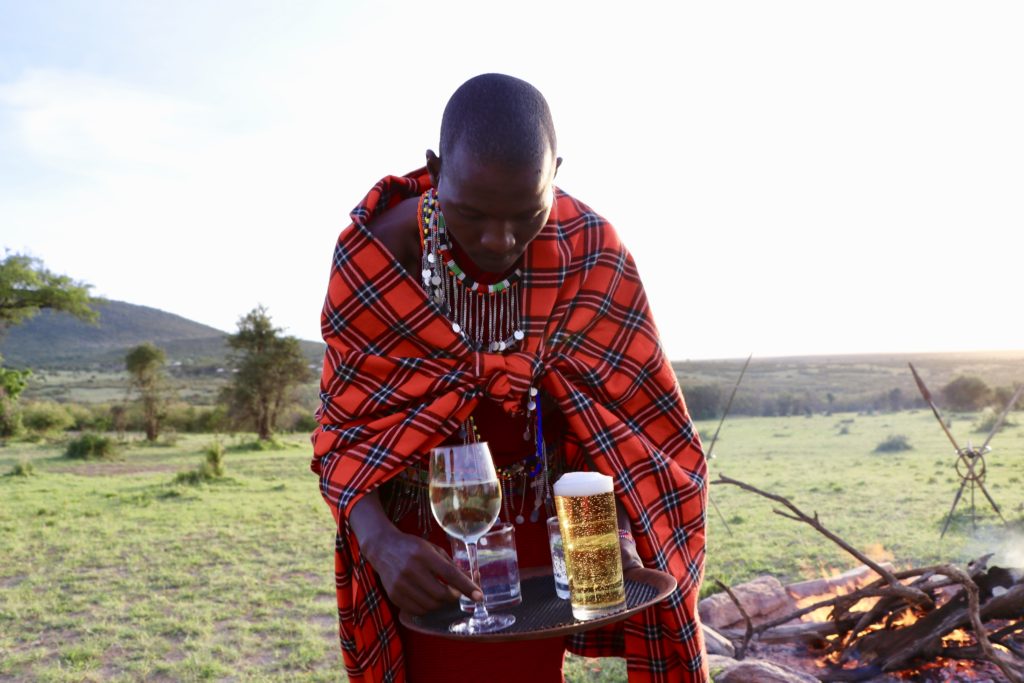 Cheers to wild luxury at Mara Bushtops – a safari camp in Kenya offering every fine luxury and fun activity you could dream of while in Africa!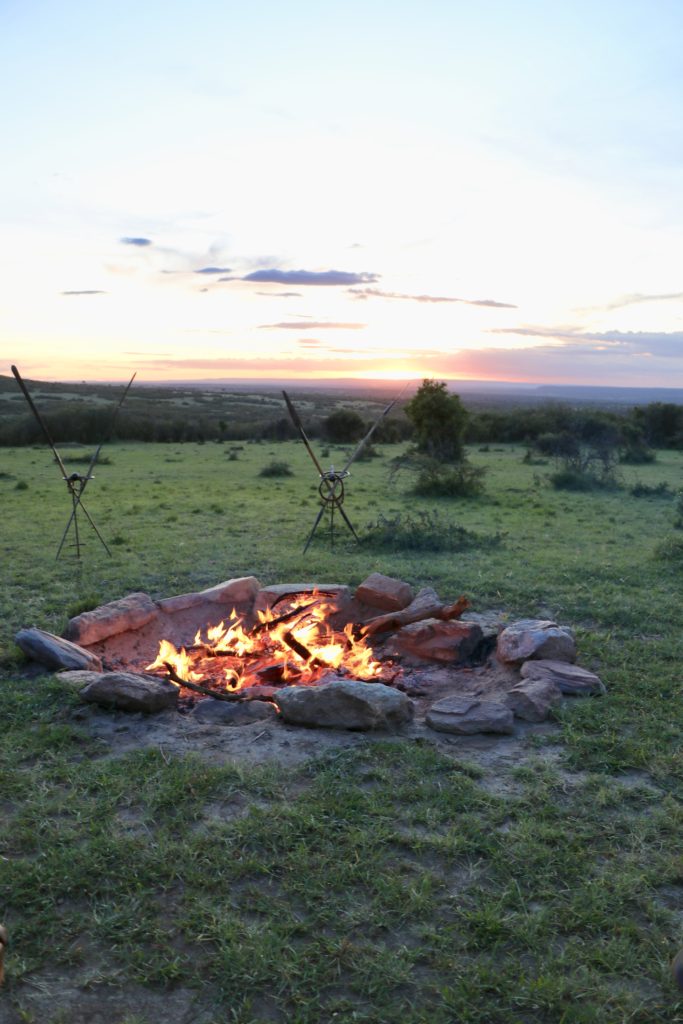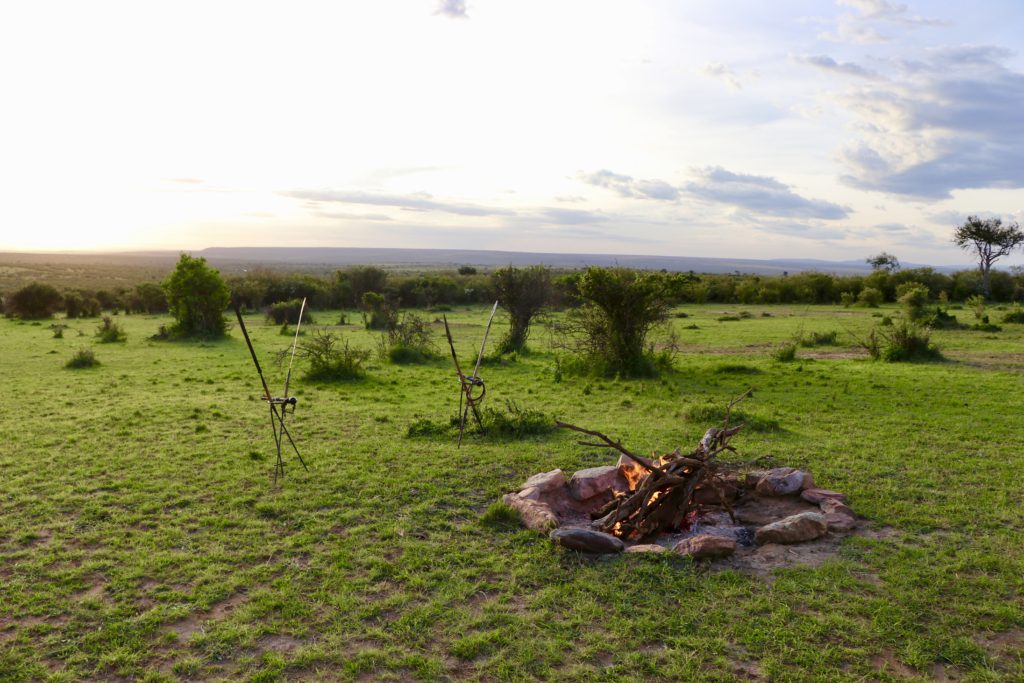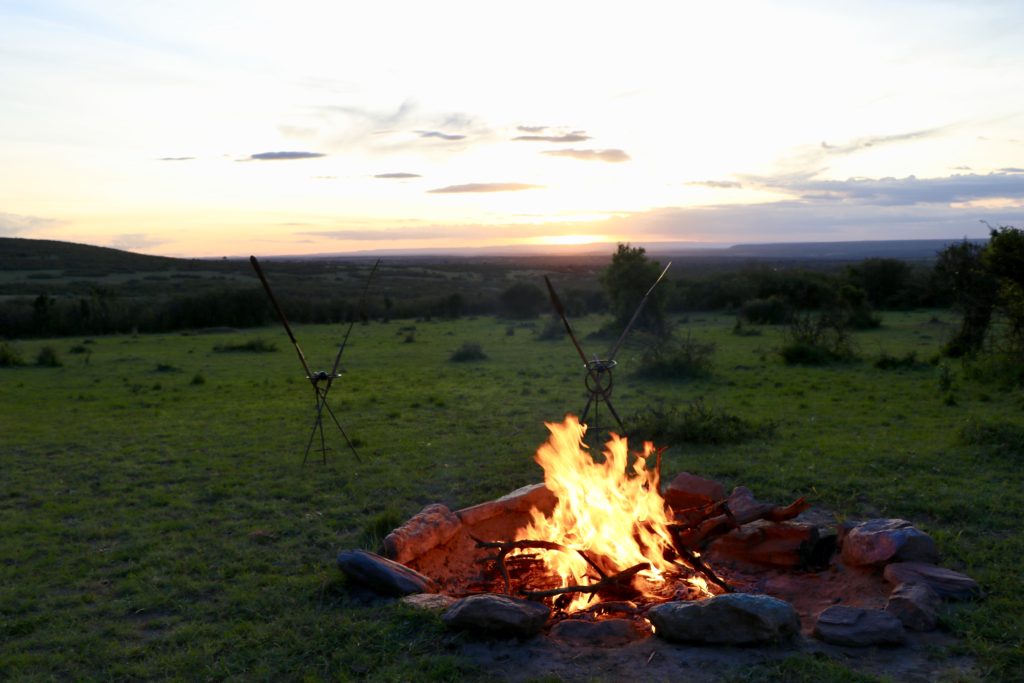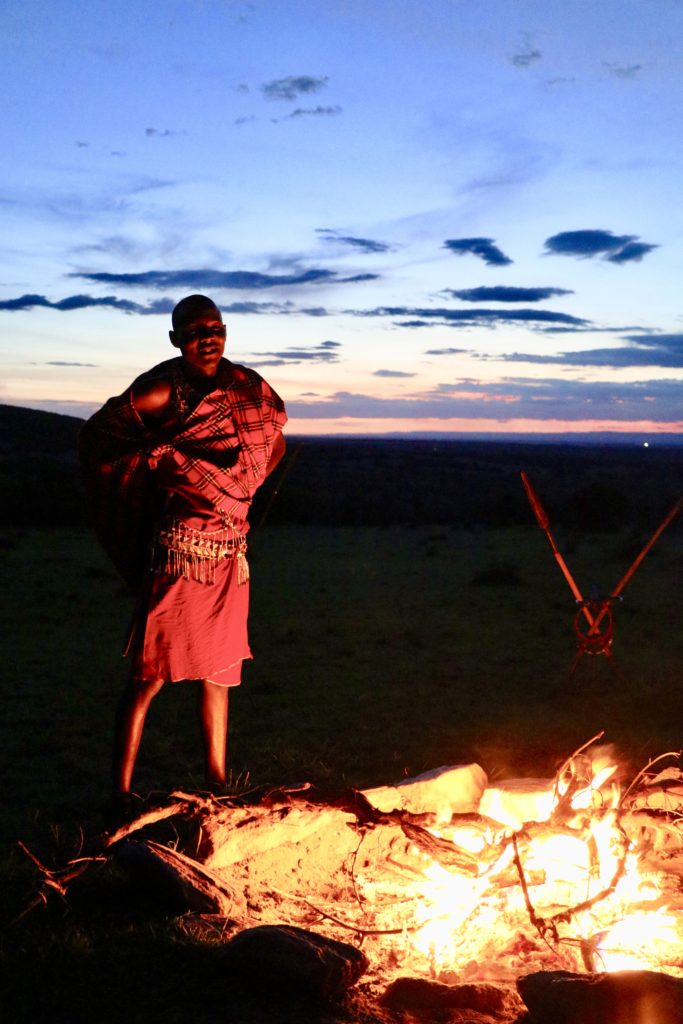 Thank you to our wonderful and thoughtful guide, Alex, we miss you dearly. Thank you to the entire staff at Mara Bushtops for ensuring our stay was exquisite. Stellar safari trips can be planned and crafted with the help of Natural World Safaris. We look forward to returning in the future with our family. There is no place quite like Mara Bushtops and the wild luxuries they offer for future guests seeking a vacation of a lifetime!