With the holidays just around the corner and some major news in my life, it seems to be the perfect time to share the ultimate gift idea for my amazing readers. Have you heard about Petite Keep? Petite Keep ("PK") is a female founded and run business based out of the midwest that specializes in creating gorgeous customizable products to cherish your most prized items or heirlooms. PK works hard to reimagine keepsakes through modern personalization, curated aesthetic, and intentional design.
The signature item produced and sold by PK is the "keepsake trunk" which can serve many purposes in safekeeping your memories from precious milestones, memories, or special events. These trunks can be customized in up to 70,000 different styles – you pick the color trunk, the embroidery fonts, interior fabrics and engraving details to make your item truly one-of-a-kind.
These trunks can serve as the perfect holiday gift to treasure family memories in a time capsule type activity. I also see many people enjoy gifting the trunks for major life milestones – graduations, an engagement, bridal shower, wedding, anniversary, birth of a baby, or special birthday (e.g., sweet 16).
Another fantastic idea is to gift someone special a keepsake trunk for a shower, party or celebration on the horizon (perhaps share this as a holiday gift for a big party anticipated ahead in 2023) — not only does it serve as a thoughtful gift, but you can open the trunk up and utilize it for collecting cards or mementos from the event itself. I have seen many gorgeous showers and parties where a trunk is displayed on a gift table, opened with a name or date inside and provides a beautiful focal point. This can serve as a great decor piece, but also a nice photo backdrop or visual centerpiece to other gorgeous decor pieces for the event.
For me, as we transition our baby girl into the family unit, I knew it would be very important to make our toddler, Maverick, feel extra special. My son, Maverick, was my first-born child in early 2020. At the time of his birth, the world was blazing with absolute chaos as the pandemic took hold of our hometown of New York City. Our experience of giving birth to him at one of the busiest hospitals in New York City during a global pandemic was traumatic and memorable. One day when he is old enough to understand, I hope to be able to tell him about his birth story, the pandemic, our life in New York City, and what it was like to live through such a turbulent time in the world with a newborn.
While welcoming our little girl home, I have gone the extra mile to surprise Maverick with toys, special treats and more. I decided to work on curating a Petite Classic Trunk filled with memories and pieces to tell his birth story during the year 2020. With the help of the amazing PK Team, I selected a navy and gold trunk embroidered with navy script over a high-quality white dotted swiss textile choice.
See below for my curation of Maverick's special trunk and the pieces of his birth story that I have decided to cherish in this gorgeous keepsake box by PK.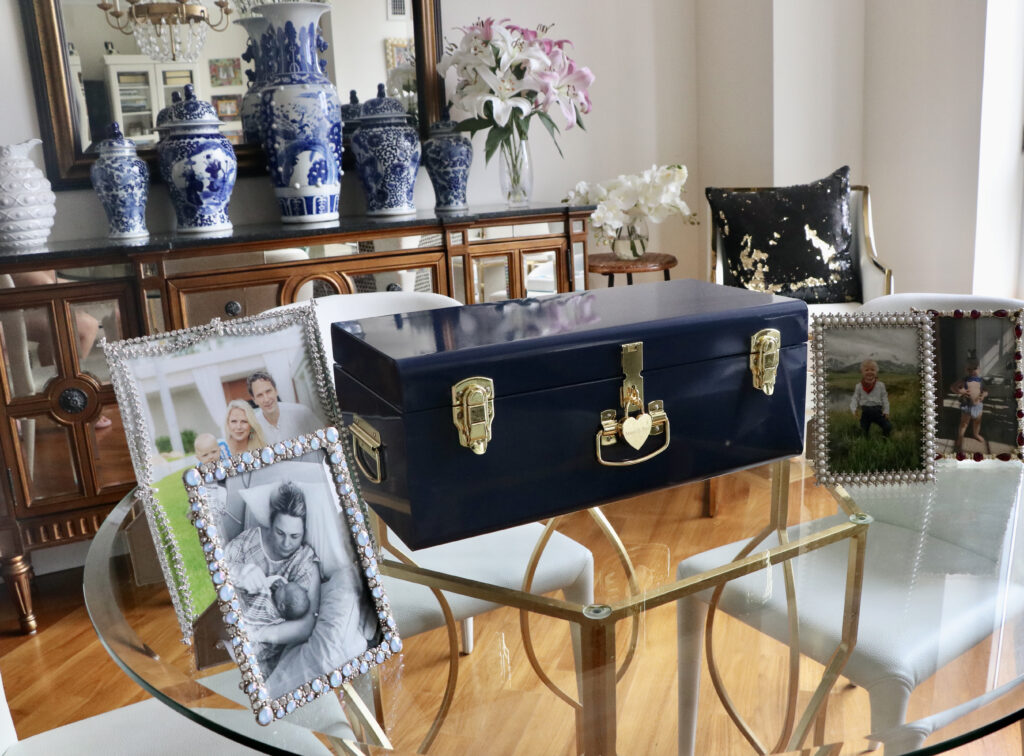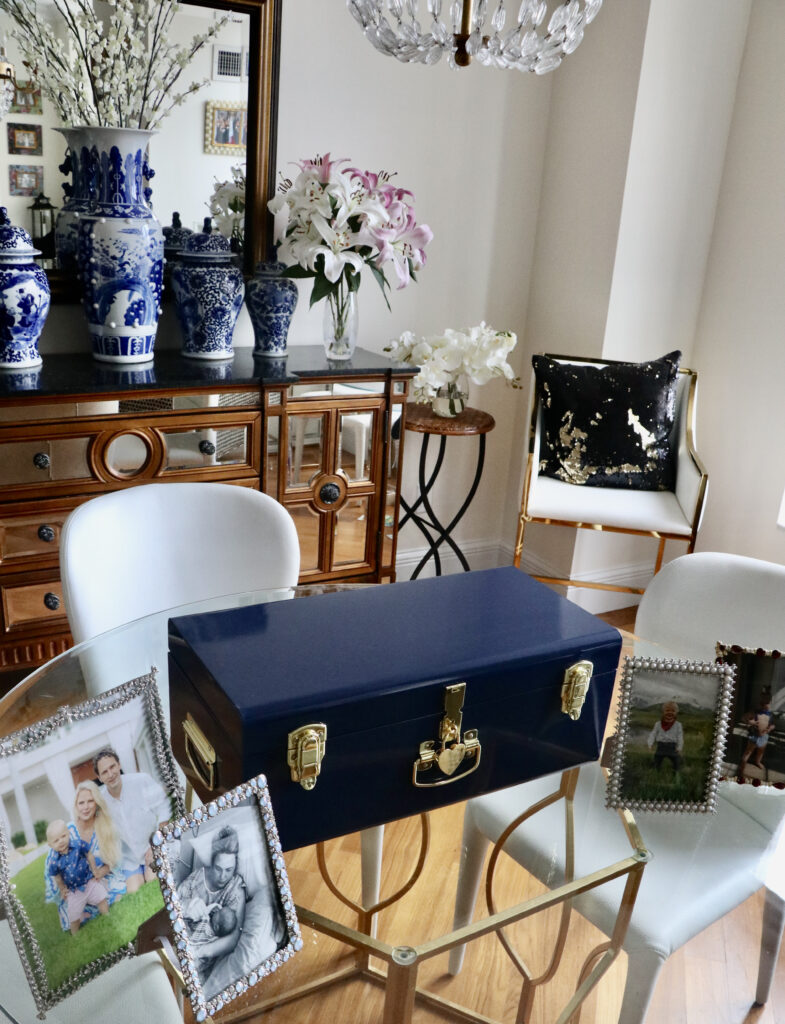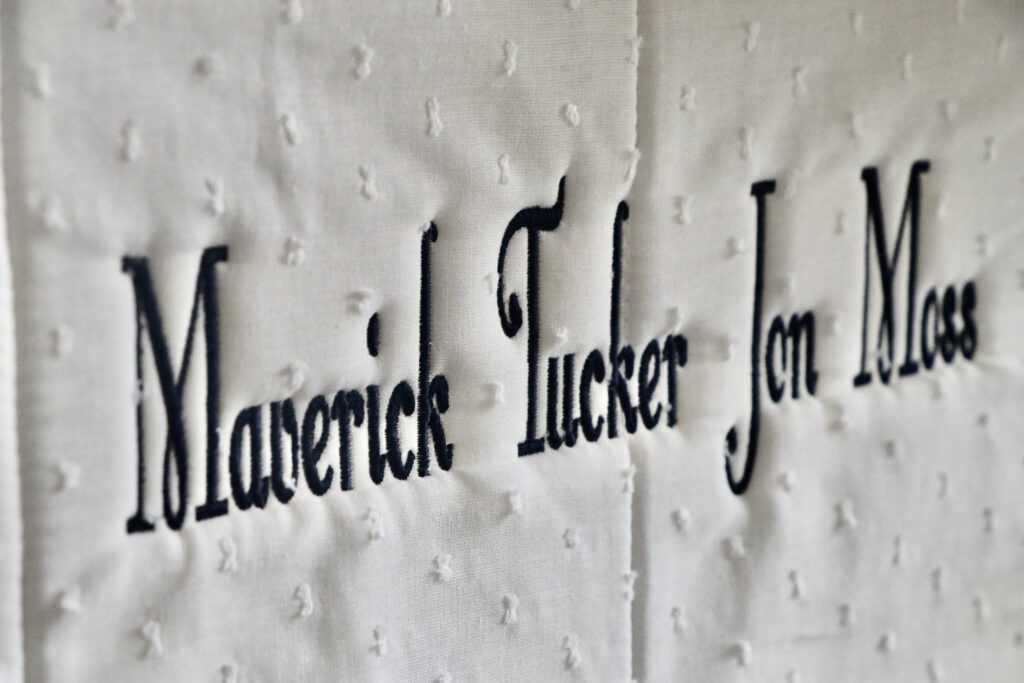 Not only does the Petite Classic Trunk have a sleek exterior for decorating at an event, or inside a nursery, bedroom or playroom, the trunk itself is useful in safeguarding some of your most prized family memories. As you can see, inside my son's trunk I have carefully selected meaningful items to secure for years to come. I hope and believe that one day when my son is older, he will appreciate the time capsule components of his very own trunk.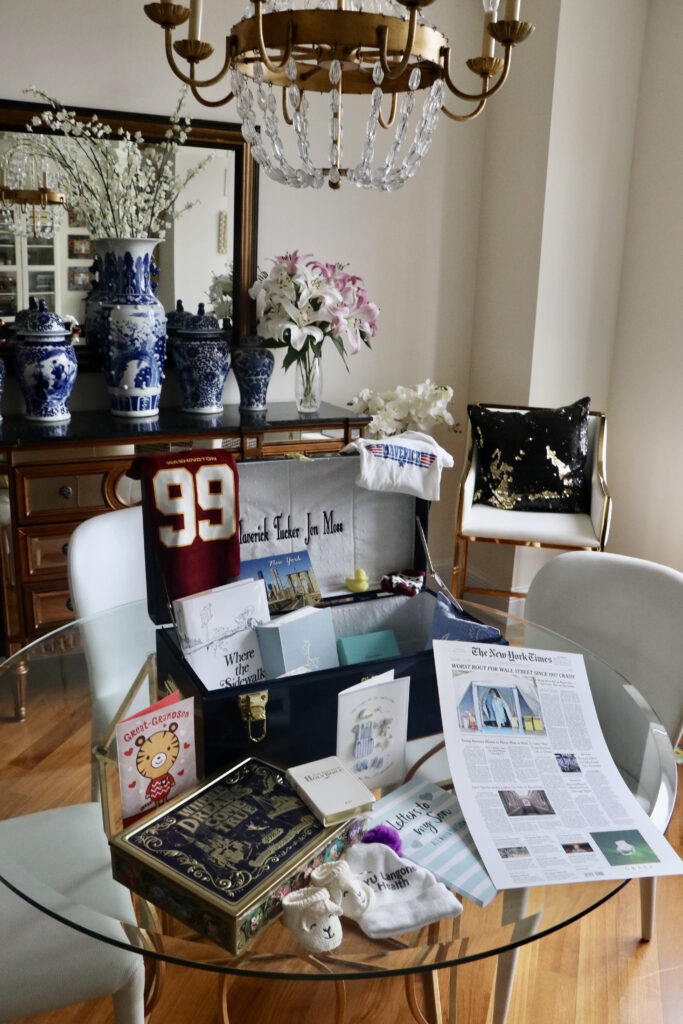 For memorializing a baby's birth or telling a birth story with your PK trunk, here are some fantastic ideas of items that I included:
Front page of the New York Times on the day your child was born
Shower and gift cards from loved ones
A special book with a note inside to your child to share in the future when they are older
Baby's first bible or prayer book
I included a "Letters to my Son" book where I wrote a letter each week to my son the first year of his life – my hope is that he can read these letters one day to understand what the world was like
Baby's first socks
Hospital hat
Photo album of newborn pictures
Extra valuable baby gifts such as the spoon or rattle from Tiffany's
Lavender pillow monogrammed with the letter "M"
NFL Jersey for the team our son's uncle was drafted to the same year he was born
The Top Gun "Maverick" t-shirt that was gifted to us in honor of the movie premiere the year he was born
Tokyo Disneyland candy box that we purchased when visiting Japan and deciding that we wanted to have children
New York City postcard printed and mailed the year of his birth
His first rubber ducky used in his first bath
At our baby shower, guests were asked to write letters to our son for his 18th birthday – I included a stack of all these letter cards inside the trunk
His first plane ticket for a trip to Detroit to meet his four great-grandparents
PK trunks also come with a custom engraved lock that can be affixed to the outside of the trunk and opened with a small key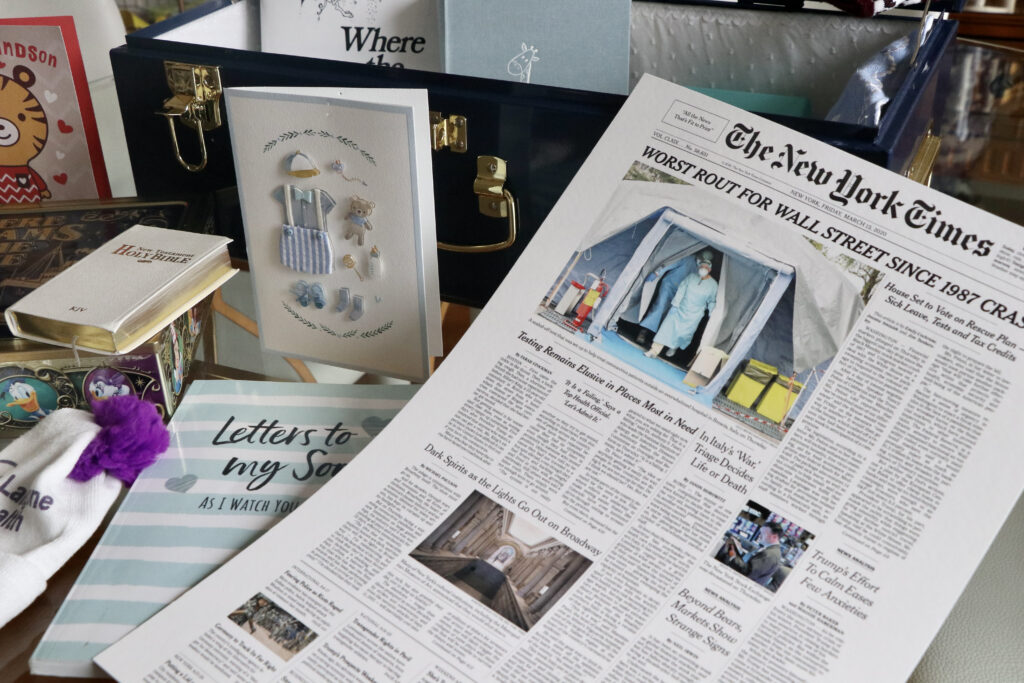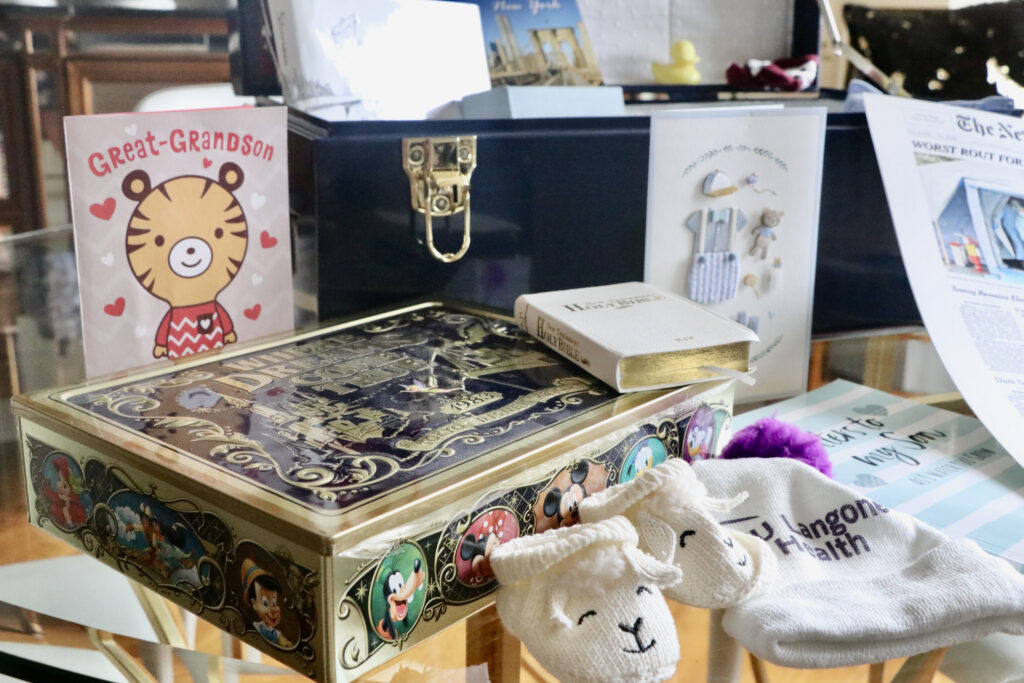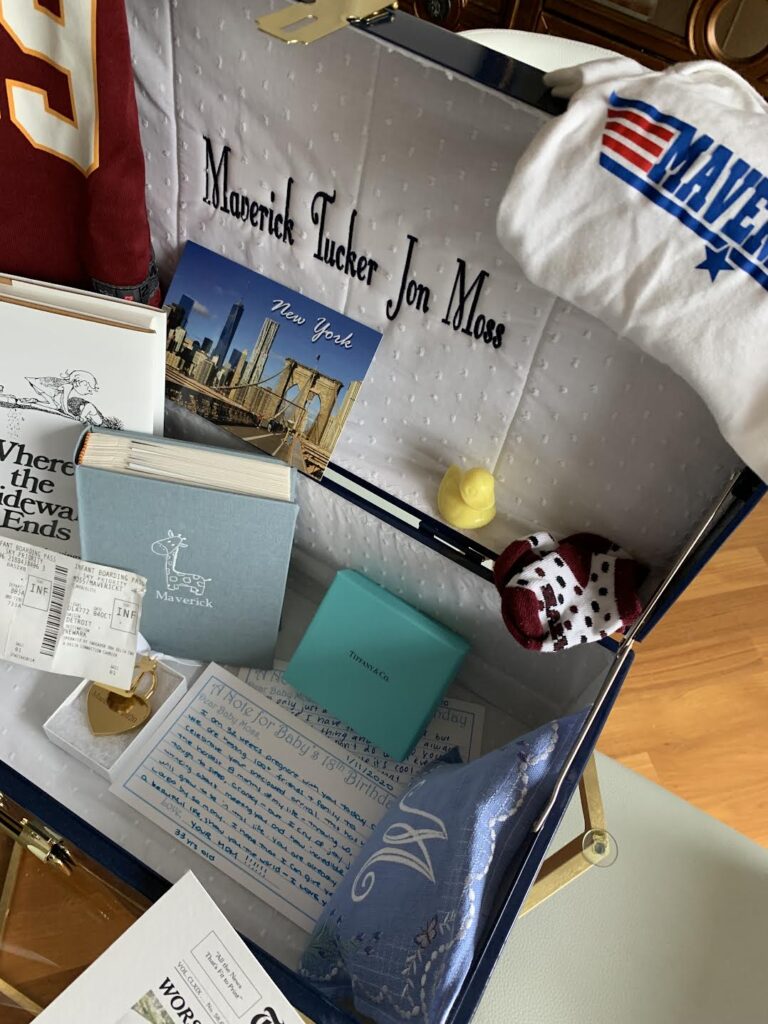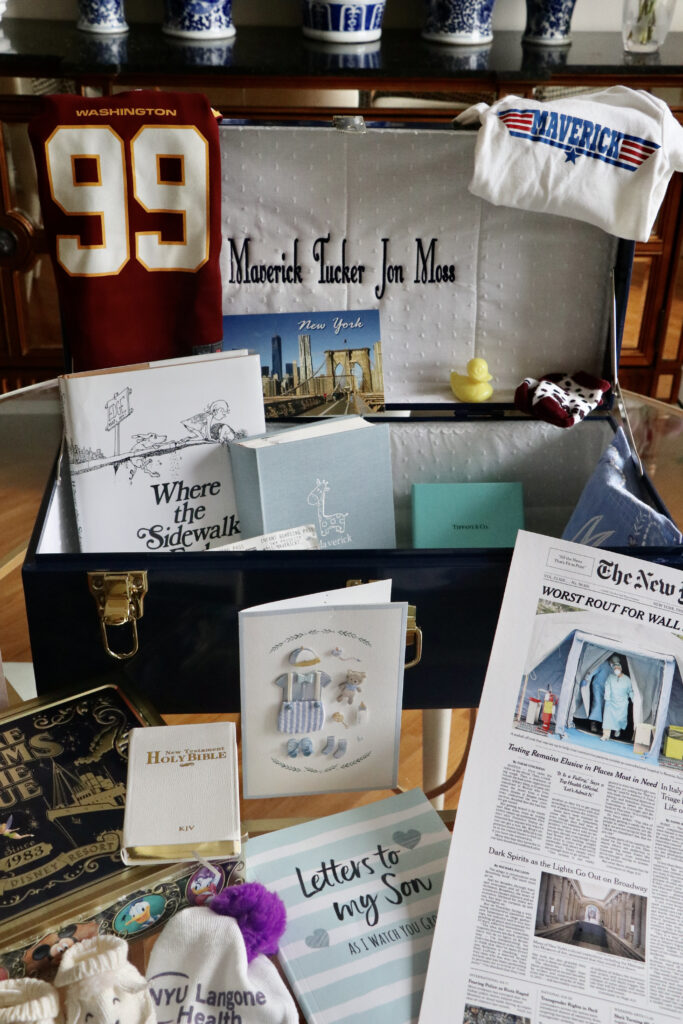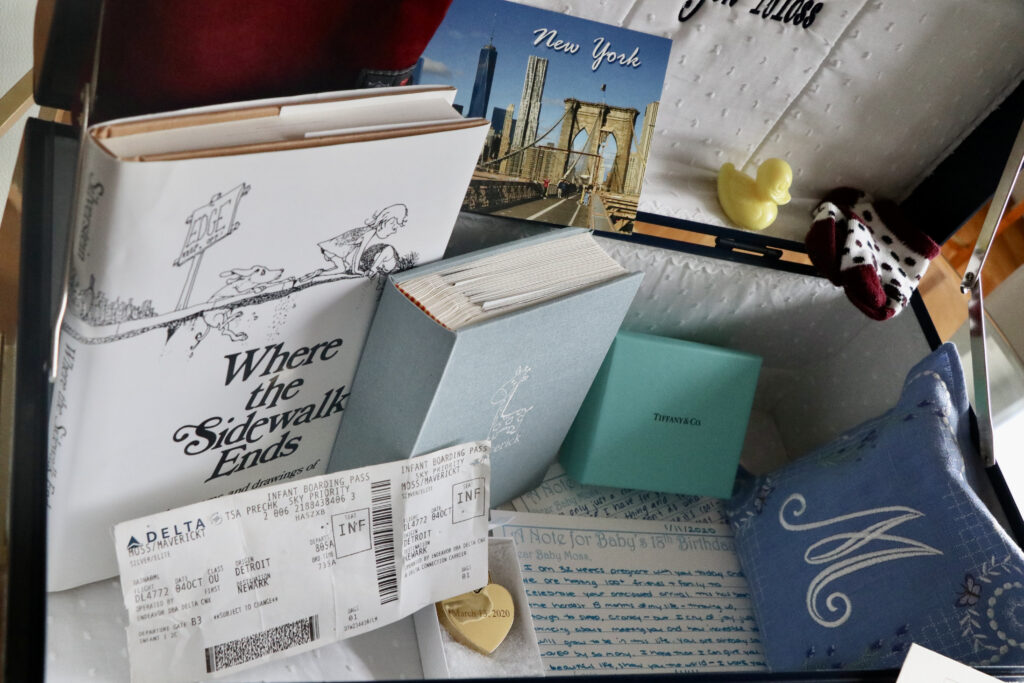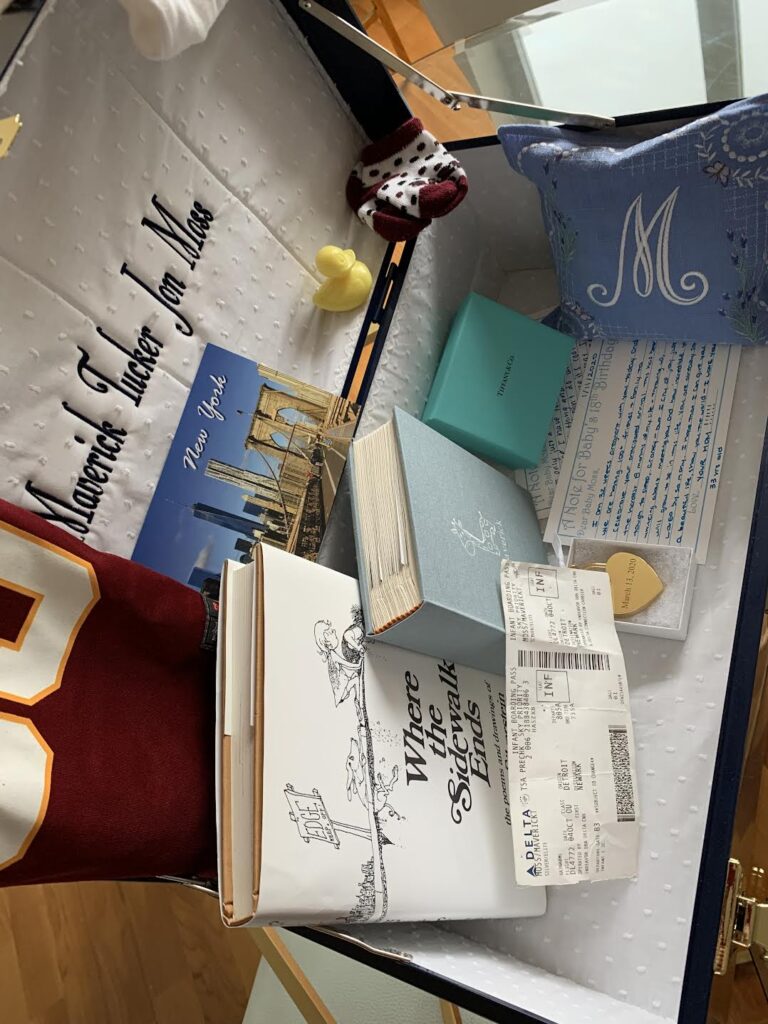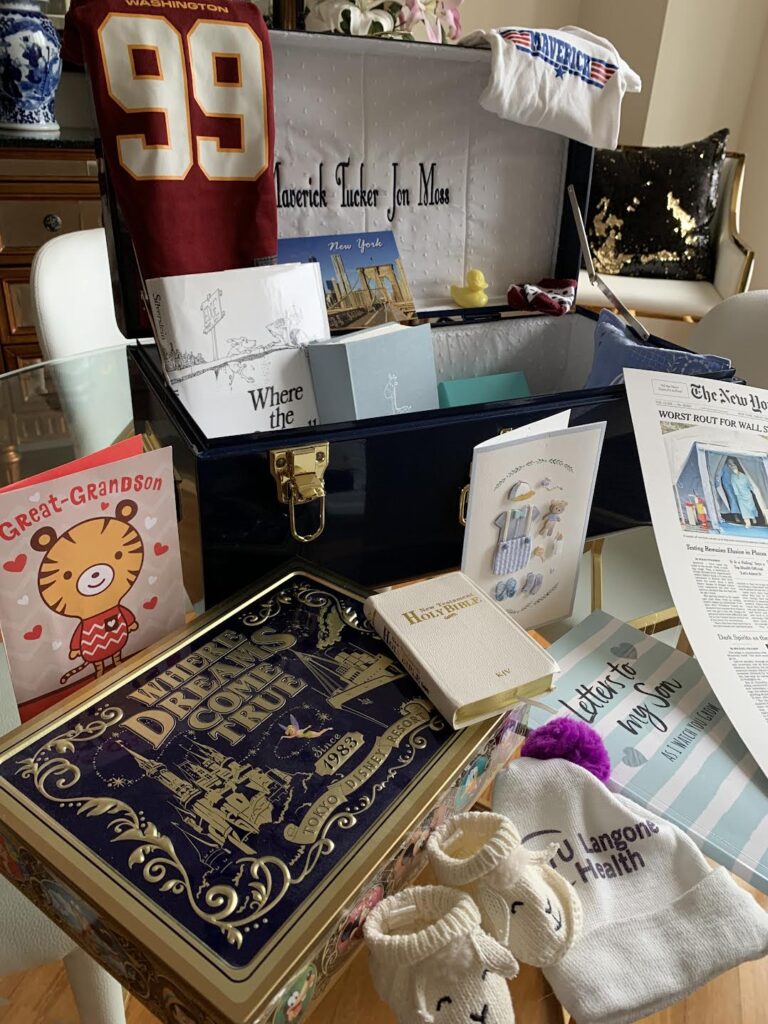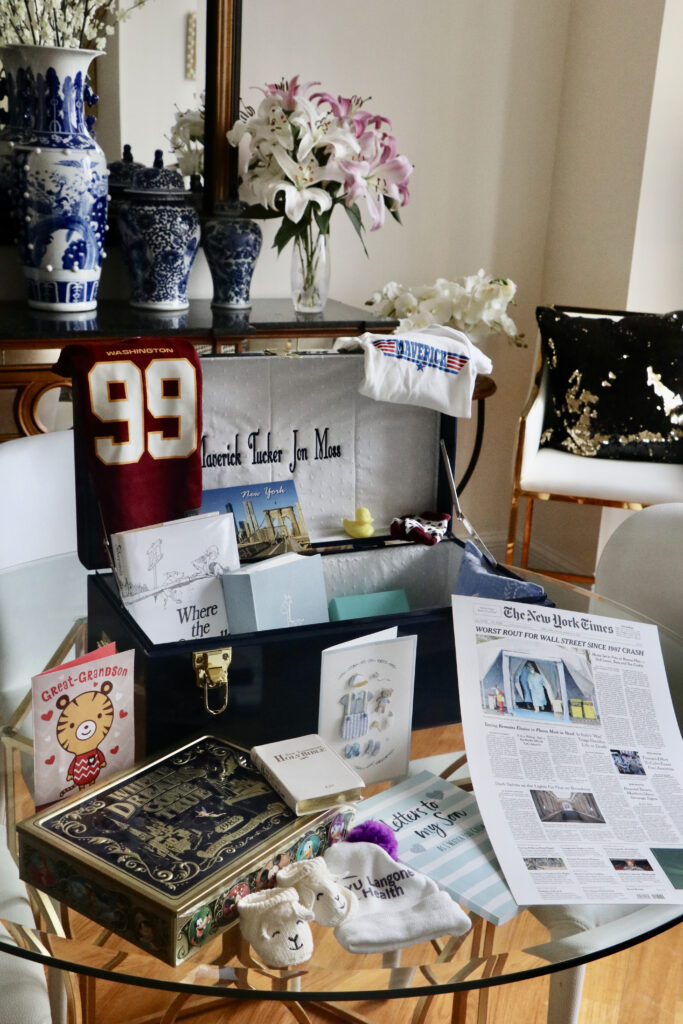 It's hard to believe the holidays are just around the corner and the year 2022 is soon coming to a close. It is time to consider the gift of a PK classic trunk. These specialty and customizable trunks can serve so many purposes for someone you love. Whether it be decorating an upcoming special event with a customized centerpiece, documenting a monumental life event, or simply just because you want to honor someone with an incredibly thoughtful product — there are so many ways to give the gift of PK. The possibilities are endless. Start designing and dreaming of your perfect PK gift today.
For more about this amazing female founded and run business, and to order a customized trunk for yourself or for someone special, checkout Petite Keep website here!