Are you vaccinated and ready to get the heck out of the house? Dreaming of your next sunny vacation? Ladyhattan here reporting on the ultimate family-friendly, yet luxurious, hotel destination in the Caribbean. Through the winter and spring months, I scoured the internet fantasizing and hoping to plan the perfect family vacation.
After reading hundreds of reviews and researching the perks of the property, I finally booked the Four Seasons Resort & Residences Anguilla. It was hands-down the best travel decision of 2021.
Scroll on down for an insider recap through not only the lens of your favorite luxury-travel seeking lady, but also the lens of a new mom. In this blog post, I will share why we loved this hotel and why this was the perfect destination to enjoy with our new addition – a one year old baby boy, Maverick!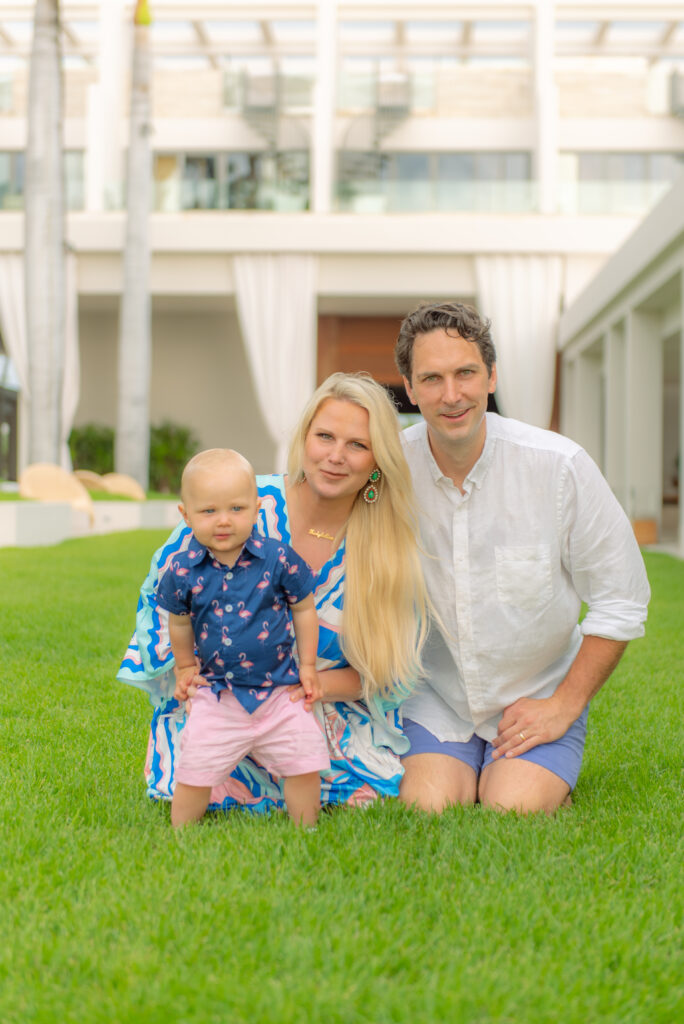 GETTING TO ANGUILLA
Named the number one island in the Caribbean by Travel and Leisure, Anguilla is a tiny British territory in the Caribbean known for dazzling white sand beaches and turquoise water. The locals are incredibly friendly and contribute to an authentic Caribbean culture that is found in the food, music and overall island vibe. You won't find cruise traffic or large tour groups here, which definitely keeps Anguilla quieter than some of the neighboring islands.
My friends and followers were surprised to learn how easy it is to arrive on Anguilla from the United States. From NYC we took a 3.5 hour direct flight to the SXM Airport located on St. Marten. From there, we took a private 20 minute charter boat ride directly to the Port of Anguilla. Once we arrived at the port, it was less than a 10 minute taxi to the Four Seasons Anguilla.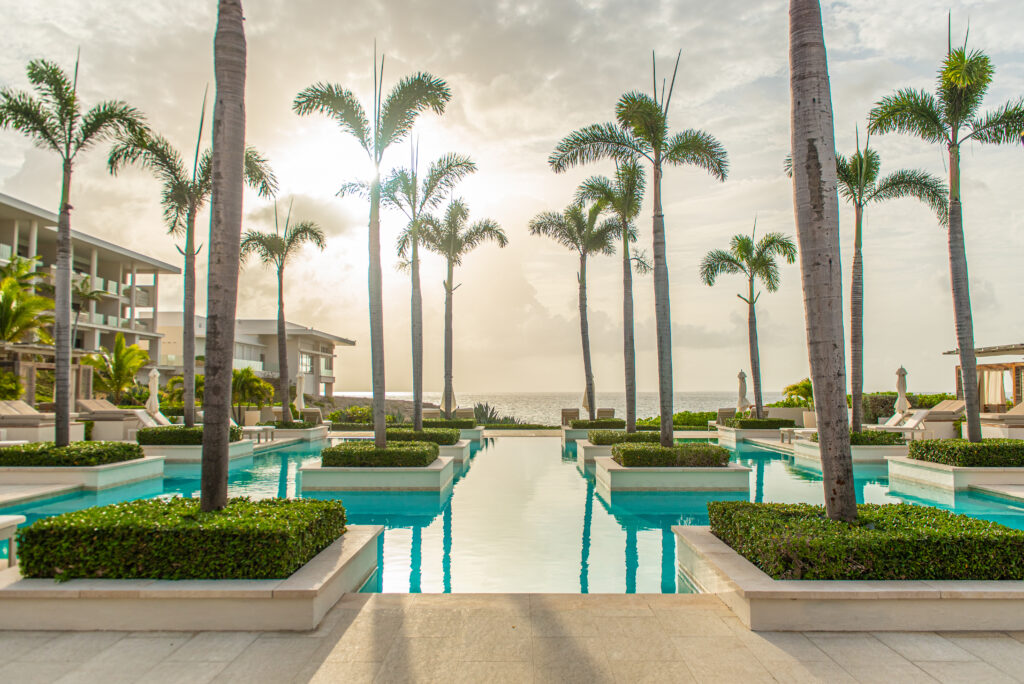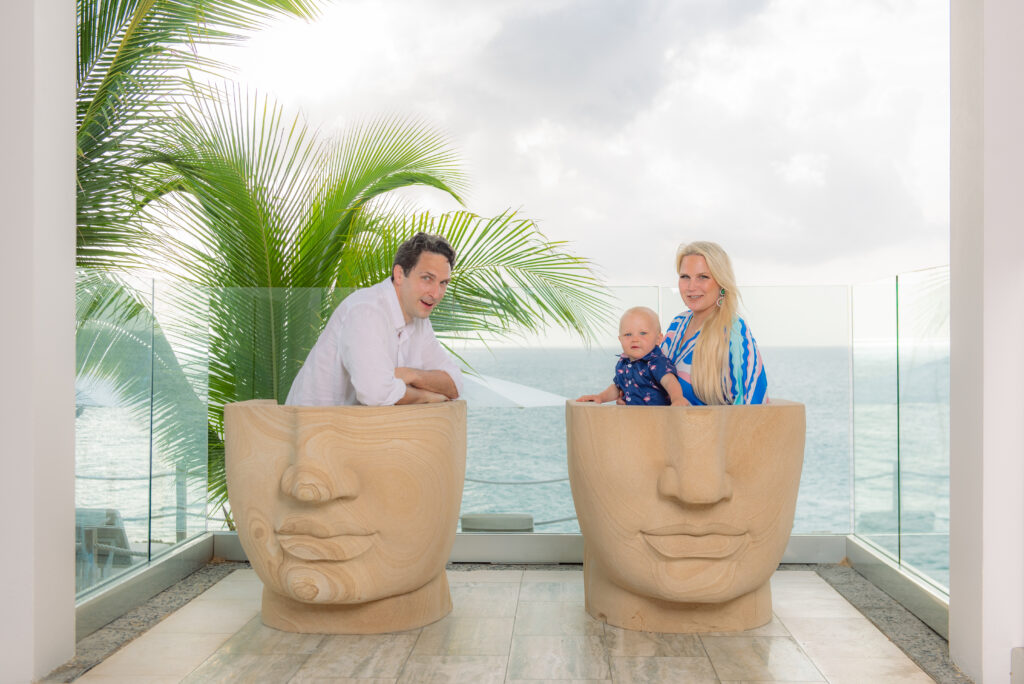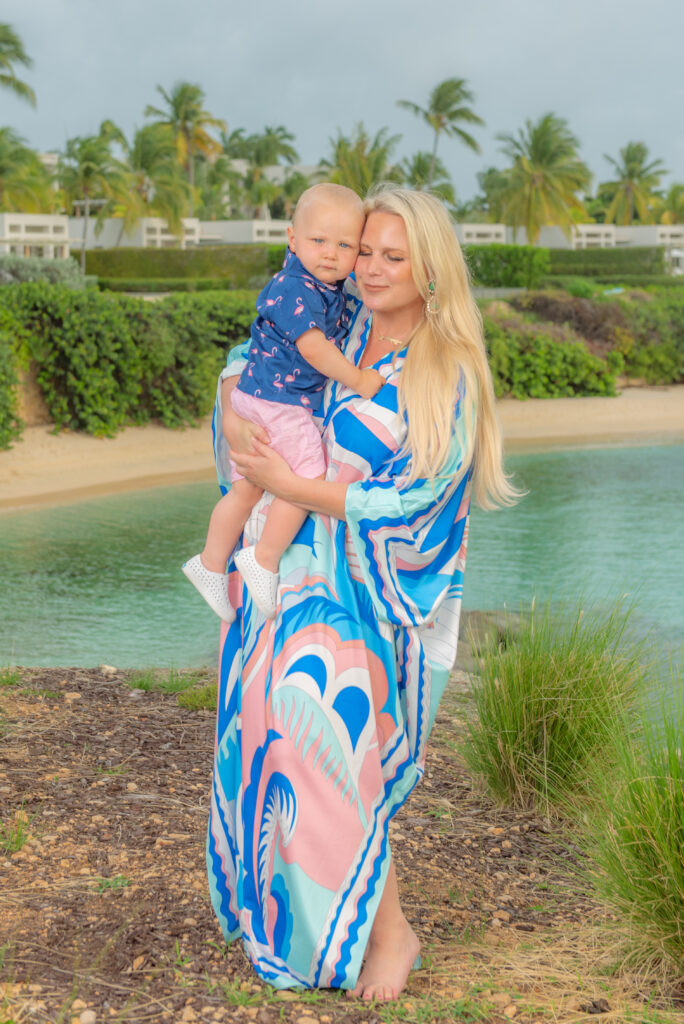 INSIDER RECAP OF THE TWO BEDROOM RESIDENCE
The Four Seasons Resort & Residences Anguilla sits on 35 acres with over 181 keys, making it the largest resort property on the island. There are over 160+ accommodations onsite, including villas and residences which feature private plunge pools, chef kitchens, washer/dryer units, and massive gathering spaces for families or large groups. We stayed in the two bedroom/three bathroom residence near Bamboo Pool and it was spectacular.
As a new mom, I appreciated the washing machine and convenience of a kitchen to warm up bottles of milk or make quick snacks. I should also mention that the hotel provides completely free laundry service for children under the age of 5. Each day when housekeeping would tidy up the room, they would kindly wash our son's towels, clothes and jammies which was such a luxury while on vacation.
A baby crib, diaper pale, changing table and baby-proofing accessories were all provided complimentary inside the suite. I was delighted to find the Le Petite Prince bath products in addition to adorable stuffed animals with Four Seasons branding. So cute!
We also loved that our room was located on the first floor and walked directly out to the pool/beach area for quick access between nap time. The large private patio was adorned with fantastic lounge furniture and a delightful plunge pool. The units on higher levels even have large swinging beds on the private patios. The decor of the residence was fun, modern and chic with neutral colors. The team at Four Seasons went above and beyond by stocking our private refrigerator with all of our favorite items, including whole milk for the baby boy.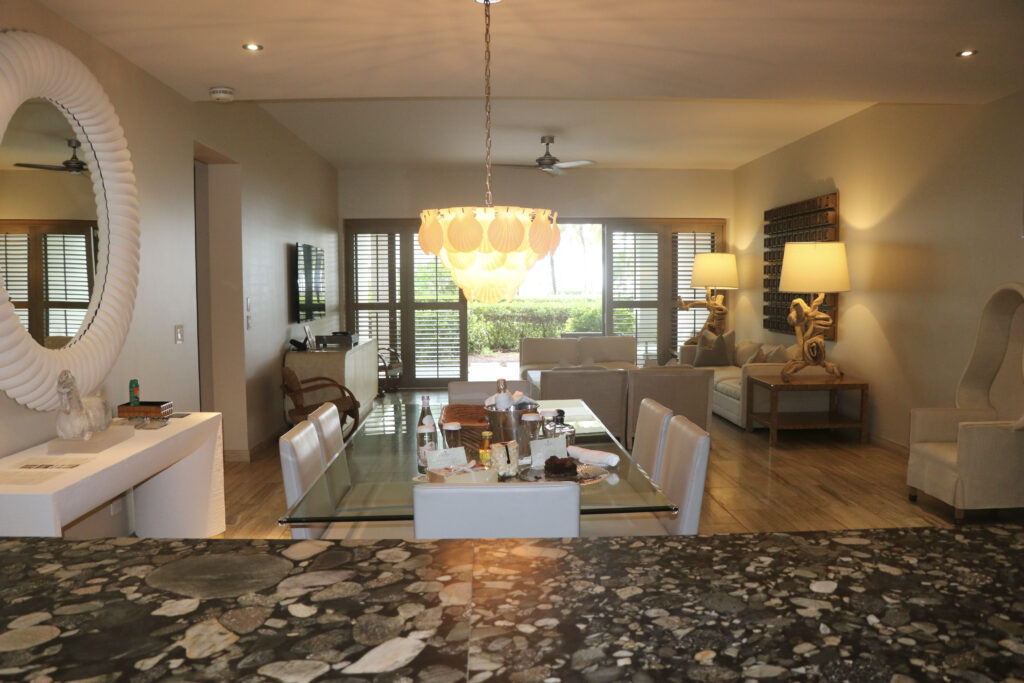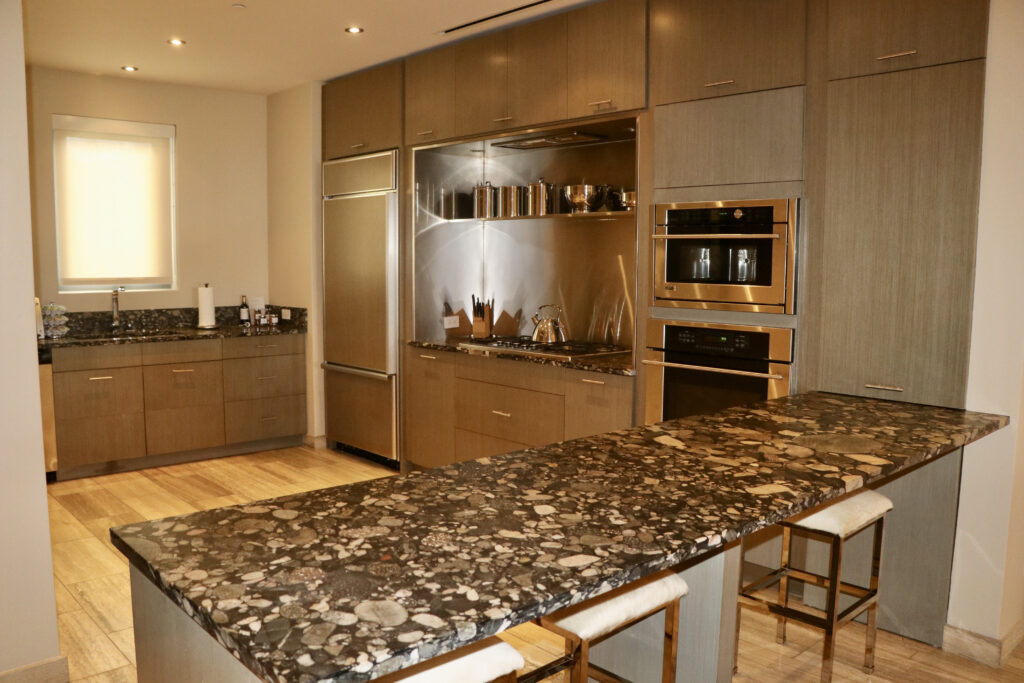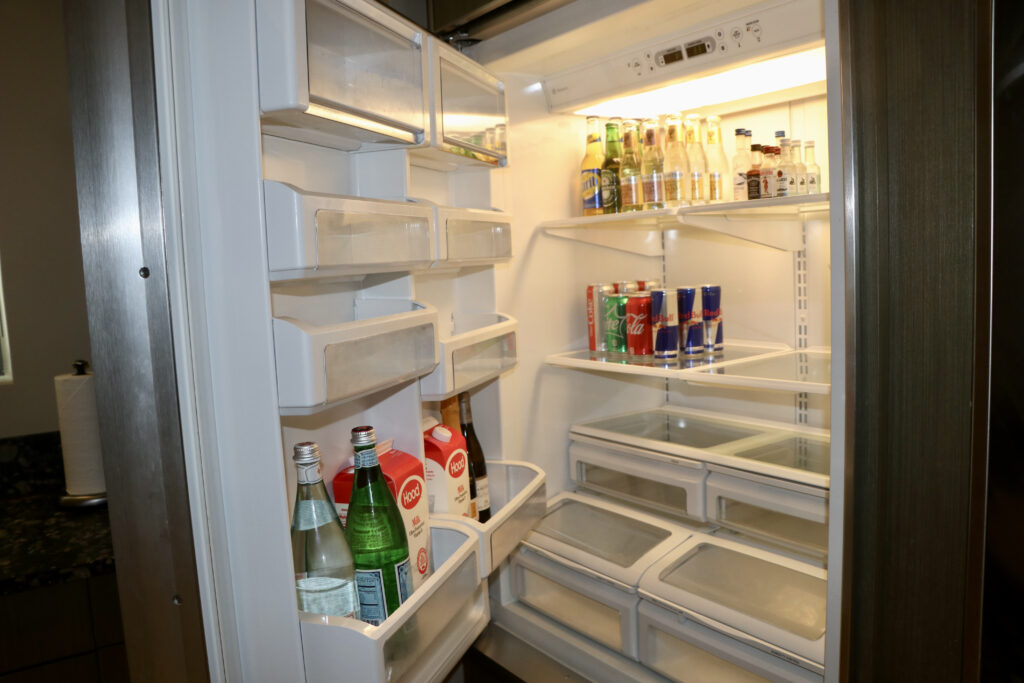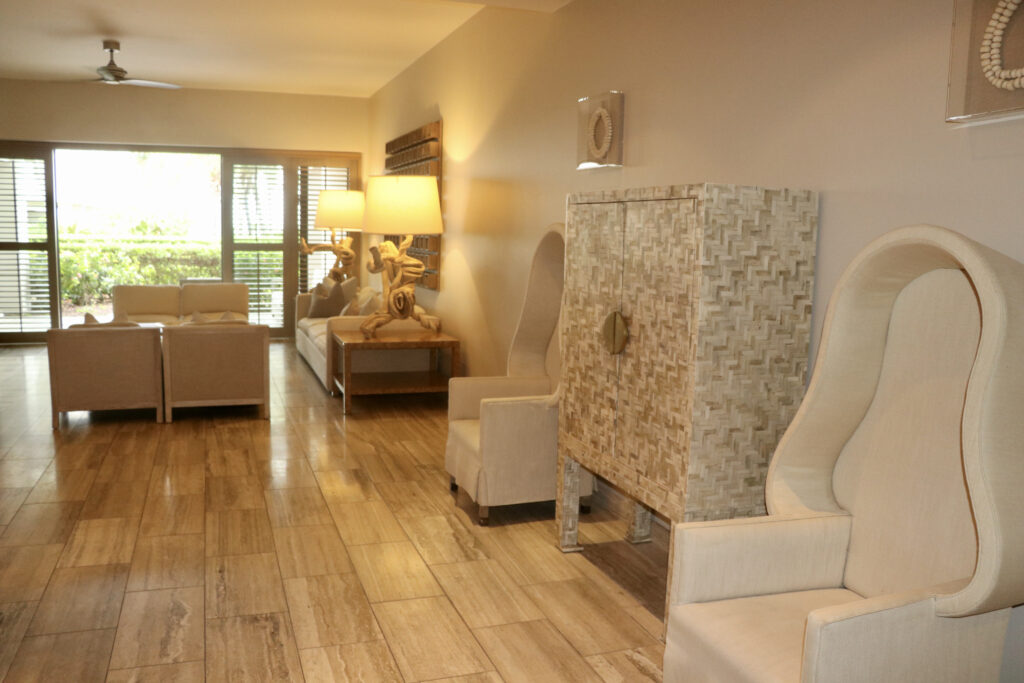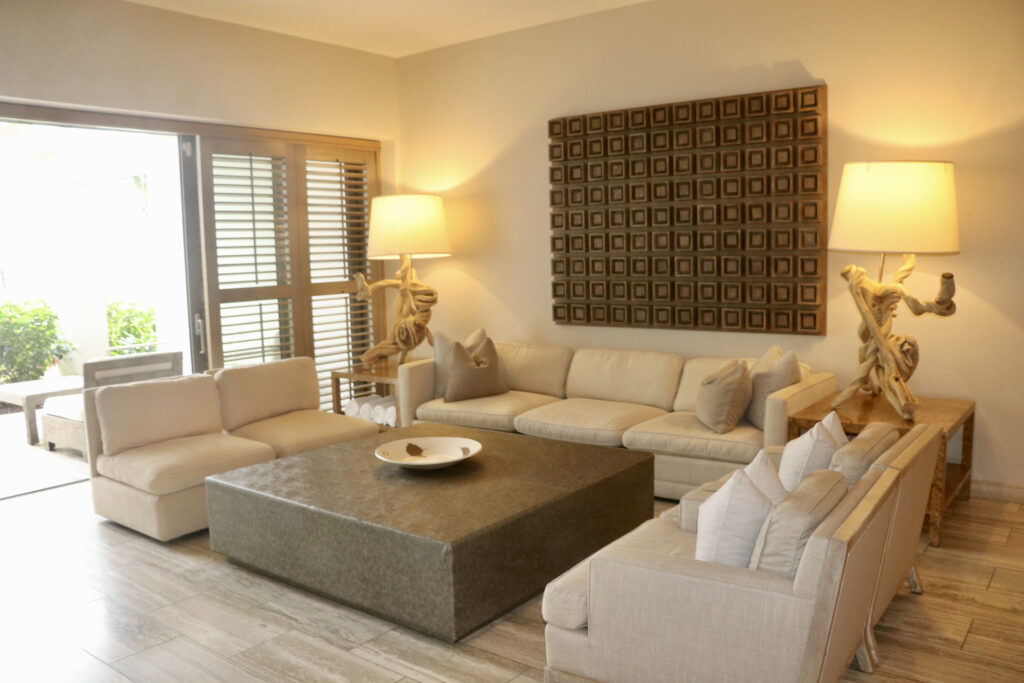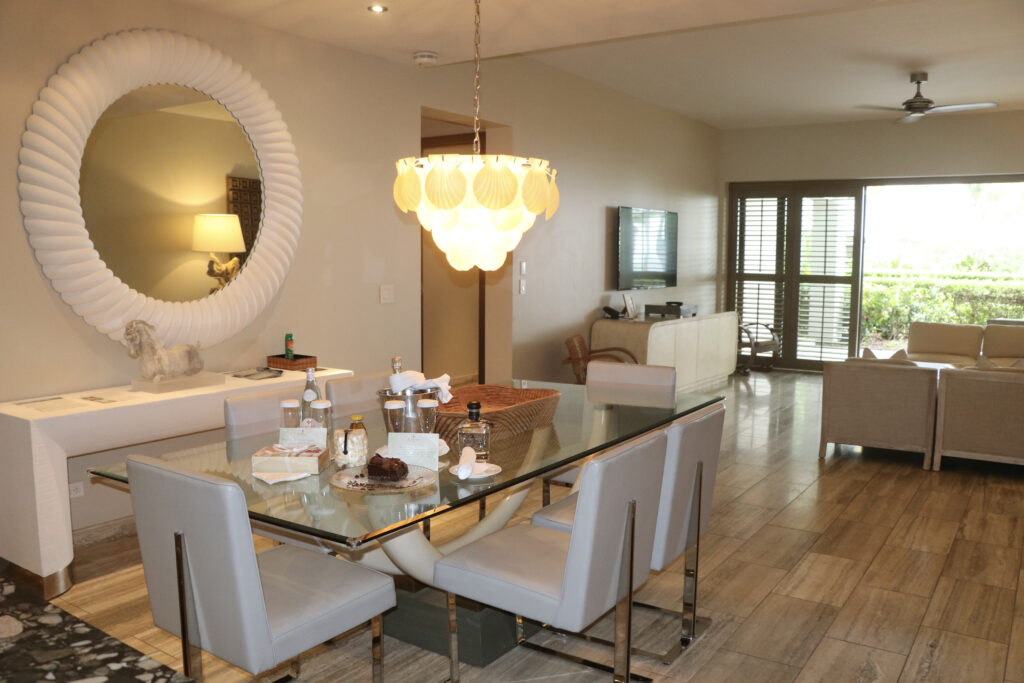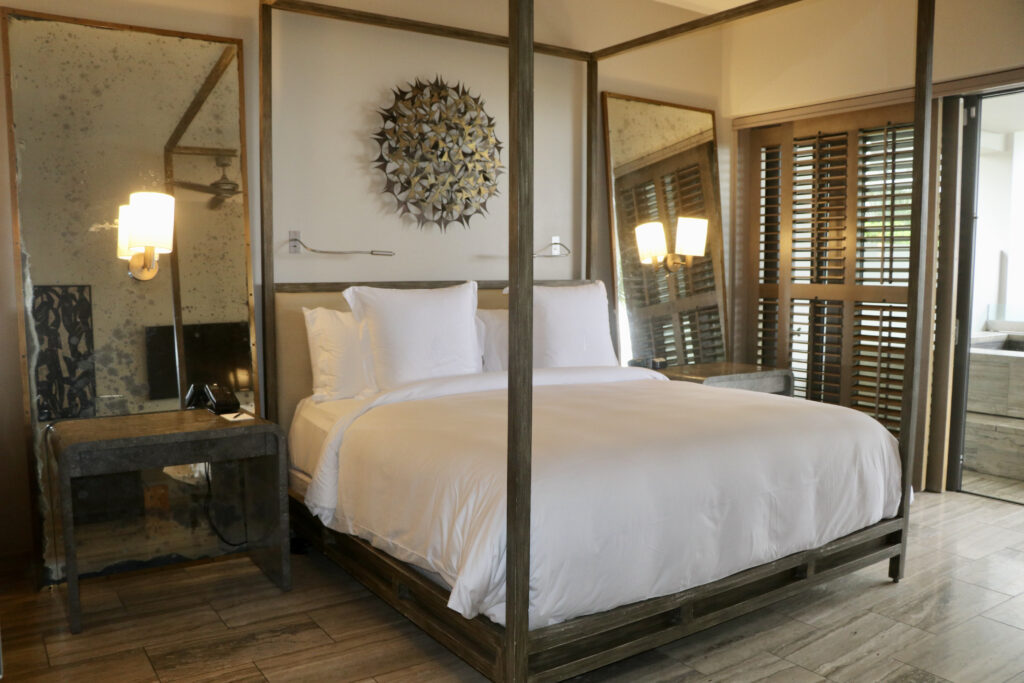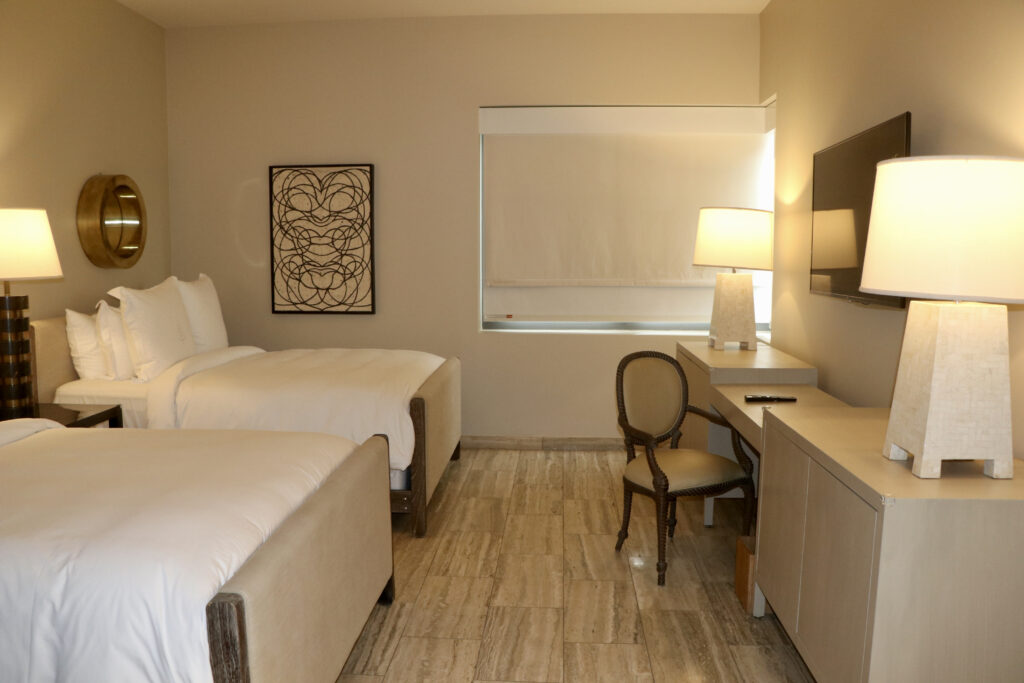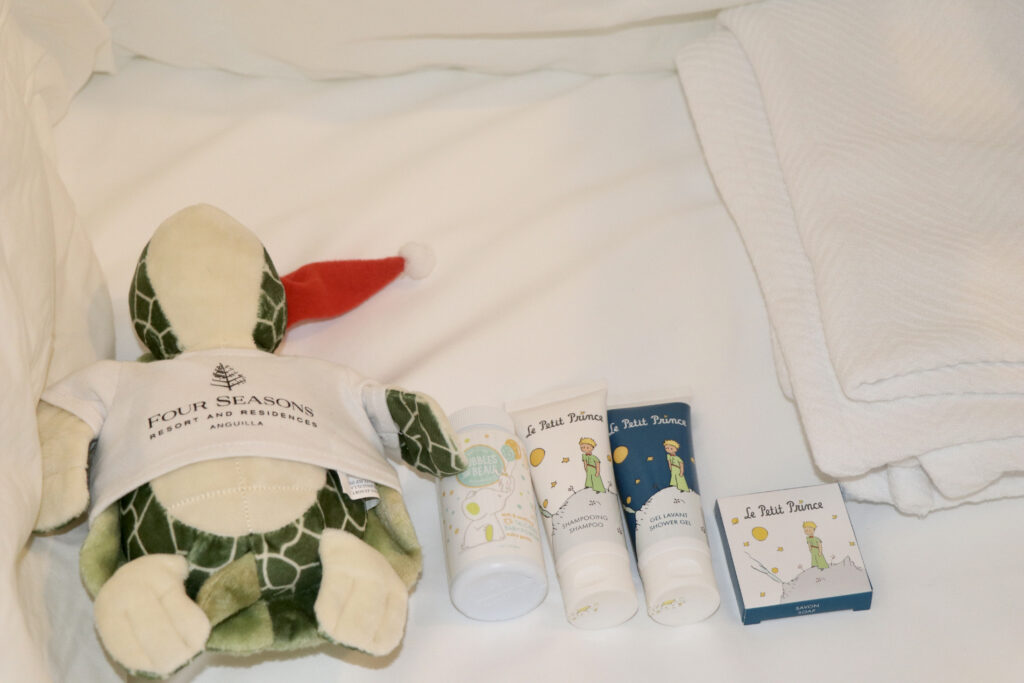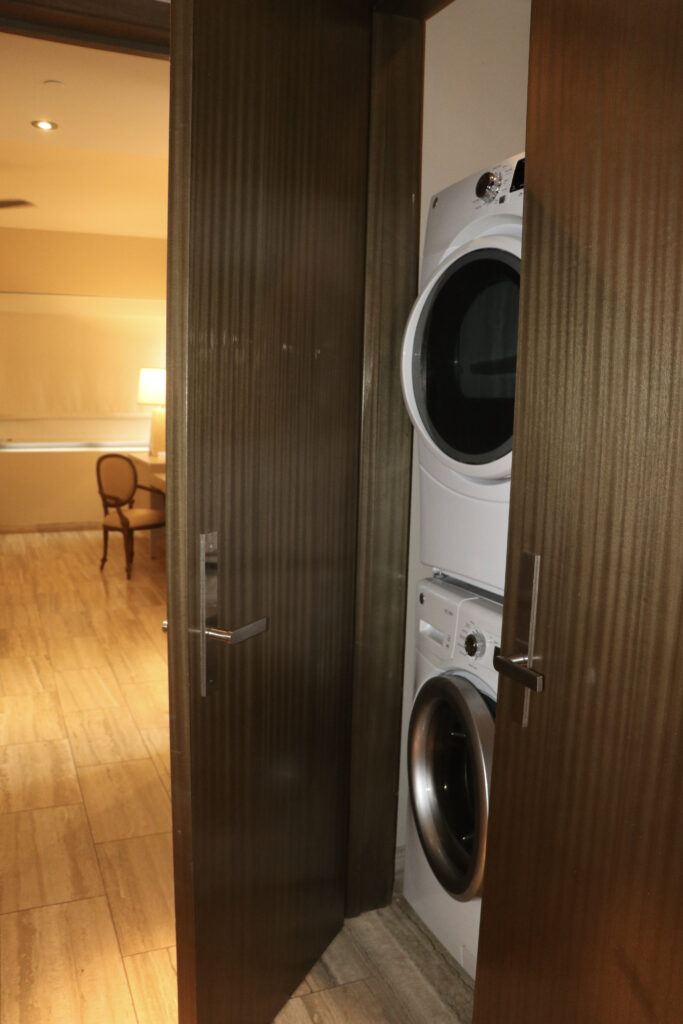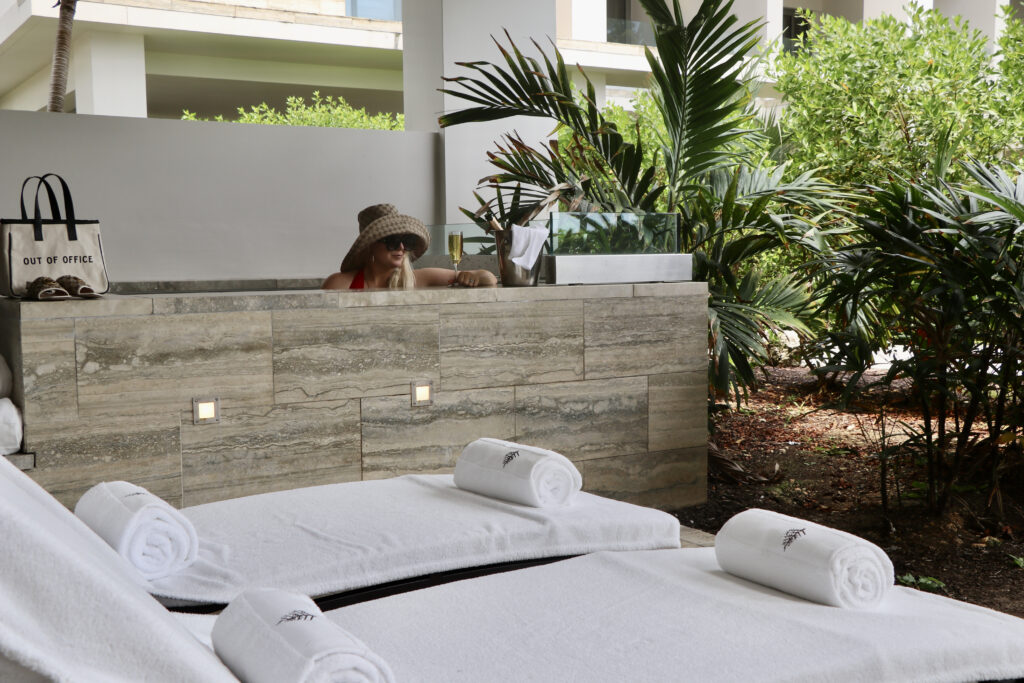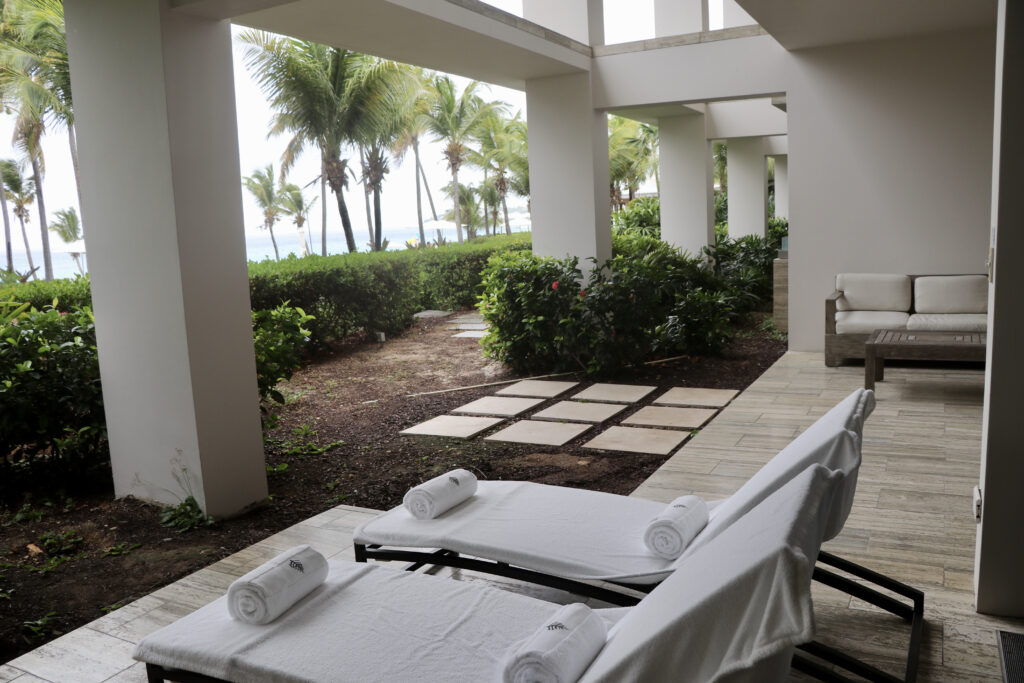 PERKS OF THE PROPERTY
There are three absolutely gorgeous pools and two private beaches onsite at the property. The beaches are fantastic for classic Caribbean water activities such as snorkeling, jet skiing or boating. As for the pools, only one of the pools is "adults only" and this is the infinity pool at the center of the resort beside the Sunset Lounge. The other two pools are architecturally stunning and kid-approved with shallow wading areas for beginners. The pools offer cabana experiences, onsite dining and stellar around the clock service.
When you visit the pool, you are assigned an attendant who will offer a large cooler-pouch with cold waters, fresh towels, sunscreen, lunch menus and more. I was super impressed when the woman helping us by the pool, Kyra, offered to set-up a portable crib in the shade of the cabana area. This allowed us to continue enjoying books and drinks by the poolside while our little one safely napped in the shade. As any new parent understands, this incredible perk of attentive service allowed us to enjoy a full vacation day at the pool (instead of rushing back and forth to the room to accommodate nap scheduling).
The resort's luxurious two-level spa is located next to the central pool area and overlooks the ocean. There is a plunge pool and swaying bed swing on the patio for guests to enjoy before receiving a spa service. I highly reccomend a Caribbean sand foot scrub with Wayne, it was one of the highlights of my vacation.
Just walking through this property is such a joy because of the aesthetic vibe. Decorated in modern and glamorous bright white décor, you are able to really appreciate the lush greens and blues of the natural Caribbean environment standing out boldly before your eyes. The property was designed by the famed Kelly Wearstler based out of Los Angeles. Everywhere you look just feels sexy, chic and luxurious.
At dusk, lanterns and fire-pits line the bright green grass to create a super sultry and relaxing Caribbean ambiance. The hotel regularly hosts live music at the Sunset Lounge. Sipping sweet rum punches while taking in reggae tunes to the backdrop of this whimsical Caribbean oasis felt like a dream come true.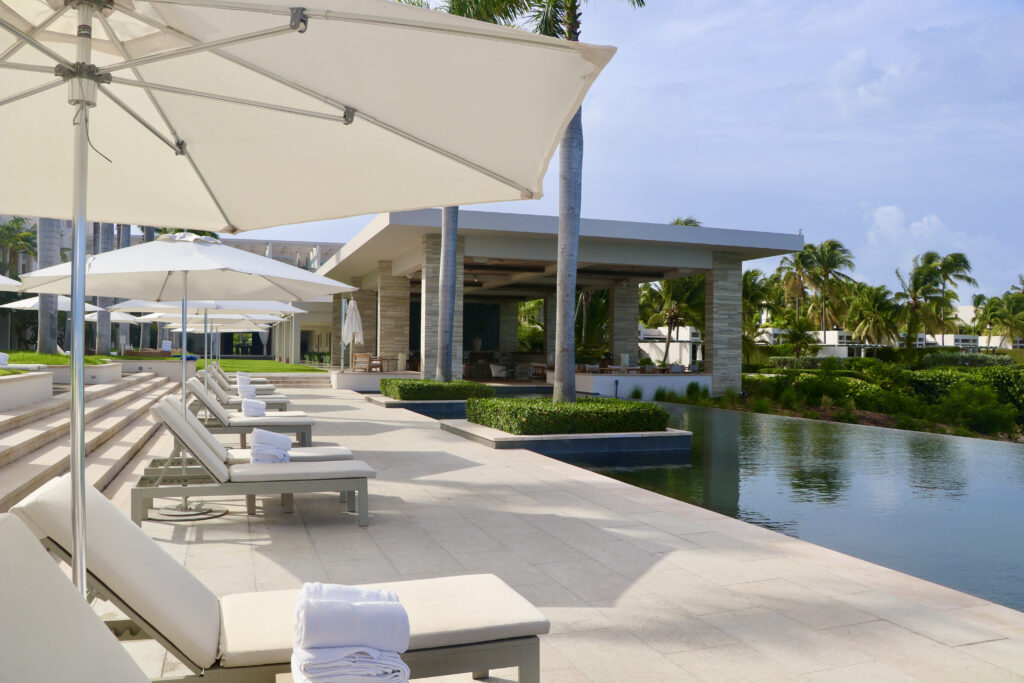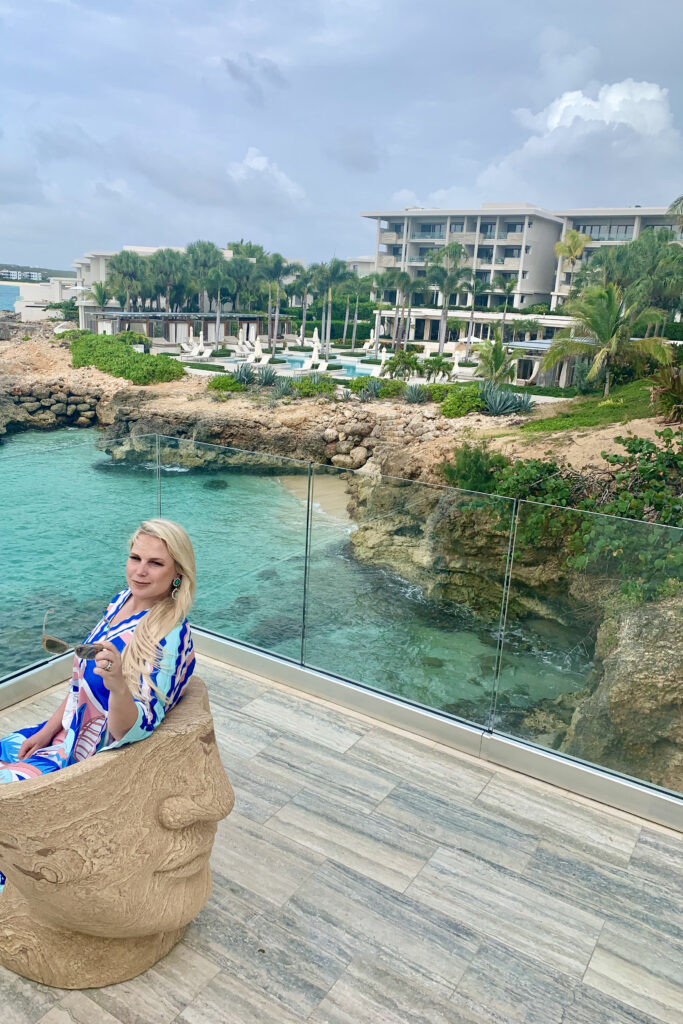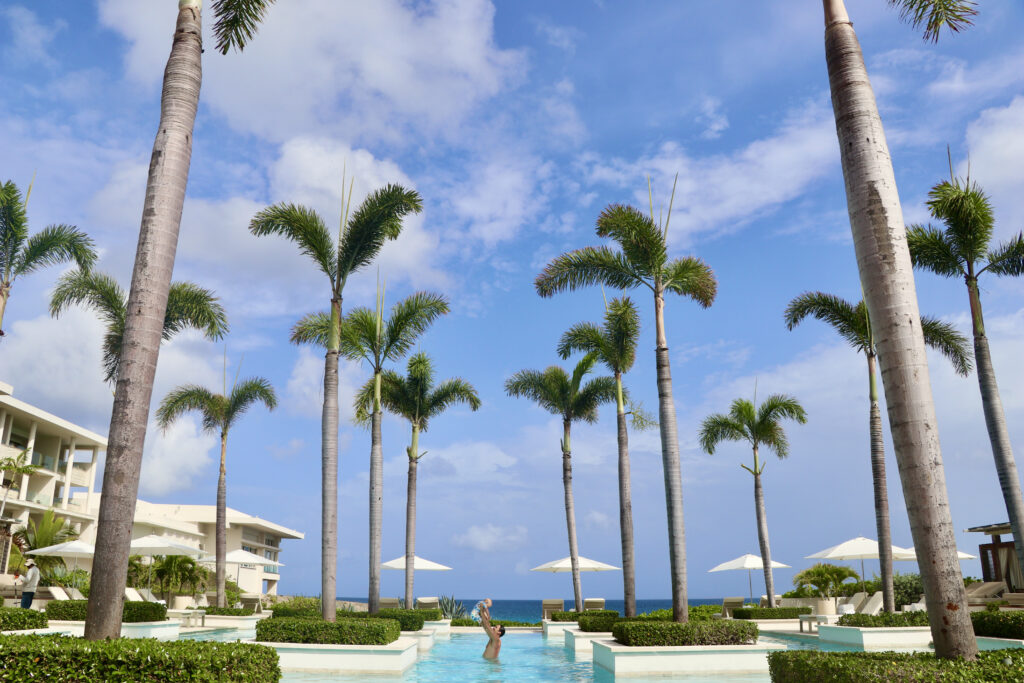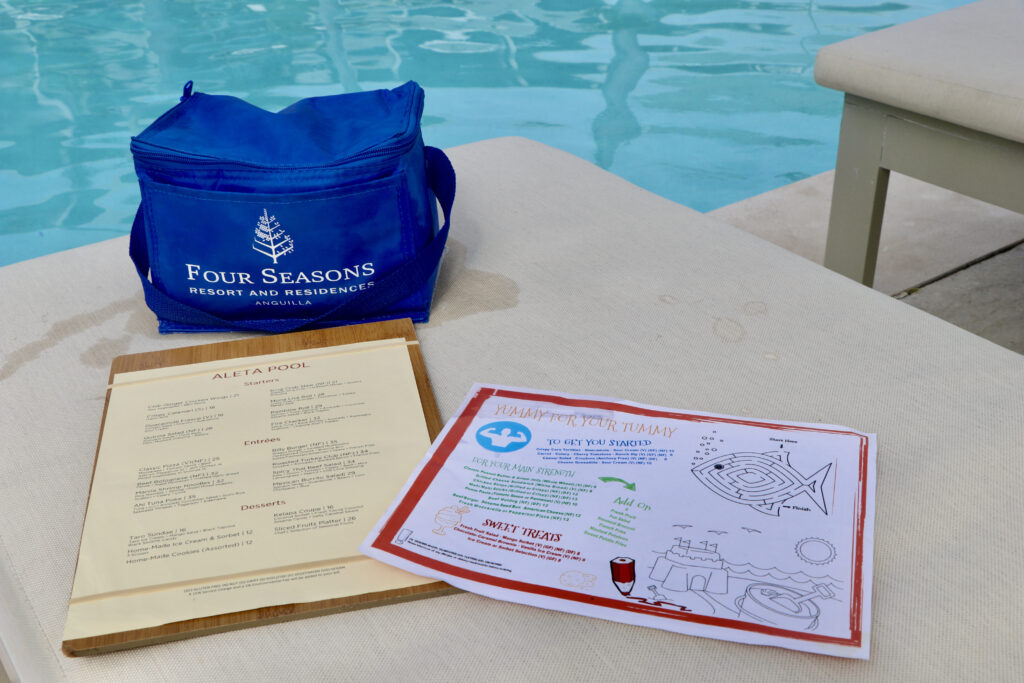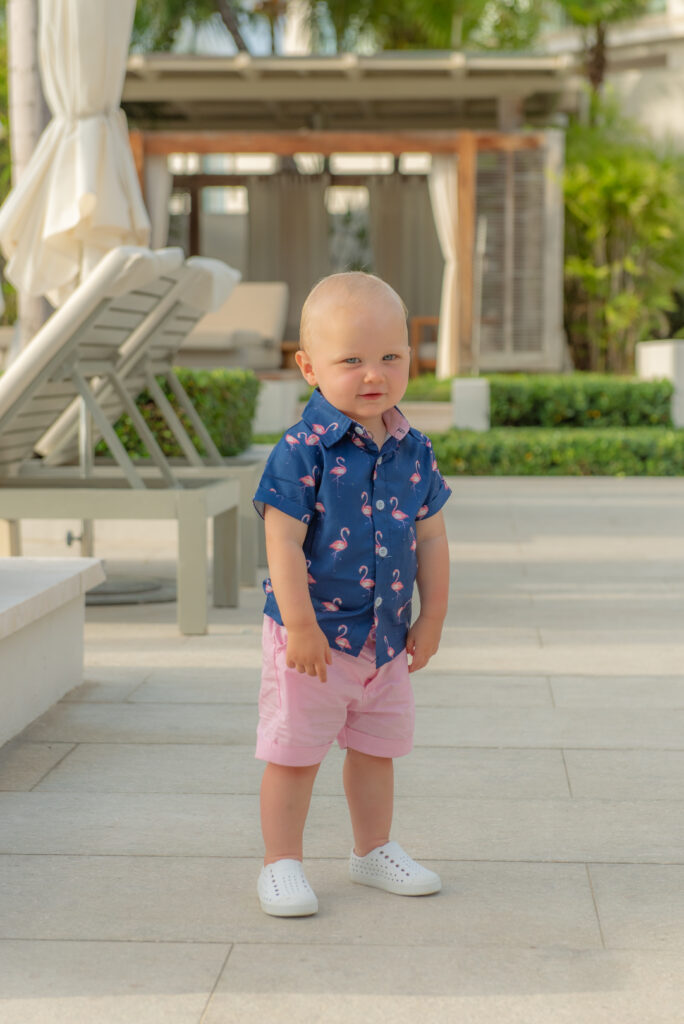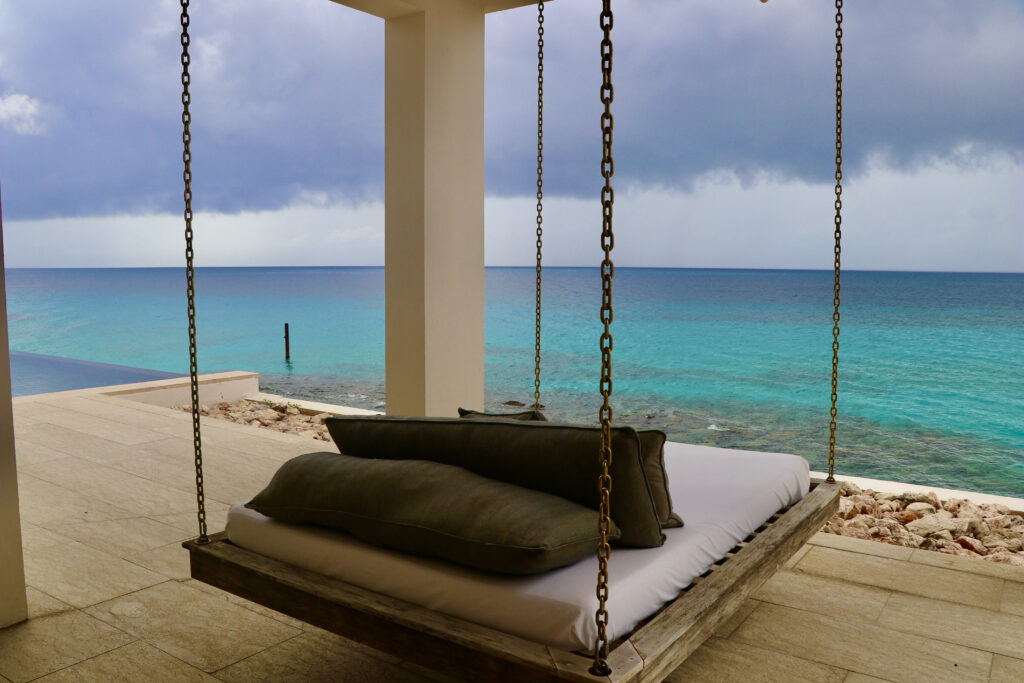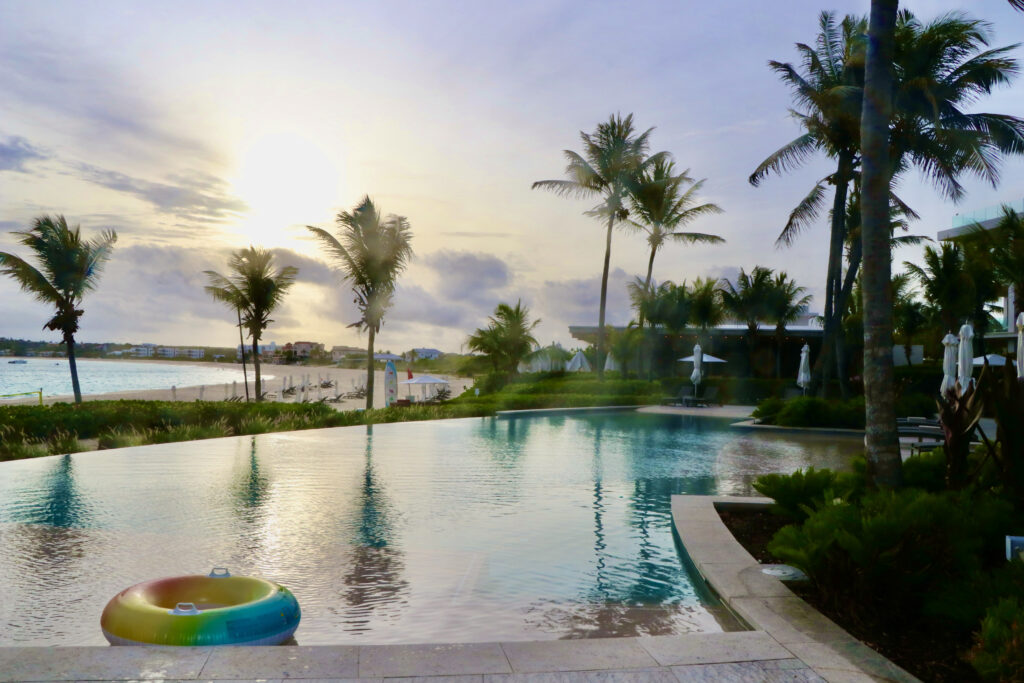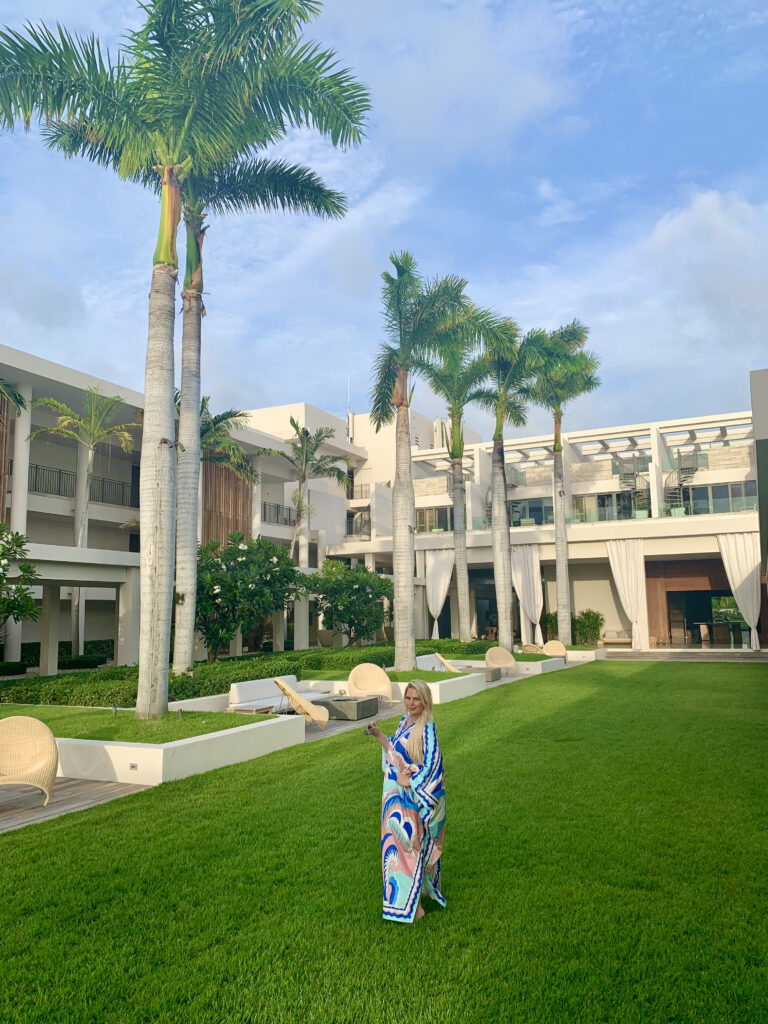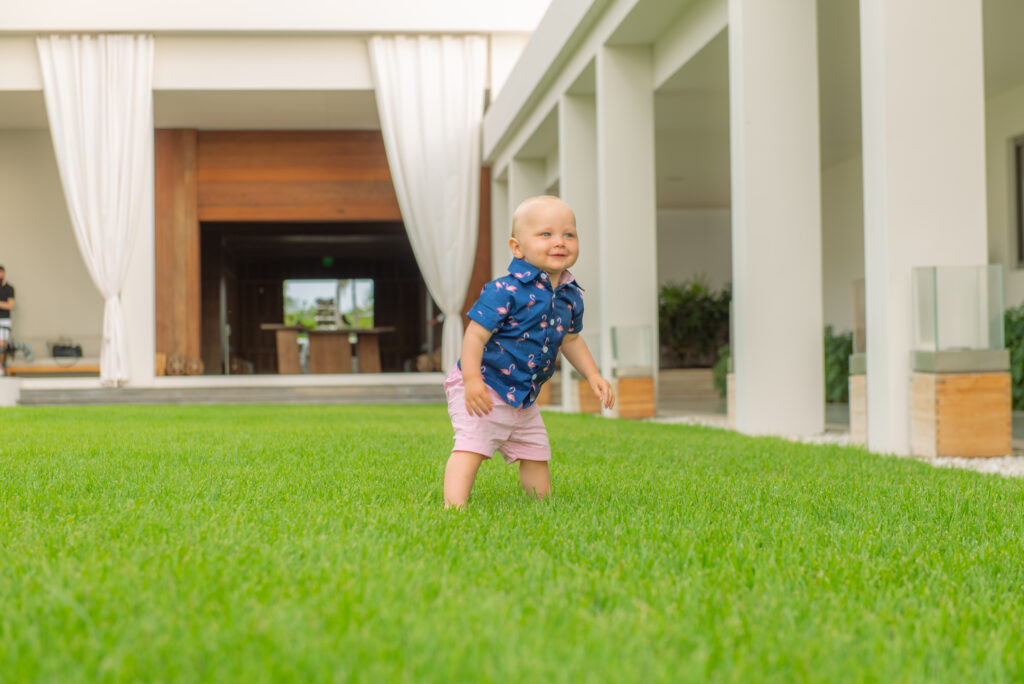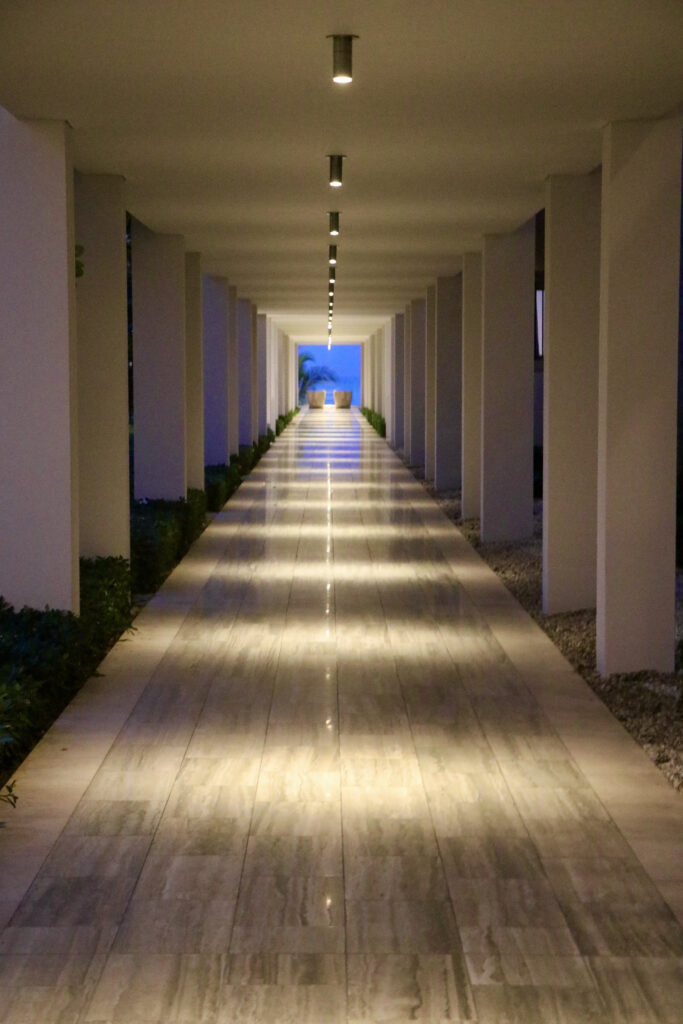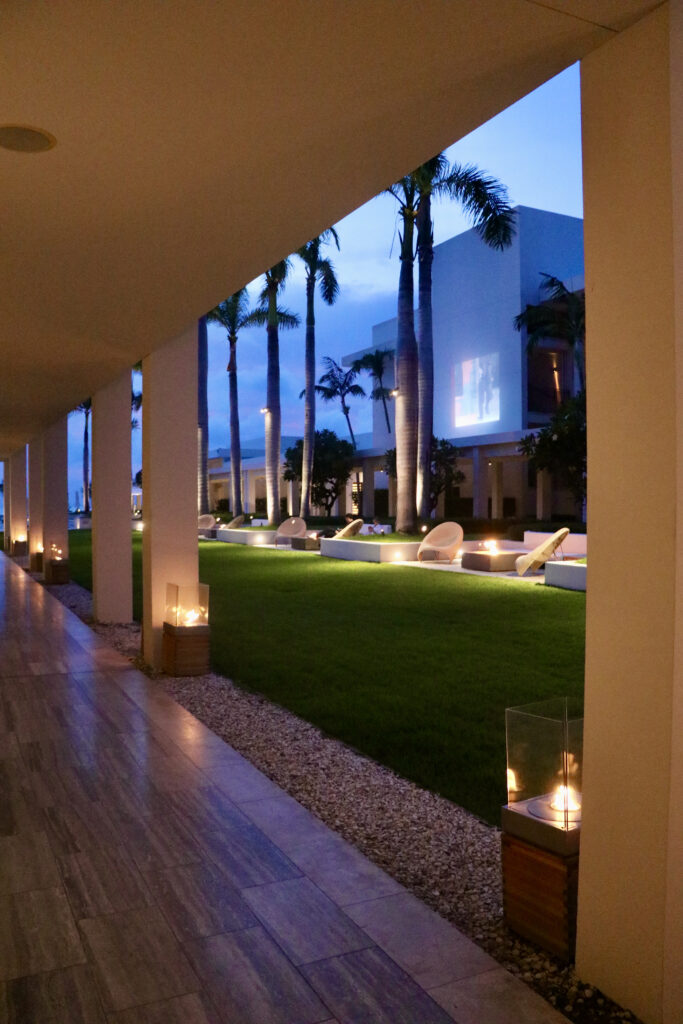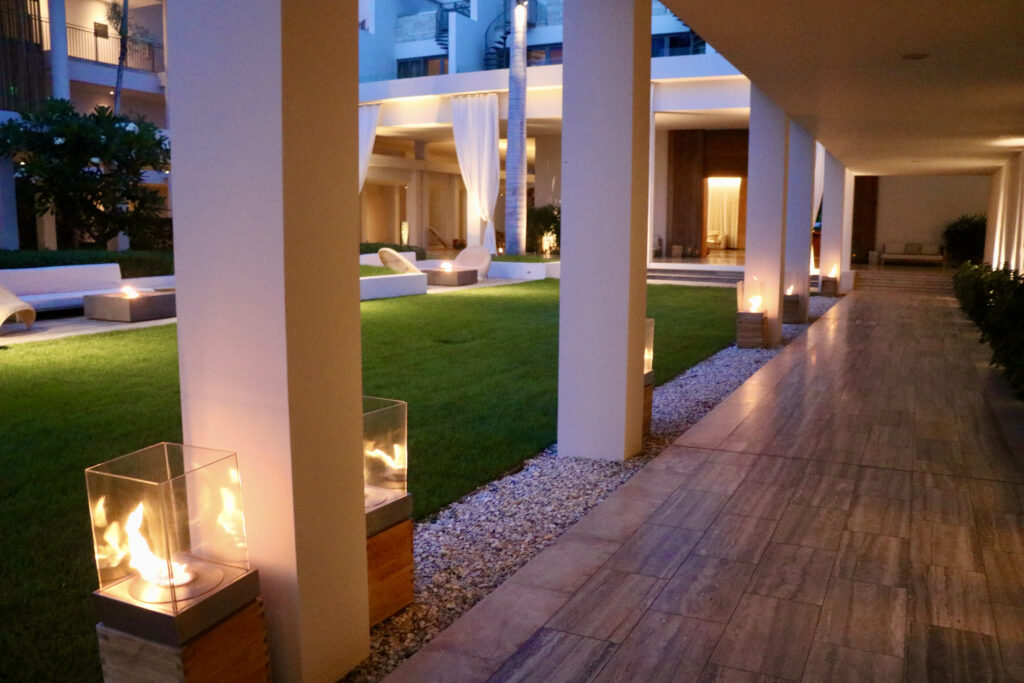 ONSITE FOOD OPTIONS
There are four restaurants onsite at this Four Seasons property. All of them offer delicious local-inspired food, including an impressive kid's menu. I should note for my family readers that the hotel provides completely free meal service to all children under the age of five. So yes, my baby boy was able to indulge in yummy and healthy food options throughout the day. Is this not the most cost-saving and convenient perk to have when vacationing with your young children, particularly if they are picky eaters?
SALT is the resort's signature dining venue and offers a lavish breakfast buffet, which includes extensive vegan and gluten-free options such as quinoa porridge or tofu toast. The restaurant boasts glass walls throughout which give the elusion that you are dining directly over the coral and turquoise waters.
Set along the adults-only infinity pool, the Sunset Lounge serves sushi, 'buddah bowls' and specialty fruity cocktails. We ate here several times for early dinners because both the sushi and ambience were divine, especially when Omali 360 was performing.
Bamboo Bar & Grill is a casual dining option, located along the family pool and overlooking Meads Bay Beach. Here we enjoyed fish burgers, pizzas and too many rum punches. It was a delicious lunch spot.
With a picturesque location on Barnes Bay Beach, Half Shell Beach Bar specializes in grilled fish and meat dishes. Should you be traveling with a larger group or family, you can opt to host private dinner parties at this romantic location.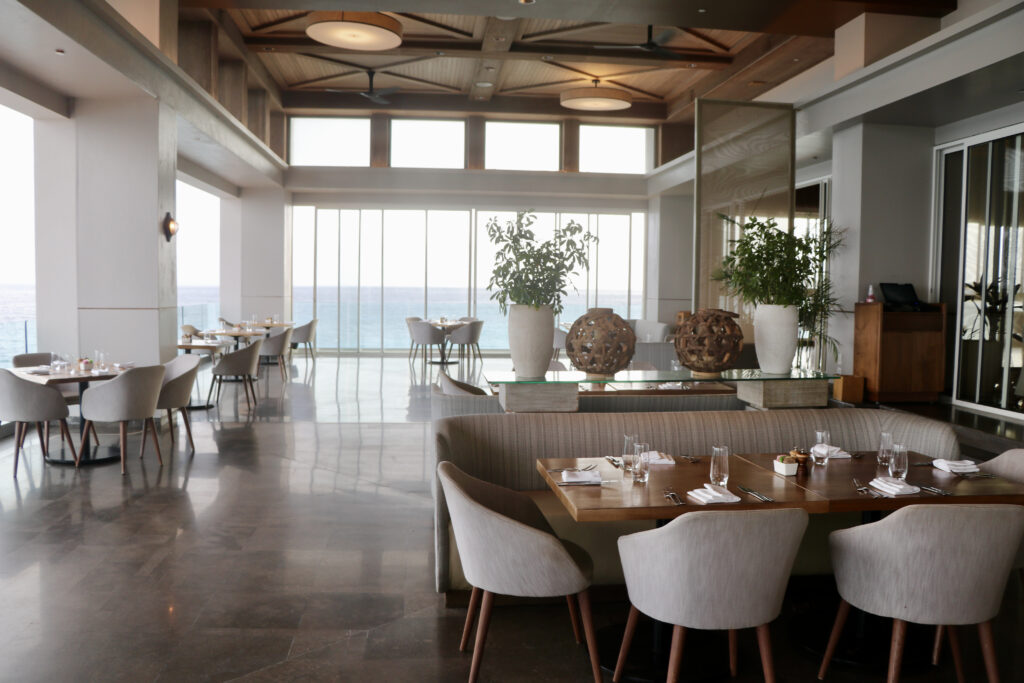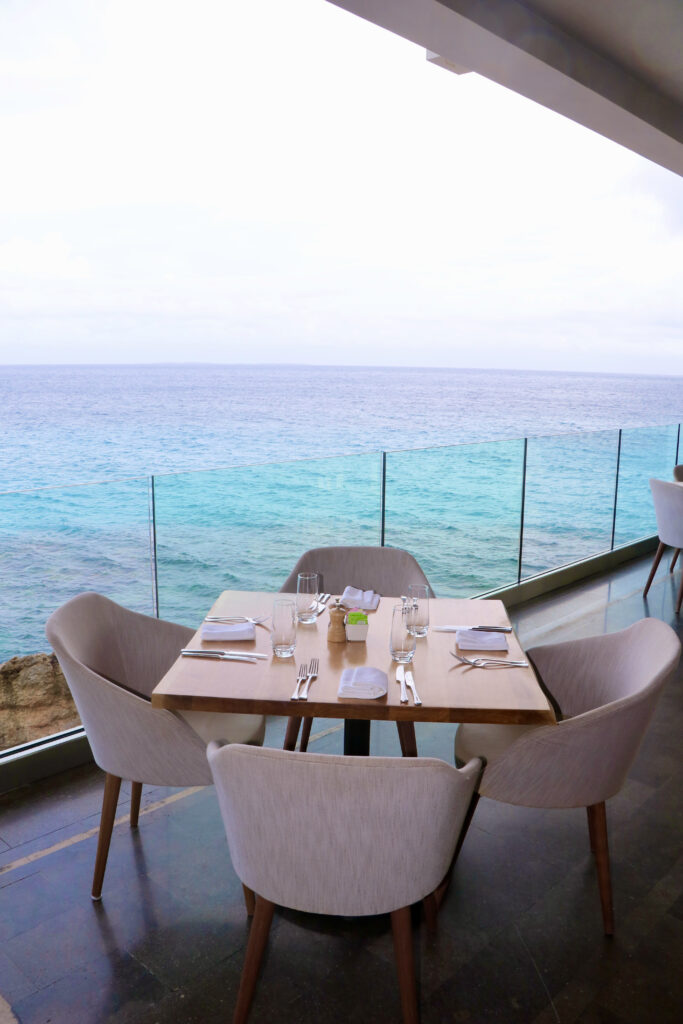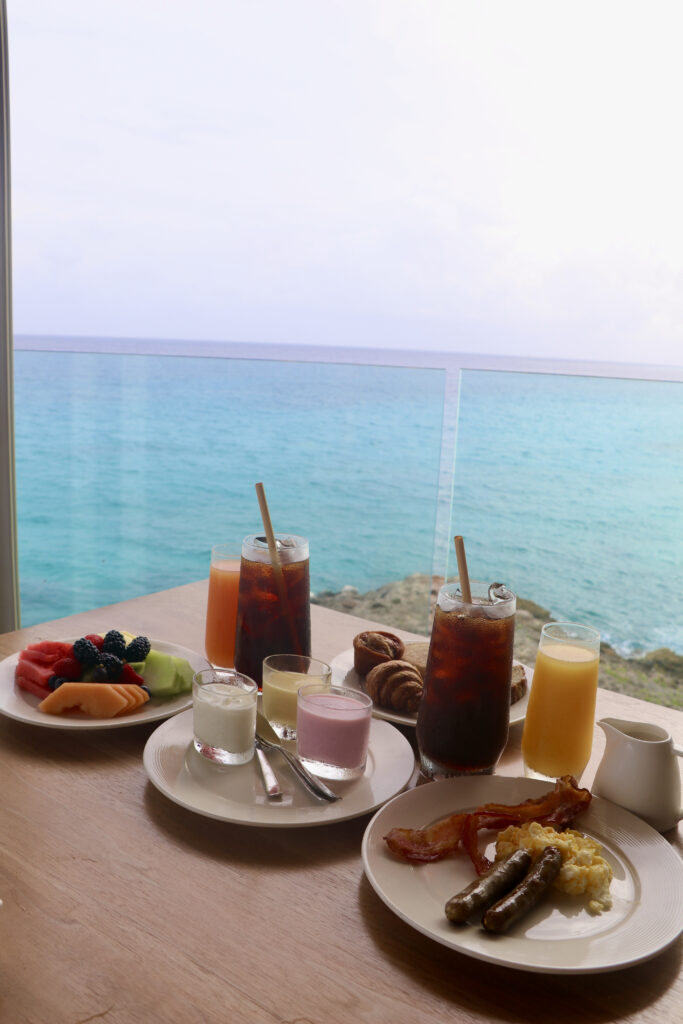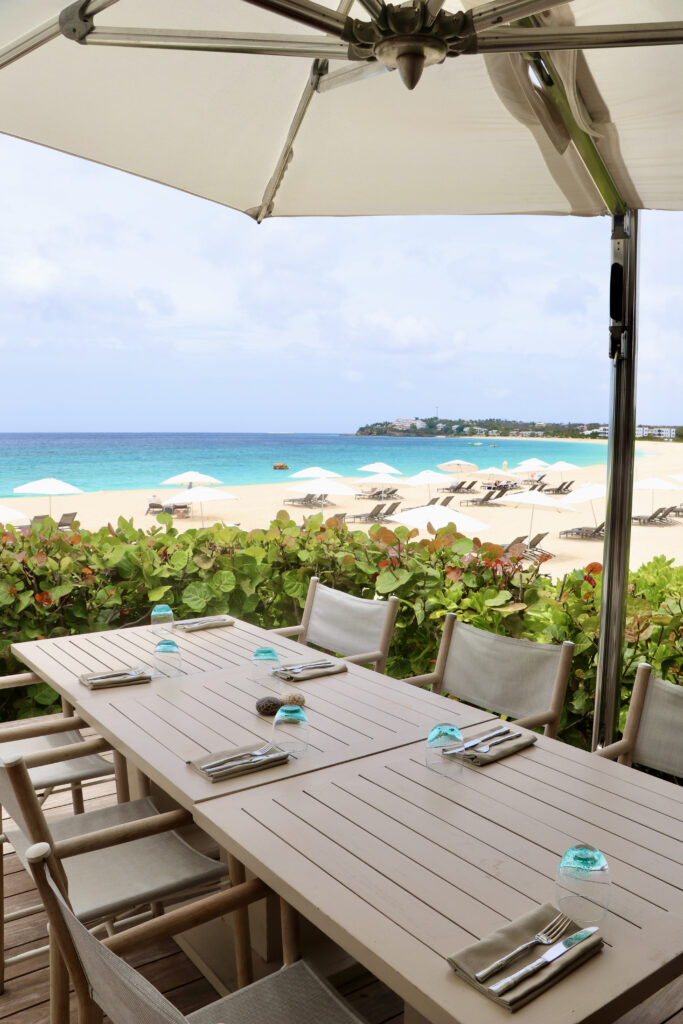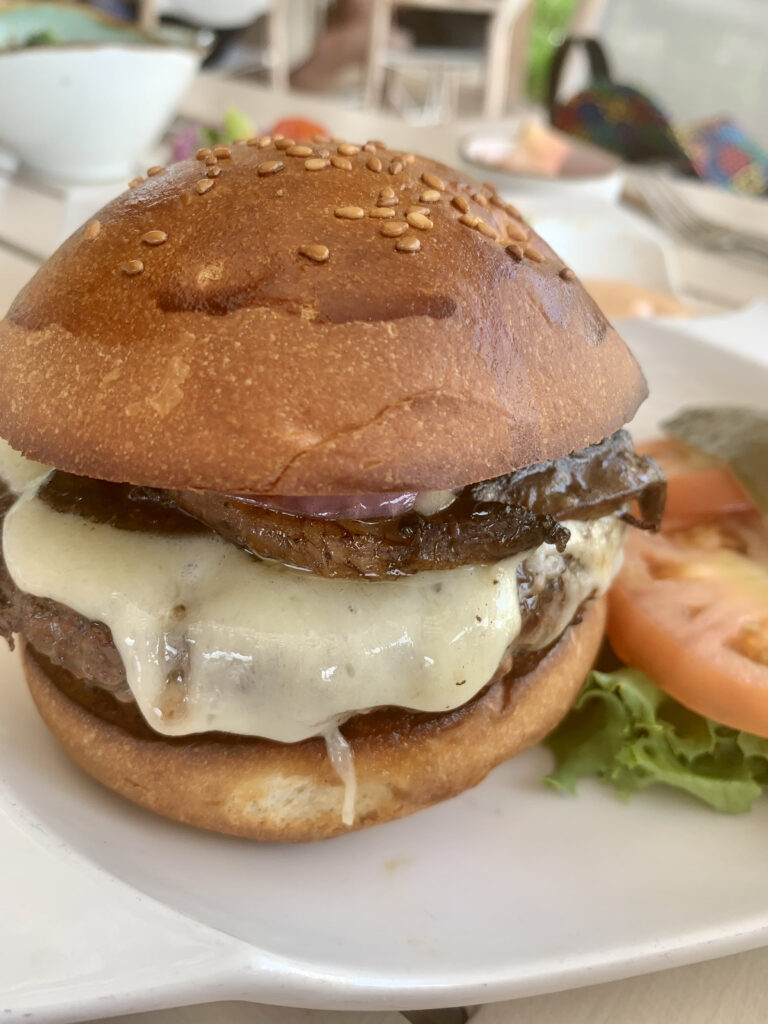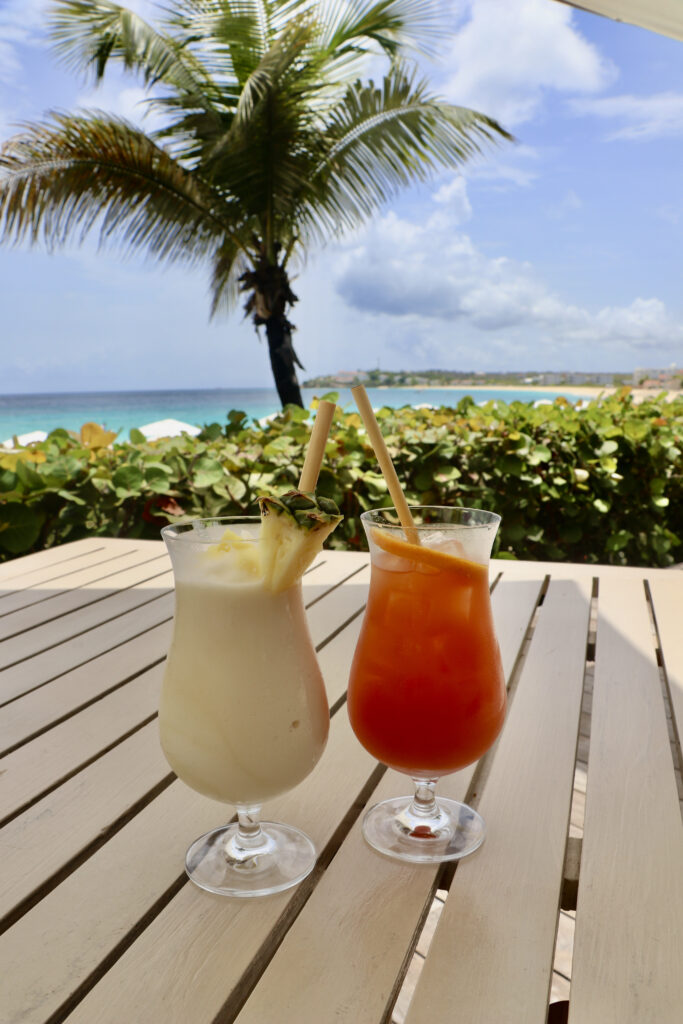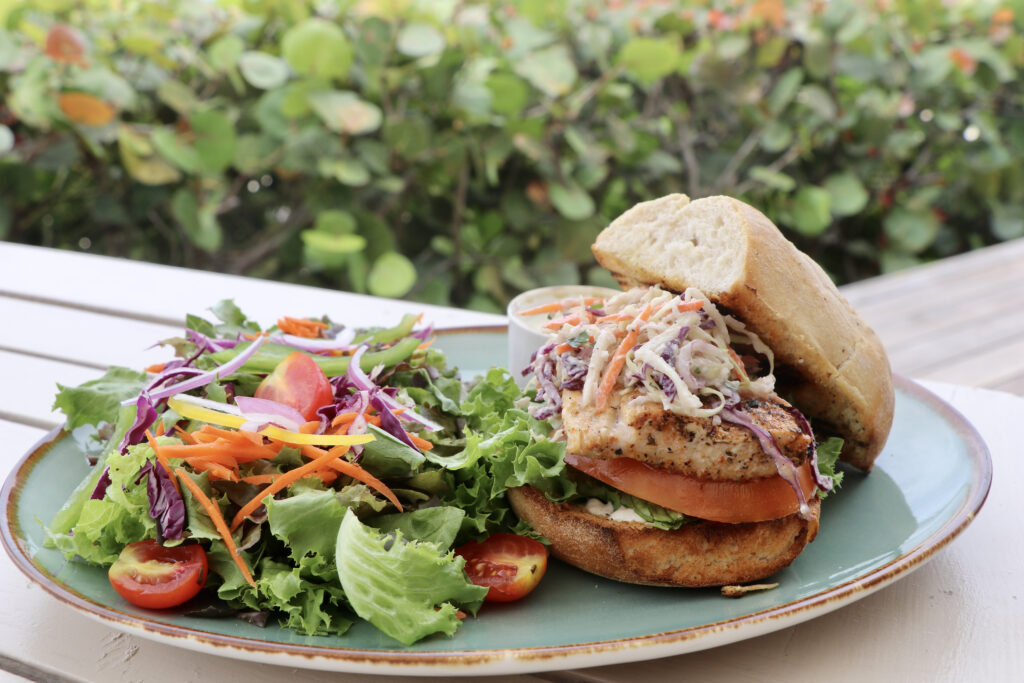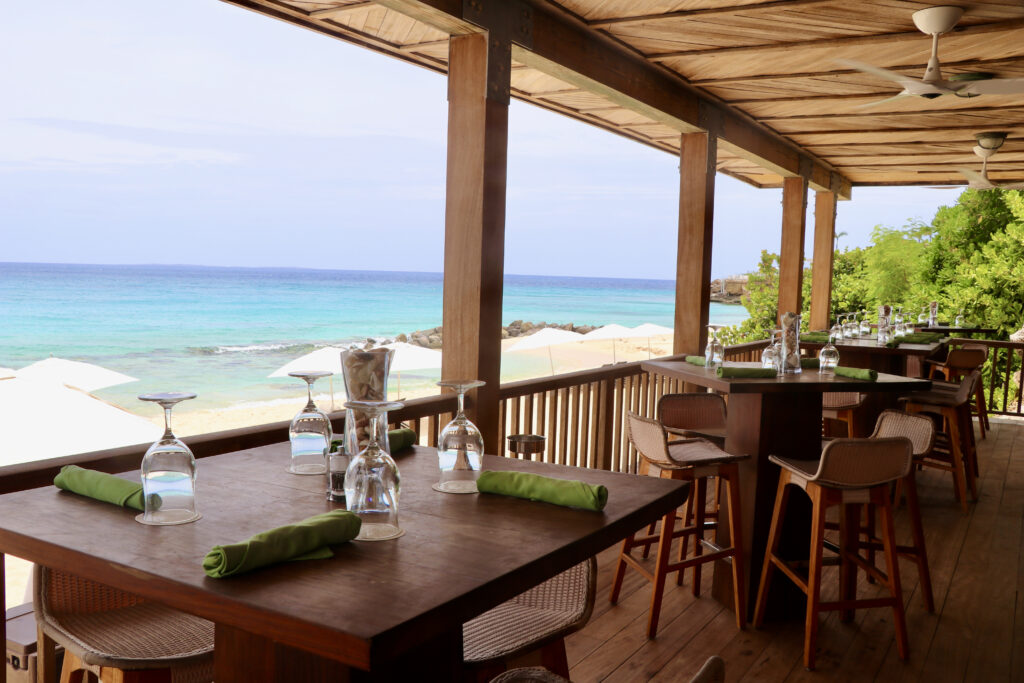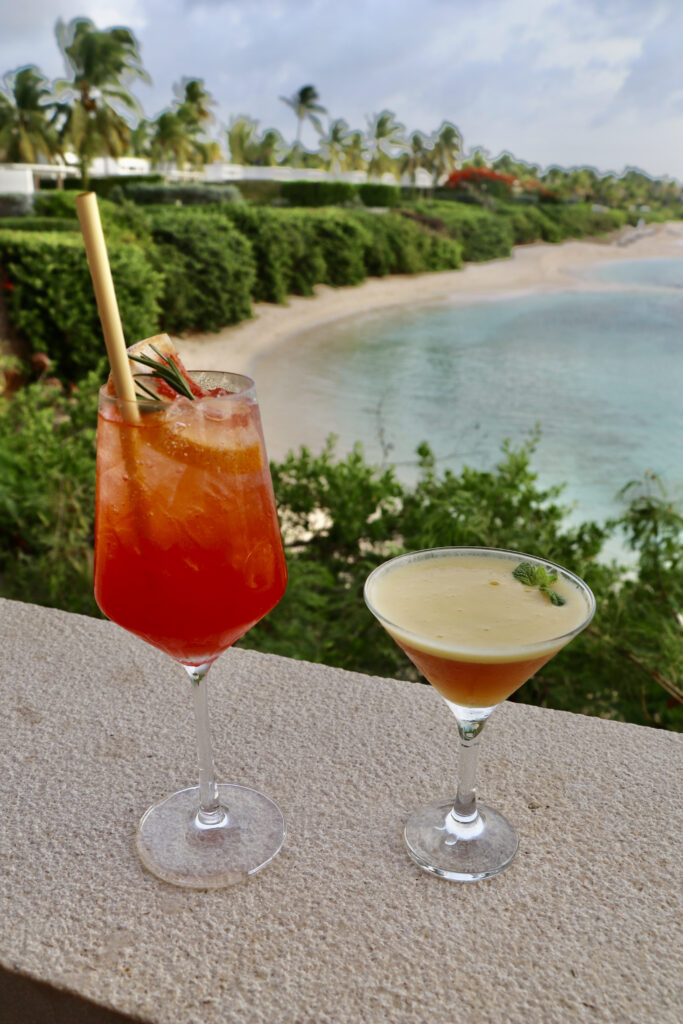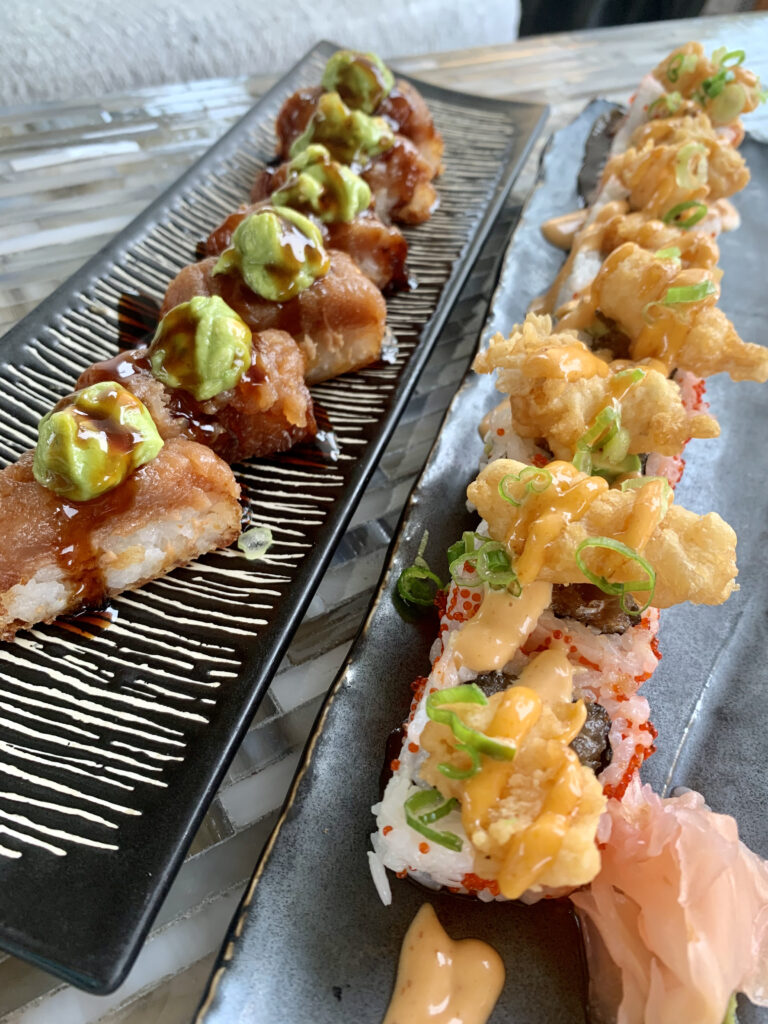 Sports Facilities and the Kids for All Seasons Program
The sports facilities are phenomenal at this property. There is a massive fully equipped gym, yoga studio, three lit tennis courts, putting green, a rock climbing wall, as well as basketball and volleyball courts. If you are an active traveler or love to play games with your children, this place has everything you could ask for.
The resort also operates a complimentary Kids For All Seasons (KFAS) program, which make the Four Seasons one of the kid-friendliest properties in the world. Each day the program features a different fun-filled activity, including cookie and cupcake decorating classes, treasure hunts, scavenger hunts, nature walks, and jewelry making classes. Parents can drop-off their kids (or accompany them depending on age) at the daily KFAS program to enjoy these complimentary activities led by kind and trusted counselors.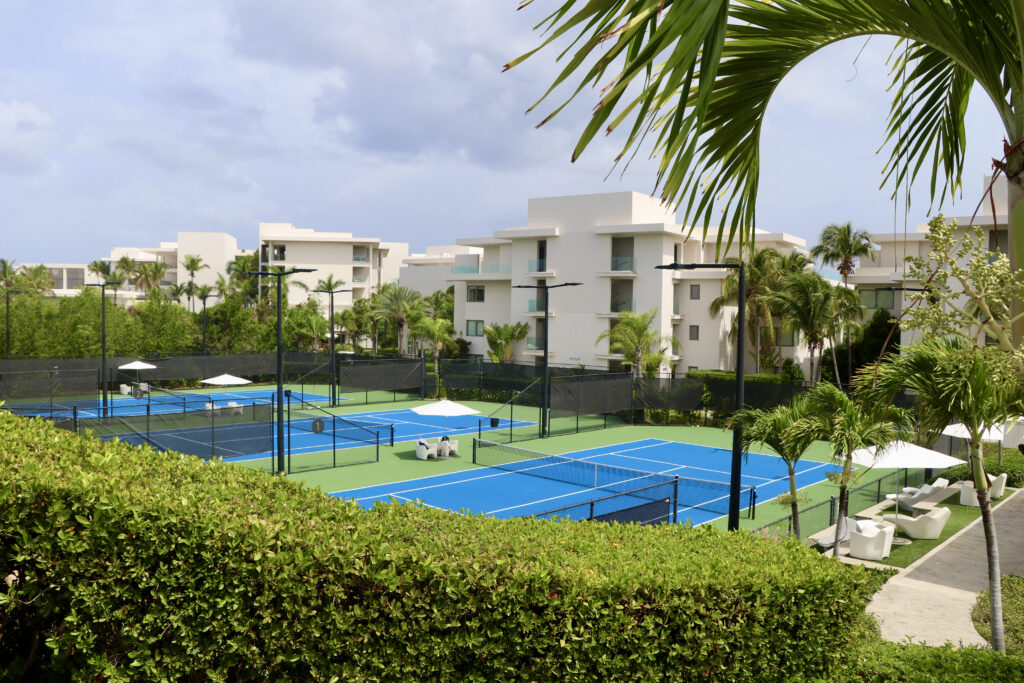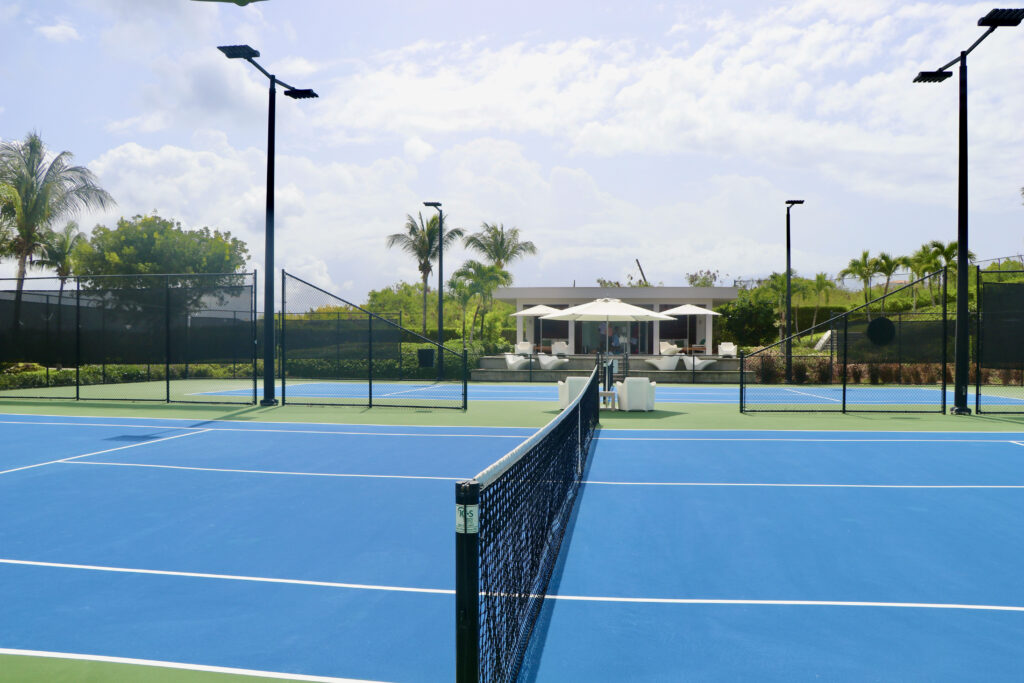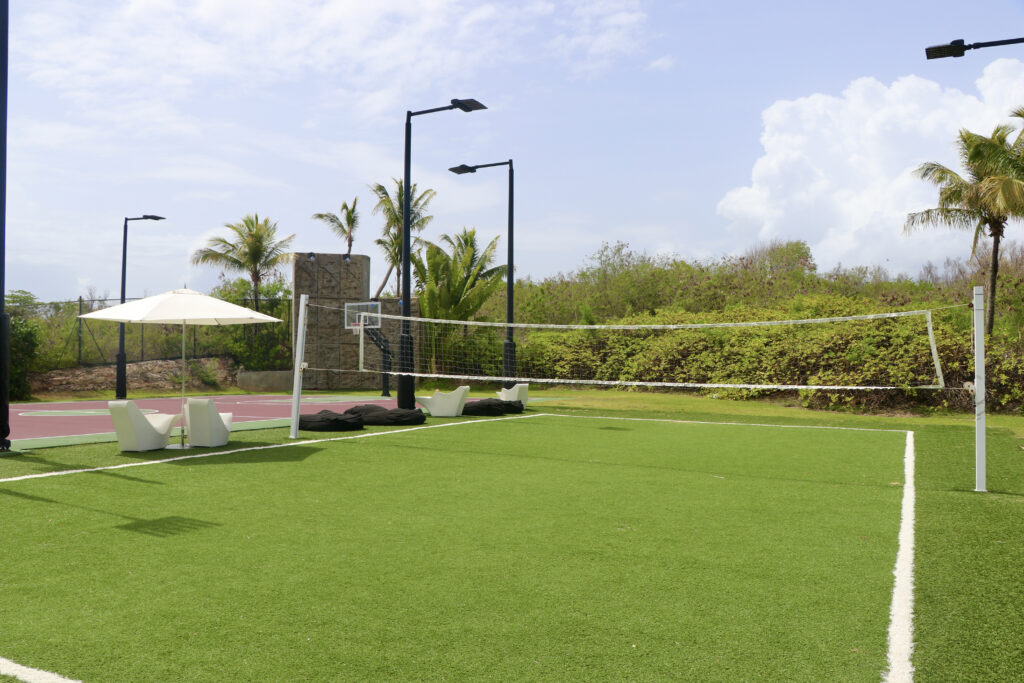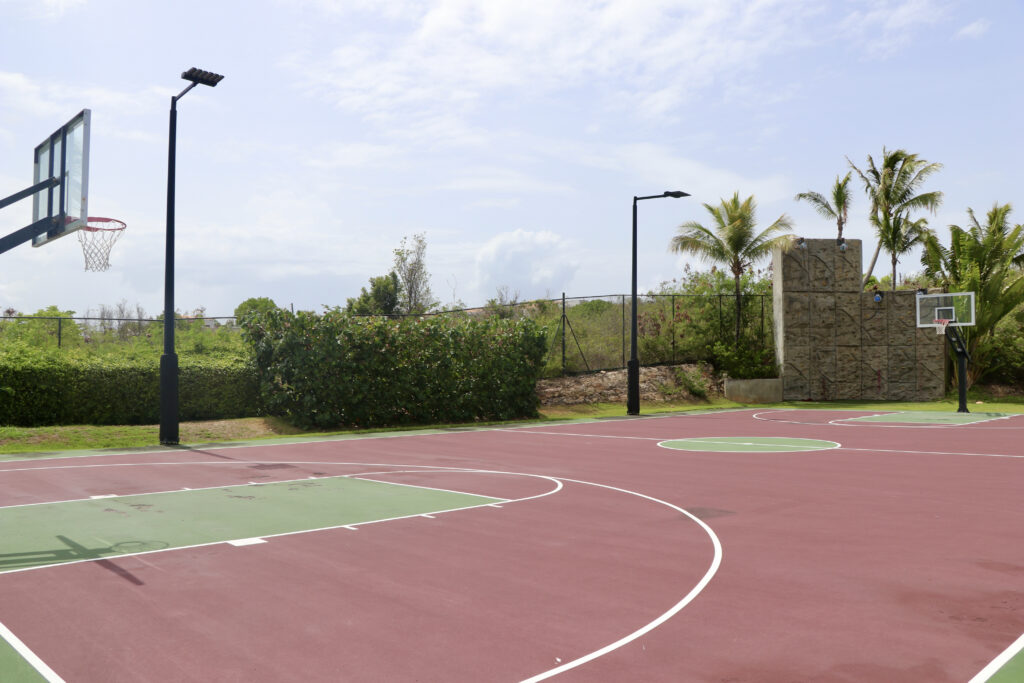 Thinking about your next big getaway? Think Anguilla and think Four Seasons! Truly the best family-friendly destination where you can do it all, have it all and enjoy it all to the backdrop of a Caribbean paradise. Thanks for following along and reading this Ladyhattan insider recap of the Four Seasons Resort & Residences Anguilla. A huge thank you to the amazing marketing department and all the Four Seasons professionals who made sure our stay was nothing but blissful. We can always count on an epic experience with Four Seasons, thank you so much!
For more on this incredible 5-star resort on Anguilla, you can checkout the Four Seasons website or message Ladyhattan directly at [email protected] with any questions you may have on ensuring your vacation dreams come true too.
*Please note: Ladyhattan hired the amazing Anguilla based photography team, K-Sharp to capture some memorable moments while on vacation. These photographs are included in this post featuring the Four Seasons Anguilla. I highly recommend hiring K-Sharp if you find yourself on Anguilla – you will cherish your photographs forever. Thank you to the K-Sharp team for being so kind and capturing such great photographs of this Anguilla experience.