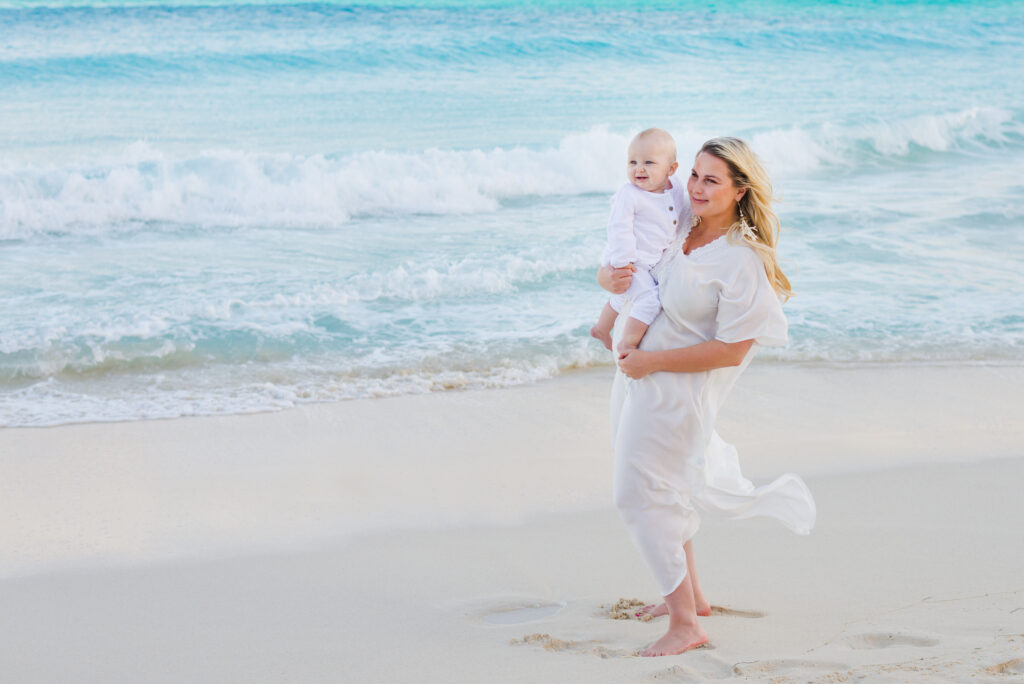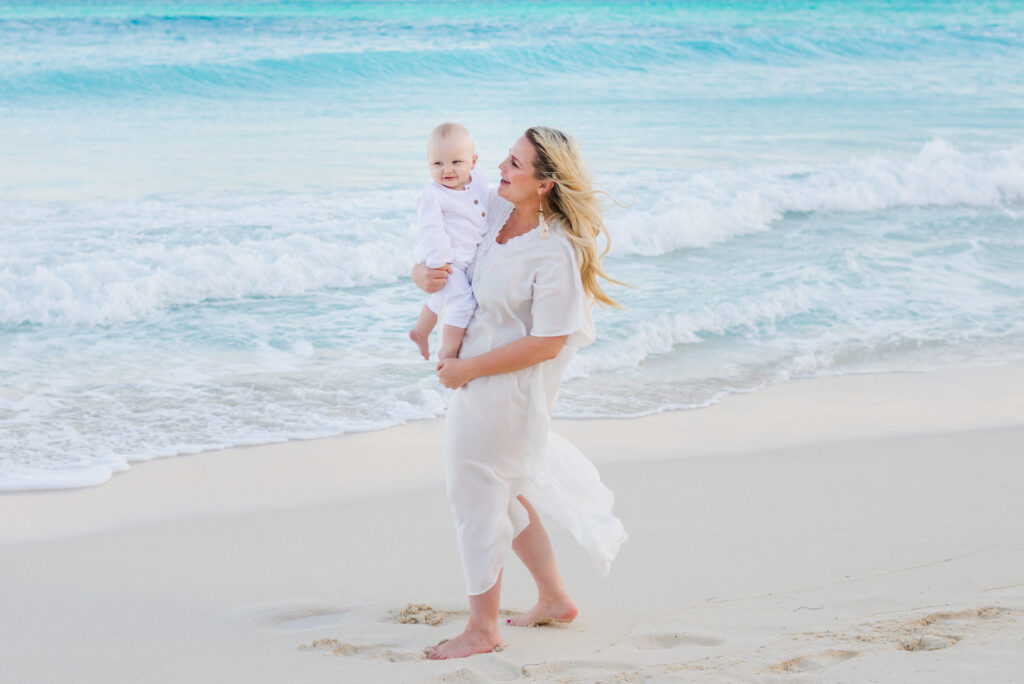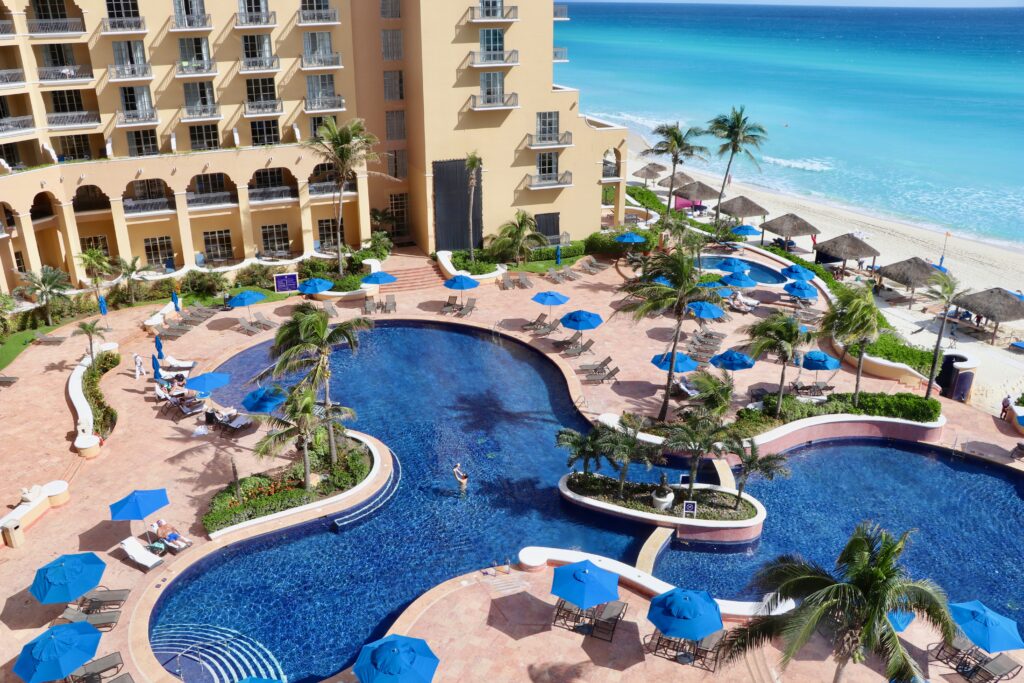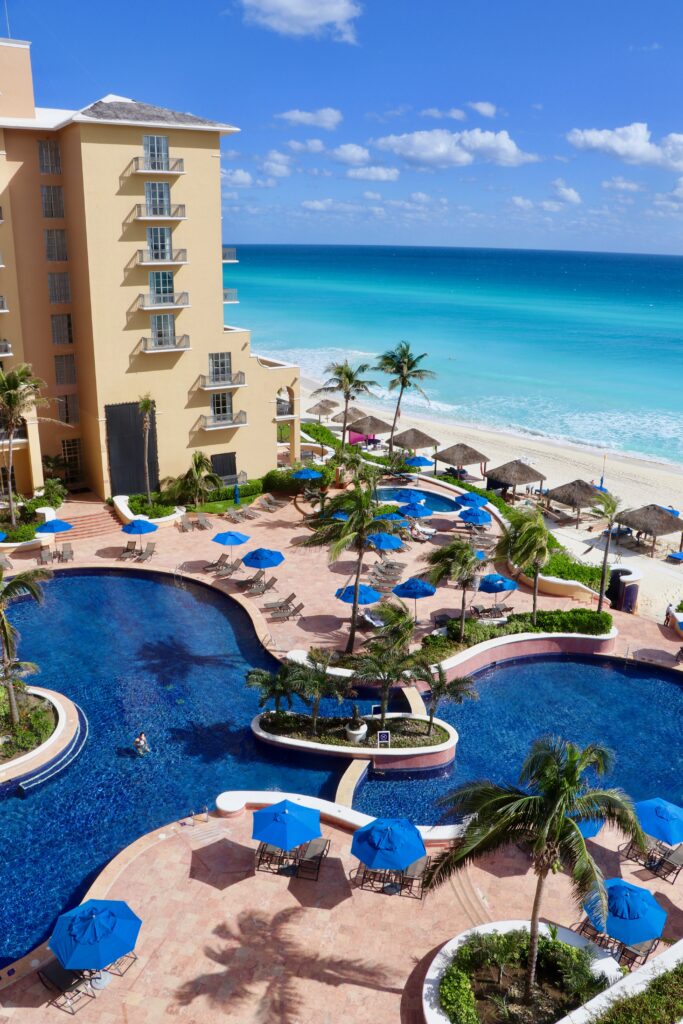 Welcome to the Itzby Bitzy Baby Suite
One of the key reasons why I chose this specific property, the Ritz-Carlton Cancun, is that the Ritz brand is well-known for being a super family-friendly option. There are tons of perks and conveniences for people traveling with children when staying at a Ritz-Carlton.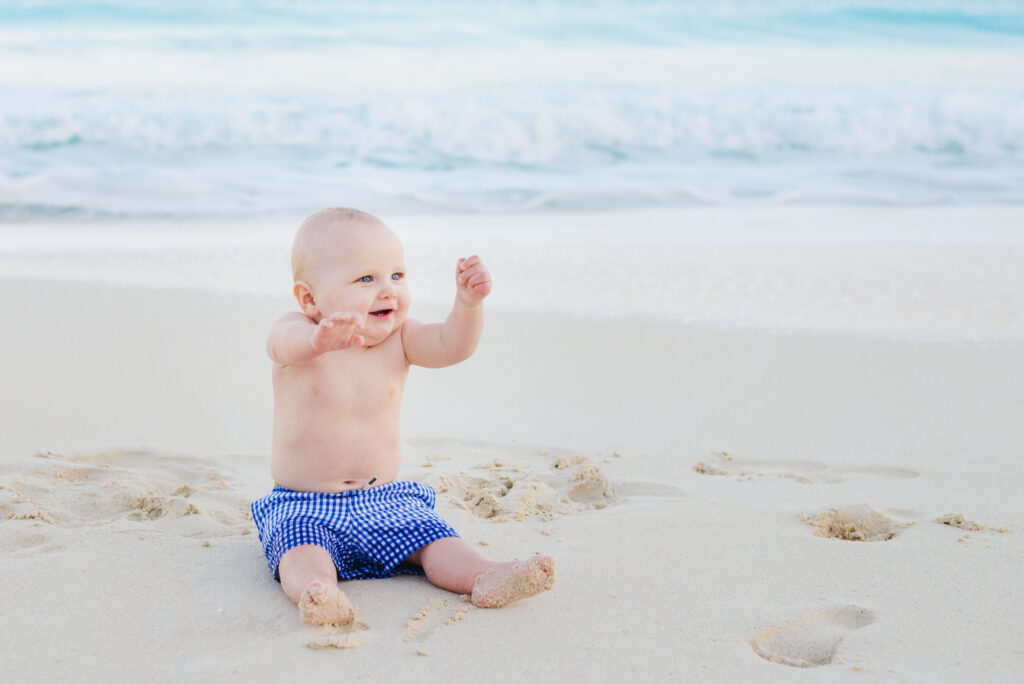 After countless hours of studying baby-friendly hotels, I discovered the Ritz-Carlton Cancun's featured Itzy Bitzy Baby Suite. This is a suite that makes traveling with a baby as seamless, stress-free and easy as possible.
Good news for parents who select to stay at the Cancun property – all rooms at this hotel have the specialty Itzy Bitzy Baby amenities and such perks are not exclusive for one room category. So whatever room you book, whether that be a Club Level Suite or Standard Hotel Room, you can request the special baby-friendly amenities when traveling with your little one! Hooray!
Because of all the amenities and baby gear provided inside the Itzy Bitzy Baby Suite when we arrived, we were able to travel with very little luggage. As any new parent knows, there is tons of "stuff" that a new baby needs. We absolutely loved the fact that we did not have to travel with much of that "stuff" because it was all at the hotel room waiting for us upon arrival.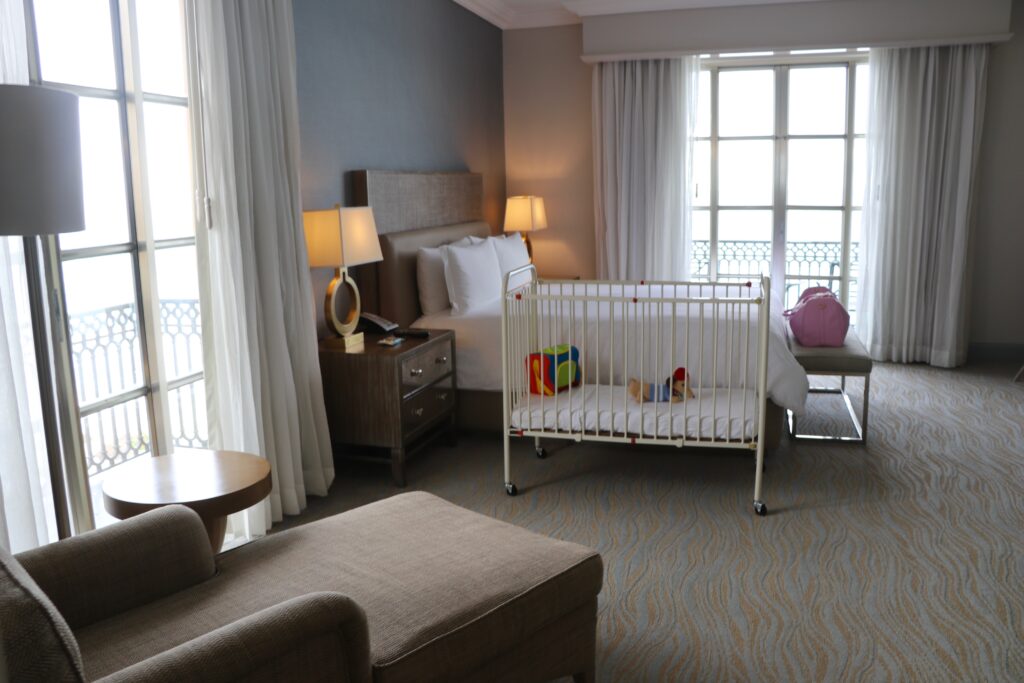 The Itzy Bitzy Baby Rooms offer notable features including:
A baby's crib
A changing table
A "shh, baby sleeping" sign can be hung on the door to alert others to lower their voices
Special baby bath amenities
Baby soaking tub
Baby proofing supplies (i.e., outlet covers)
Baby toys and stuffed animals
Personalized sign for the day door
Baby high chair
Baby bottle warmer & sterilizer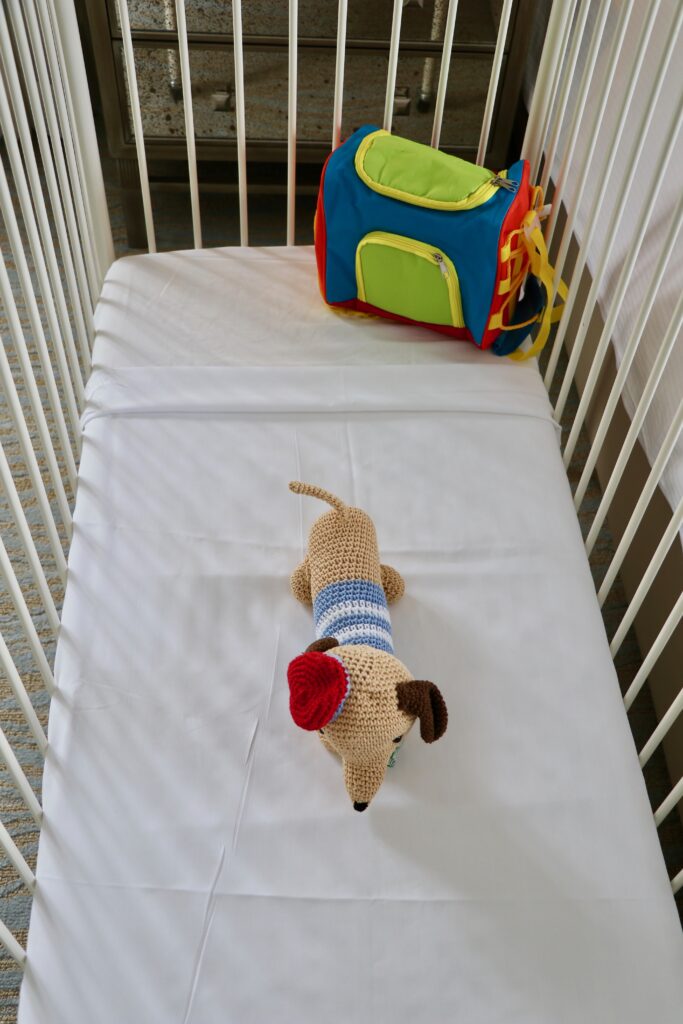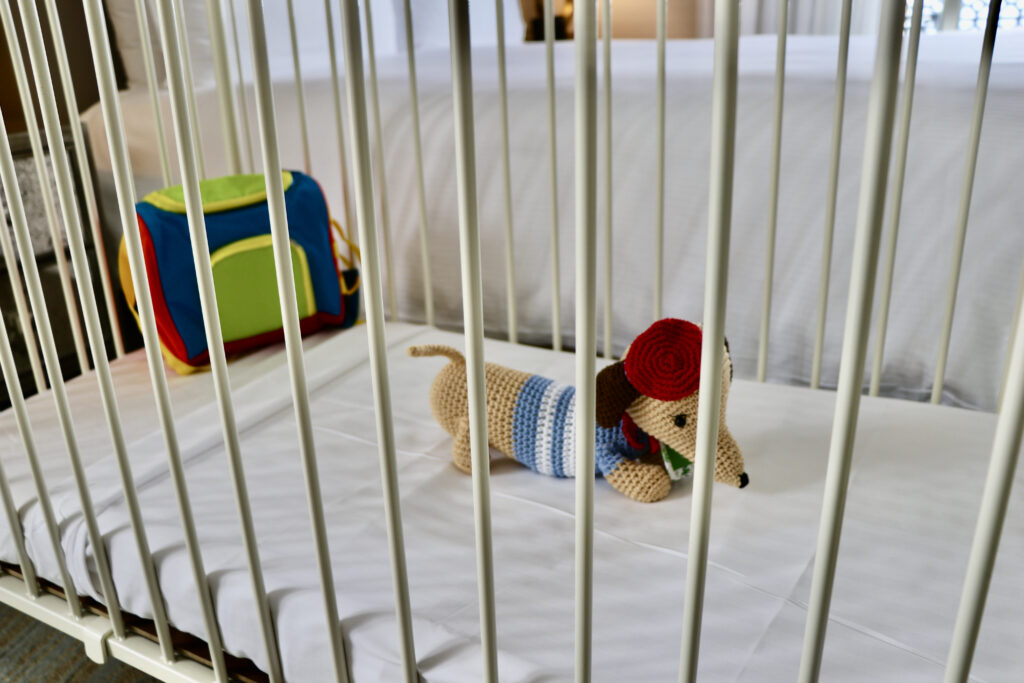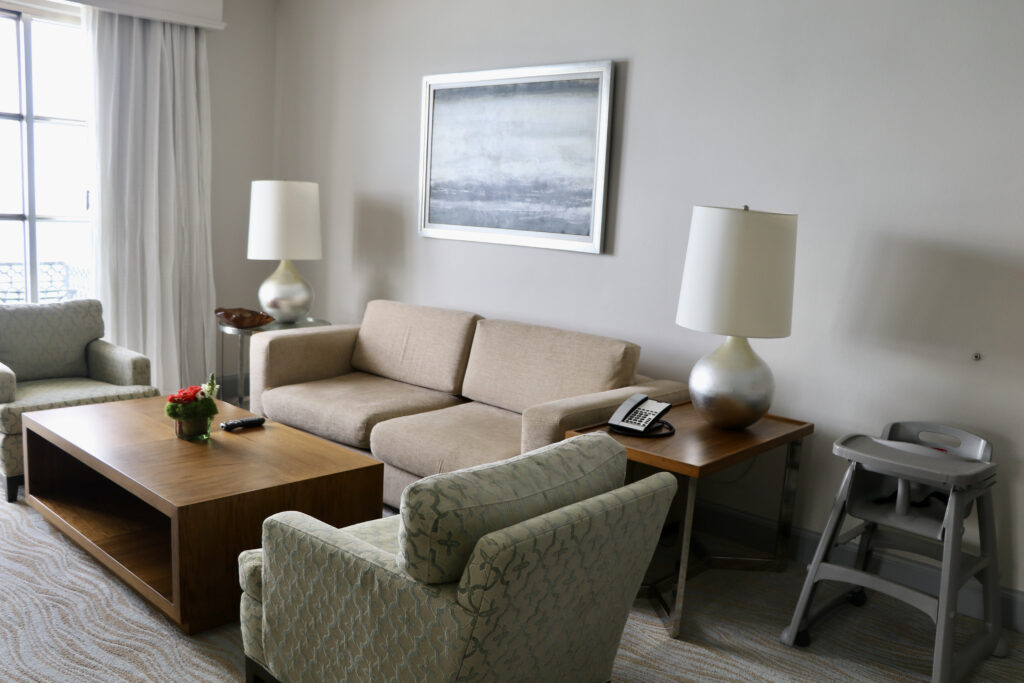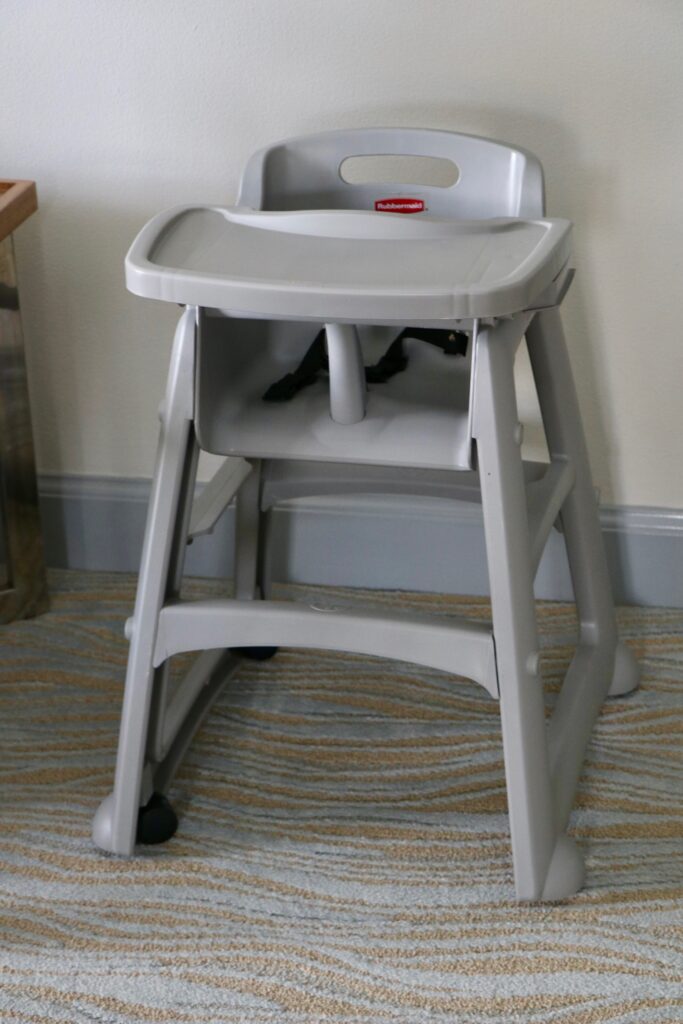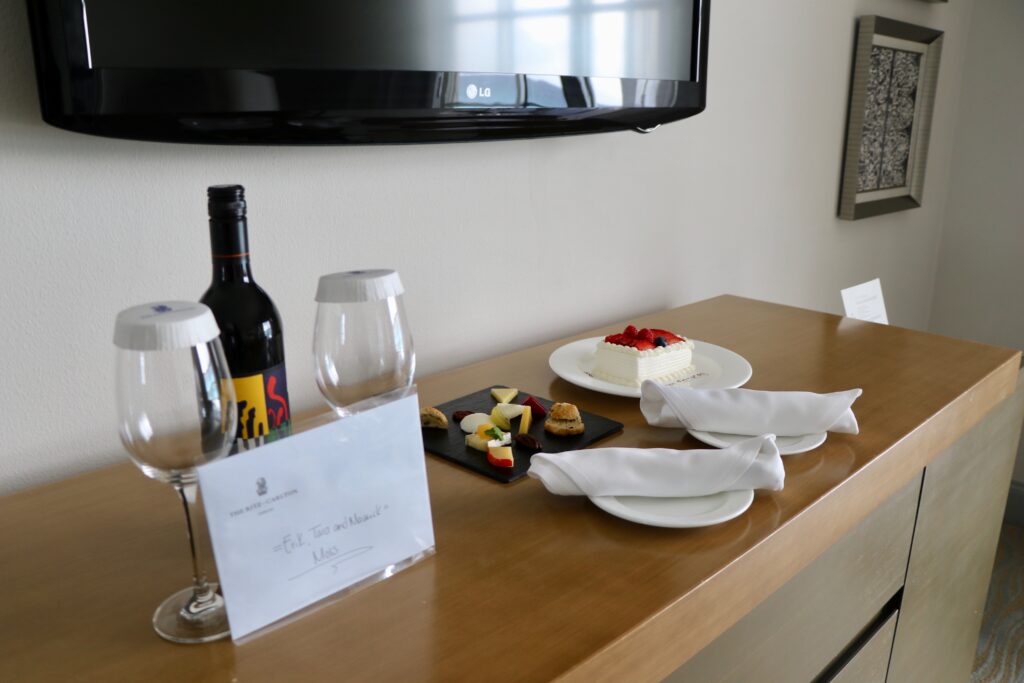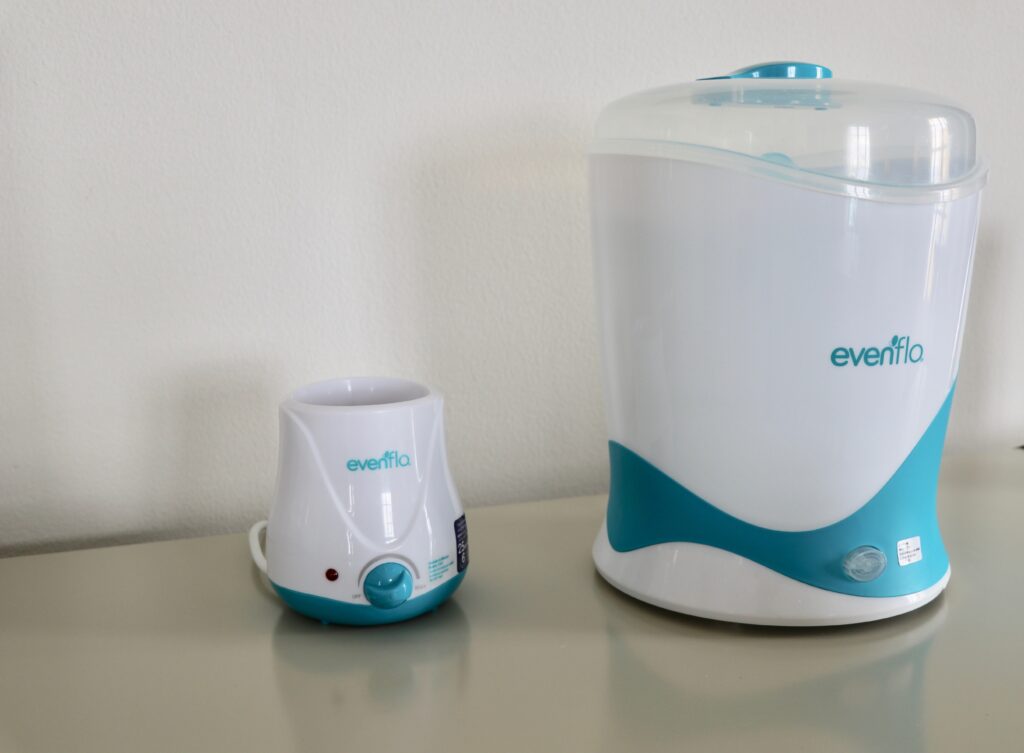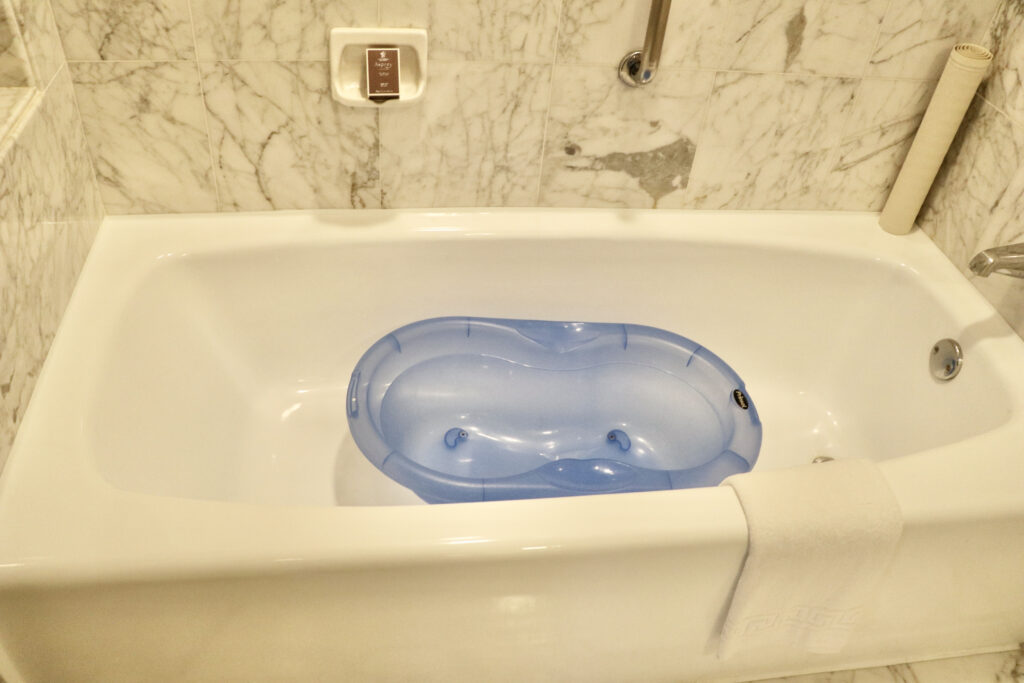 Another huge perk of selecting a Club Level room, is that you get complimentary pressing by the Ritz Laundry Team each day. In the morning, an attendant would pick up scarves or dresses that were wrinkled or dirty — and return them to the suite by the afternoon perfectly pressed.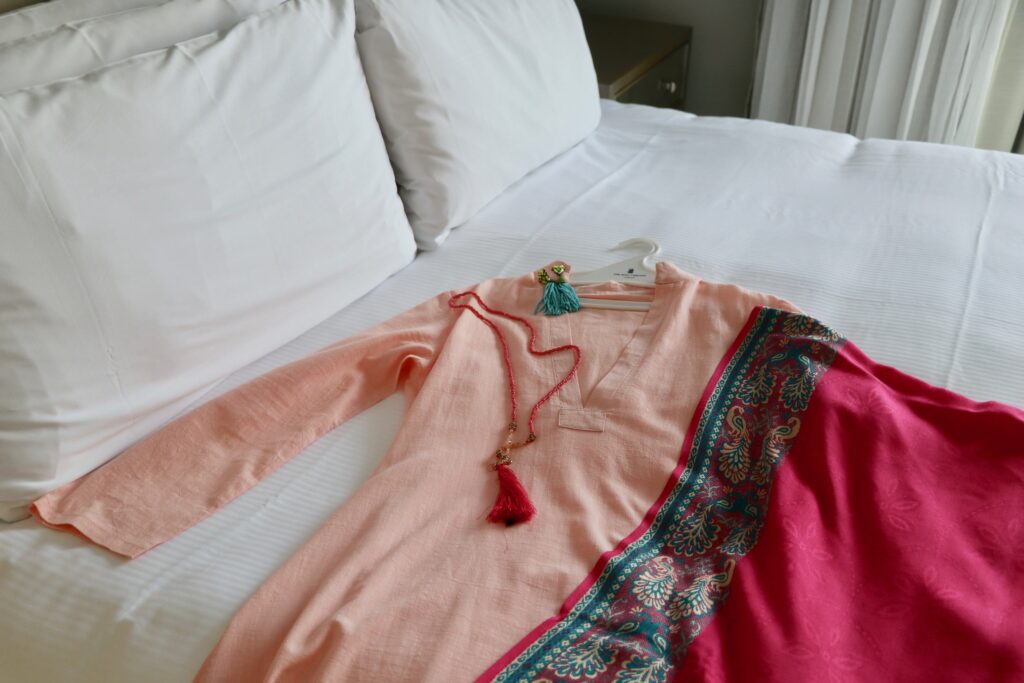 Due to concerns related to the health crisis in general, we opted to in-room dine for several of our meals. By enjoying meals on the terrace in our private room, we did not have to worry about going to an indoor or outdoor restaurant. While the restaurants at the Ritz-Carlton Cancun were impeccable, delicious and all felt incredibly safe, we did enjoy the privacy and security of eating a few meals alone in our room.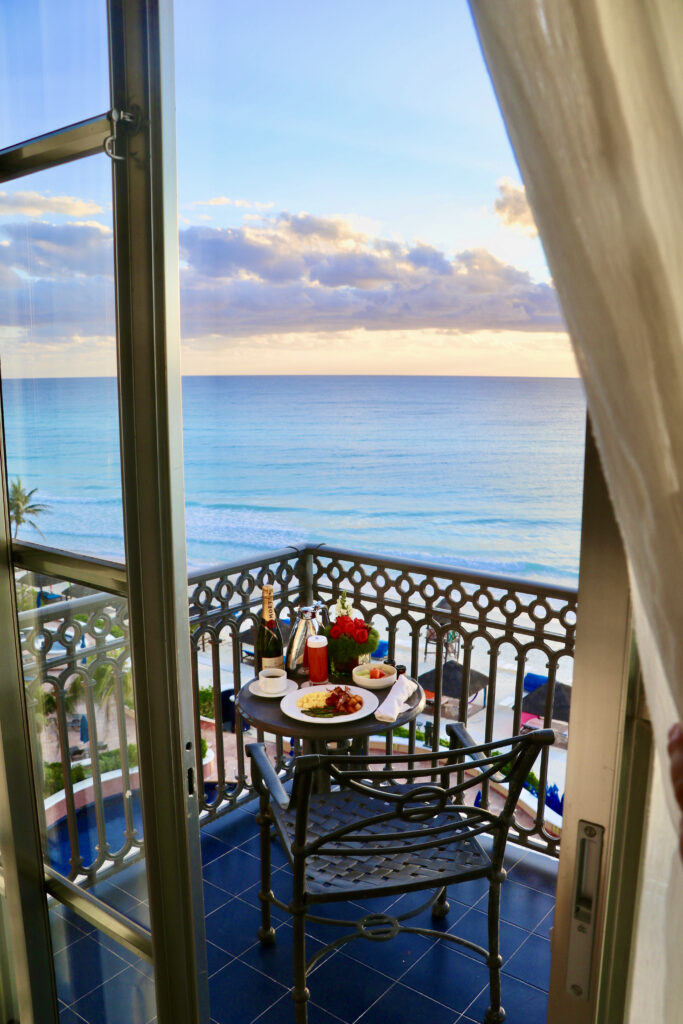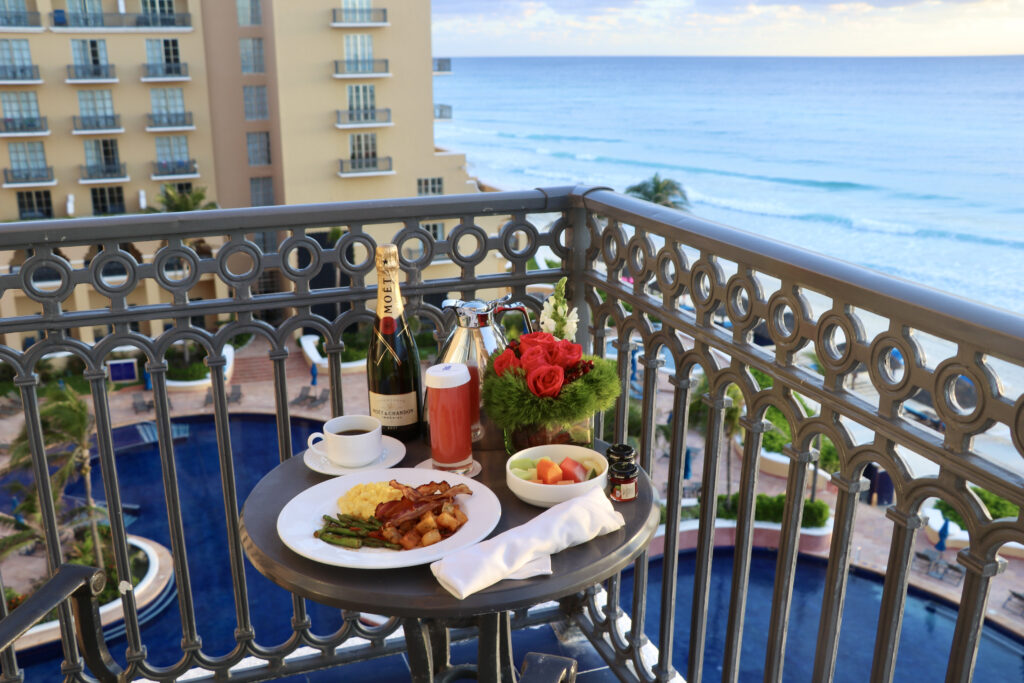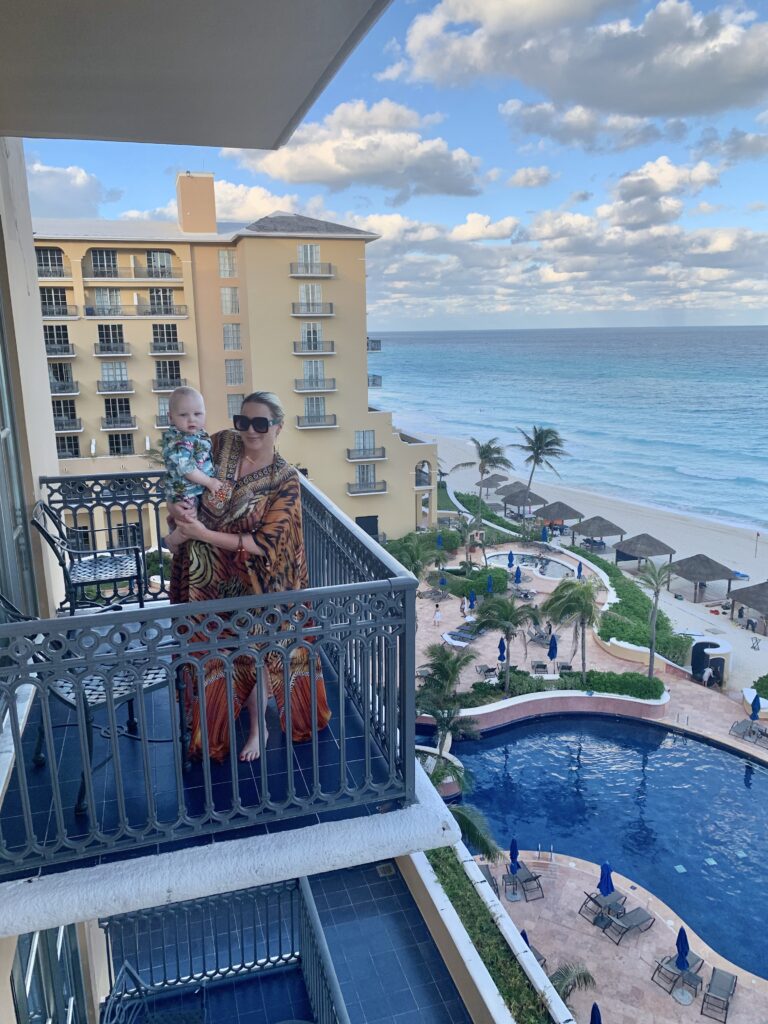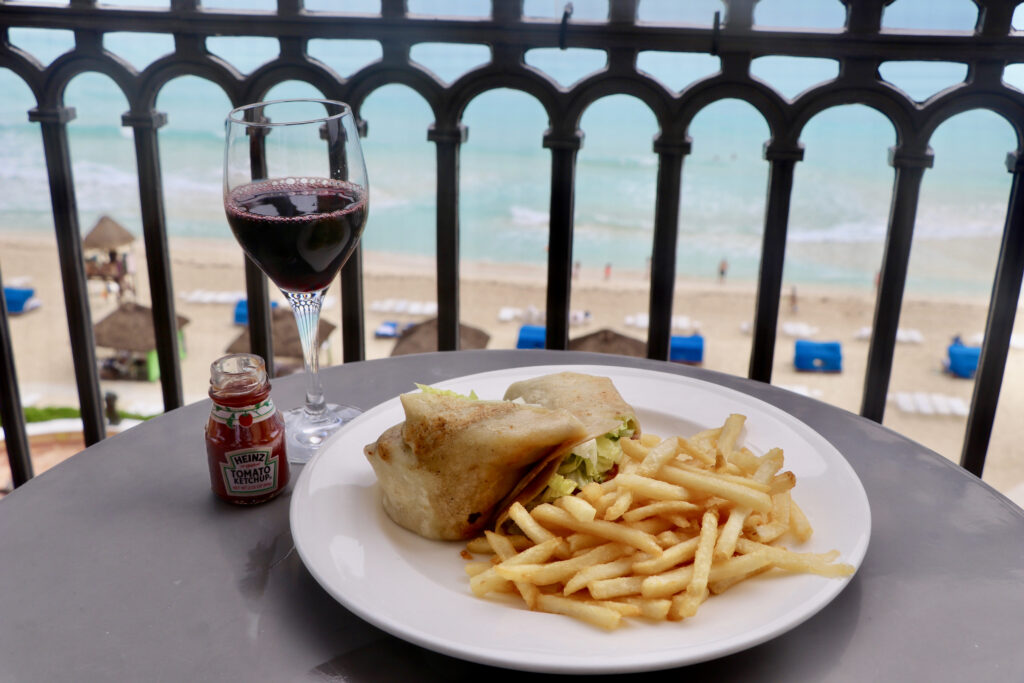 The upcharge to have meals delivered to the room was very minimal compared to other hotels that I have stayed at (roughly $5 USD for a delivery fee plus tip). If you stay at this property, I highly recommend the "crispy chicken caesar wrap" — it is like a caesar burrito and absolutely delicious.
Another fun aspect of the room-service experience at this property was the live entertainment by the pool area in the evening. On evenings where we had dinner via room-service on our balcony, we would be able to listen to live jazz music played out by the pool for all the guests to hear from their own private suites or balconies.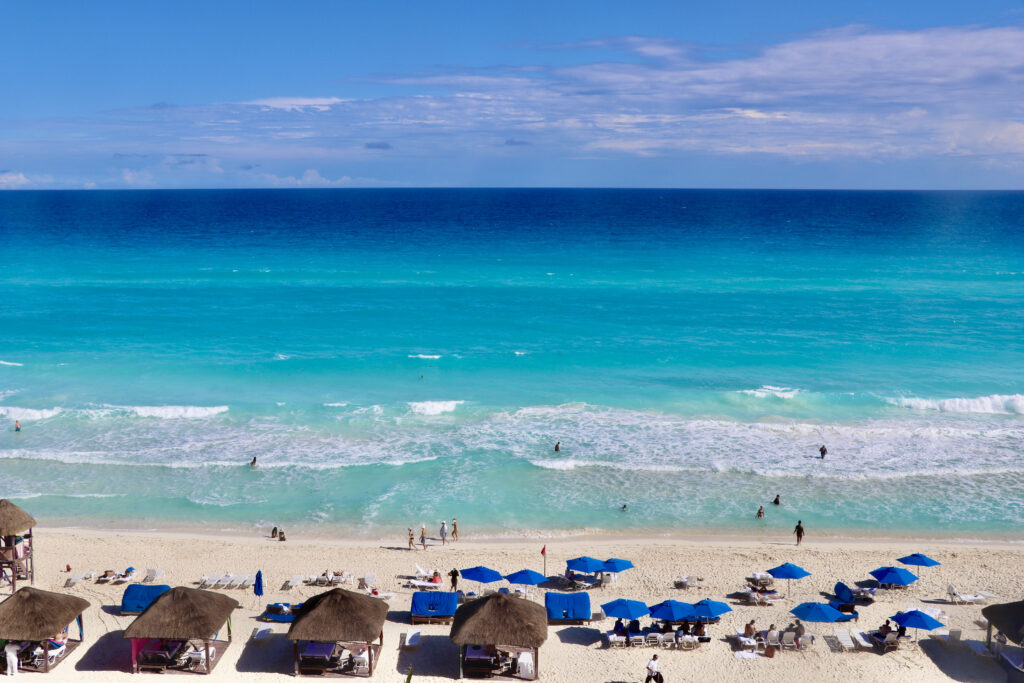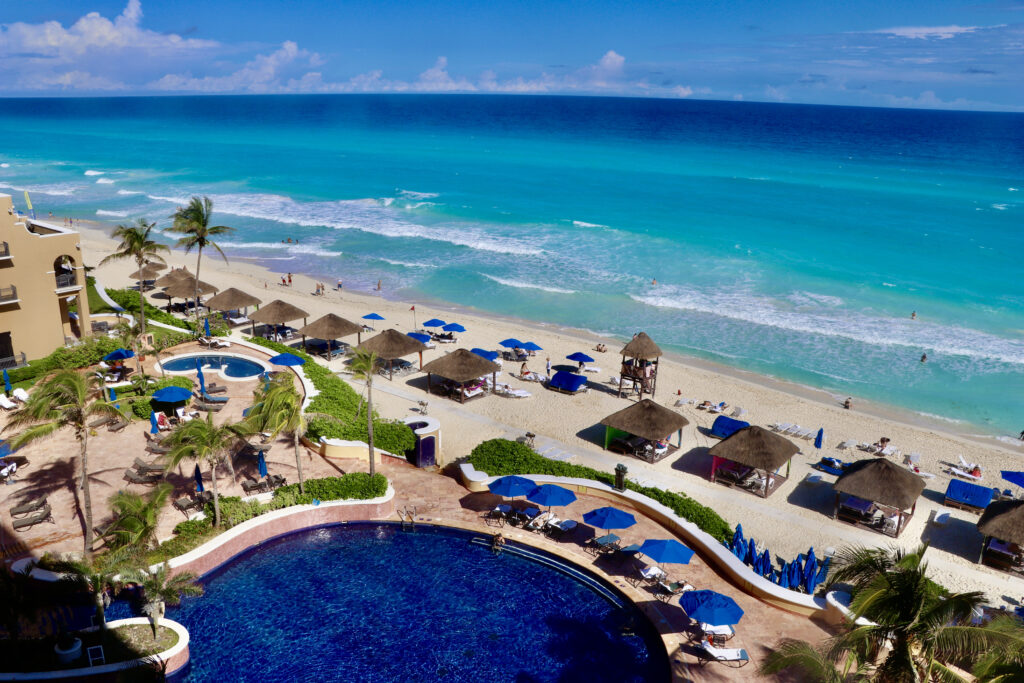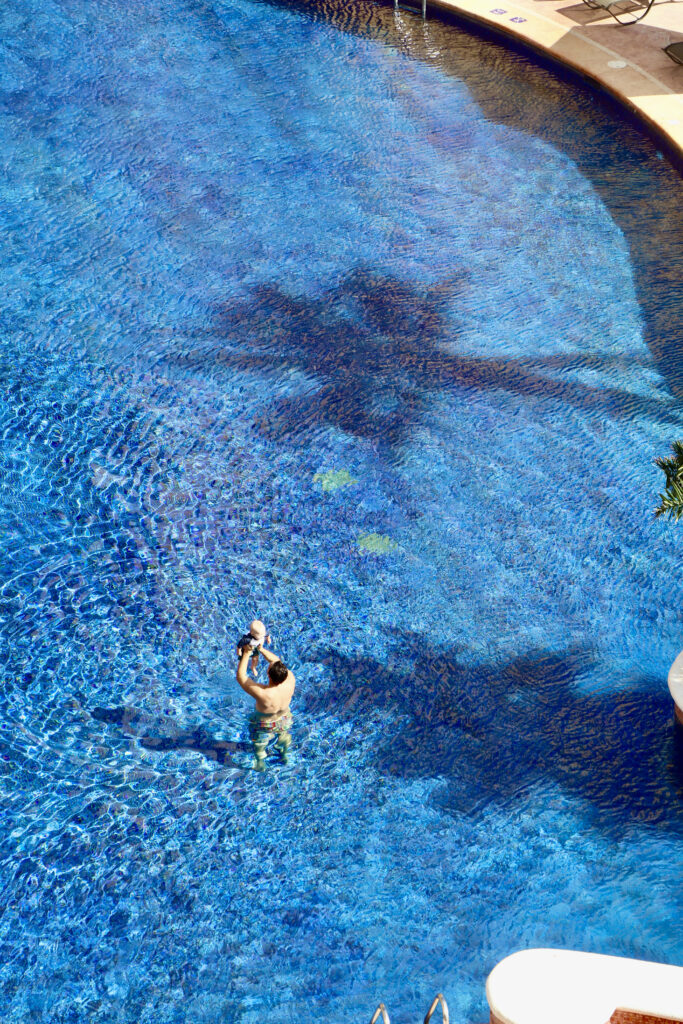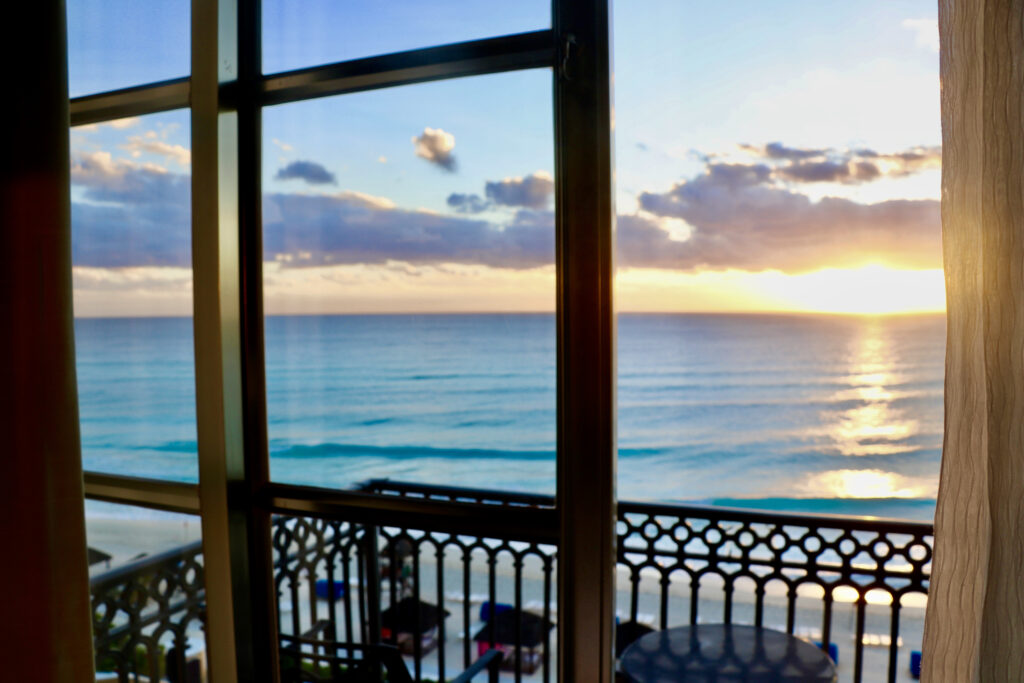 Morning sunrises and evening sunsets from the oceanfront rooms are absolutely breathtaking. I noticed that several other guests would sit on their private balconies and watch the sun rise or set each day. It was so peaceful, particularly after being in quarantine for such a long period of time.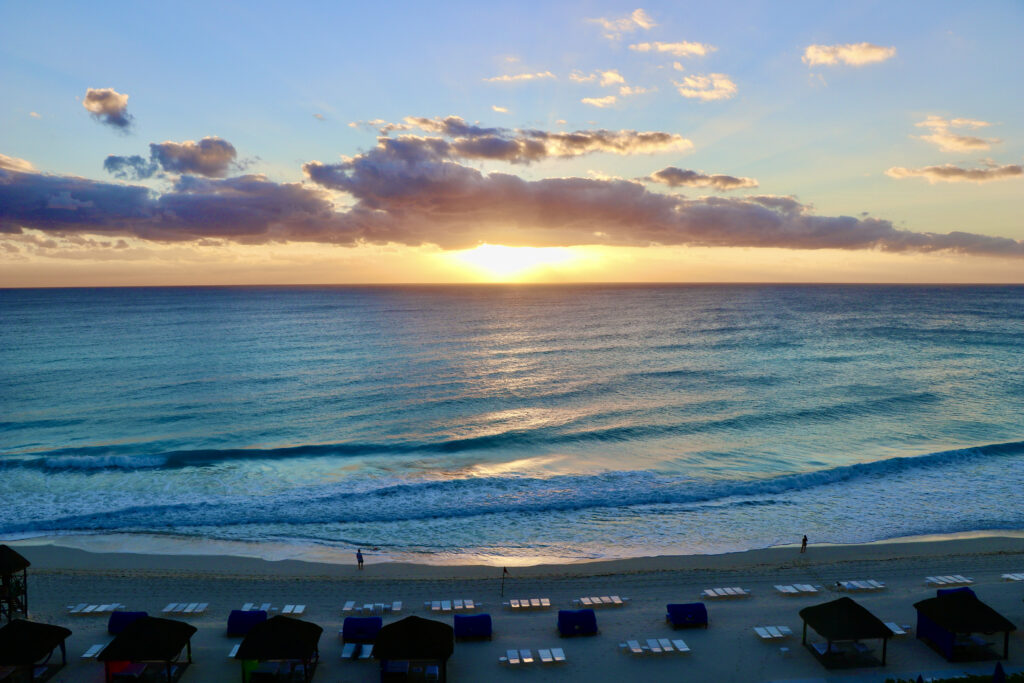 The Ritz-Carlton Spa
The Ritz-Carlton Spa, is an oasis within the hotel where custom-crafted treatments inspired by ancient Mayan rituals transport guests to another world. The spa prides itself on using locally-sourced ingredients and tapping into healing traditions of Mexico's native cultures in the most therapeutic treatments for mind, body and soul.
The spa's serene relaxation gardens and secluded terraces allowed me to fully reflect and unwind. Spa guests can also enjoy access to an assortment of luxury amenities, including aromatherapy showers and steam rooms, soothing whirlpools and invigorating plunge pools.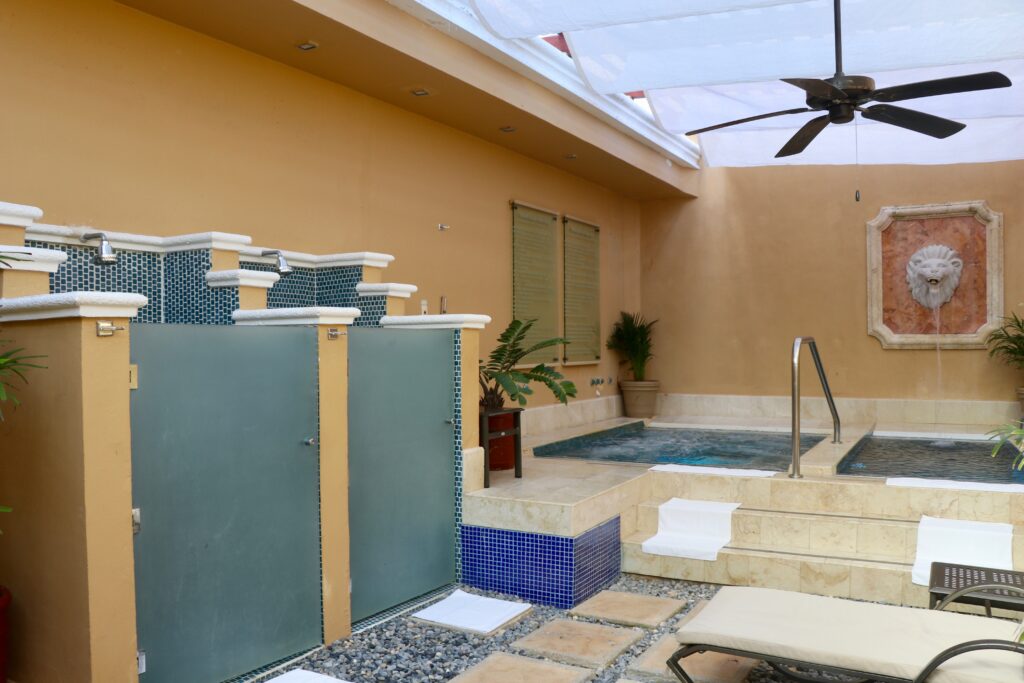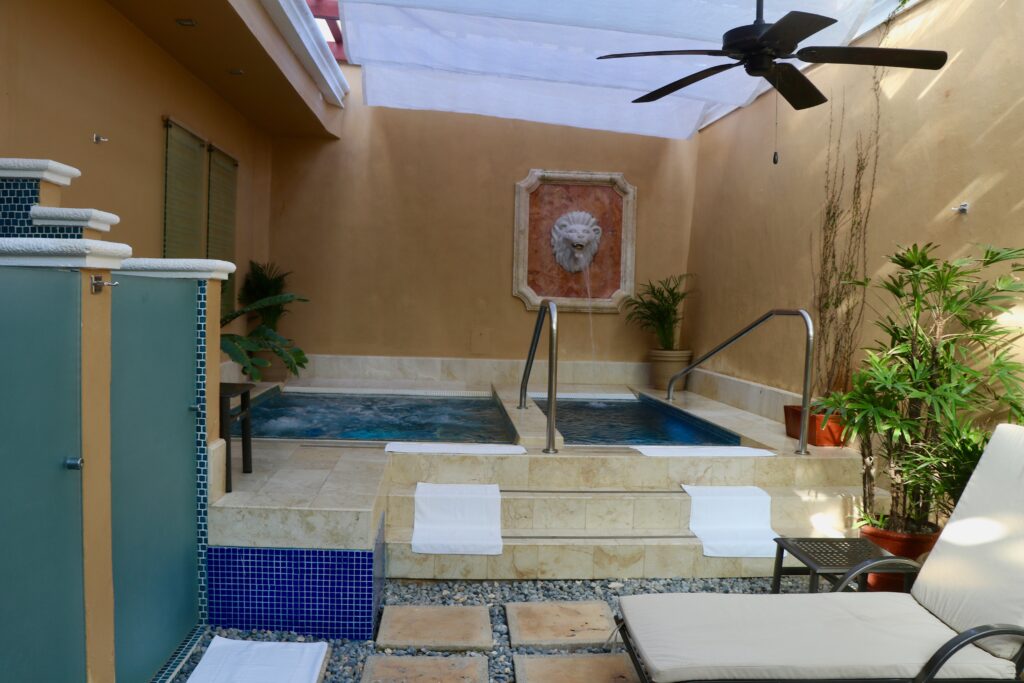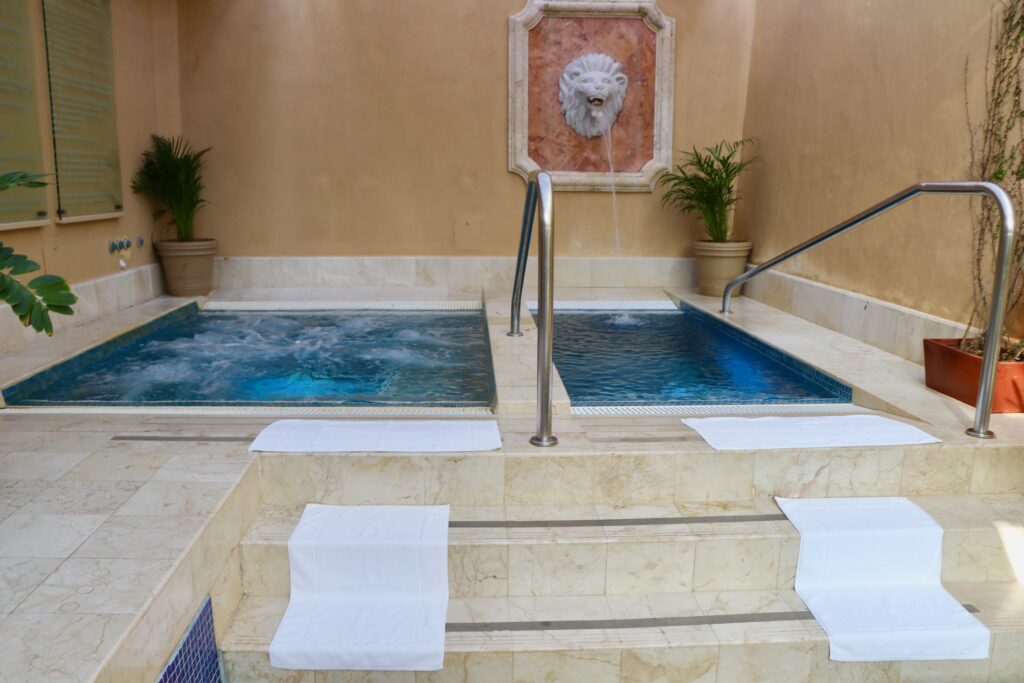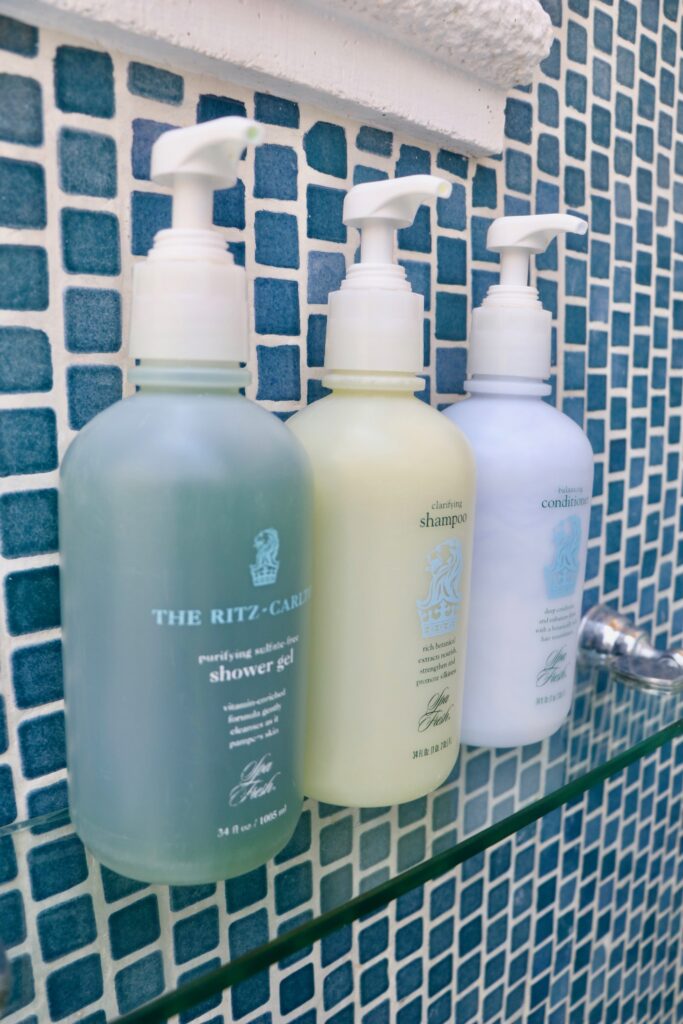 The spa attendants provide fresh pressed green juice, smoothies, tea, coffee and sweet treats while you enjoy the spa facility in complete isolation.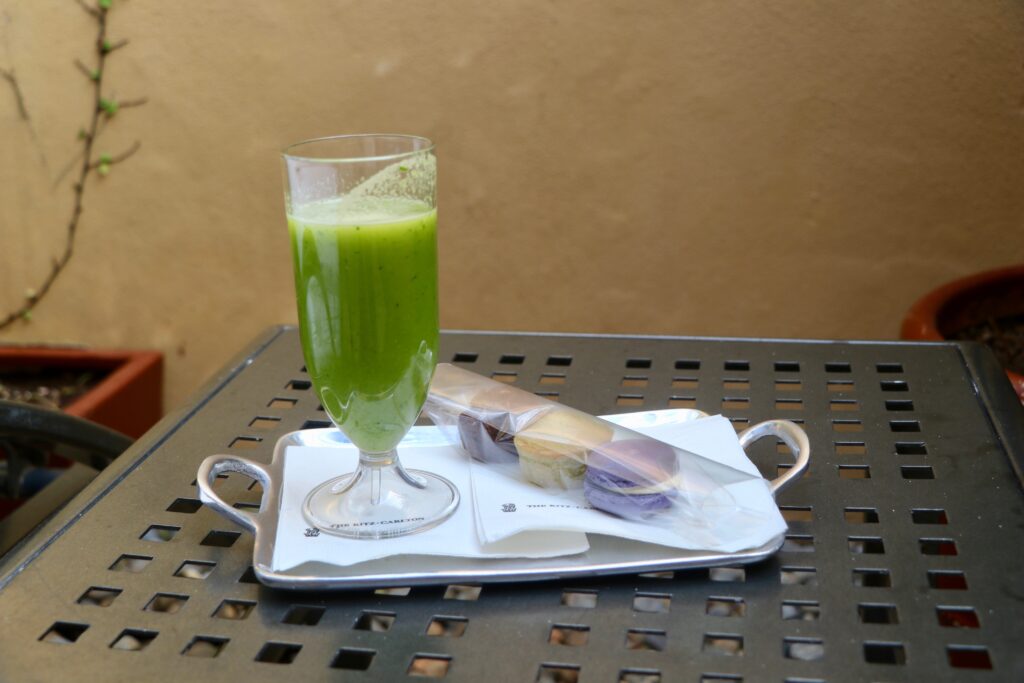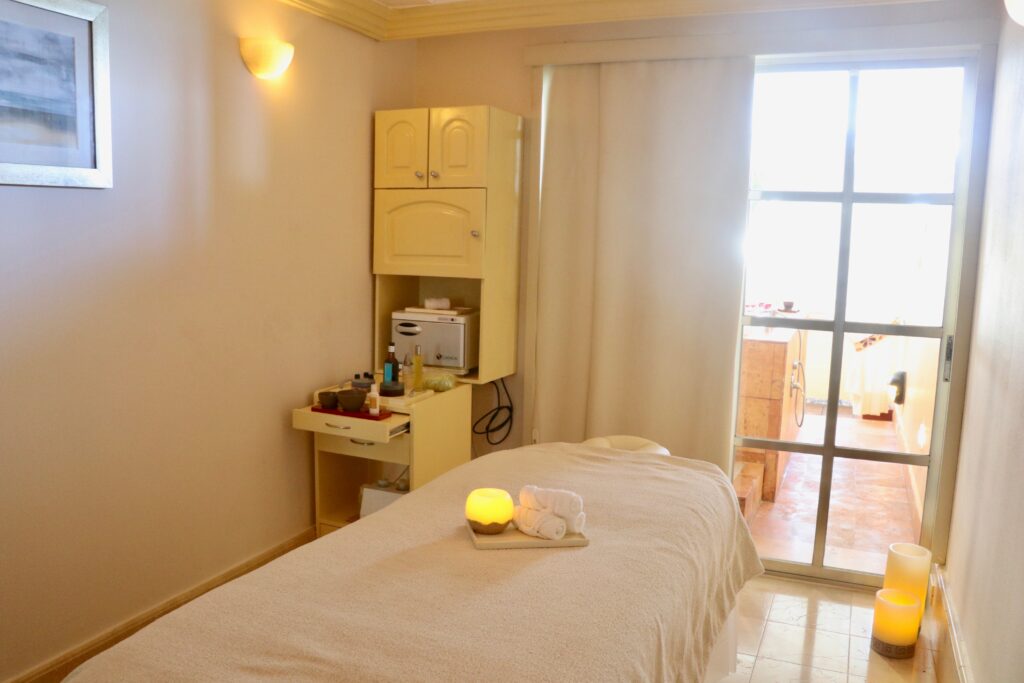 Private therapy rooms overlook the beach and ocean, providing spectacular views while you soak in the aromatic salts and rose adorned tub. If I had to recommend one specialty treatment offered here at this spa, it would be the "vanilla wrap" therapy.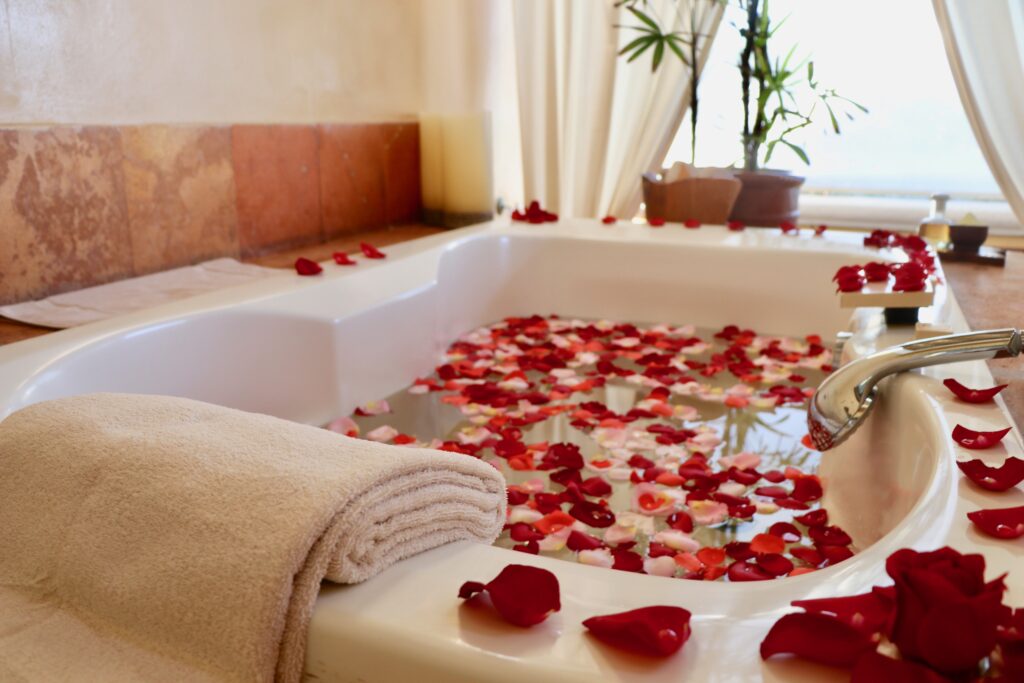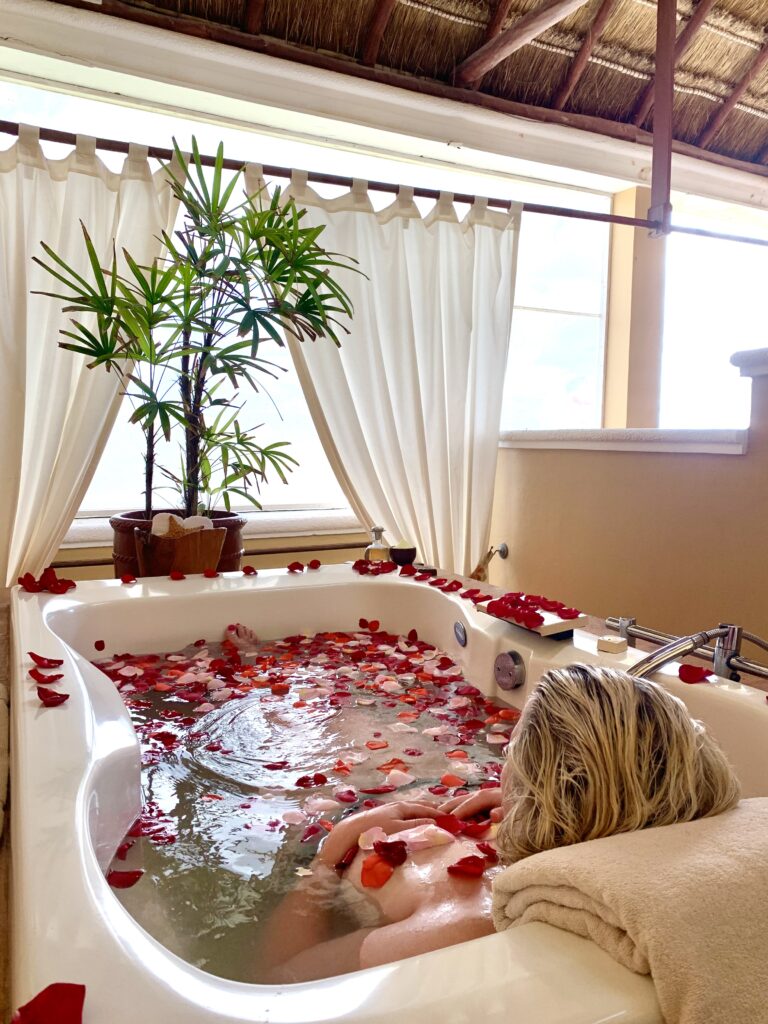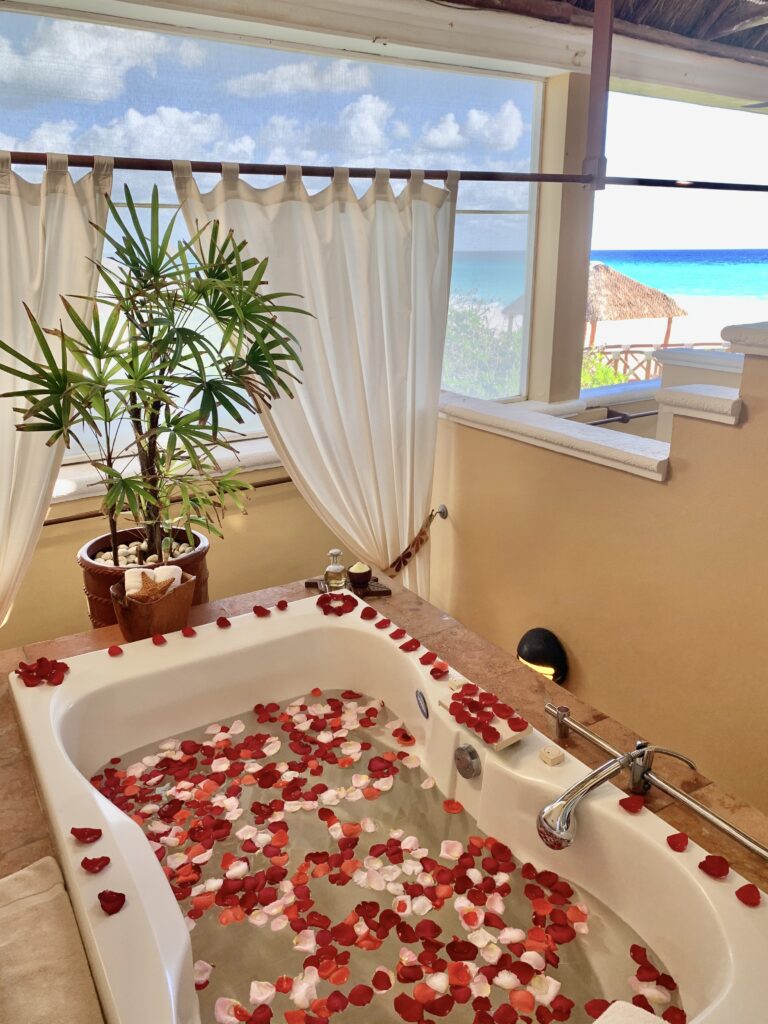 Private Beach Villa Experience
Guests have the opportunity to enhance the standard beach experience by reserving an exclusive villa with innovative services and cozy facilities.
Ladyhattan highly recommends the upgrade to a Villa for families with a baby or toddler. It is the perfect way to stay comfortable, shaded and even get your little one to nap right at the beach rather than having to return back up to your hotel room. We were able to keep our baby on his normal eat/sleep schedule all inside the Villa which was fantastic in comparison to the alternative of rushing back to a room every few hours.
Just unpack the beach bag with all your essentials, baby food, books and enjoy the Villa for the entire day with premiere service at your fingertips.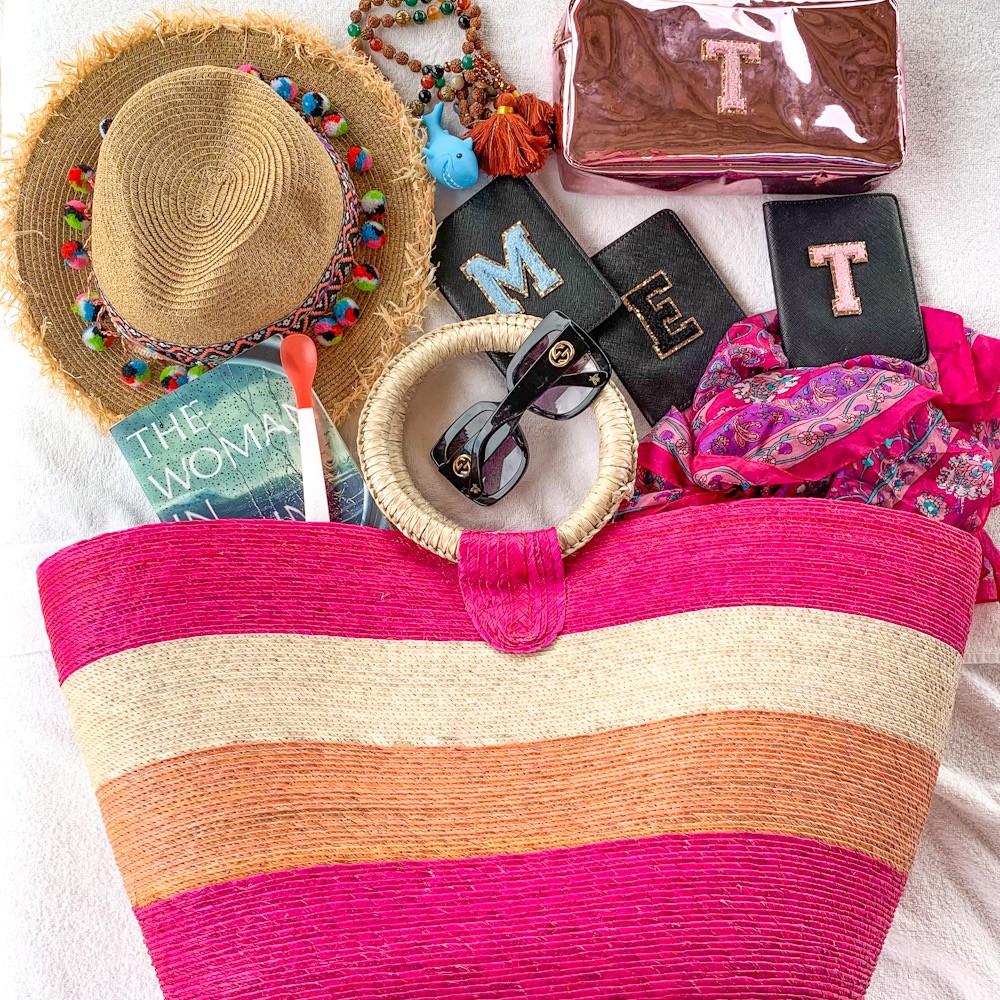 The Beach Villas feature wooden floor, lounge chairs, hammock and the finest level of personalized service. Each Villa accommodates up to four adults. We were able to bring our stroller right inside the Villa. Service was spectacular with assigned butlers checking in at least every 30 minutes for fresh water, ice, necessities for the baby, as well as food and cocktail orders. Most days we ate lunch in the comfort of the Villa and felt safely social distanced from other beach-goers as we were outside with plenty of privacy to ourselves.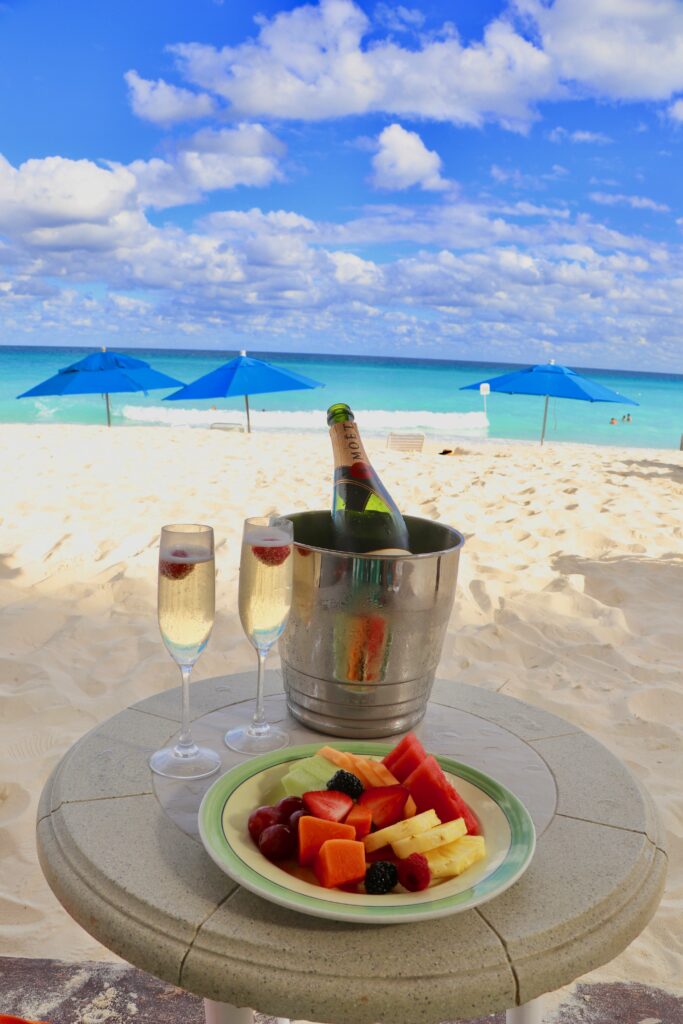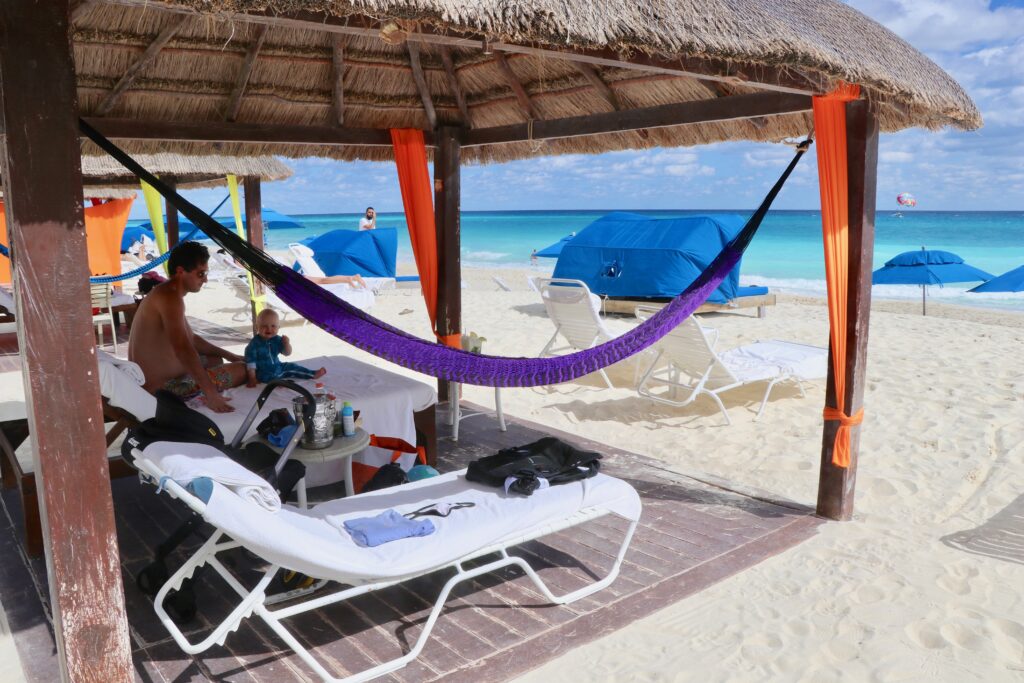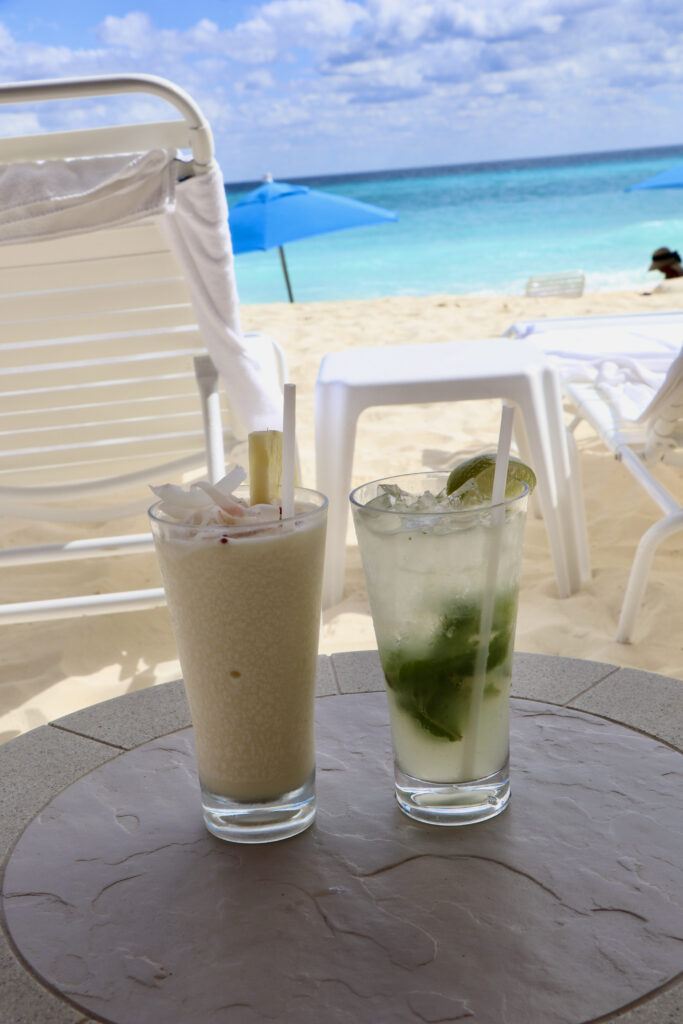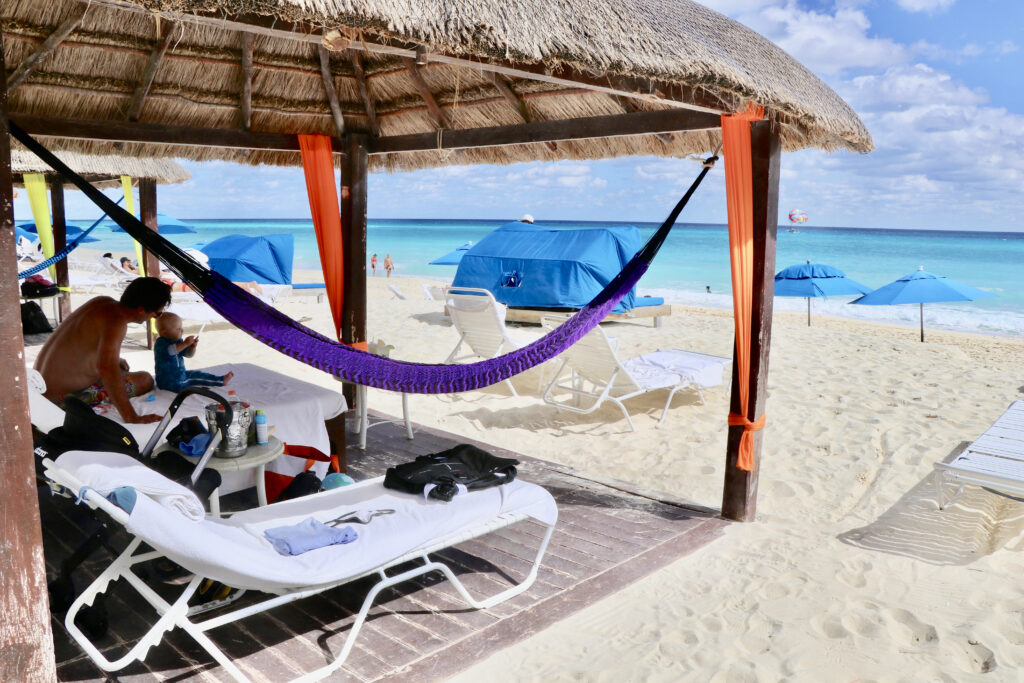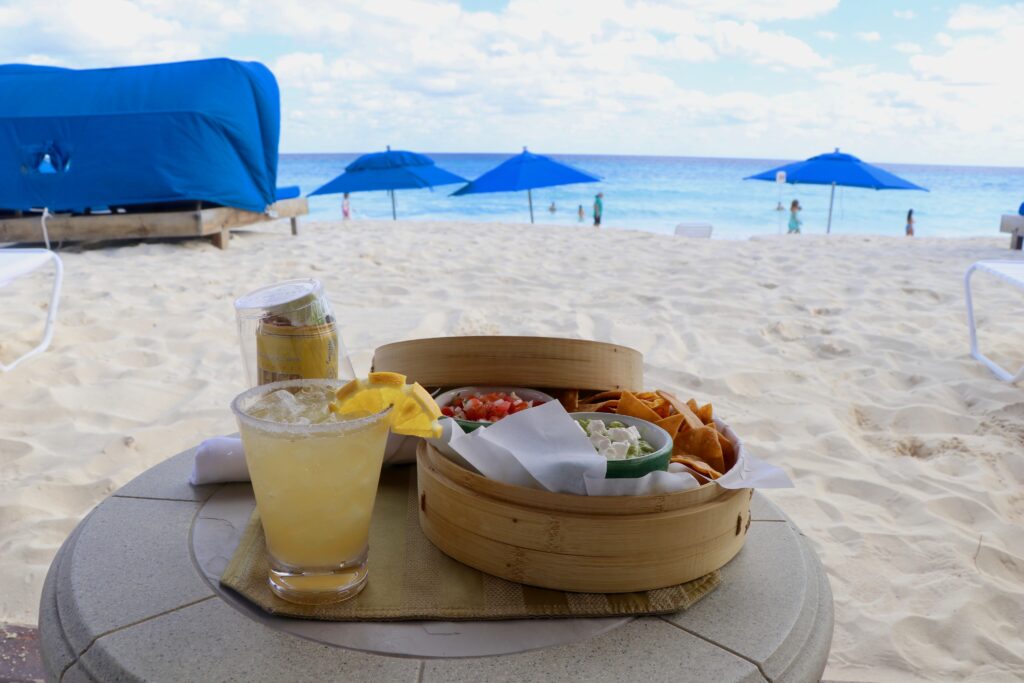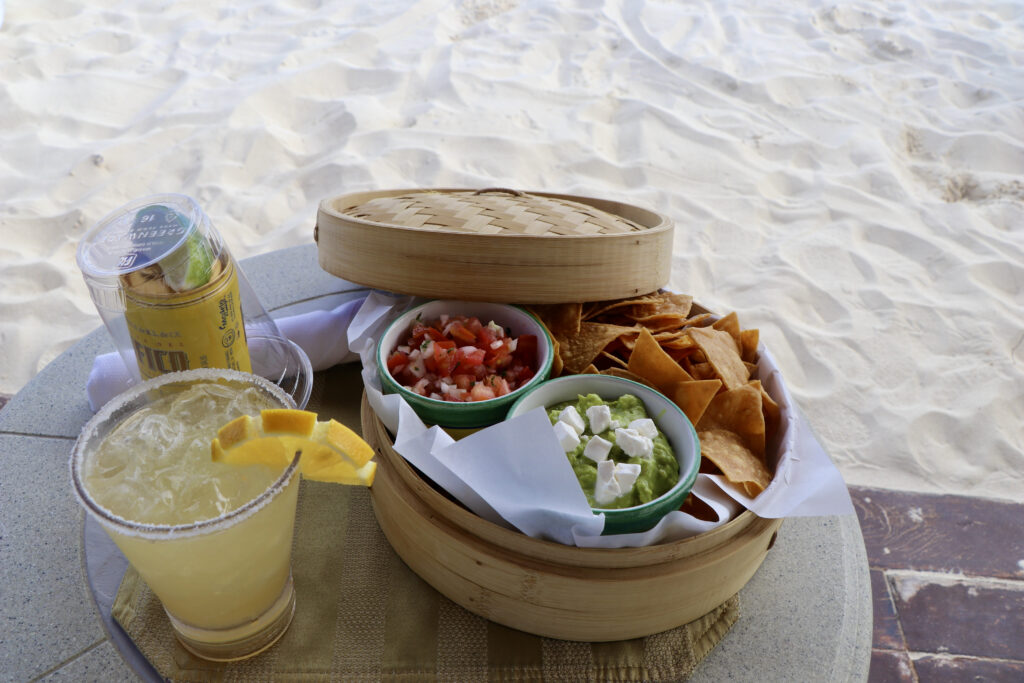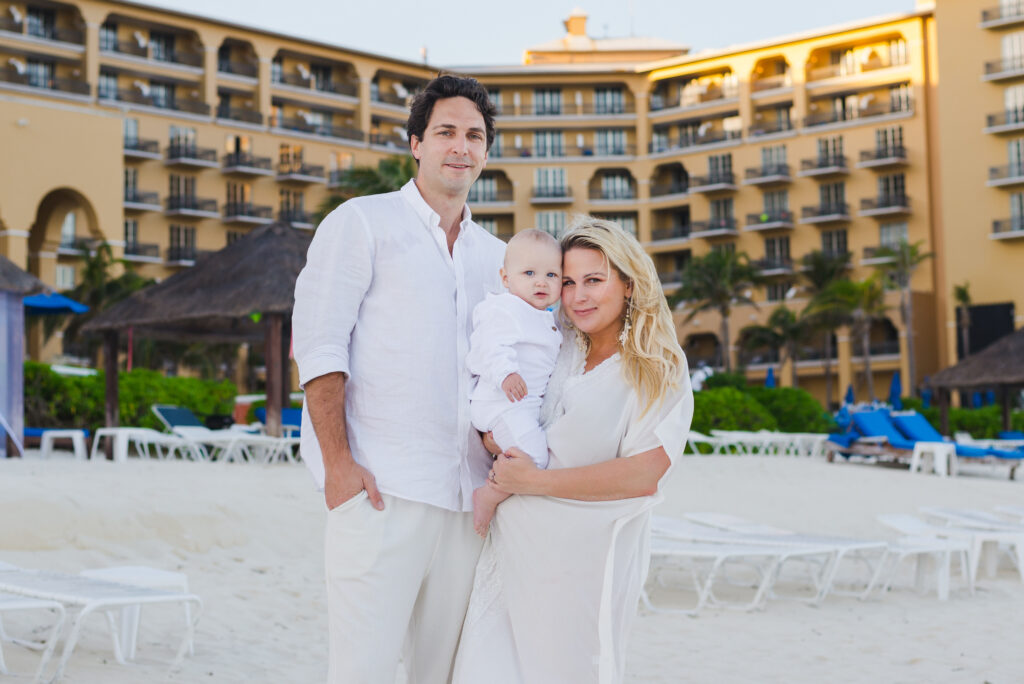 Festive Holiday Decor
Ritz-Carlton properties have two stellar qualities in hospitality – they are luxurious but also provide a family-friendly ambiance. Through the seasonal changes that bring different holidays, I always admire how these luxury hotel properties go all-out with festive decor that brightens your spirits on vacation.
The holiday decor throughout the Ritz-Carlton Cancun was absolutely exquisite. Sparkly lights, adorned trees, banisters with holly and cheer guided you throughout the opulent space. One of the premiere decorations was in the atrium of the hotel where bright green ivy and red poinsettia plants draped across the leveled floors.
Festive decor filled through this gorgeous property lifted our spirits tremendously. Regardless of your views on personal travel at this moment in time, I urge readers to weigh all factors in making any decisions. And if you do decide to take a vacation as a family, this property is one of the absolute best options in the market.
As for a family-friendly hotel taking the highest level of care in COVID19 protocols, I could not recommend a better hotel — the Ritz-Carlton Cancun checked all the boxes and made us feel absolutely safe, secure and cared for during these turbulent times in history. Ladyhattan gives this property two thumbs up.
For convenient planning purposes, you can scroll to the bottom of this post for an extensive list of all the COVID19 precautions the Ritz-Carlton Cancun is taking to ensure guests are as safe as possible in light of the circumstances. As always, thank you for reading this recap and until the next sweet escape, stay healthy and happy.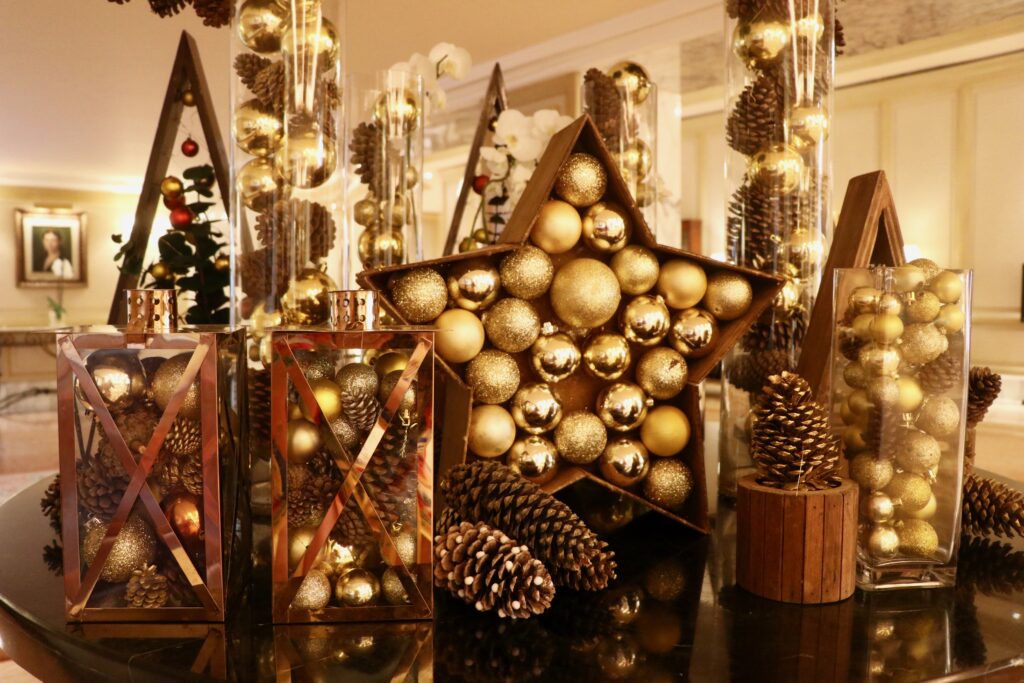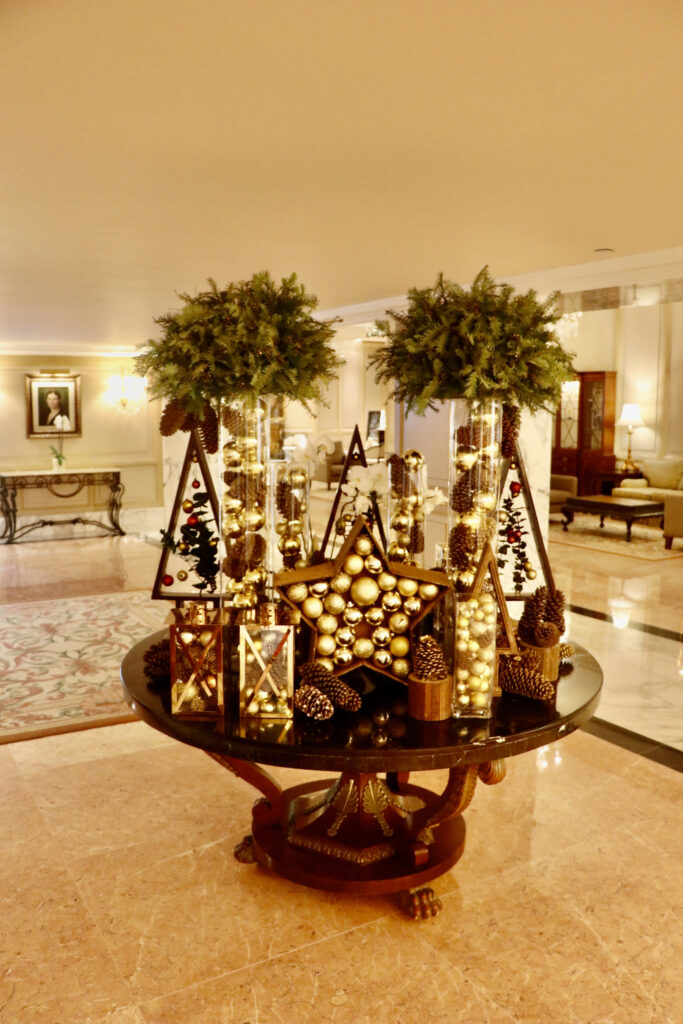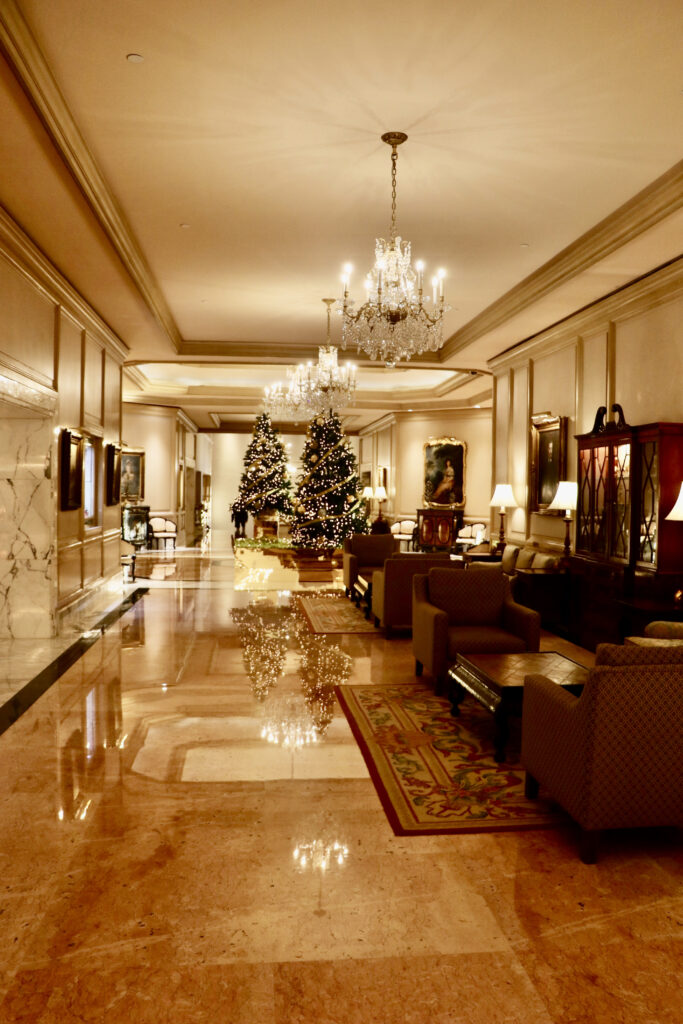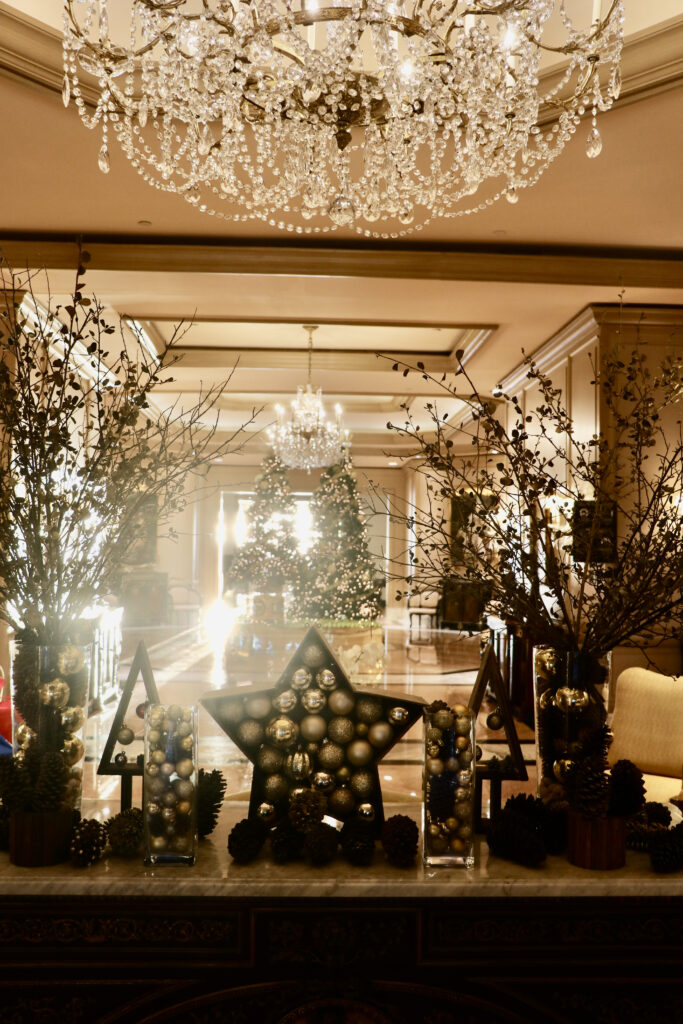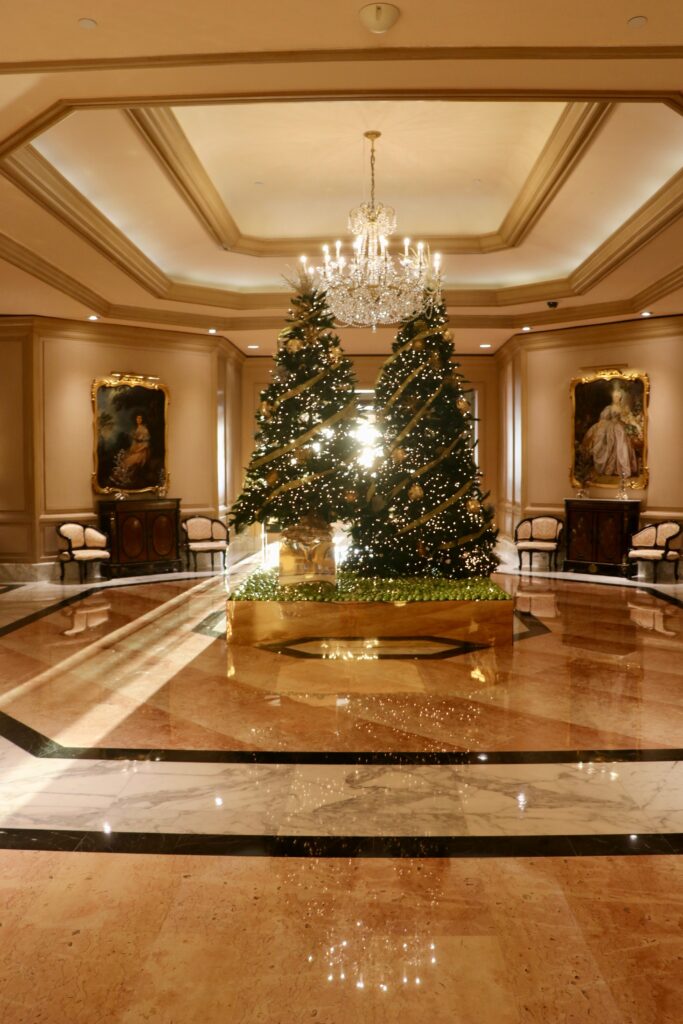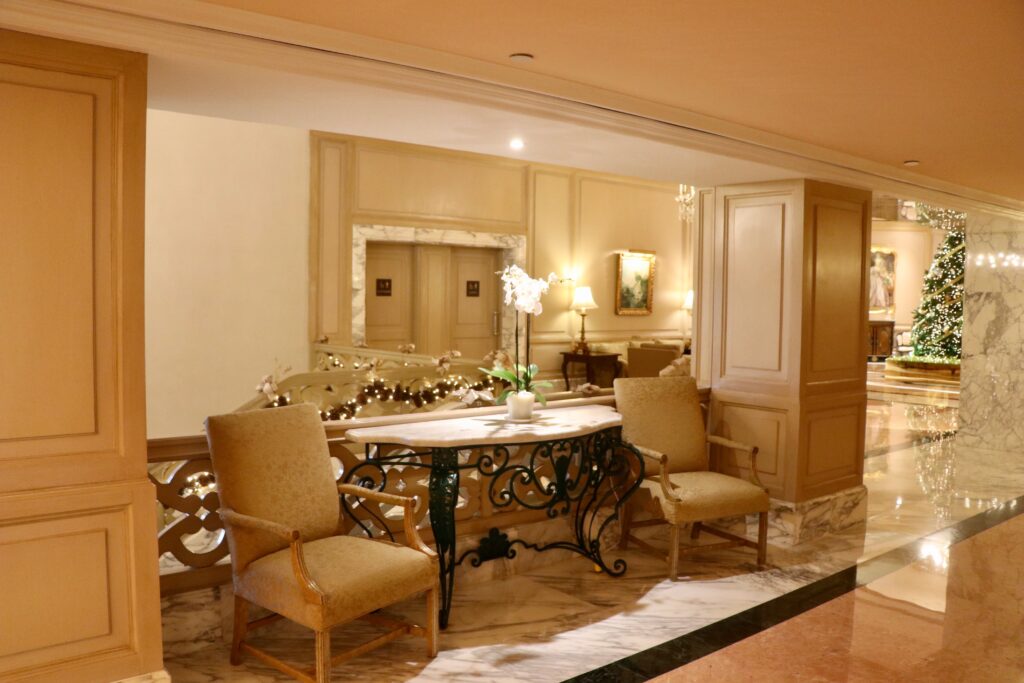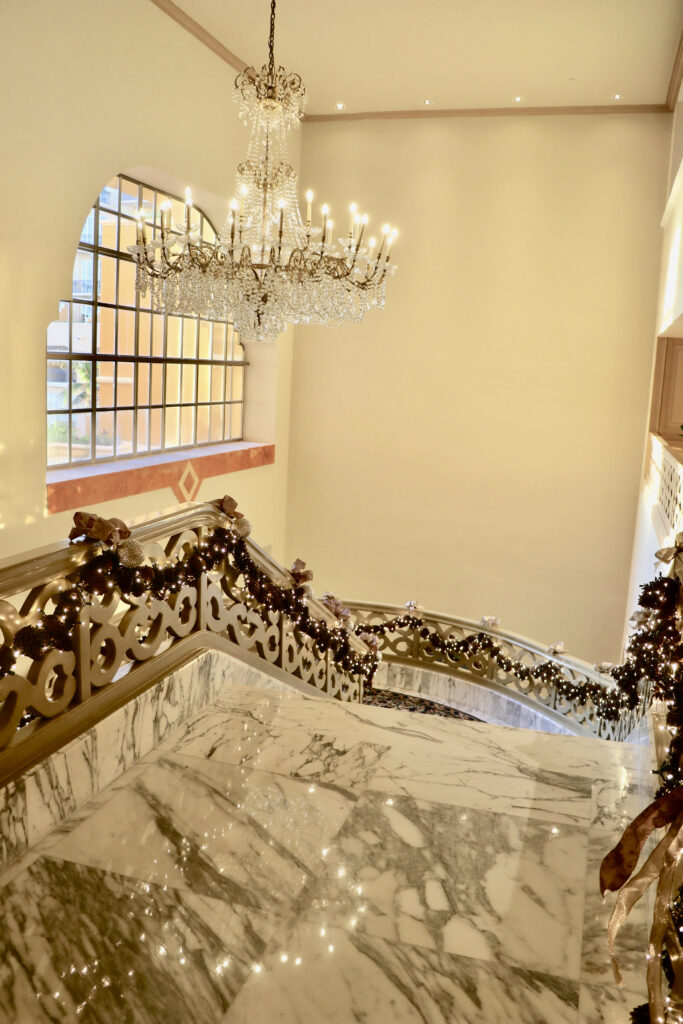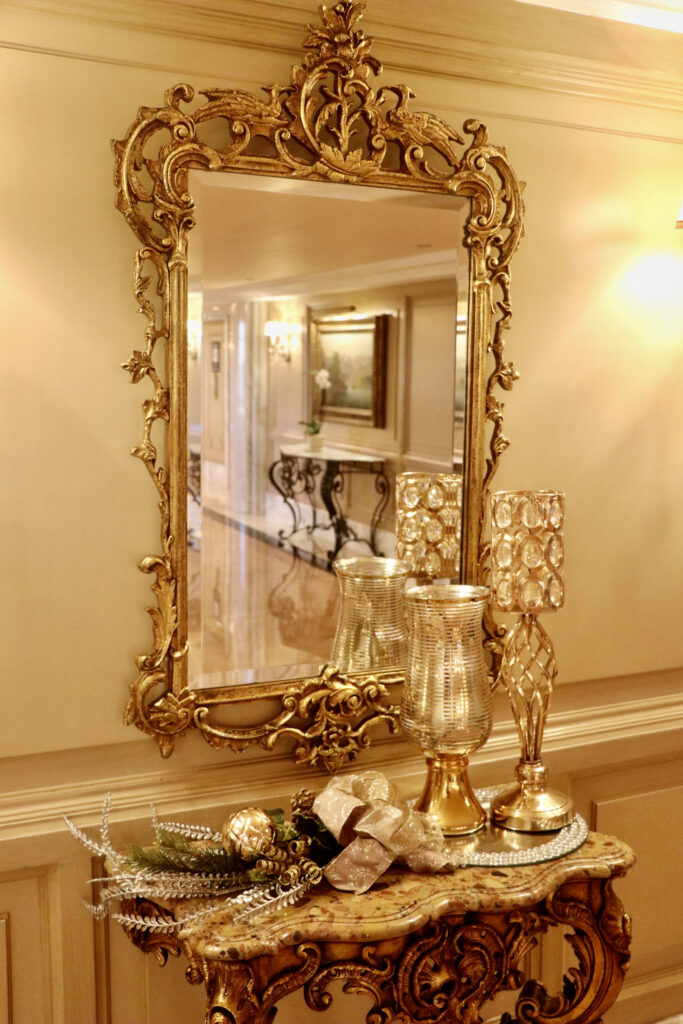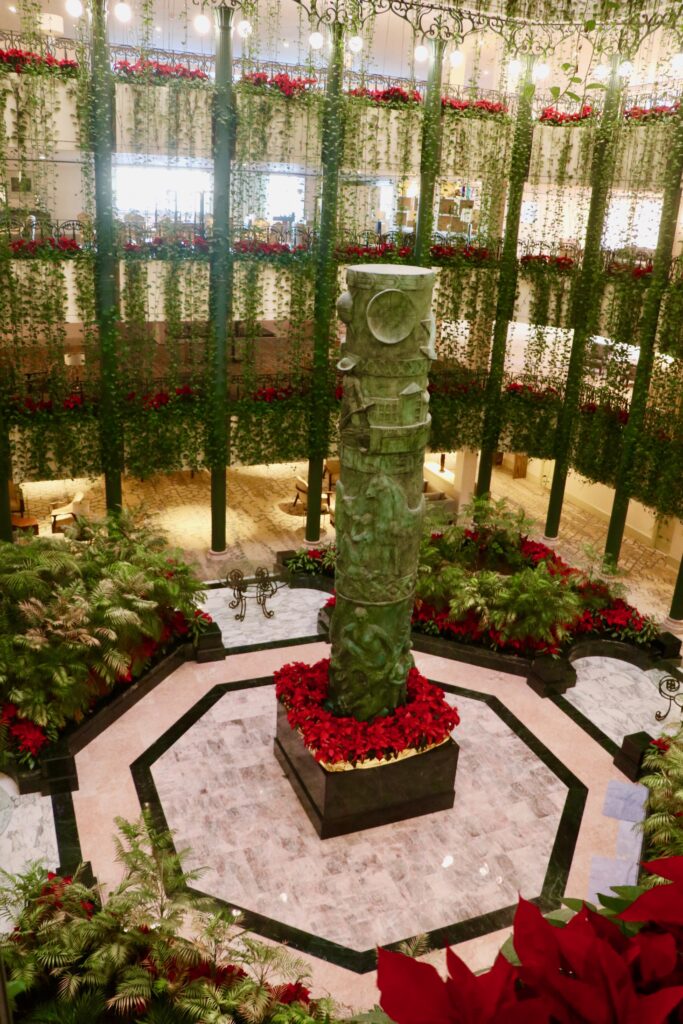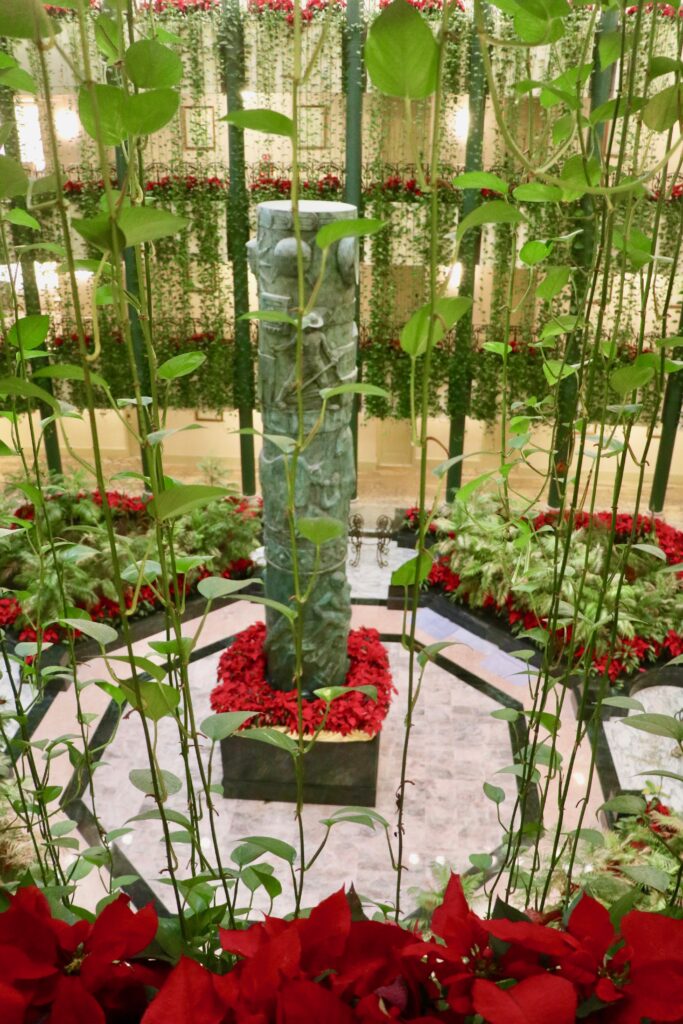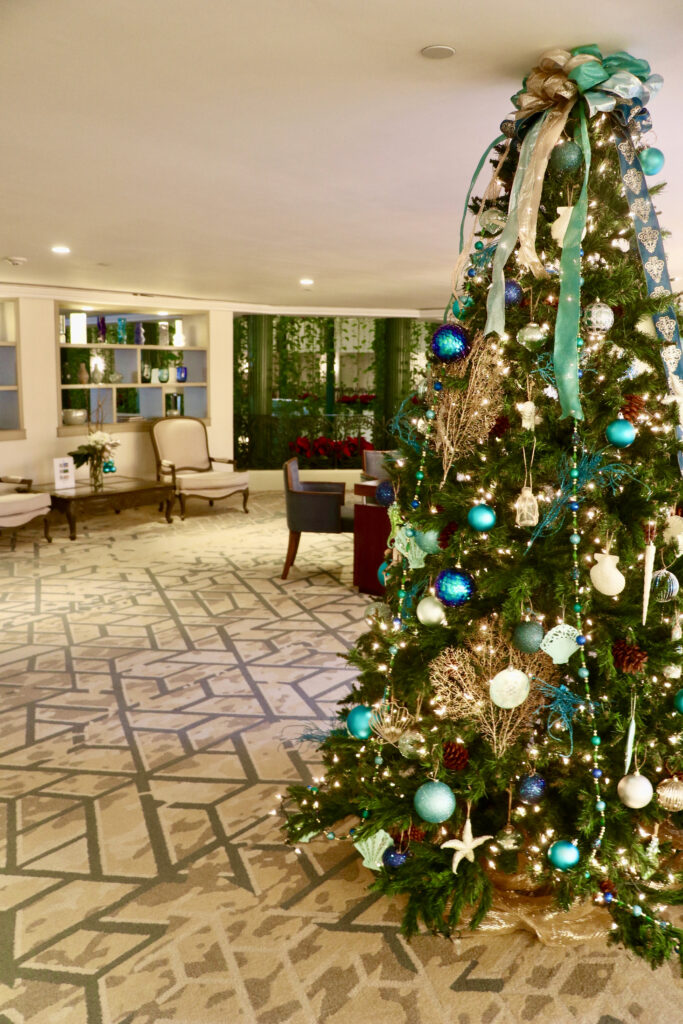 Current COVID19 Protocols at the Ritz-Carlton Cancun
Signage throughout our hotels to remind guests to maintain social distancing.
Occupancy limits and seating capacities reductions in our restaurants in compliance with local and state mandates.
Partitions installed at front desks, concierge, bell boys and hostess area.
The hotel now offers special assisted breakfast buffet service, where the guest is assisted by a server to make selections safely and in a social distanced manner.
Mobile check-in, Guests can contact our team via Marriott Bonvoy app before their arrival.
Valet service is currently available for parking (following all cleaning guidelines).
At the hotel's entrance, there is a sanitizing mat where the guests can sanitize their shoes; also, once a new guest arrives to the resort, all their luggage is sanitized.
In-room dining requests are delivered at the guests room door; the waiter does not enter anymore to the room.
The Ritz-Carlton Spa is proceeding with the temperature screening upon guest's arrival.
Enhanced Public Space Cleaning: We have increased the frequency of cleaning and disinfection, particularly in areas with high traffic including restrooms, elevators, and escalators as well as provided more hand sanitizing stations.
Staff members will wear face coverings, gloves, etc. based on the activities they are performing and based on direction by the local authorities.
Sprayers are used as a part of the cleaning process.
Temperature screening for associates and vendors at entry points.
Temperature screening for guests at entry points.
In-room Coffee makers are available for guests with a limited amount of coffee sets.
Disinfectant wipes are available in the room for every arriving guest as well as upon request.
Housekeeping ladies enter to the room daily to do the cleaning once the guests are out of the room to accomplish social distancing. Also Ladies and Gentlemen have limited access to the room so the space remains immaculate.
Every guest room is thoroughly cleaned and disinfected between each guest. If you have any specific housekeeping preferences or would like to not receive housekeeping service during your stay, please contact guest services at any time.
All menus are available in QR codes.
Fitness Center: Open.
Spa: Open; temperature screening and health questionnaire mandatory before every guest appointment.
Beach: Open.
Kids Club / Playground: Closed until further notice.
Shuttle: Private transportation company is providing service to our guests.
Club Lounge: Open.