Through a bitter cold winter in Manhattan, my mind cannot stop wandering back to the thought of
Florida sunshine and fruity wedding details
. Just last weekend, I had the honor of attending a wedding celebration hosted in Gulf Stream, Florida. The town of Gulf Stream is just about five minutes from Del Ray Beach. Hosted at the
Gulf Stream Bath & Tennis Club
, the setting was such a coastal chic Florida treat.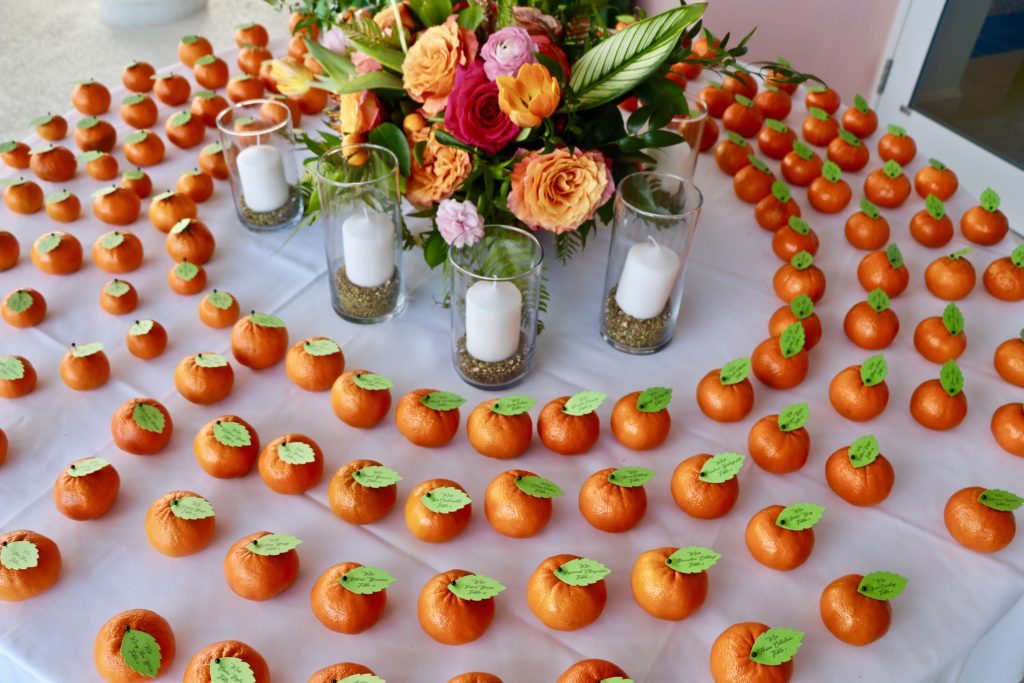 Throughout the charming property, pops of thoughtfully selected bright colors and fun details illuminated an unforgettable night. As a guest, one of my favorite parts of any glamorous wedding is to find the escort card table during cocktail hour and discover the fate of my dinner table assignment.
For this wedding event, I was giddy when I took my first look at the escort card table. There were no cards, but rather a display of vibrant little Florida tangerines with a personalized name tag scripted on each piece of luscious fruit. How fun (and gorgeous)! Bridezillas around the globe will be thanking me for sharing this captivating and clever event detail that makes pin-board dreams come true.
The overall color scheme was captivating – bold pinks, different shades of peach and orange, with a backdrop of lush tropical Florida palm greens. Despite how beautiful and bright the colors were for this special occasion, nothing could outshine the obvious and magnetic glow of the happy newlywed couple. Congratulations to N&K – to a lifetime of love, happiness and bright happy colors, you know how much Ladyhattan loves you.