Our first summer season at our new home in New York City is finally here. The highlight of this urban space are the private terraces with insane city views. The lower level terrace is right off the kitchen with north and east views of the city, including a beautiful look at the Chrysler Building.
For our first evening out on the terrace, I planned a Cuvaison wine tasting followed by dinner to the backdrop of city lights. In today's post, I will be sharing more details on how I prepared for my first summer dinner party through Five "Urban Hostess" Tips from Ladyhattan to consider for your next gathering!
1 – Clean the Home and Take a Trip to the NYC Flower Market
Nothing feels better than a clean and fresh home. The day before your guests arrive, clean your home thoroughly or hire someone hourly to help you do the job. Be sure the bathroom is tidy with guest towels by the sink. Make your counter tops sparkle and throw some lavender fabric freshener on your furniture to give the space a fresh and welcoming ambience. I also light a Diptyque candle while I am cleaning to keep things smelling wonderful.
The day of our gathering I strategically prepped and cooked the majority of the food super early in the morning. Following the food prep, I spent hours cleaning up our golden kitchen so it was sparkling like new. I'm so in love with these counter stools I found with the help of Unlimited Furniture (based in Brooklyn). I take lemon Lysol wipes and wipe down the brass chairs, clean the light fixture globes, and stove.
Another tip for freshening up your space and preparing for guests is simple – fresh flowers! Finding flowers in NYC is very easy, as most bodegas and local groceries such as Whole Foods and Trader Joes carry fantastic flowers.
However, I recently discovered the city's famous "Flower Market" for wholesale prices on some of the most stunning and exotic flowers. I did some research and learned that the majority of the high-end florists and event planners in NYC visit the flower market early in the morning to get dibs on jaw-dropping florals. You can explore the market by walking along west 28th Street (between 6th and 7th avenues) and you do not need to be a vendor to purchase, regular customers are welcome. If you pay in cash, you can get even better deals and avoid a card/tax charge. The hot pink garden roses photographed here were purchased as an extra large bundle for $30.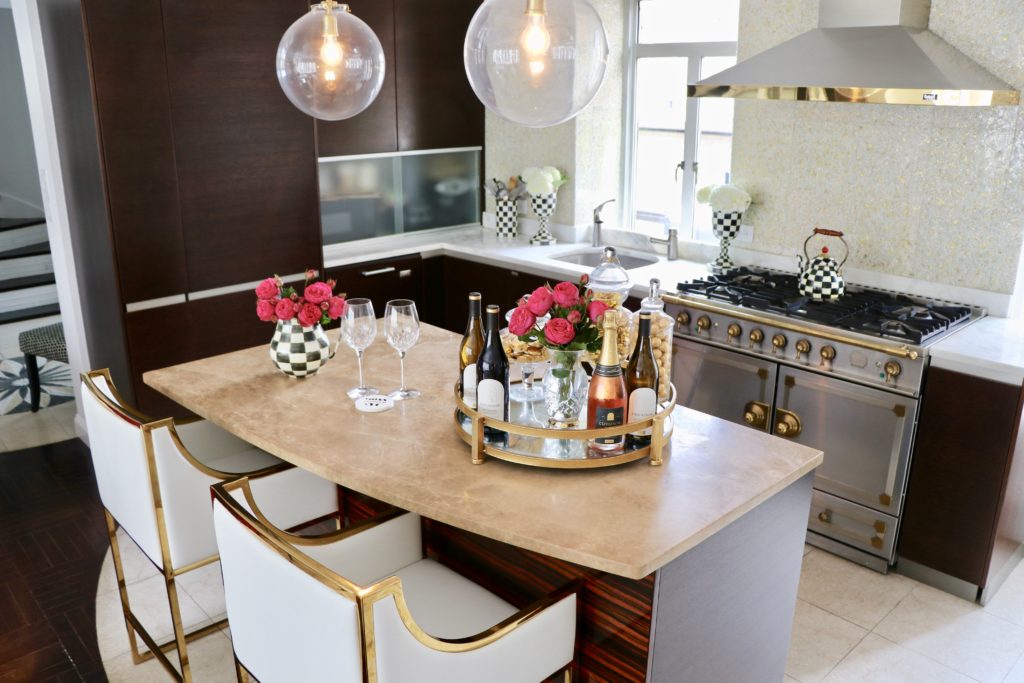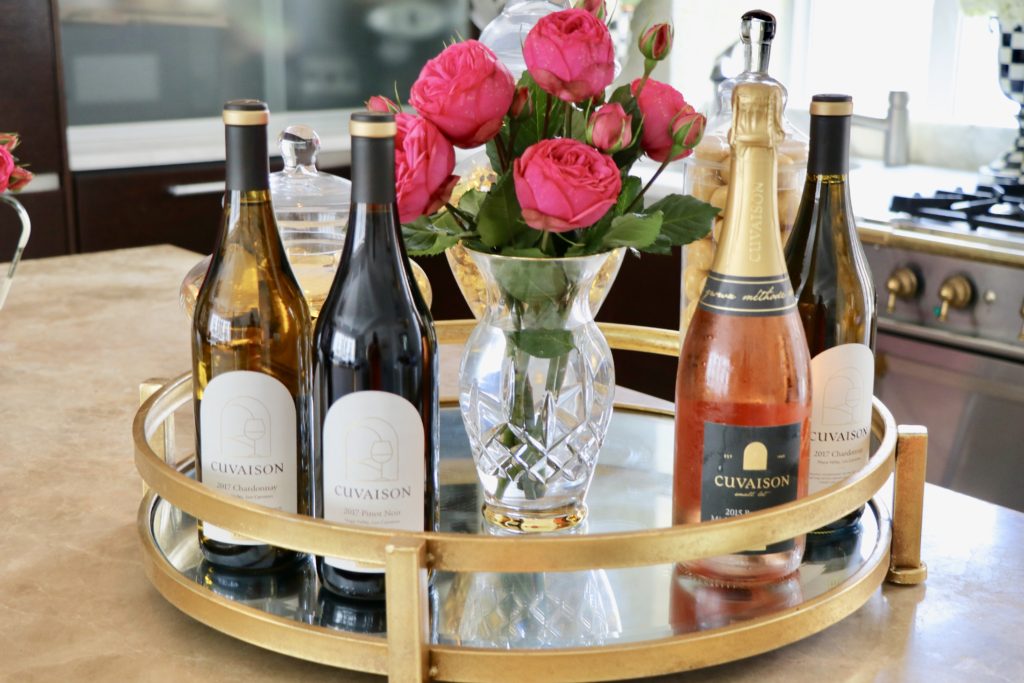 These custom designed coasters were made with For Your Party. You can create gorgeous event details for your home in countless colors, styles and design schemes. See below for tip number four on how you can design speciality items for both your home and event needs.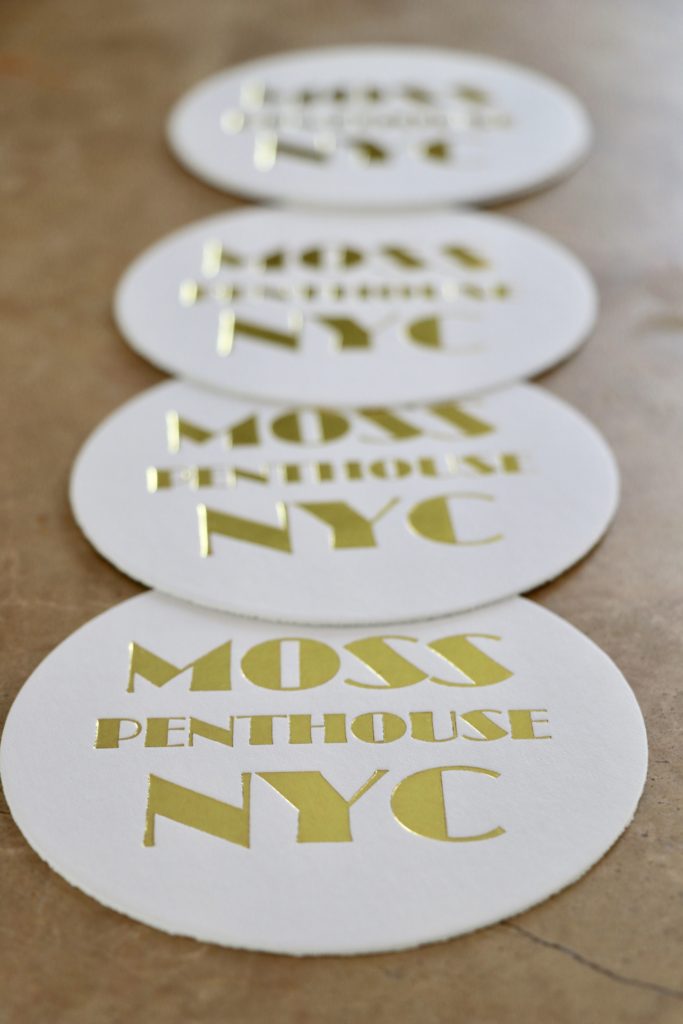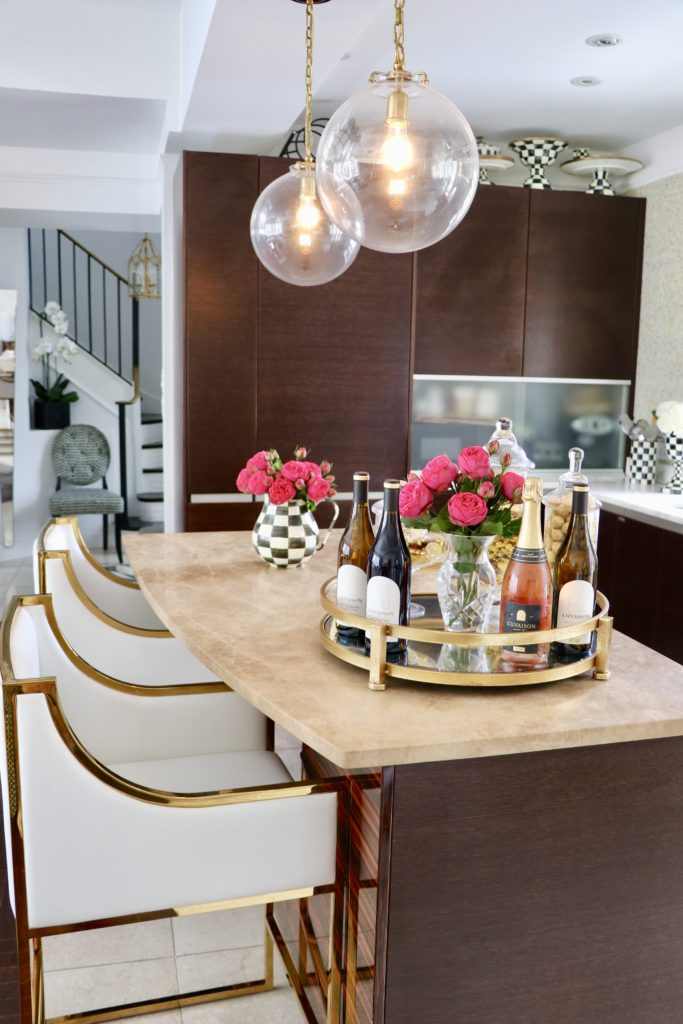 2 – Display Your Favorite Plates and Serving Accents
What goes on your table makes your table, ladies. A good hostess always sets the scene with the right selection of entertaining pieces. The tablescape sets the tone for your event.
For this summer in the city themed event, I wanted to incorporate bright colors and florals that embrace the warm weather season. For years I have been a huge fan and collector of Mackenzie-Childs. If you attended my bridal shower, you probably remember the checkered black and white boxes exploding out of the event because I registered for so many of the signature pieces. While I love the signature black-white prints by Mackenzie-Childs, referred to as Courtly Check, I felt that our outdoor terrace would be the perfect space for incorporating some pops of color.
One of the things I love about Mackenzie-Childs is that you can truly mix and match your classic Courtly Check pieces with other bold prints and colors. I was thrilled to partner with the Mackenzie-Childs team and style pieces from the Flower Market collection which works beautifully with the neutral black-white accents.
From the Flower Market collection I used a green charger plate, a black dinner plate and a white dessert/salad plate for a stunning trio. The contrast of colors is fun for the summer season, but also sophisticated enough for urban entertaining in the Big Apple.
I used the Pedestal Vases in Courtly Check to anchor the table with plush hydrangea. I also love to use these large and playful vases for the holiday seasons by filling them with mini pumpkins or Christmas ornaments. Another fun accent you will see on my table is the Wild Rose Napkin Ring in gold.
Not only are pieces from Mackenzie-Childs feminine, fun and festive, they are durable and practicable. I absolutely love my enamelware pieces because they are so sturdy (they are impossible to break) and they are dishwasher friendly. All the plates and enamel pieces are made with a heavy-gauge, hand-glazed steel underbody before they are hand-painted and rimmed in bronzed stainless steel. When cleaning up the table outside on the terrace, if I drop a plate or vase, I can be assured it will never shatter into pieces – what a relief!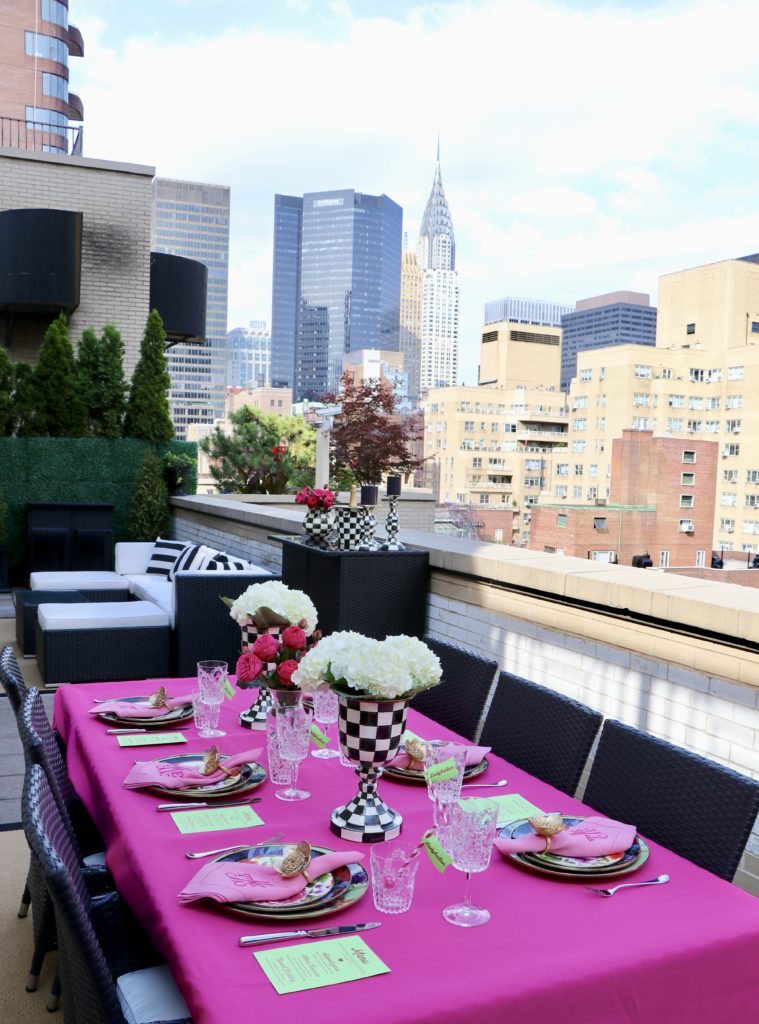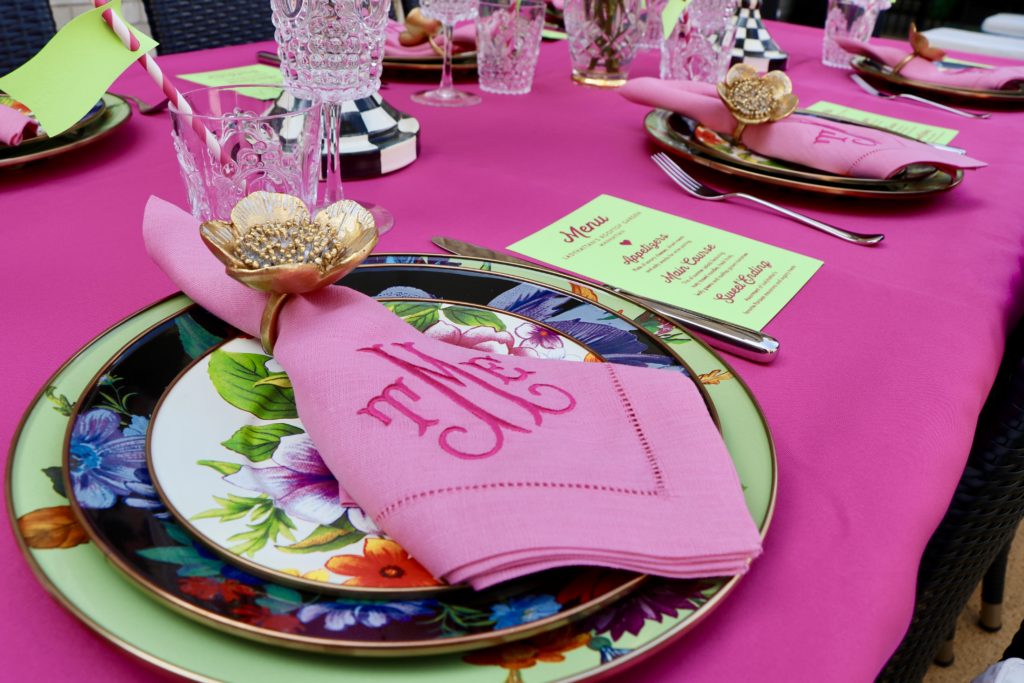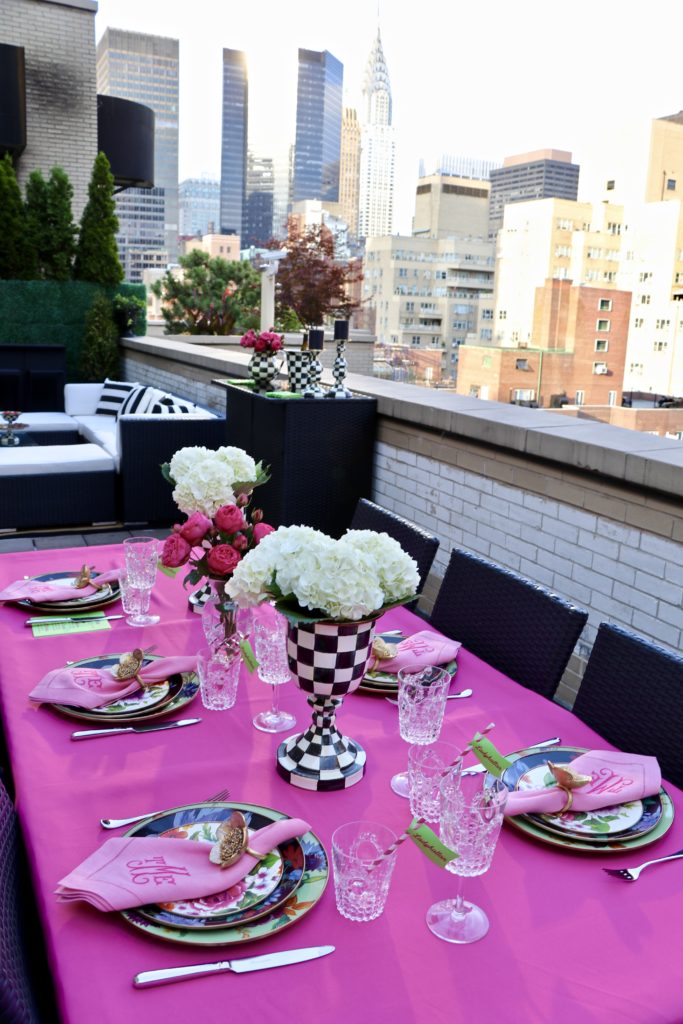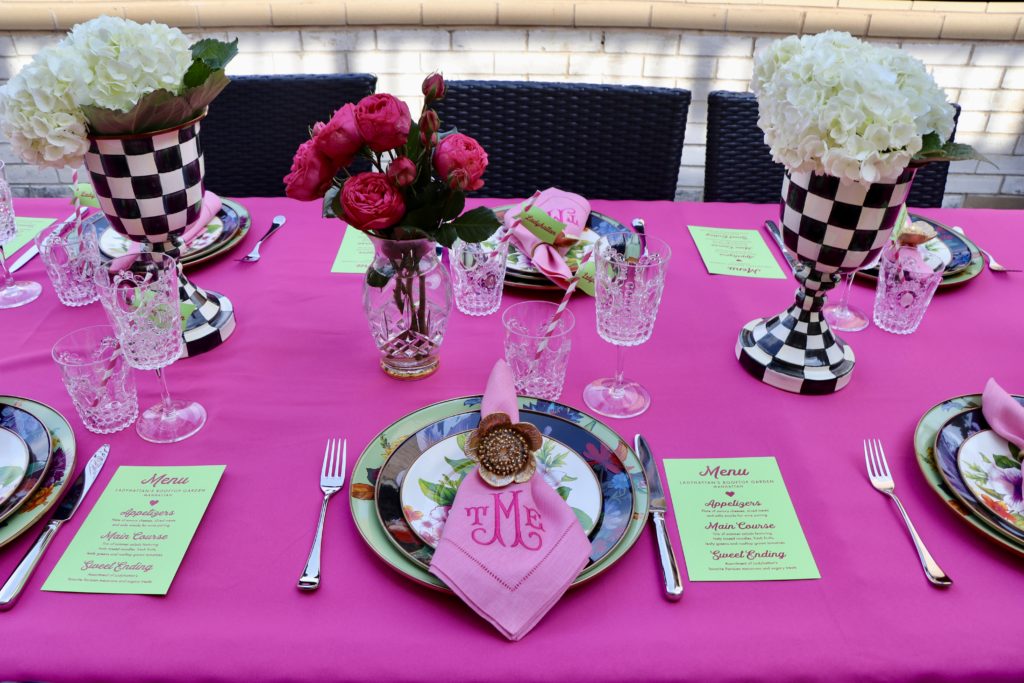 3 – Be Bold With Your Linen Selection
Your napkins and linen selections can really make a statement on any dinner party table. On the hunt for the most luxurious quality linens, I was delighted to discover Bella Lino Linens. What a fantastic company for linens, ladies!
They carry over hundreds of different colors of linen options, threading colors, but also some incredibly cool monogram designs to select from. You do not have the added pressure of designing your own monogram and can just rely on Bella Lino Linens to help direct you to the best option based on what style you are looking for. The customer service is superb. I started out with pink summer linens but will definitely be ordering from them again for holidays or other festive times of the year.
The company also designs and prints monogram towels, bedding goods, and robes. I love what they offer for your dining table and wish I had known about this company for our wedding planning needs – they offer custom linens for your wedding event which is pretty amazing too! Absolutely loved working with Ellen to design the perfect bright linens for summer hosting, thank you so much!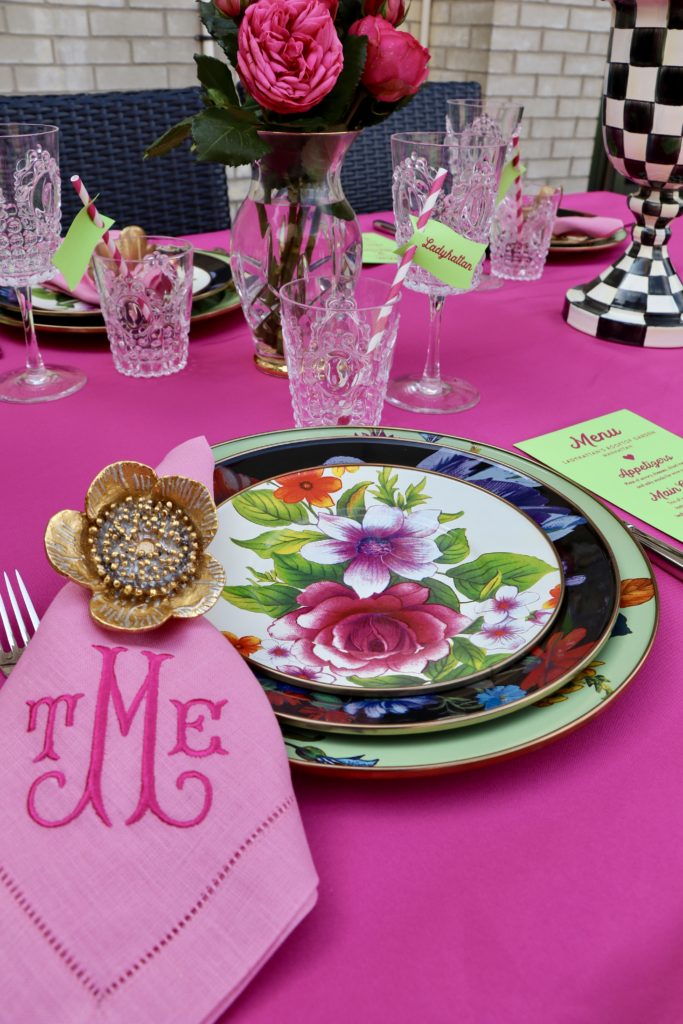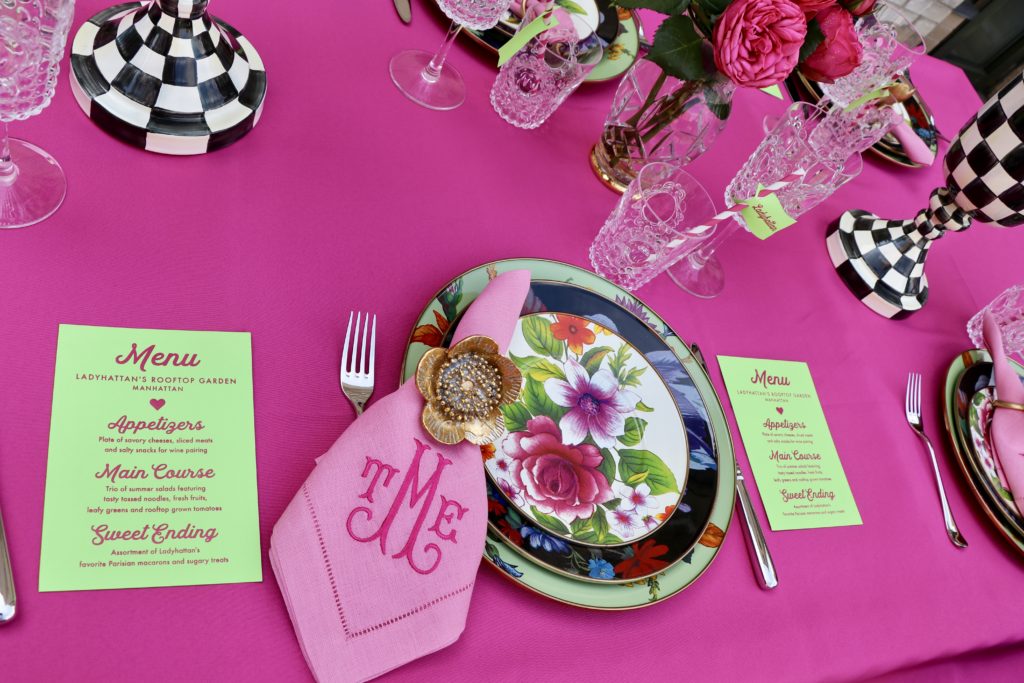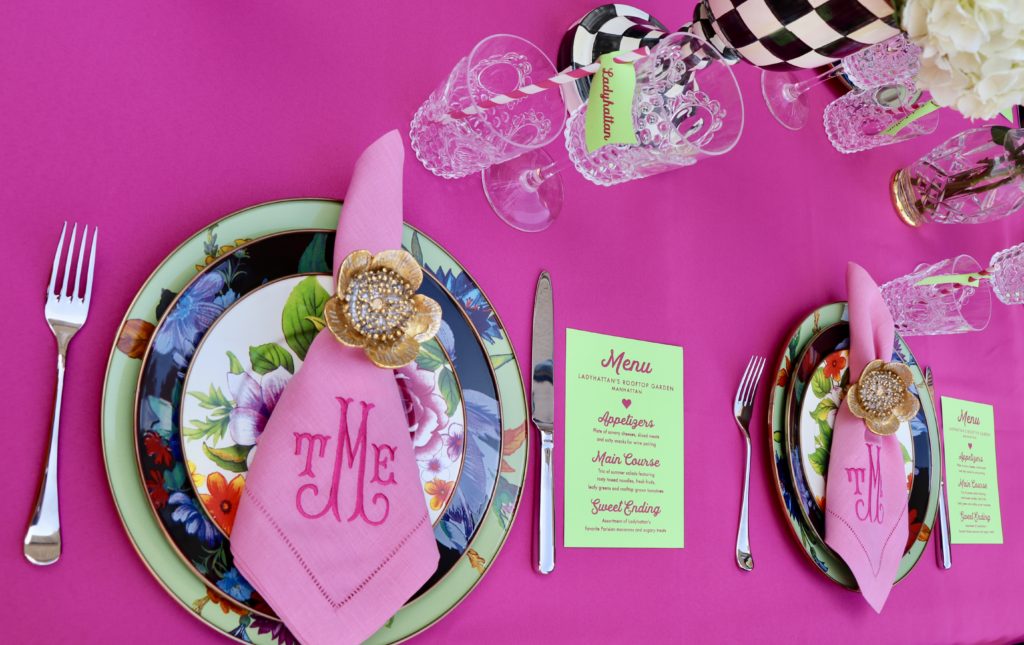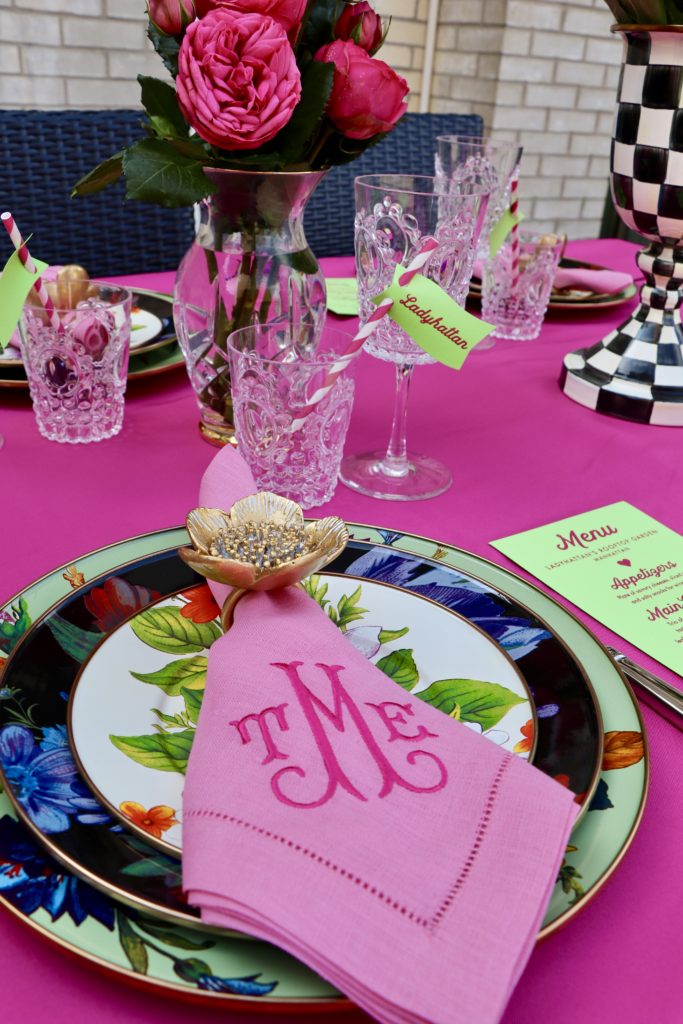 4 – Add Some Character with Customized Party Goods
For custom paper goods, most of my girlfriends always assume that they need an anticipated "big occasion" (i.e., wedding, shower, birthday) to order party items. Well, let me tell you friends, that is definitely not the case. You are better off investing in some signature custom items for your home that you can re-use each time you host a gathering or event – no matter how big or small the occasion.
Think about items that you will always need when you have friends or family over to your home – coasters, guest towels and cocktail napkins, for example. Consider customizing such items with a nickname for your home, a family name, a fun celebratory slogan or perhaps even a fun image that is speaks to your party personality.
I have always ordered from For Your Party for all my paper good needs. They are the absolute best in terms of selection, quality of product, as well as customer service to ensure the desired items are designed to perfection.
For our new home I wanted to create fun "guest towels" for the powder room. The powder room has a ton of character with the Scalamandre zebra wallpaper and gold leaf ceiling. But the best part of the powder room is that when you sit on the toilet, you will look out the window and have a front row view of the Empire State, hence why we refer to this space as the "Empire Powder Room". I designed black paper hand towels with gold foil printing. Each time guests return from using the powder room they always laugh and say how much they enjoyed the view, and of course the beautiful hand towels with the room's name printed boldly in gold.
I also made white and gold coasters that can be used throughout the entertaining areas. They match gorgeously with the white and gold decor of the living room, but also serve the purpose of protecting our tabletops when cocktails are flowing. Fun cocktail napkins are always handy when you host a gathering. For the summer season, knowing that would be entertaining on outside quite a bit, I designed fun bright napkins with a Ladyhattan twist.
As you can see on my ultra colorful green and pink tablescape, there are dinner menus at each place setting. You can be creative with the language in your menu to design and print a flexible menu that can be re-used for multiple occasions.
For example, I always start my guests with an appetizer assortment of cheeses, sliced meats and salty snacks with wine. As for the main dish, I described this course as a trio of summer salads, allowing me the ability to change-up the salad selection for each new group of people that we host. Consider language to articulate some of your go-to foods when you host guests. Use those staple foods to then build a broad menu that can be used for several occasions at your home after printing one set of beautiful menus.
All the items you see below were designed with For Your Party – they are really the best in the hostessing and event business!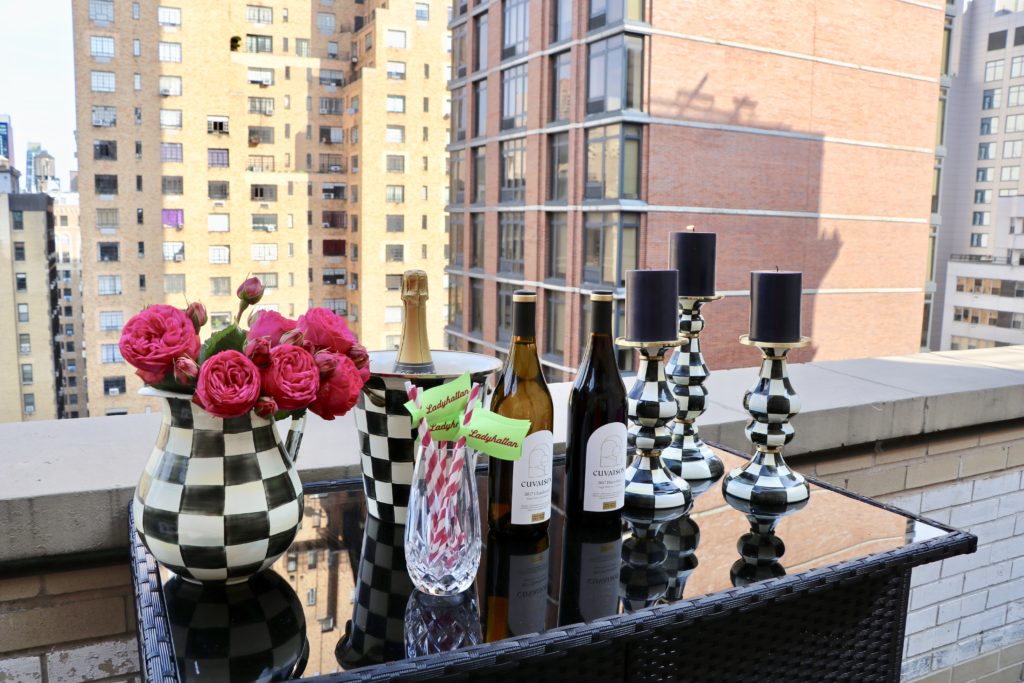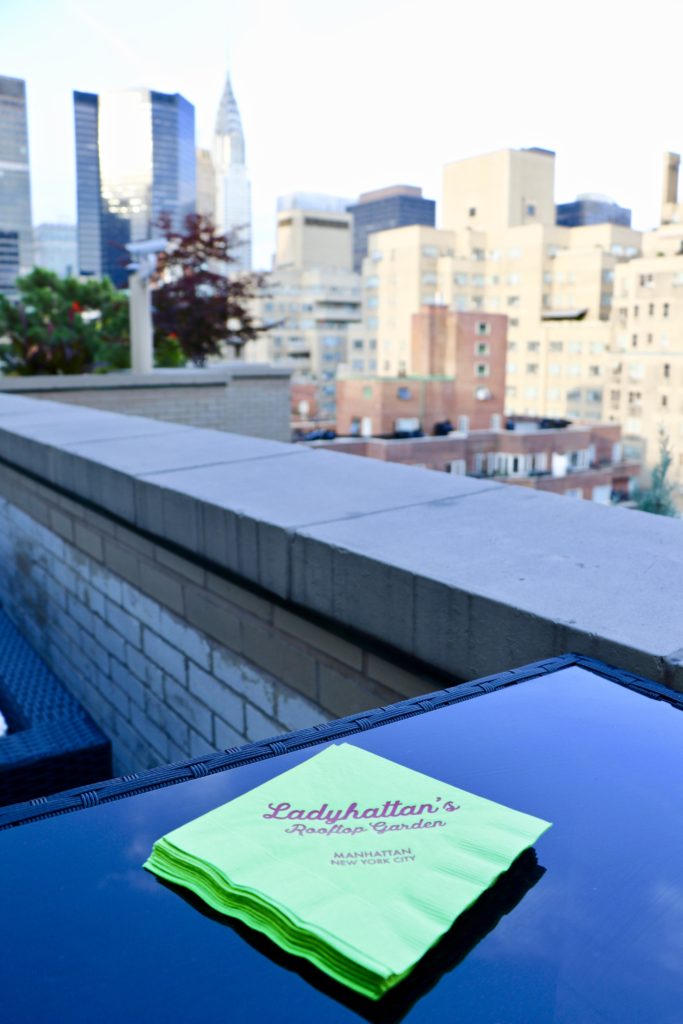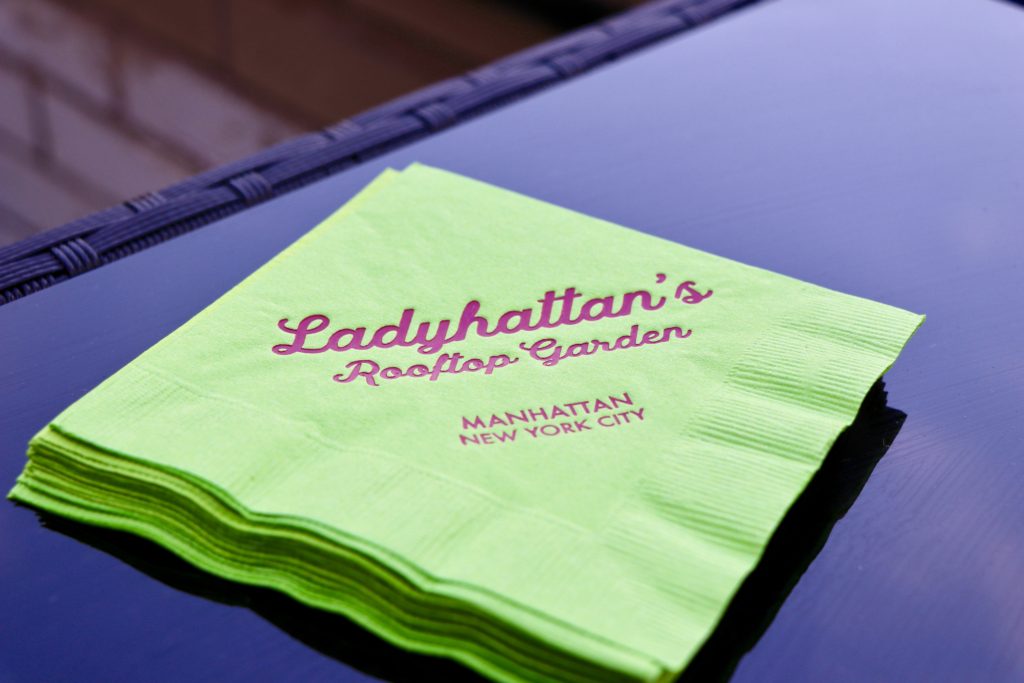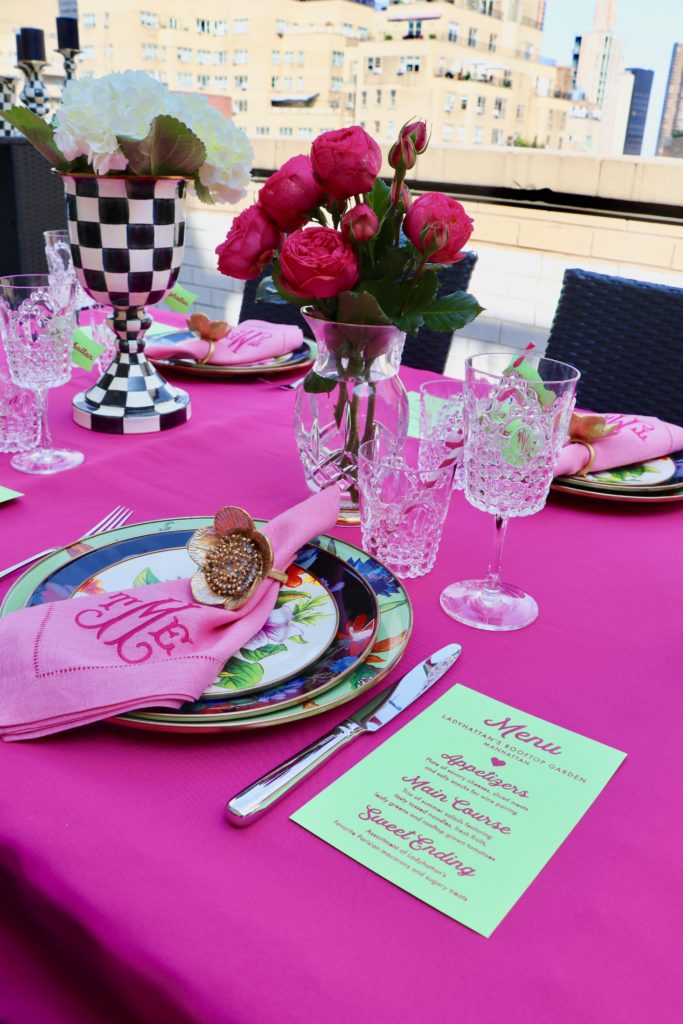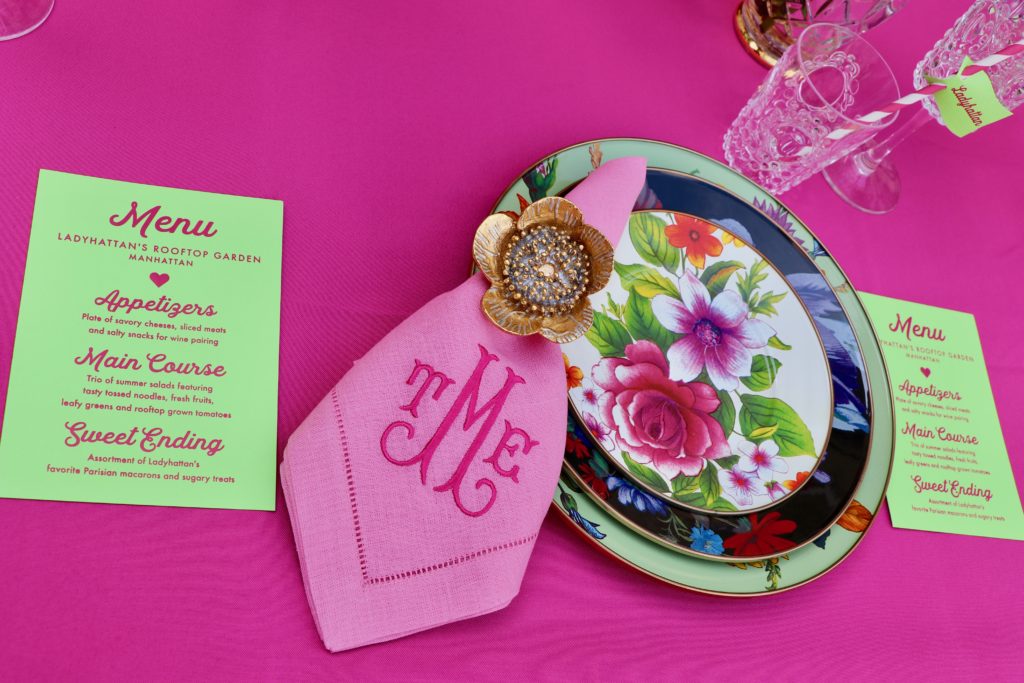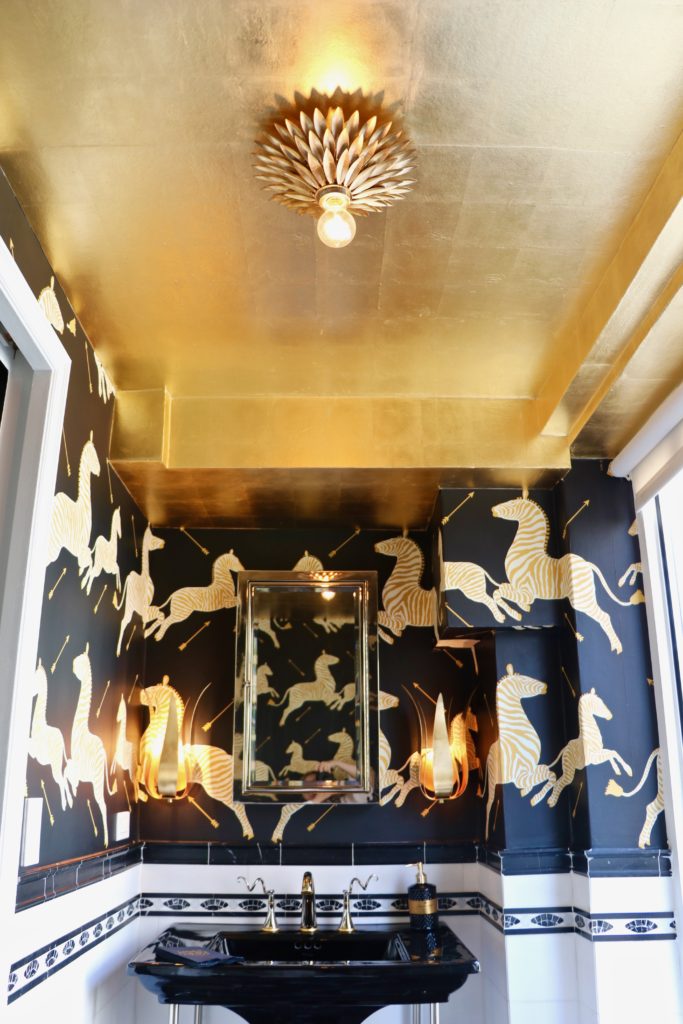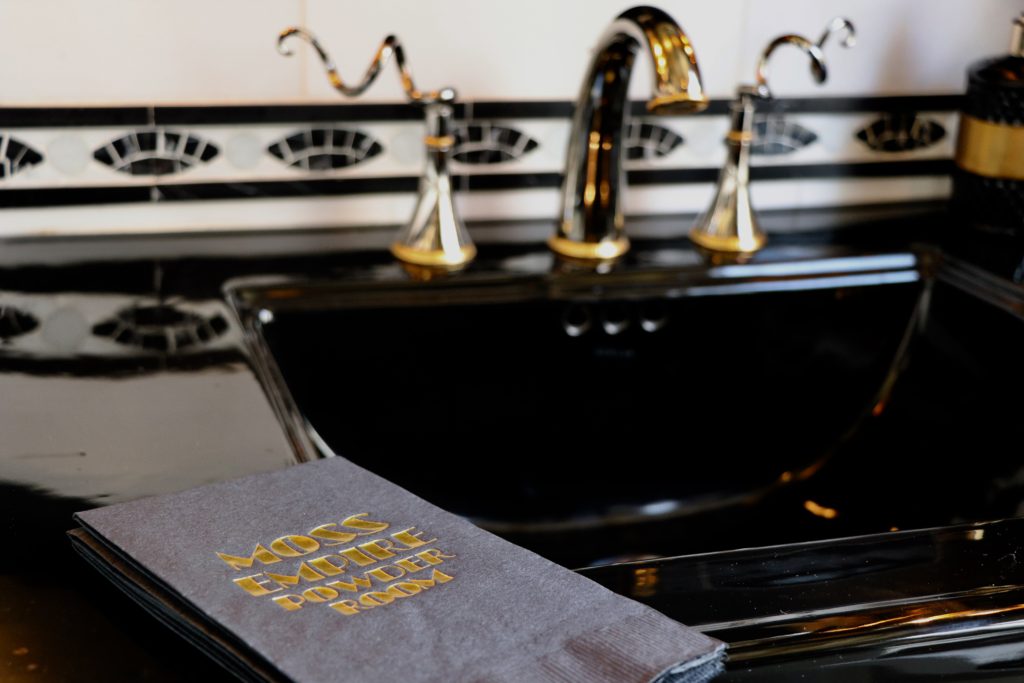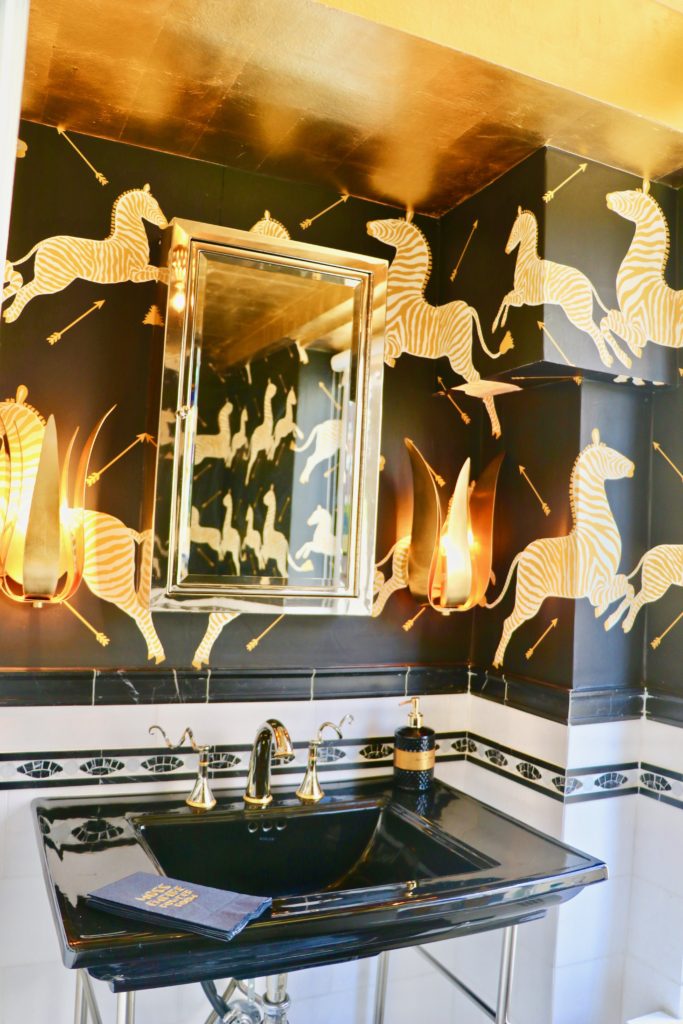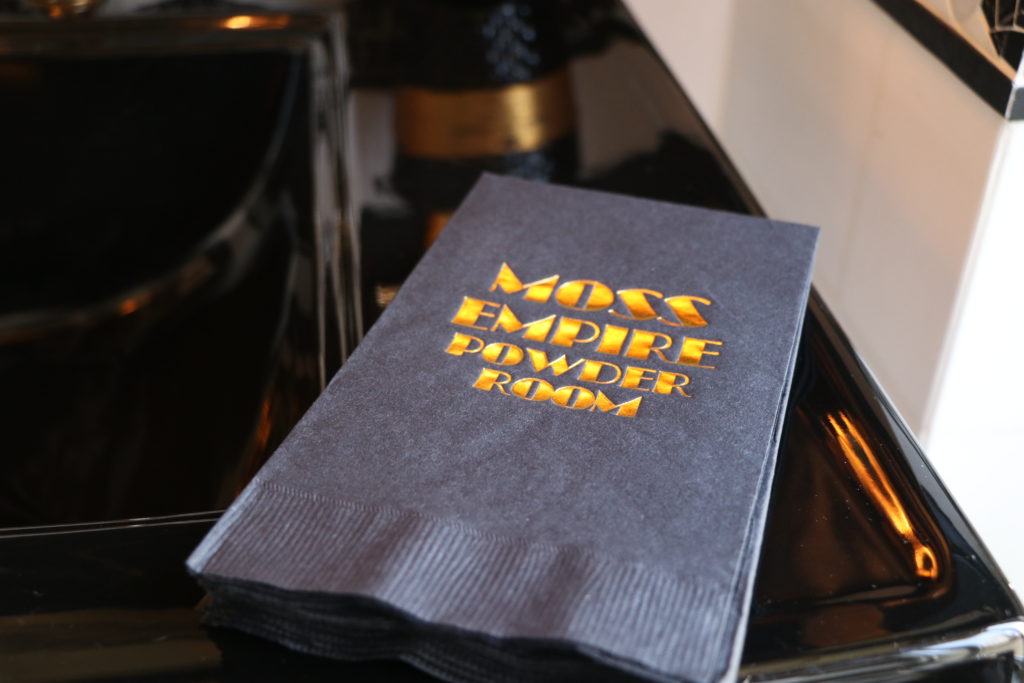 5 – Select Fantastic Food and Wine
Rounding out the final tip to hosting a fabulous summer dinner party, you will want to serve fantastic food and wine. Any good hostess knows that preparing a tasty selection of food and wine is vital. Do some brainstorming and Pinterest browsing for recipes or food presentation ideas, and then make a grocery list to gather all the items you need for a delicious feast. I always wake up super early the morning of my event (5am) and prep the majority of the food so there is little stress later in the day when it's time to plate everything.
To help you ladies and provide an example for reference, I will layout each course that I served my guests for this particular casual summer gathering.
For starters I like to keep it simple and give people what they will always enjoy with wine – cheese, of course! Featuring Cuvaison wines, I poured the guests a glass of chilled 2017 Estate Chardonnay. This Napa Valley wine has hints of honeysuckle, jasmine, vanilla and clove spice that can be appreciated by all palates. Bottles are decently priced ($26) and offer strong quality white wine that is refreshing on a warm evening in the city.
On the cheese plate I typically include a Drunken Goat, Humboldt Fog, Cheddar cubes and a creamy brie. I display the cheese with salty crackers, a small bowl of nuts, as well as a stack of sliced salami or prosciutto. A tasty alternative to crackers is to thinly slice a fresh baguette. For a sweet touch, add a pile of grapes or cherries. Although it can get a bit messy, I sometimes offer a fresh fig jam to spread on the cheese and crackers.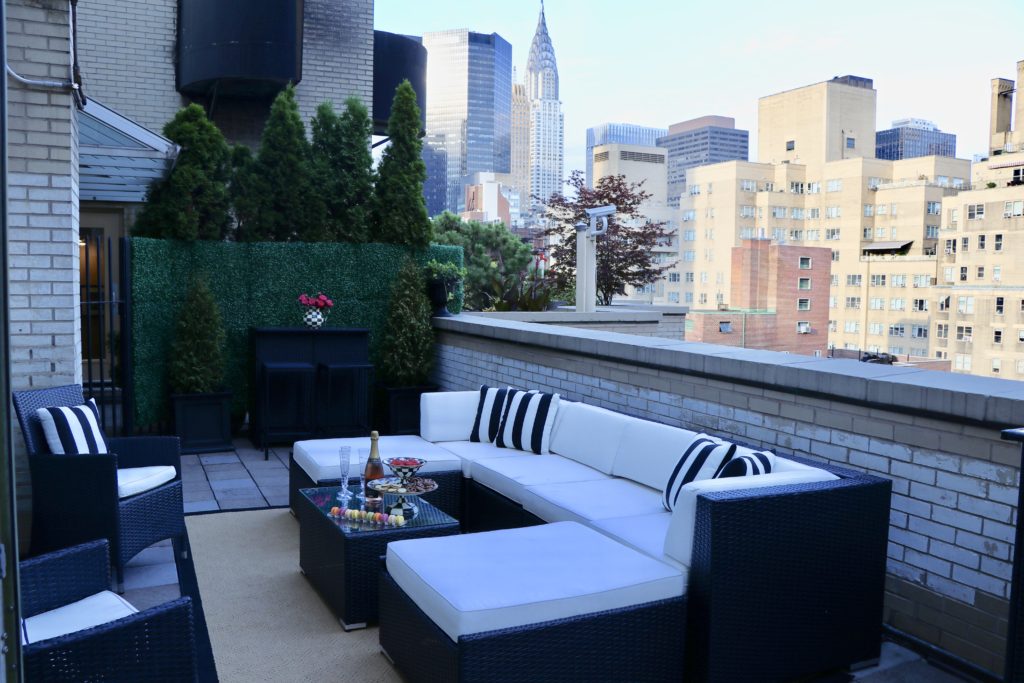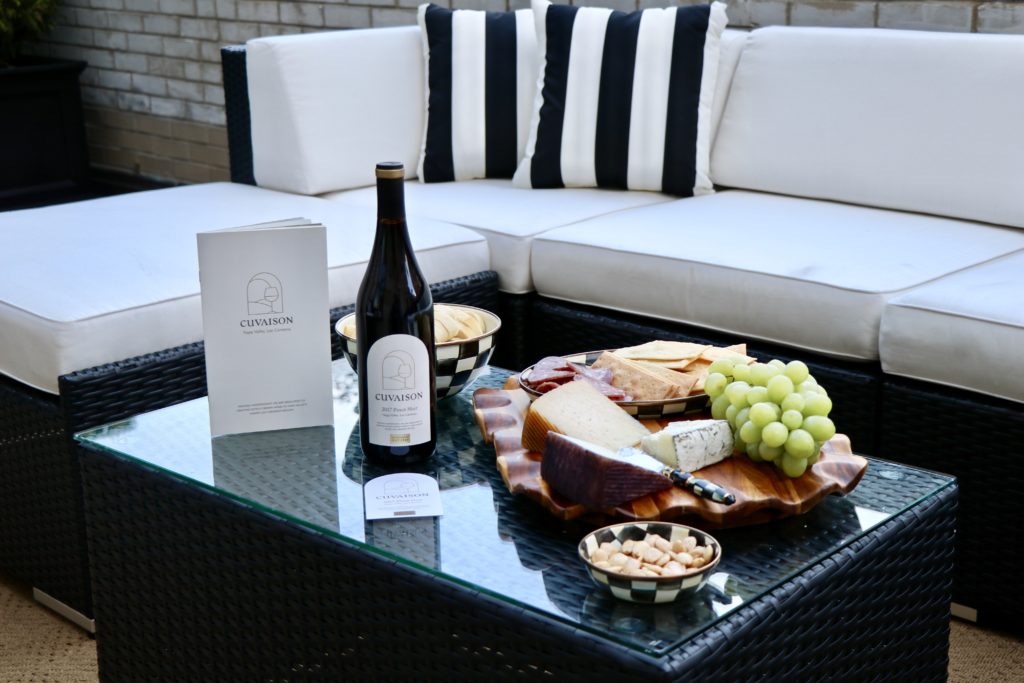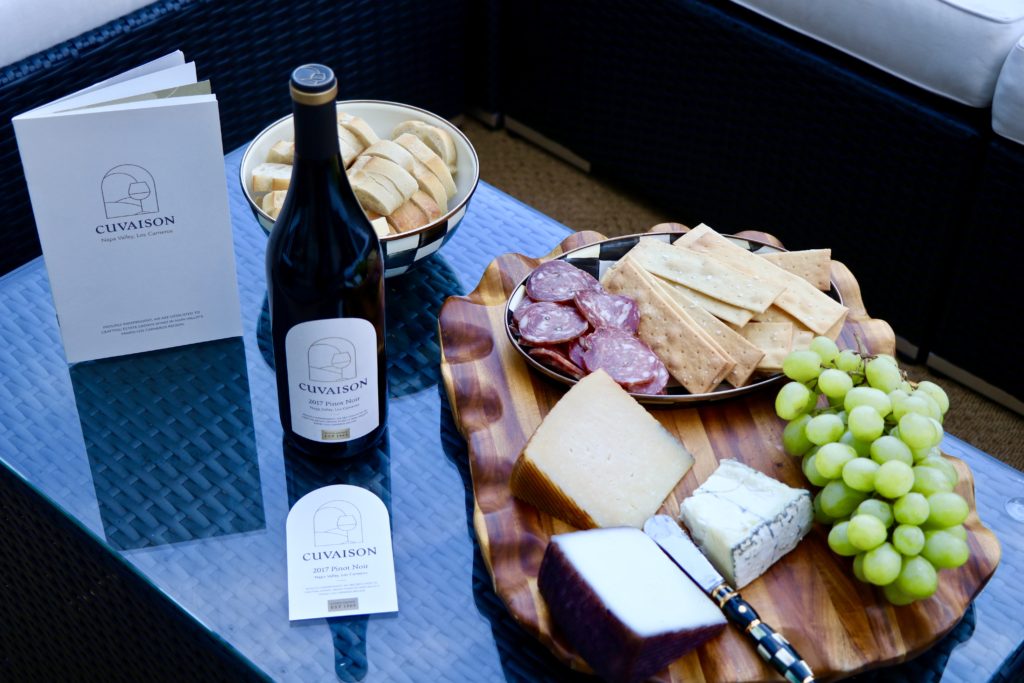 For the main course, I worked off the flexible menu that I designed with For Your Party for my anticipated regular terrace gatherings. I selected something that was versatile but also relatively easy to prepare on a tight schedule. My husband and I worked together to prepare a "trio of salads" which included a chicken and pesto mix, sautéed summer vegetables and a heavier caprese pasta salad with fresh basil, tomato and mozzarella. The next time we host a new group of people, we will likely change up the type of salads we serve.
We paired the summer salads with my favorite red from Cuvaison, the 2017 Estate Pinot Noir. Our guests loved this wine and could taste flavors of rose petals, hawthorn, wild strawberry and plum mingled nicely together. A flavorful wine paired with hearty and healthy summer salads was a crowd pleaser!
Last but not least, our neighbors that I hosted enjoyed a sweet and savory ending paired with Cuvaison's 2015 Brut Rose, a limited edition bottle to toast to the summer night. I prepared an assortment of bakery bought cookies, French macarons, chocolate dipped pretzels and a bowl of fresh raspberries.
Dessert was simple and sweet. I wanted to focus my attention on preparing a beautiful scene and mixing up delicious summer salads for dinner. In my opinion, dessert is the easiest place to "cheat" in your dinner party prepping and pick up something absolutely delicious at the nearby bakery rather than stressing out by trying to make a masterpiece from scratch.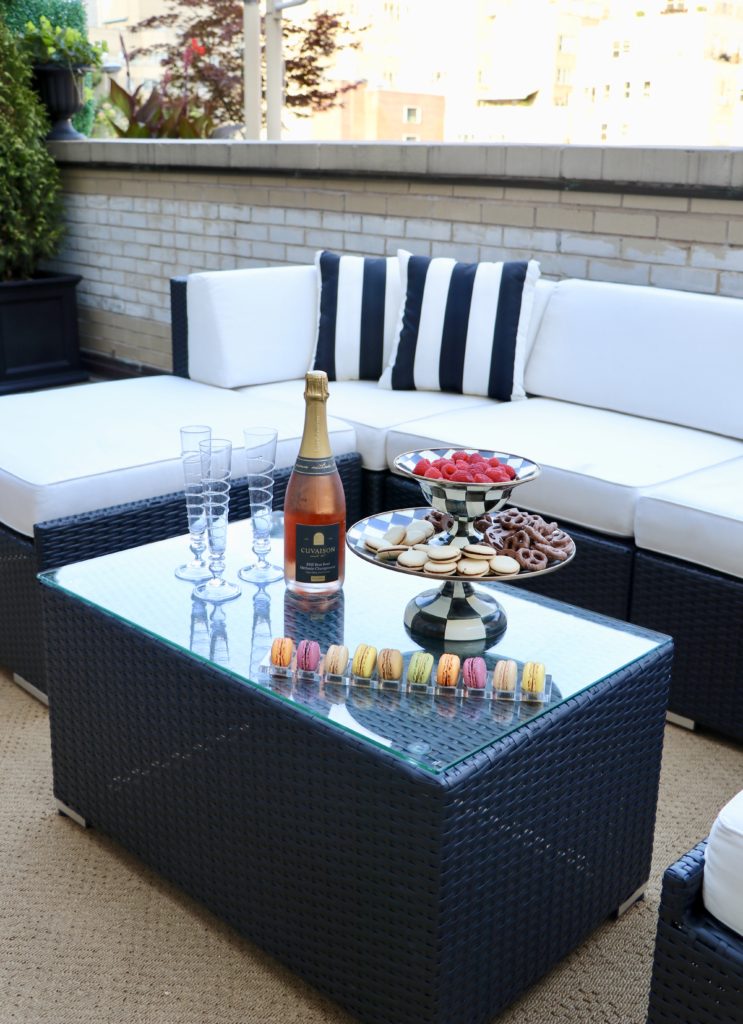 Cheers to our first successful summer dinner party on our new city terrace! This space is absolutely stunning and we hope to enjoy many future gatherings here at home in Manhattan with friends, family and neighbors.
Hoping that you enjoyed these Five "Urban Hostess" Tips from Ladyhattan to help prepare for your anticipating hosting needs this summer and beyond! Thank you to Mackenzie-Childs, Cuvaison Wines, For Your Party and Bella Lino for being featured in this post.