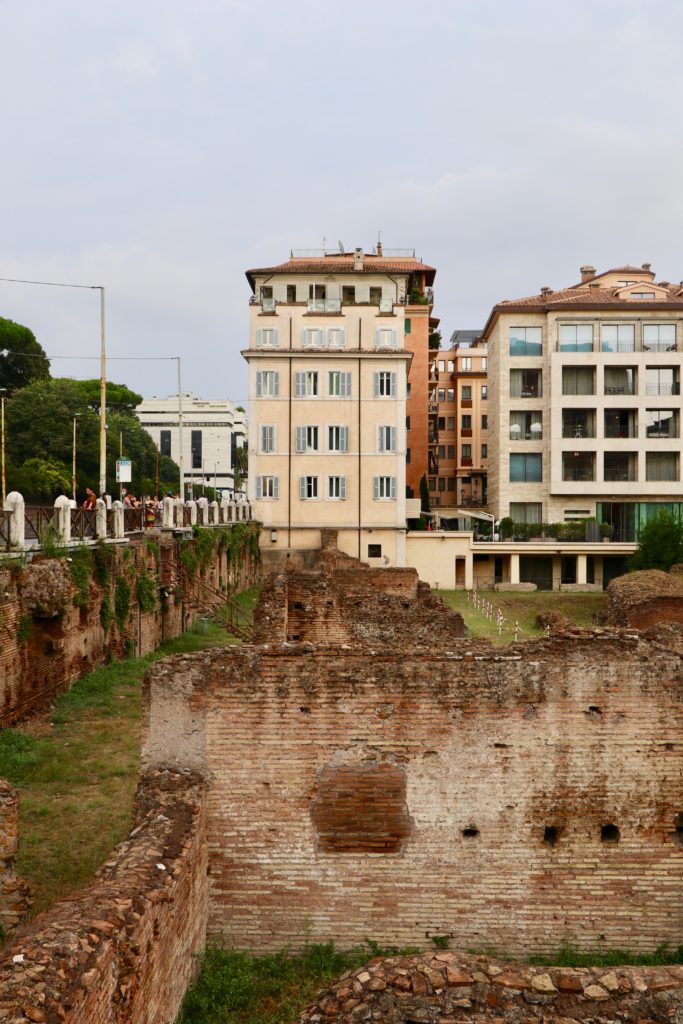 Literally just steps from Rome's most iconic landmark, the Colosseum, I stayed at the charming and luxurious Palazzo Manfredi during a recent visit to Rome. A rare gem with fourteen individually created and modernized rooms directly facing the Colosseum, this property is ideal for any lady's Roman holiday. Stay tuned for a full hotel insider recap on everything you need to knowing about booking your next stay at this amazing property.
In today's Ladyhattan feature, I am taking you on a culinary ride through the ultimate dining option in Rome, located right here at the Penthouse of this very hotel.
Inside the intimate rooftop garden of this historic hotel sits the Michelin-starred Aroma Restaurant. The 28 seat restaurant is ideal for everything from romantic dinners to celebratory private parties, but truly essential for one of your meals when on holiday in Rome, Italy.
Roman-born Chef Di Lorio has been Aroma's head chef since it opened in 2010, since which time he has developed a menu that marries his mastery of traditional Italian cooking with his flair for fresh ingredients and creative ideas. During our recent stay in Rome, my husband and I scheduled a "tasting menu" experience at this renown dining establishment and our palates were taken on a ride we will never forget.
The intricate menu details, bold flavors and impeccable service facilitated a lengthy dining experience that became the highlight of our vacation. Within the open-air rooftop restaurant, a magnificent summer storm passed through the city as we ate and sipped with a view. Sparks of lightening illuminated the dark sky looming over ancient ruins and we were giddy with delight. Thankfully the restaurant has a retractable roof and sliding glass windows that can close-up during a rain storm to create the illusion that you are in a magical Italian globe looking out at the ancient world in view around you.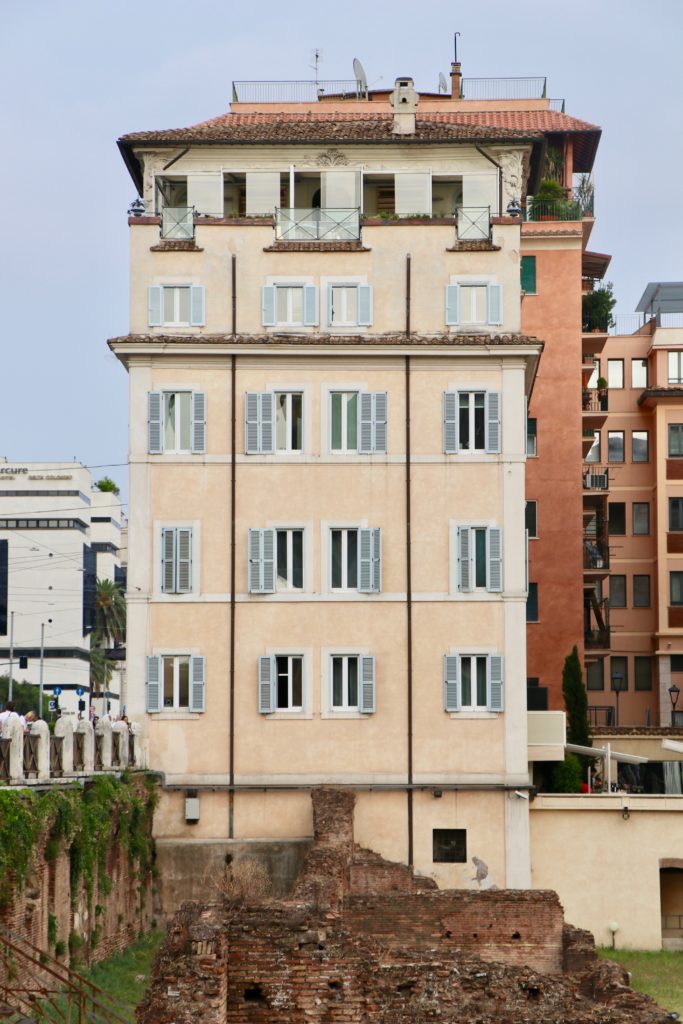 Aroma offers a full "tasting menu" which provides a gastronomic journey through Chef Guiseppe Di Iorio's philosophy and culinary essence. Upon ordering the tasting option, which Ladyhattan highly recommends, you are greeted by a "Benvenuto dello Chef" or in other words, a Chef's welcome in the form of a specially prepared starter for that particular day. For us, this was a bite size puff of mozzarella oozing with Italian flavors.
Below you can see glimpses of each phase of the tasting menu with a brief description of each respective course that ultimately ended in the sweetest of desserts I have ever tasted in all of my travels.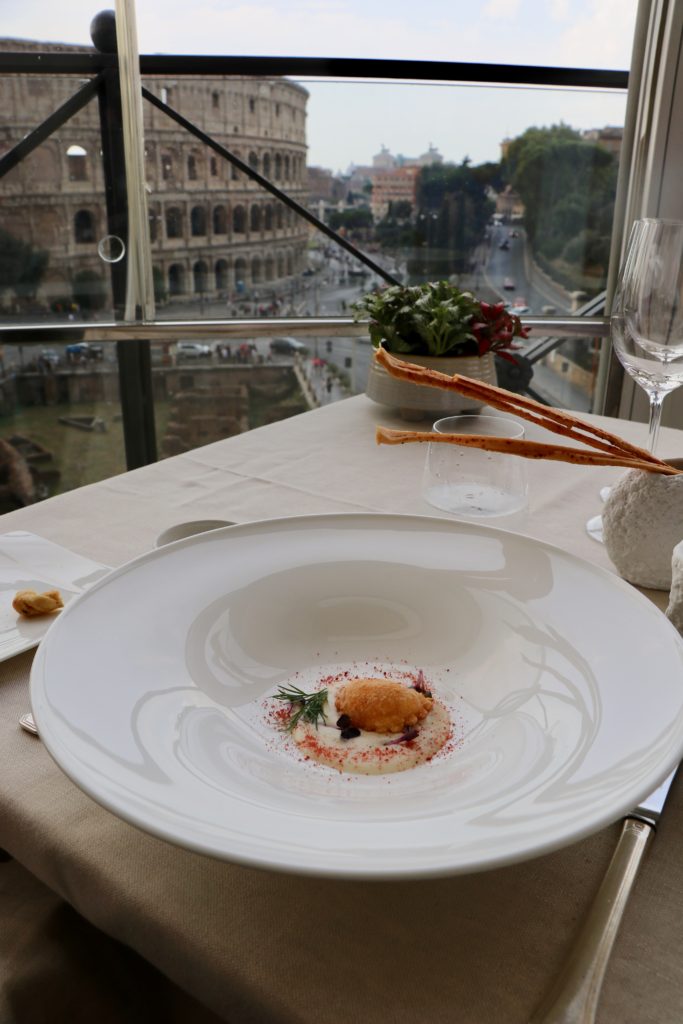 Here is a close-up of the Chef's welcome taste of the day, which was a mozzarella tart oozing with creamy flavor.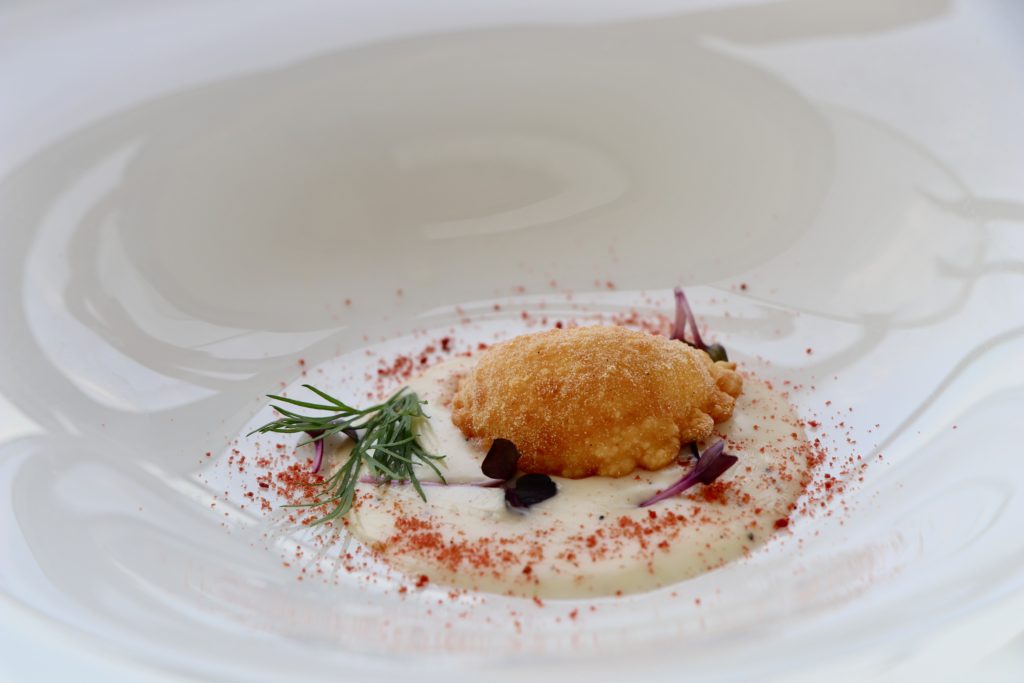 Next up, we had the steamed monkfish with roman zucchini, pink grapefruit and peppers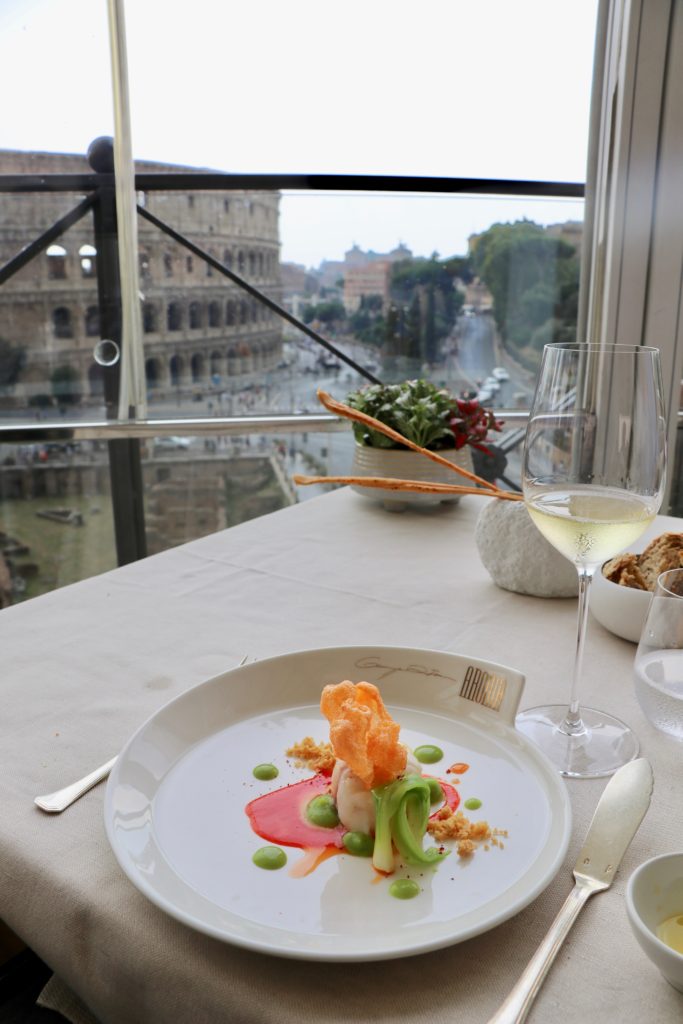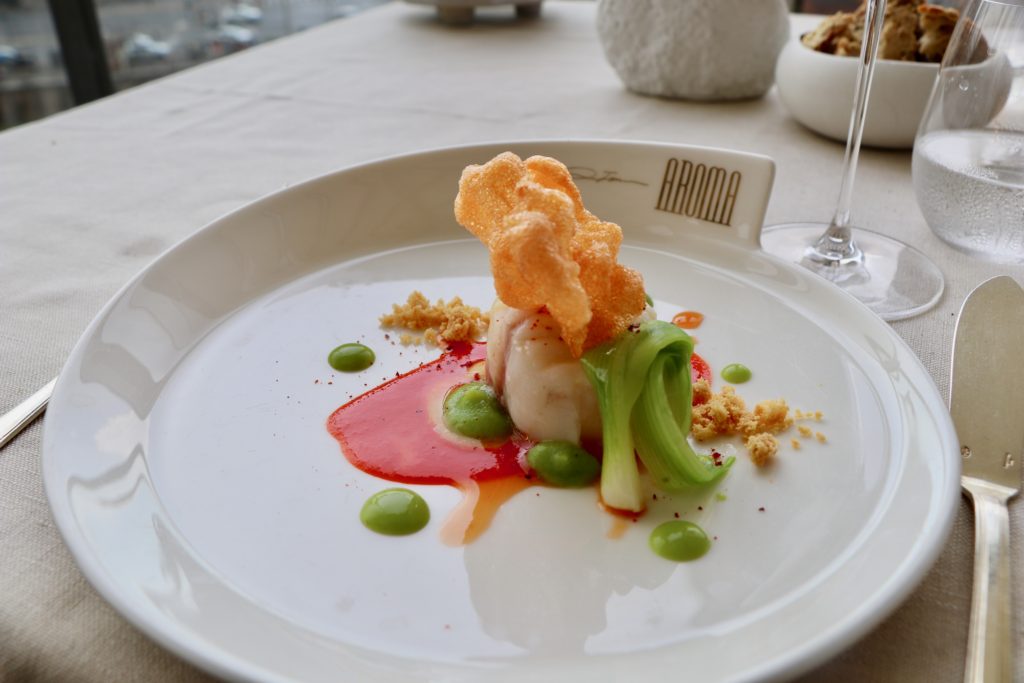 And then it was the roasted rabbit in its broth, celeriac and endive. Each plate was presented exquisitely with detail and sophistication.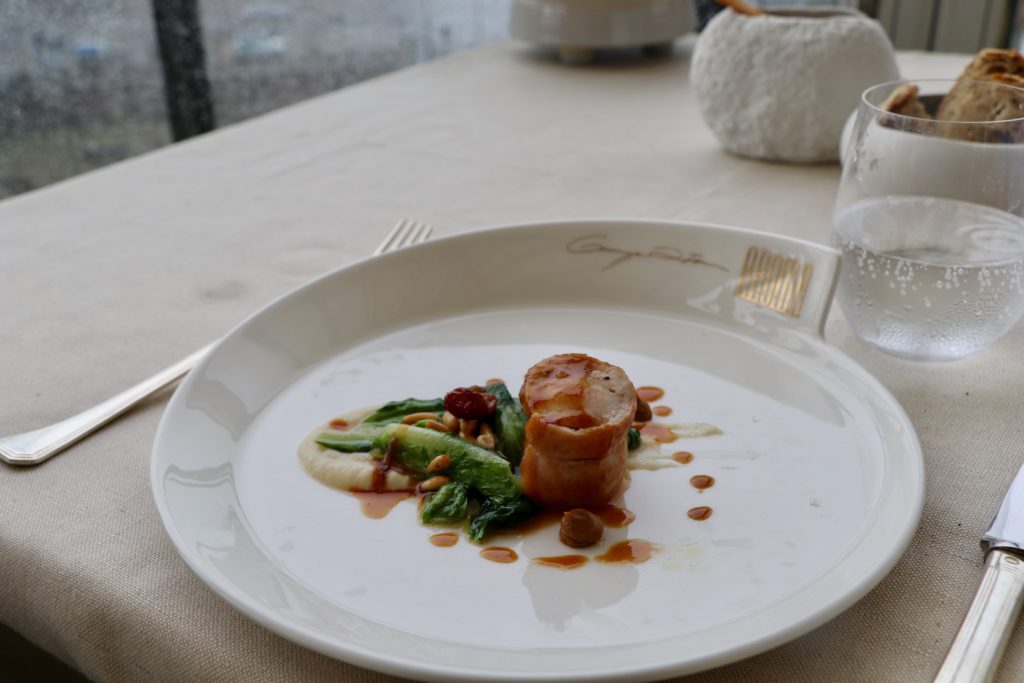 We were then were presented with fresh taglioni pasta with saffron, squid ragout and candied lemon, black olives powder and parsley jelly.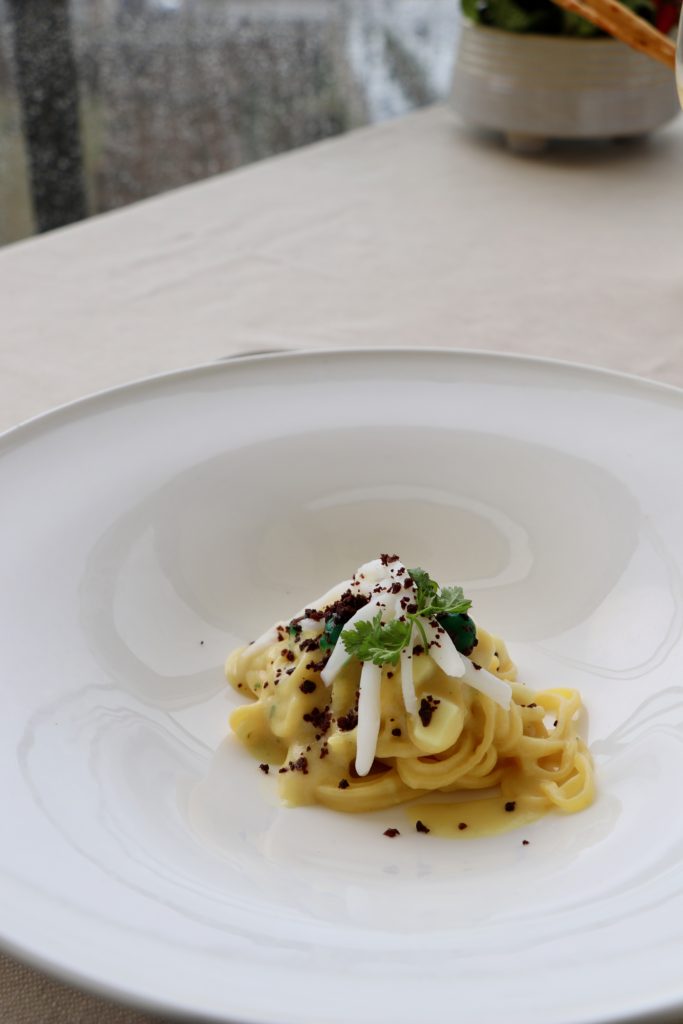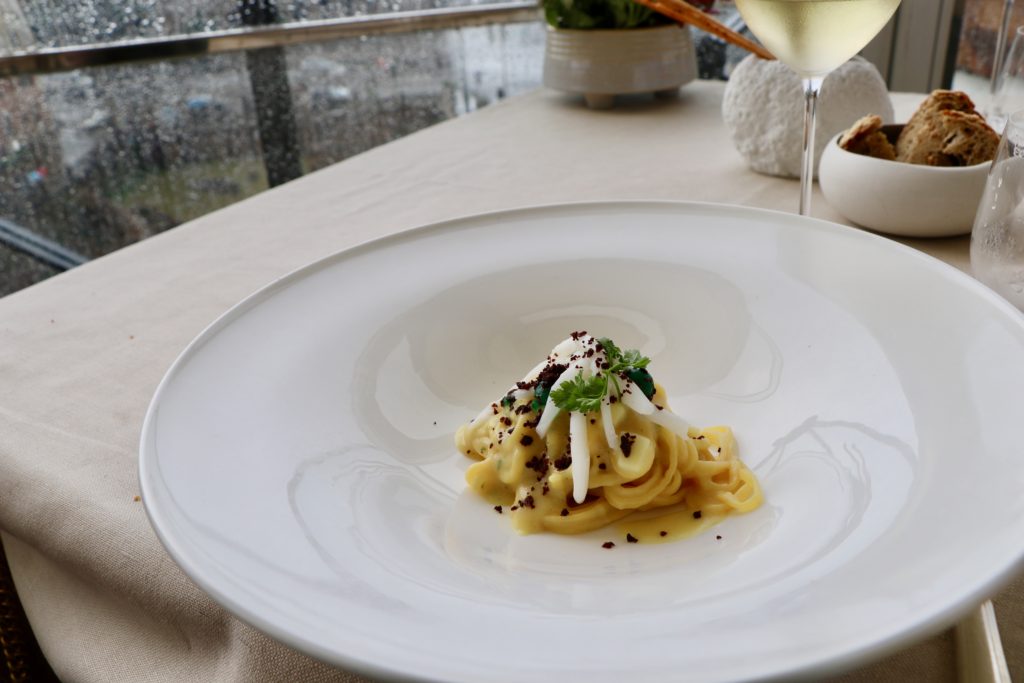 Hands down my favorite dish of the day's tasting was the ultra rich and creamy ravioli. This is the lamb stuffed ravioli with roasted pepper sauce, ricotta cheese with pepper and tarragon.
As you can see from my photographs, the team at the restaurant quickly had to slide the glass enclosed windows shut as a powerful thunder storm loomed in the backdrop. It was not only a delicious plate by plate experience, but also an entertaining afternoon as we watched the lighting bolts streak by ancient monuments and famed Roman landmarks right before our eyes in the safety of this glass enclosed patio.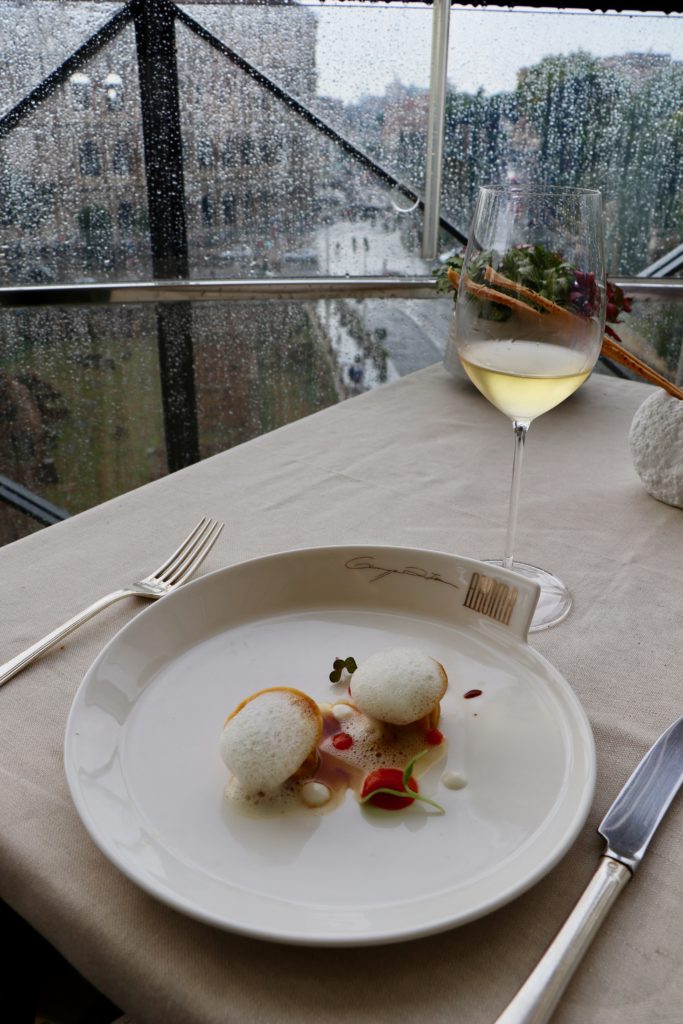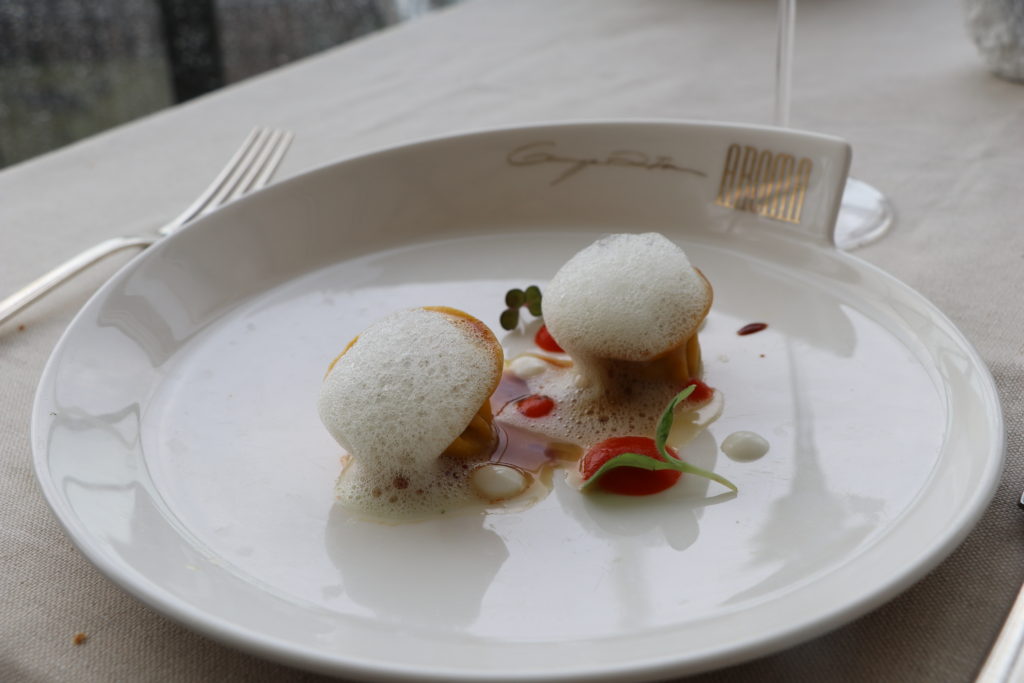 Following the sumptuous ravioli, next up was the cod marinated in purple carrot, Tropea onion sponge and wild beets.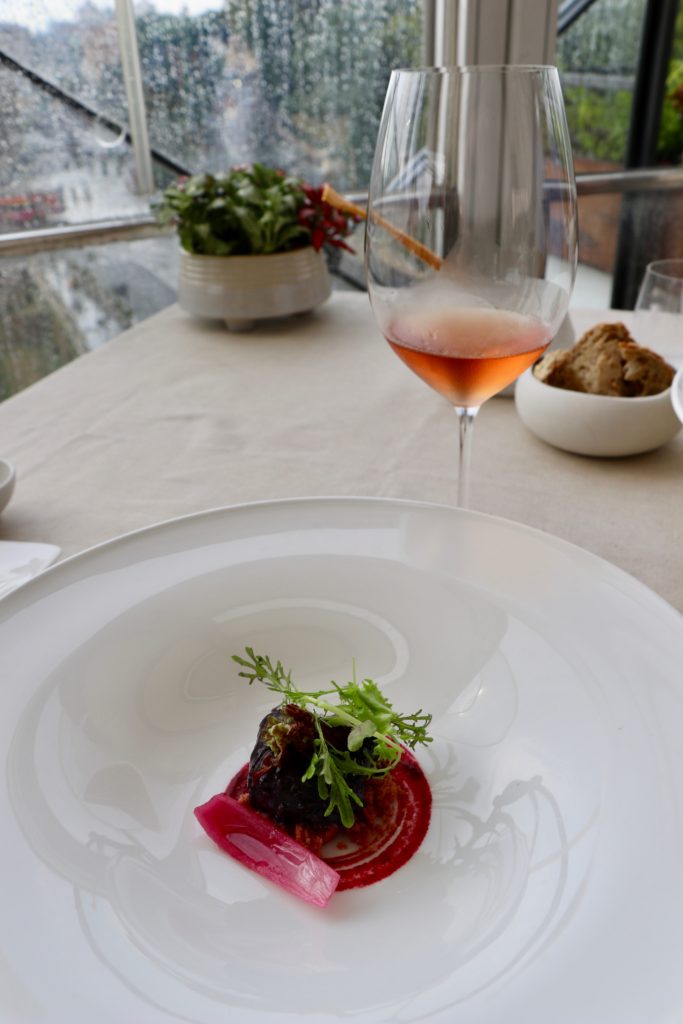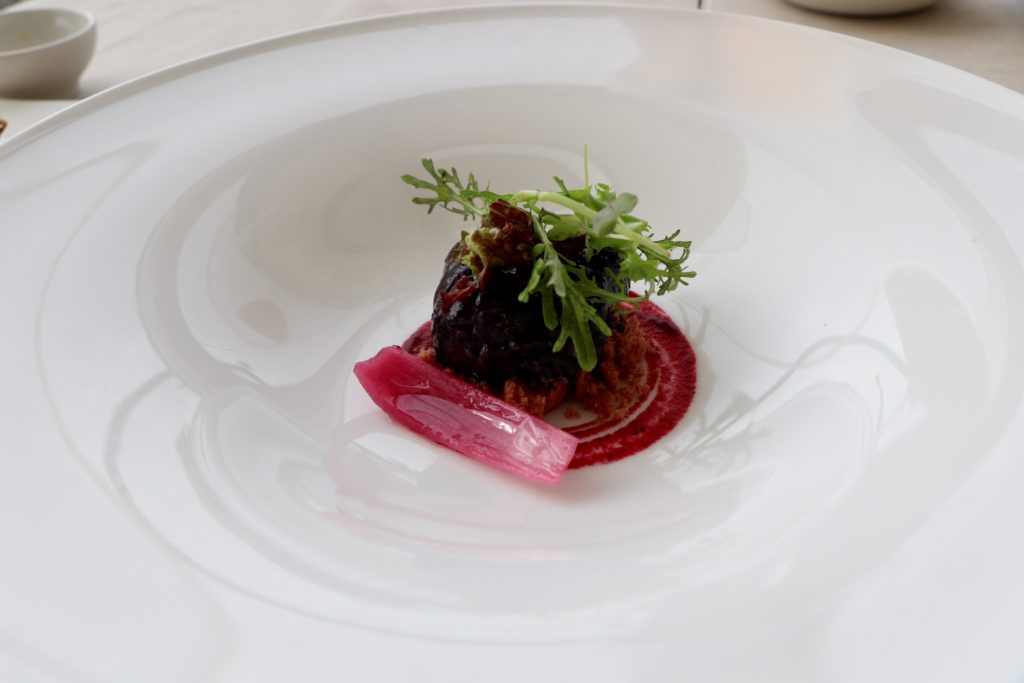 We made our way toward the end of the tasting with a heavy and hearty protein to finish. Here we have the venison loin with coffee crumble, black salsify and pine air. The accents from the coffee crumble were explosive.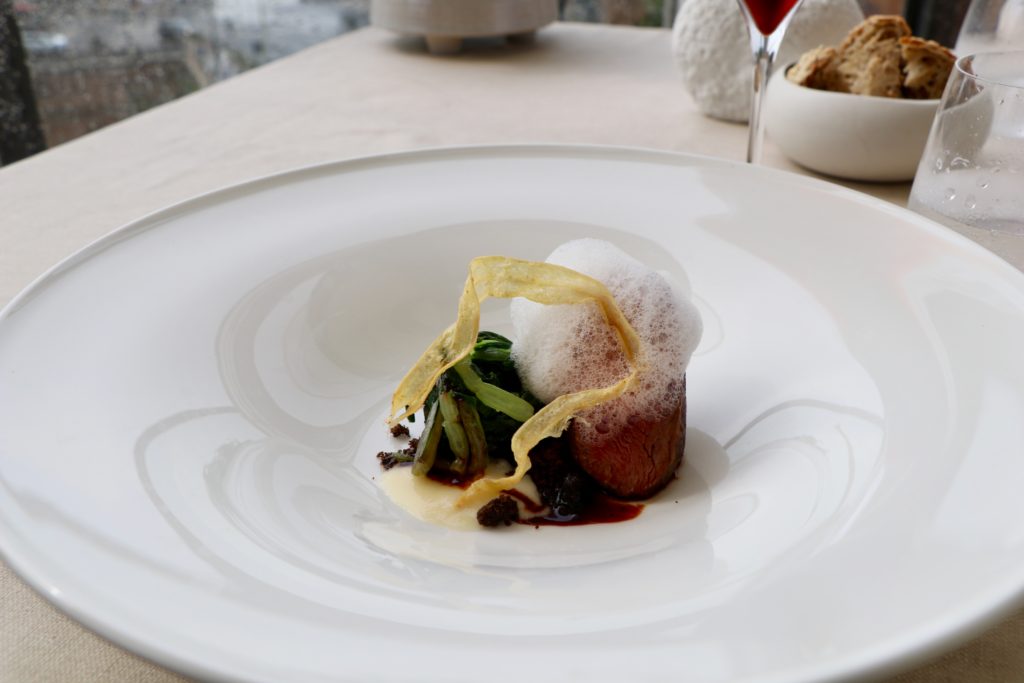 My husband coupled the course-by-course tasting with the recommended wine pairings to enhance the dining experience. I was not able to join him with wine because we had just found out we were pregnant. However, the food was so incredible and satisfying that I did not care to be missing out on the extraordinary selection of wine, which is typically one of my favorite aspects of dining out.
My taste buds, and our growing baby fully enjoyed the bountiful fresh foods prepared with such coveted technique, research and talent by the Chef and his team.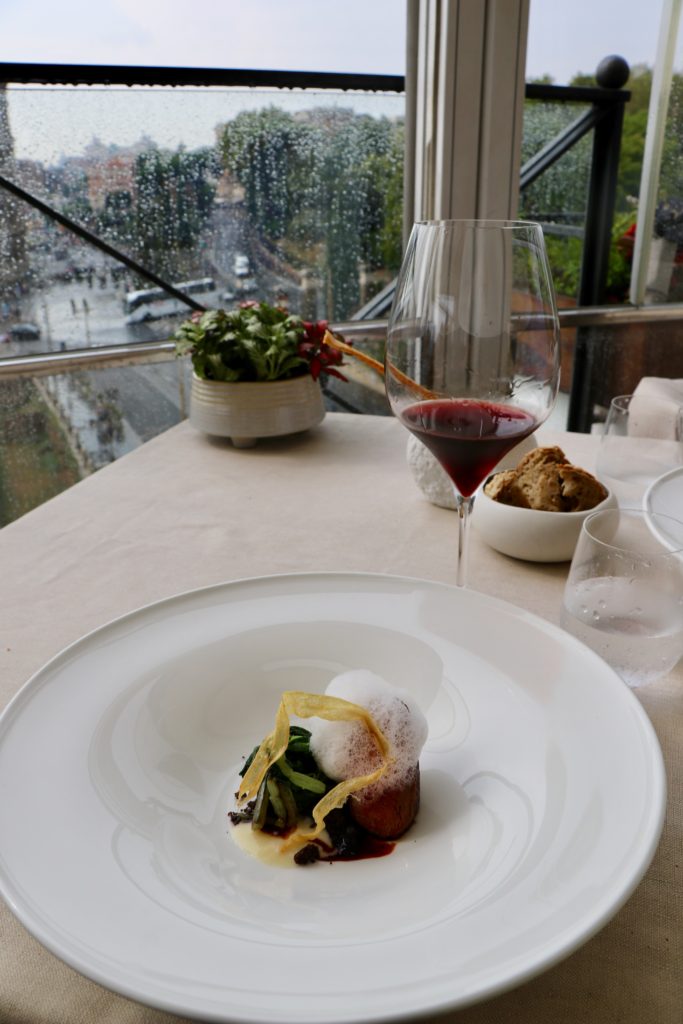 Before the dessert, the team at Aroma prepared a table-side sweet prelude with fresh mangos and creams.
This was followed by Aroma house-made soufflé's, which might actually be the best soufflé I will ever taste in my lifetime. The eggy texture and fluffy sugary cake top was perfectly mastered for the tasting menu's grande finale.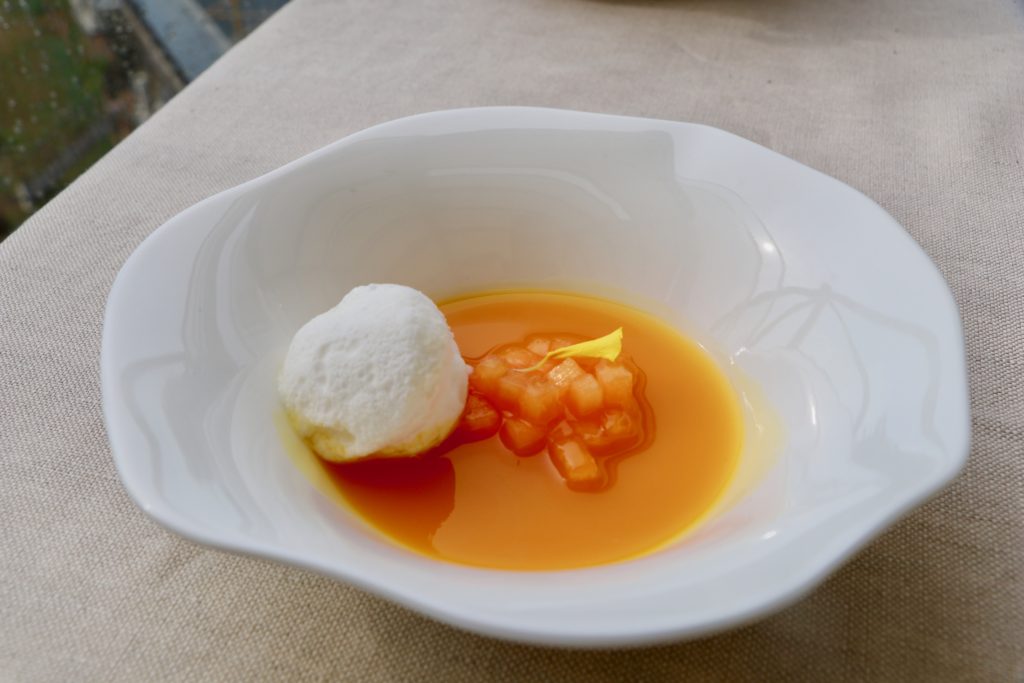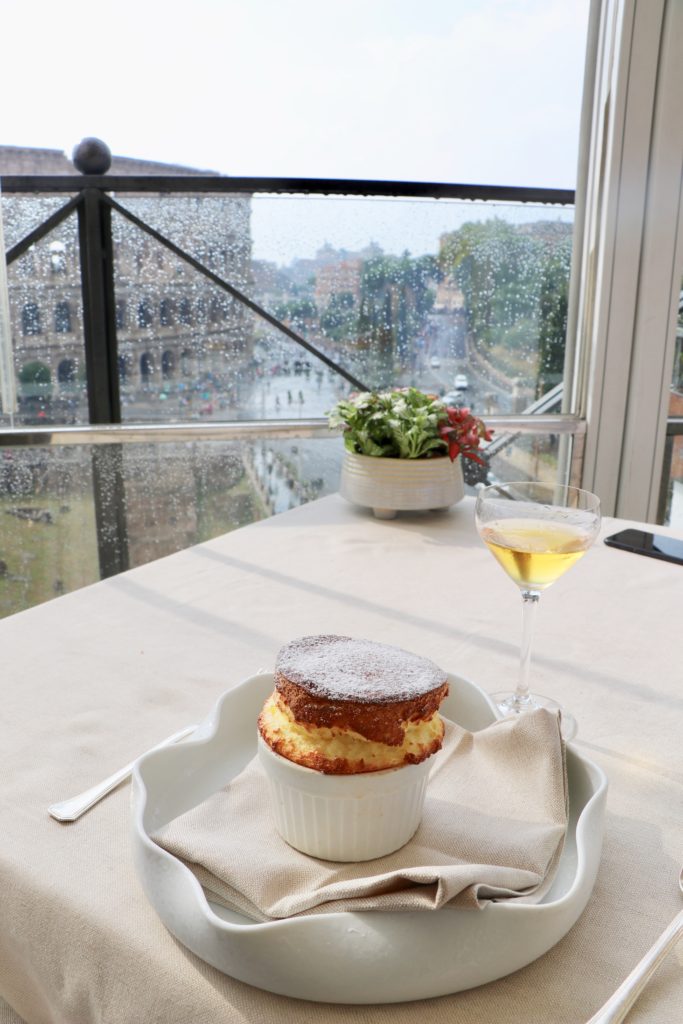 Have you ever seen a more beautiful and wobbly soufflé? Paired with a generous scoop of sugary vanilla bean ice cream, the soufflé itself was steaming hot and oozing because of the luscious eggy texture.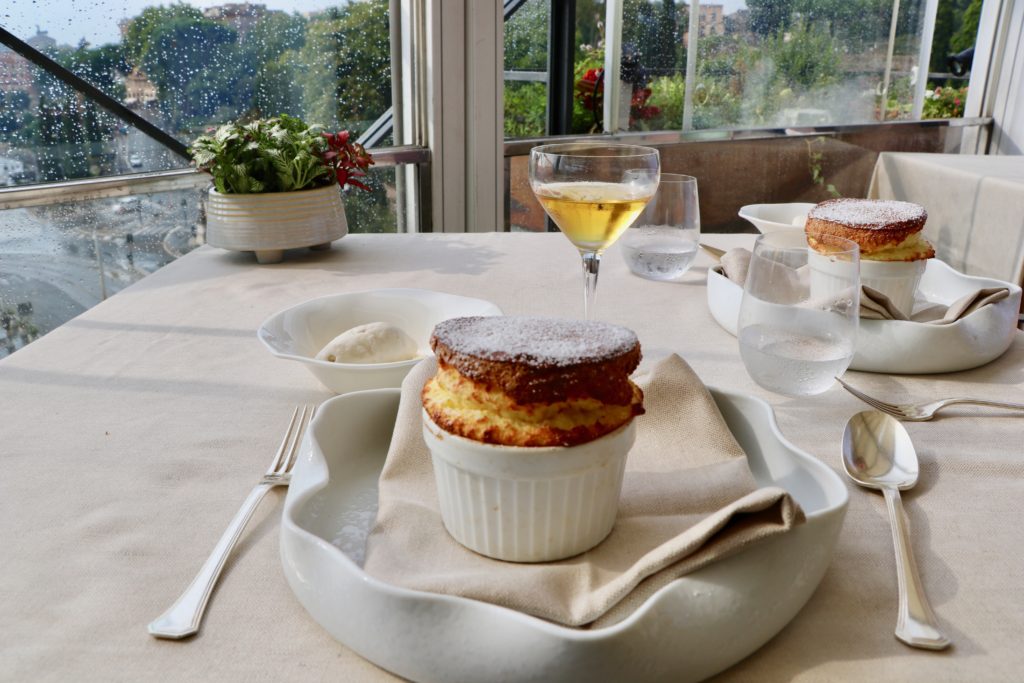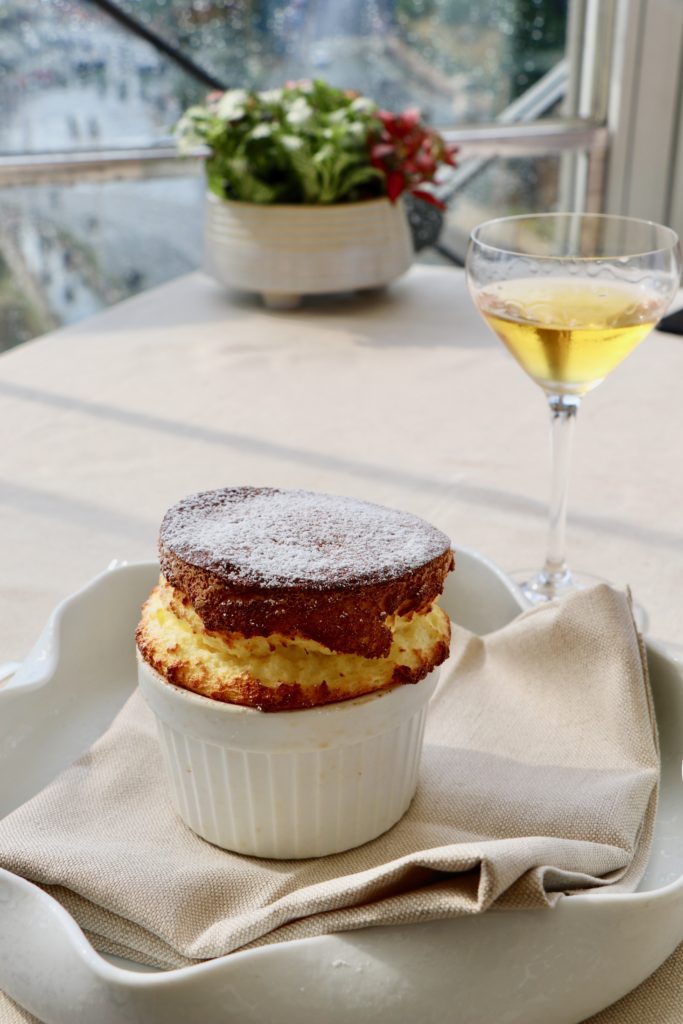 Hands down one of the best activities during our Roman Holiday was indulging in the tasting menu journey at Aroma that left us blown away with a sensory experience to cherish for years. Ladyhattan approved and recommended for your next visit to Rome, I suggest contacting this hotel at least three weeks in advance to book a reservation.
Personally, I enjoyed dining here at lunch so you can see all the ancient sites and direct view of the Coliseum with natural light, but a candlelit dinner here would be perfect for a romantic occasion or date night.
Stay tuned for more travel tips on Rome, including an insider look at the hotel where this fabulous restaurant is housed, Palazzo Manfredi. Thank you to the amazing Chef and Team at Aroma for facilitating such a memorable moment of our trip. Your food, service and atmosphere are superior quality and Michelin Star deserved.
Via Labicana, 125 – 00184 Roma
Tel. +39 06 97615109
Fax +39 06 7005638
[email protected]
[email protected]
[email protected]
www.aromarestaurant.it