Background on Planning The Trip
The city of Abu Dhabi is located on an island in the Persian Gulf, off the Central West Coast in the country of United Arab Emirates. You might have heard of its neighboring city, Dubai, which is about a 1 hour car ride away. While Dubai is notorious for opulent resorts and a similar "glitz and glam flavor" you can find in Vegas, Abu Dhabi is a bit more cultural focused in my opinion. Abu Dhabi is certainly just as opulent and luxurious as it's neighboring Dubai, but as the country's center of politics and industry, you will find a huge emphasis on local tradition and culture of the region.
Given that Abu Dhabi is a major connection hub to great majority of the world (Africa and Asia), I highly recommend a layover visit turned mini-vacation in this magical epicenter of the Middle East. The flight from NYC direct to Abu Dhabi can range between 11 and 13 hours. This will be the first leg of your flight for most trips to major cities in Africa, India and Southeast Asia.
For example, if your flight connects through the international airport in Abu Dhabi (which is extremely common for most outbound NYC flights to India), I suggest spending at least 2-3 nights in the city of Abu Dhabi to experience, explore and take in the beauty of this incredible city.
By way of background, I was invited to a concert in New York's Central Park by the Tourism Bureau of Abu Dhabi where I had the fabulous chance to meet with hospitality leaders, hotel managers and travel enthusiasts who urged me to plan a trip to Abu Dhabi.
As I started the early planning stages of this trip, the stars truly aligned when I determined that both my sister and mother would be in India at the same time and eventually fly back home to the USA through Abu Dhabi. My sister was interning with an Indian based nonprofit and my mom was completing the Shreyas Yoga Retreat experience. The timing was perfect – I would plan an epic trip to Abu Dhabi that my family could enjoy with me en route home from their independent travel plans.
As always, you can skip over the detailed recap by scrolling down to the bottom of this post for a comprehensive guide to everything you need to know about a stay at this Ladyhattan approved property – the Ritz-Carlton Abu Dhabi.
Welcome to the Ritz
There are numerous options when it comes to 5-star hotels in the city of Abu Dhabi – you cannot go wrong and the prices are surprisingly pretty reasonable (ranging from $120 – $500+ per night). However, if you have one big trip to Abu Dhabi, you must experience one hotel in particular for yourself – the Ritz-Carlton.
One of our favorite hotel brands (for countless reasons) is the Ritz-Carlton. With the Bonvoy Card in hand as a Platinum Status Member, I jump at any opportunity to visit a Ritz property for every trip – whether that be business or pleasure.
My husband has actually stayed at this property several times (in Abu Dhabi) for business reasons and he raved about the quality of the rooms, restaurant options and impeccable service as a Club Level guest. We planned for three nights at the Ritz-Carlton Abu Dhabi and looking back, I could have been happy spending an entire week vacation there with my family – it was absolutely perfect.
The trip started upon arriving at the international airport where a private car (arranged through the hotel) picked us up in style. Just like you can imagine after watching the movie Sex and the City 2, yes, everything is absolutely over-the-top fabulous in Abu Dhabi. From the cars, to the handbags, the hotels and the decor – if you consider yourself a bit "extra" like me, well then Abu Dhabi is just for you! The ride from the airport to the hotel was less than 15 minutes by private car.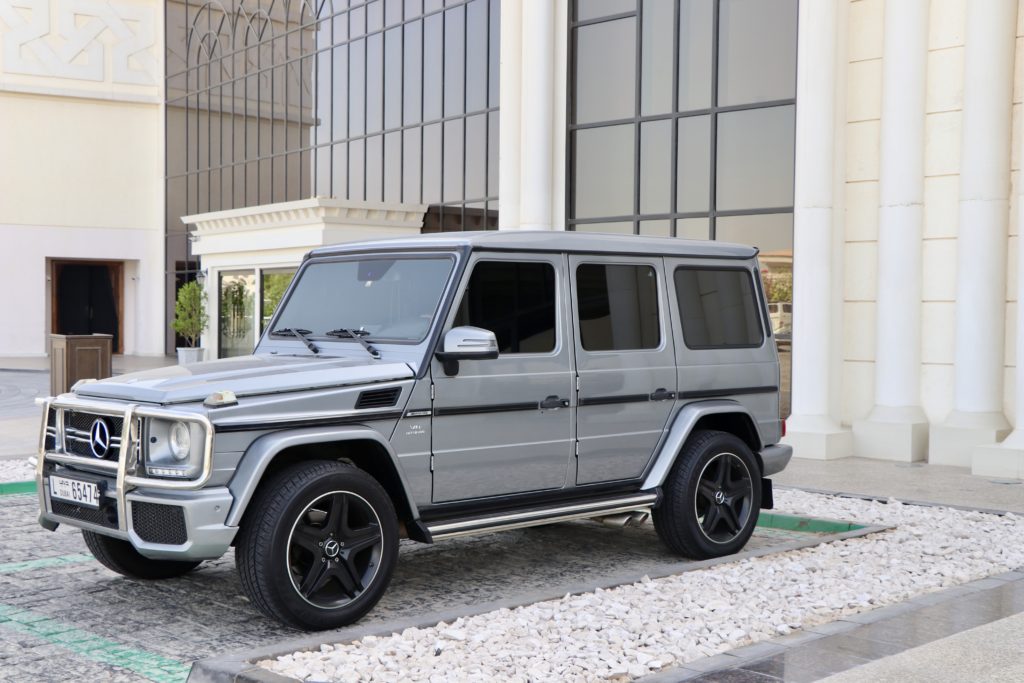 The hotel lobby welcomes you with magnificent crystal chandeliers lining an impressive foyer area. You will be greeted with hot spiced Arabic tea, sweet dates and a warm hand towel as the guest services attendant prepares to take you and your belongings to the room.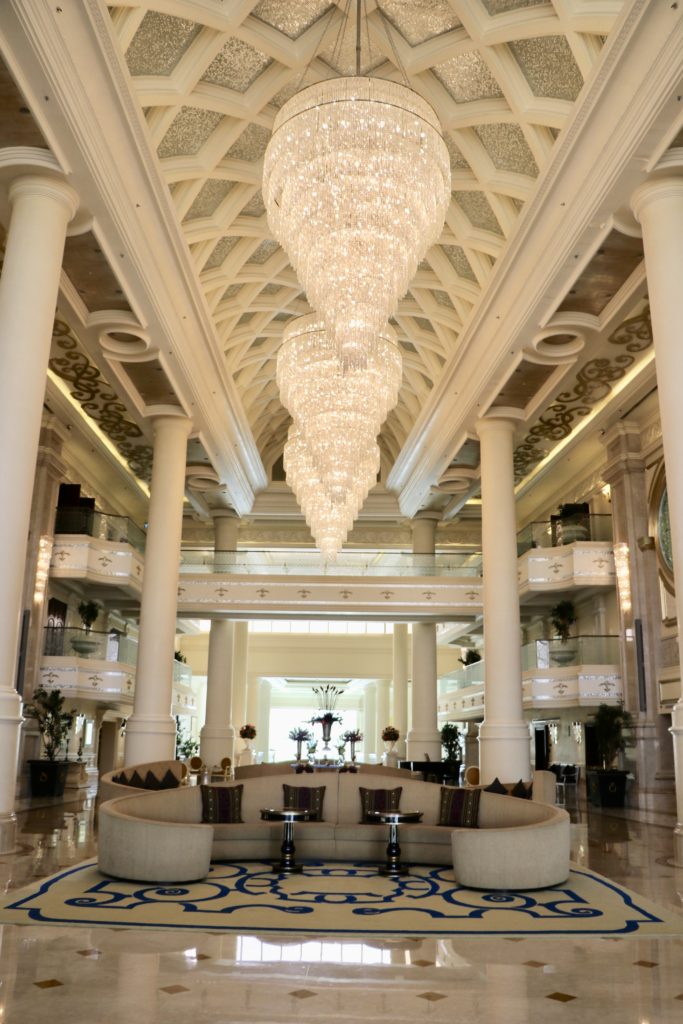 Fresh flowers were beautifully arranged throughout all the common spaces of the lobby, the hallways and inside each guest room — a nice local touch and attention to detail that a well managed Ritz-Carlton perfects daily.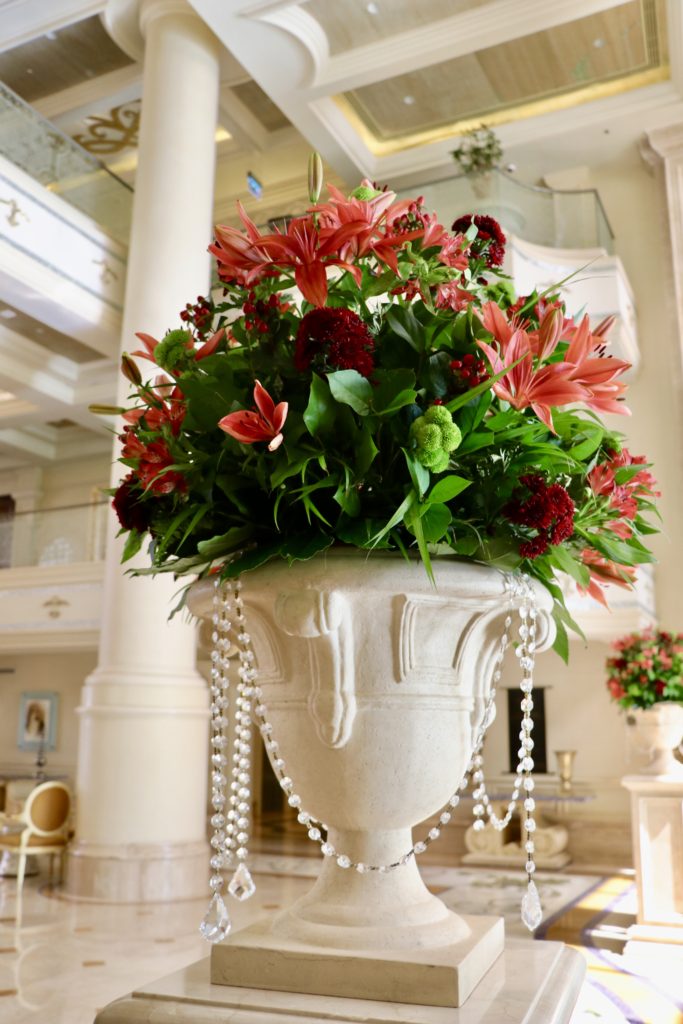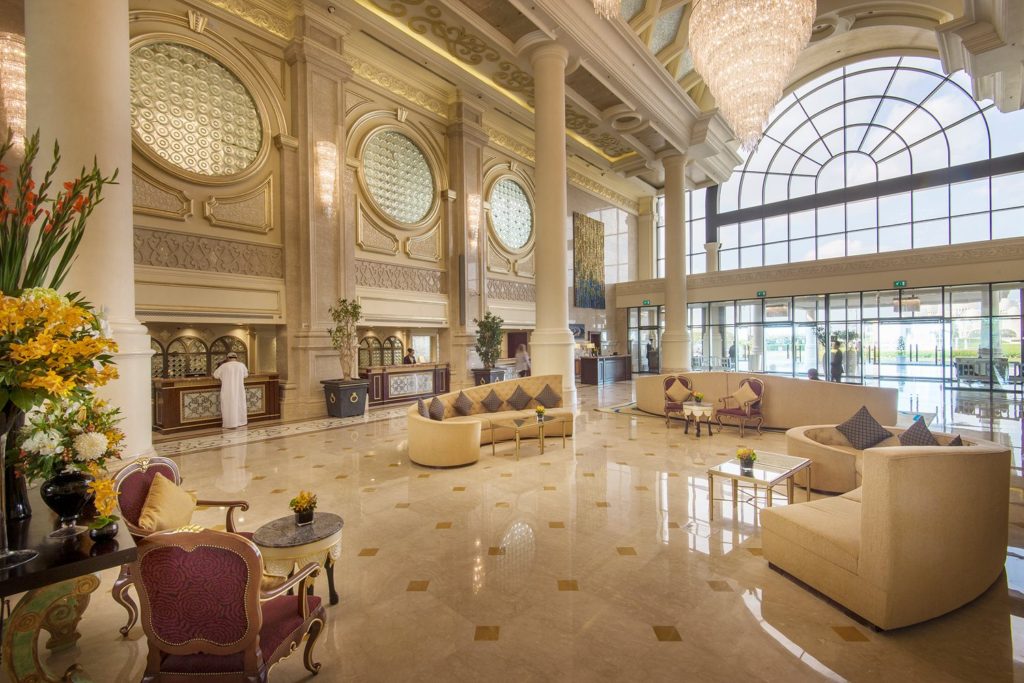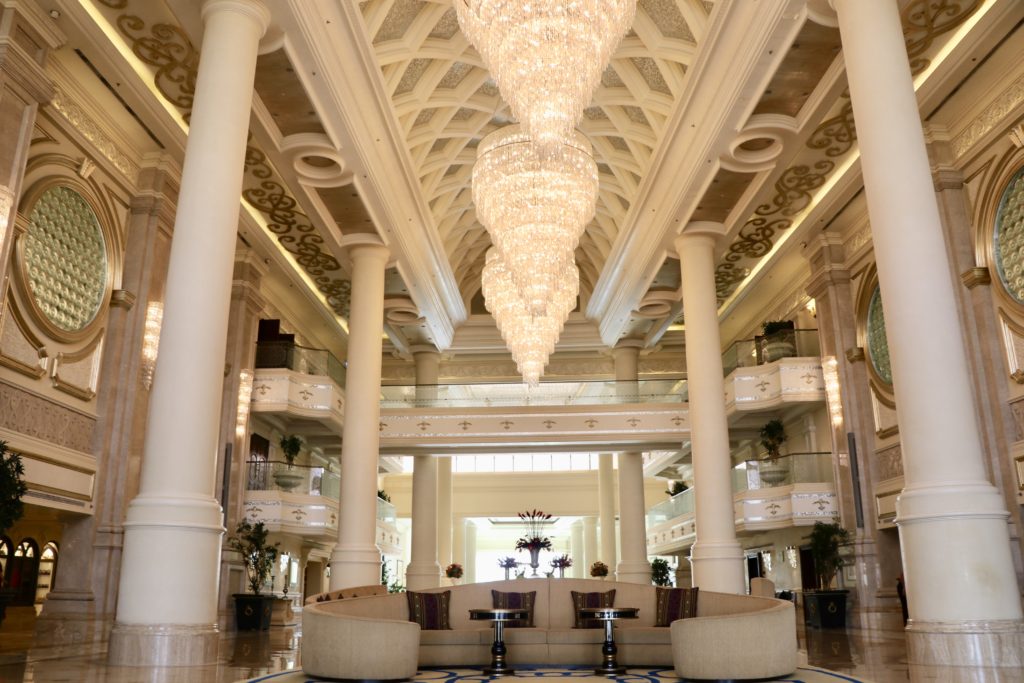 Inside Our Club Level Suite
Accommodations at this Abu Dhabi property stretch beyond traditional guest rooms to include a collection of suites, residences and villas. Spacious layouts, outdoor spaces and modern interiors are complemented by views of the beach, gardens or the stunning Grand Mosque. Our double room Club Level Suite had a large wrap-around terrace overlooking the Grand Mosque – one of the most famous sites in the world. The view was picturesque, especially at nighttime when the sun would set over the desert and the white marble would twinkle against the backdrop of the dark sky.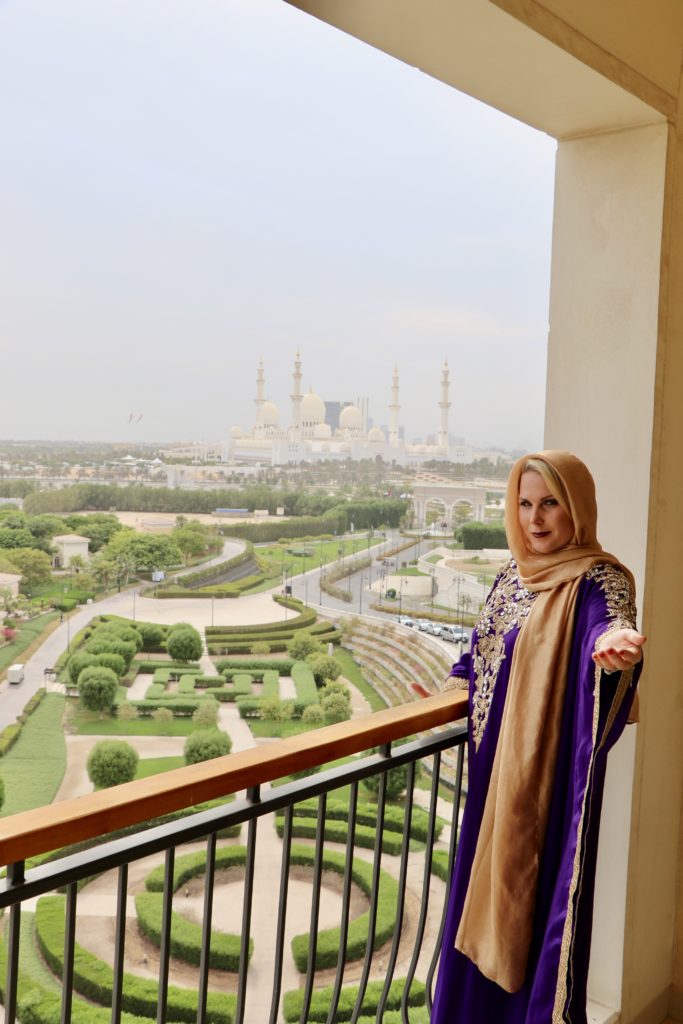 Our suite was considered a "Club Level Suite" because we upgraded to have access to the Club (more on that below). The room was the perfect size and set-up for our family's needs. You enter the room to an expansive foyer, a powder room and living/dining room area that was thoughtfully adorned with house-made chocolates and fruits on display for us to enjoy upon check-in.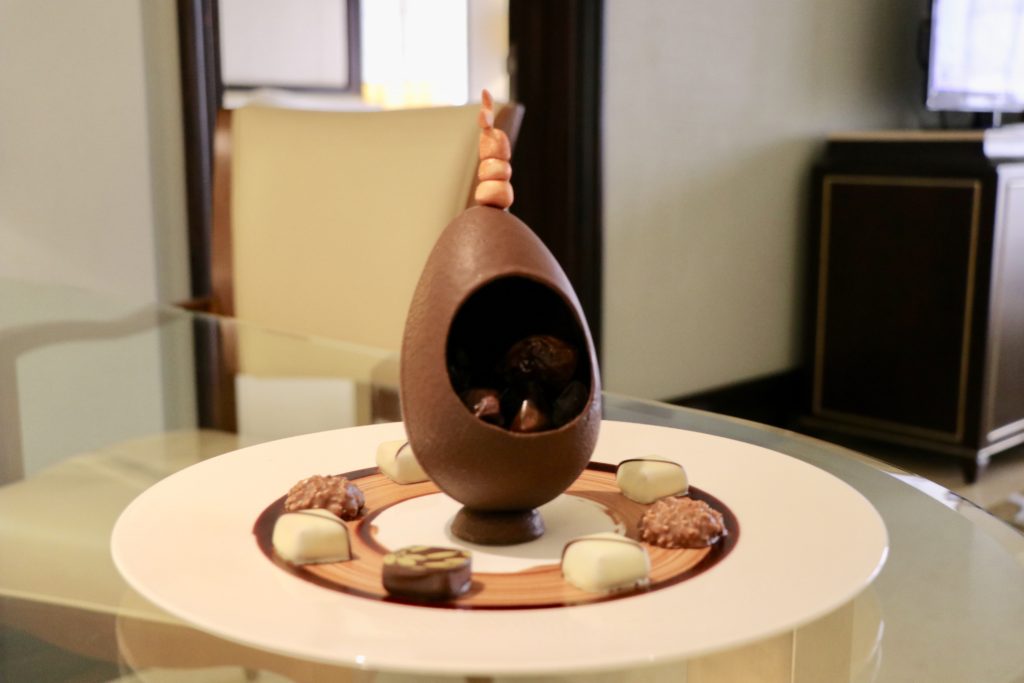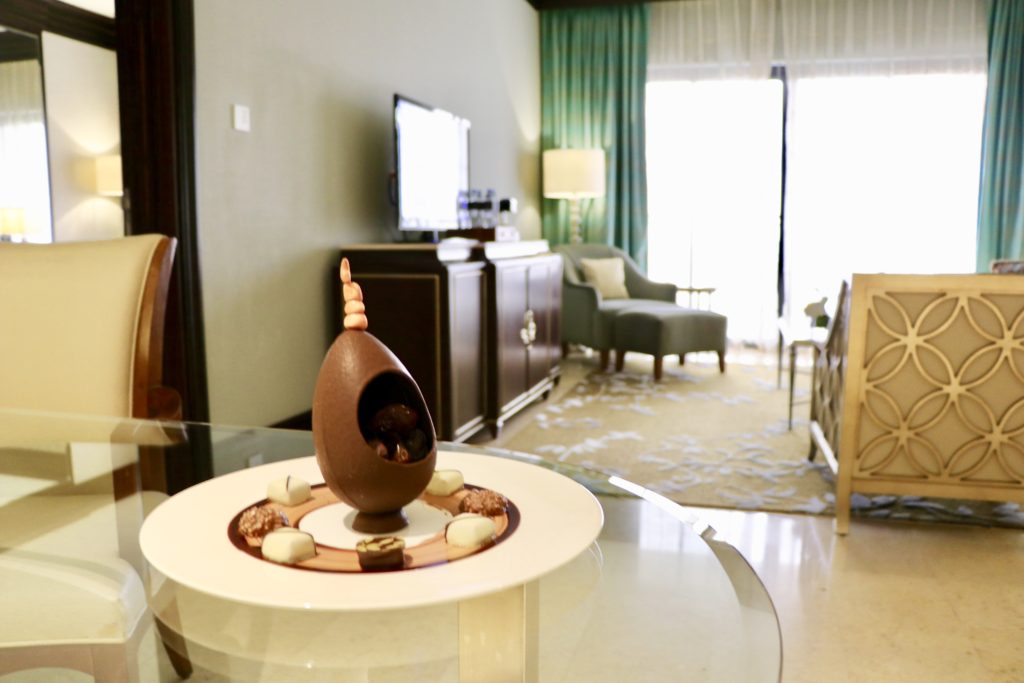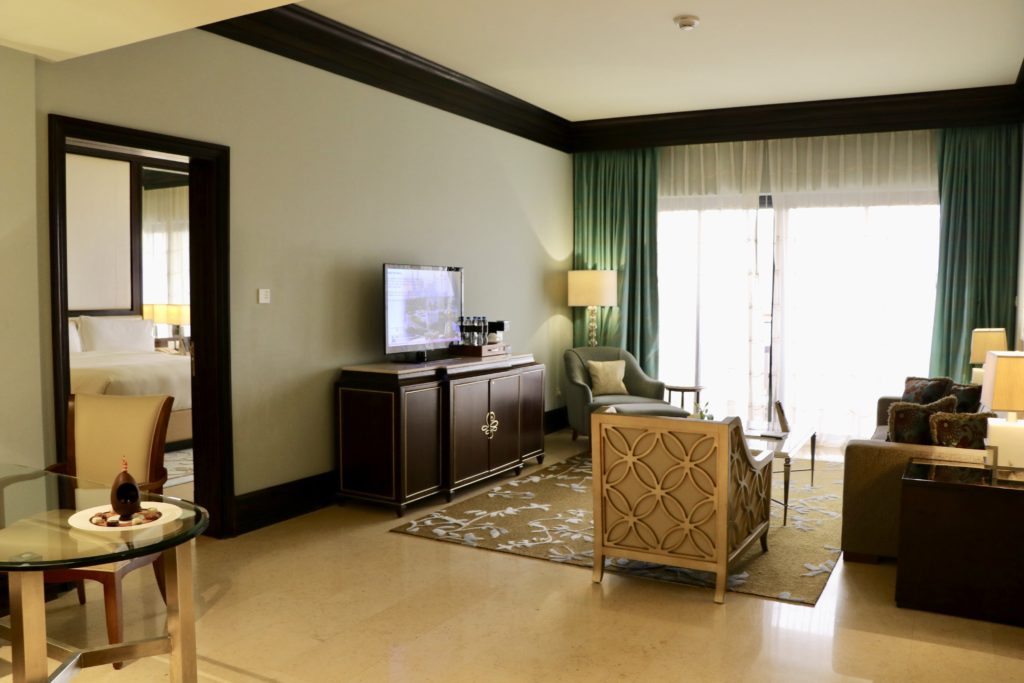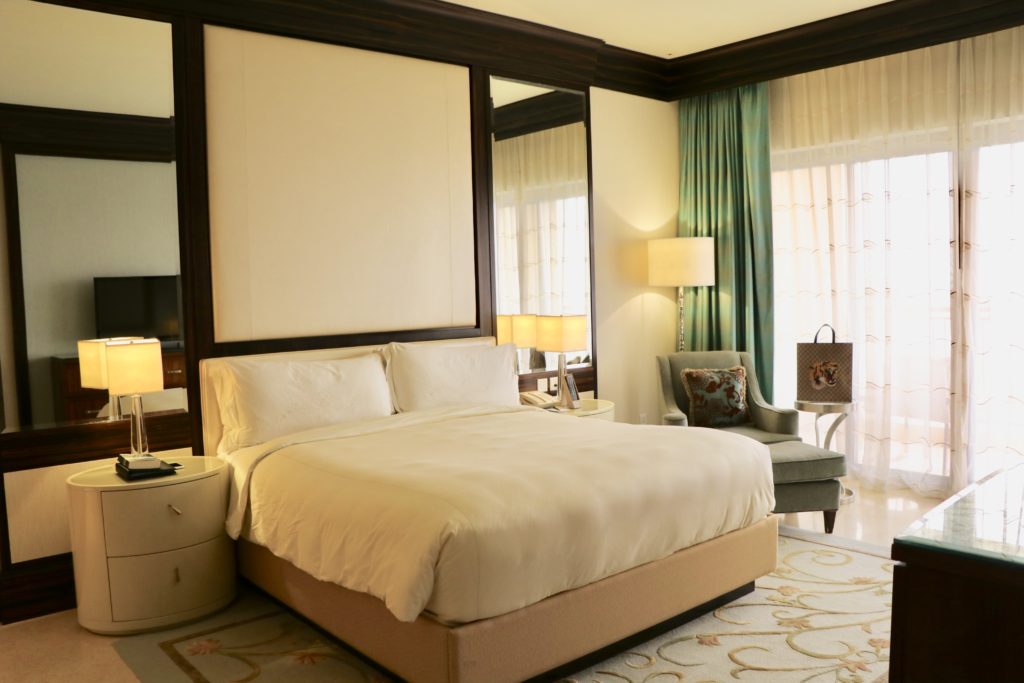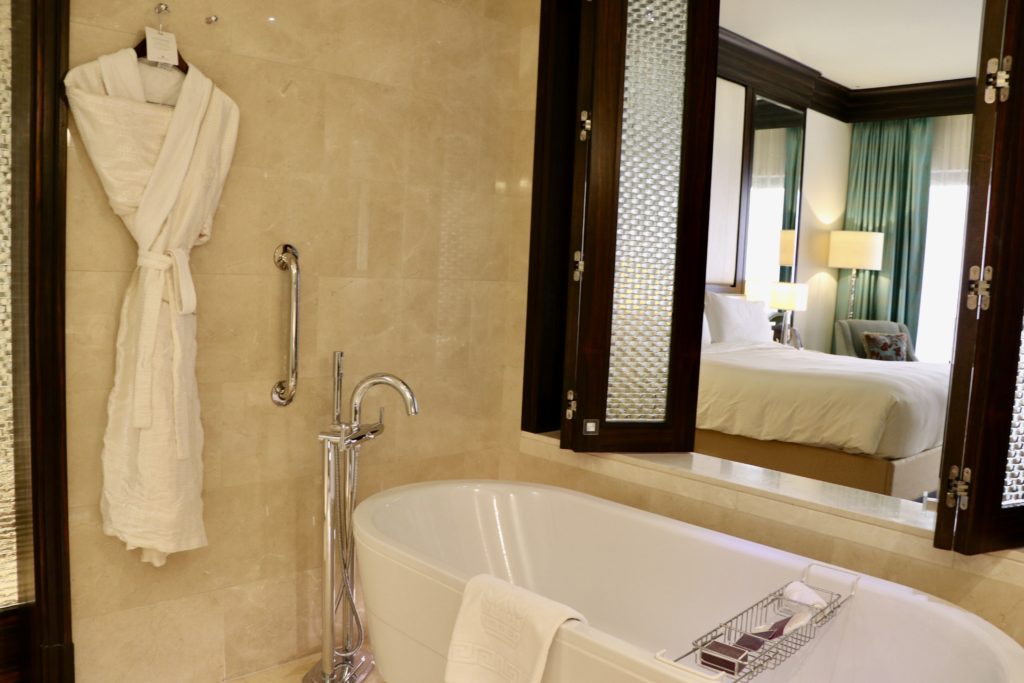 To the left of the main living space there is a master suite with a king bed, enormous dressing room, closets and master bathroom with both a soaking tub and shower. To the right of the main living space, we had a connecting room with two full-size beds and another hallway of dressing rooms, a large bathroom with a double vanity and soaking tub (and shower), as well as closets for luggage storage.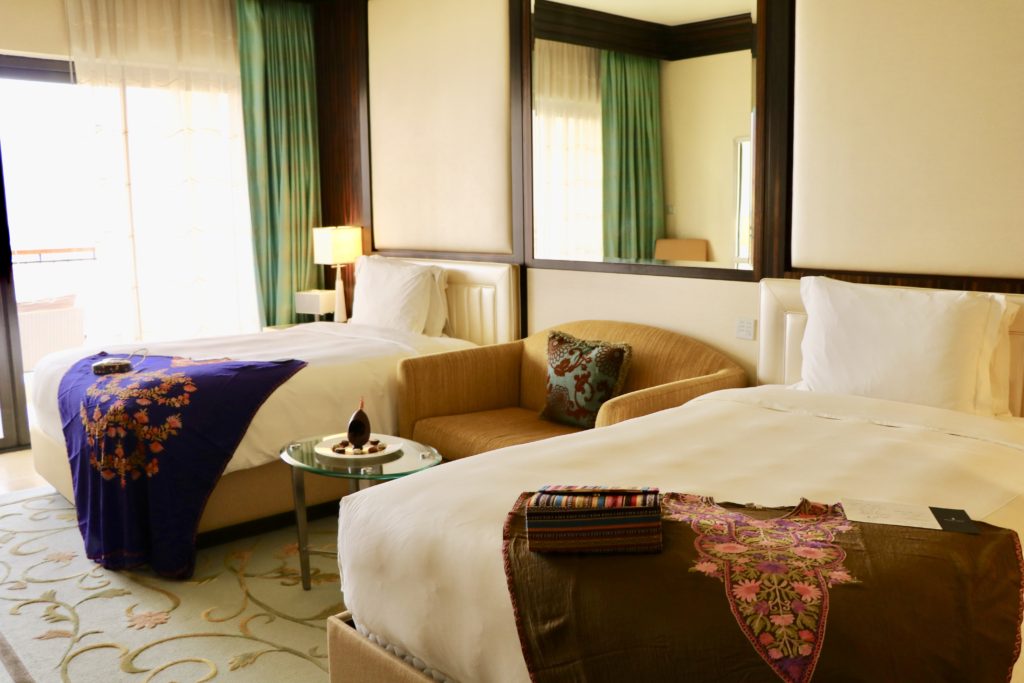 As you can see, I wanted to do something extra special for my mom and sister joining us on the travel experience in Abu Dhabi. Because they were arriving later in the day, I went shopping at the local markets and purchased some beautiful hand-crafted finds to gift them with.
I found cashmere/hand embroidered kaftan dresses in a dark purple and green. I also bargained for a colorfully woven purse for my mom and a small mosaic tiled clutch for my sister.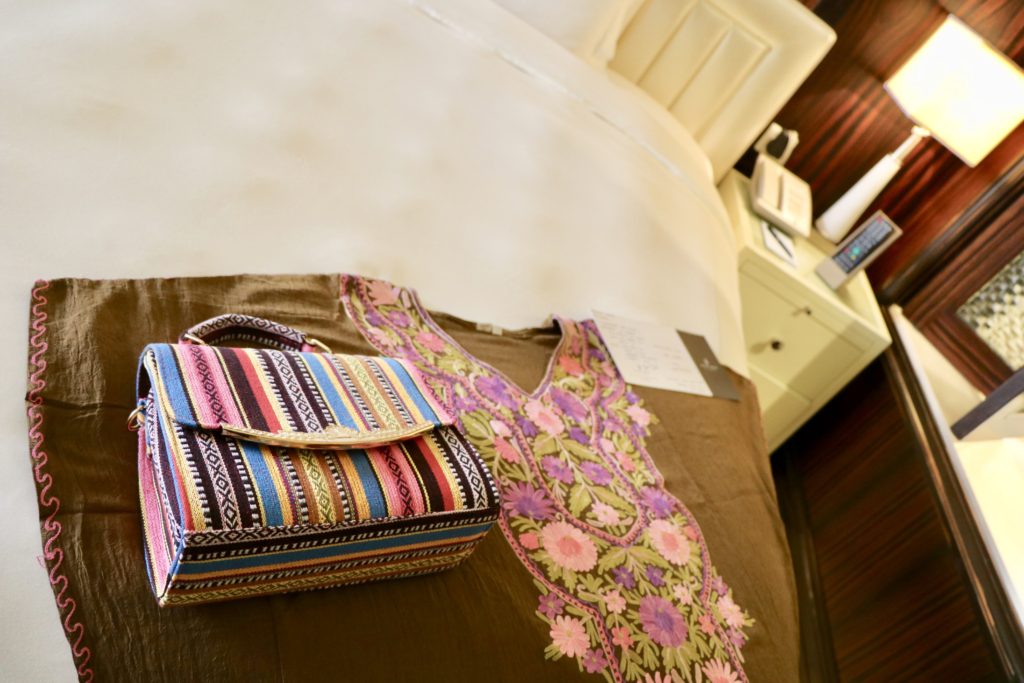 With the help of the guest services team, I ironed the dresses and laid them on the bed inside the guest room. We also ensured there were fresh chocolates, tea, bubbly and fruits in their respective guest room to provide a super warm welcome. They were elated with excitement when they entered the room and saw the local gifts waiting for them! It was the greatest way to kick-off the trip together.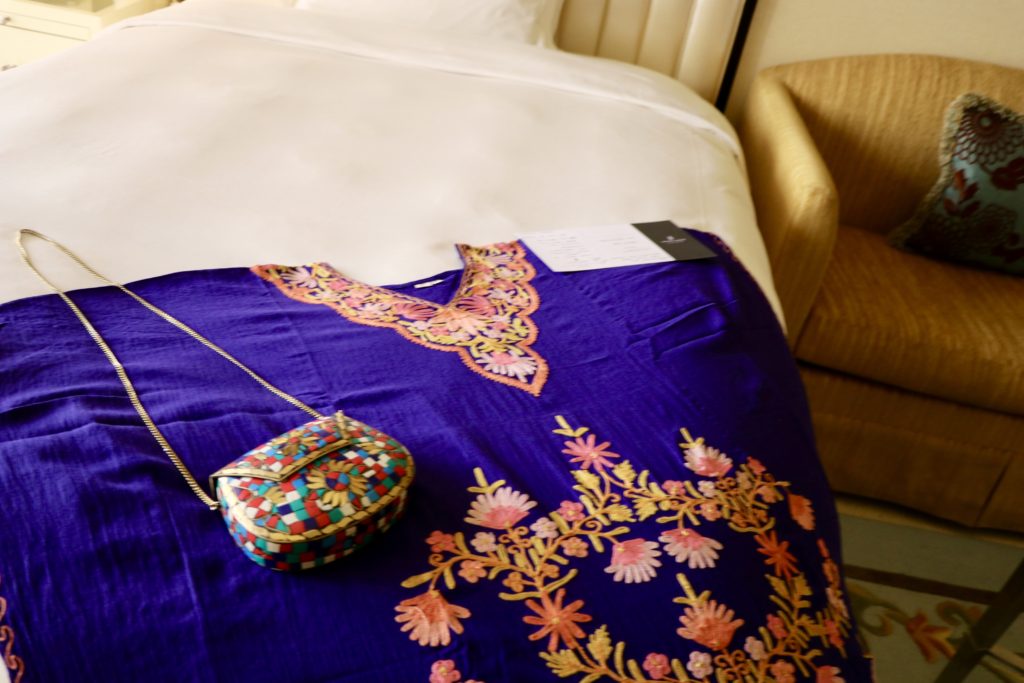 Club Level
There are countless amazing restaurants to dine at while in Abu Dhabi. My personal favorite spot, previously featured on Ladyhattan, is Verso inside the Grand Hyatt Hotel. You can read all about this delicious dining recommendation by clicking here.
With many dining options to choose from, there is still a serious advantage and vacation convenience to upgrading to Club Level while a guest at the Ritz-Carlton Abu Dhabi. With Club Level access, you and your family members can indulge in daily delights served throughout the day and utilize this space to convene, take in stunning views and have an extra added touch of "personalized service" by the wonderful Club Lounge attendants.
Boasting a panoramic view of Al Maqta creek from its glass walls, the Club Level Lounge offers an intimately private setting for guests of The Ritz-Carlton Club Level. In addition to an elevated level of service, the Lounge offers:
Continuous culinary offerings including breakfast (6:30 to 10:30 a.m.); midday snacks (12 to 2 p.m.); afternoon tea and light snacks (2 to 4 p.m.); evening hors d'oeuvres (5 to 8 p.m.) and cordials and desserts (8 to 10 p.m.)
Complimentary coffee and cookies in the Club Lounge operating hours
Complimentary wireless Internet access
Personal computers for guest use
Complimentary pressing for two pieces per room, per day
By upgrading to the Club Level, you are also guaranteed to have a suite with a balcony and view of the gardens and breathtaking Grand Mosque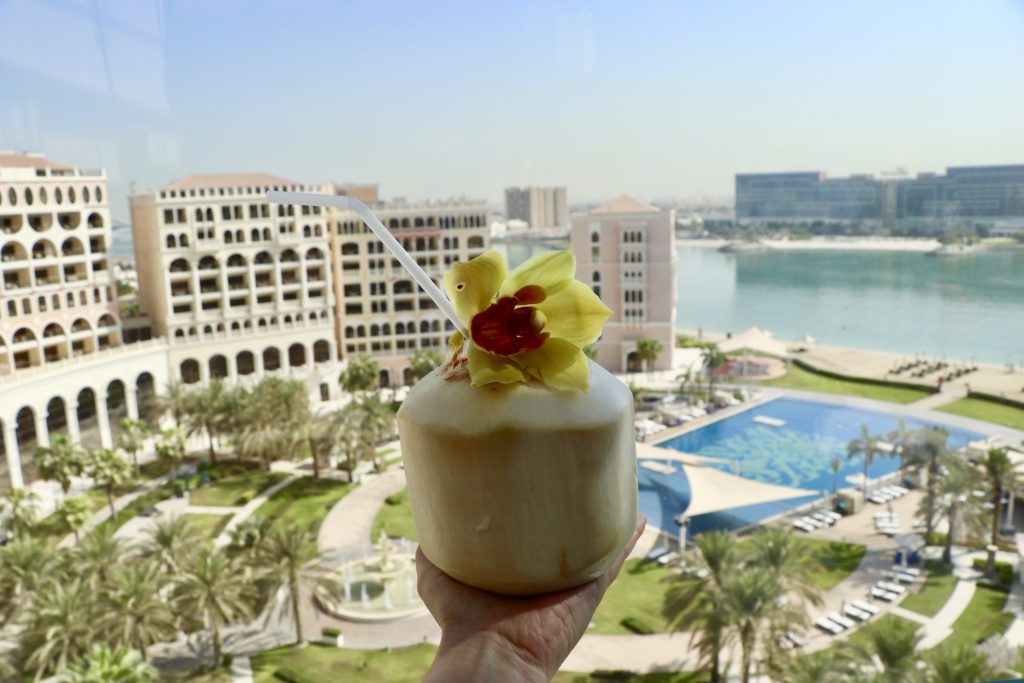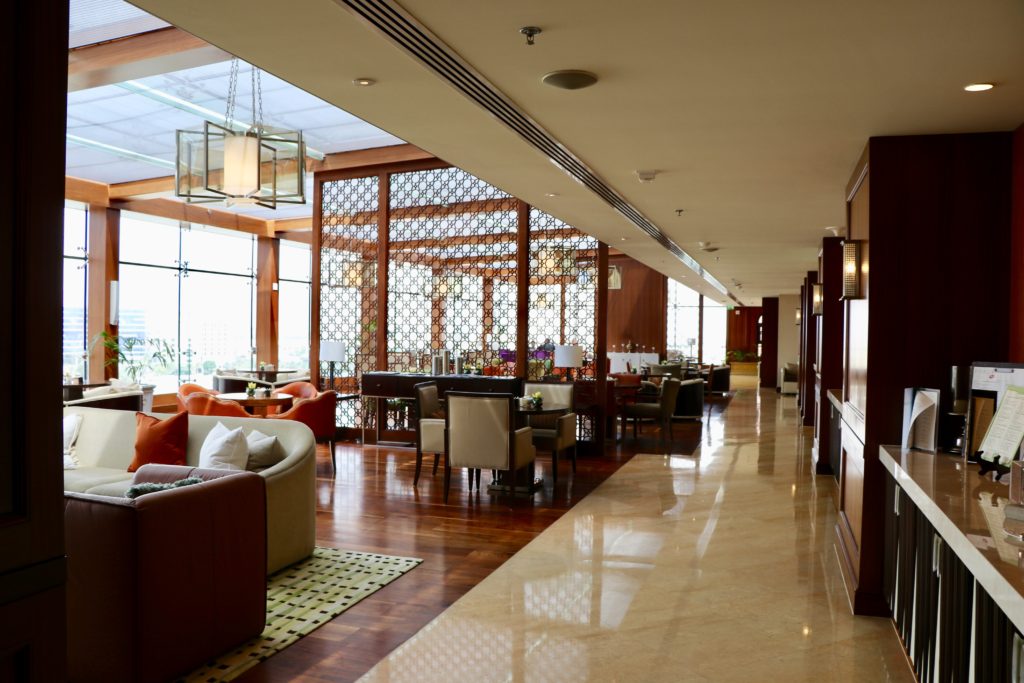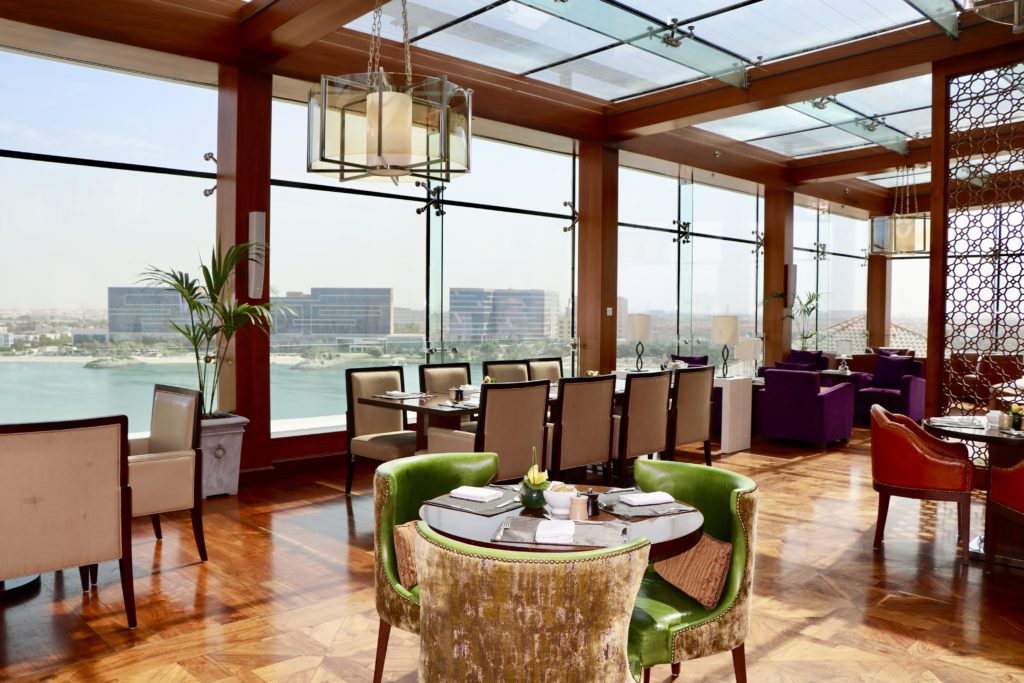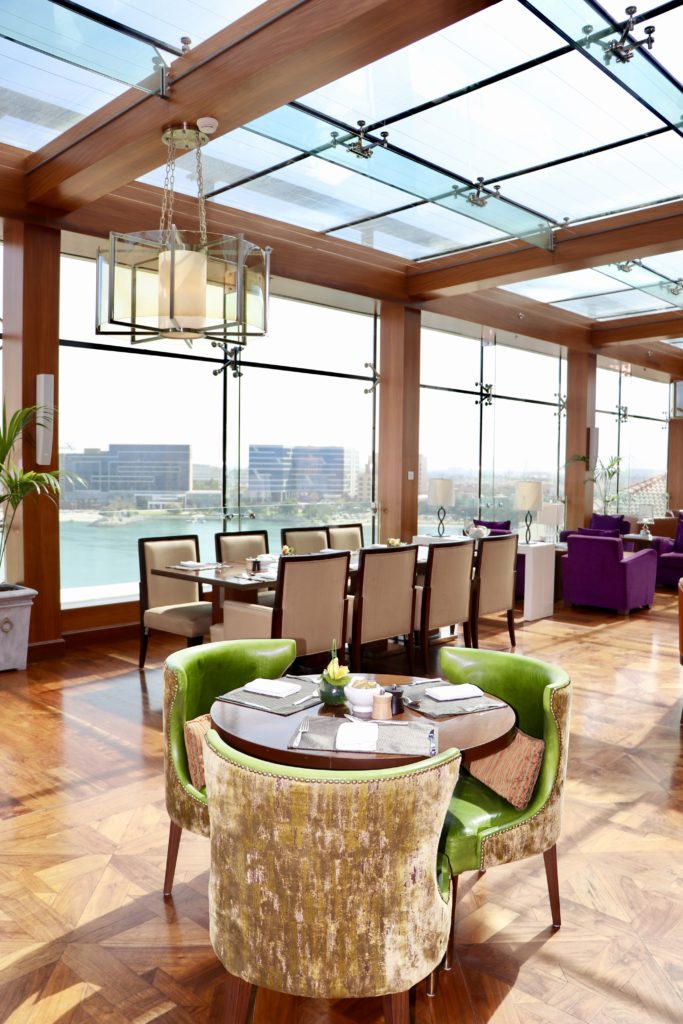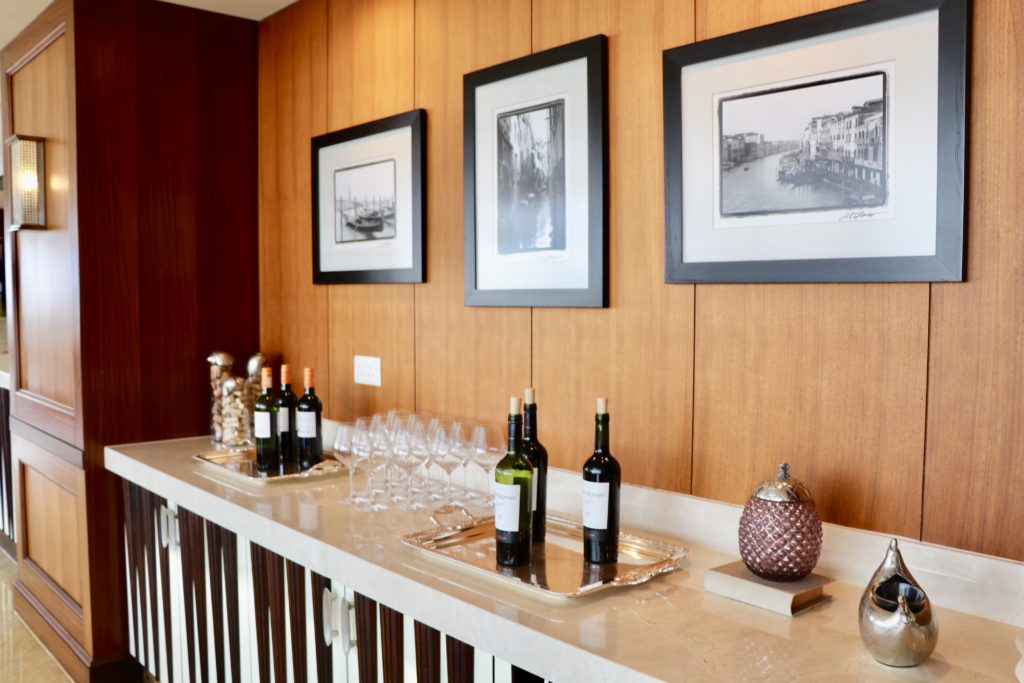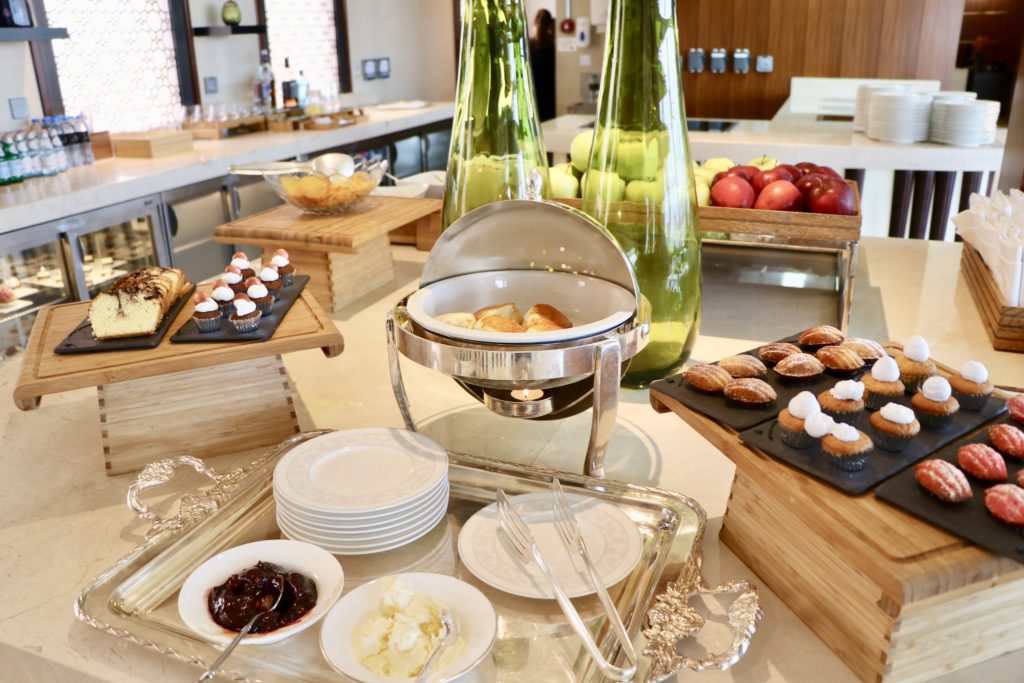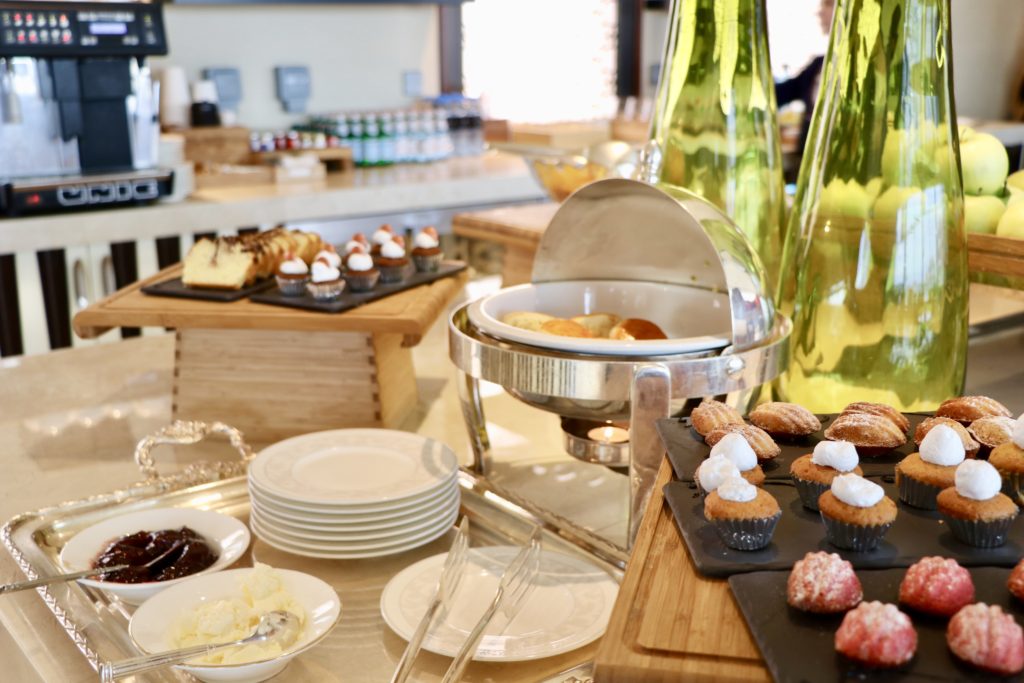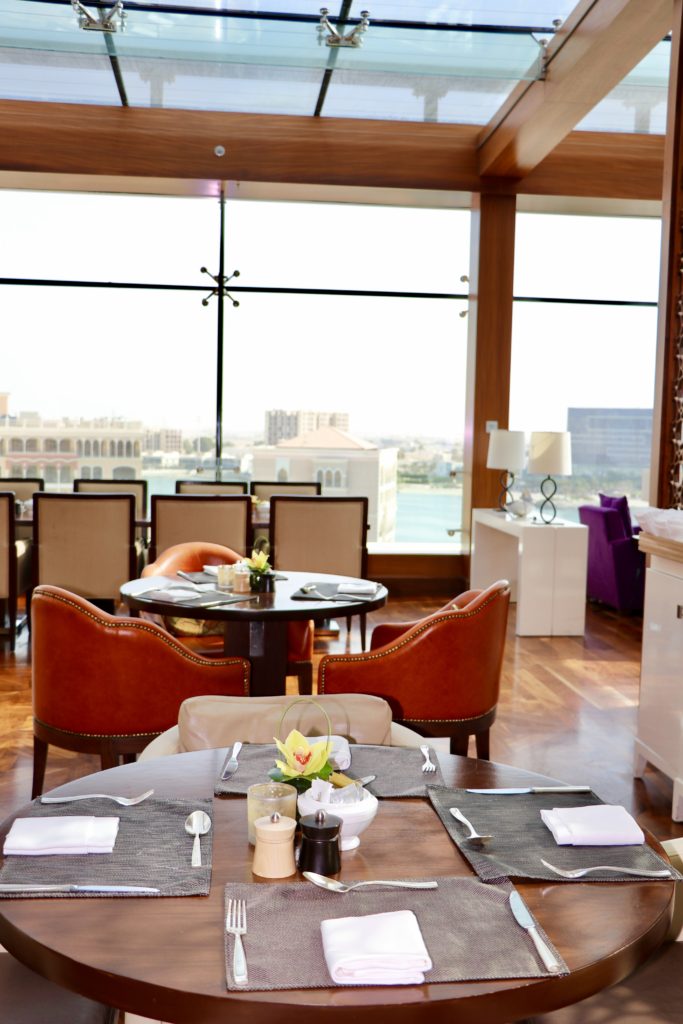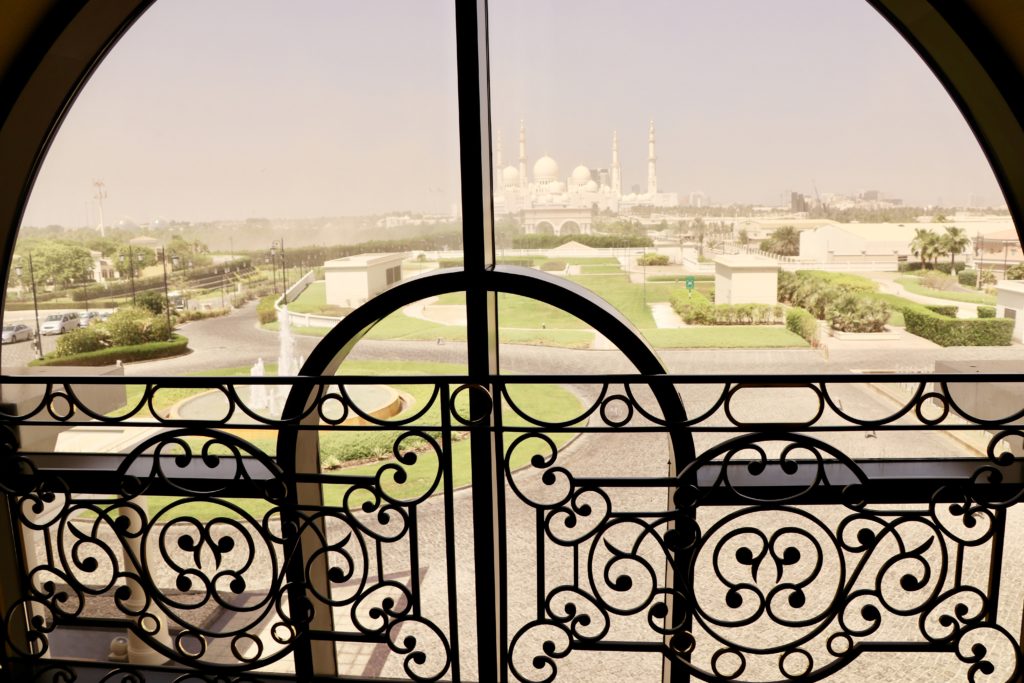 Hotel Grounds Including the Spa, Pool and Onsite Restaurants
The Ritz-Carlton Abu Dhabi, Grand Canal is oozing with Middle Eastern opulence. From sunrises over Al Maqta Creek to sunsets that illuminate Sheikh Zayed Grand Mosque, every moment reawakens the senses. Located within 10 Venetian-inspired buildings that form a crescent around one of the city's largest outdoor pools, the resort features eight restaurants, five-star accommodation, and a holistic spa with traditional Arabic bath and body treatments.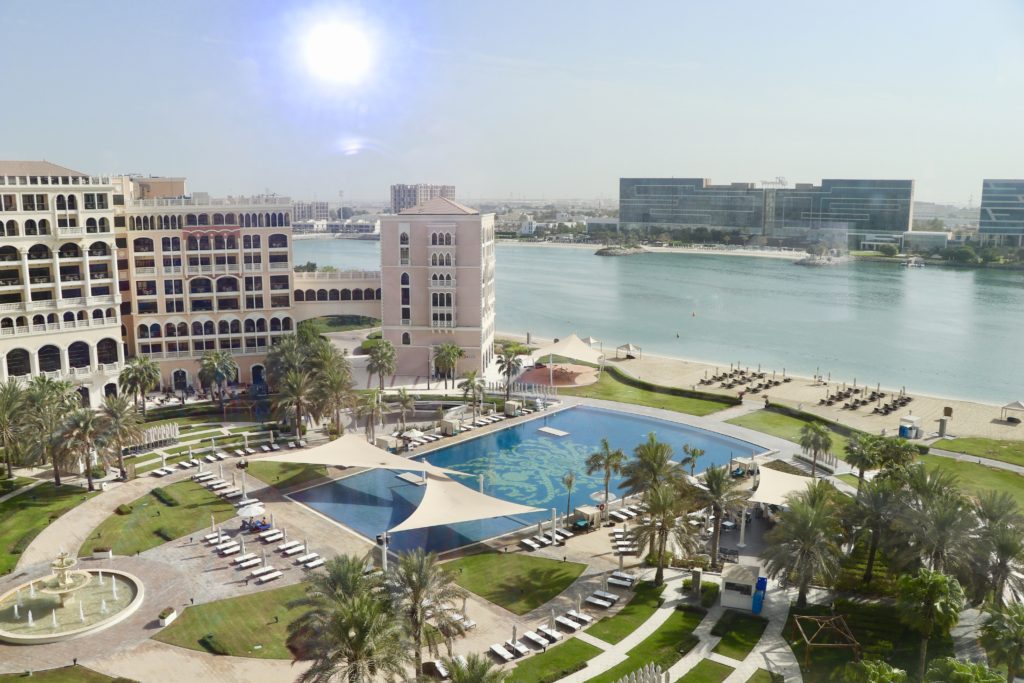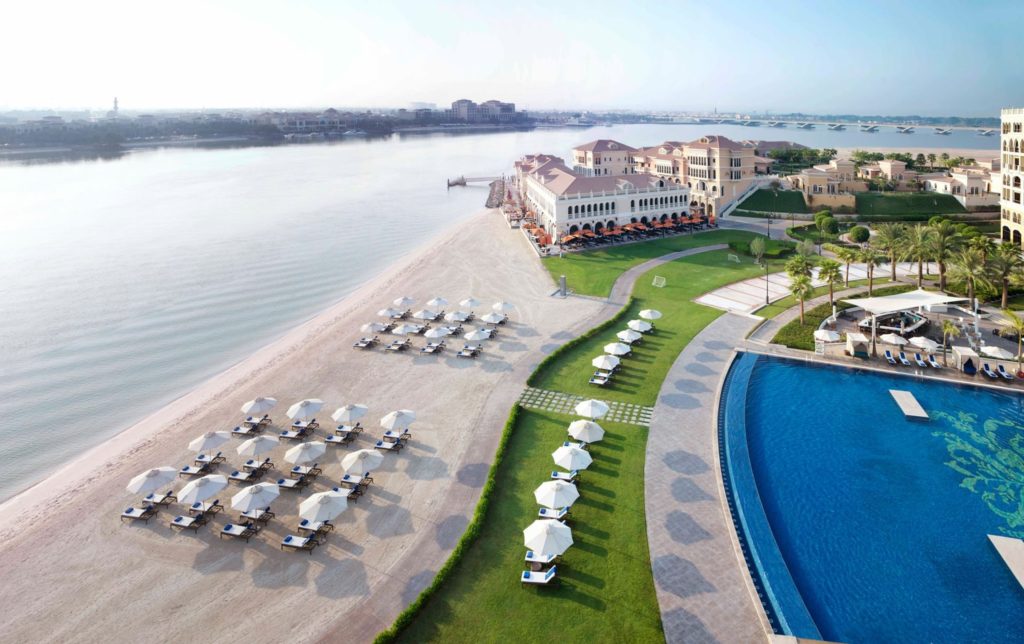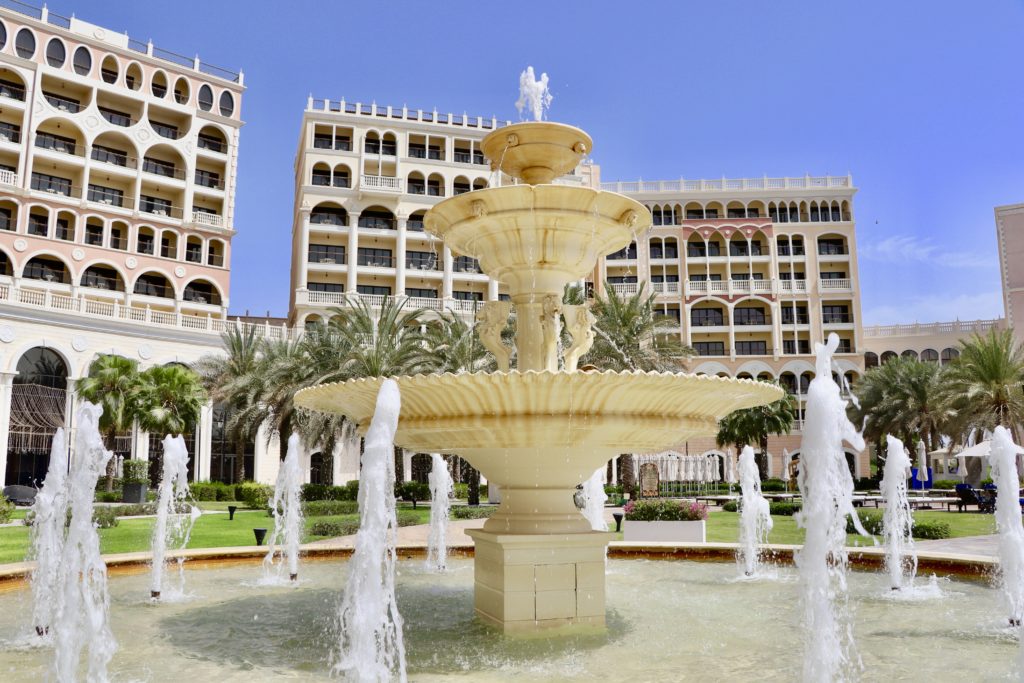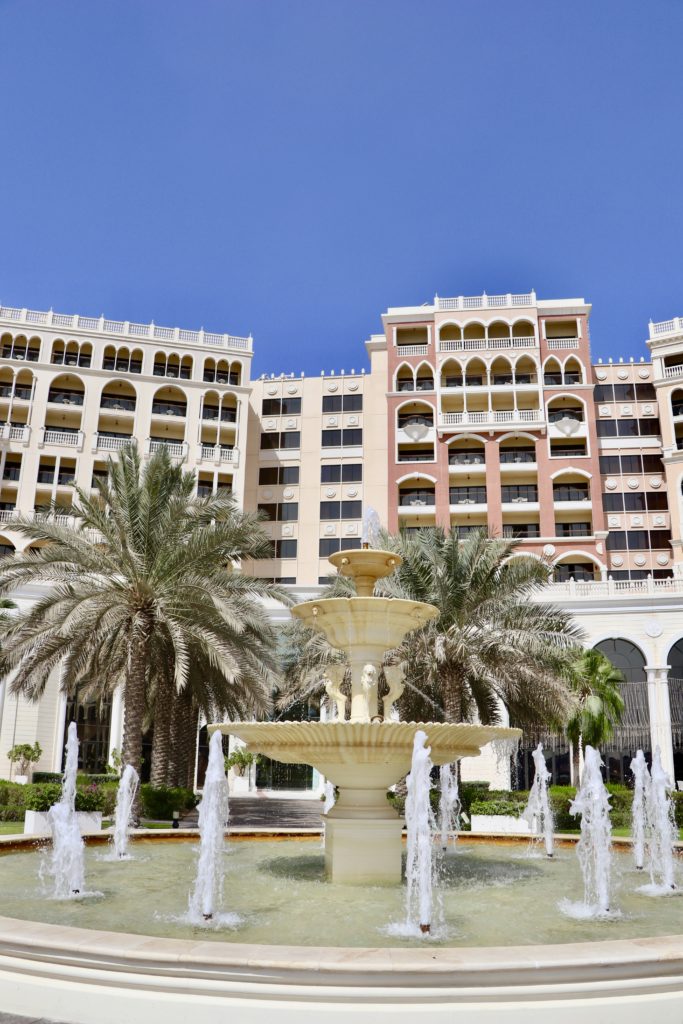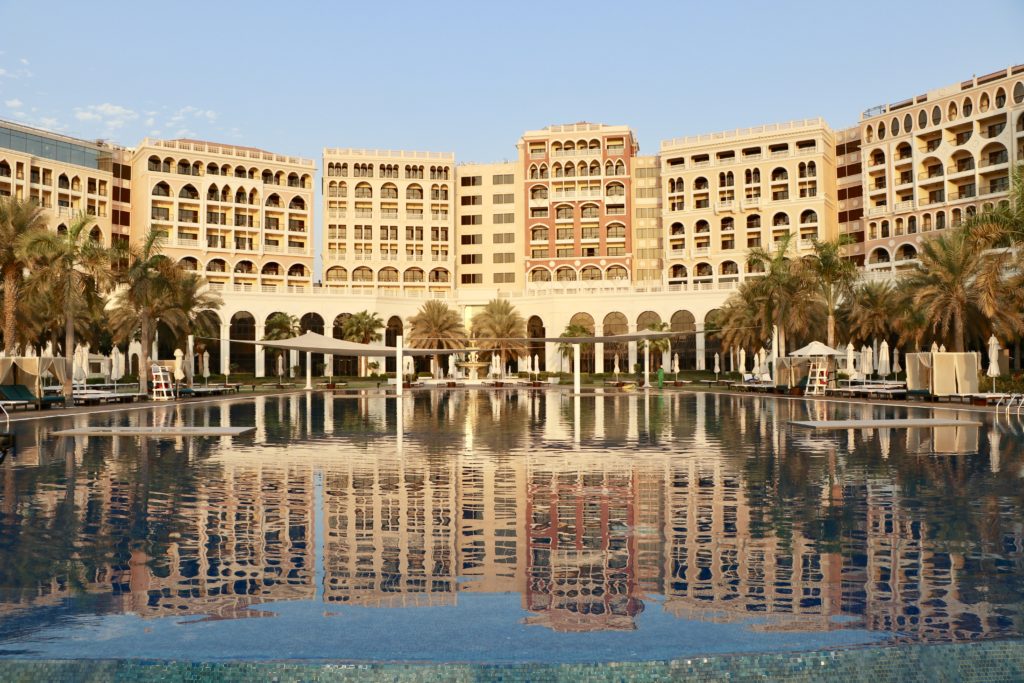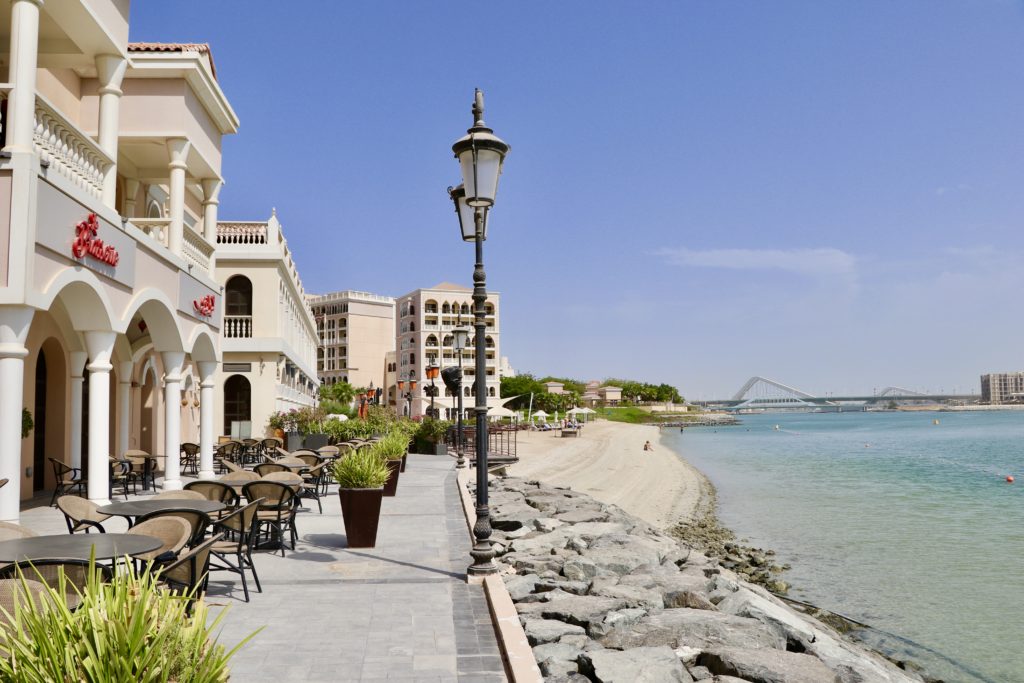 There is a beach area with cabanas, umbrellas and chair service attendants waiting to help you set-up comfortably or order from the outdoor bar menus.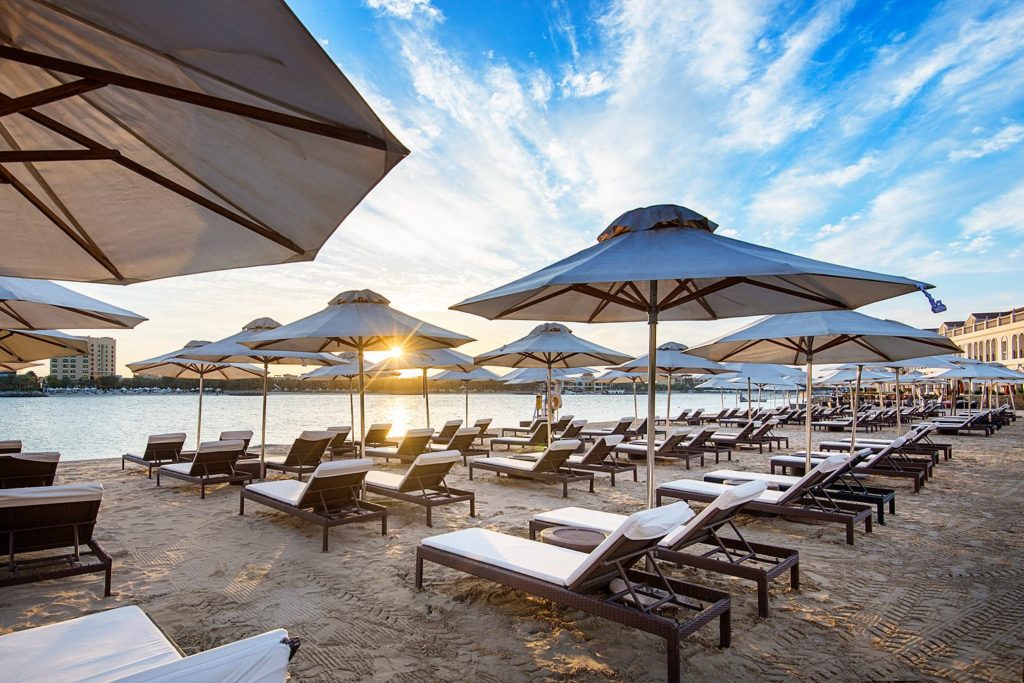 Just a short walk from the main hotel and guest suites, you will find a village of fine dining restaurants conveniently located on the premises. This is a nice perk given that you can just walk from your hotel room to dinner and back.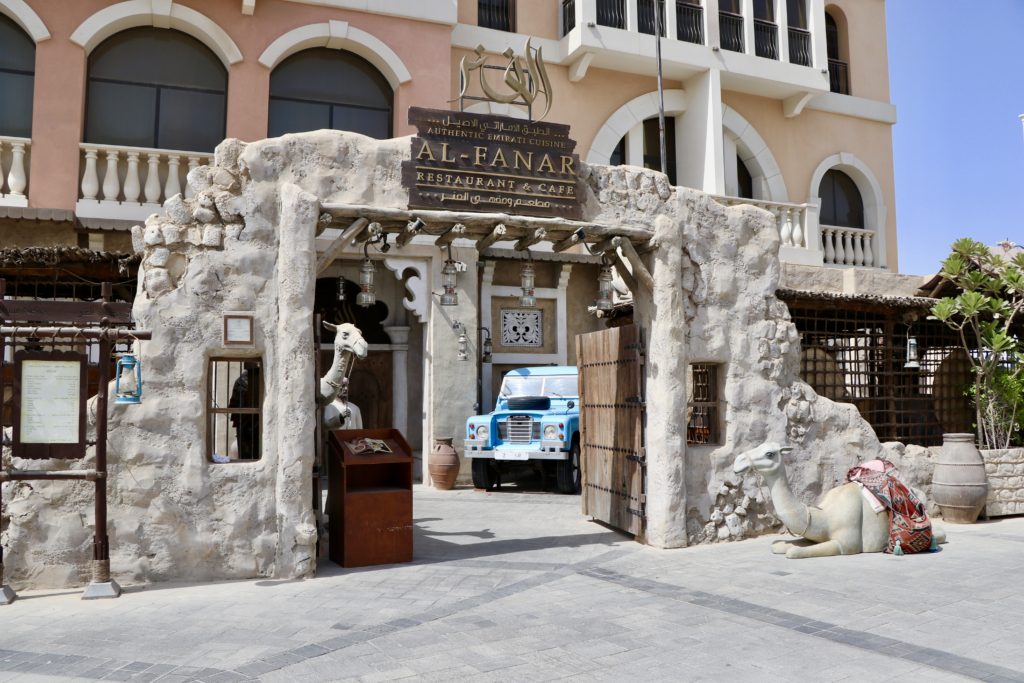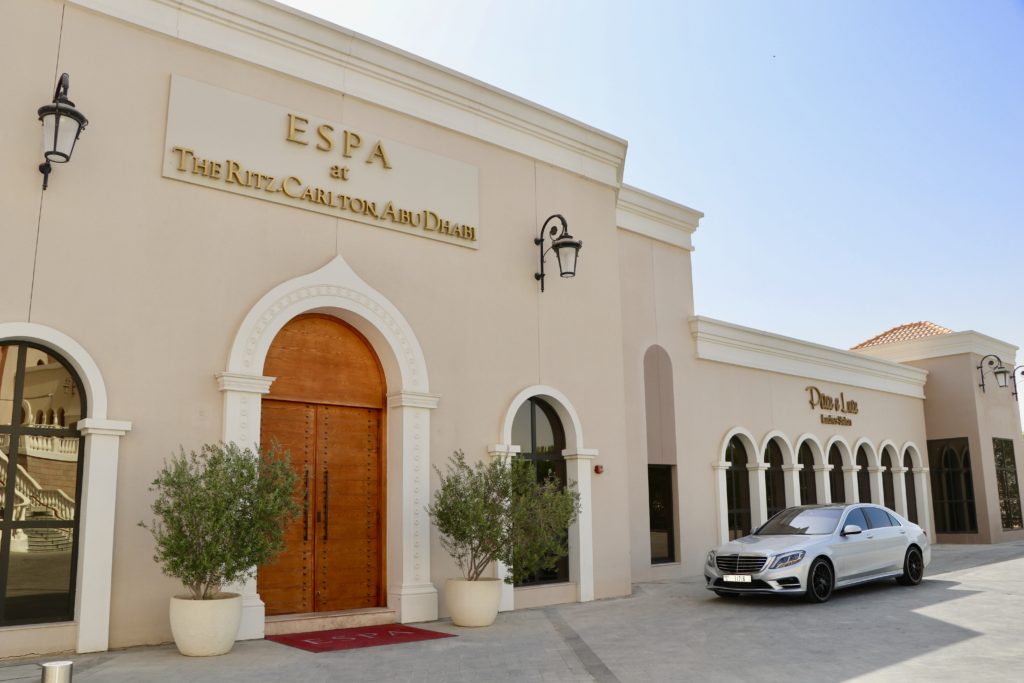 Anchored in the traditions and textures of Bedouin culture, ESPA at this Abu Dhabi hotel offers relaxation and rejuvenation with a distinctly local touch.
Set along the beachfront, the 21,500-sq.-ft. retreat includes 16 treatment rooms and separate relaxation areas for ladies and gentlemen with plunge pools, waterfalls and lush greenery. The menu offers luxurious twists on time-honored favorites, including a four-handed massage, express treatments and a traditional hammam.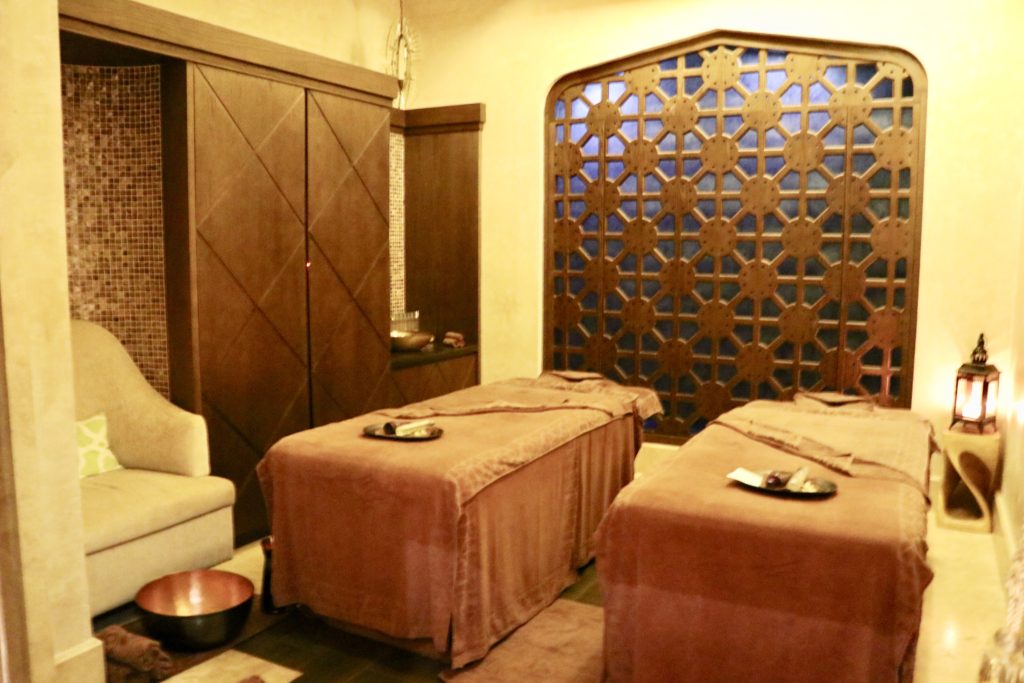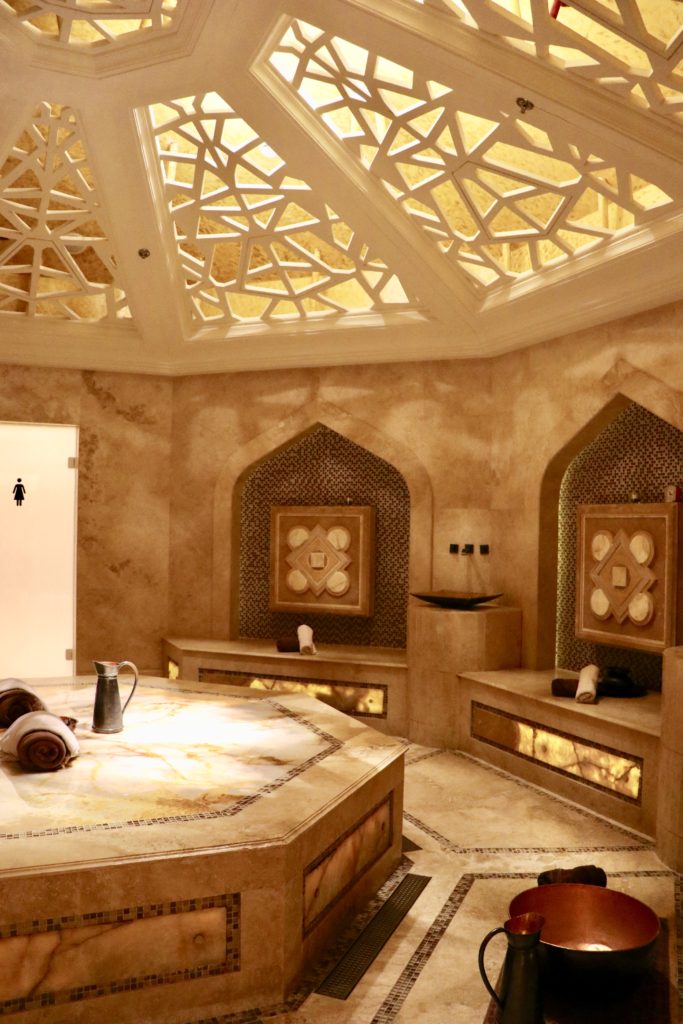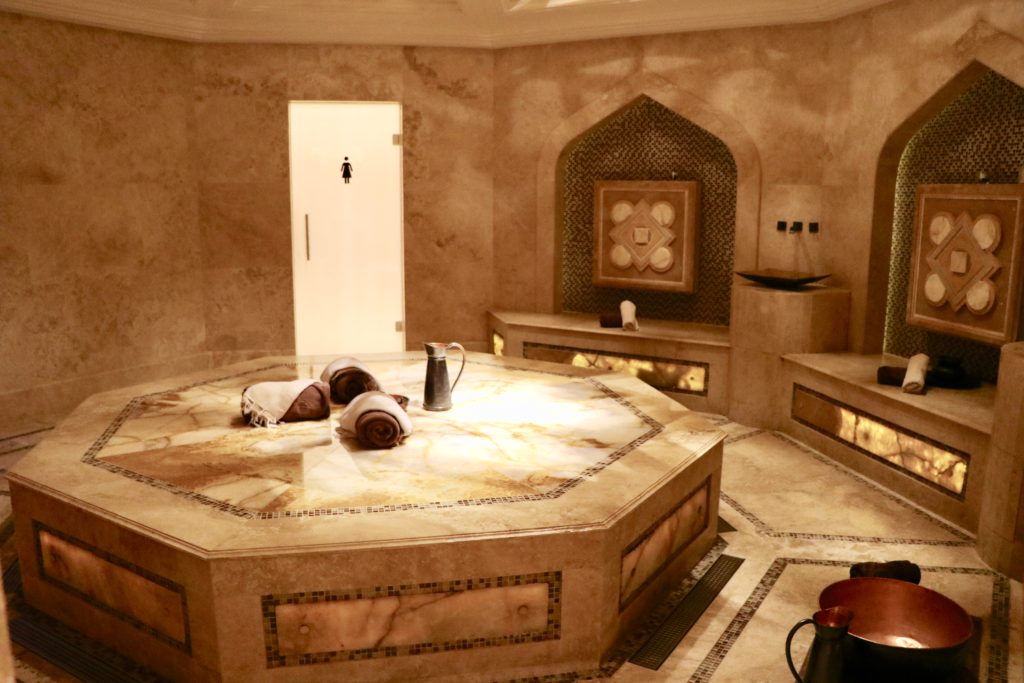 From the ideal room set-up to Club Level access, exquisite attention to detail and service, the Ritz-Carlton in Abu Dhabi was one of the finest hotels I have visited in the world. I am already planning a long weekend trip back with my family. We were able to engage in an abundance of local activities, tours, shopping outings and desert excursions directly from this centrally located hotel.
For a comprehensive and quick guide to everything you need to know about a stay at this Ladyhattan approved property, see below for a full guide.
Ladyhattan Guide to the Ritz-Carlton Abu Dhabi
The Ritz property is set against the backdrop of the Grand Mosque, just over six miles from Abu Dhabi International Airport (NYC to Abu Dhabi is 11+ hours direct flight via Emirates or Etihad Air).
The style of the hotel is based on a Venetian-inspired mansion, with glistening chandeliers, marble floors, impressive staircase and comfortably regal furnishings throughout. There are few hotels in the world with this level of opulence!
Rates run from $130 to $500+ for more extravagant suites. The Club Level Suite, depending on season is around $270/night on average.
There are 447 rooms and suites, and 85 private villas. Standard rooms have a living area with work and lounging spaces, and a separate bedroom with a balcony. Bathrooms are full marble, with tub, separate shower and double sink. The linens are 400 thread count.
The pool is one of the biggest in the capital, and there's a sizeable ballroom and 14 meeting rooms. The spa, which is a short walk from the main building, has a plunge pool, steam room and hammam.
There's a a free shuttle bus to the mosque every half an hour, but you can also walk to the mosque (takes about 20 minutes).
With 8 restaurants onsite, there is plenty of culinary optionality for any palate. Ladyhattan recommends upgrading to the Club Level for access to daily food and drink delights throughout the day in addition to all the fine dining options at your fingertips while at the property.
Ritz Kids Club is free for hotel guests aged from 4 to 12 years old. Activities include face-painting and memory games. Babysitting costs $14 per hour for a minimum of three hours.
Because of the central location, you are within 15-20 minutes to all the major attractions in Abu Dhabi from shopping, the Louvre, Grand Mosque and much more!
Ladyhattan recommends at least 3 nights here.
Ladyhattan recommends September (Labor Day Weekend) for fewer crowds and insanely affordable rates — yes, it's a bit hot this time of year, but you'll be in the pool or in cool air conditioning!