After years of traveling, I sure do know a thing or two when it comes to planning an insanely awesome trip – even on a budget. What a know-it-all, you are probably thinking. But after visiting 60+ countries, representing dozens of global hotel brands on corporate transactions as a lawyer, and then writing about these hotel brands as a trusted travel blogger, I have learned a thing or two about the luxury hotel industry. So let me help you strategically think about when and where to spend your money when it comes to luxury hotel options.
In today's featured post, I am walking you through five key questions to consider when making travel plans and booking luxury hotels. Along with these questions and tips for consideration, explore snapshots of a few of my favorite "Ladyhattan approved" hotels worth splurging on.
1 – What is the reason you are going on vacation?
If the answer is to relax, lounge and unwind, then always go with the better hotel option and splurge. I call these "book and beach vacations" for when you find yourself needing to jet away and do nothing but relax in a comfortable surrounding. In these instances, it is quite likely that 100% of your time will be spent at the hotel – eating, relaxing, swimming, lounging, working out or getting a spa treatment. In this scenario, pick the hotel where you are happy never leaving.
Alternatively, if you are going on vacation to explore a new culture or partake in regional activities, then a fancy hotel option might not be worth the money. For example, if you anticipate that over 8 hours of each day of your vacation will be spent visiting landmarks, museums, or maybe just wandering new streets, then you will not have time to take advantage of a hotel with bells and whistles. When will you get to pamper in the spa or lay out by the pool if you plan to be busy most of the day? I will share an easy example.
When my husband and I traveled through Tokyo for 3 nights, we knew that we would likely be out and about exploring. We just wanted a clean bed and bathroom with no need for a fancy lobby, hotel amenities or spas. For this portion of the trip, I saved money by booking a basic mid-range hotel for about $130 a night through an online discount travel website.
Ladyhattan approved splurge
andBeyond Phinda Rock Lodge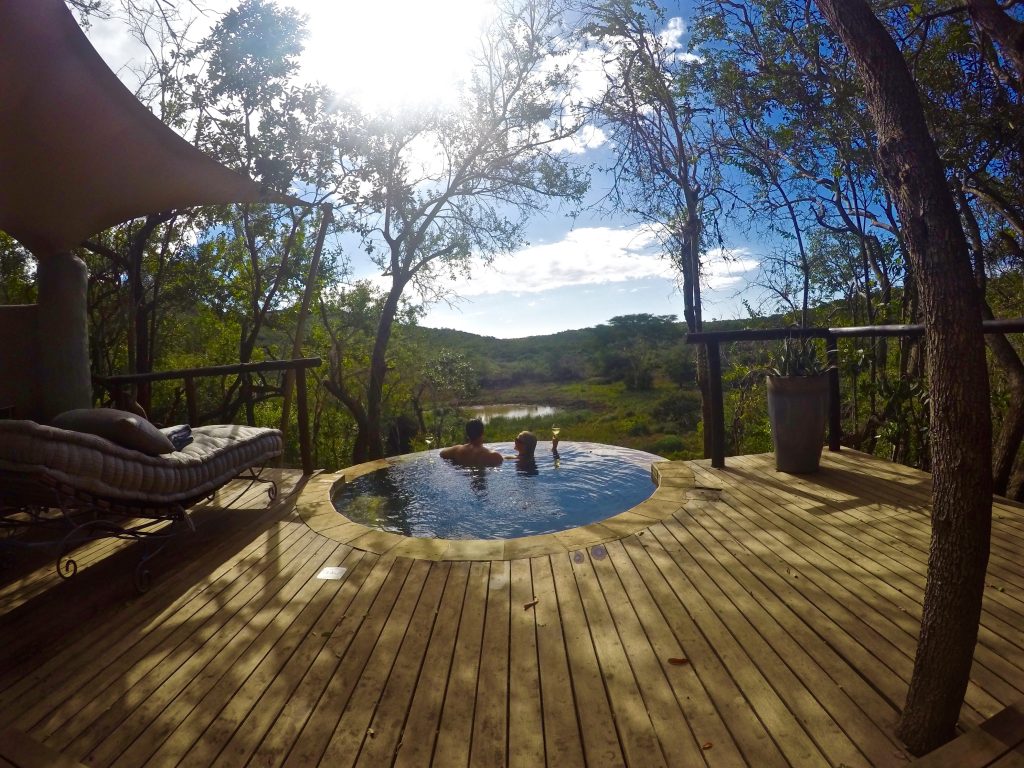 2 – What is the occasion for your vacation?
If you are just going on vacation for the sake of using up your vacation days that don't rollover to the next calendar year, well, then maybe a five-star hotel is not the best option.
But if you are jetting out of town to celebrate a special occasion (birthday, anniversary, honeymoon, babymoon, etc.) then you should consider the splurge. Oftentimes more luxurious accommodations provide above par service for the price paid, and with stellar service often comes surprise perks for that special occasion noted to the hotel staff in advance.
Come back to your room to a surprise bottle of champagne. Find rose petals in your bath or scattered across an inviting bed. Indulge in delicious birthday cake prepared just for you. These are the luxurious benefits of a finer hotel that make that occasion unforgettable. So if you are traveling for a special occasion, pick the nicer hotel option, it will be well worth it for you and the occasion you are toasting to. In this case, be sure to notify the hotel in advance of your special occasion and give them the nudge that you are expecting some attention (or bubbly).
Ladyhattan approved splurge
Four Seasons Resort Bali at Sayan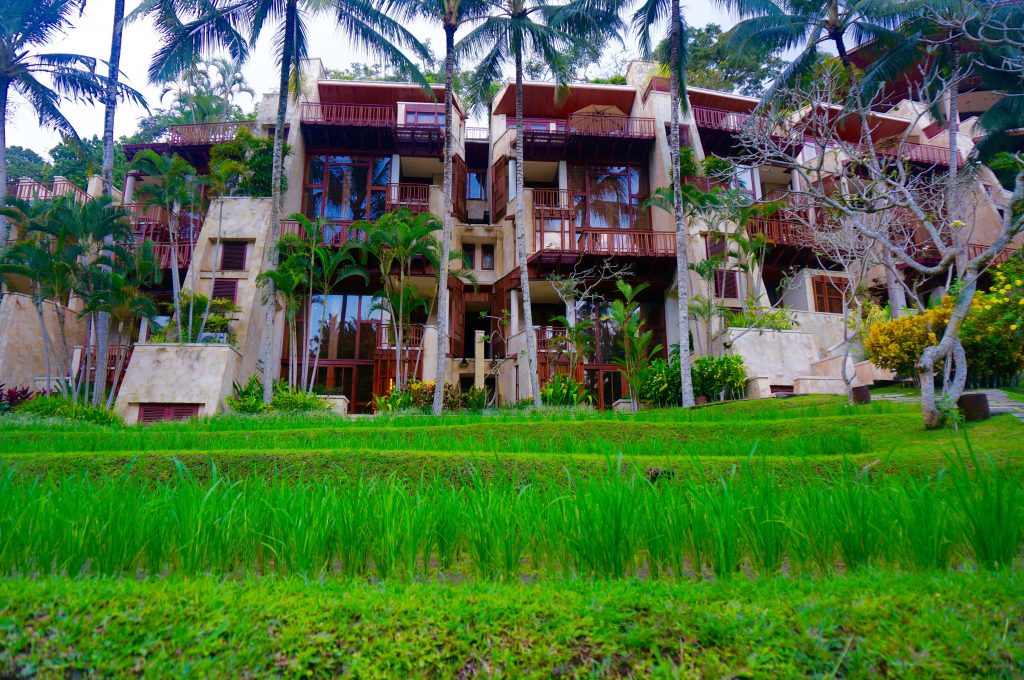 3 – What are the currency and budget considerations to evaluate based on the destination and season?
When you look at your travel budget for a particular trip, the region you are planning to visit will dictate many of your decisions. Is it an expensive destination? Is it a relatively cheap destination? How do the currency/exchange rates impact your costs? What time of year will you be visiting – during peak or off-season?
To flesh this question out, I will give you a shocking example. When I first traveled to Thailand I was confused because a full body massage was about $10 – yes, TEN dollars. I felt so uncomfortable with how low the massage charge was that I tipped the lady triple. In contrast, the average massage at an exclusive destination like St.Barths or Nantucket will cost you at least $200, not including the tip.
Where you travel and how expensive of a destination it is will impact where and how you spend your money. If you are traveling to a cheaper destination, the luxury hotels will be much more affordable and if that is the case – why not stay at the nicer option? However, if you are visiting an expensive destination where the average hotel price is astronomical, you may want to look into alternatives such as AirBnB.
But let's say you are just dying to stay at that five star hotel in the glamorous St. Barths and you can't afford the rates. Consider visiting the destination during "off season" to find the better bargains, even for super high-end hotels. I have found that the few weeks before the peak Christmas season in the Caribbean can offer travelers insanely reasonable hotel rates (i.e., half off the normal price). By making a compromise on the timing of your trip and venturing out during off-season, you can score the luxury hotel at the best price.
Ladyhattan approved splurge
Relais Borgo Santo Pietro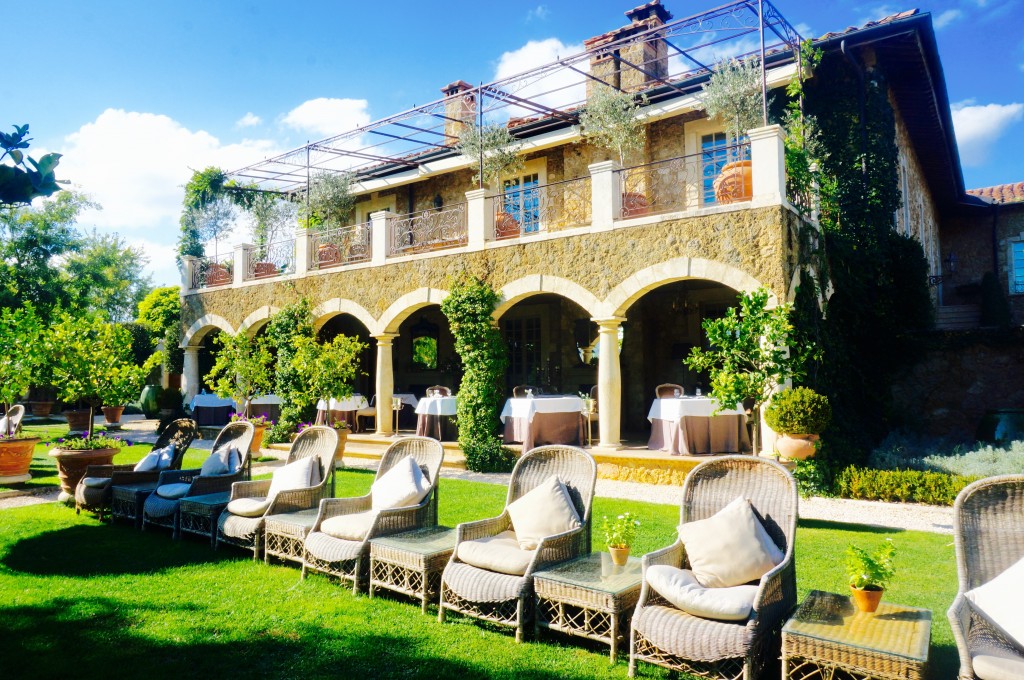 4 – What type of activity do you plan to participate in during your trip?
A vital question to ask yourself during the planning process is simply, what will I be doing? If the answer is nothing (i.e. lounging and relaxing) then you are better off putting the majority of your vacation budget into a higher-end hotel selection. In contrast, if you are planning to be actively touring, participating in cultural immersion activities or experiences, then you might consider a less expensive hotel. My philosophy is always, why pay for a fancy hotel when I will only be there to sleep for a few hours?
However, if you will be participating in strenuous vacation activity such as biking or hiking during the day, then the luxury hotel option could be crucial. Even though you will not be at the hotel throughout the day, your body might be craving a plush bed and bath to come home to each night. There is nothing better than enjoying a decadent bubble bath, high quality bedding and a peaceful sleep after a day of strenuous but fun vacation activity.
Talk through this question with your fellow travelers and choose wisely. If you can't decide, then break the trip in half with a modest hotel option for the first few nights, and then a luxury hotel for the last few nights. I always like to plan the luxury option after the lower tier hotel option, because it gives you something to look forward to and be excited about while you are on your trip!
Ladyhattan approved splurge
Rosewood Tucker's Point Bermuda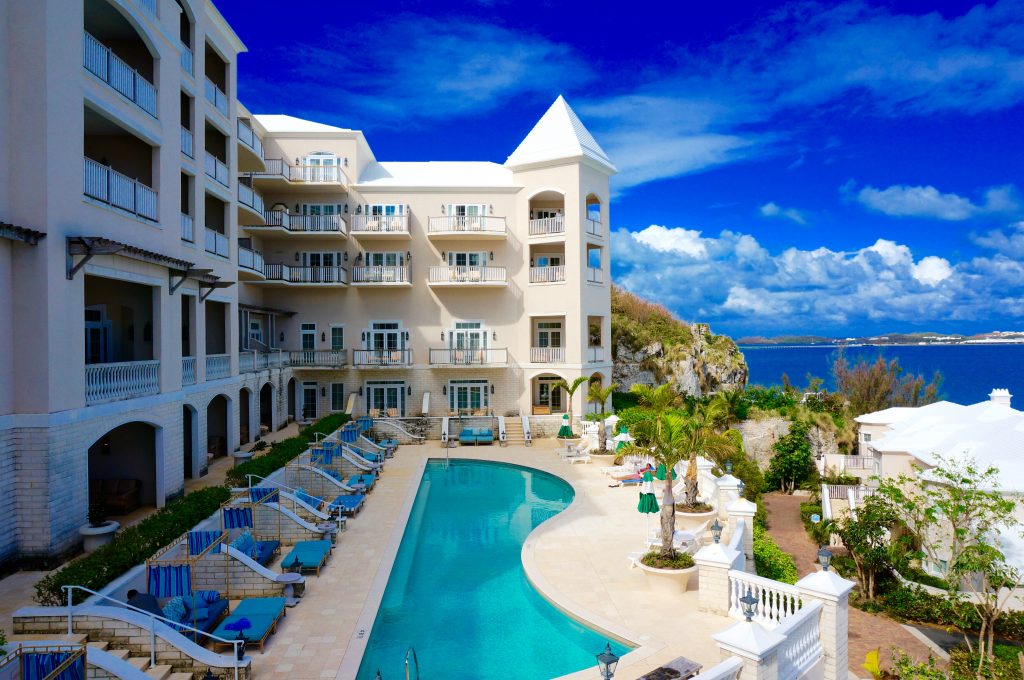 5 – Can you play the miles and points game?
Ah, the lovely game of working the travel system through miles, points and promos. Don't you just love the Points Guy? If you are an active traveler for business or leisure, you likely have a preferred credit card and accumulate miles. If you are able to cover the cost of your flight on miles, this will leave you plenty of money budgeted to splurge on a luxury hotel for the trip. Whenever my husband and I book our flights through miles, we always justify using the money we would have otherwise spent on the flights by paying for the cost of a nicer hotel.
If you have saved up reward points for hotels, you can use those toward a higher-end hotel option and save your cash to be spent on other vacation costs such as food, shopping and activities.  If you are regularly on a super tight budget for vacation planning, I suggest saving up (hoarding) all of your reward points for your dream hotel option. You can often find a way to stay at the most luxurious of hotels, even if only for the night, by playing the reward points game. I stayed one night at the renown Gritti Palace in Venice by saving up hundreds of reward points.
Ladyhattan approved splurge
Milaidhoo Private Island Maldives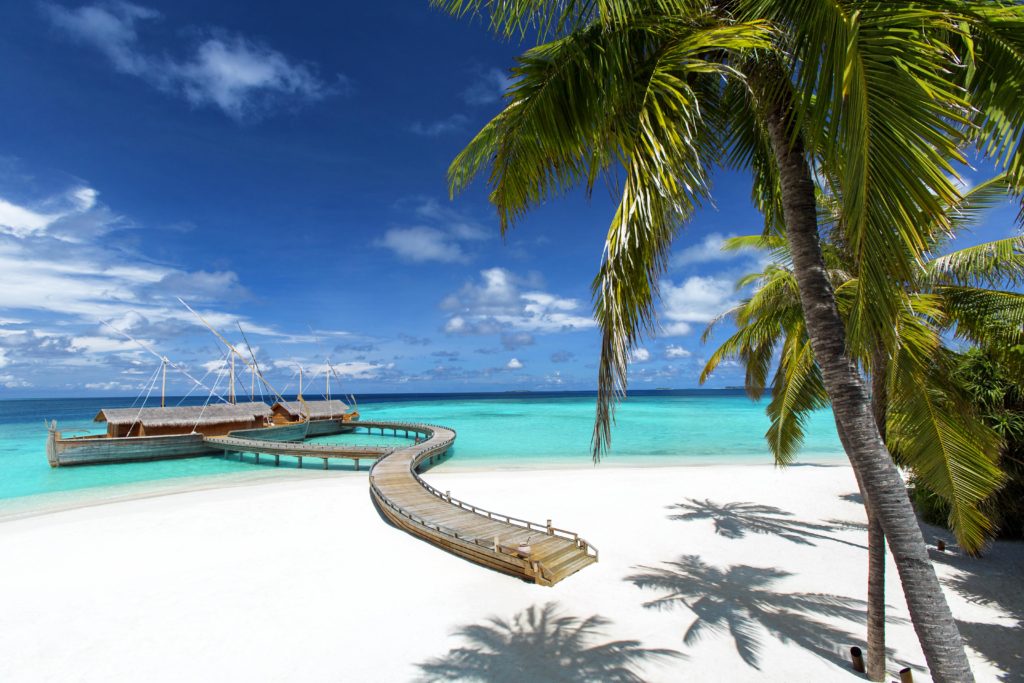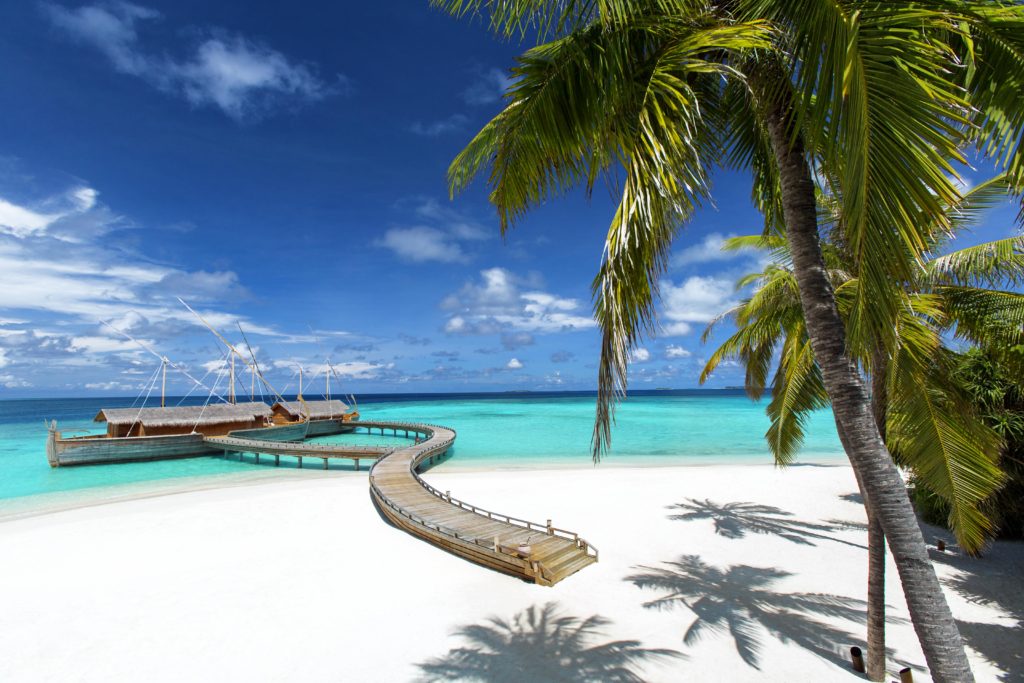 As always, all opinions are my own and I hope you found this featured blog post helpful in planning your next dream vacation! You can always reach out for questions about travel, life in New York City and collaboration opportunities by e-mailing [email protected]. Cheers to the next sweet escape!