Over the last four years of my life, much of my travel schedule included frequent trips to Palo Alto, California to visit my baby sister, Dillon Rose, a student-athlete at Stanford University. This region of California is one of the most beautiful places in all of the world – rich green rolling hills flooded with palms and redwoods, and pristine weather year-round – there is much to love about Northern California so visits here were always a mini-vacation. Through these regular trips, I have been able to explore several vacation-worthy destinations in the region — checkout my insider guides to the best of  Carmel by the Sea or Napa Valley.
However, the red-eye flights from California back home to New York City at the end of every blissful weekend were nothing but brutal. The flight is too short to actually get a good night's sleep and yet long enough to cramp, dehydrate and sicken your entire body to a flu-ish state. The worst part of the red-eye is landing to a buzzing city where I would hop in a yellow taxi, get violently car sick during morning rush hour traffic, and then quickly change into a full business suit before entering the doors of my law firm's office. Yikes, if you could only imagine how scary my Sunday scaries were during these weekend trips.
Throughout those long Mondays trying to stay awake at my desk, I would always tell myself, "I will never take that flight again, I just can't keep doing these trips to California…" I would close my eyes with fleeting frustration as my thoughts created an image of my beautiful little sister – my only sister. Tears would burn in my eyes reflecting on her strength, her resiliency and her maturity. She was flourishing at Stanford despite the tragedy of our dad's battle back at home, and her fortitude inspired me each time I had the chance to see her thrive. And so the cycle would continue, another red-eye flight would get booked and another stellar weekend in Palo Alto would follow.
Boy were these red-eye flights worth the positive experience. To see my sister running across the field wearing a Stanford jersey. To feel the joy of her campus by getting to understand her diverse community of friends and classmates. To hear the challenges of her nerdy engineering degree like the new robot she was struggling to build from scratch. And to witness her do it all with such grace amidst the darkest clouds of grief – these are moments that I will savor for the rest of my life. These are moments that inspire me to be more like my sister – to thrive rather than crumble in the face of hardship.
My sister's college experience culminated with a life event we all knew would eventually come – her graduation day. I was quite emotional leading up to her graduation – not just for the amazing chapter of her college experience that was coming to an end, but for the recollection of all that we had faced together as a family during these four years of her college experience. If anything came from our father's battle with cancer and passing, it was the revelation that family is everything. Yes, family is and always will be everything.
ATHLETIC AWARDS RECEPTION
We had such an amazing weekend together as a family unit celebrating and rejoicing in Dillon's great accomplishments at Stanford. Festivities were kicked off with the Stanford Athletics Board Awards, where I watched my sister not only win a major school award, but also participate in the program as one of the featured speakers. The event was chilling with inspiration as NCAA Championships were replayed on highlight reels, Olympic athletes commended and the best of the best in college sports applauded through various awards. Dillon was a bit embarrassed when I ran up to one of her classmates who was also a speaker at the program – five-time Olympic gold medalist, Katie Ledecky, and told her that I was a huge fan.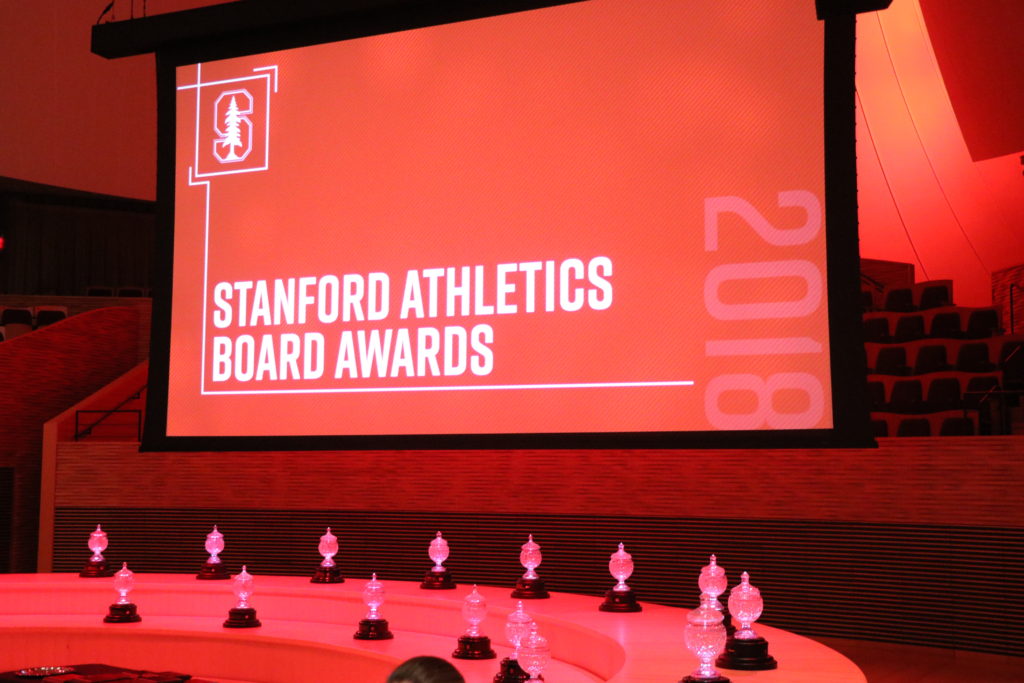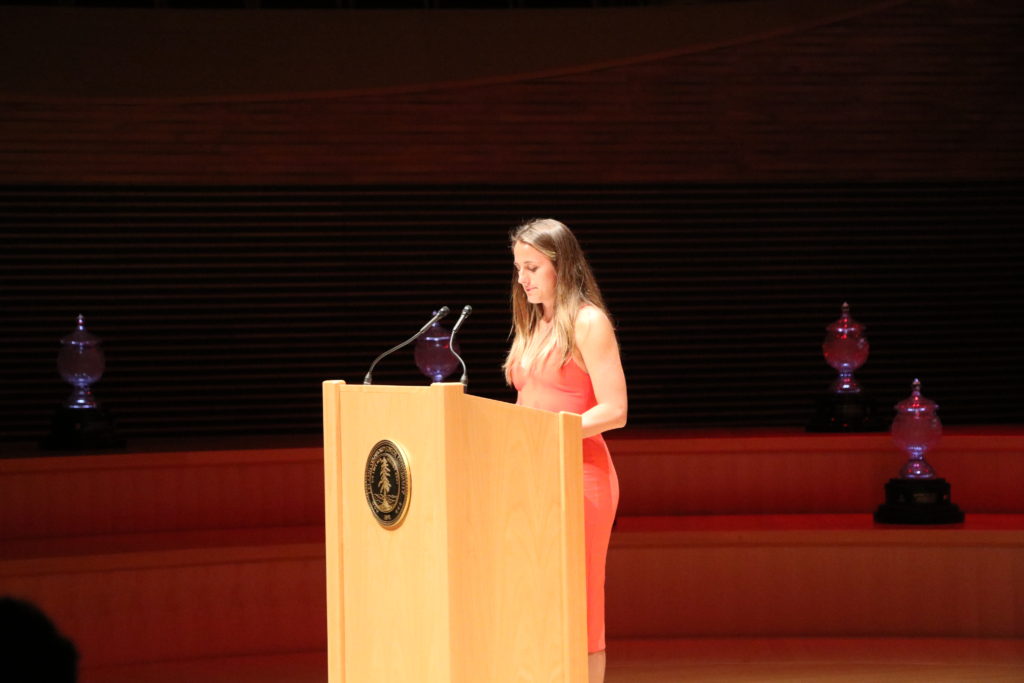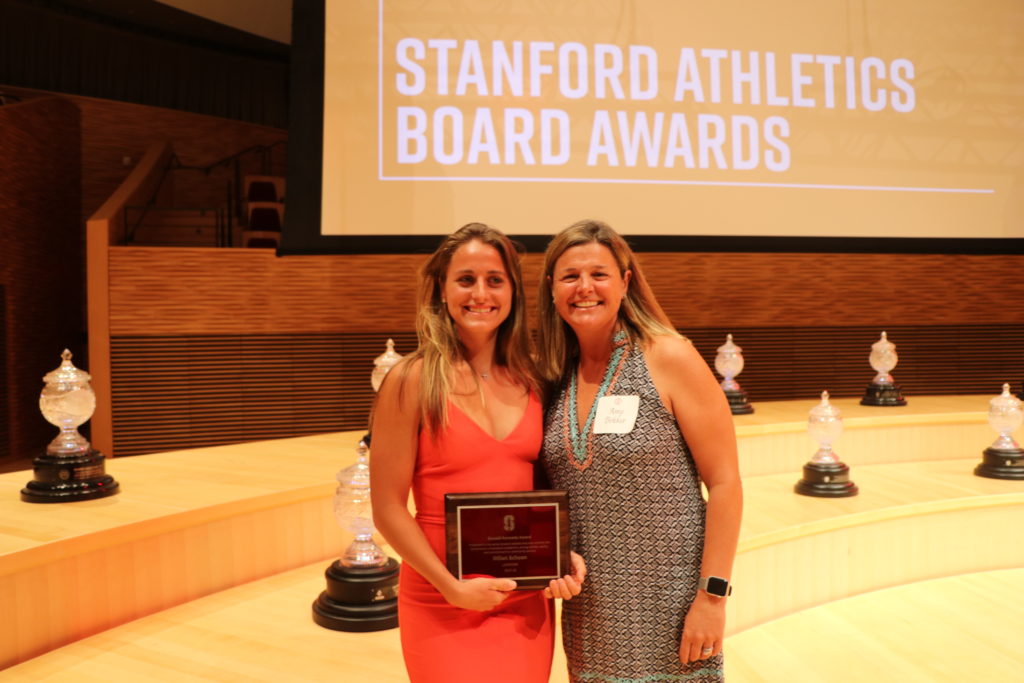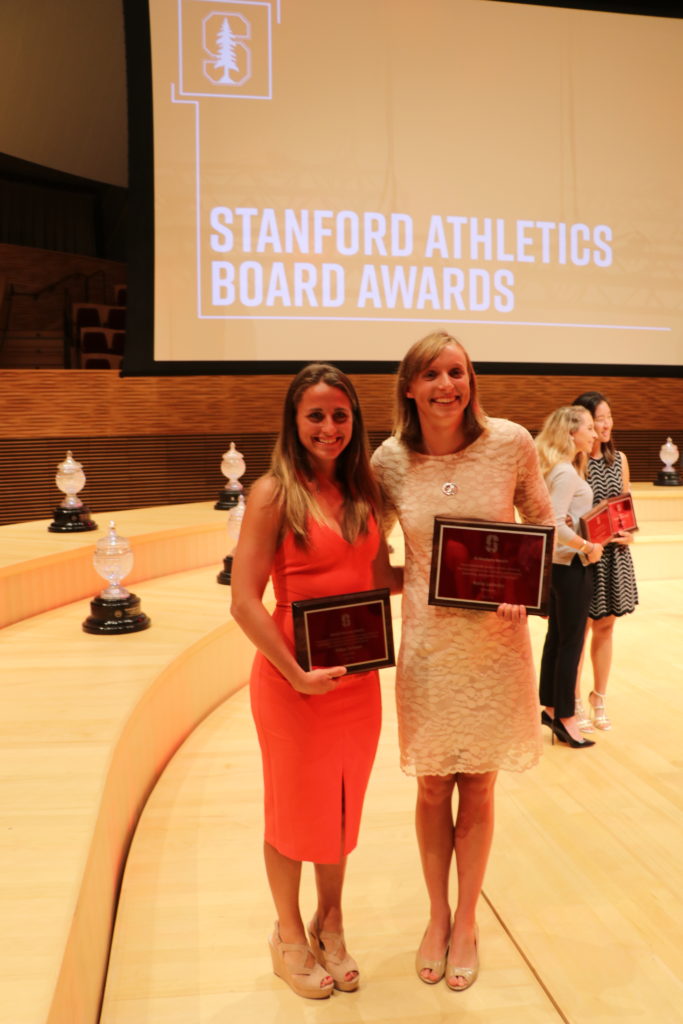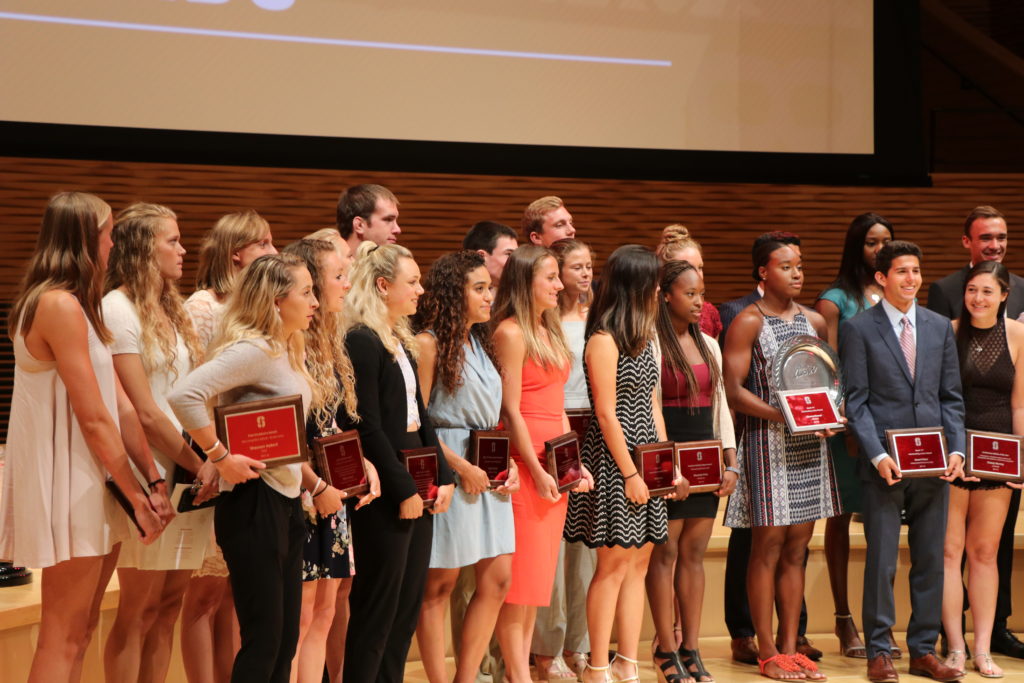 GRADUATION PARTY
One of Dillon's best friends from freshman year grew up in a town nearby the Stanford campus. Her family's warmth, generosity, support and friendship has been a Godsend not only to Dillon, but to all of my family members. After our father passed in September, Allison's family welcomed us with open arms to their home for Thanksgiving dinner so we could be close to Dillon and support her choice to stay on campus for the holiday. I have never experienced a Thanksgiving holiday with brand-new friends who immediately felt like family — their warmth, hospitality, and unconditional support for all of us is something I will always remember and be grateful for. Thank you for being such great friends to us and loving our little Pickles as her local Californian family!
Given how much we adore Allison and her family, one of the highlights of our weekend was attending a graduation party hosted right in the comfort of their gorgeous backyard. We toasted with local wines, ate a delicious dinner spread and even enjoyed a competitive game of "pickle ball" on the court they set-up. There were many hysterical laughs, stories reminisced and even a memorable A-lister celebrity spotting. Katie Couric noticed my family members gathered at a picnic table having the time of our lives and just casually shouted out that we needed a family photograph, insisting that one of us share our phone so she could take the picture. Star-struck with her beauty in-person, my Auntie Beth juggled in her Louis to find the i-phone and hand it over to Katie to snap the picture. And so for the rest of my life, I can brag that Katie Couric (Yes, America's sweetheart) captured our family photo. What a night, what a party. Thank you, Stephanie, for having us to such an awesome gathering!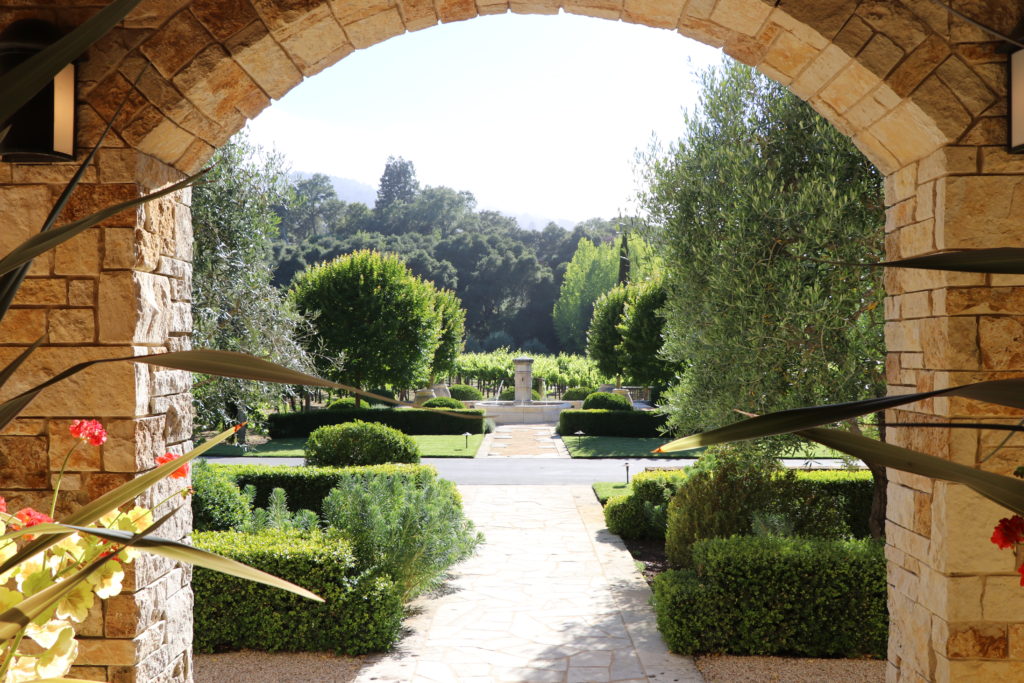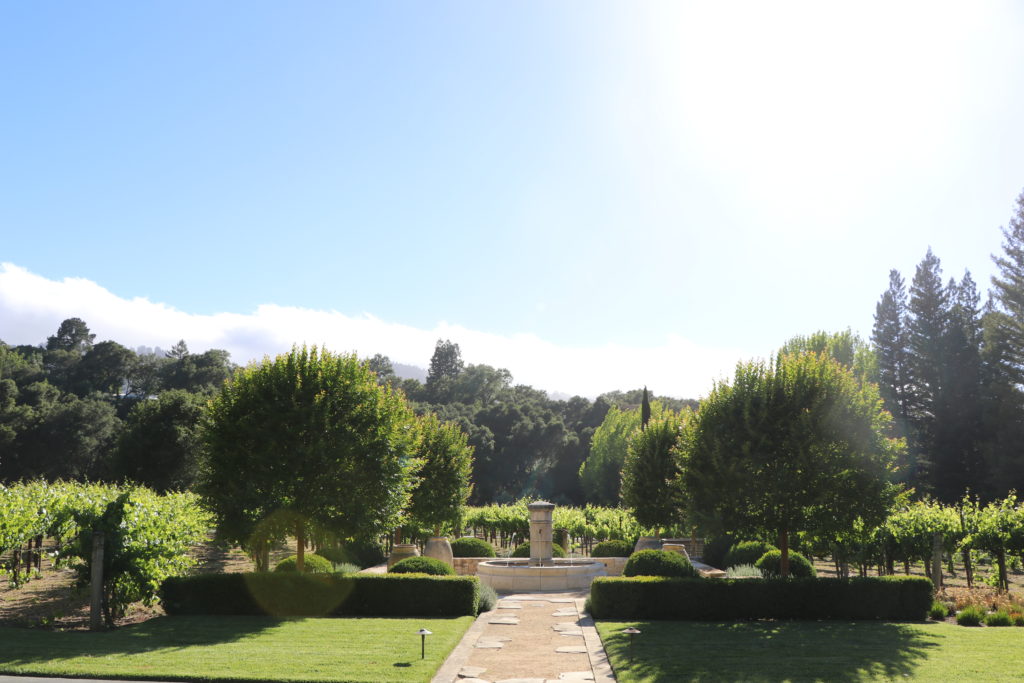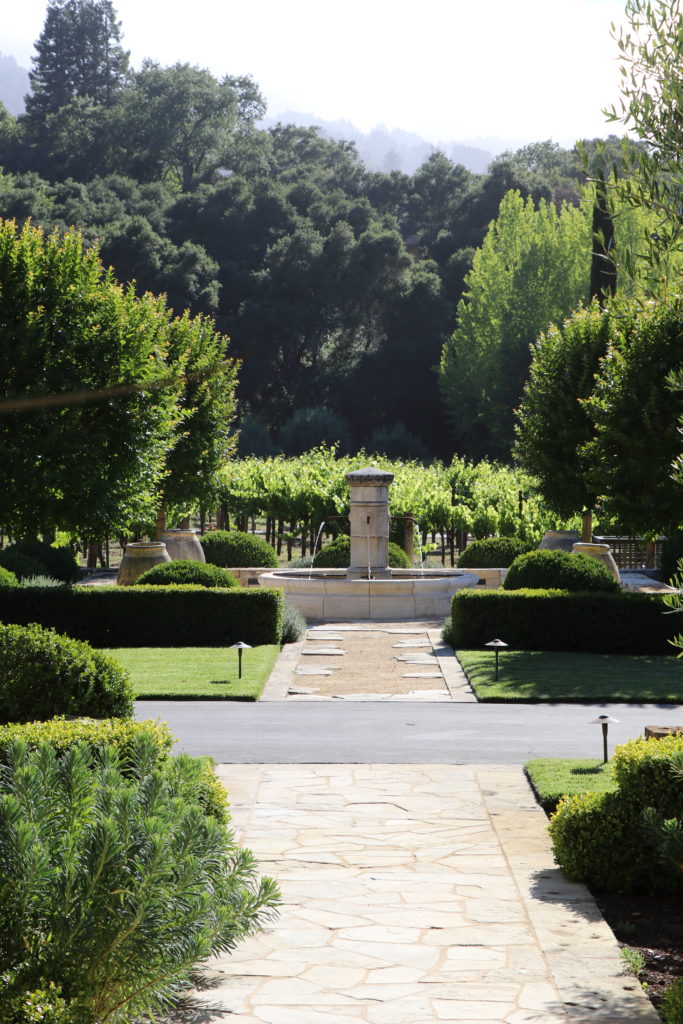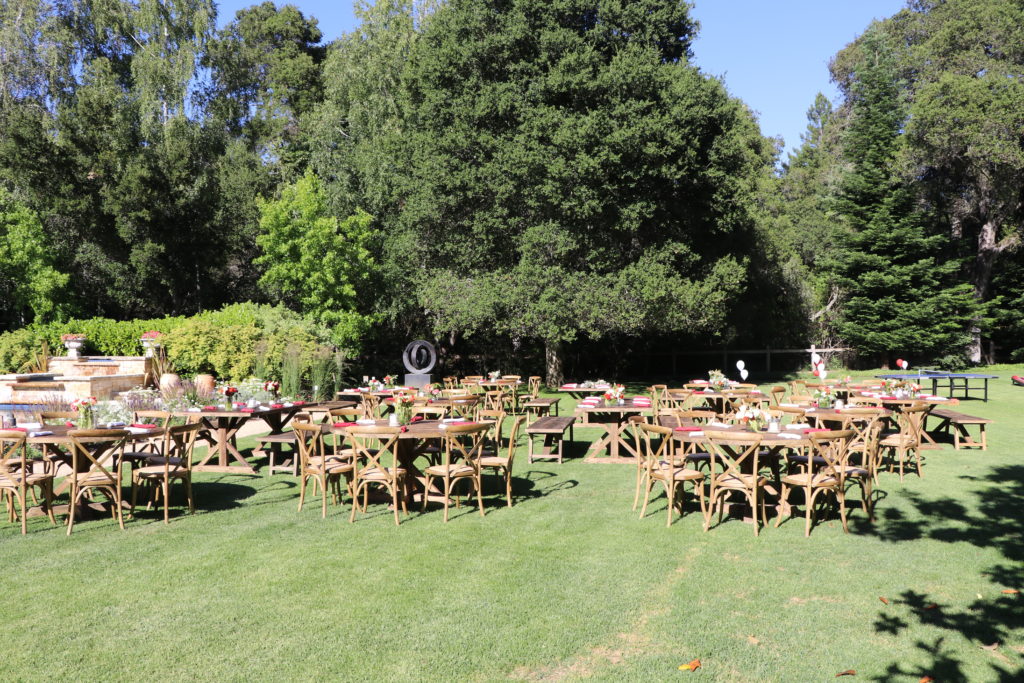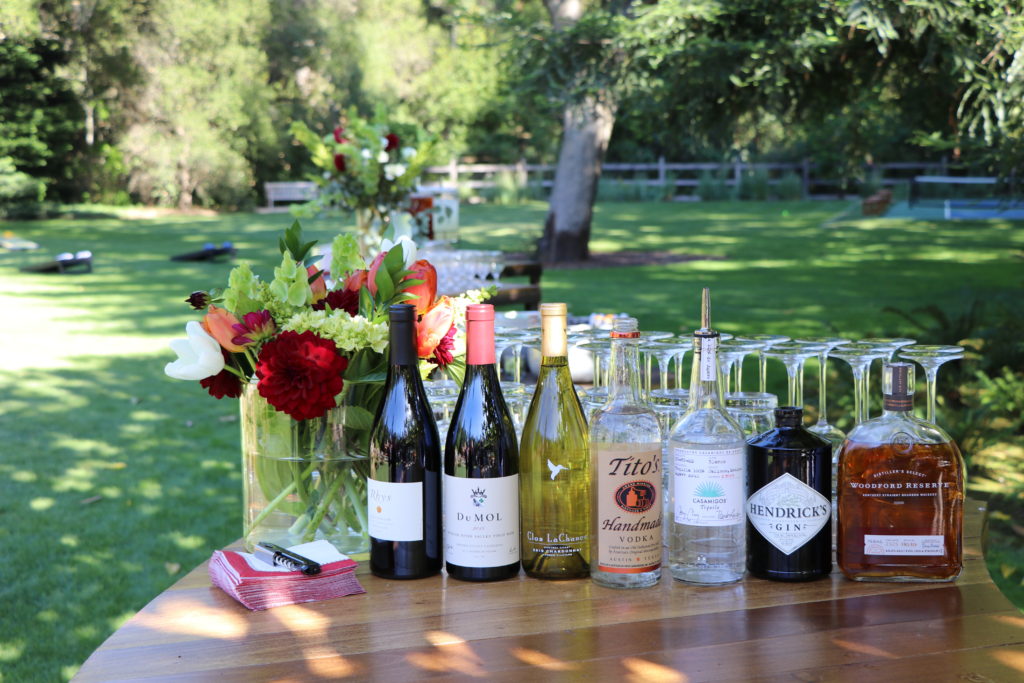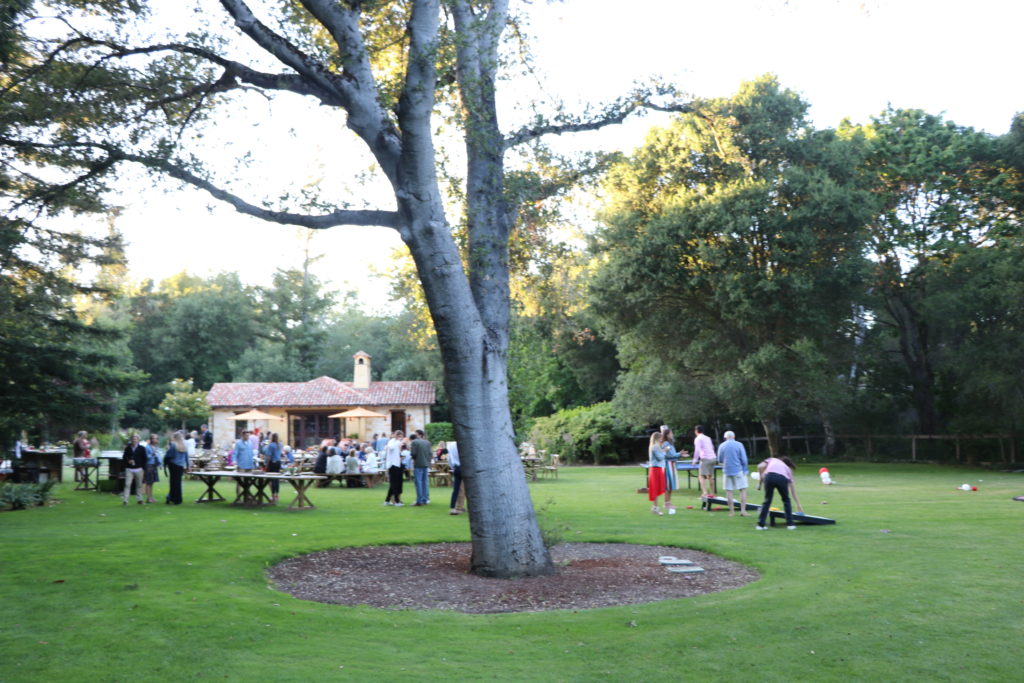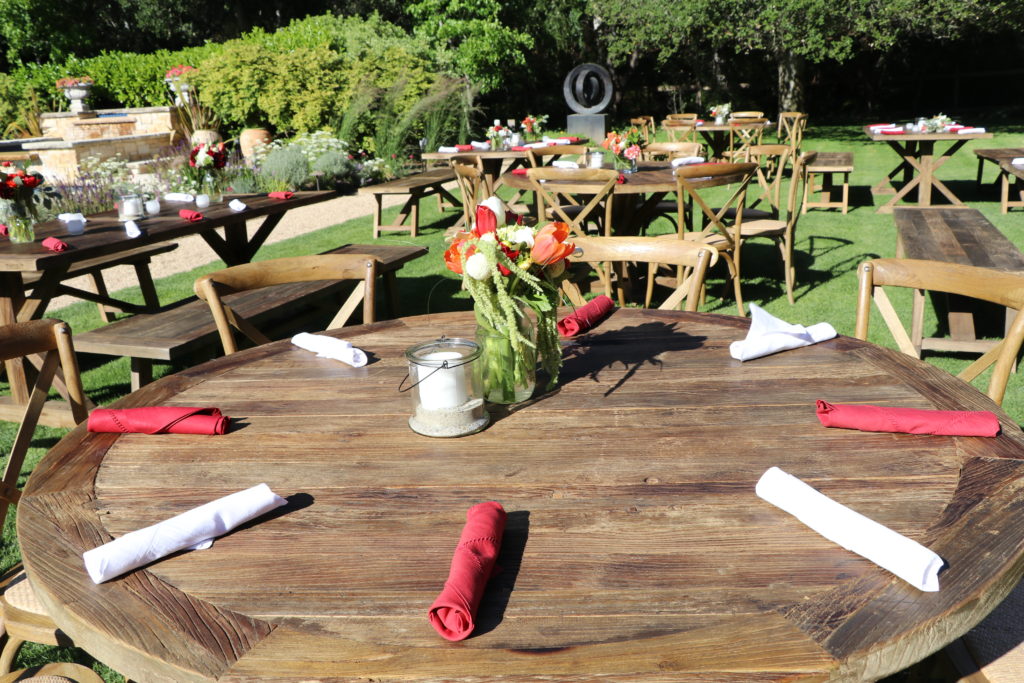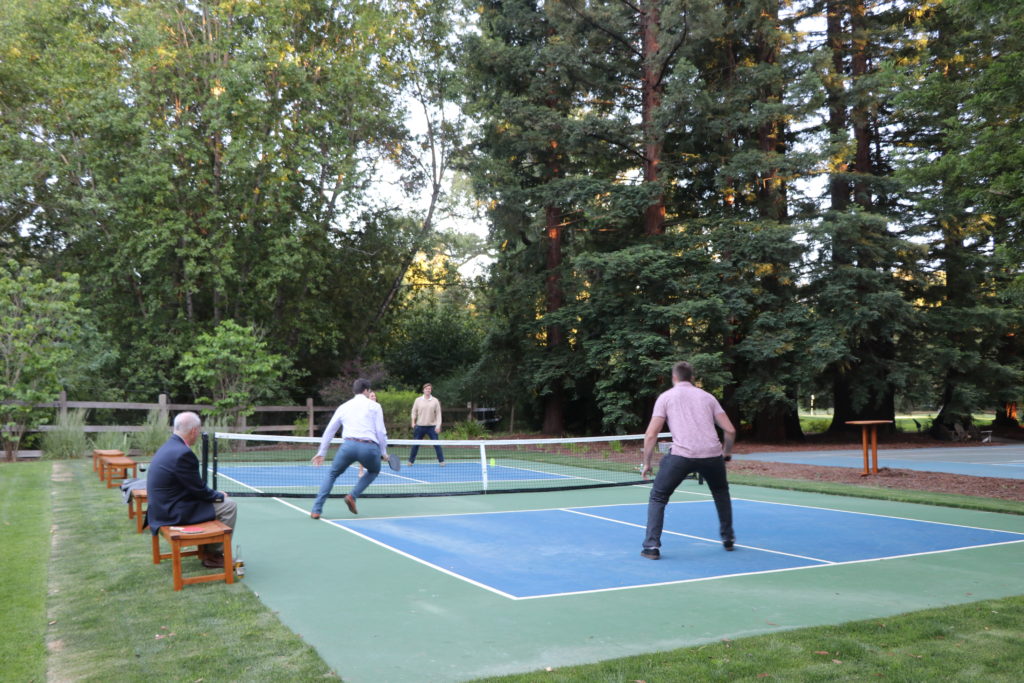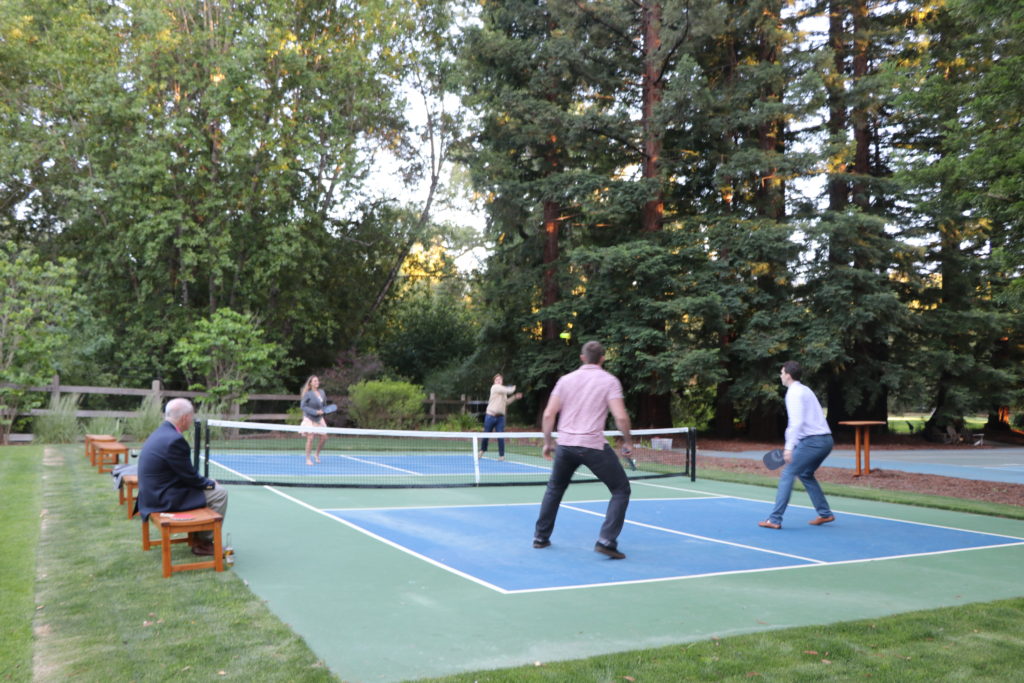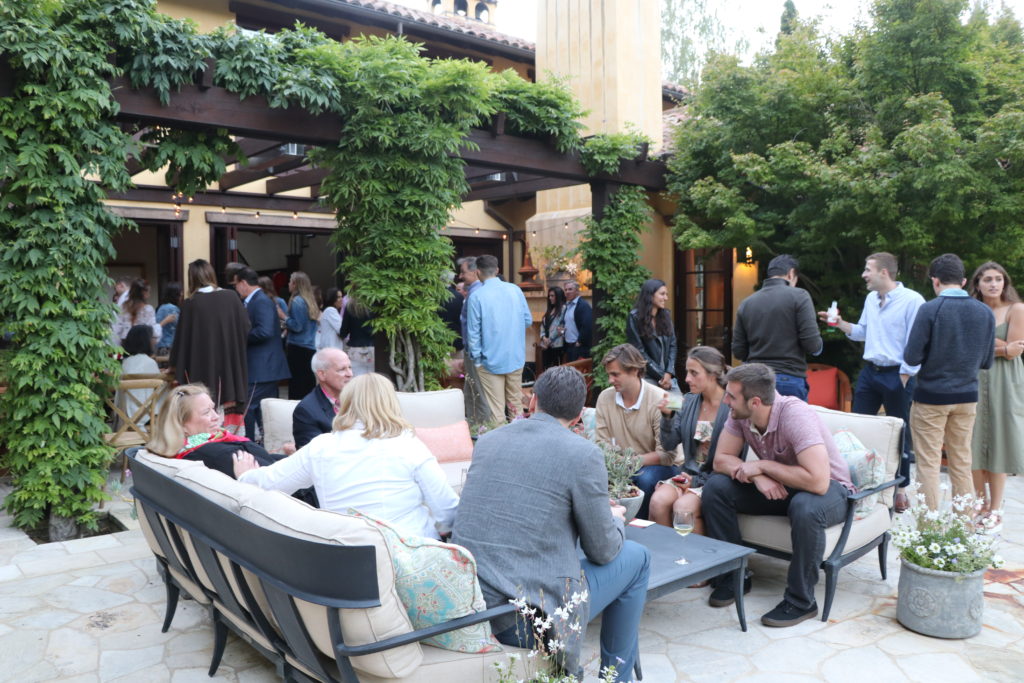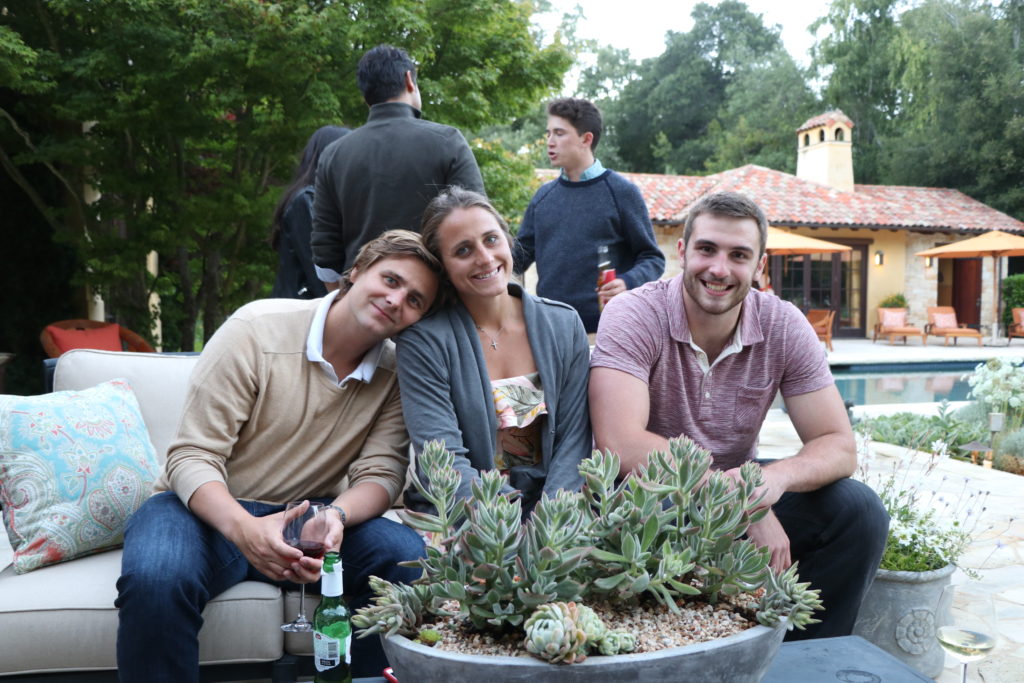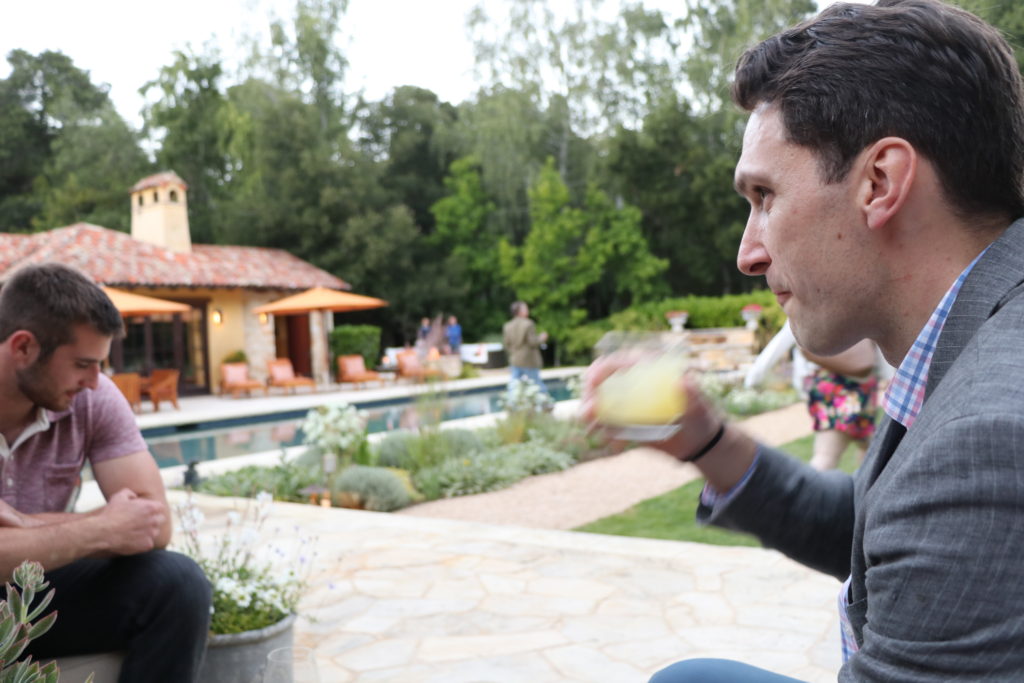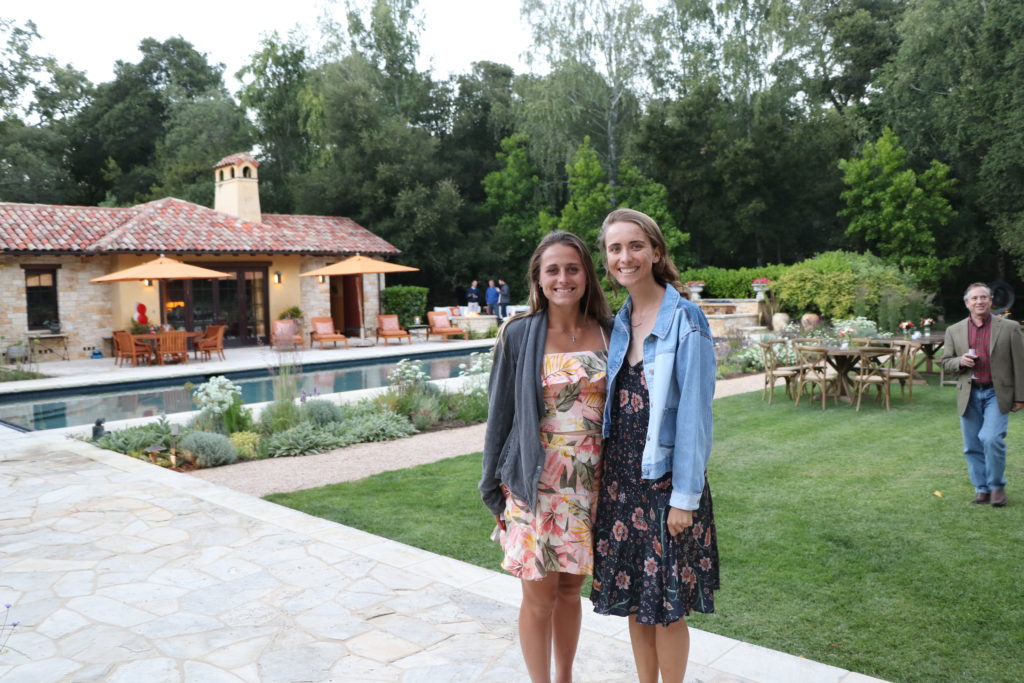 BACCALAUREATE
A bookend to students' Opening Convocation held four years earlier, Baccalaureate at Stanford is a multifaith celebratory gathering for graduating seniors, graduate students, and professional students, as well as their families and friends.
It is a student-led commemoration acknowledging the spiritual contribution to the education of the whole person, not just the smart student who receives a diploma from Stanford – but the student who goes on to live a full life ahead. In addition to lively music from culturally diverse backgrounds, the program includes readings from different communities and perspectives which represent the wide range of religious traditions practiced by a diverse class (30+ religions were recognized at the ceremony).
I am still not quite sure how she pulled it off, but little Pickles (my sister) landed in the front row of the ceremony. So, being the "ridiculous blogger sister" that I am, I was thrilled to be able to have the opportunity to snap-away awesome photographs of her and her friends seated in the front row. And just with my luck, yet another shocking celeb spotting when I noticed Tom Hanks (AKA Forrest Gump) sitting in the row just behind them. His son Truman Hanks was in the same graduating class as my sister.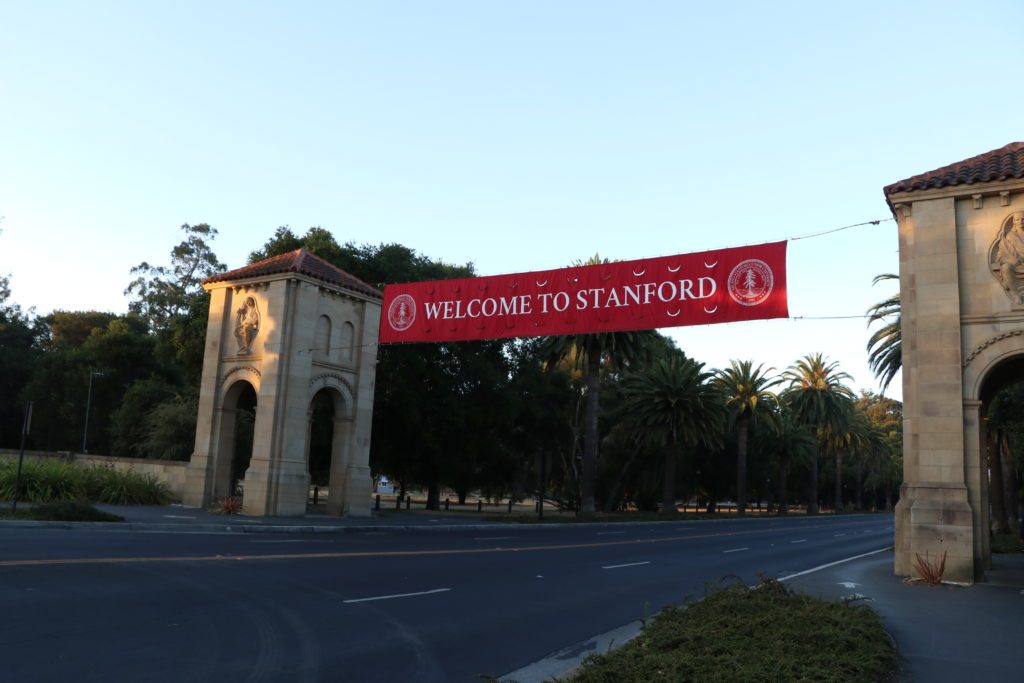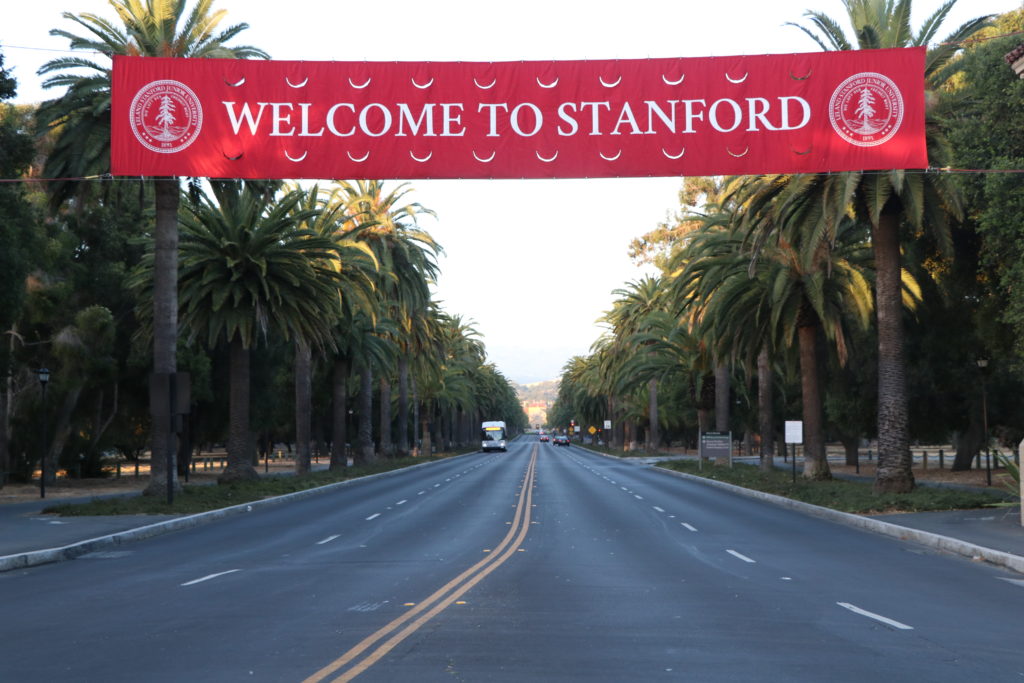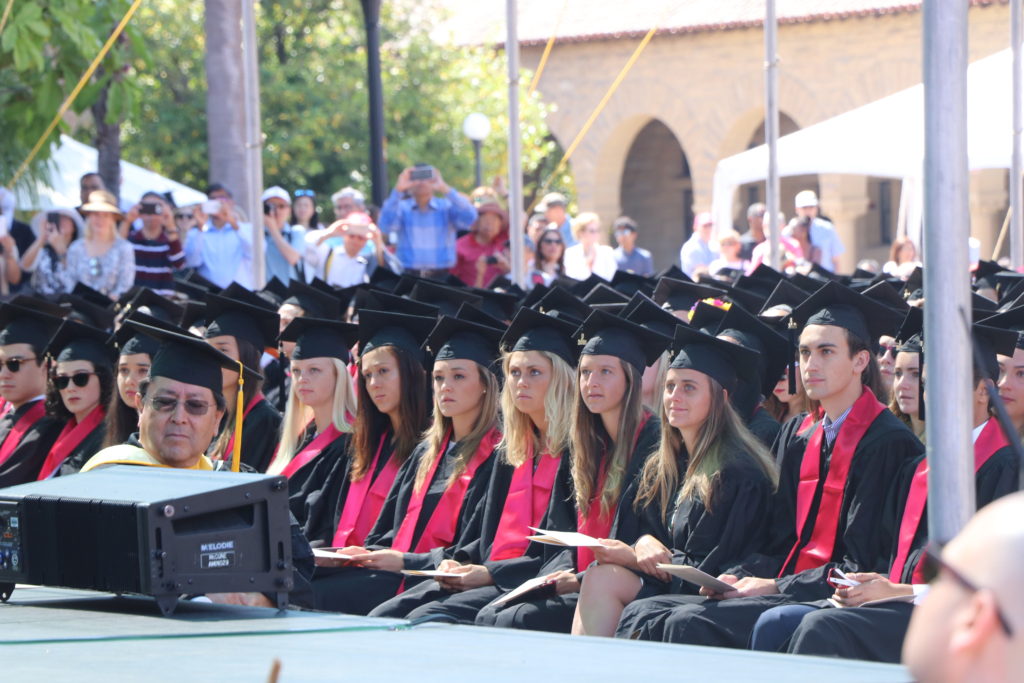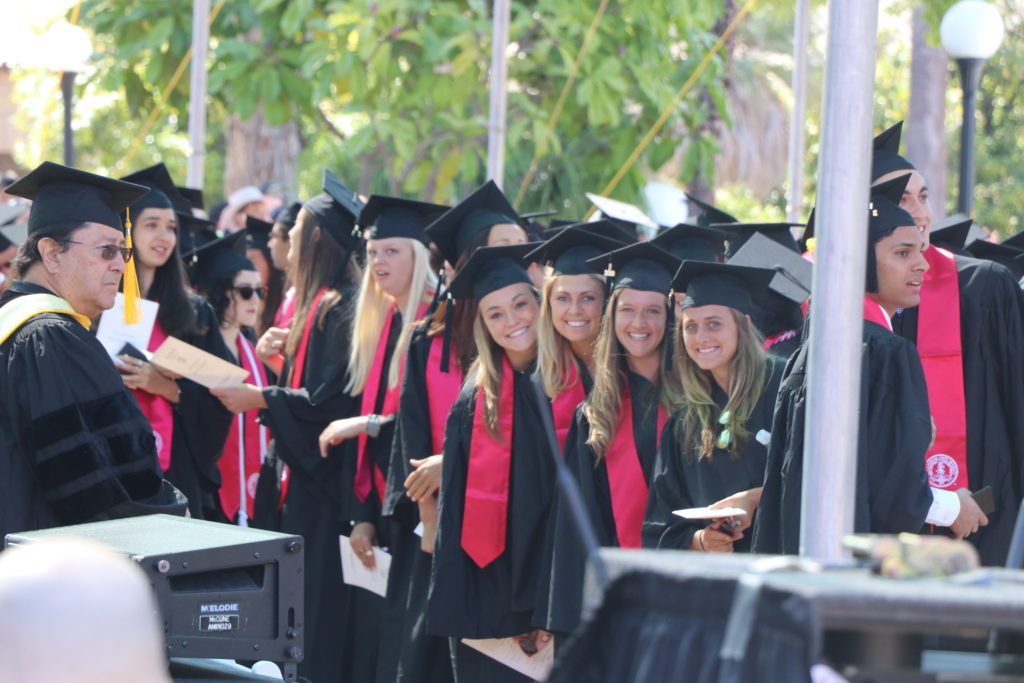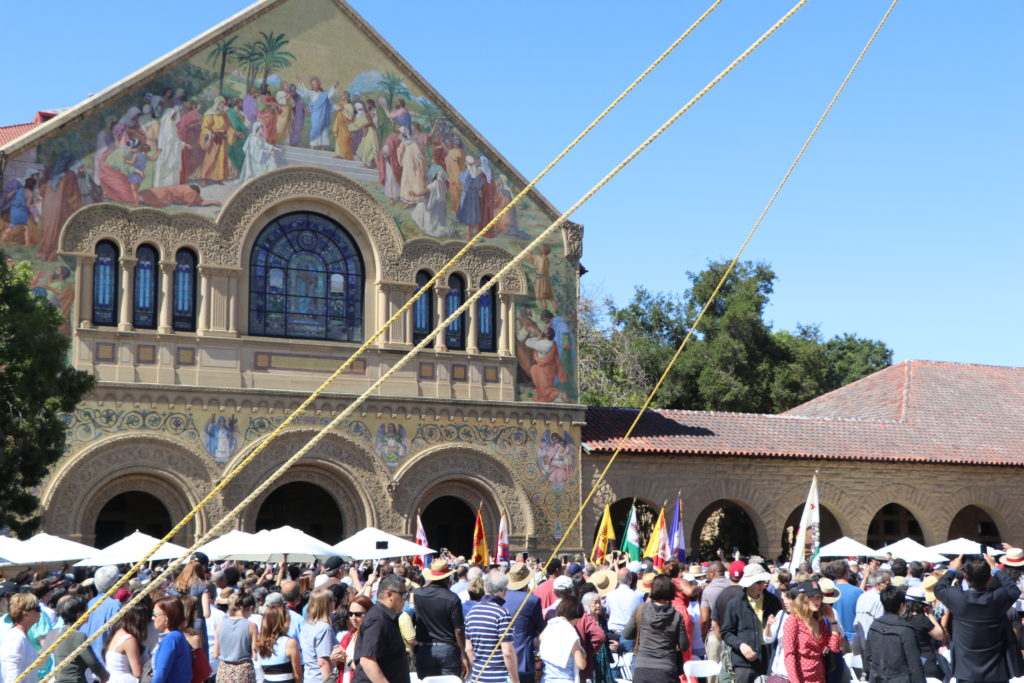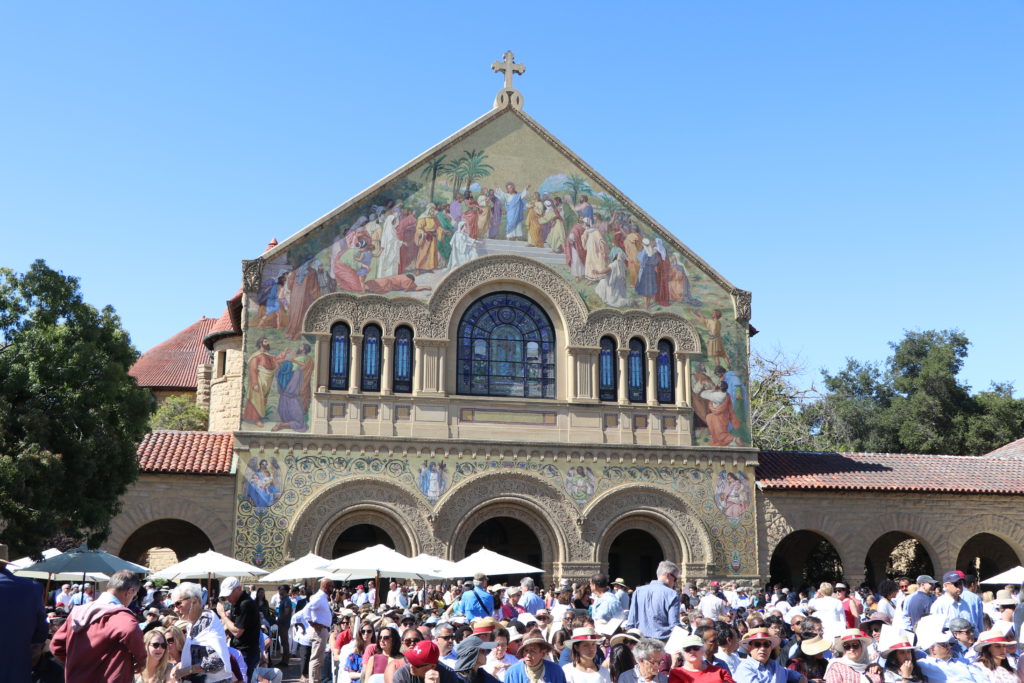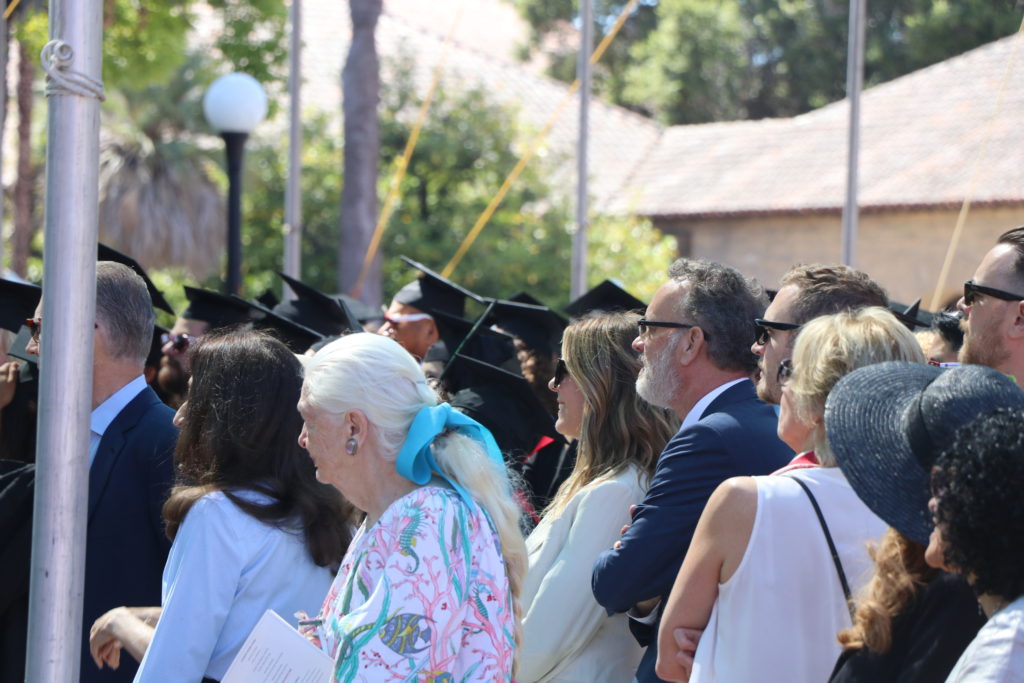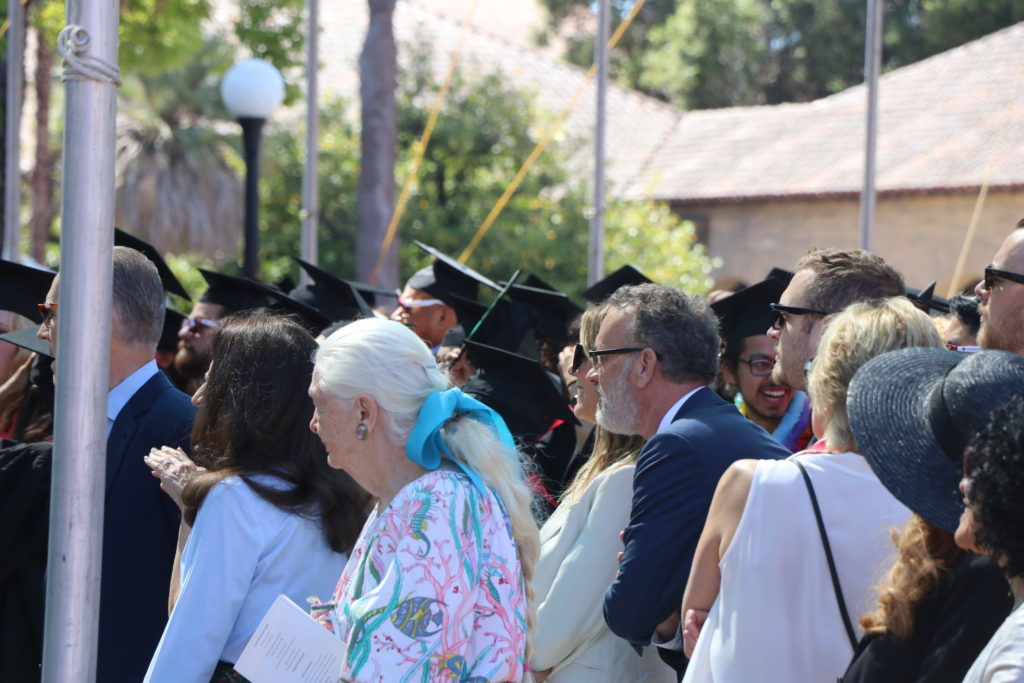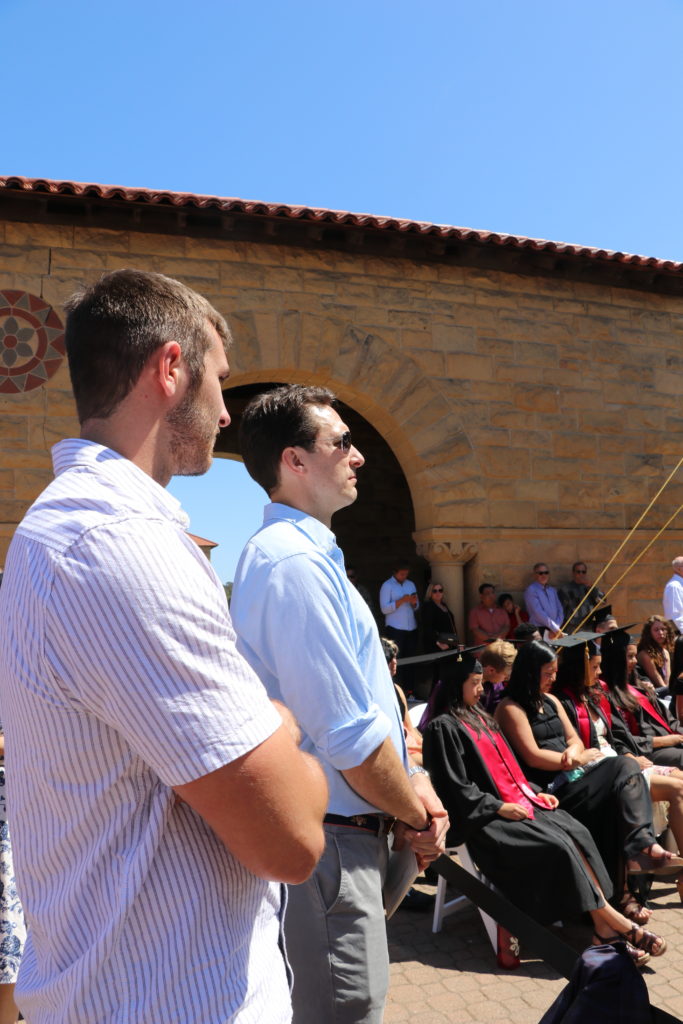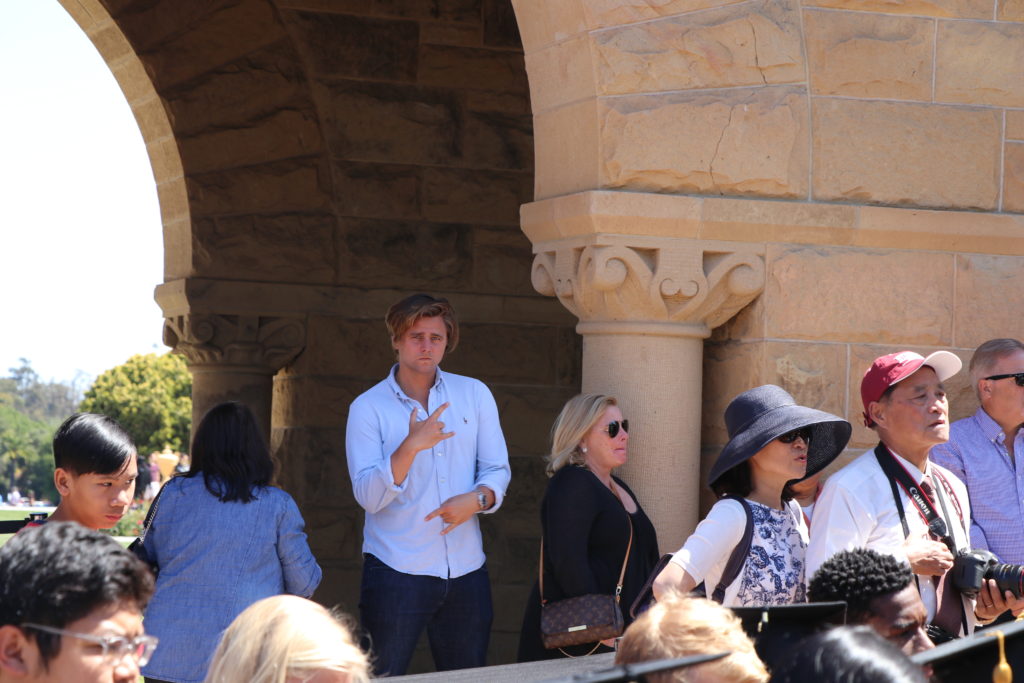 A DISH WALK TO REMEMBER
One of our favorite family activities while on a visit in Palo Alto is to walk the Dish. Leveraging the fact that we are still stuck on east coast time, we drive over pretty early to find a parking spot and start the strenuous walk before the sun gets too hot. The walk itself is hilly and stunning. It's always a great way to start our day in Palo Alto. How beautiful is this walk?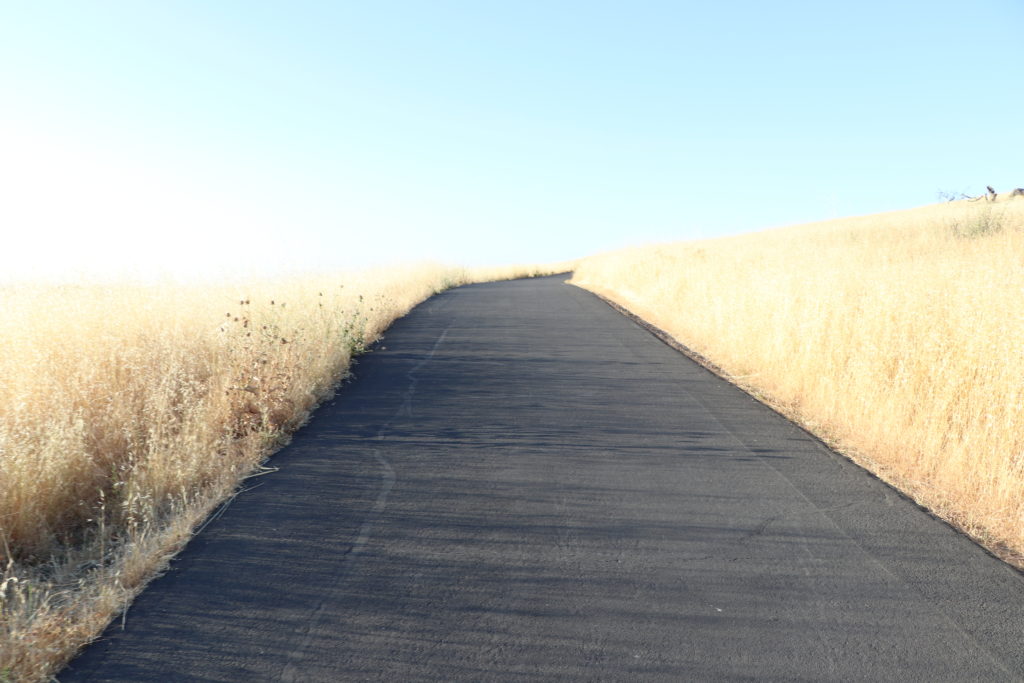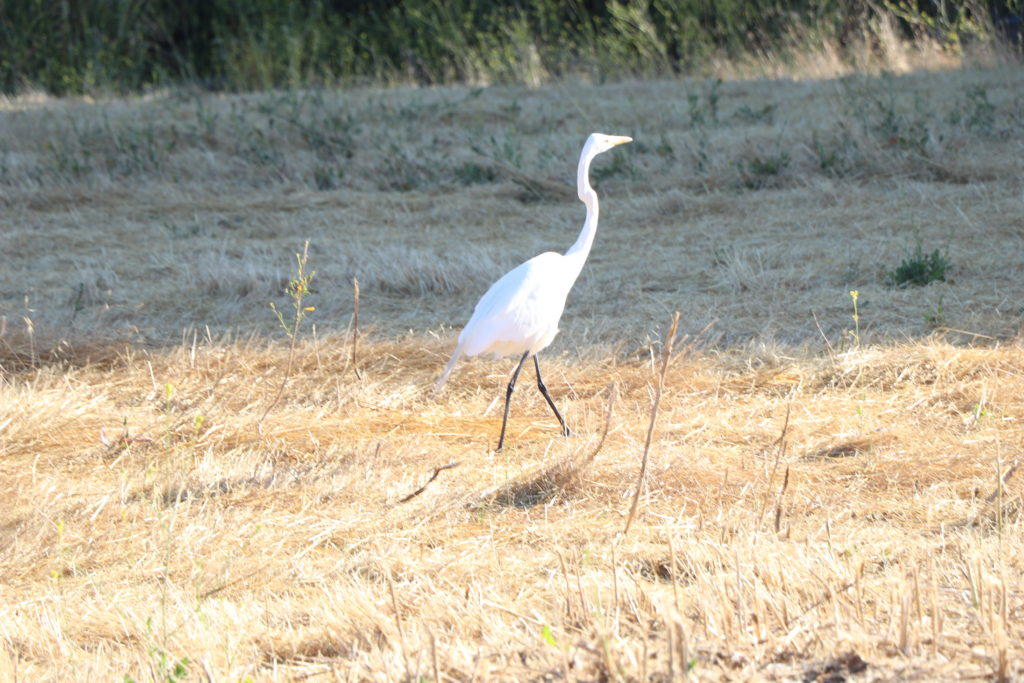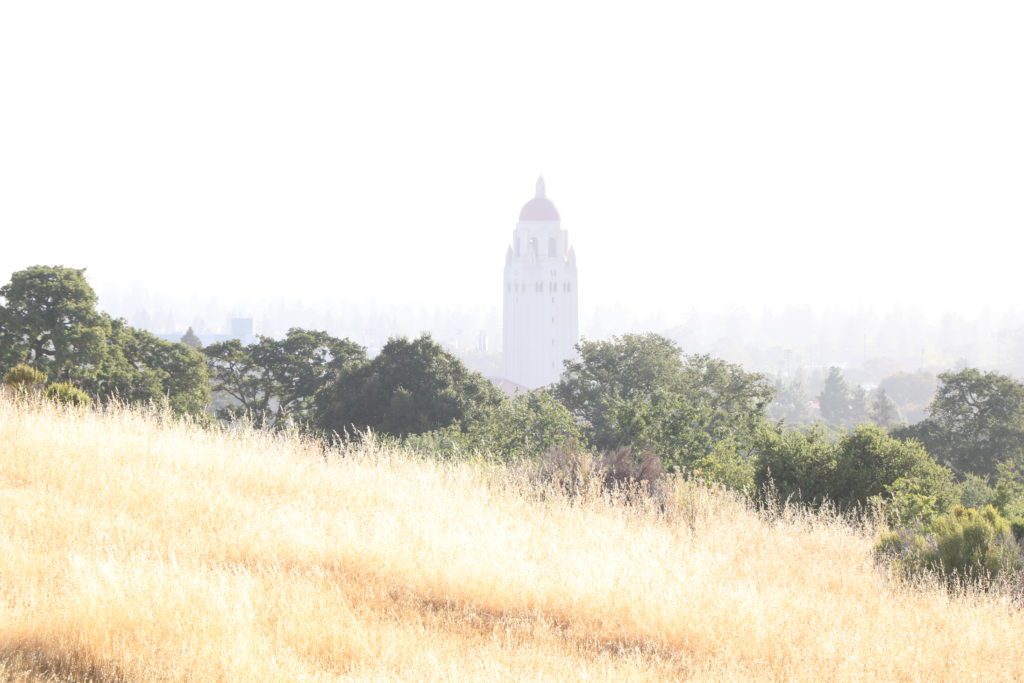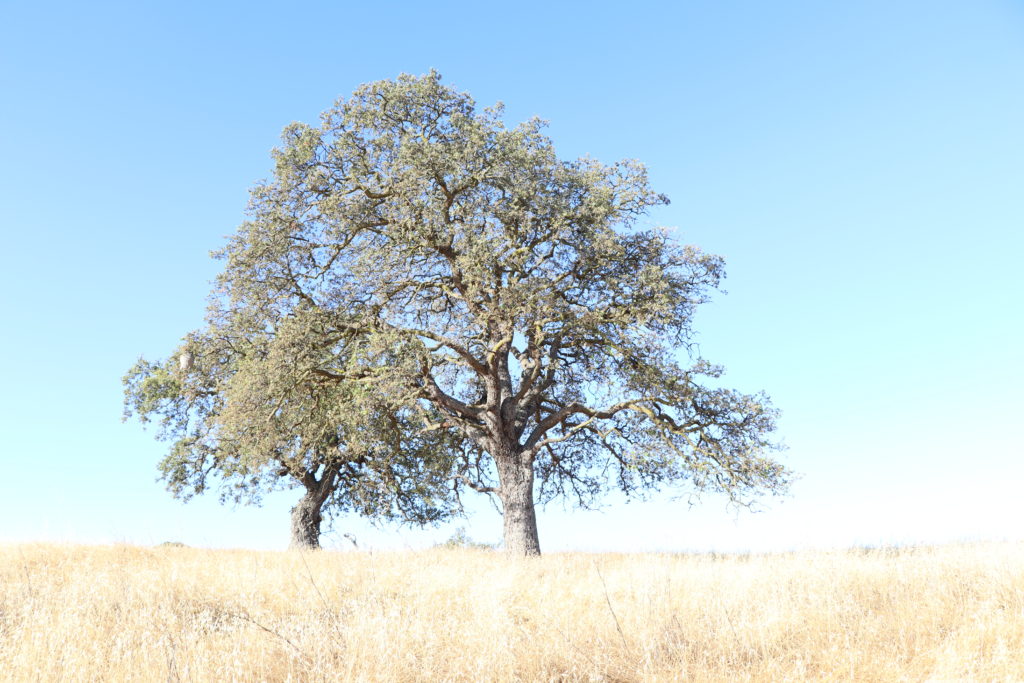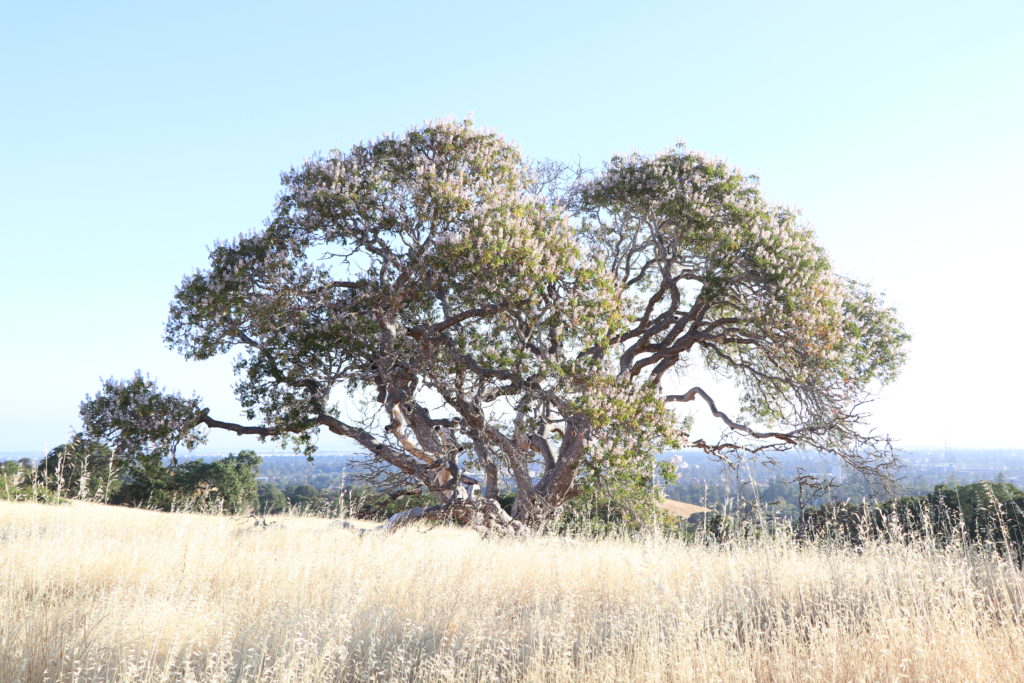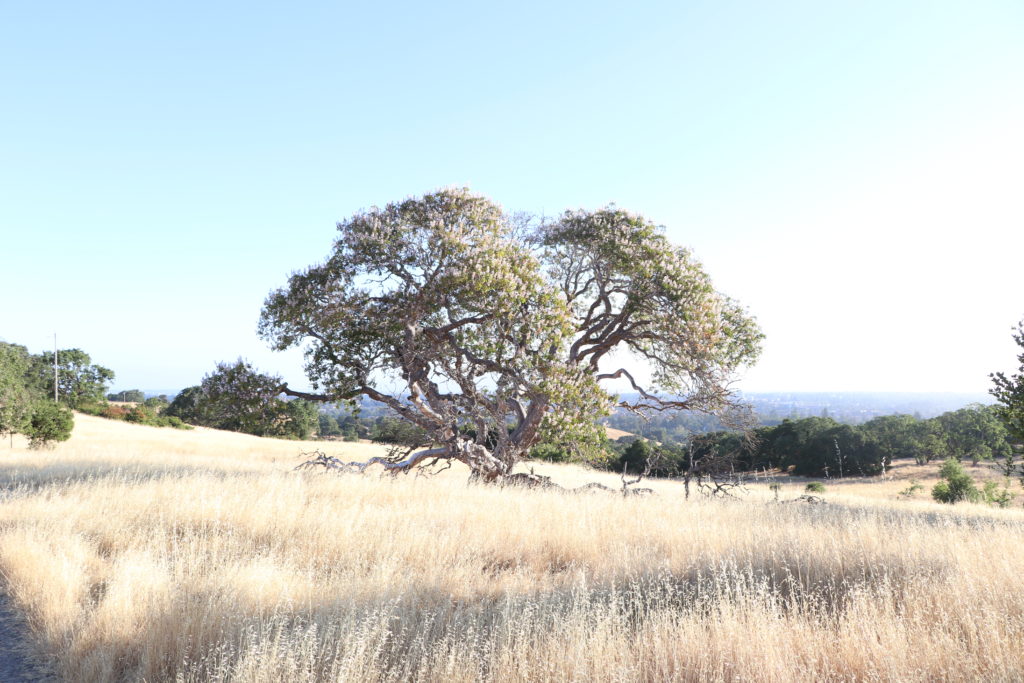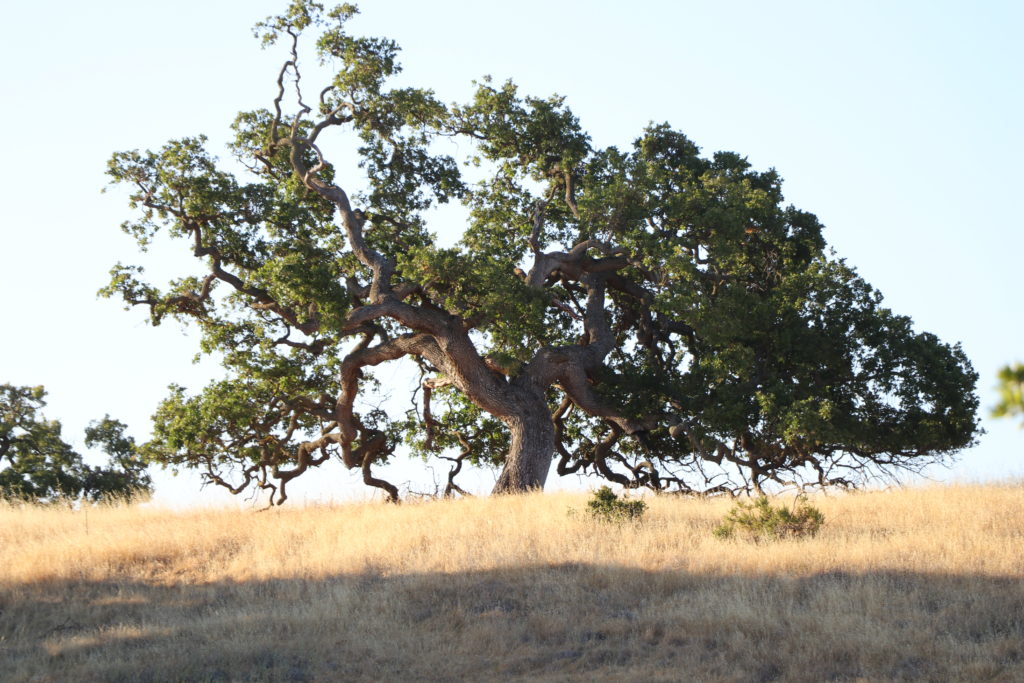 AND THEN THERE WAS WACKY WALK
Each year, Stanford begins its Commencement ceremony with a fun, nontraditional procession into the stadium known as Wacky Walk. This year's creative costumes featured everything from a cup of Philz coffee to Godzilla. My sister and her friends dressed up as the Incredibles. It was so fun to watch the students parade joyfully through the stadium field in funny costumes symbolizing a message they wanted to share. After the walk was complete, the grads all grabbed their caps and gowns to sit at the formal ceremony and hear the words of the speaking – Sterling K. Brown.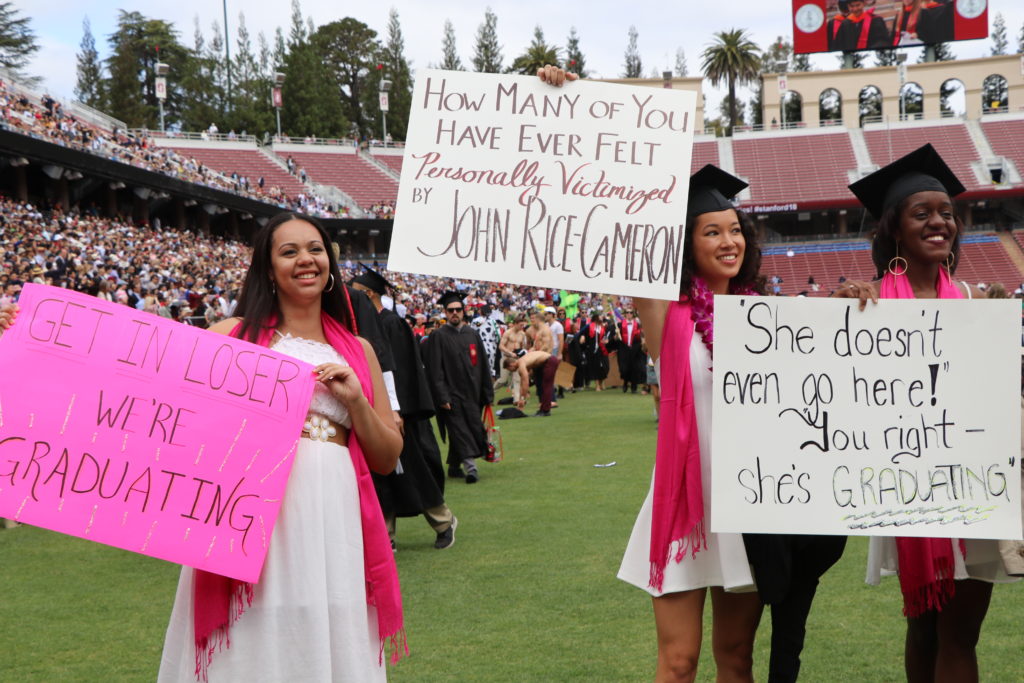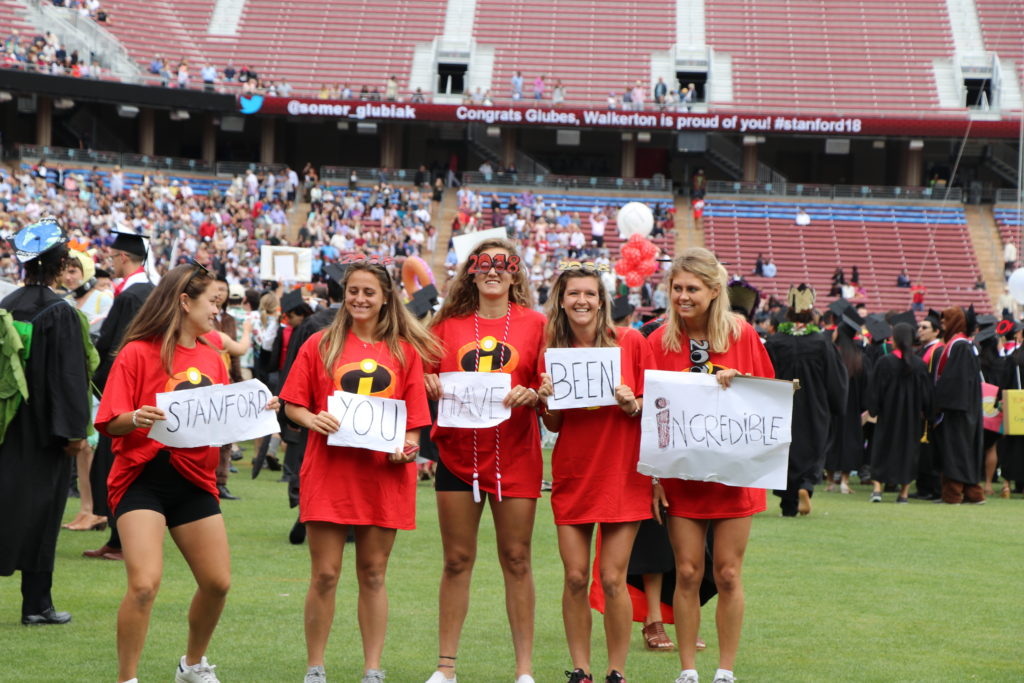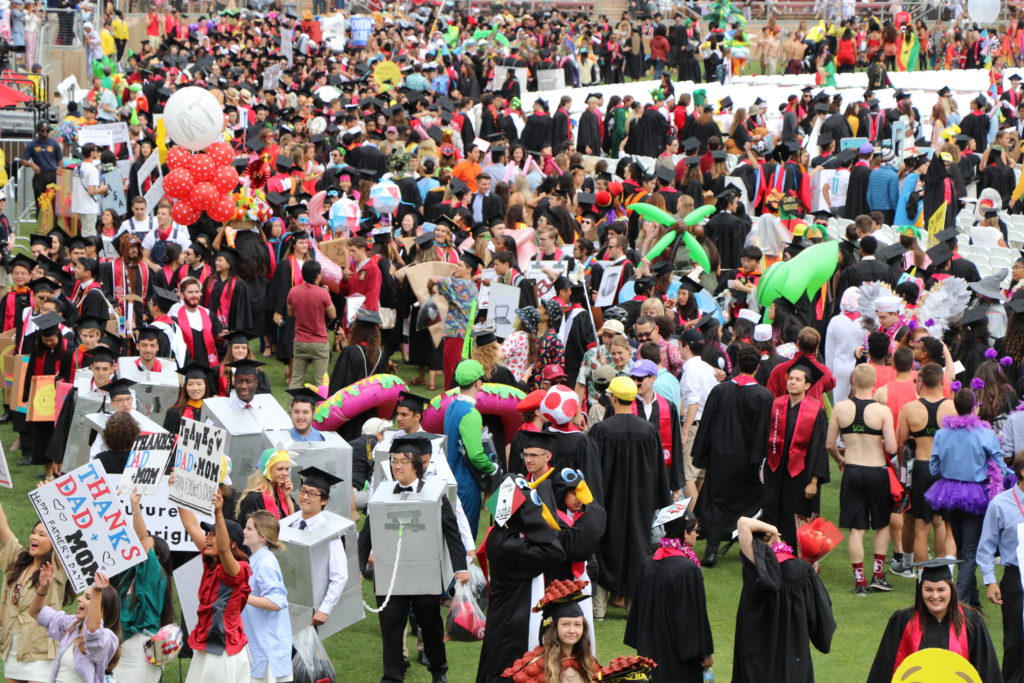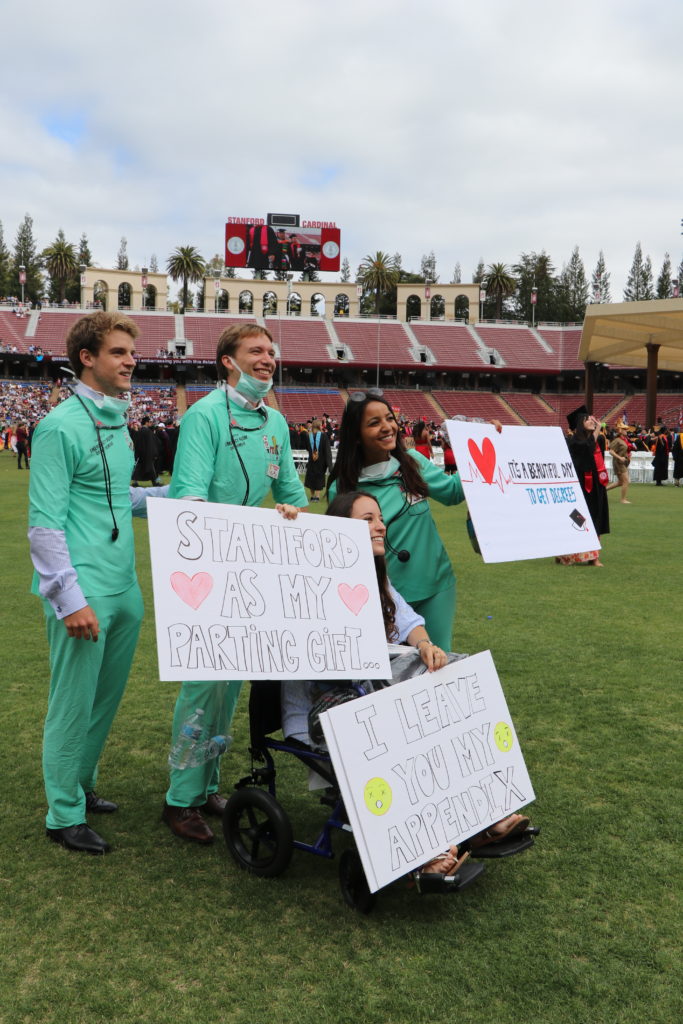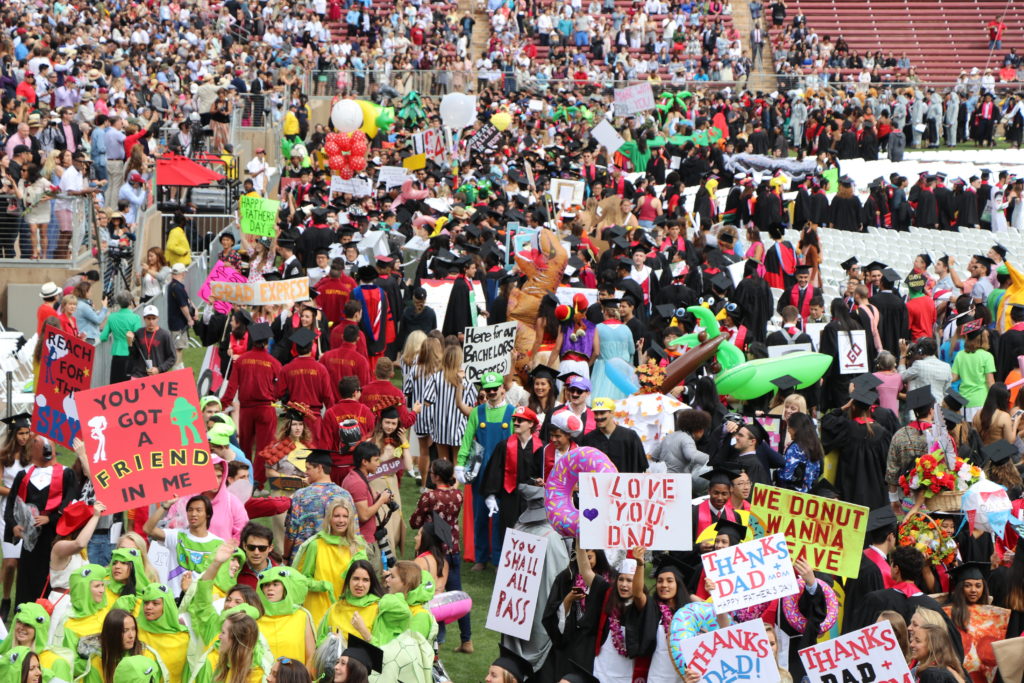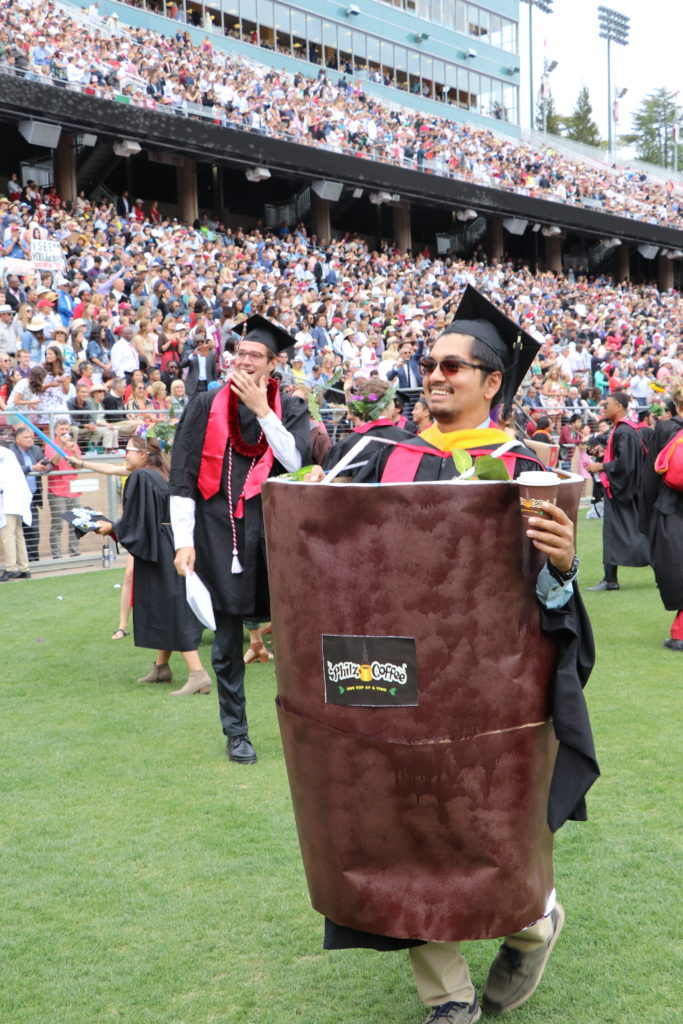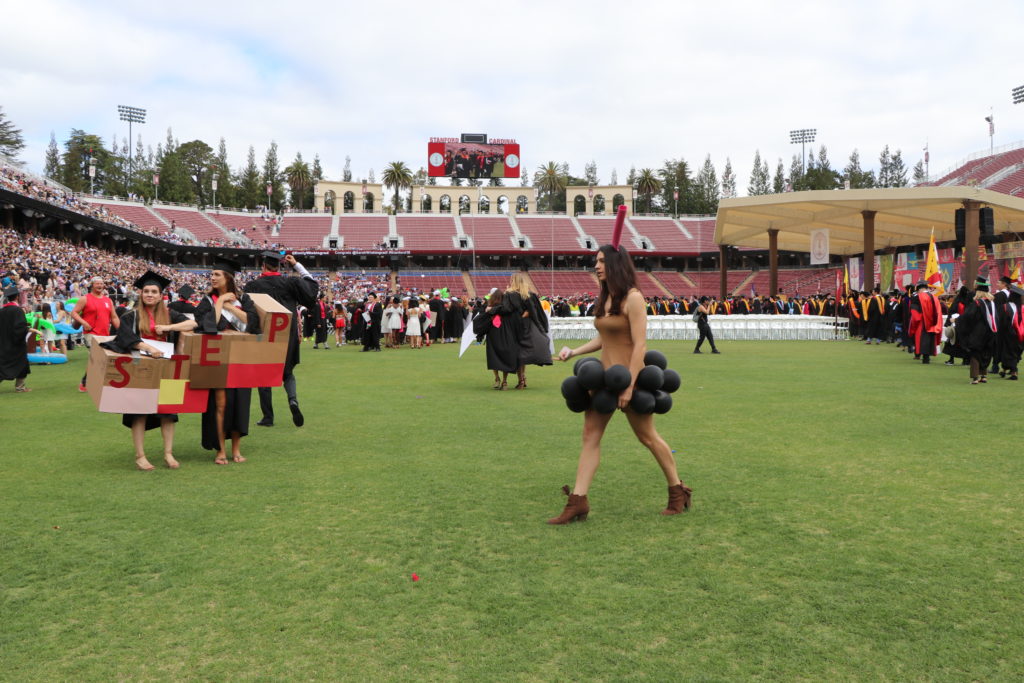 GRADUATION CEREMONY WITH STERLING K. BROWN
Once the crazy costumes cleared and the agenda turned a bit more serious, all the graduating students took their seats and the ceremony ensued. The keynote speaker for the program was actor and Stanford University alumnus, Sterling K. Brown. While listening to Sterling's words I could not help but find myself hysterically laughing, nodding ferociously with agreement, followed by unstoppable tears brought on by chills of inspiration that swept down my spine with the power of his words. SHINE. With many key messages articulated in his dynamic speech, one message he emphasized was the idea of shining our individual lights brightly for the world to see. I was moved by the emphasis on this concept, particularly in an era of obsessive social-media sharing that causes us to all feel as if someone is always shining better and brighter. Comparison is the root of all evil and by simply appreciating the best versions of not only ourselves, but the light shining in others, we should not be envious but rather inspired by those around us.
Sterling K. Brown stated, "The desire to illuminate the human condition was always the thing that gave my life the greatest sense of purpose." While there were serious and somber moments in his speech, like when he discussed the tragic loss of one of his best friends (a former Stanford classmate), there were also moments were he leveraged his bold humor and personality to make the crowd burst into cheers of laughter. As I sat there enjoying his speech and thinking about my sister venturing off after college to shine her light brightly, I thought of my own light and what I can share with others, as well as the fact that I can only be what I am – who I am and nothing else. That is all we will ever have the ability to be – the best versions of ourselves and not anyone else. This is a beautiful thing and we must embrace it.
To close out the speech, Sterling looked out at the crowd and shouted loudly, "I'm not talking about a job, I'm not even talking about a career," he continued. "I'm talking about a calling — that thing that forces the metaphorical lampshade from your soul and mandates that everyone wear sunglasses in your presence because you just that damn bright." 
So to my amazing baby sister, Dillon and all of her incredible friends and classmates – if you remember anything from your graduation day and this profound speech – I hope you remember to go on be THAT damn bright! Congratulations to all the members of the Class of 2018 and thank you to my sister, to my family, and our friends for making the weekend a memory that we can cherish forever.