Being in a new destination is best experienced by getting out and enjoying the perks of that particular place. During a stay in the Riviera Maya, I made sure to be very active and explore the highlights offered within this lush region of Mexico.
Here, I am sharing the perfect one-day itinerary for truly making the most of Tulum, Mexico. Although a bit of an aggressive timeline, I can assure you that all of these fantastic activities can be accomplished in just one single day. The key to seeing it all will be to have flexibility and independent transportation, so I encourage travelers seeking to follow this itinerary to either rent a car or hire a private driver (so bougie), as public transport or shared van options will add-on significant transition time that takes away from all the fun. Here are some of the highlights of this action-packed day:
Swimming with Sea Turtles

Shopping for Specialty Items

Exploring Anciet Mayan Ruins

Swimming and Snorkeling in underground Caves
In this suggested one-day itinerary, I will take you to a beach where you can swim with sea turtles and enjoy margaritas to a picturesque setting. From there, we will indulge in some souvenir and home décor shopping at local boutiques followed by a tour of the nearby ancient ruins.  And finally, we will end this perfectly planned day by cooling off in caves filled with fresh cold water. Follow along through a detailed recap of each destination in the day with personal photographs depicting this awesome travel experience.
SWIMMING WITH TURTLES IN AKUMAL BAY
First stop is swimming with turtles at Akumal Bay. Located right off the major highway headed toward Tulum, turn off where the sign directs you to Akumal. With its reefs, lagoons and caves, Akumal offers plenty of snorkeling if you know where to look for it. But the main feature of Akumal is the enormous population of Turtles! Here you will have the opportunity to swim alongside Green Turtles, Hawksbill Turtles and Loggerhead Sea Turtles in the wild.
There is no admission price to visit Akumal. If you are approached and asked to pay for anything other than a tour, simply walk away. The beach is free to access, so if you've got your snorkel equipment, you're good to go swim with those magnificent creatures on your own. If you are a bit more tentative about the whole swimming with turtles in the wild thing, then there are plenty of group tours that you can sign-up for onsite in the Akumal village. You can also choose to rent snorkel equipment here and swim on your own, however, plan ahead and just bring your snorkel gear from the hotel to avoid spiked prices catered toward the touristy environment.
But before we snorkel, why not take a ride with a skeleton and enjoy an extra strong Mexico Margarita? To build up the courage to knock on the door of the house of turtles, I zipped around the village in a golf-cart and enjoyed a few delicious Margaritas… When in Mexico, Ladies.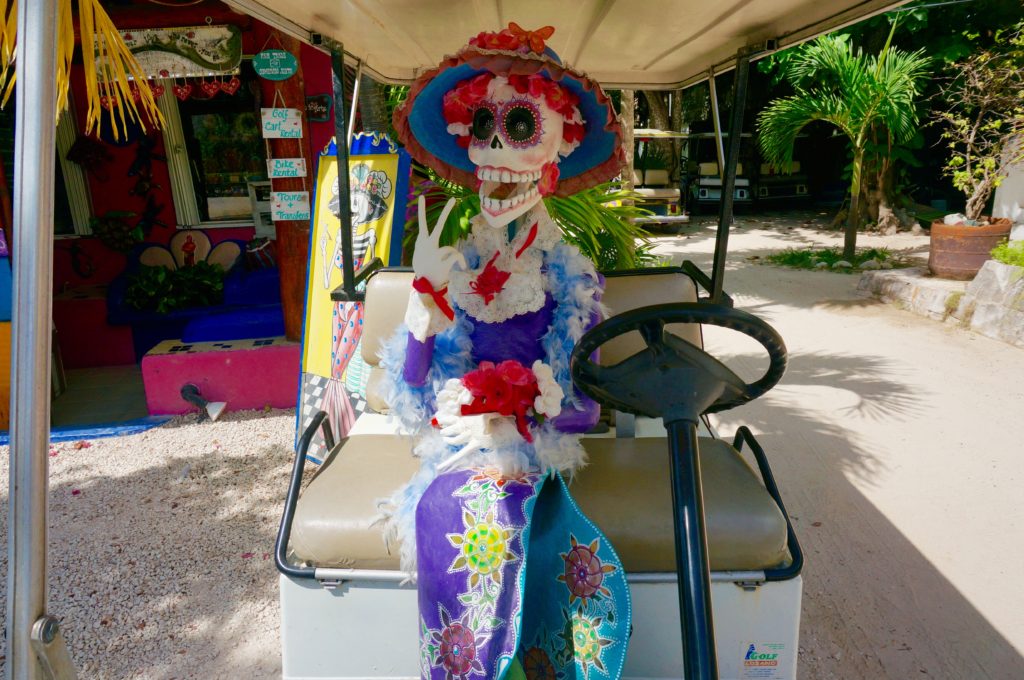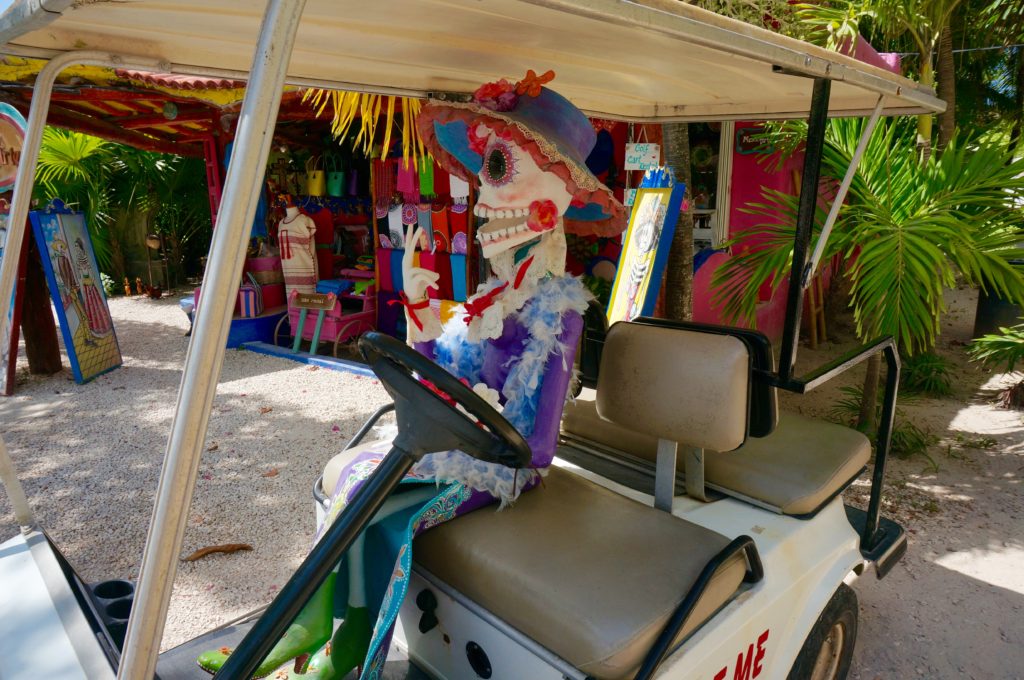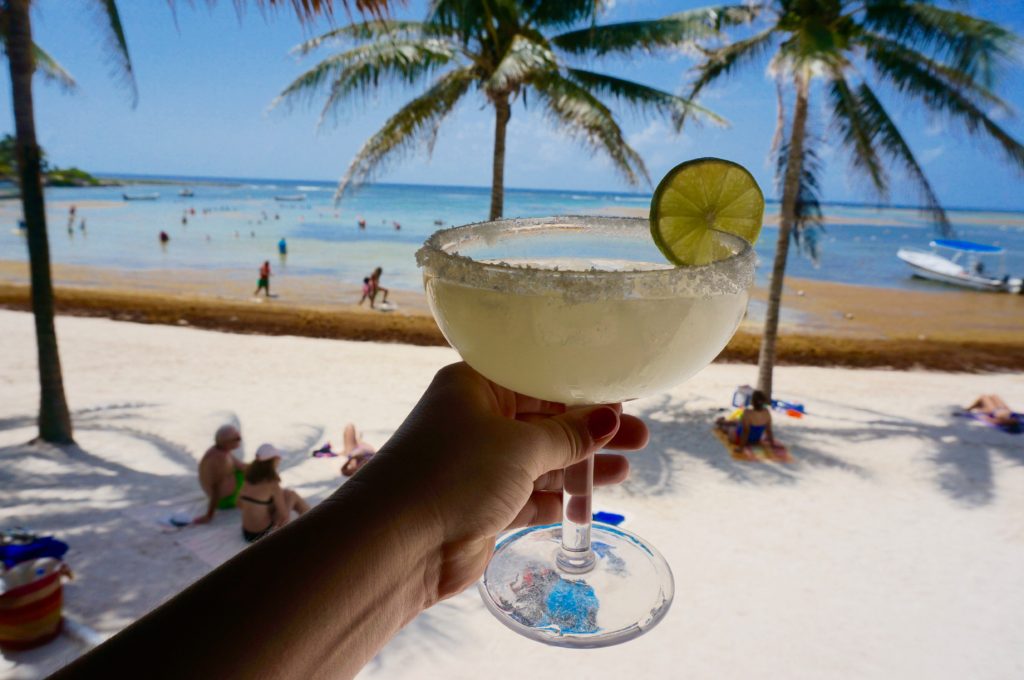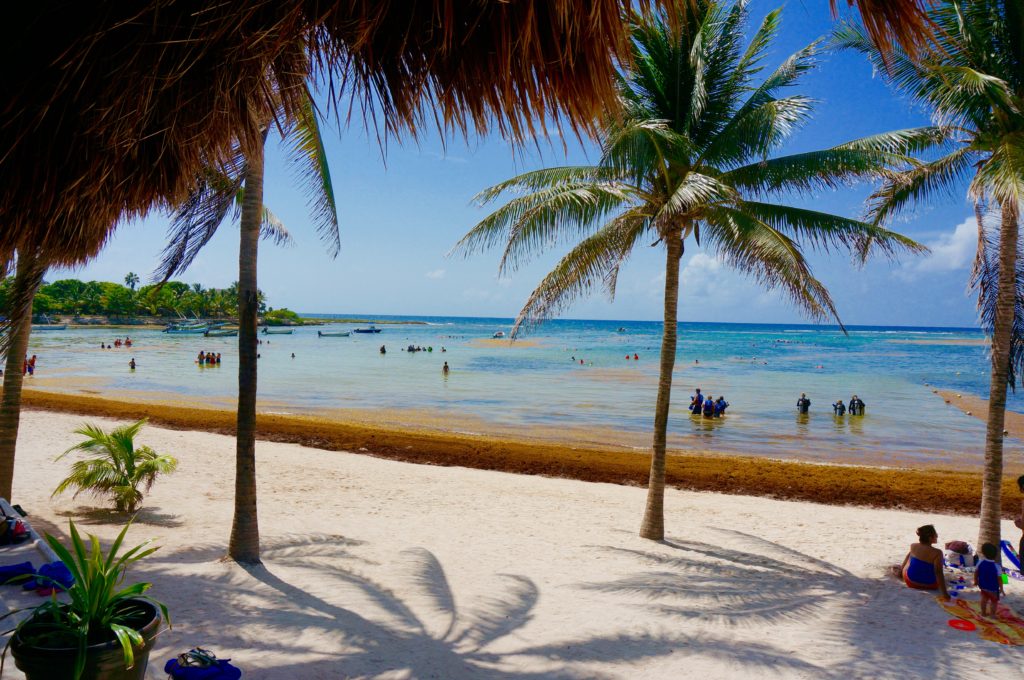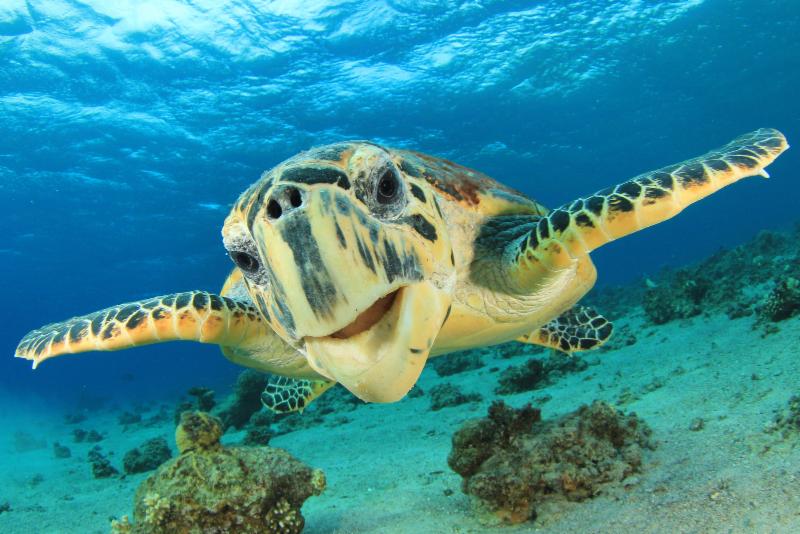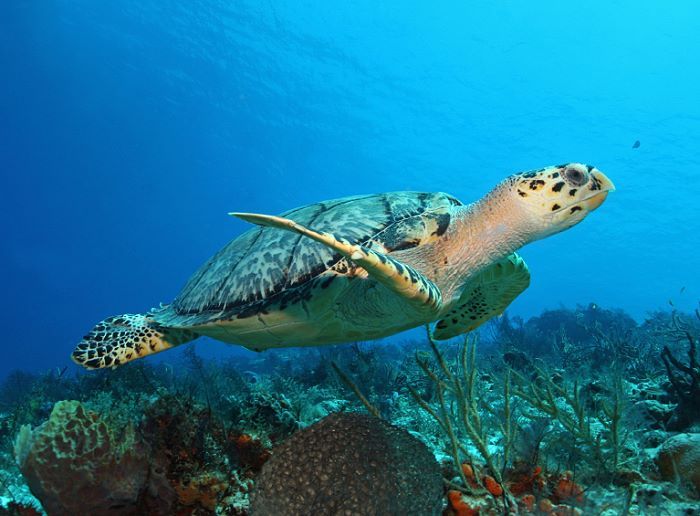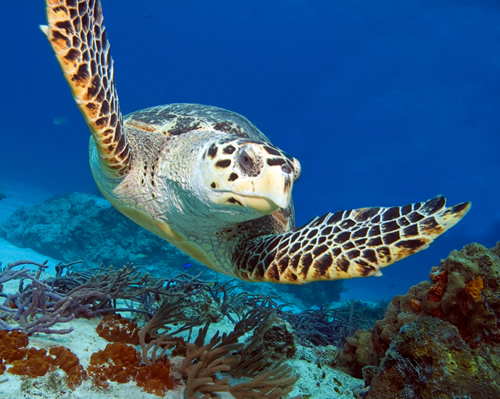 SHOPPING BREAK
You will see many boutique shops during your time in Akumal Bay and can also venture over to downtown Play del Carmen or Tulum, all located within easy driving vicinity inside the Riviera Maya region. I love collecting great pieces, souvenirs and presents for loved ones while I am traveling, so shopping anywhere I go is always a must! When I shop, I often look for things that are unique to the region – whether that be a particular type of craft, specialty stone or product. Yes, I'm a lady on the hunt for a treasure.
Here are the top things you should shop for while in Mexico:
Coral

Silver

Decorative Arts/Souvenirs

Rugs and Textiles (Pashminas/Scarves)

Traditional Pottery (ask for Talavera or specialty clay pieces)

Panama Hats

Tequila

Coffee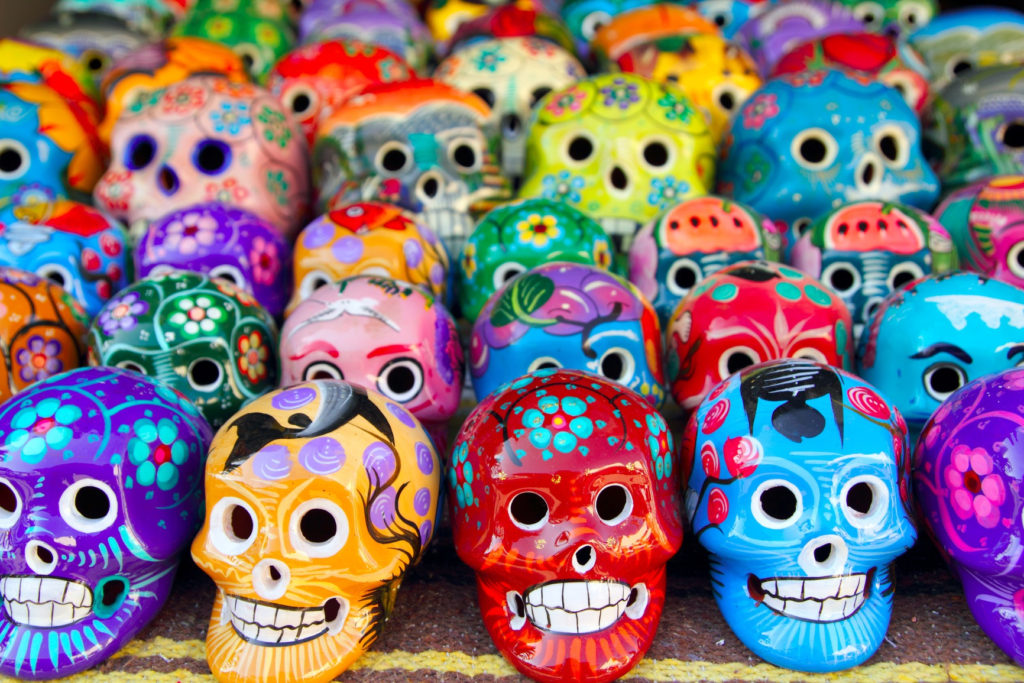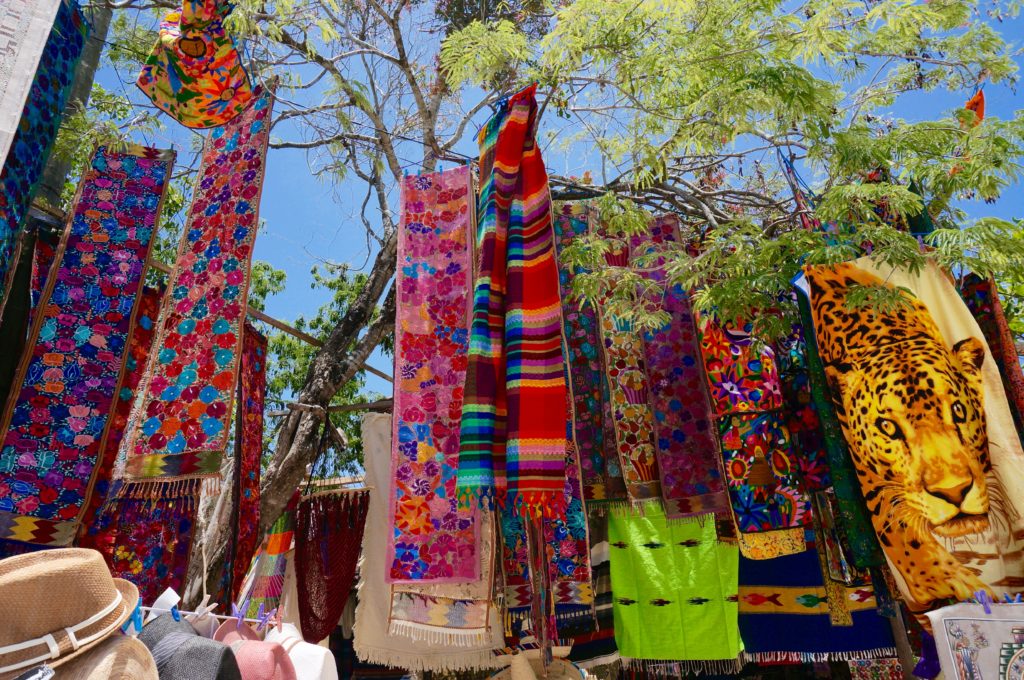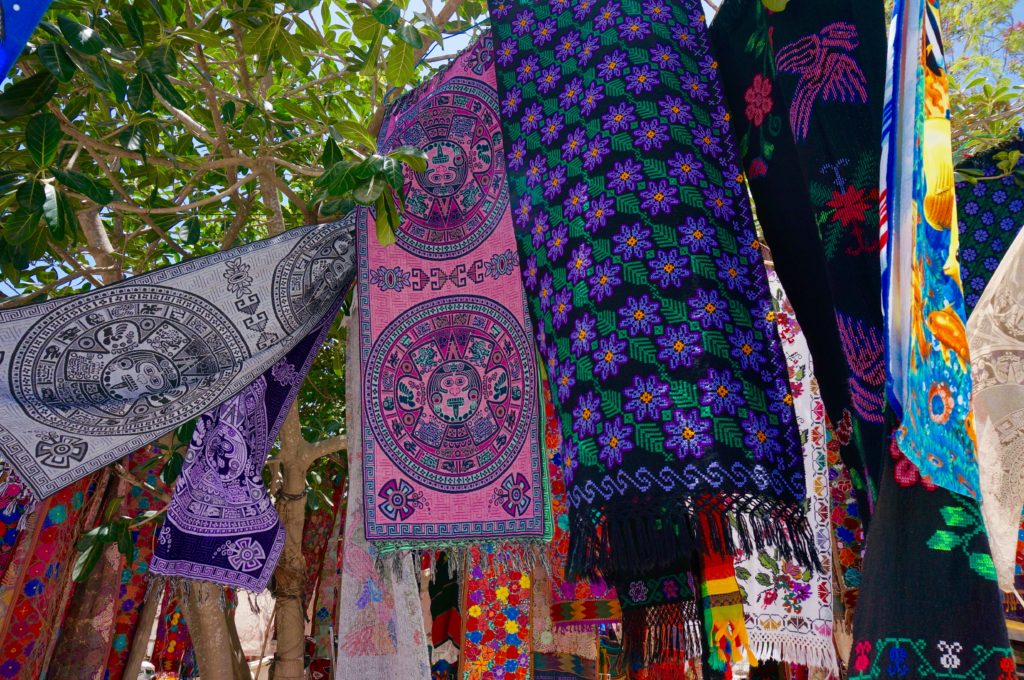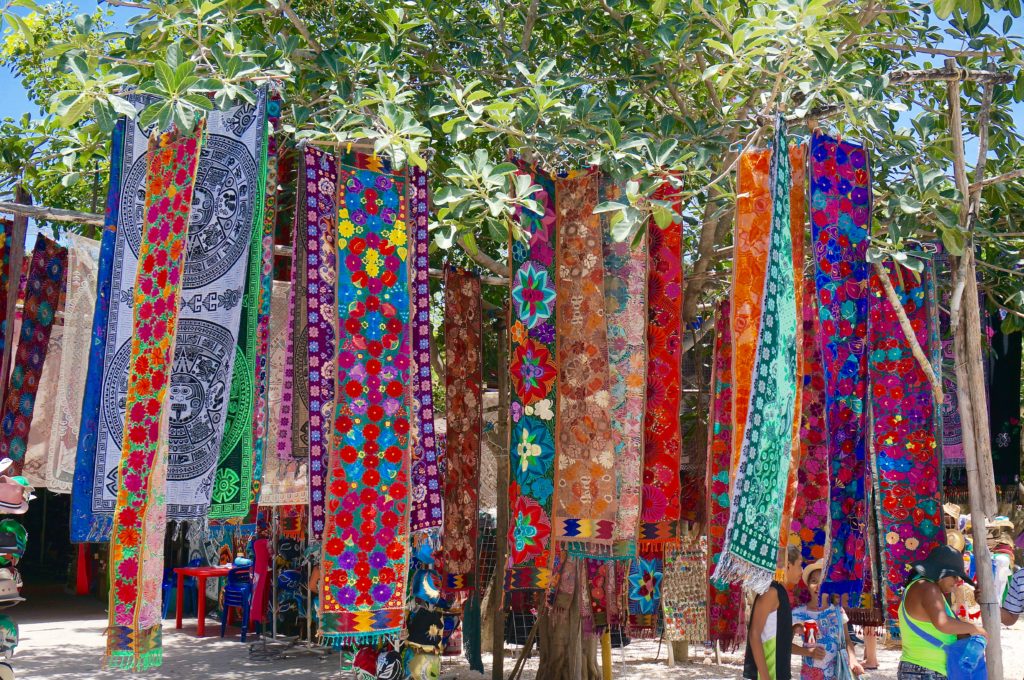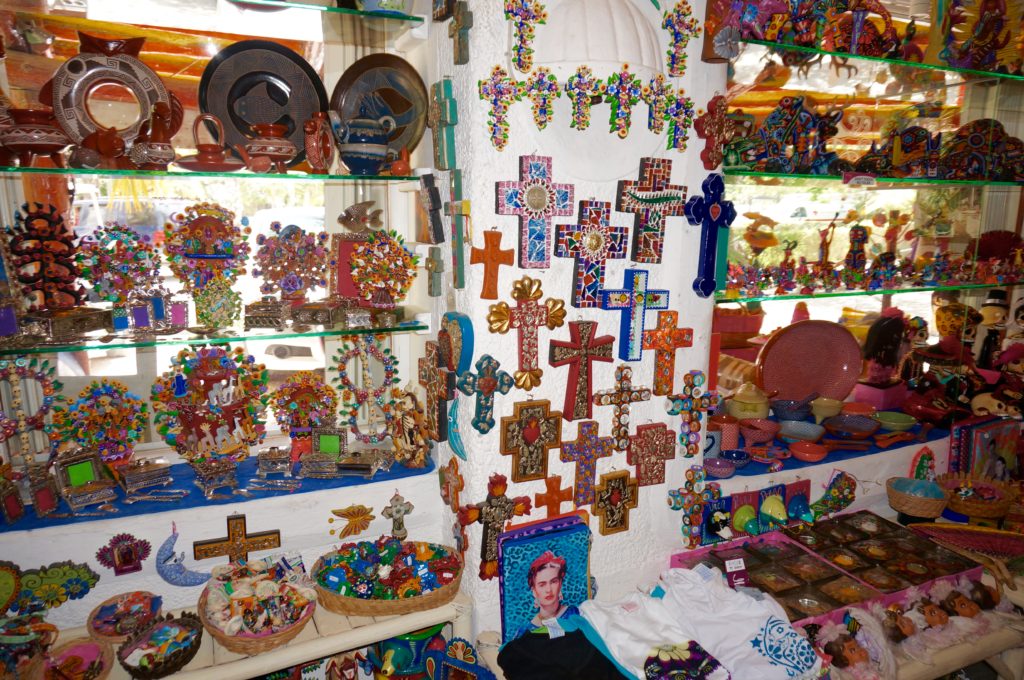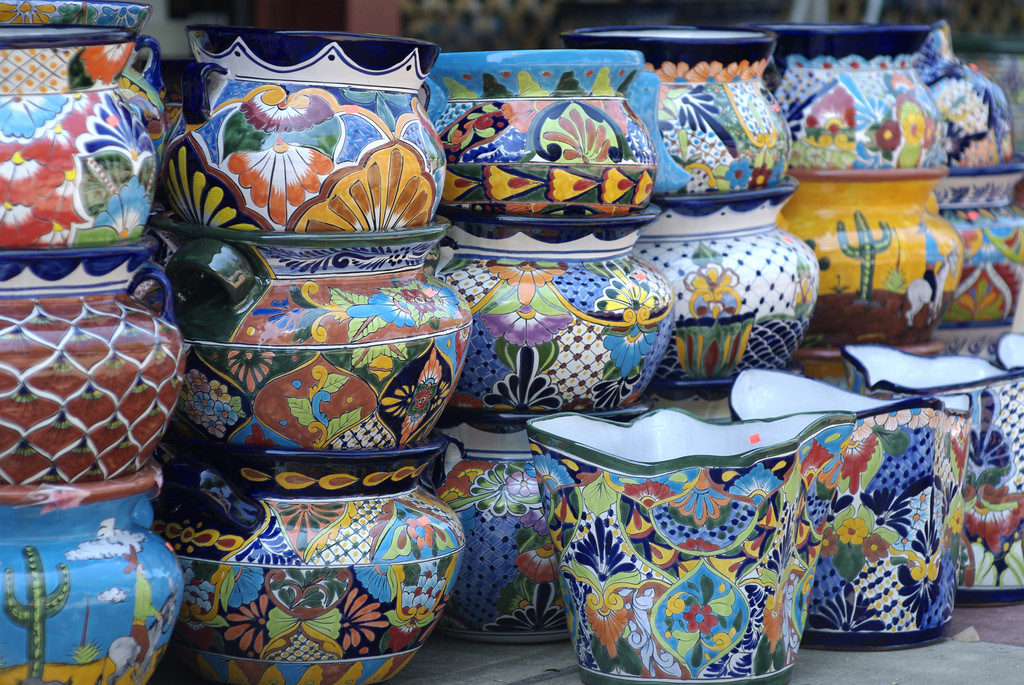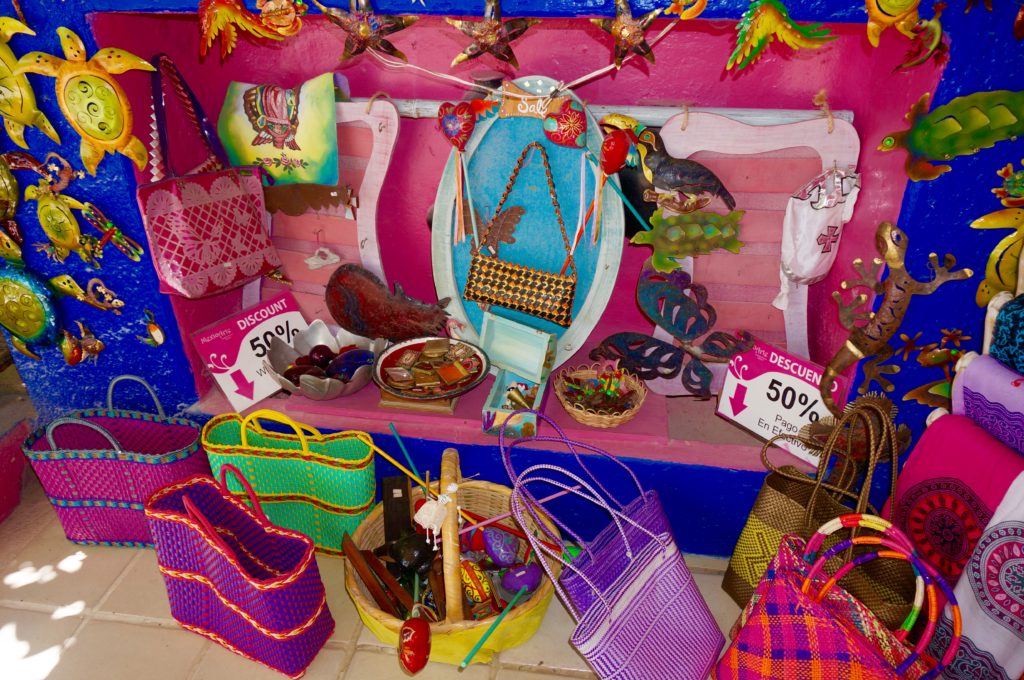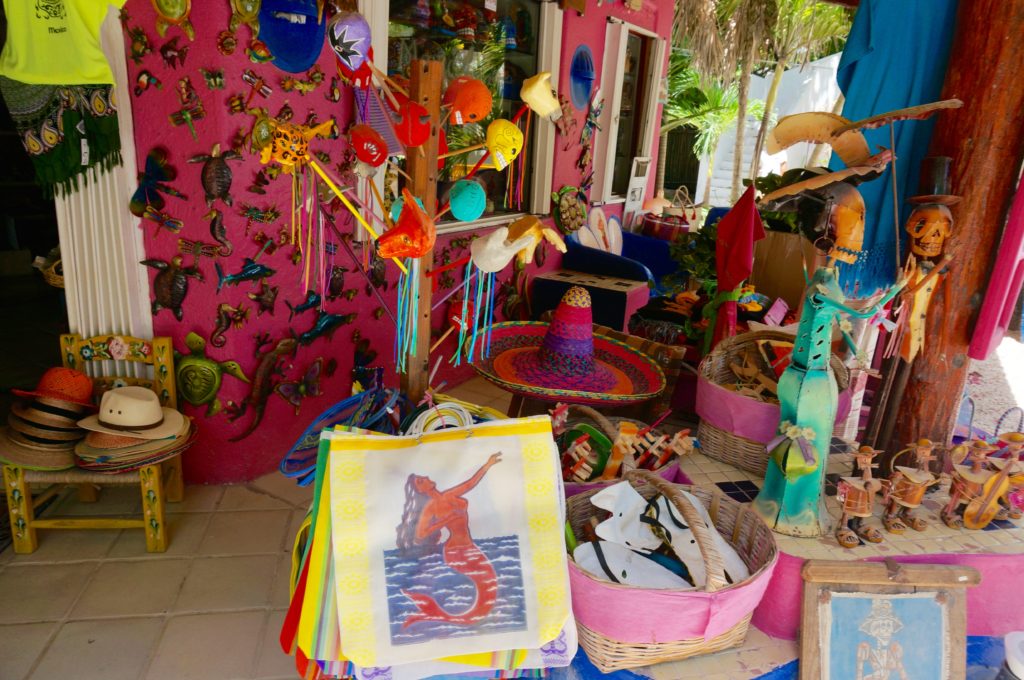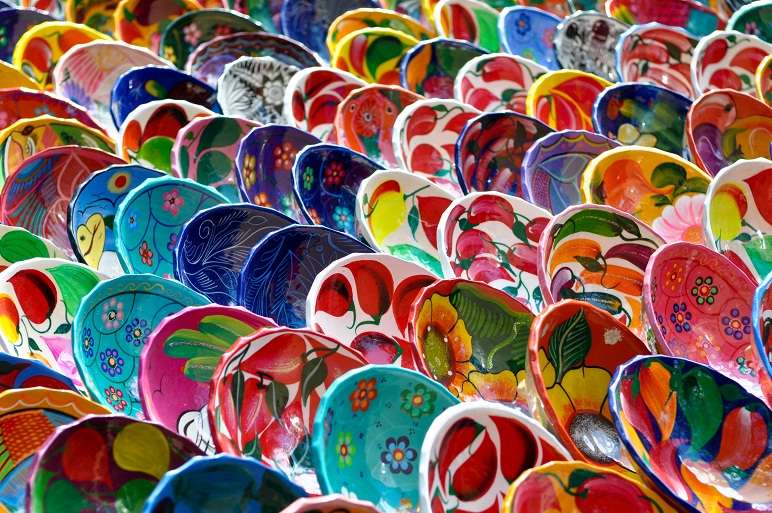 EXPLORE NEARBY TULUM RUINS
Being Quintana Roo's most known and advertised site, Tulum is a "not to be missed" archaeological site. The site is open from 8AM to 5PM, every day. Parking is available just off the highway past the first set of lights when you enter Tulum. The access fee is roughly 30 Pesos. You can choose to pay more for a guided tour with extensive facts and history on the site, or you can just wander the space all on your own.
The 13th-century, walled Mayan archaeological site at Tulum National Park overlooks the sea. The ruins of Tulum preside over a rugged coastline, a strip of brilliant beach and green-and-turquoise waters that'll leave you in absolute awe. It incorporates the clifftop Castillo, built as a watchtower, and the Templo de las Pinturas, with a partially restored mural. Inland, the Cobá archaeological site has pyramid-shaped temples with views over the surrounding jungle.
Skipping out on a private tour guide, I wandered around carrying my home-made book of fun facts for reference. For example, did you know that Tulum had an estimated population of about 1,000 to 1,600 inhabitants? Did you know Tulum honored the "the God of the bee" which remains an important insect for the Maya even today? See, this lady is full of fun facts. Just use online resources to create your own historical guide before visiting and you can pass on an elaborate (and often boring) tour. Plus, it's Mexico, and the temperature is fierce. After walking around for nearly an hour, we were ready to leave because the heat was so strong. However, the blazing sun and dripping sweat is worth seeing the spectacular ruins perched just above one of Mexico's finest beaches.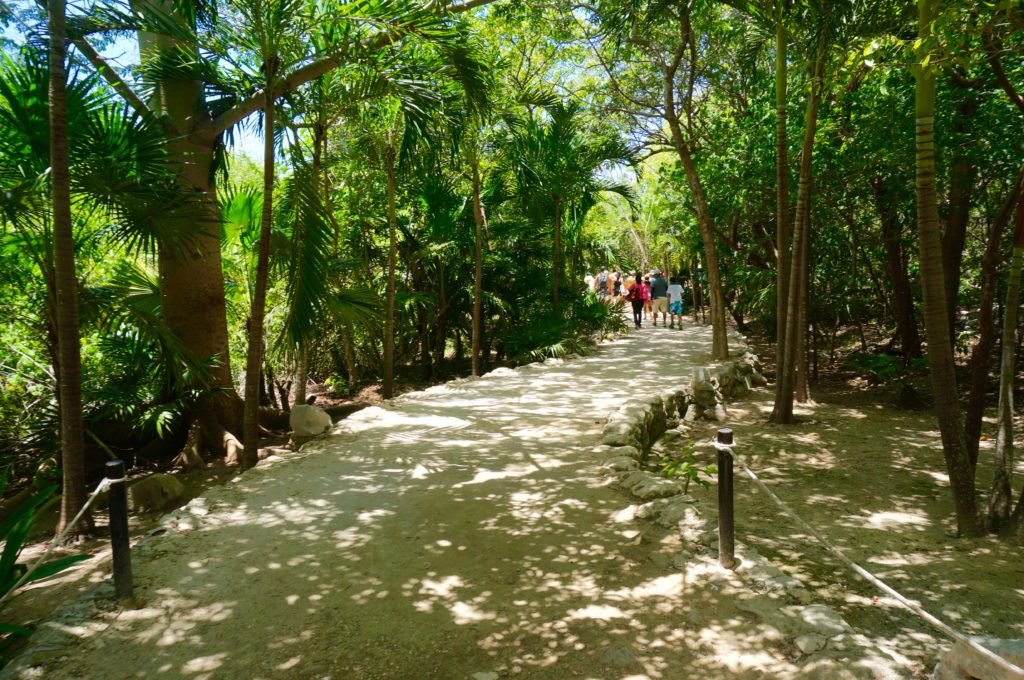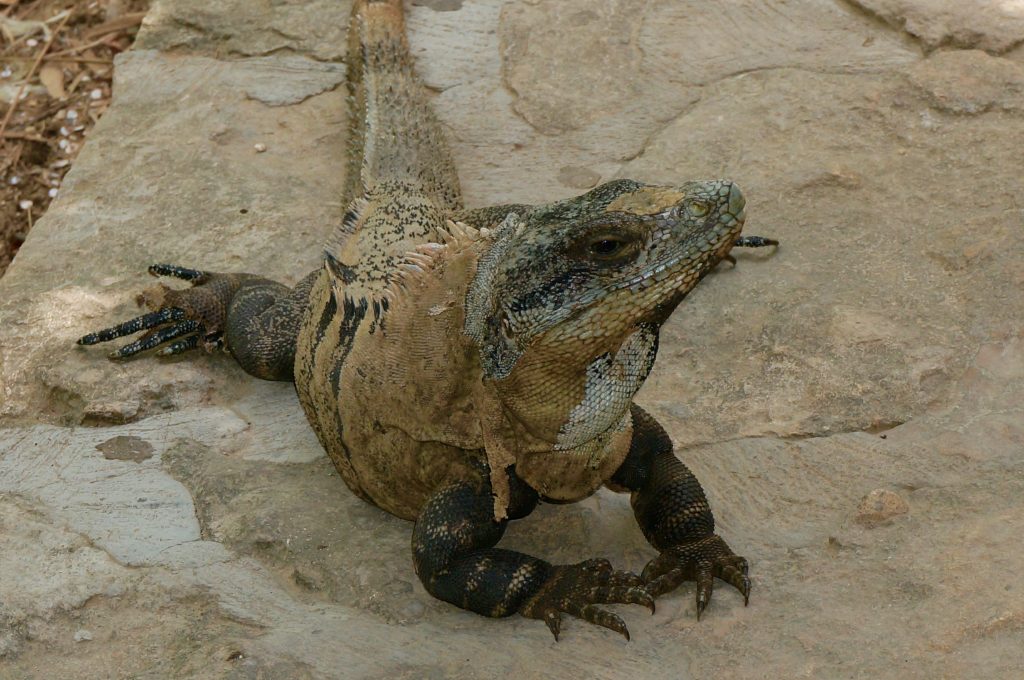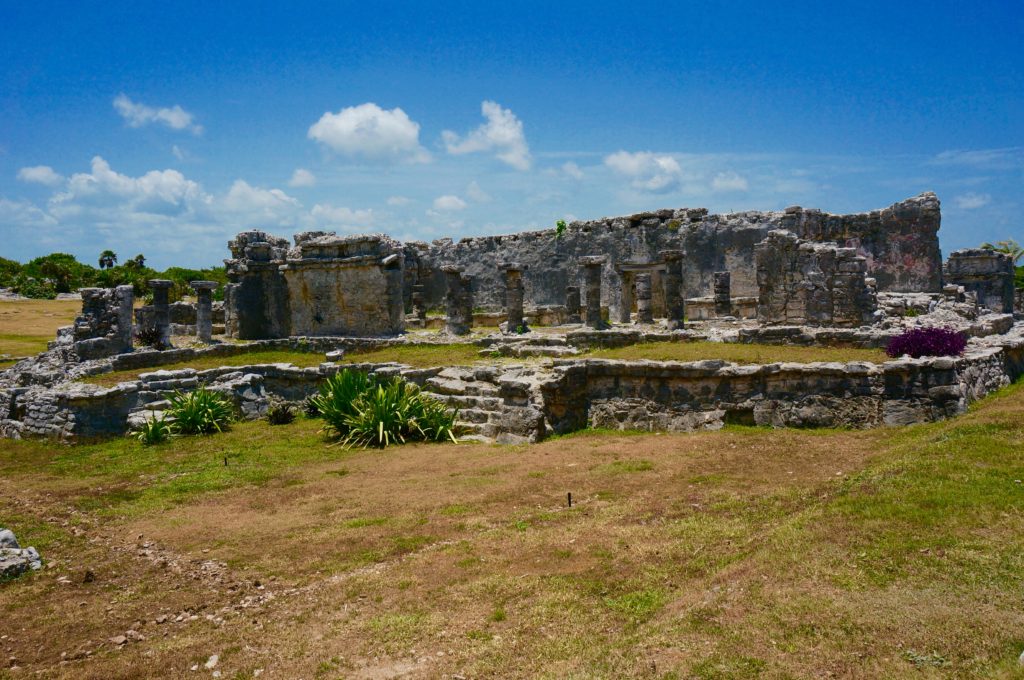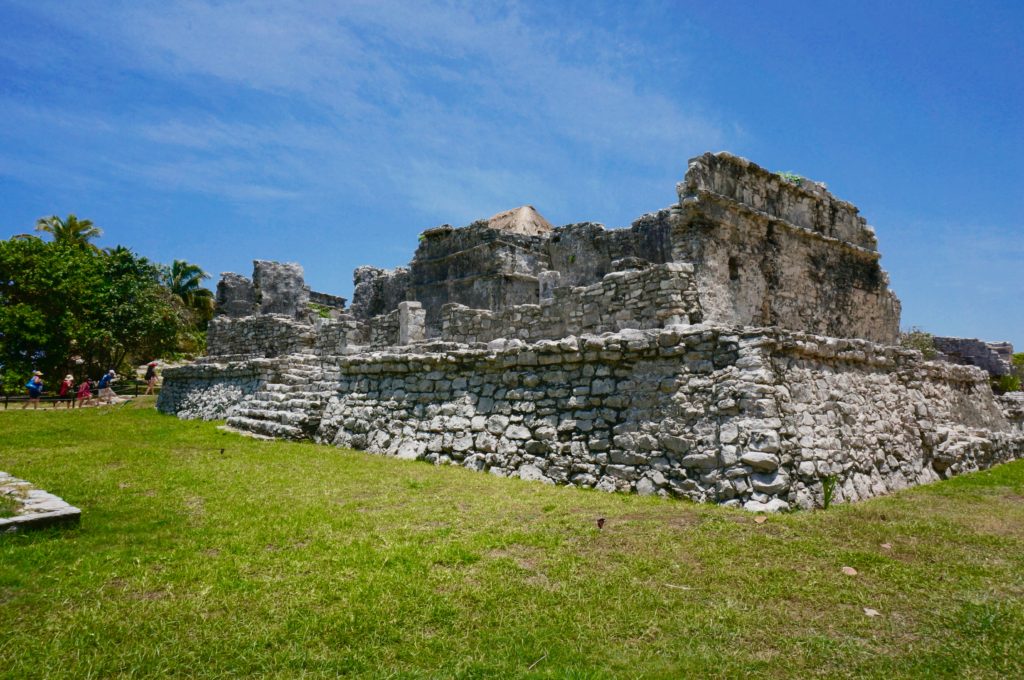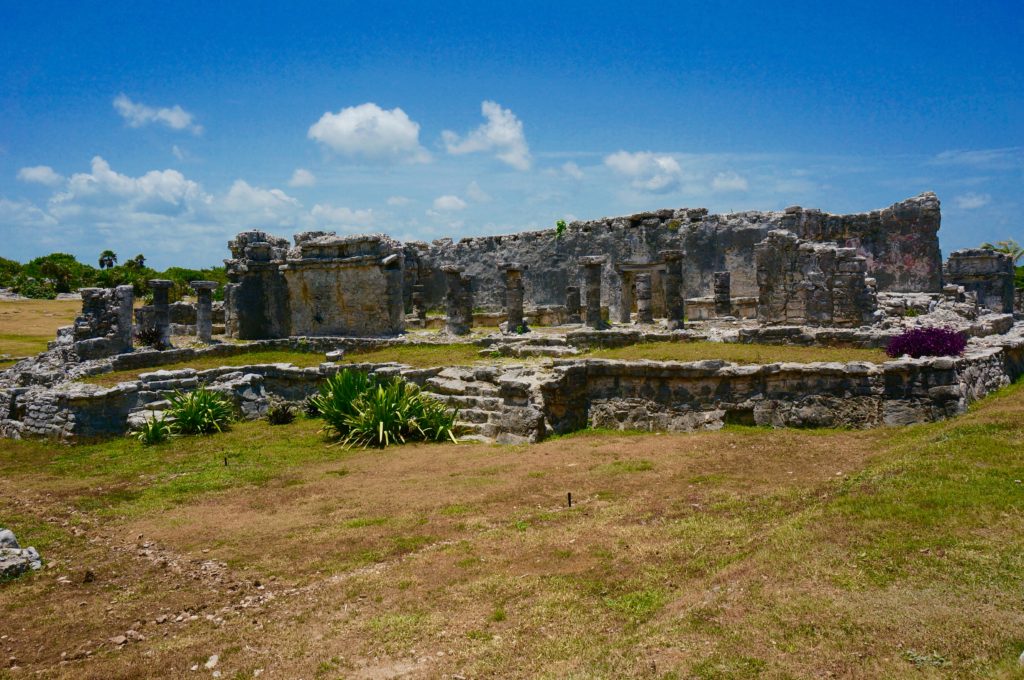 COOL OFF BY SWIMMING IN THE CAVES
From the ruins, we then drove to the one of the most beautiful underwater cave systems in the world. On such a blistering hot day, nothing sounded better than diving into fresh cold water. The rush as you swan dive into the picturesque water is exhilarating. There I am photographed below swimming through these cooling waters, and yes, ladies, I know, I really need a spray tan.
So where and what is this place? Cenote Dos Ojos (pronounced "o-hos") is called "Two Eyes" in Spanish because it is comprised of two large circular cenotes. Underneath these two large cenotes is one of the most expansive cave system filled with water. The large underground river which flows through Dos Ojos is the same water which creates the large Caribbean cove known as Xel Ha. These healing waters include the natural nutrients of miles and miles of untouched jungle. Because the water is so pure and nutrient filled as it is secluded from exposure to heavy pollution, it makes for the perfect place to enjoy snorkeling, diving or simply swimming.
When you arrive to Dos Ojos you have a few options for how you would like to explore depending on your activity of preference. You can pay a simple admission pass (100 Pesos) and enjoy the water on your own – dive in, swim around, and look around the main cave. Alternatively, you can purchase a more elaborate admission pass that includes access to additional cave sites with a tour guide. Because we were unfamiliar with what the caves had to offer, and overly excited as most tourists are, we purchased the guided tour package. This package also included our snorkel equipment and flashlight. The guide took us through an extremely narrow passageway where we were able to see and explore the infamous "bat cave".  This cave is filled with bats flying about and hanging from the dark ceiling space of the cave. Although I was a bit terrified, seeing the bat cave was an incredibly unique travel experience that I highly recommend.
Put Dos Ojos on your travel to-do list for Tulum and make sure to pack your waterproof camera – the photographs captured here are absolutely stunning and a site to be remembered. With the day complete here at the caves, that brings our itinerary to an end. I hope you enjoyed this Ladyhattan insider feature on activity suggestions for your next trip to this part of Mexico!
Please note all reviews, insider recaps and suggestions, as well as photography are property of Ladyhattan LLC. If you are interested in re-distributing this content, please contact [email protected].