Tis' the season, friends! Thanksgiving is over, Black Friday sales have passed and we now trim our trees for the most joyful time of all. If you love Christmas season, charming European cities, shopping and delicious food, then you must put Strasbourg, France on your travel list. Better known as the "Christmas Capital of the World" this famed city hosts one of the world's largest and most lively holiday markets.
Strasbourg is the capital city of the Grand Est region, formerly Alsace, in northeastern France. Sitting near the German border, the unique blend of cultural and architectural influences here can be identified as both French and German. Imagine the classic German bratwurst served on classic French baguette. A place where you can experience the best of both worlds, the combo of cultures here in Strasbourg is delightful – especially at Christmas time.
The German and French influences create an enchanting little village that turns into a real-life winter wonderland for the holidays. Historic homes and businesses go all-out with themed decorations, colorful Christmas lights and contagious holiday spirit. I couldn't help but constantly catch myself admiring the detail in the creative decorations – teddy bears falling out of windows, wrapped gift boxes hanging from the sky, and glittery penguins chilling out on balconies. A bustling Christmas market opens from November to January, where one can enjoy the best of the season: delicious drinks and food, endless shopping, carnival rides, music, ice skating and much more.
Below I will be sharing a detailed overview of my visit to Strasbourg including tips on the best way to visit the city, a tour inside the Gothic Cathédrale de Strasbourg, and a few local food recommendations worthy of a taste. Scroll on down through this post to view personal photographs captured at the holiday markets in Strasbourg, concluding with your easy-to-follow guide from Ladyhattan on everything you need to know for a visit to this holiday hotspot!
BEST WAY TO SEE STRASBOURG
Hands down the best way to see Strasbourg is at Christmas time, when the true personality of the city comes to life and attracts tourists from all over the world. Although busier at this time of year, there is plenty of room for everybody to enjoy the holiday cheer. As for me, I stopped through Strasbourg on a perfectly planned Christmas Market Tour with AmaWaterways. From Basel to Amsterdam, a luxury river cruise with AmaWaterways took us through countless European Christmas Markets in Switzerland, Germany and France. Can you dream of a better Christmas vacation – exploring historical holiday markets along the Rhine River with luxury amenities, knowledgable guides and planned excursions to ensure every moment of the journey is pure bliss? This was one of the best travel experiences of my life and I can't recommend this experience enough for friends/family. Plan far in advance and you can snag rates at $1500/person for a one-week all-inclusive Christmas Market Tour.
While touring the Strasbourg holiday markets with AmaWateraways is ideal, particularly because of the ability to see so much (and so many markets) with limited vacation time, there are other ways to experience Strasbourg at Christmas. You can also opt to do an easy trip to Strasbourg directly from Paris on your own.  With the new speed train options available, one could even plan a day trip to explore the Christmas Capital from a Paris based vacation. Trains run roughly every 1.5 hours from main stations in Paris. Once en route, the train is about a 2 hour ride to Strasbourg. So if you are an ambitious traveler with limited time, you could always leave at the crack of dawn for Strasbourg and return back to Paris in the late evening.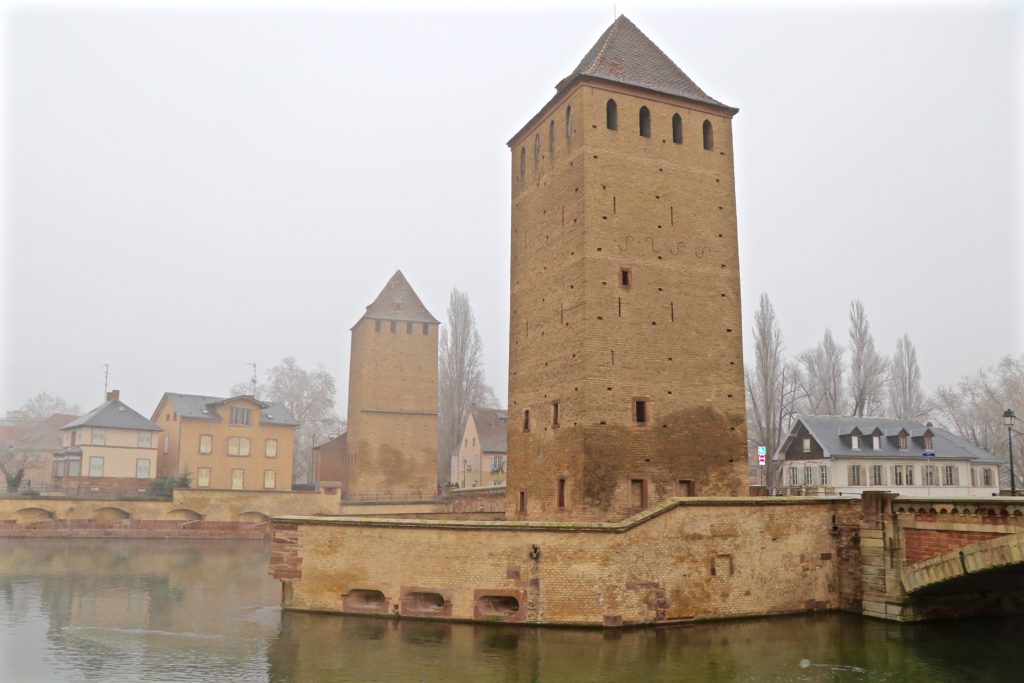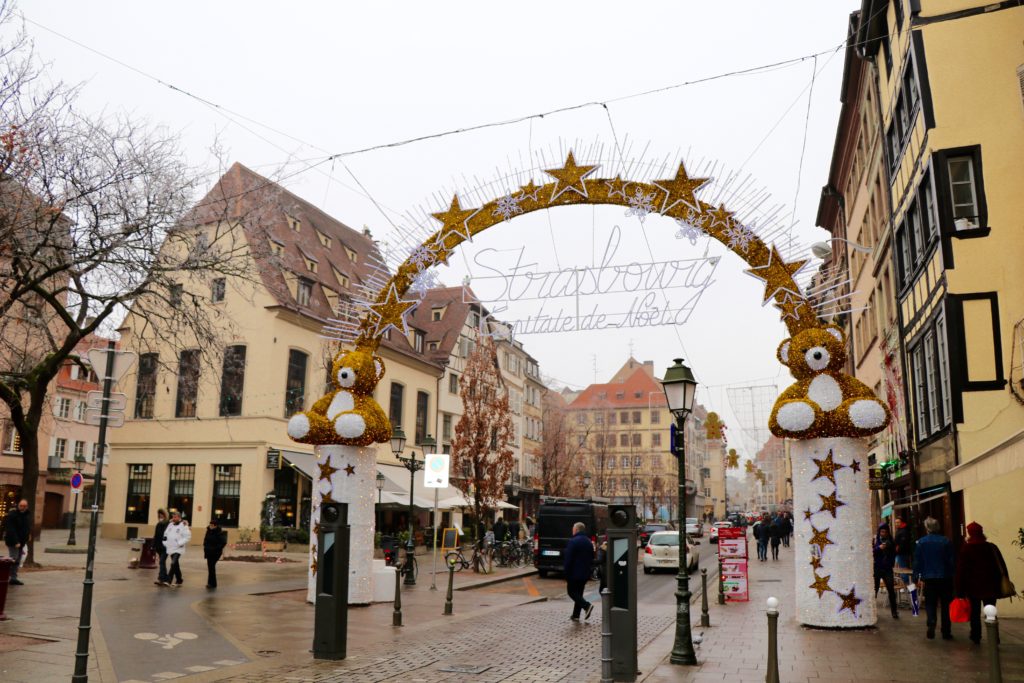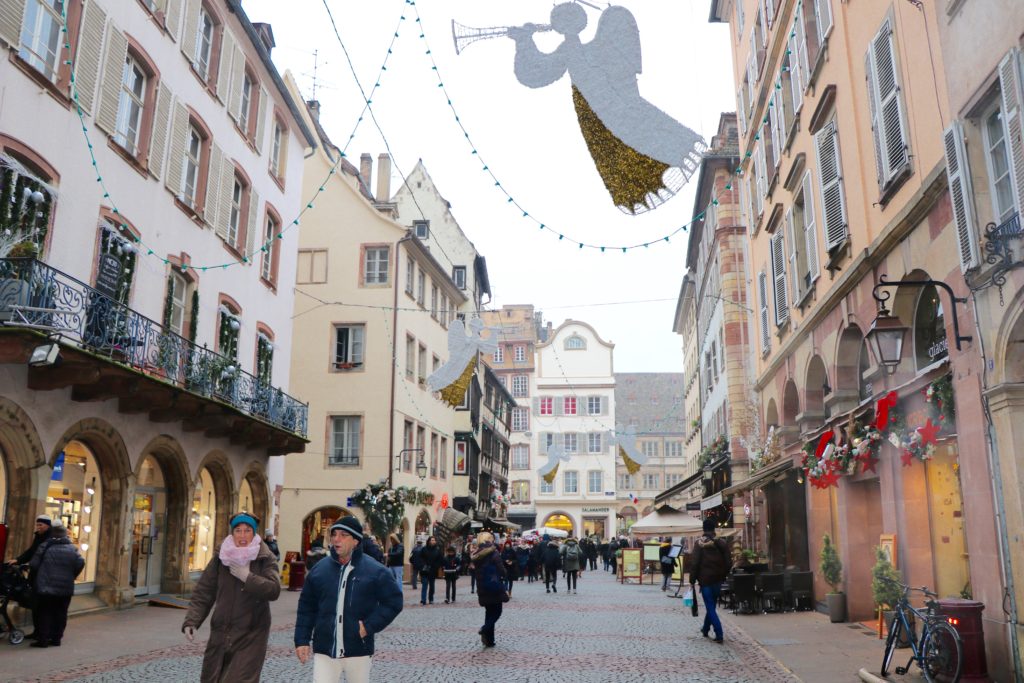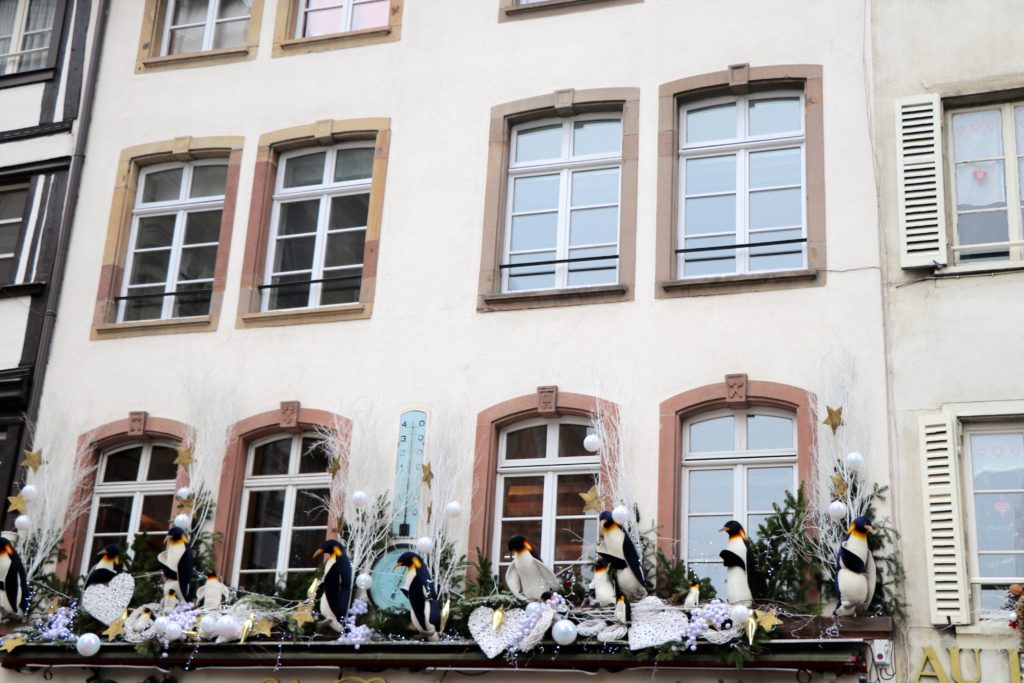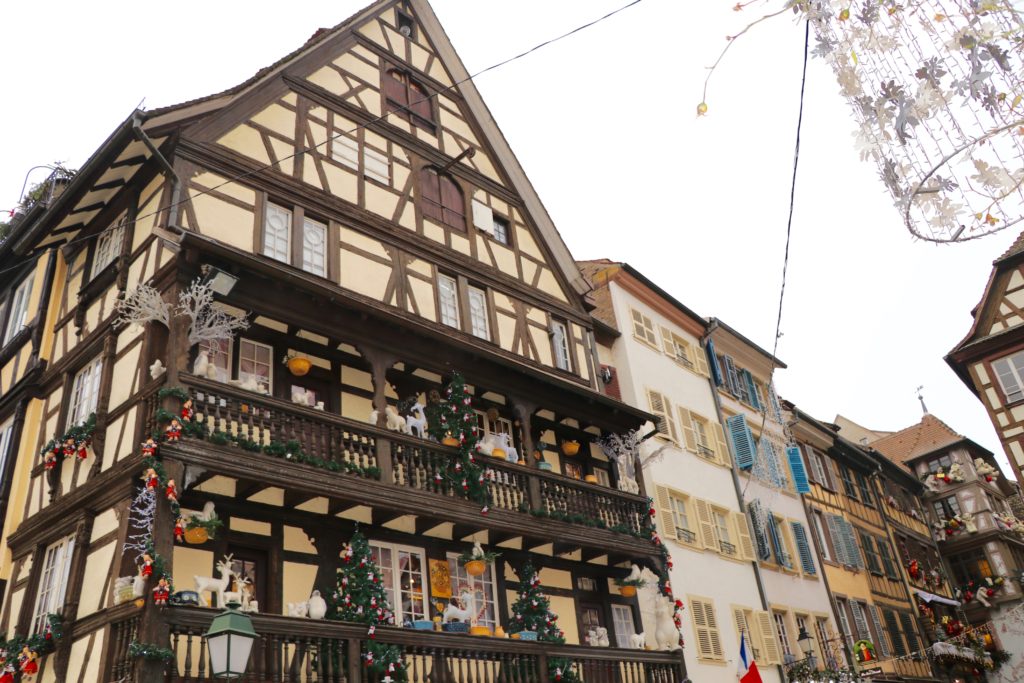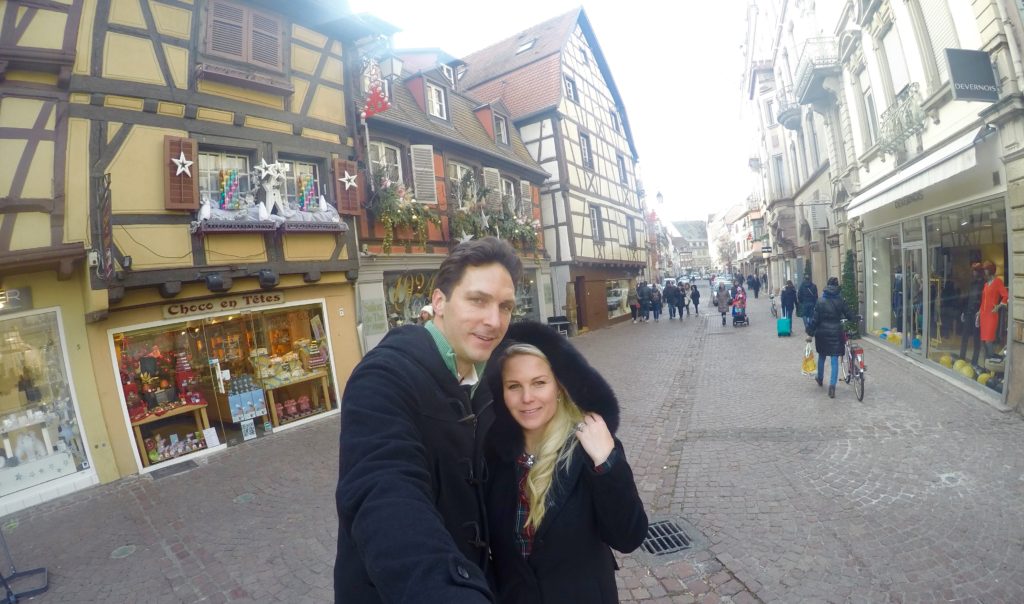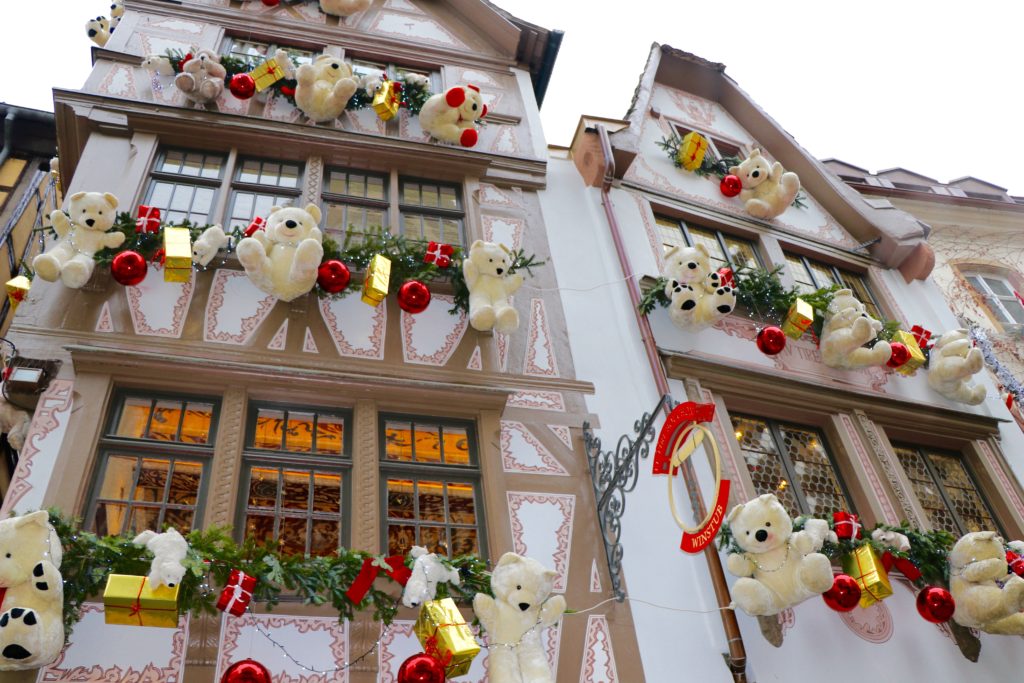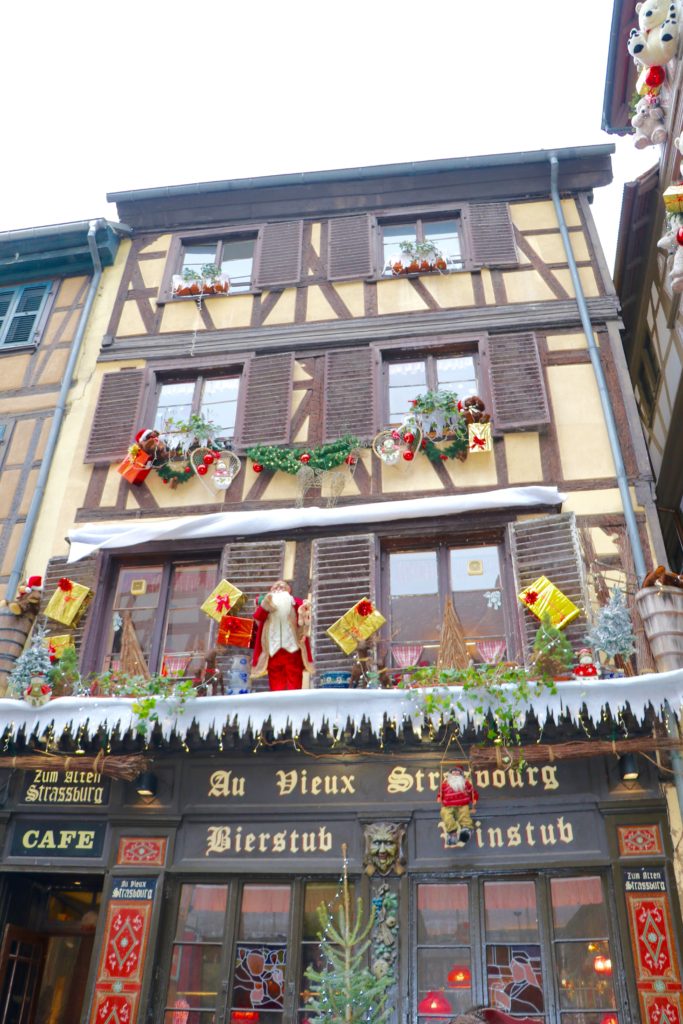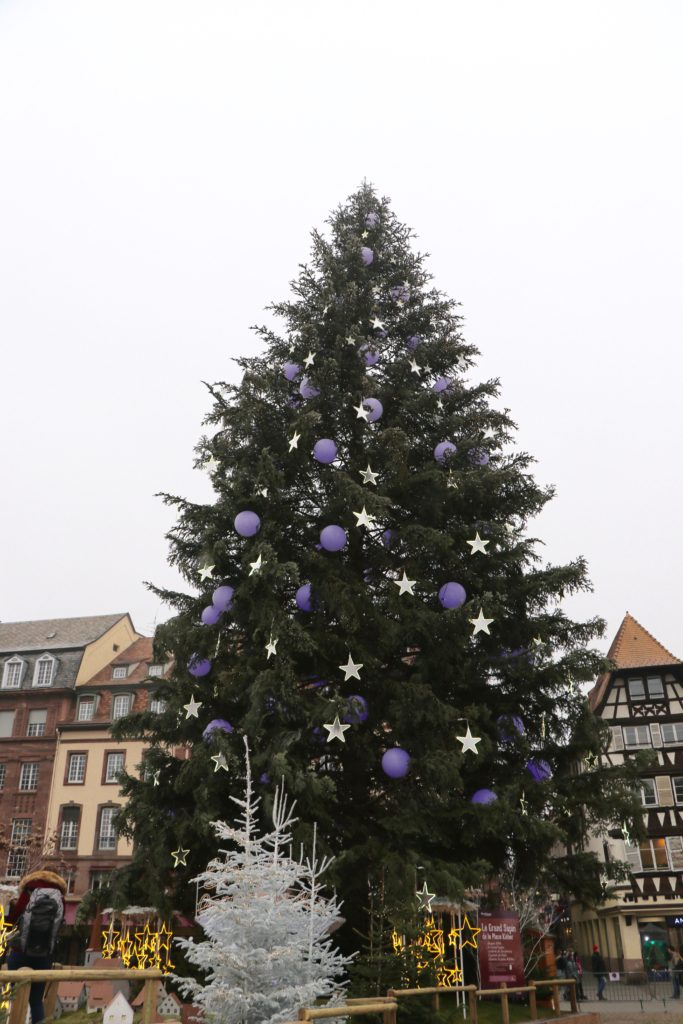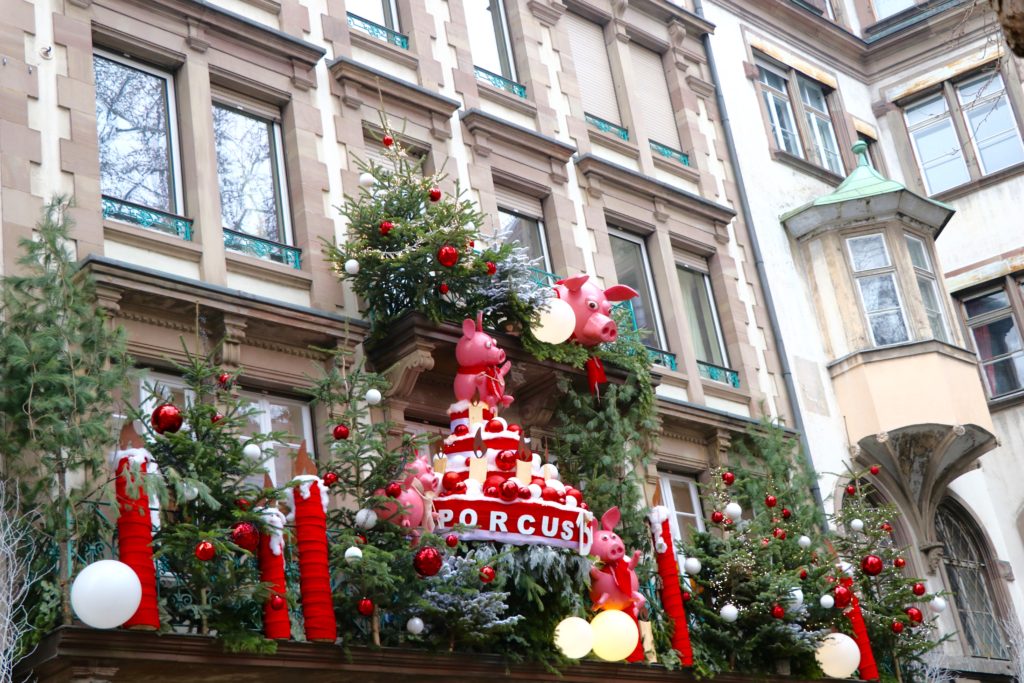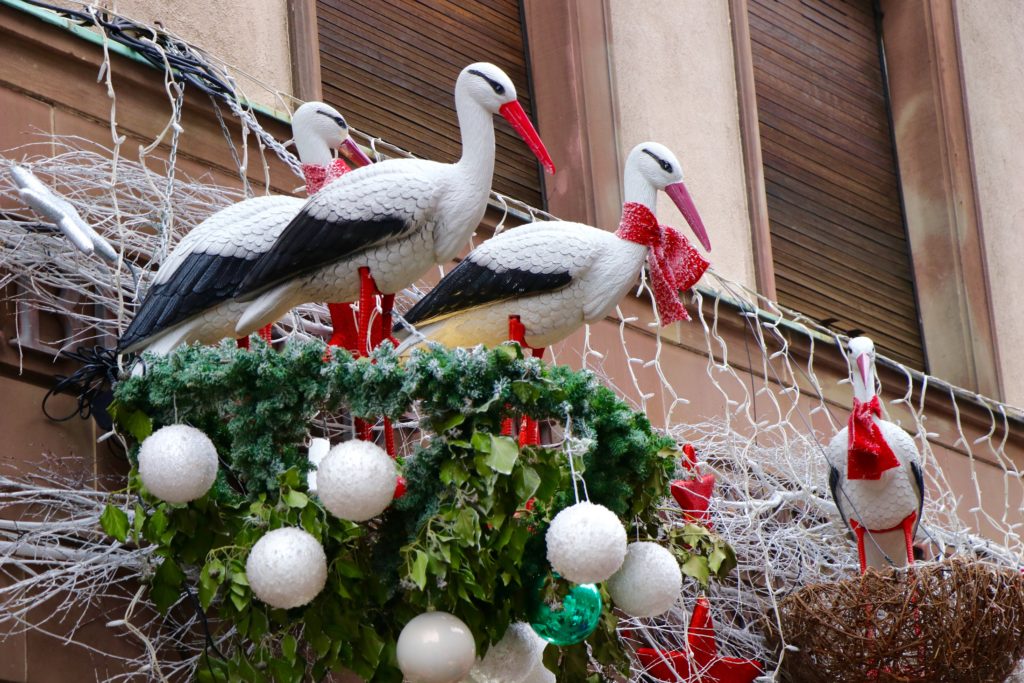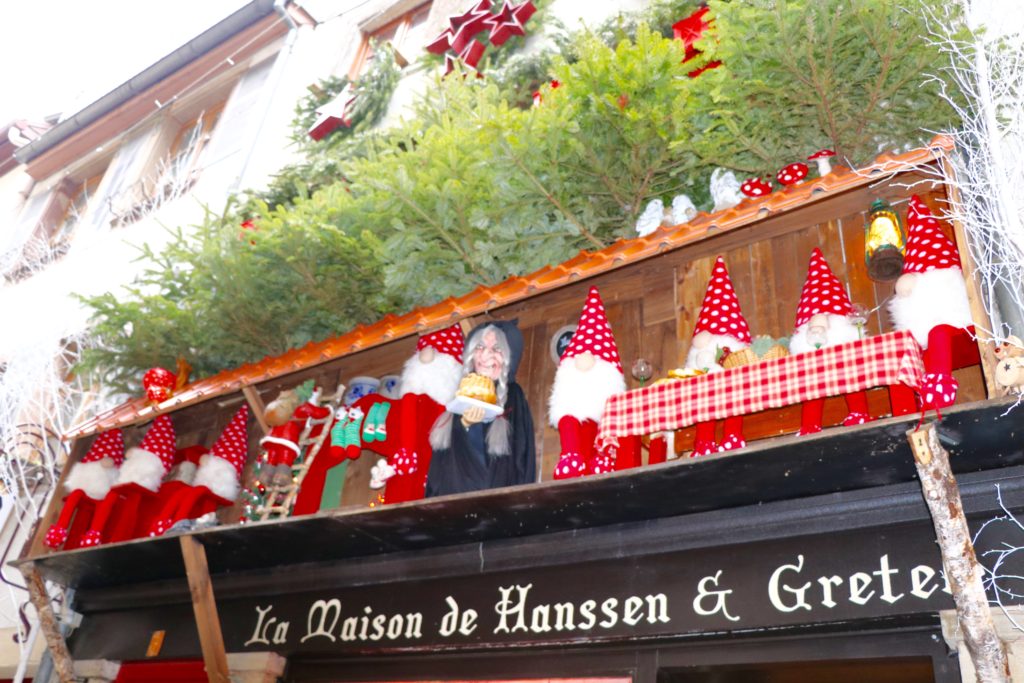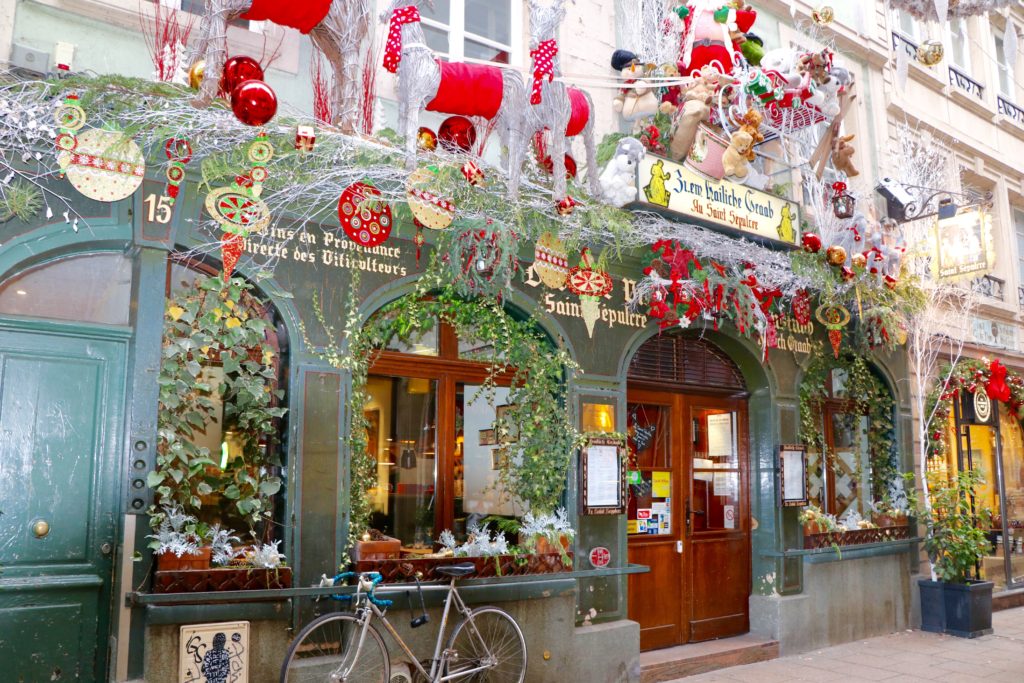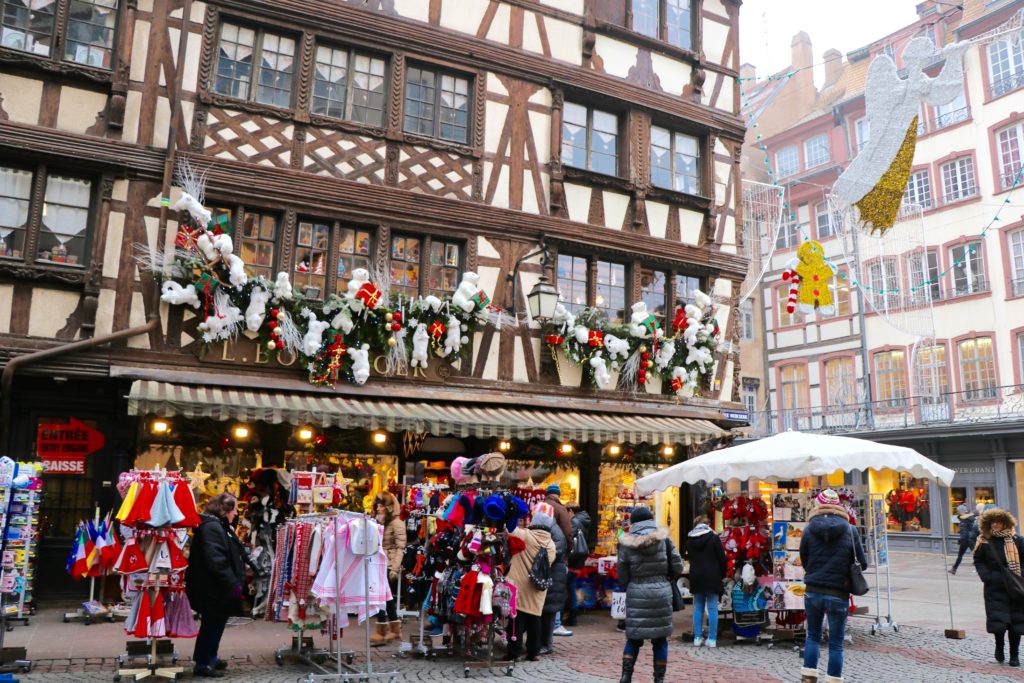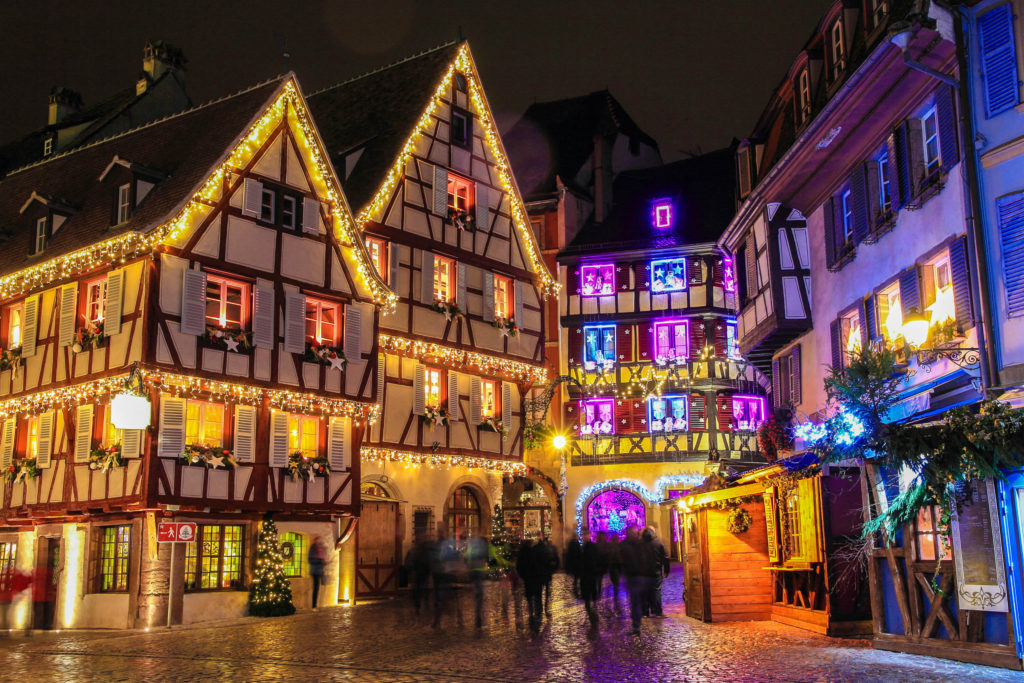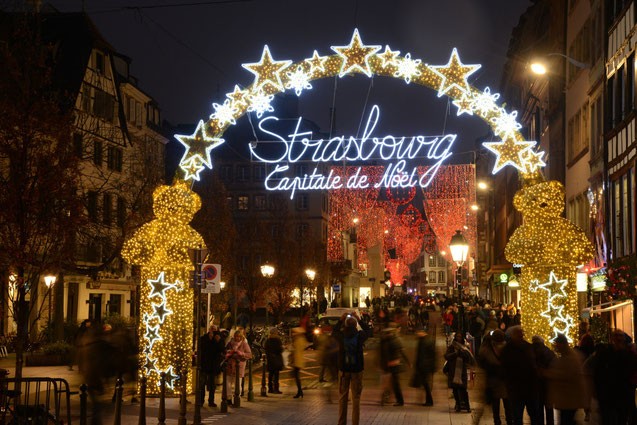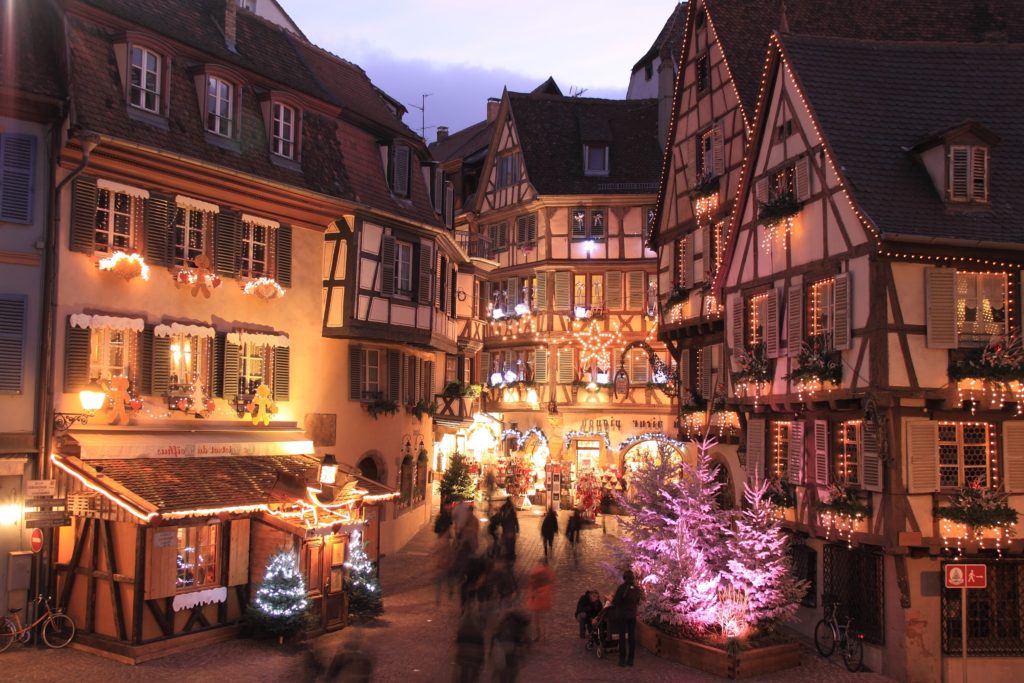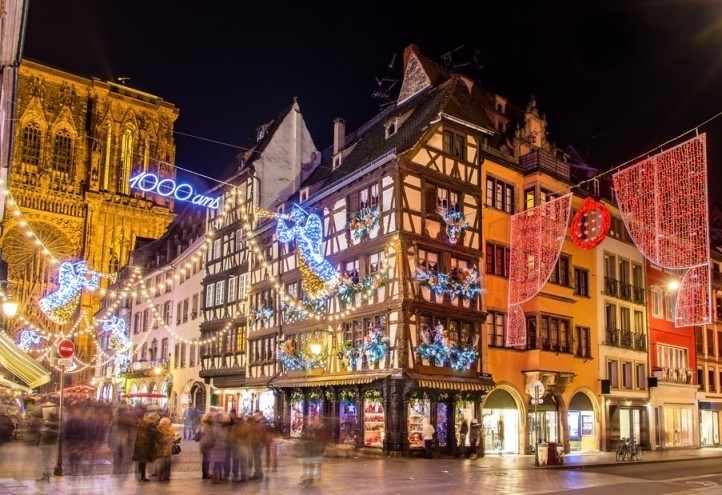 Strasbourg Cathedral de Notre-Dame
Strasbourg Cathedral de Notre-Dame is known as one of the most beautiful Gothic cathedrals in Europe. The construction of this Roman Catholic cathedral began in 1015. The notable spire of the current building, standing 142 meters tall, was completed in 1439 by Victor Hugo. Because of the height of the spire, this landmark church used to be considred one of the tallest buildings in the modern world.
Intricately detailed stain glass windows date back to the 12th century. Catch the daylight shine through these stain glass masterpieces and you will be in awe of the spiritual magic that engulfs the church's interior. Regardless of religious affiliation, if you consider yourself spiritual or find peace in prayer/meditation, be sure to donate a mere euro and light a candle in this majestic setting – it is quite the experience. If you get hungry, find some roasted nuts being sold on a cha-choo truck just outside the entrance.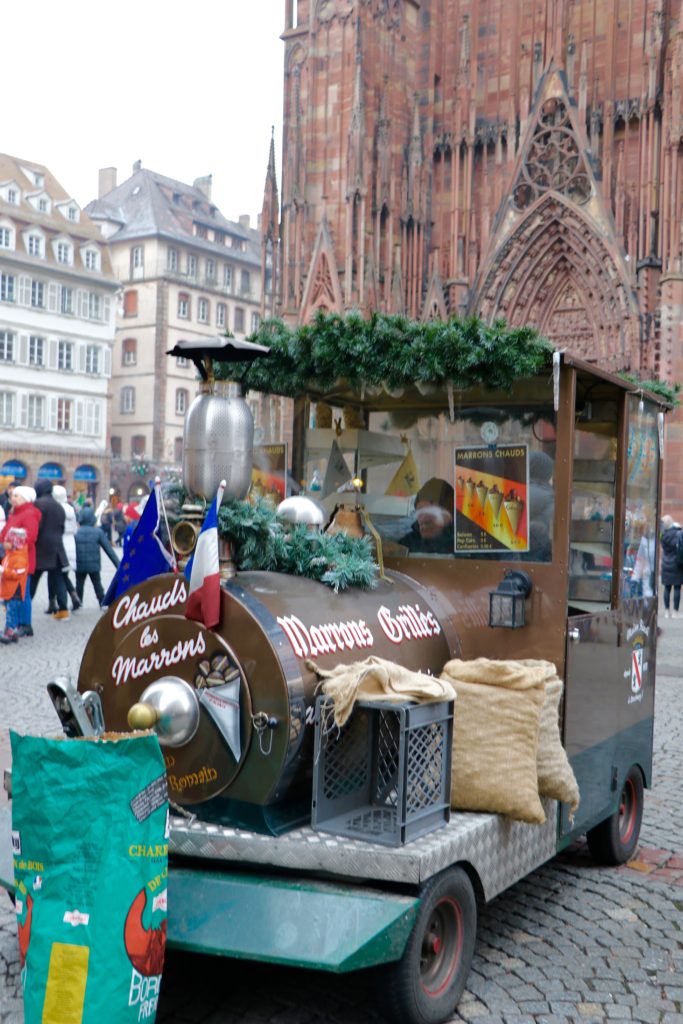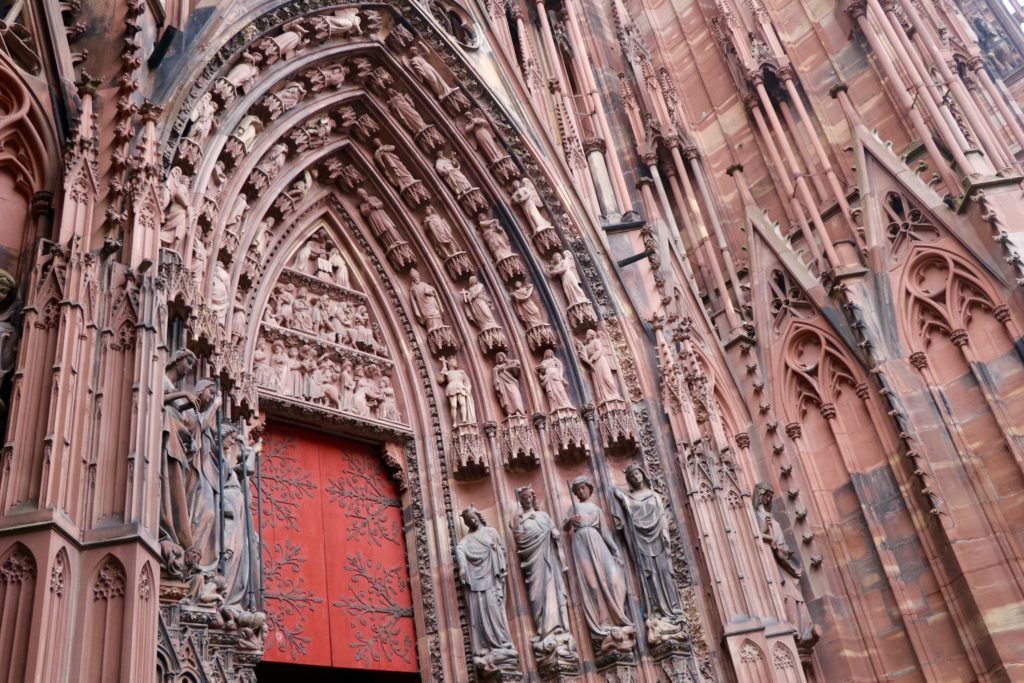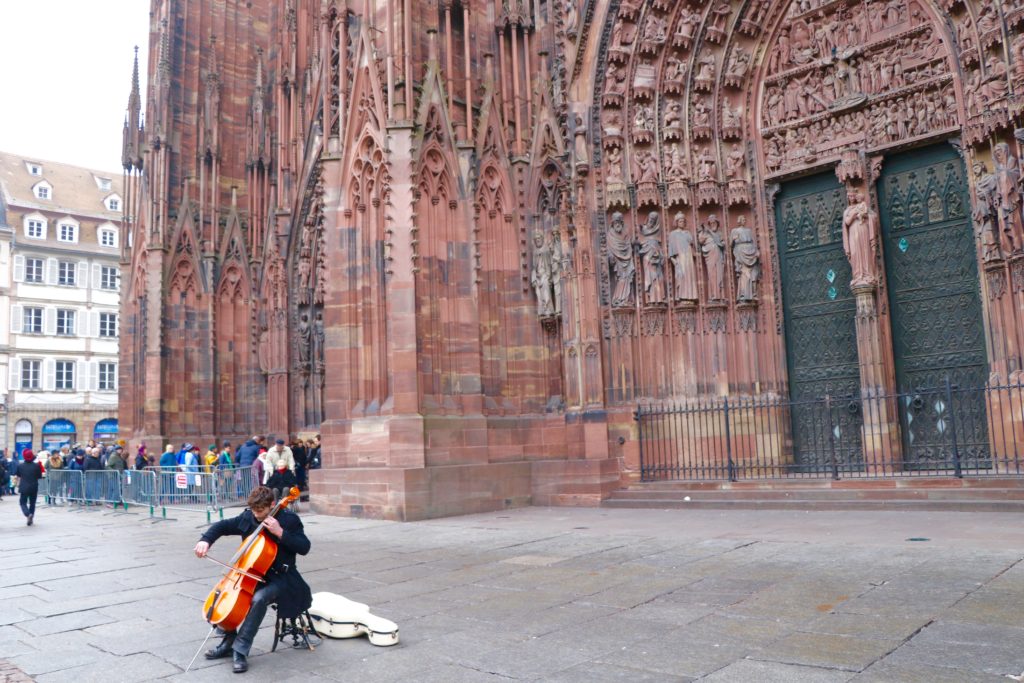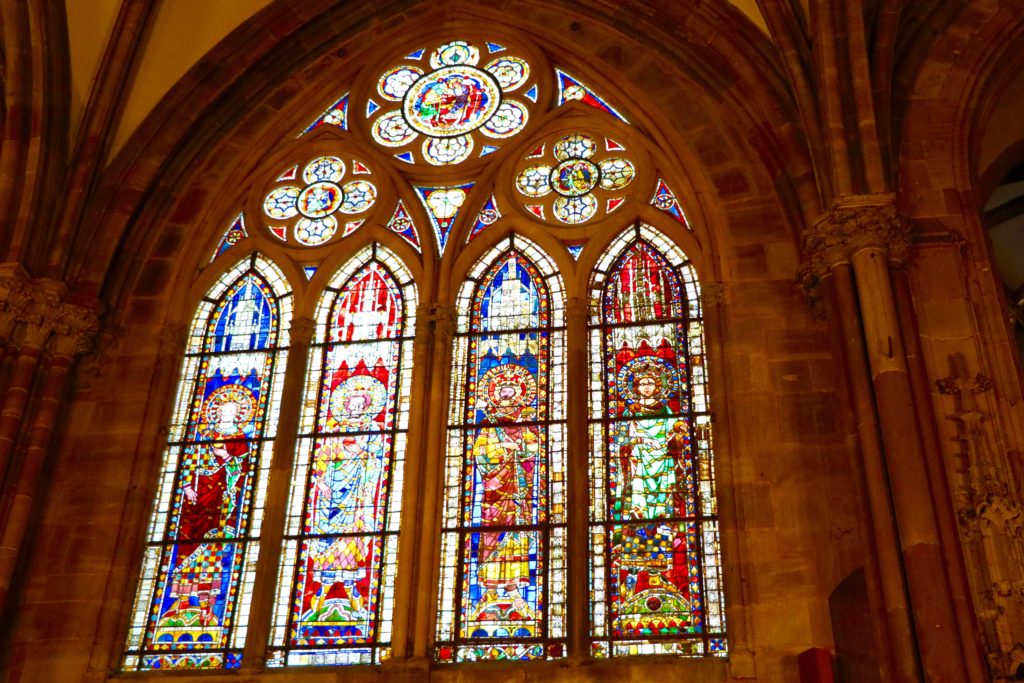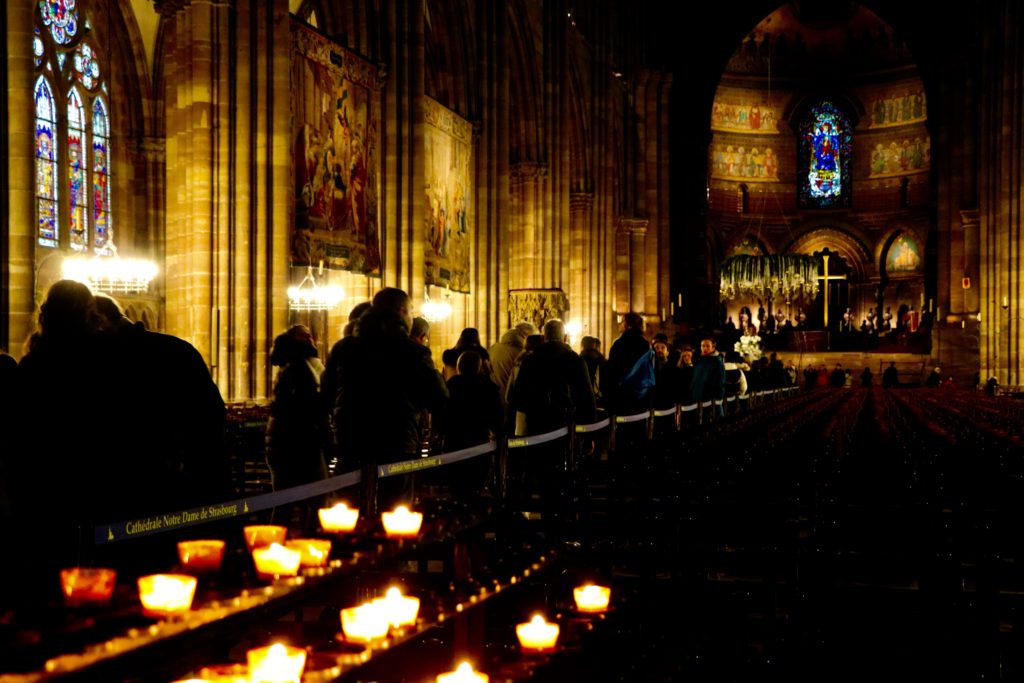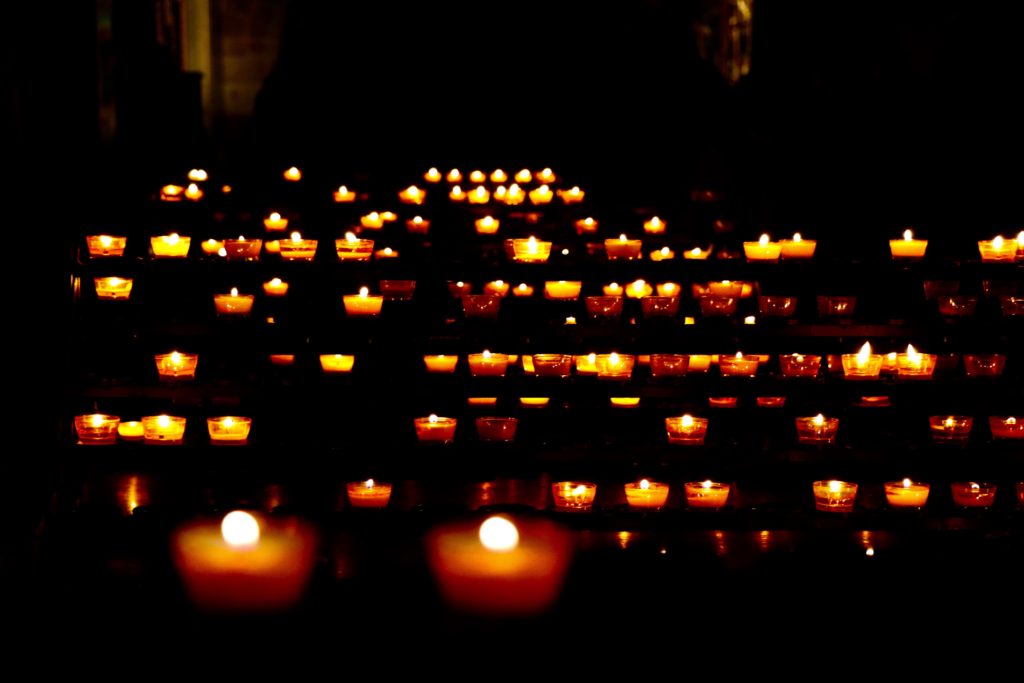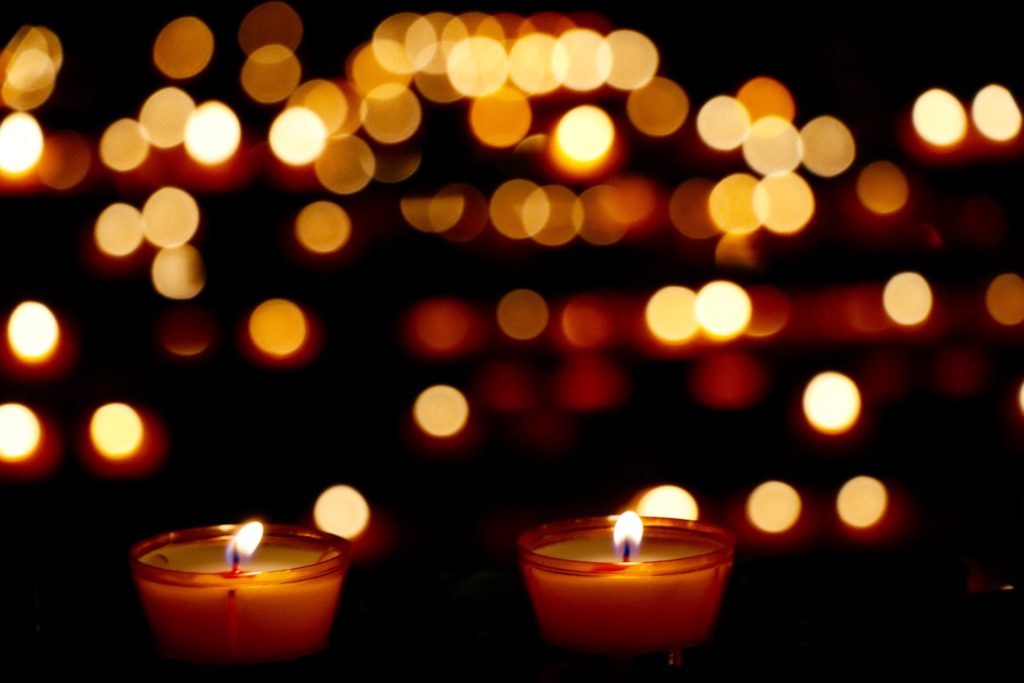 Food You Must Taste in Strasbourg
As you roam the streets of Strasbourg your nostrils will be filled with the robust smells of delicious seasonal and local Alsatian delights. A city well known for its gastronomy, the unique crossroads of France and Germany help bring the very best of both worlds to your mouth. Pork, wine, beer and sweets are key staples in the Alsatian cuisine. Be prepared to pack on a few pounds, ladies. Alsatian food is synonymous with conviviality, the dishes are substantial and served in generous portions with one of the richest regional kitchens.
Here are a few of my favorite local treats to try when visiting Strasbourg at Christmas time:
Choucroute – composed of grated cabbage pickled in wine and accompanied by sausages/slow cooked pork (a fancier version of basic sauerkraut)
Baeckeoffe – hearty casserole meaning "baker's oven" that consists of potatoes slowly simmered in local white wine then combined with three meats (pork, beef, lamb)
Tarte Flambée – sort of like a pizza, this is a thin pastry slathered with creme fraiche and bacon bits
Homemade Pretzels ("Bretzel") – the best pretzels I have ever had in my life, you can find hot doughy options for a euro on nearly every block throughout Strasbourg – this savory brioche is nothing like the dry snack you find at the grocery store
Mulled Wine – spiced wine served hot right from the pot, it tastes like a hot sangria and pairs deliciously with a fluffy pastry or pretzel
Gingerbread – a Christmas classic treat, you can find stalls selling neckalces, dolls and houses made of gingerbread to be eaten or saved as a gift/souvenir
Dry Riesling Wine – Alsace region is famous for producing some of the best dry Rieslings in the world, so be sure to order a glass with your meal
Kougelhopf – a brioche-type cake made with dried fruits and nuts then baked in a special round fluted pan can be found at all the local bakeries in town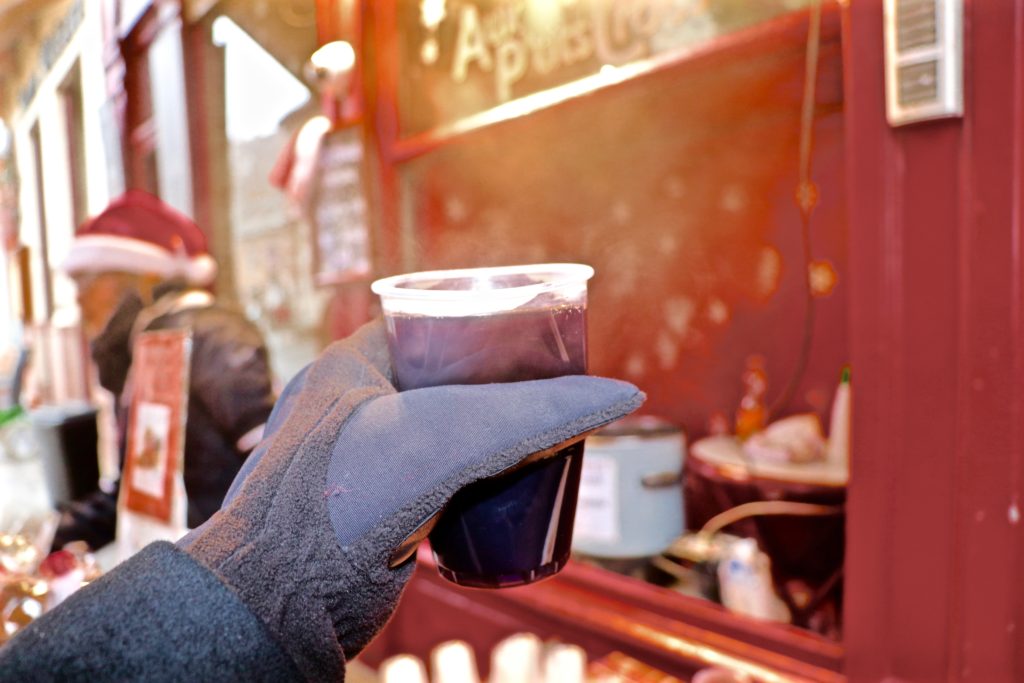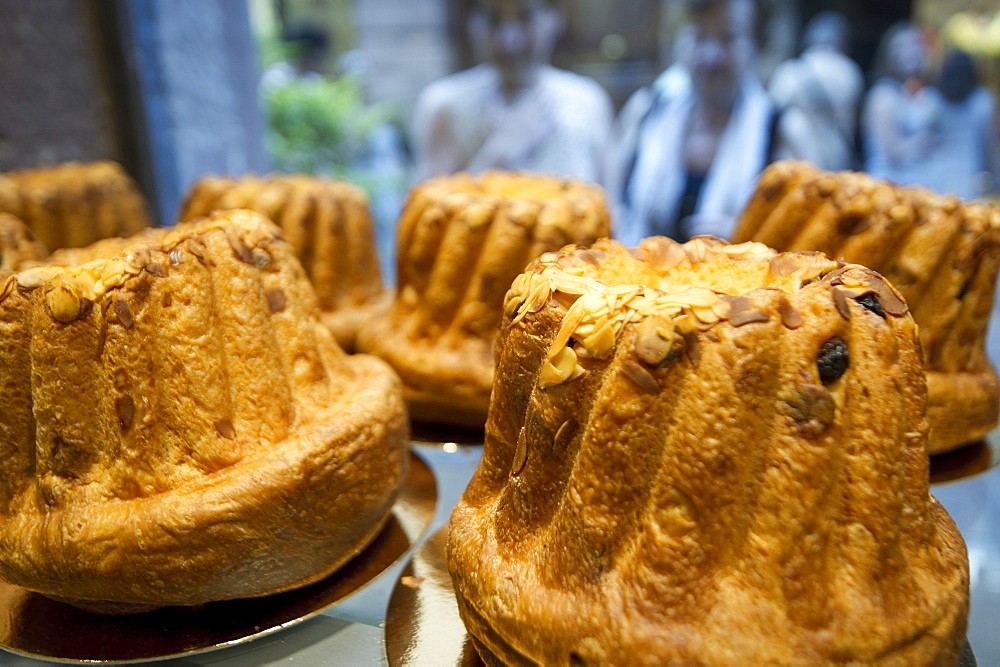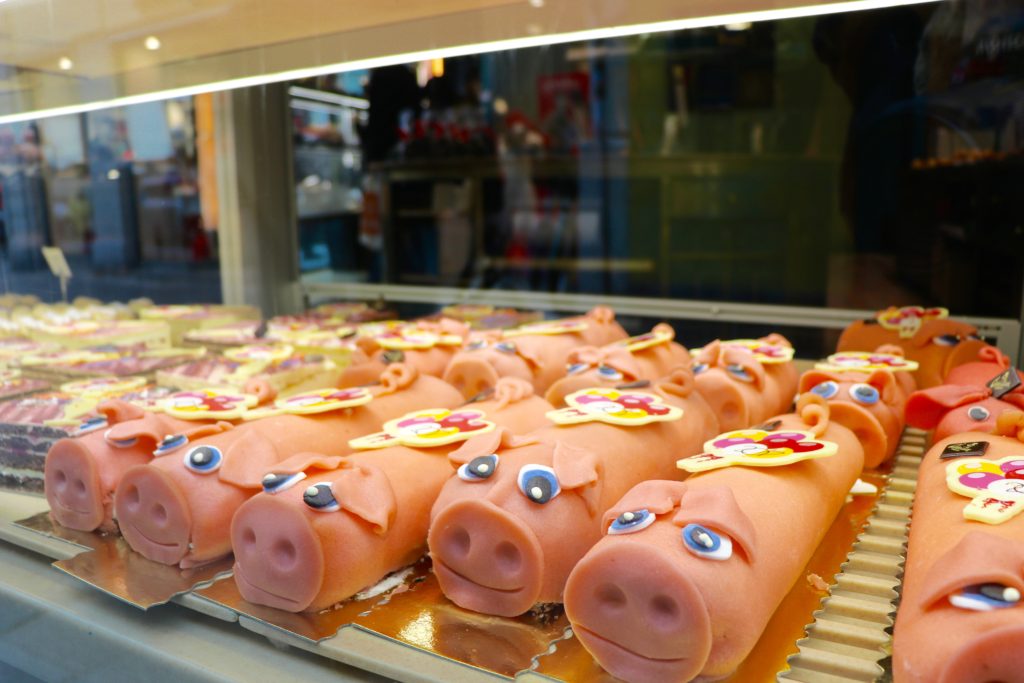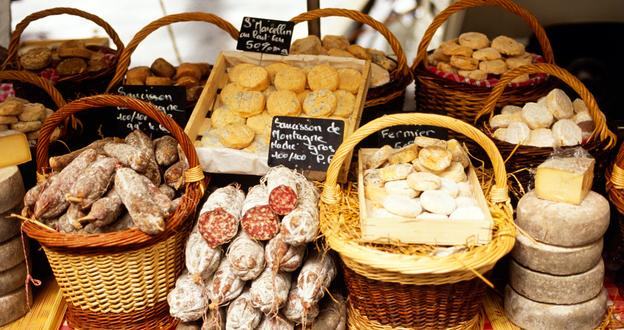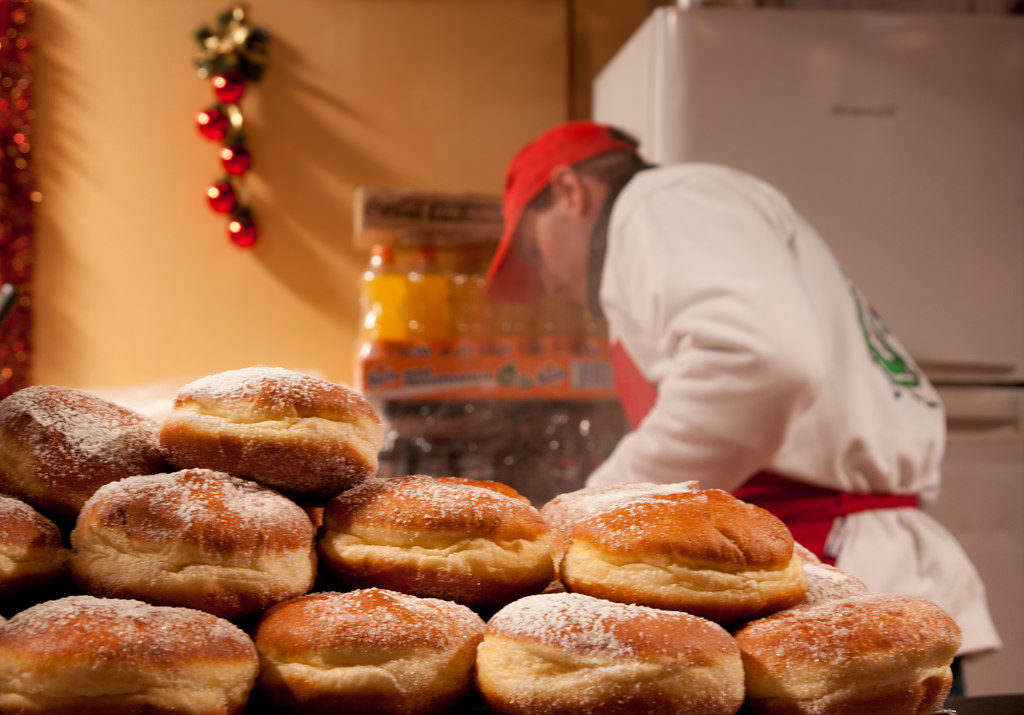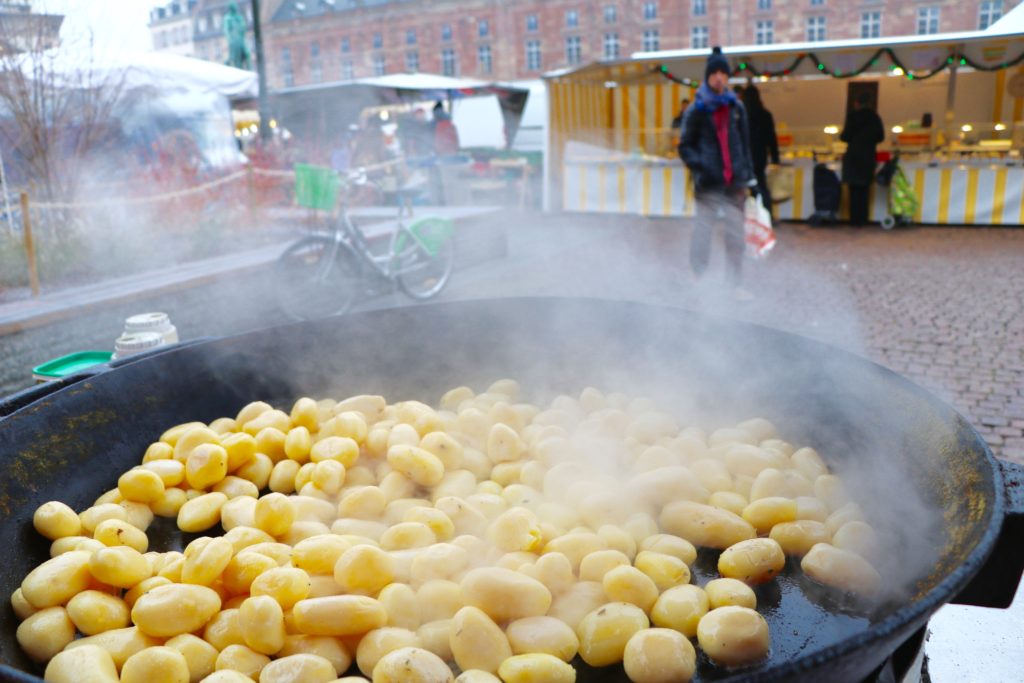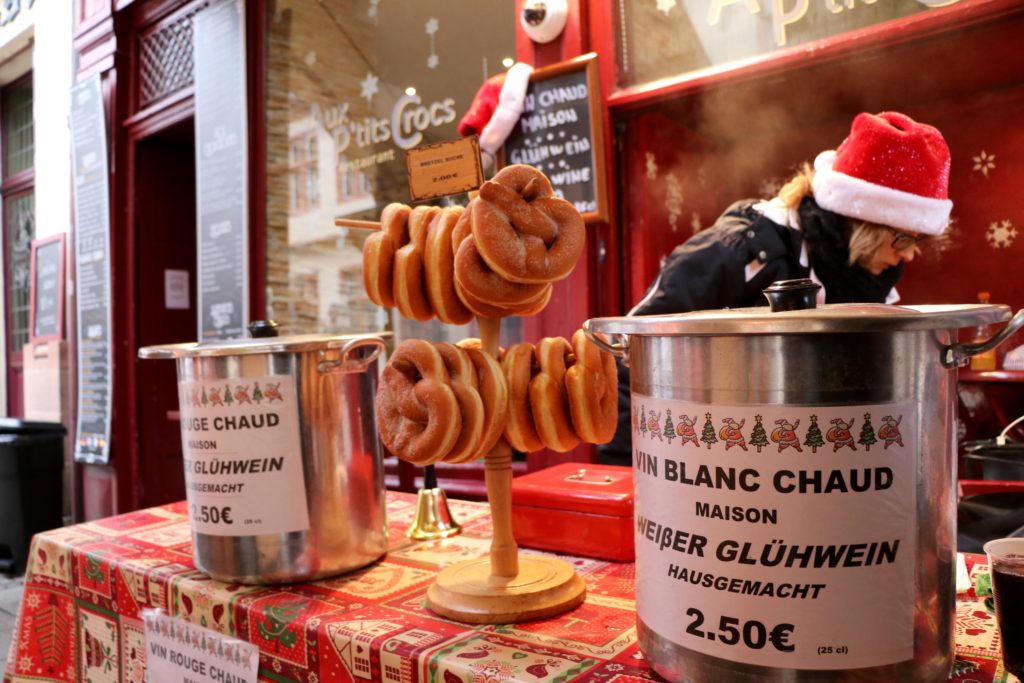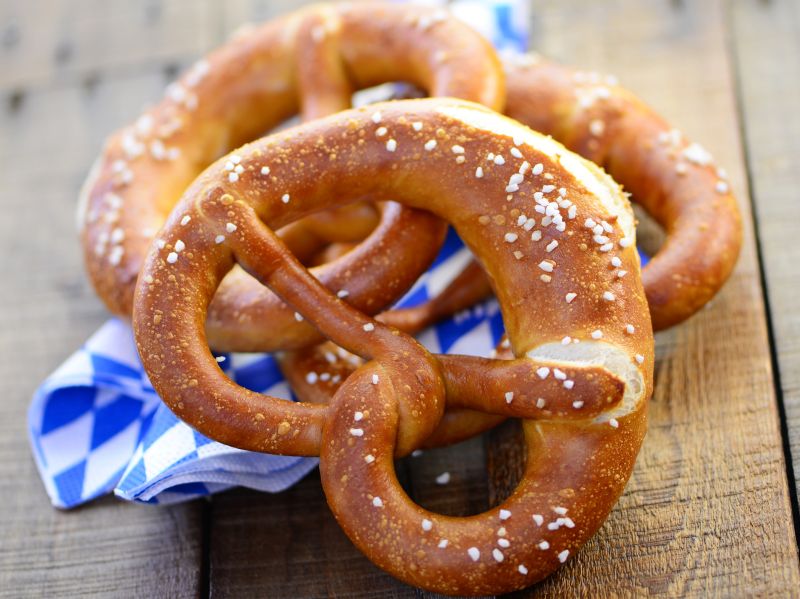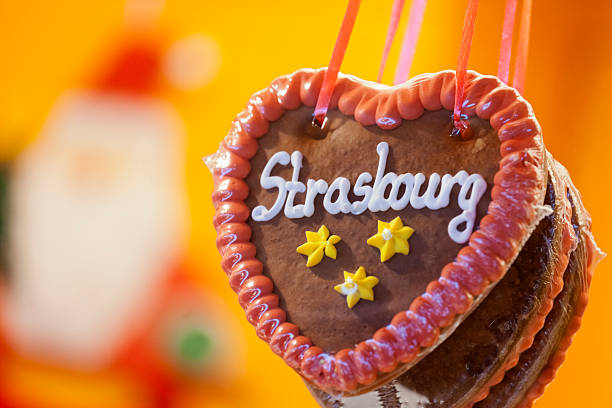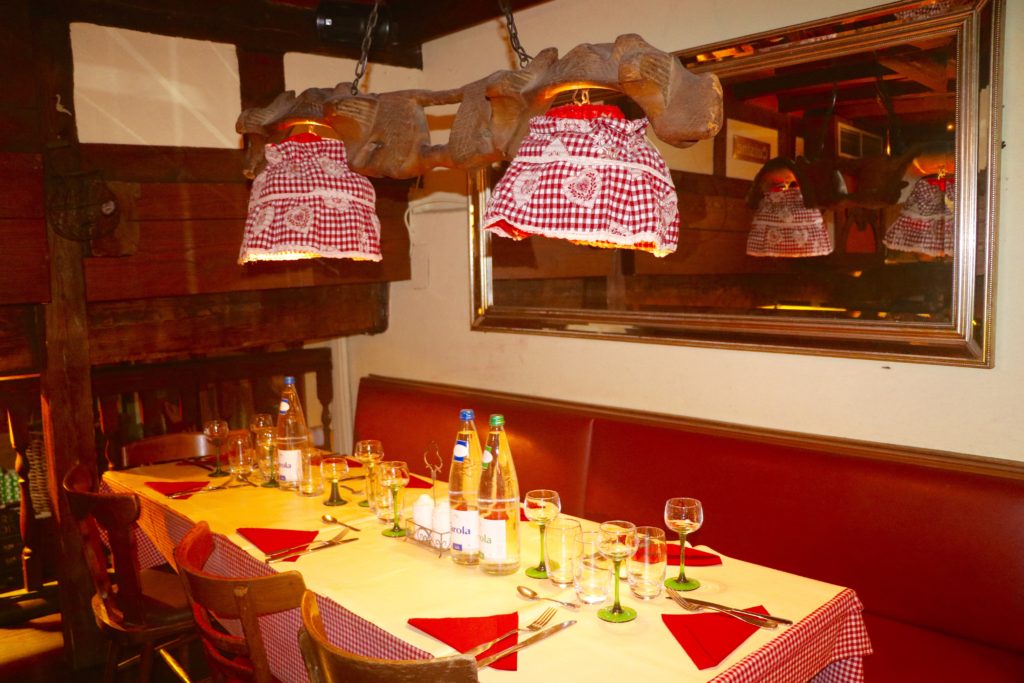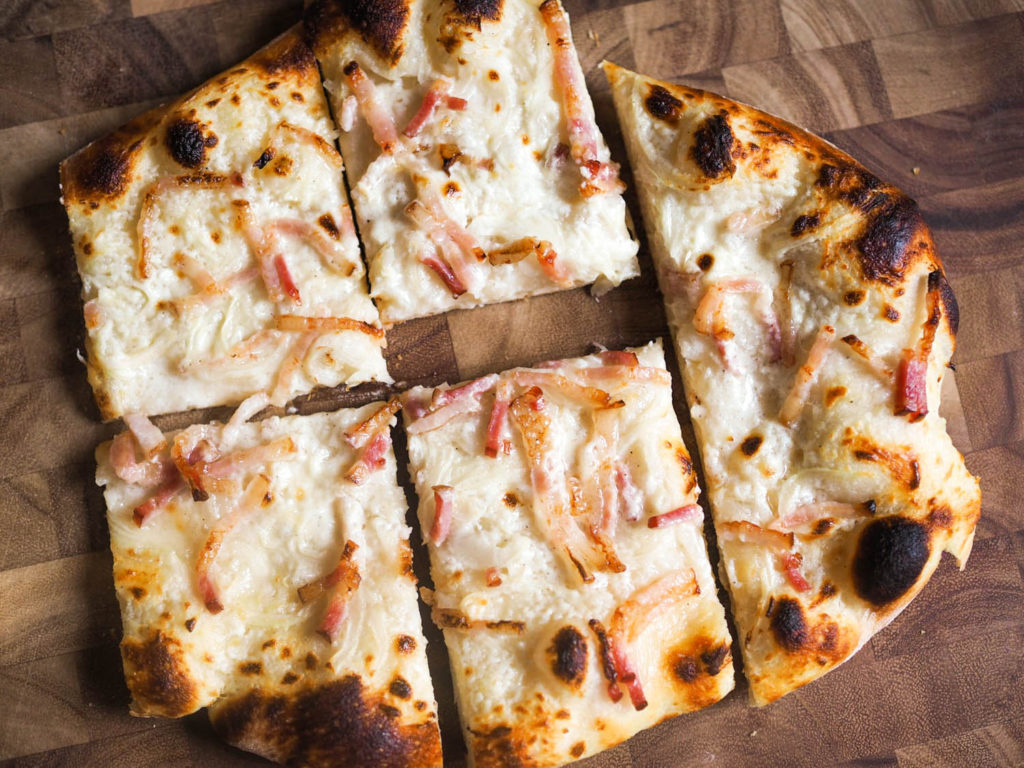 Ladyhattan Guide to Strasobourg, France:
Plan a festive holiday vacation by taking your loved ones on a River Cruise with AmaWaterways – if you select the Christmas Markets of the Rhine River itinerary you will get the perfect tour of Strasbourg! Plus you won't have to stay in a hotel since the boat provides luxurious accommodations.
Dress warm and wear comfortable walking shoes for a day spent mostly on your feet.
If you pass on a river cruise, visit this destination by train from Paris. Trains leave every 1.5 hours. This is a 2 hour trip from Paris to Strasbourg and tickets can be booked for just 25 Euros.
See the city by day and by night, as all the Christmas lights turn on and make this city absolutely glorious for memorable moments when the sun finally sets.
Be sure to taste all the delicious foods noted above, especially the freshly baked pretzels and hot mulled wine.
Shop til you drop. The markets have an assortment of gifts, souvenirs, fashion items and homemade goods (everything from soaps, ornaments, hats, clothes to jams and cookies).
Do visit the landmark cathedral whether you are religious or not, it is quite a spectacular site.
As for restaurants, check out Winstub S'kachele for something local and cheap. Alternatively, make a reservation in advance at Au Crocodile for something fancy and French.
For the artistic traveler, checkout the Palais Rohan (former palace of noble French family) for a collection of fine arts. Here you will find three museums in one palace.
To grasp a better understanding of Alsacien culture and life, head to the Musée Alsacien.
Better yet, it is safe to say that you will have a fantastic visit even if you make absolutely no plans or reservations in Strasbourg. Visit during the holiday season and just wander the streets, shop the Christmas markets, and sip mulled wine all day for the perfect visit to Strasbourg.
A day trip to this village or one night stay is just enough, as it a small city and can be sufficiently explored in 1-2 days. While this is an amazing destination, I think an active traveler could get bored with a full week stay here.