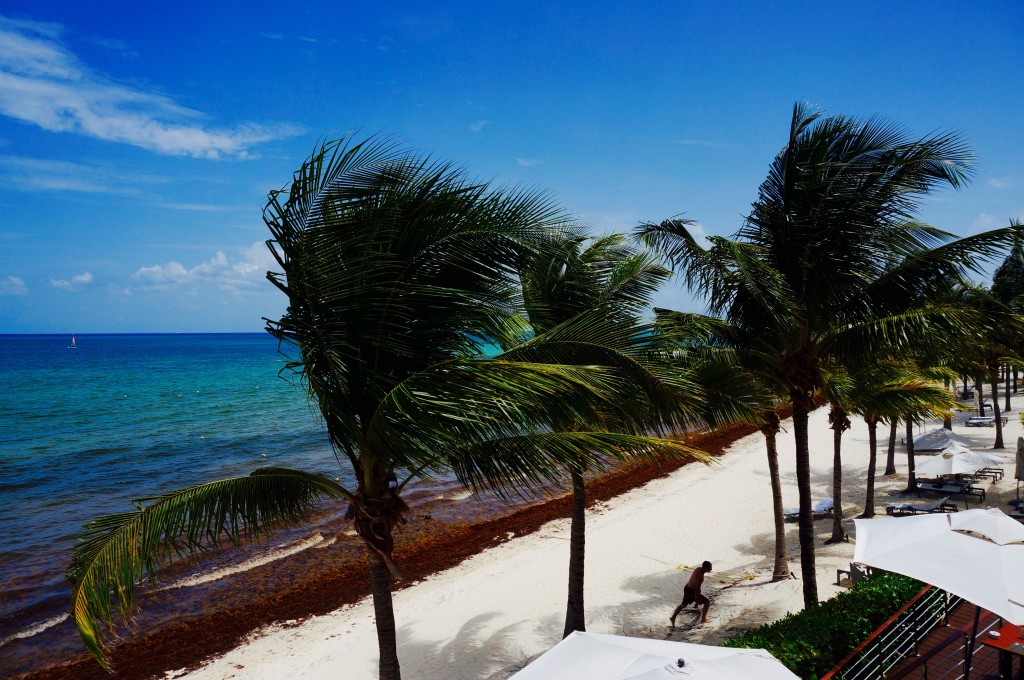 From the French Riviera to the Riviera Maya of Mexico, Ladyhattan is on the go! Summer travel is in full swing and I am sharing with you my recent experience visiting a new boutique hotel that offers everything a lady could dream of for the perfect trip to Mexico!
But first, what and where is the Riviera Maya? The Riviera Maya is a stretch of Caribbean coastline on Mexico's northeastern Yucatán Peninsula. It's known for its numerous all-inclusive resorts, such as those in the city of Playa del Carmen, and its long beaches. To the south, Tulum is home to yoga retreats and the preserved ruins of an ancient Mayan port city, perched above a beach.
The central location of the Riviera Maya makes for an active trip as you can easily access major cities and famous tourist sites.  I love the Riviera Maya because everything you would want to do while in Mexico is less than an hour away. For example, in less than an hour of travel from the Riviera Maya, you can reach the following destinations: the international airport, party beaches of Cancun, downtown Playa Del Carmen, the freshwater caves, the Mayan ruins, turtle sanctuaries, the island of Cozumel, Tulum, and much more!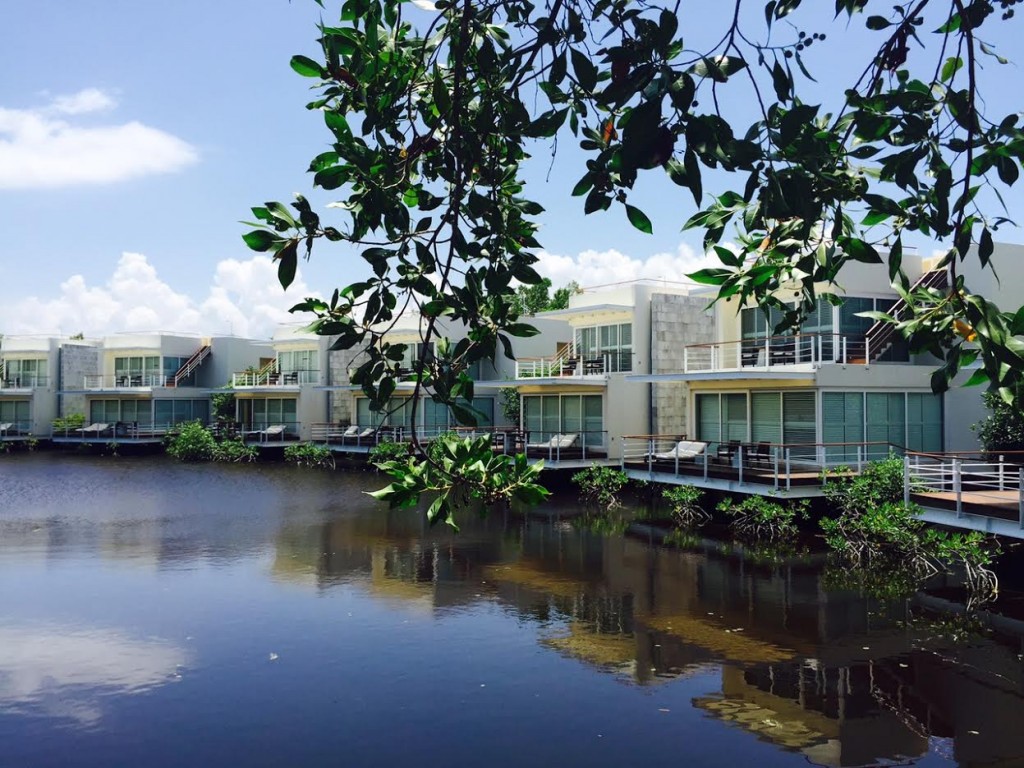 During my trip to Mexico last week, I had the pleasure of staying at the Blue Diamond Hotel – a 5-star, all-inclusive, waterfront boutique hotel. Due to past experiences, I typically despise all-inclusive resorts and think they provide subpar food and service. However, because of the small/boutique nature of this resort, the all-inclusive experience was incomparable to other resorts I have visited in the past. The Blue Diamond was spectacular. Read below, as I share details, personal photographs and inside tips on why this hotel is a "must stay" for your next trip to Mexico!
The Suites
From the décor, to the space and amenities, a luxury hotel room does not get much better than this for the ultimate vacation. Offering a variety of room options, guests can stay right on the beachfront for direct access, over the lagoon waters with a private balcony, or enjoy a private grassy yard leading out to the lagoons. Whatever floats your boat or price point, you will not be disappointed, as all suites are accustomed with the finest perks a lady could ask for.
We stayed in the luxury villa style patio suite with a private yard, and a special bonus – a private plunge pool! I actually preferred this room to the beachfront option because the beaches in this region of Mexico tend to be a bit buggy and unfortunately swamped with seaweed. Here is an overview of this room selection that I recommend:
Each of these suites is a haven of privacy and indulgence, with private gardens located within exquisite courtyards overlooking the meandering river waterways. Each suite offers a private living room, including a full bathroom and one 42" HD flatscreen TV with home theater system. Additional comforts include a Nespresso coffee machine and a private pool on the terrace in addition to the private outdoor marble bathtub. Bedrooms feature luxury leather headboards, one king size bed, dressers, spacious walk-in closets and floor-to-ceiling windows. Beds feature 500-thread-count linen sheets. Bathrooms feature two rain showerheads. These rooms accommodate up to three guests.
Additionally, there was a large refridgerator ("mini bar") completely stocked with  everything you could imagine – tequila, beer, vodka, sodas, juices, snacks, candies and treats. Everything is complimentary (included in the package) and is re-stocked daily at bed turndown. ¡Ay, caramba! The overall decor and aesthetic beauty of the room was very noticeable as well. This wasn't a cheesy manufactured resort, but an intricately designed boutique hotel space. The subtle touches of bamboo, white linen furniture, limestone throughout the bathroom and outdoor Jacuzzi space, and simple accents really made me say "wow" as soon as I saw the space. Take an inside peek through my personal photographs of the room below.
Hotel Amenities
The Blue Diamond offers the following amenities for their guests (and I surely took advantage of them all):
Pool area overlooking the beach and ocean
Beach area with umbrellas and lounge chairs
Luxury spa oasis with a private Jacuzzi, pool and relaxation room
Golf-cart transportation throughout the hotel (on demand)
Complimentary bicycles
Gym
Lagoon access with wildlife spotting (watch out for the crocodiles!)
Gift shop with access to an ATM
Full-service concierge to help make any plans or advice on excursions
Life-size chess board
Shaded hammocks
Yoga Classes
Cooking Classes
Snorkeling
I should note that the pool is relatively small and intimate. Some travelers prefer large pools with swim-up bars, constant games/activities and entertainment – if that is your preference, then you should look into large chain hotels like Dreams or Secrets. Since the Blue Diamond will never have more than 100 or so guests at a time, the smaller pool space can accommodate everyone and does not overcrowd. Additionally, fellow guests seemed to "mind their own business" and respect one another's privacy while on vacation.There was little guest interaction, socializing and organized group activity.
Since the suites, restaurants, and pool are quite spread-out across a lush scenary of lagoons, jungle and beaches, you can grab a golf-cart taxi to avoid walking. The hotel has a service in place where you simply dial a specified number and voila, within less than 5 minutes, a golf-cart will appear and take you wherever you need to go. The hotel also offers free bicycles as well, as this is a great option for those who would like to stay more active on their vacation.
Food & Service
Typically the food at an all-inclusive resort is mass produced, extremely unhealthy and pretty disgusting. Not here at the Blue Diamond. There are no buffets, no watered down cocktails or unappetizing meals. I was pleasantly surprised to find that all meals are provided a la carte, meaning you sit down at a nicely set table and order from a menu of options. If you are hungry, or a big guy like my husband, you can order as many items as you would like from the menu.
The hotel has three restaurants which all offer a different ambiance and type of cuisine. At Aguamarina, a restaurant overlooking both the pool and beach area, all three meals are served, including daily breakfast. At breakfast, our favorite meal of the trip, they served a variety of specialty house-made juice concotions – everything from fruit to vegetable juices to start your day off right. Plates of fresh tropical fruit were offered along with pastries; there was of course several options for hot breakfast items like eggs, pancakes or French toast!
Ceviche is another restaurant located right off the beach and offers day-time dining. For a lighter bight in the middle of the day, you can grab a table and help yourself to delicious snack foods like fresh fish ceviche, chips and guacamole, sandwiches and burgers. We enjoyed afternoon margaritas and salsa here nearly everyday!
For dinner, you can dine at either Aguamarina or the Ambar Restaurant. The Ambar Restaurant is located away from the beach and over the lagoons. The restaurant itself is gorgeous and quite romantic, with speciality lighting and views of a moonlit lagoon from the terrace seating (see my photograph below for a glimpse of our table). At both of these restaurants offering dinner, there are several local specialties to choose from (fish tacos, fajitas, churros), as well as your classic favorites such as steak, fresh fish, pastas and grilled lobster tails. Make sure to catch a look at the crocodiles in the lagoon below Ambar, where the chef regularly feeds them chicken so guests can really get an up-close look at these beautiful animals! Take a picture, but be careful you don't fall in!
As for drinks, you can't go wrong with a delicious margarita while in Mexico! However, if you aren't a tequila fan, the hotel offers an extensive list of wines, cocktails and top shelf spirits to choose from. And remember, one of the perks of this hotel is that it is all-inclusive, which means you can try different drinks and indulge a bit… With that in mind, if you are up for a fun post dinner environment, head over to the hotel's rooftop cigar bar and enjoy fine Cuban cigars, scotch and dessert drinks to keep the party going!
The extraordinary service quality truly makes this hotel a 5-star! The waiters are all attentive, thoughtful and speedy with their service. The entire staff is professional and friendly – anything you could want or possibly need, just ask and it will be taken care of for you! Make sure to pack some cash and be prepared to tip because they surely deserve it!
So has Ladyhattan convinced you that it's finally time to look into the Blue Diamond…and book your next warm weather getaway? Whether it's a honeymoon, group trip, anniversary or adult family trip, I don't think there is an all-inclusive option along the Riviera Maya that gets ANY better than this! In terms of accommodations, amenities, food and service, this hotel takes it to another level of luxury! If you have any questions related to my recent stay at the Blue Diamond, feel free to contact me and I will supply you with more details and booking tips – [email protected]… A big thank you to the Blue Bay group for accommodating this Manhattan lady – it was a true pleasure to meet the wonderful management, chefs, staff and servers that make your hotel so special! I look forward to returning soon! The next post coming from Ladyhattan will be a feature on all the various activities, excursions and sites you can visit within reasonable distance from this centrally located resort! Until the next sweet escape.