City sidewalks, busy sidewalks dressed in holiday style. In the air there's a feeling of Christmas. Children laughing, people passing, meeting smile after smile. And on every street corner you hear – silver bells. Yes, friends, we are in full swing of Christmas season here in my home of New York City with silver bells loudly ringing! The most wonderful time of the year, and indeed one of the most beautiful times to embrace the concrete jungle for its holiday magic.
With friends based locally, across America, and even abroad, I wanted to share with you all a resourceful guide to access festive hotspots around Manhattan. And yes, of course, help you capture the perfect insta-worthy moment that screams "Christmas in the City". Here are my TOP 10 favorite holiday festive hotspots in the city, with easy directions and personalized tips from yours truly. Whether you're a local New Yorker who had no clue about those giant red balls on Sixth Avenue, or a visitor excited to explore all 10 places below, I hope you enjoy and have a happy holiday with loved ones.
#1 – The Jingle Balls
Location: 1251 Sixth Avenue (at 50th Street)
Ladyattan Tip: Find the famous Magnolia Bakery just across the street for a tasty "magic bar" treat. Also close by is the Diamond District where you can find just that – sparkly diamonds. Cupcakes and diamonds, what more can a lady ask for?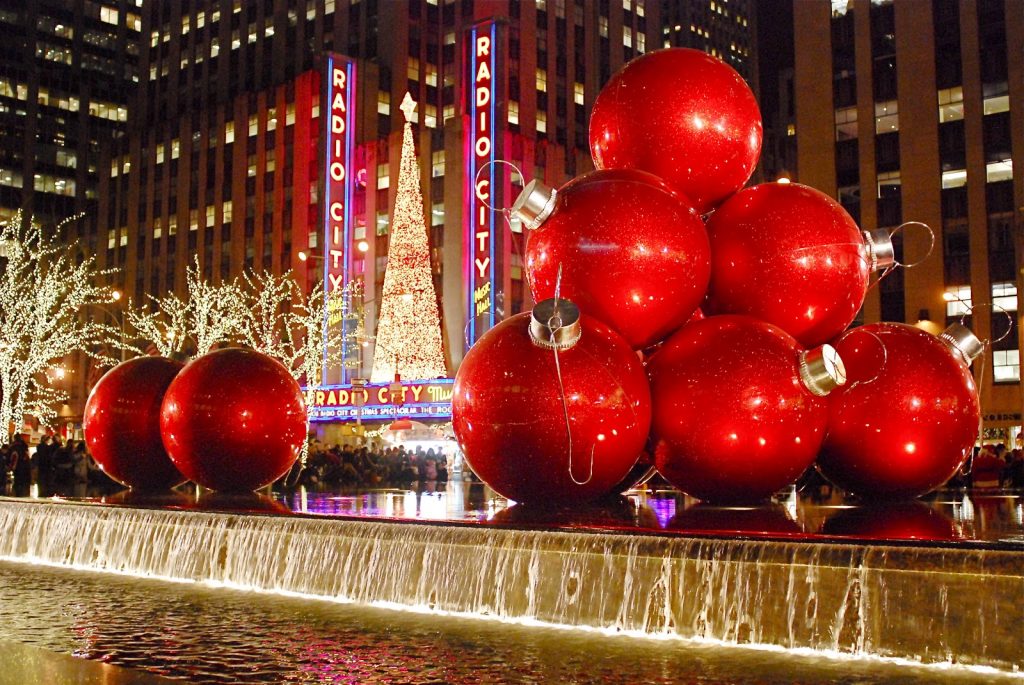 # 2 – Bryant Park's Winter Village
Location: 42nd Street between Fifth and Sixth Avenues
Ladyhattan Tip: Sip hot coco and find my friend's luxury tie boutique, Lazyjack Press for the best gift options out there – gorgeous ties, scarves, hats and more. If you are traveling with kids, there is a fantastic ice skating rink that is less crowded than the one at Rockefeller.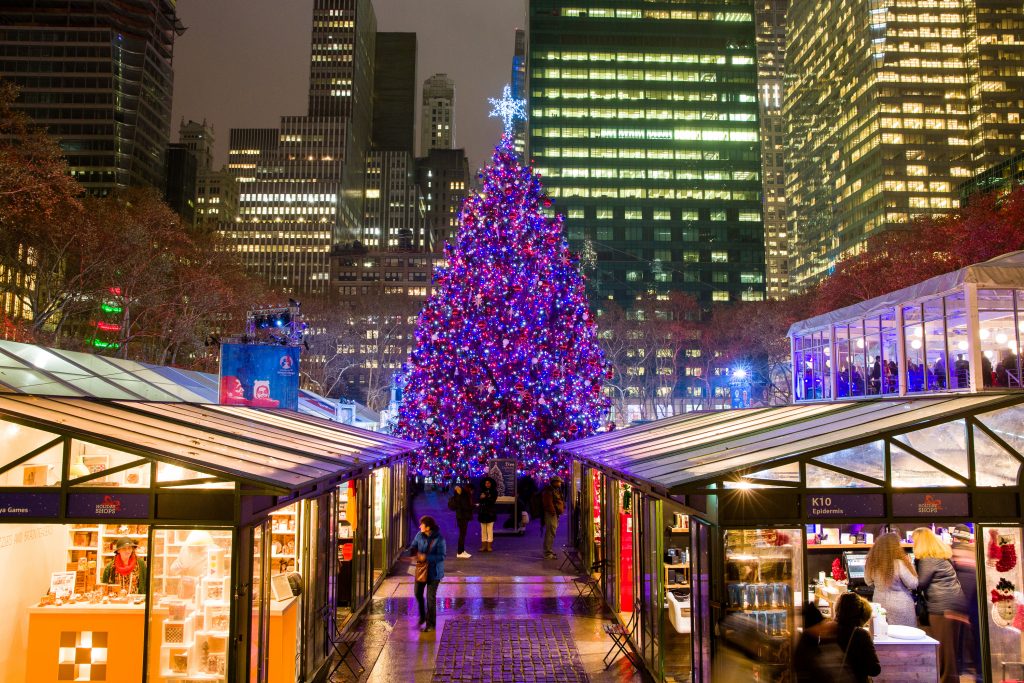 #3 – The Tree at Rockefeller Plaza
Location: 49th Street between Fifth and Sixth Avenues
Ladyhattan Tip: Beat the crowds and go early in the morning, or alternatively get the entire view for yourself by booking a meal at the Rainbow Room. Offering an expensive but stellar brunch service, this is the perfect restaurant choice for views of the tree and all of Rockefeller Plaza.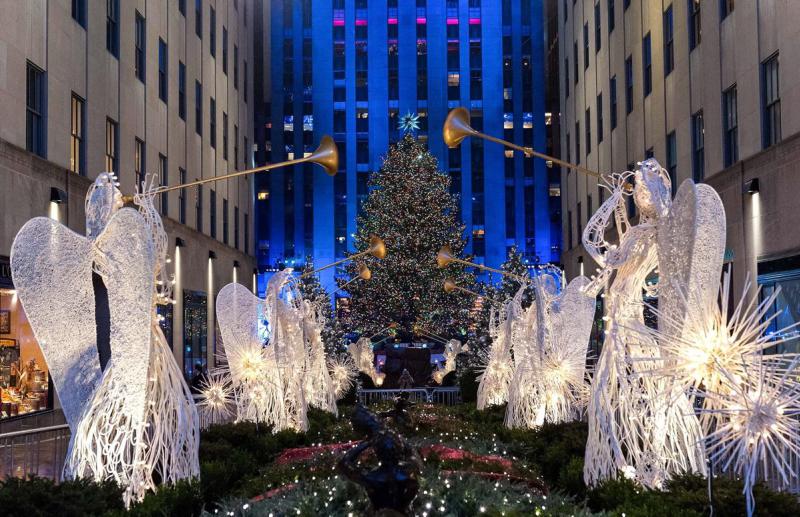 #4 – The Courtyard at the Palace Hotel
Location: 455 Madison Avenue (at 50th Street)
Ladyhattan Tip: There are tables in the courtyard, and if not too cold, bring a coffee/pastry and enjoy a casual breakfast outside. While you linger, wait for the perfect moment when no one is in the background for the picture-perfect moment. If you get lost, just remember that this tree is located directly behind St. Patrick's Cathedral.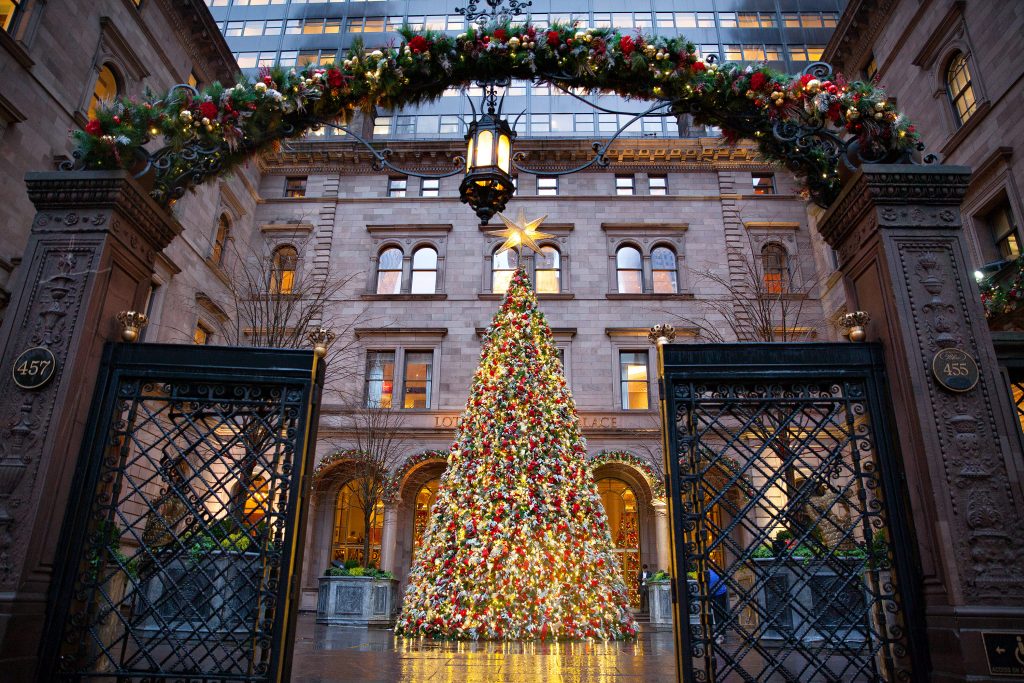 #5 – Rolf's Bar
Location: 281 Third Avenue (at East 23rd Street)
Ladyhattan Tip: Must make reservations ahead of time for dinner and must try the hearty German specialties. Alternatively, skip the reservation and meal by just squeezing into a space at the bar for a quick drink. It will be tight, but totally worth it when you dazzle at all those shiny ornaments they somehow hang from the ceiling.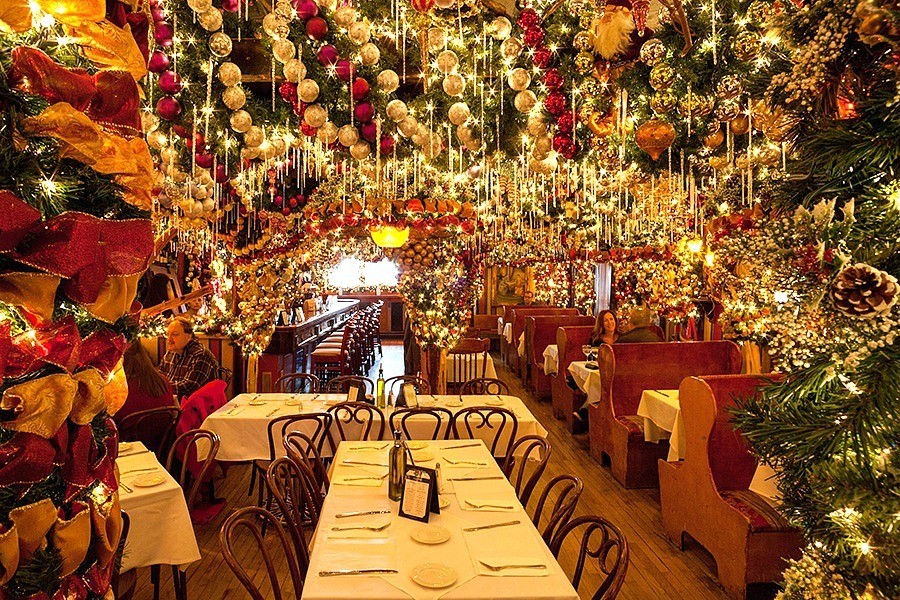 #6 – Wollman Rink in Central Park
Location: Enter at Central Park South (59th Street) and Sixth Avenue
Ladyhattan Tip: Plan ahead and book VIP tickets for the morning skate/breakfast buffet. Tickets are less than $50 and include private access to the rink (no lines), skates and a delicious morning breakfast for you and your loved ones.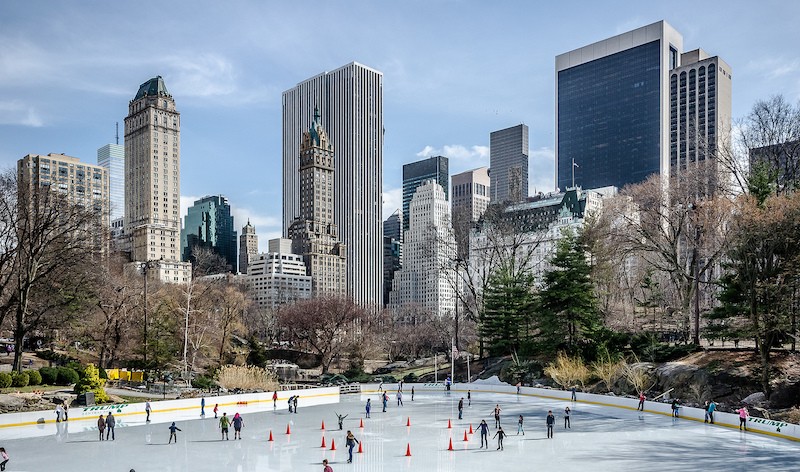 #7 – Townhomes in West Village
Location: West 4th Street or Christopher Street
Ladyhattan Tip: Get lost in the West Village for a morning or afternoon stroll that leads you to one of the coziest restaurants in town for a meal. With so many options to choose, you can't go wrong with Jack's Wife Freda, Brindle Room, or a classic burger at Corner Bistro.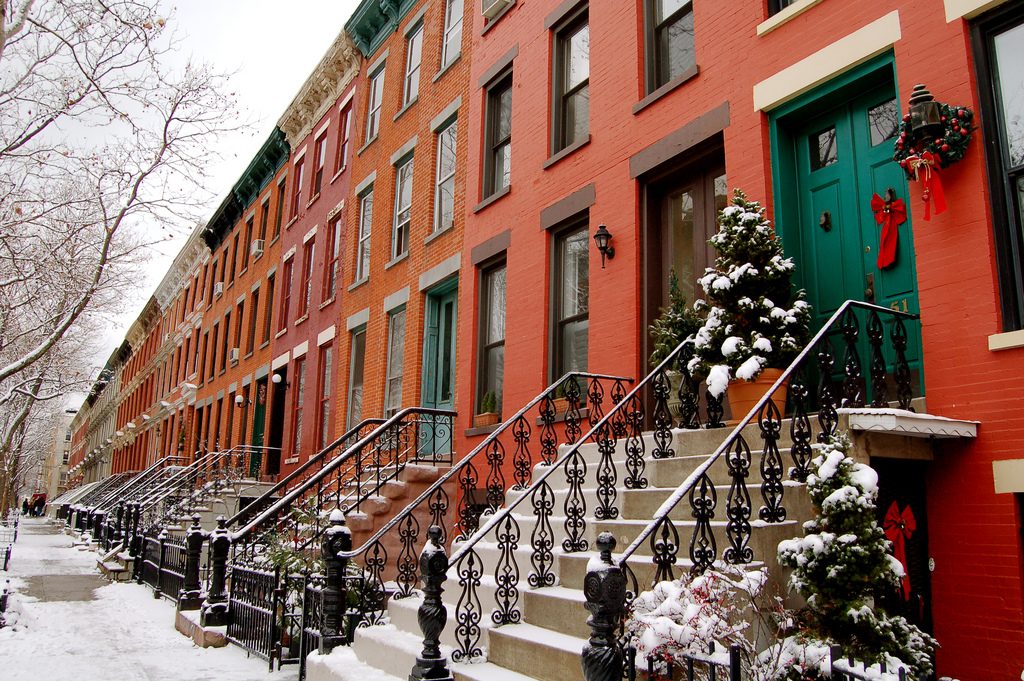 #8 – The Designer Shops on Fifth Avenue
Location: Find Cartier at 52nd Street
Ladyhattan Tip: Make your way up from Tiffany's all the way to Rock Center for an easy and enjoyable 6 block walk past the most gorgeous high-fashion shops in the world. On the corner of 53rd and 5th, find the cathedral I was married in for a quiet and peaceful break during the busiest time of year, if you get lucky, the world renown choir might be practicing Christmas carols inside – and it is just pure magic.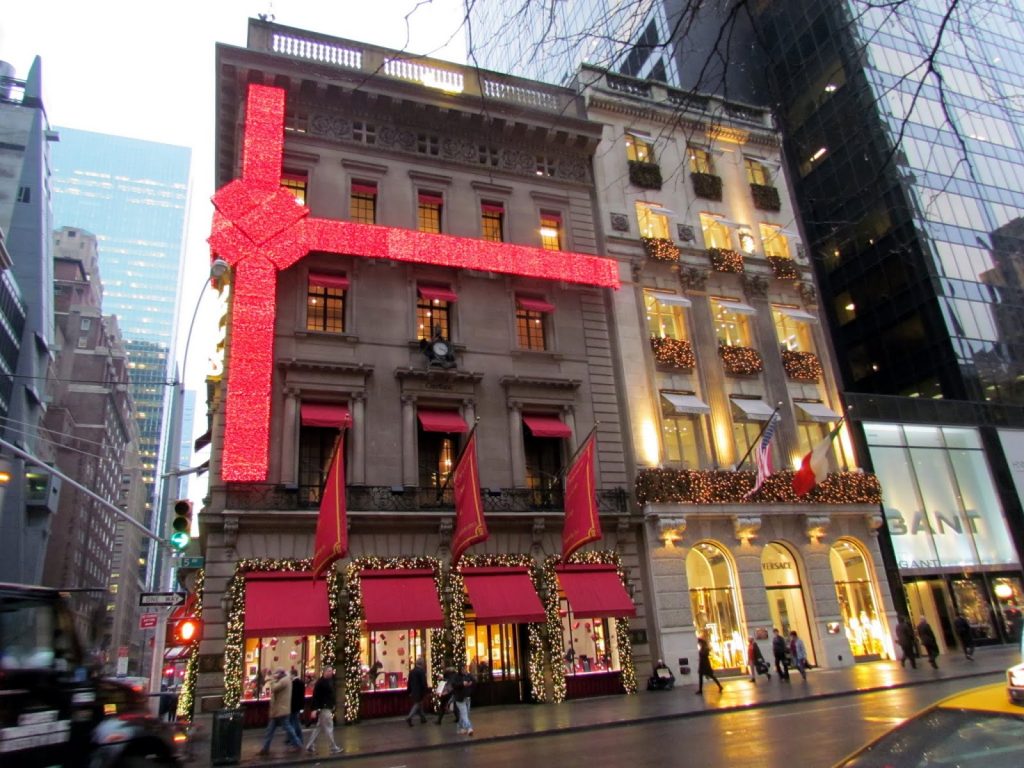 #9 – Grand Central Terminal
Location: 42nd Street and Lexington Avenue
Ladyhattan Tip: There is a holiday market full of shops and fun places to eat in the main level of Grand Central, with cheaper/more casual food options in the basement of Grand Central (i.e., Shake Shack). To truly embrace a moment in time at this busy terminal, have an afternoon Martini at Michael Jordan's Steakhouse where you pay for (and enjoy) a balcony view of the busiest place in New York City.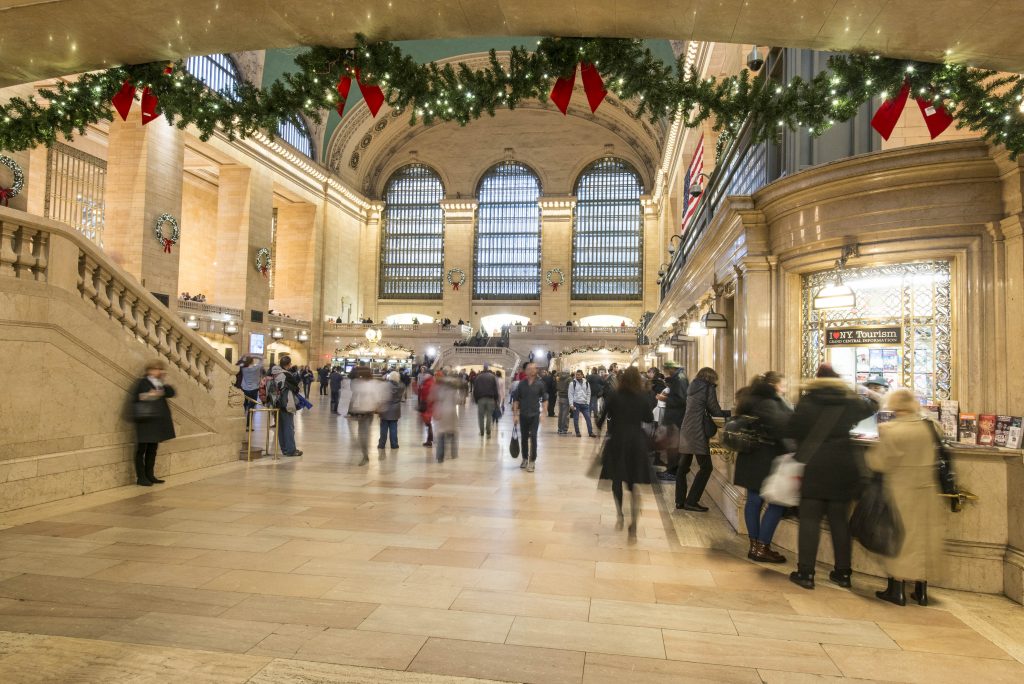 #10 – The Shops at Columbus Circle
Location: 59th Street and Eighth Avenue
Ladyhattan Tip: Tons of great shops located in this "mall" at Columbus Circle to accomplish your errands. Just outside the mall you can find hot waffles/coco and a true Christmas Market set-up near the entrance to Central Park. There is much to do at this holiday hotspot, including getting a full free make-over at the Sephora on the second floor if you buy $50 worth of products (which is easy if you are buying gifts). Treat yourself for a glam look you can show-off while exploring the city!