We all know that this lady lives for luxury. When I think of a cruise, the first word that comes to mind isn't necessarily "luxury," but rather "nightmare". For years I have joked with friends that I would rather be floating on a raft with a deadly animal at sea for days (Life of Pi) than spend just one night on all-inclusive cruise ship… The thought of being surrounded by foul buffets, overweight tourists, norovirus and disco dance parties with strangers gives me anxiety. In all of my world travels, I never considered stepping foot on a cruise ship. All that changed this weekend with Celebrity Cruises.  Here is why.
I was recently invited by Celebrity Cruises for an Unexpected Summer Event. I had no idea what to expect, but the fact that the boat would be docked gave me peace of mind. I went into the event with a bit of a snobbish "I'm not a Cruise Kind-of-Girl" attitude.
Oh boy did the tides turn for Ladyhattan.
Checkout this insider feature sharing glimpses of my day aboard the Celebrity Summit where I discovered the distinctive luxury and quality offered by this particular cruise company – an experience that completely changed my cruise attitude and has me eager to set sail as soon as possible.
Exploring Celebrity Summit
Various bloggers, writers and lifestyle curators from around New York City were selectively invited aboard the Celebrity Summit for what was called an Unexpected Summer Event. We made our way to the upper deck where specialty Veuve Clicquot Rich refreshments were being generously served to the backdrop of my favorite site in the world – a picturesque skyline of my very own hometown – Manhattan.
Mixing and mingling to these jaw dropping views and savory sips, we listened to presentations by some of the top guns for the Celebrity Cruise line. One presenter in particular really knocked my socks off. The first American female ship captain, Captain Kate McCue herself, spoke to the attendants and could not have been more impressive and beautiful. Talk about some lady inspiration. This woman has defeated all the odds in a male-dominated industry to make it to the top as a leader of one of the world's most coveted ships – the Celebrity Summit. You go girl.
From there we were escorted down to the dining area where things just kept getting better. Smoked Bloody Mary's and Celebrity Mimosas (recipe below) greeted us at the entrance. Long formal dining tables were set with tall royal chairs. And wait for it…. An expansive spread prepared by Michelin-Star Chef, Cornellis Gallagher, was carefully crafted for our tasting pleasure: freshly shucked oysters, sushi and dim sum, roasted pig served over polenta and basil pesto, lemon ricotta pancakes, eggs benedict, a breakfast lasagna, on top of endless gourmet cheeses, specialty meats, and of course some sweet treats. It was delicious. All of it.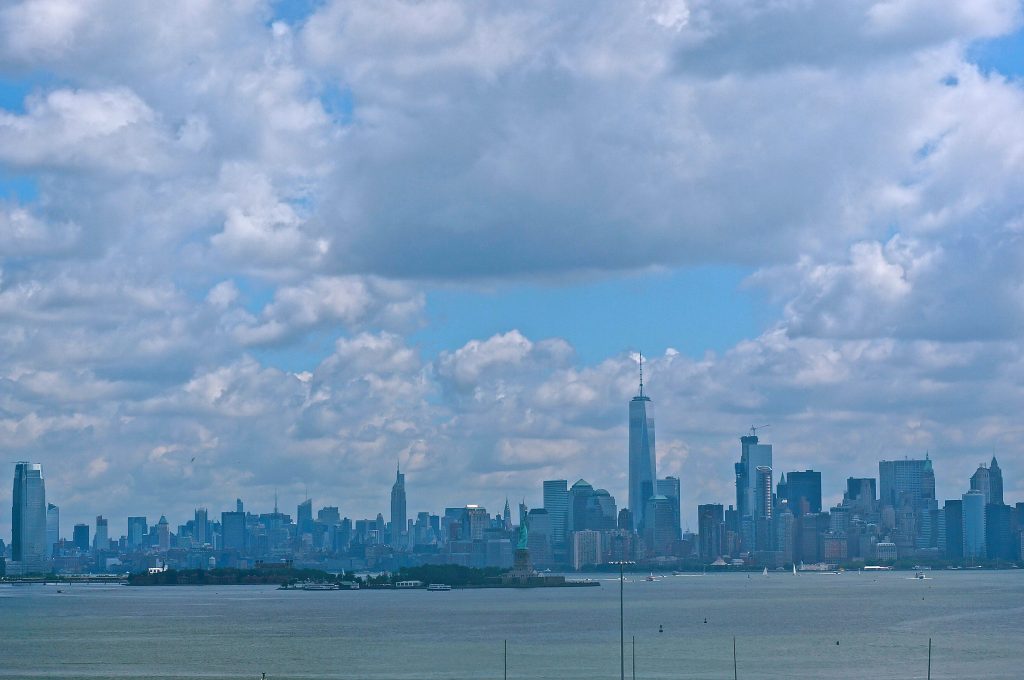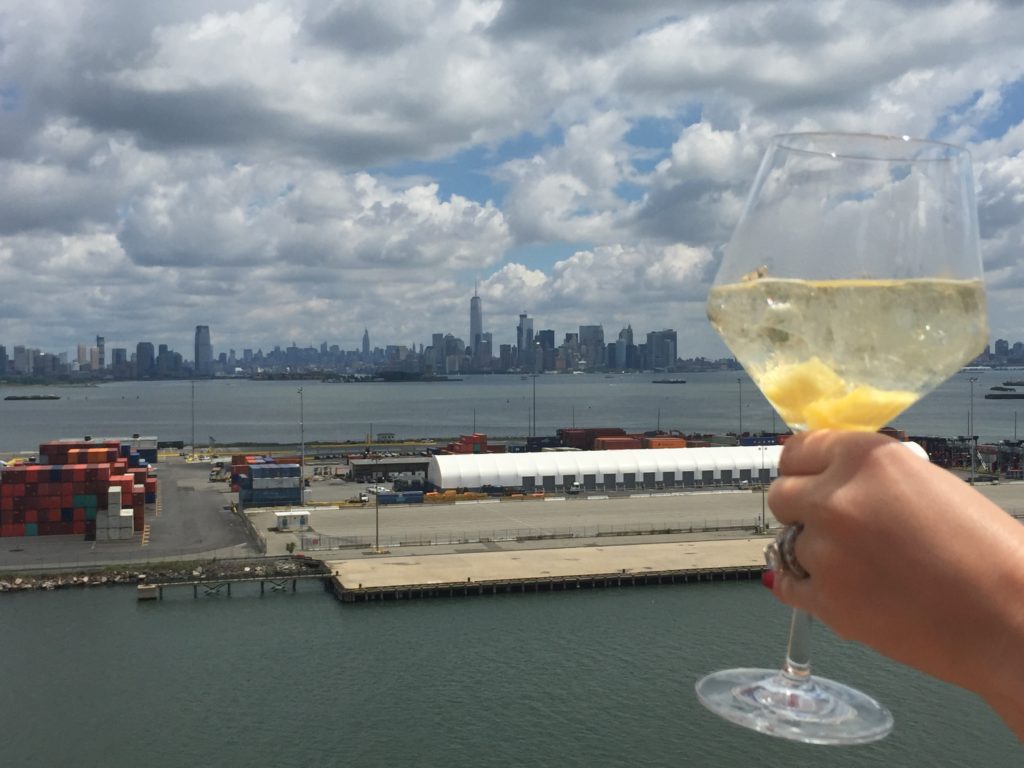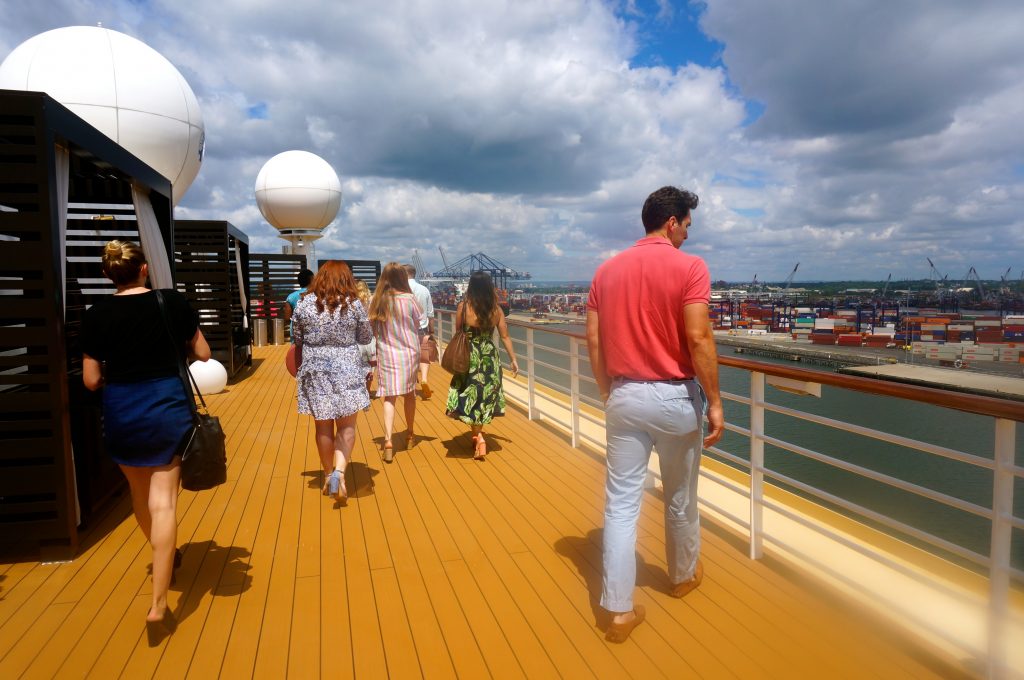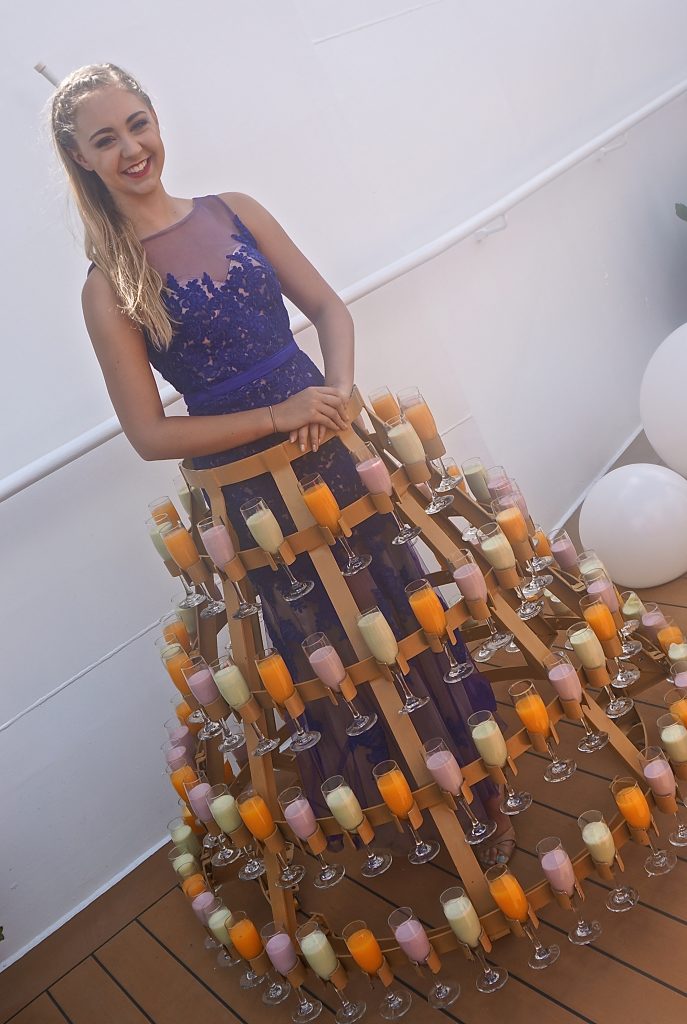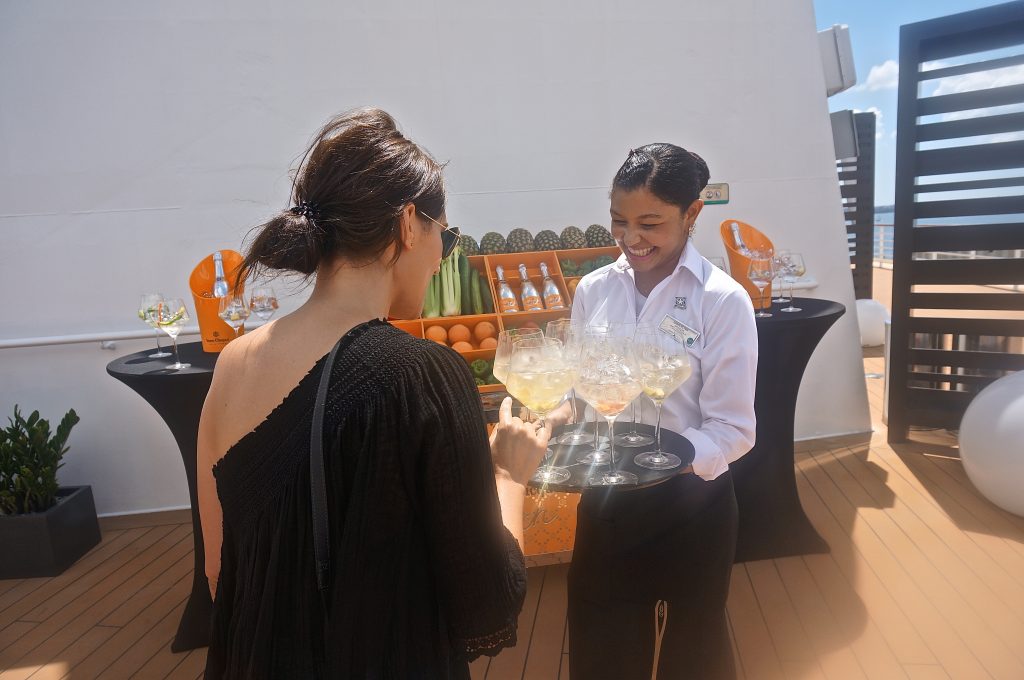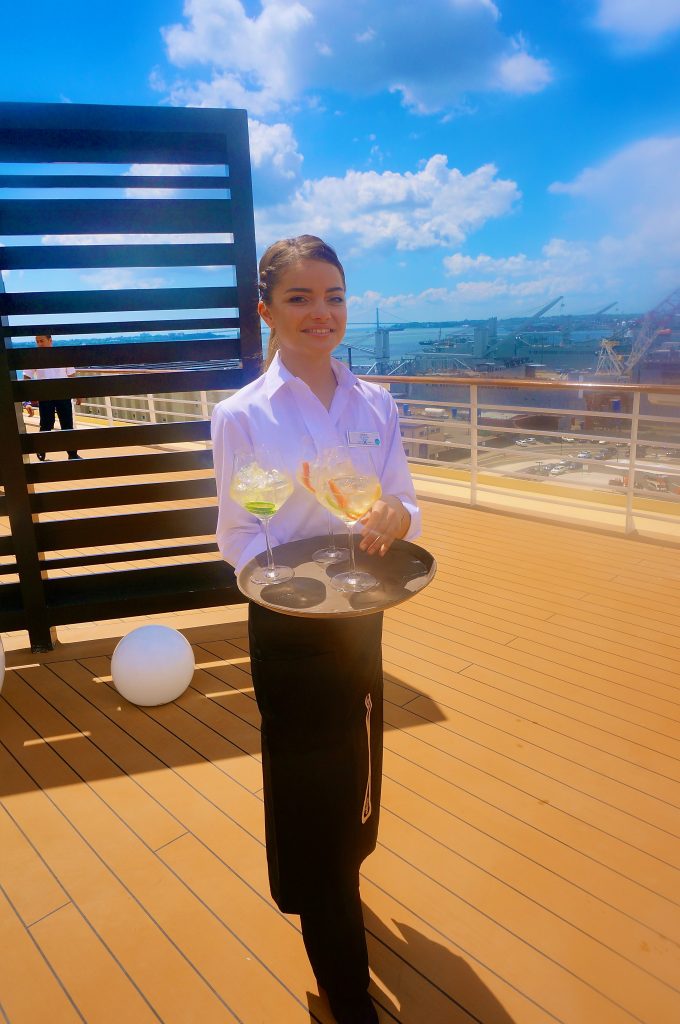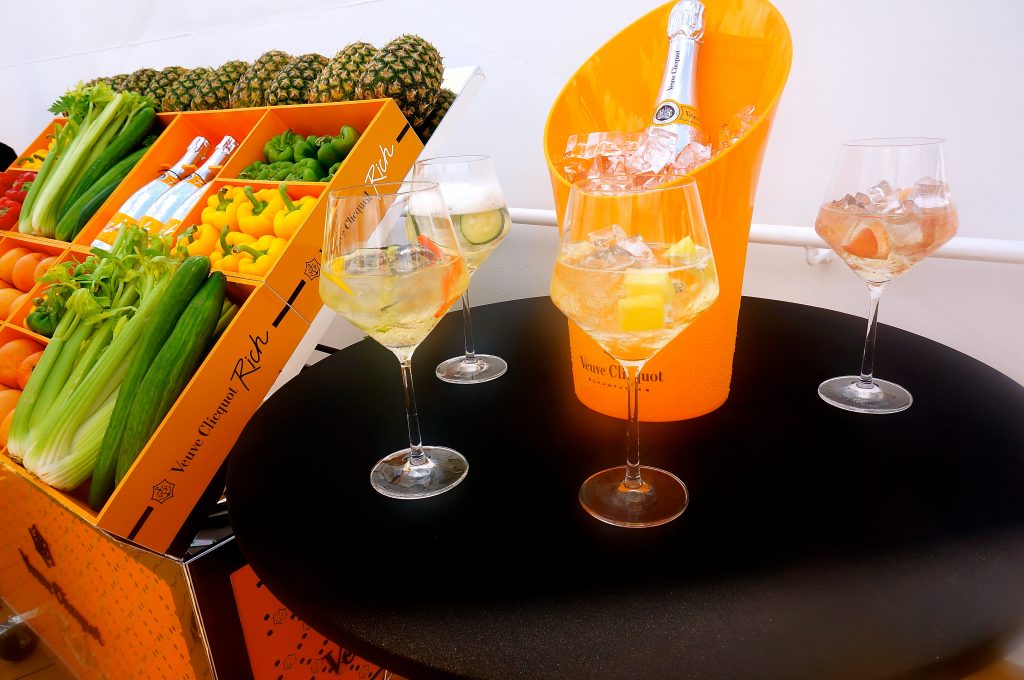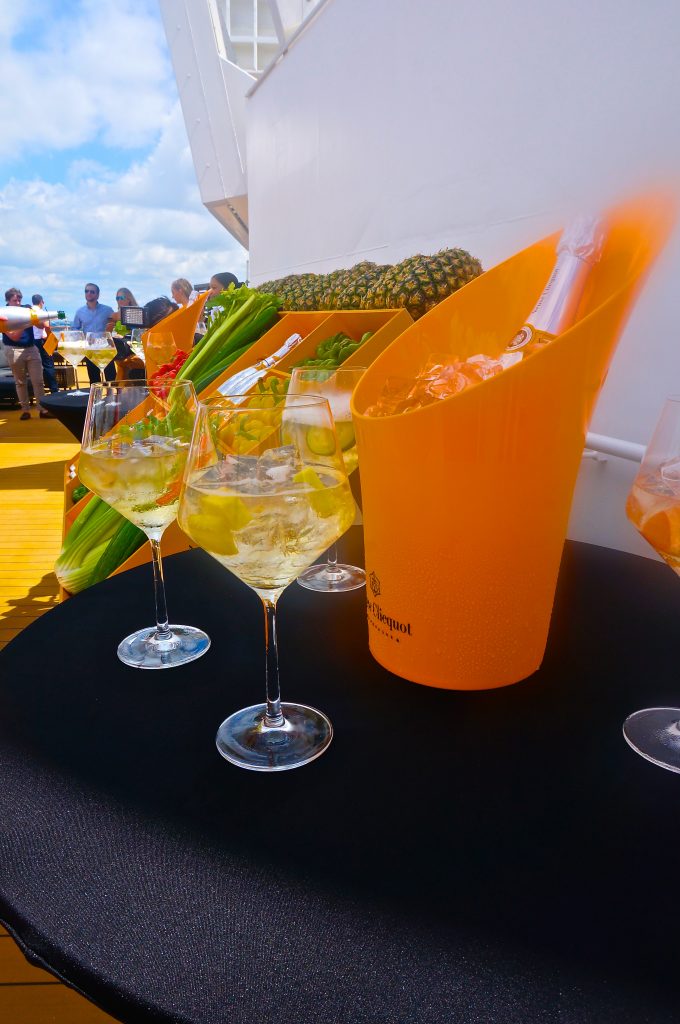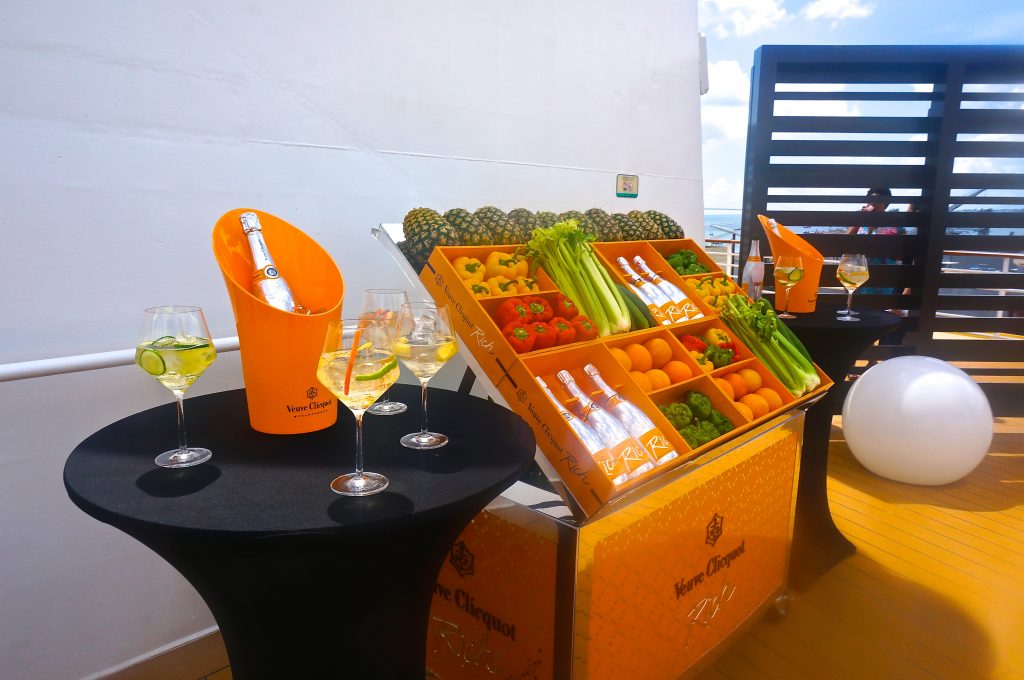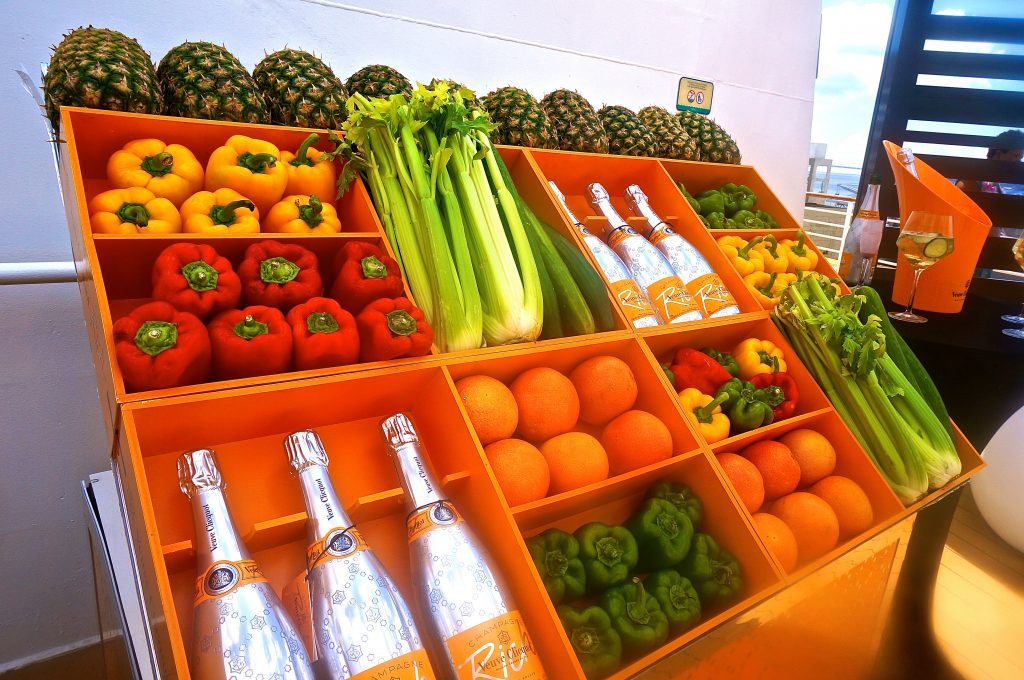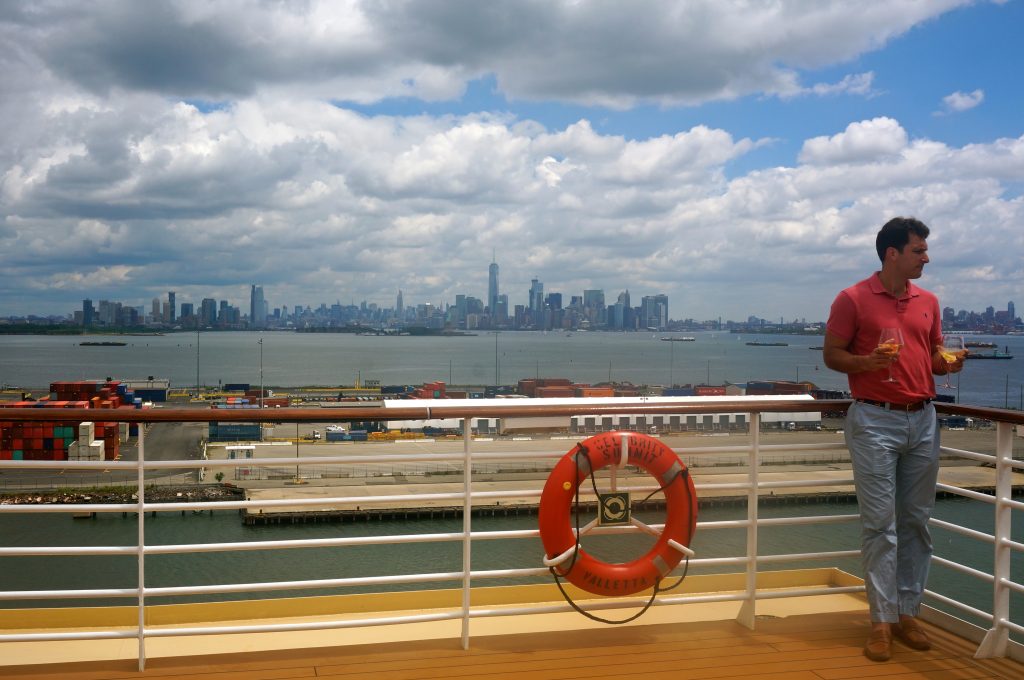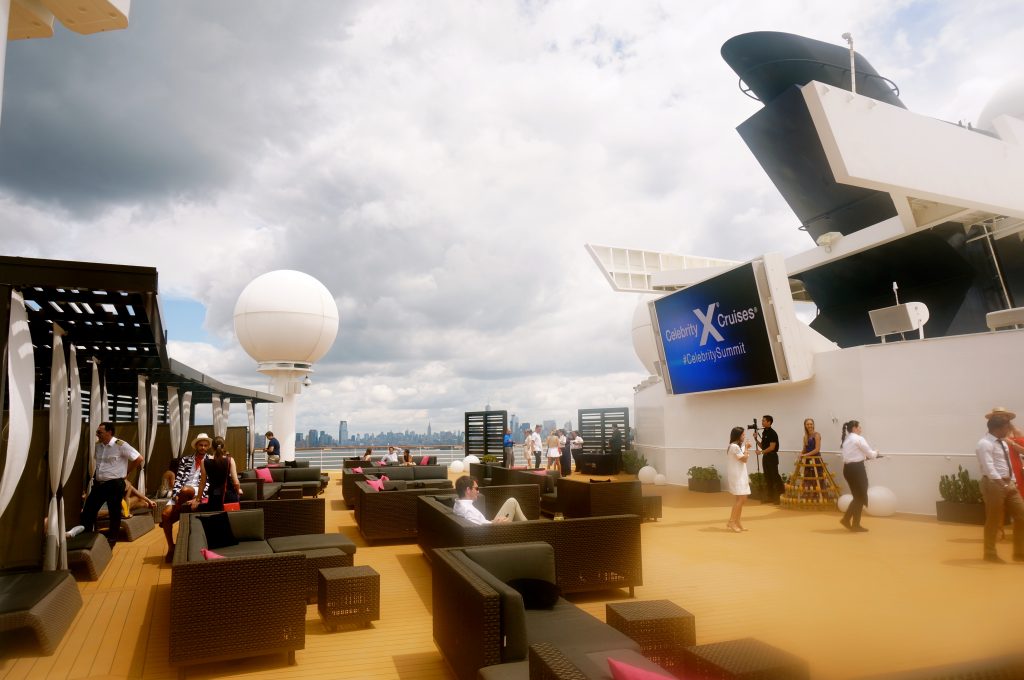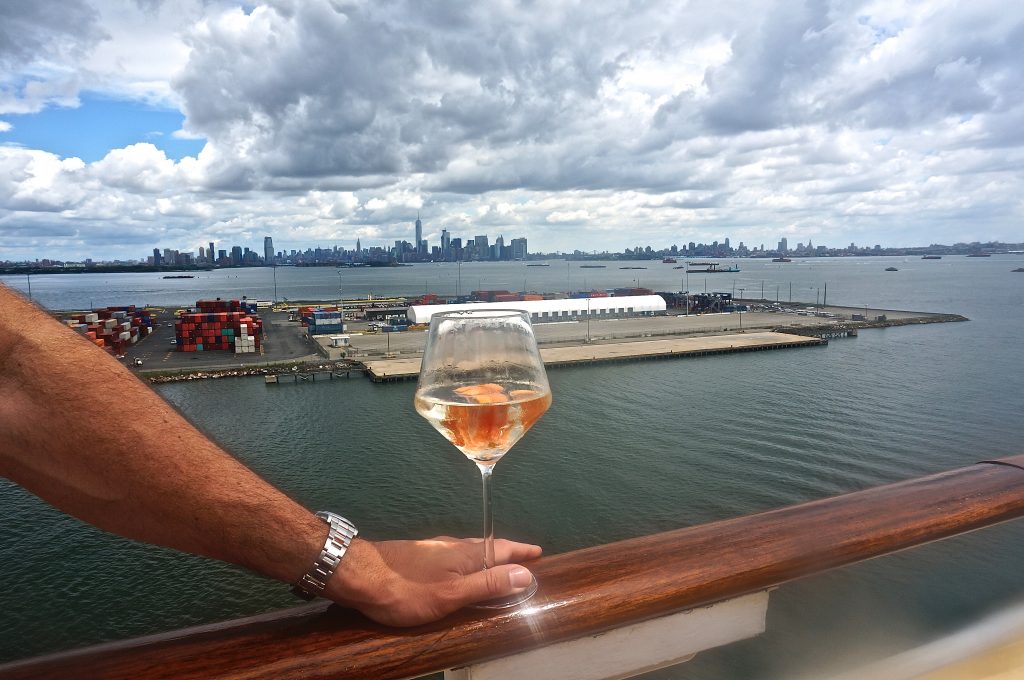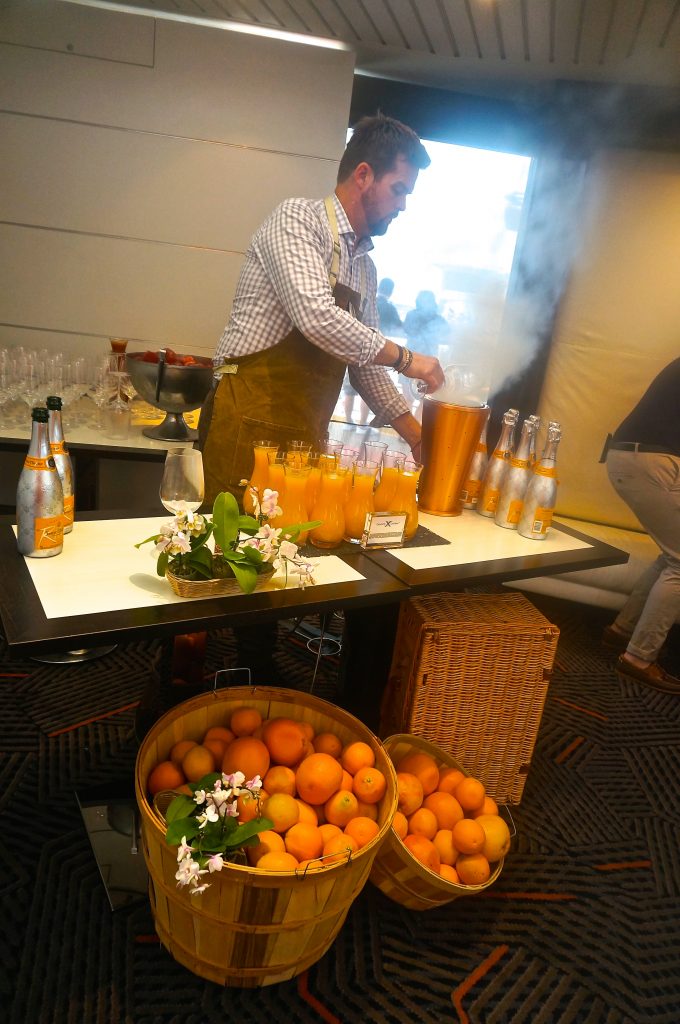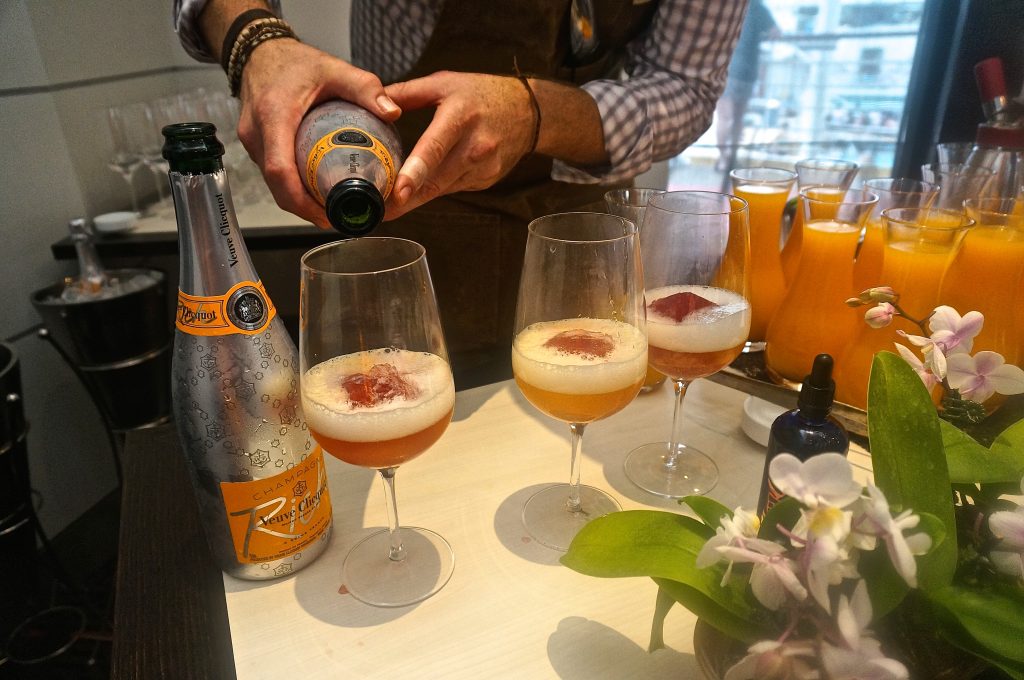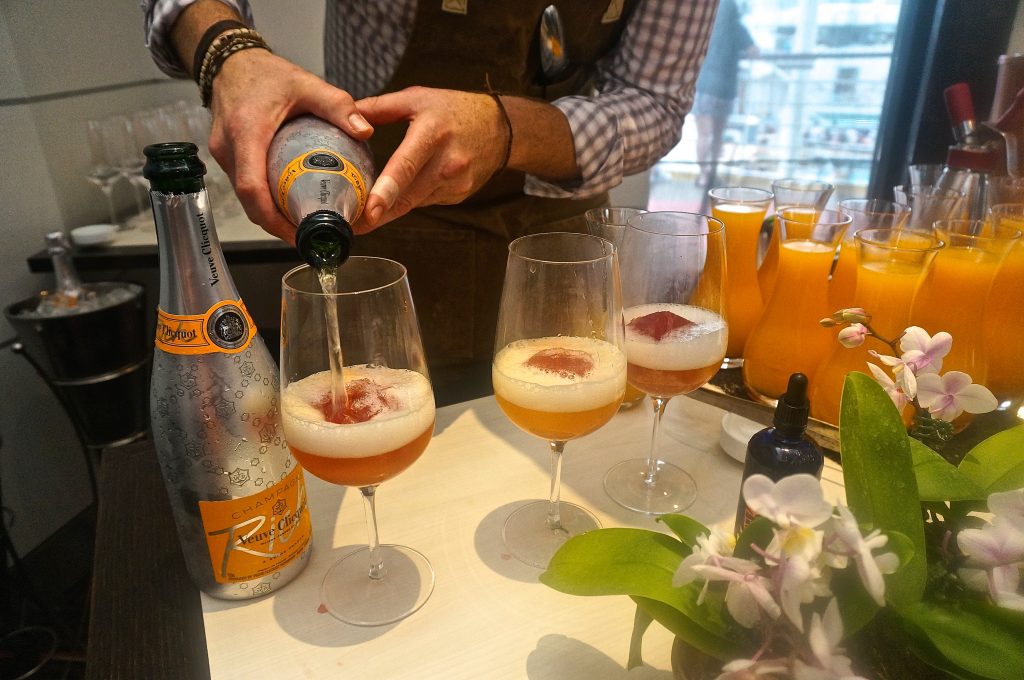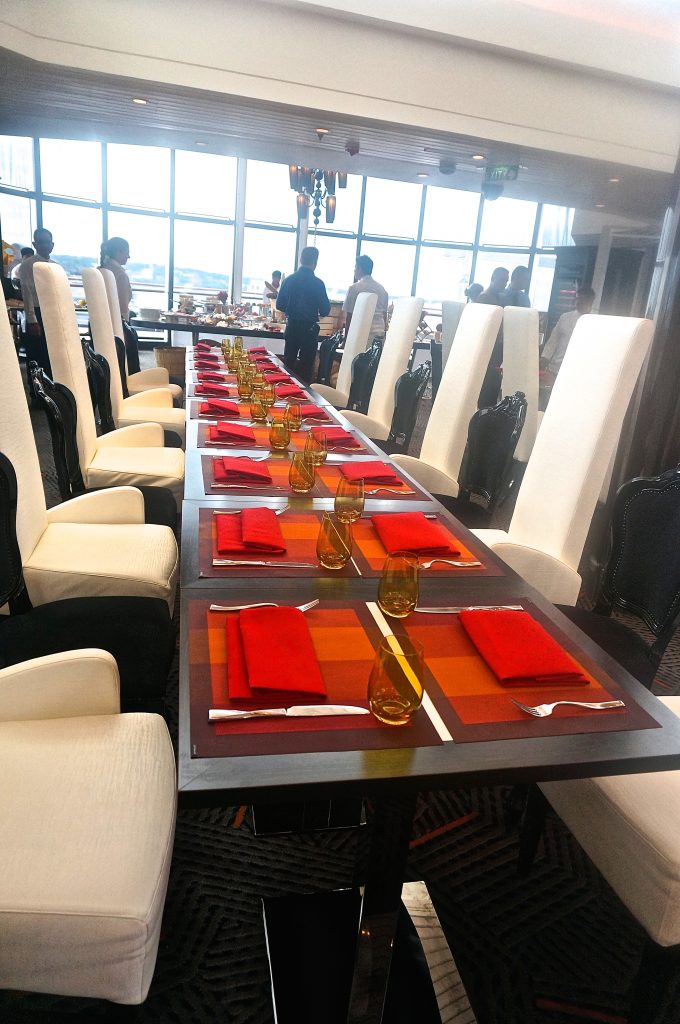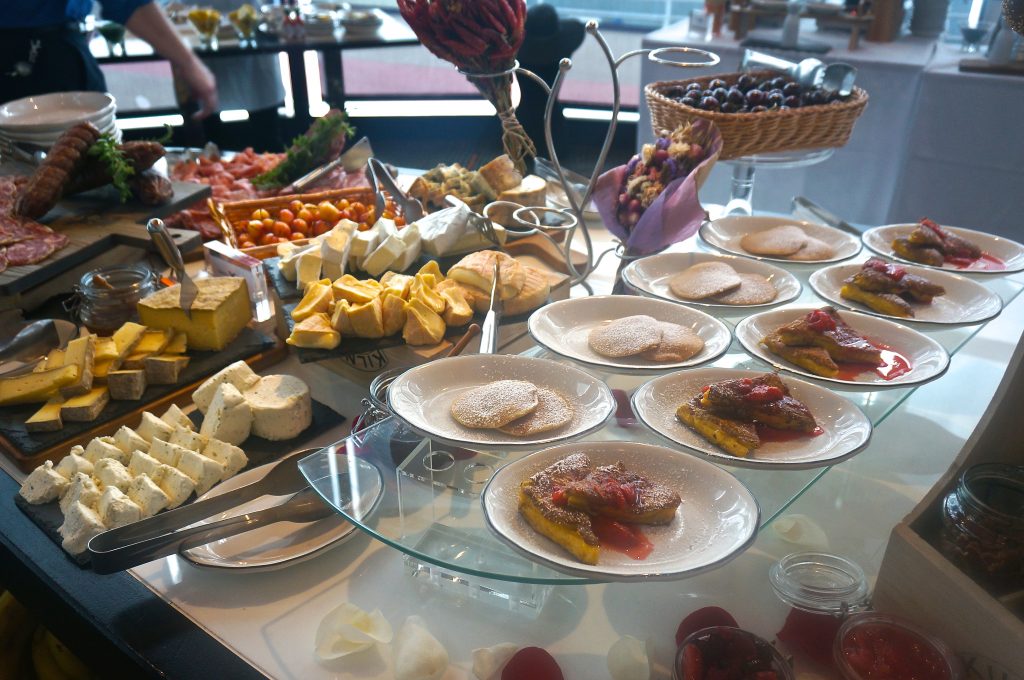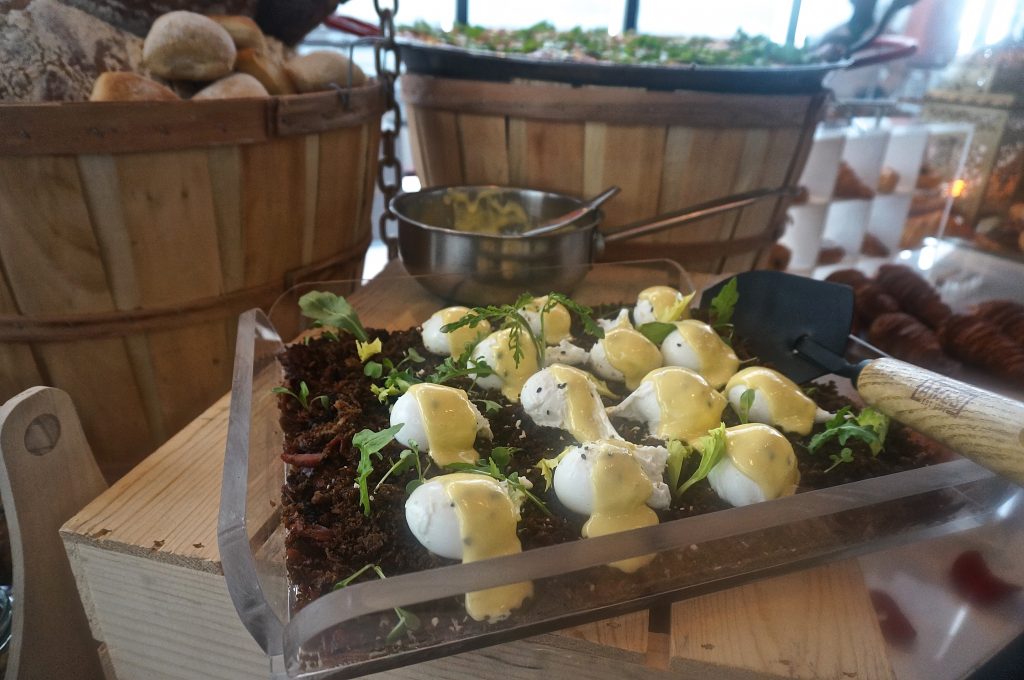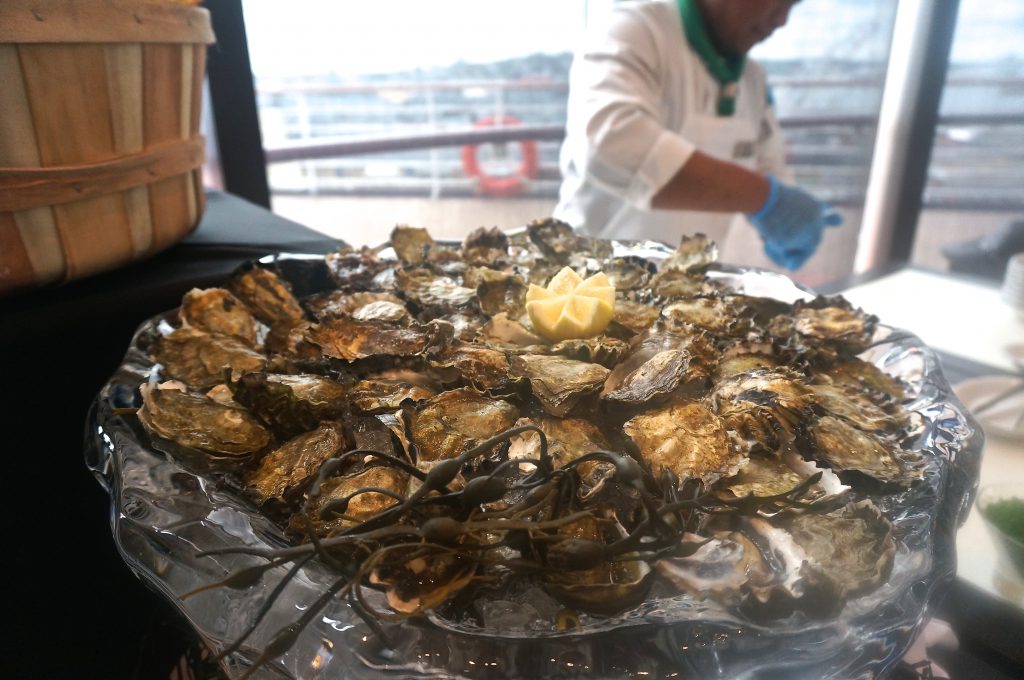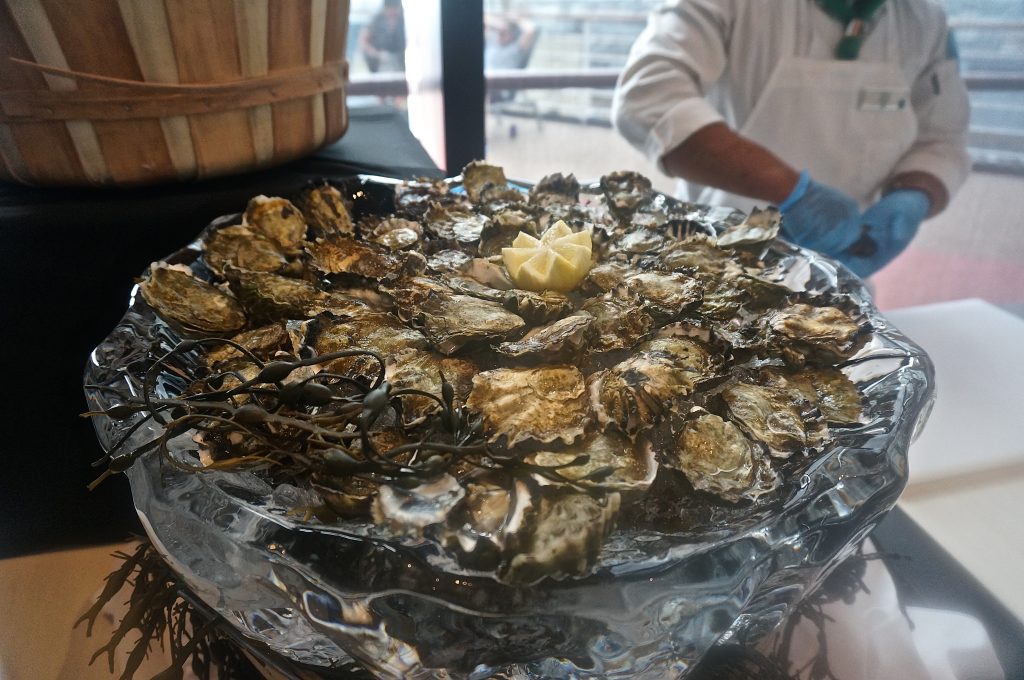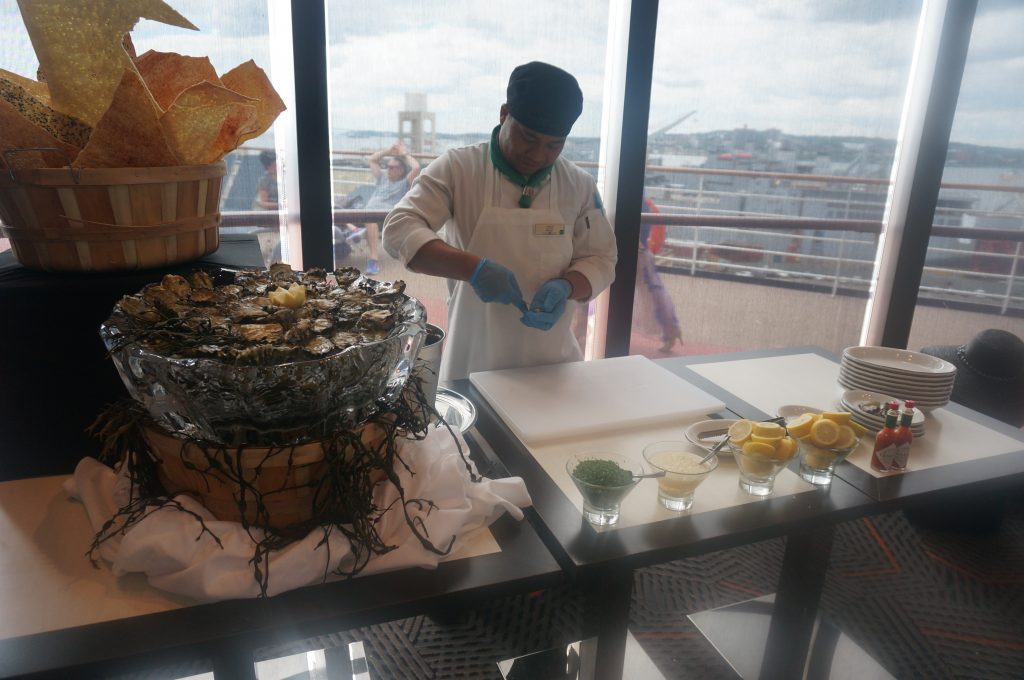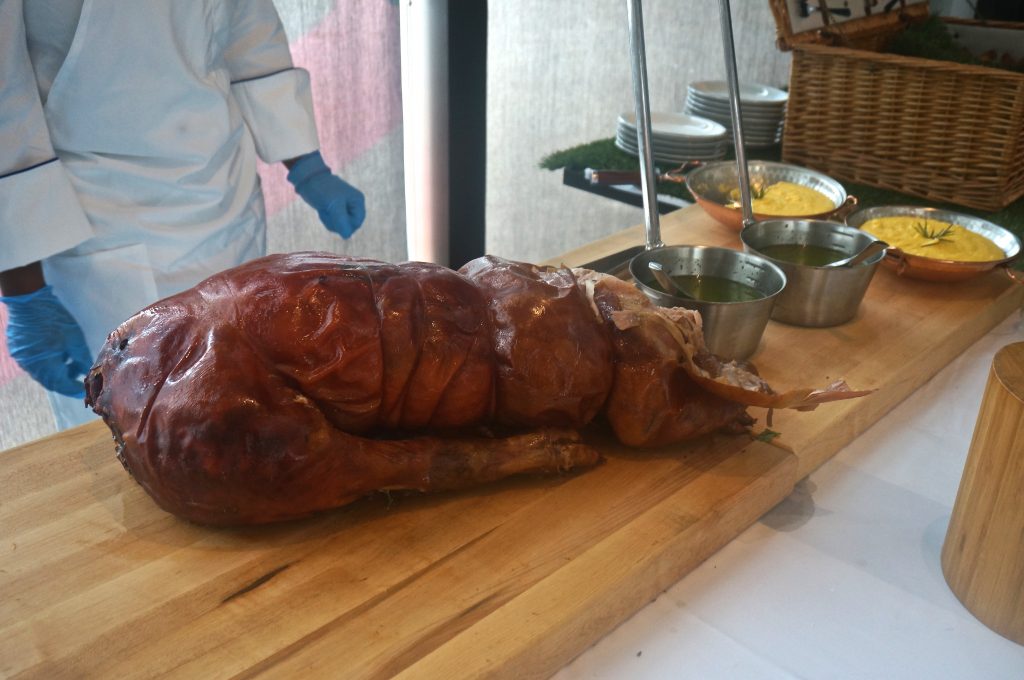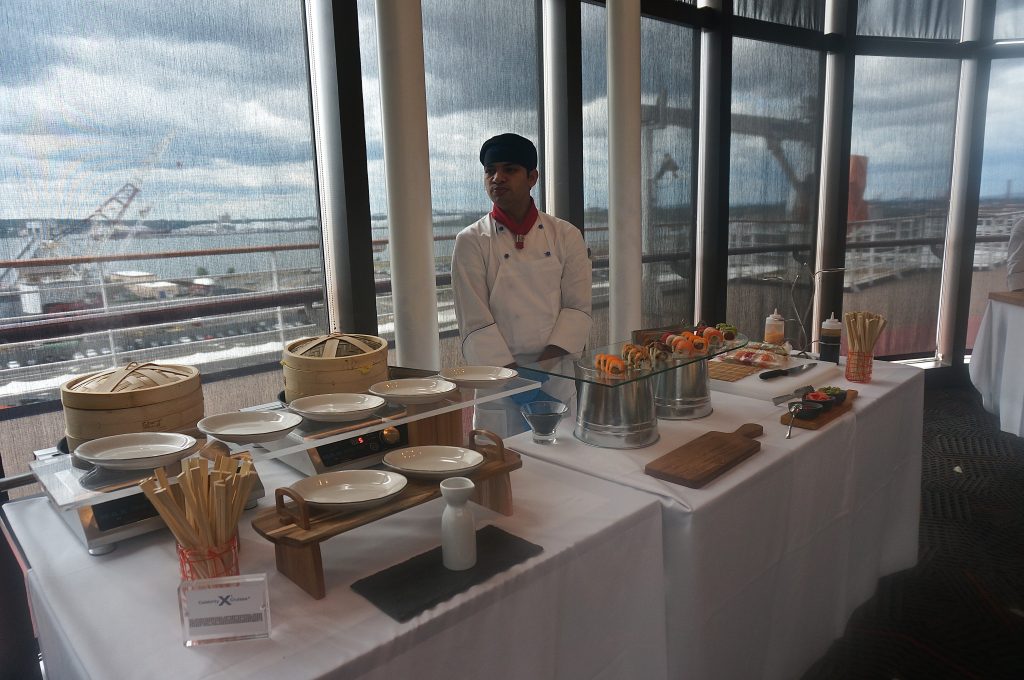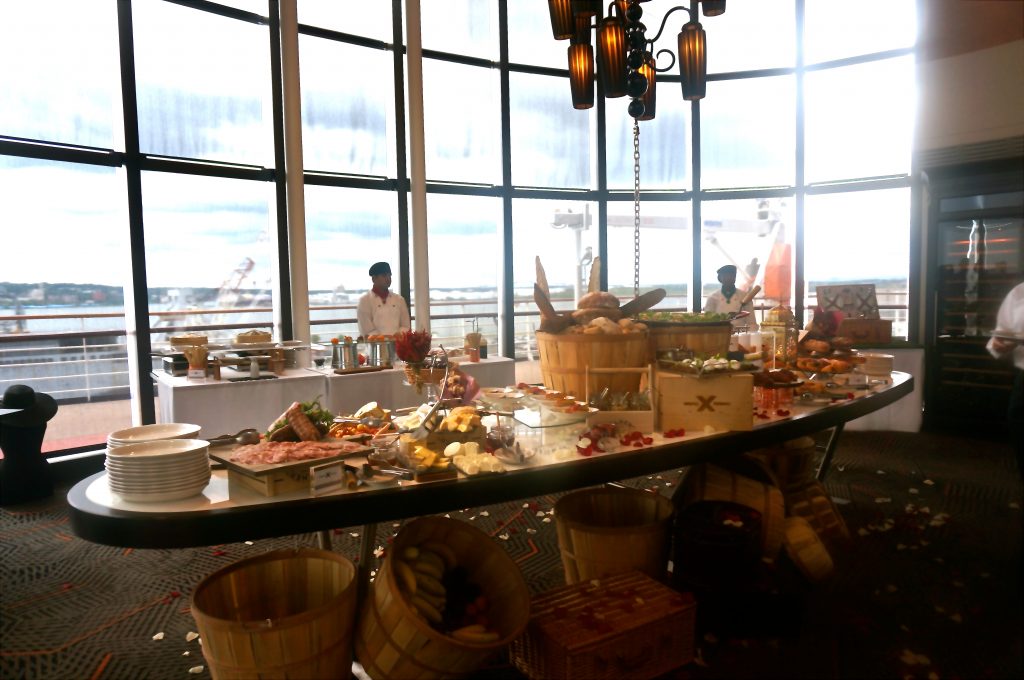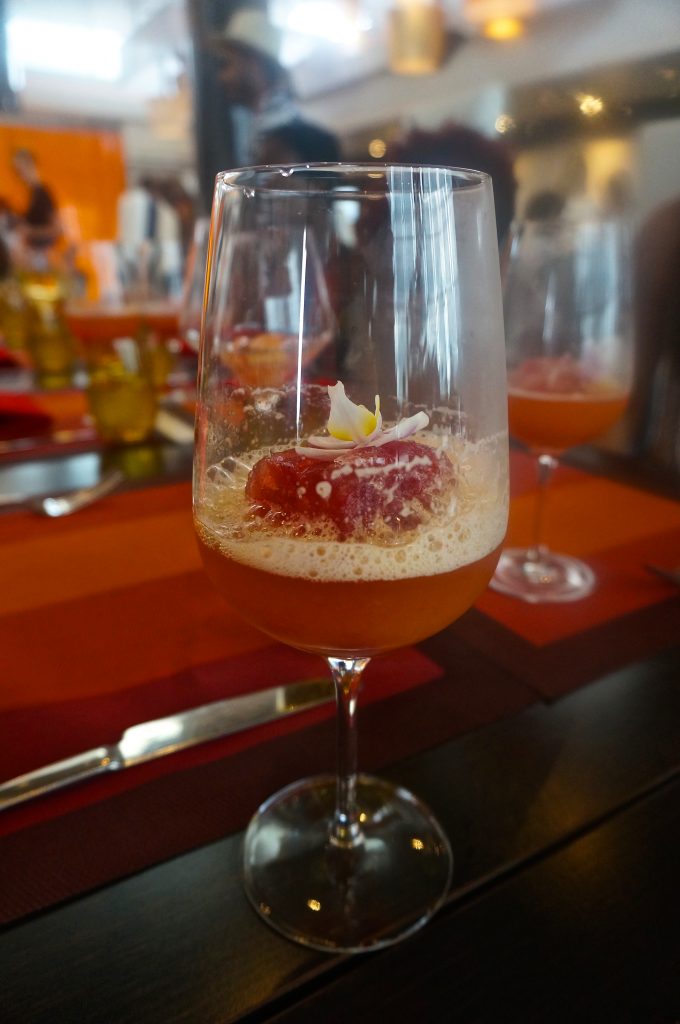 The Celebrity Mimosa
1.5 oz Fresh Squeezed Orange Juice
4 oz Veuve Clicquot Rich
3 Drops Elemakule Tiki Bitters
Large ice cube made out of red blood orange and ice tea infusion
Garnish with flower
Blend Your Own Wine
Just when I thought the event was over, and slyly whispered to my husband that he needed to carry me home in my food coma, the day continued to get better. We were whisked downstairs to a gorgeous space set-up for the surprise activity: mixing our very own blends of wine with Blendtique – Custom Crafted Wines.
My husband and I shared our own table, complete with bottles of Grenahce, Syrah, Cabernet Sauvignon and Merlot. Fully equipped with "chemistry tools" (measuring cups and sticks), we were challenged to carefully blend our very own brand of wine. The Captains of the Ship acted as the judges in this fiercely competitive challenge, where tables of bloggers mixed their ideal tasting combination of wine. Although we were not the official winners, we were still rewarded with a prize: the personalized blended wine that we created in this session would be produced in a formal wine bottle and mailed to our home.
Suddenly out of the corner of my eye I noticed the servers delivering hot dessert beverages around the room. Shrieks of laughter and astonishment caught fire as the bloggers in attendance looked down into their coffee cups. What could all the commotion be for? My drink was served before me and I looked down to find my oh-so-serious headshot perfectly printed upon a foamy cappuccino. Bursting into laughter, I can officially say that I have never had a beverage look so much like me! Only partnering with the best, Celebrity Cruises works with Coffee Ripples to surprise their guests with custom beverages. Read more below for my cruising conclusions.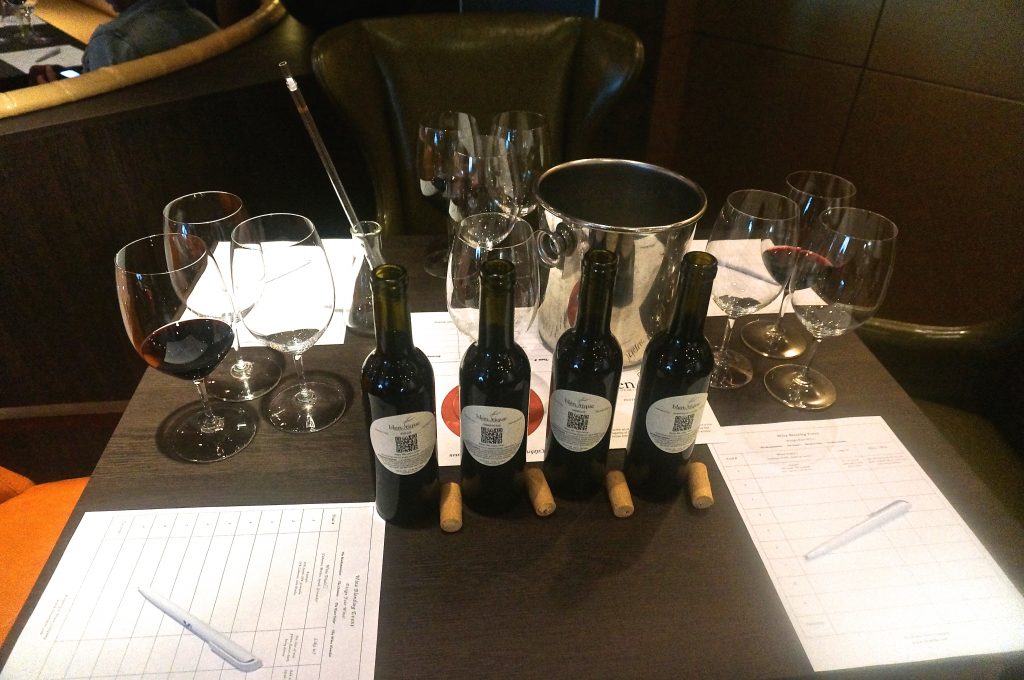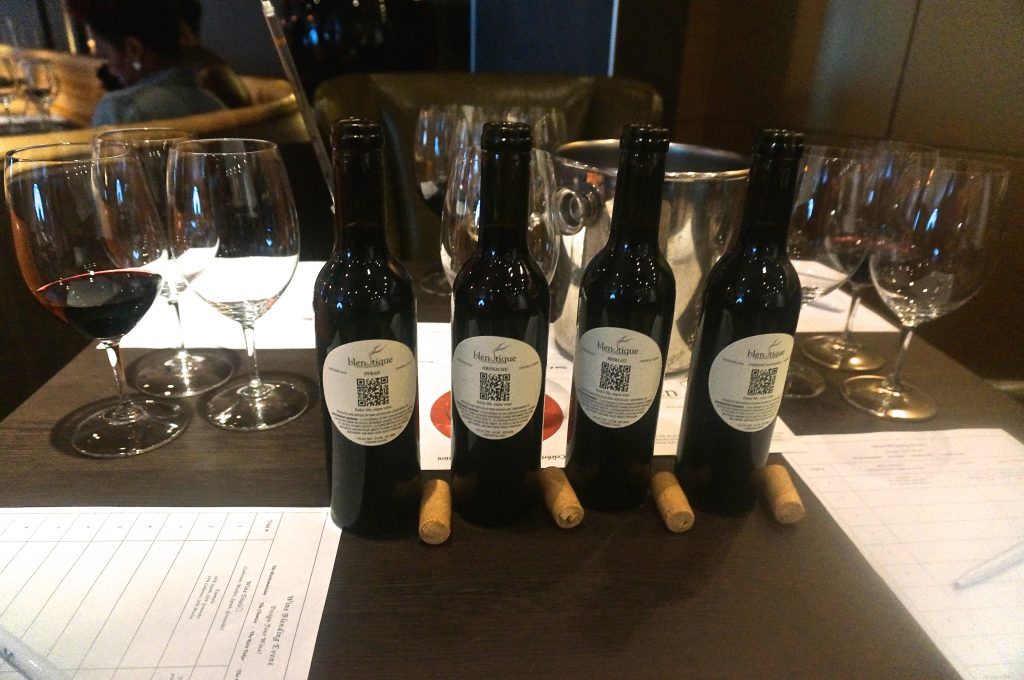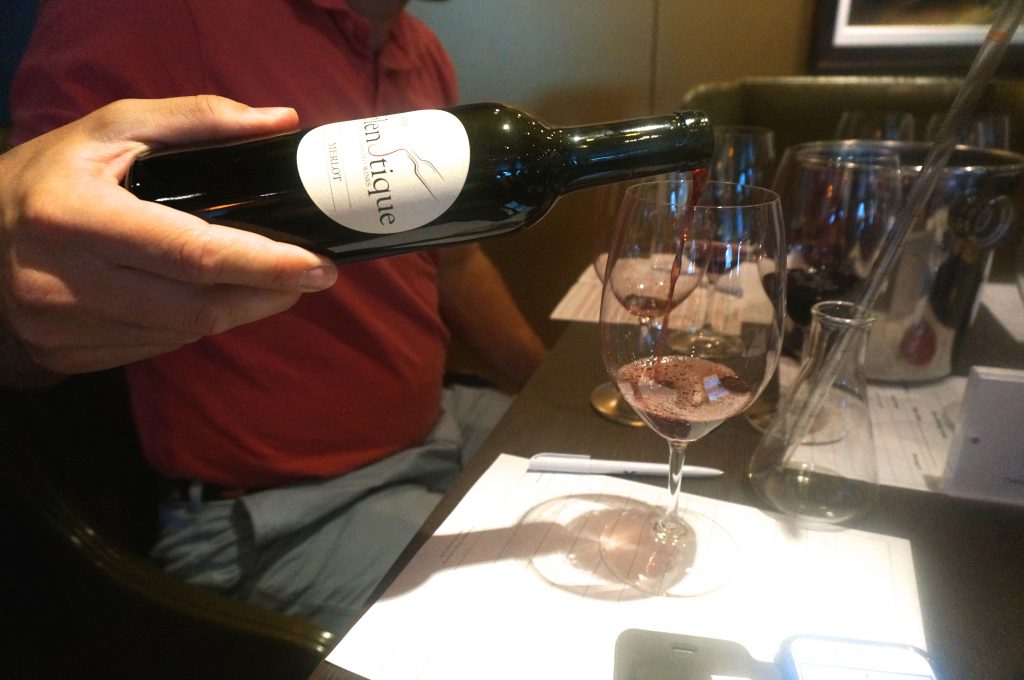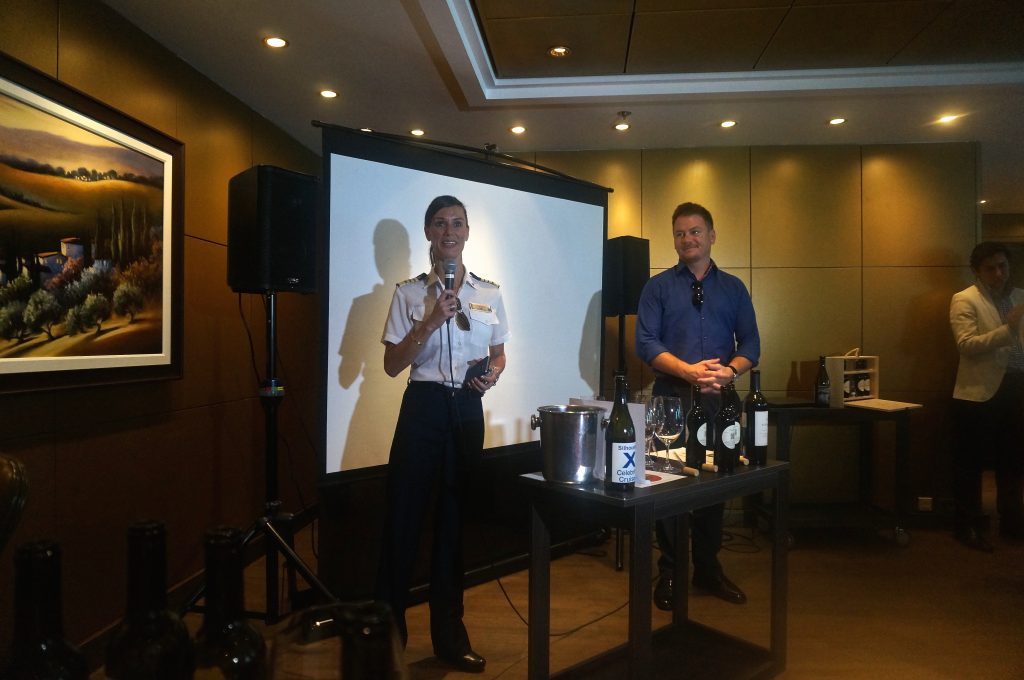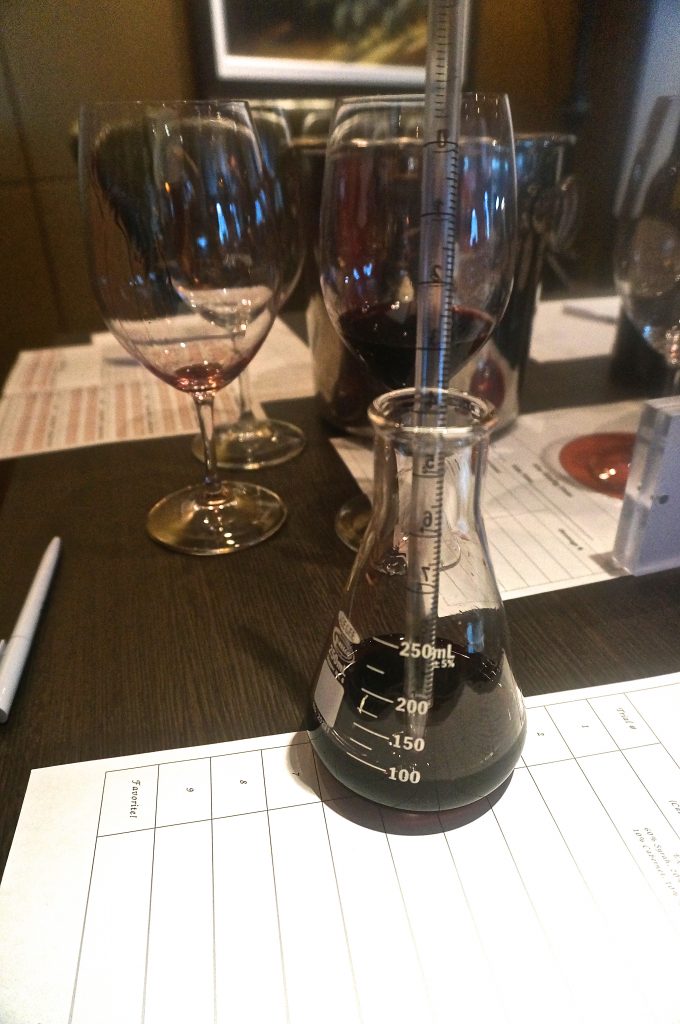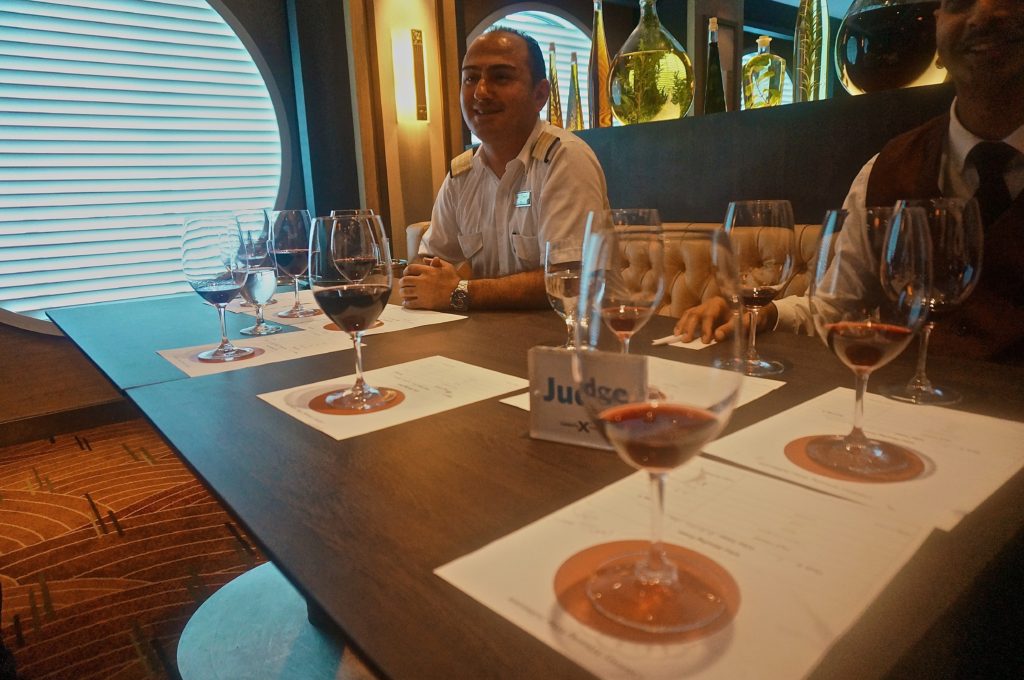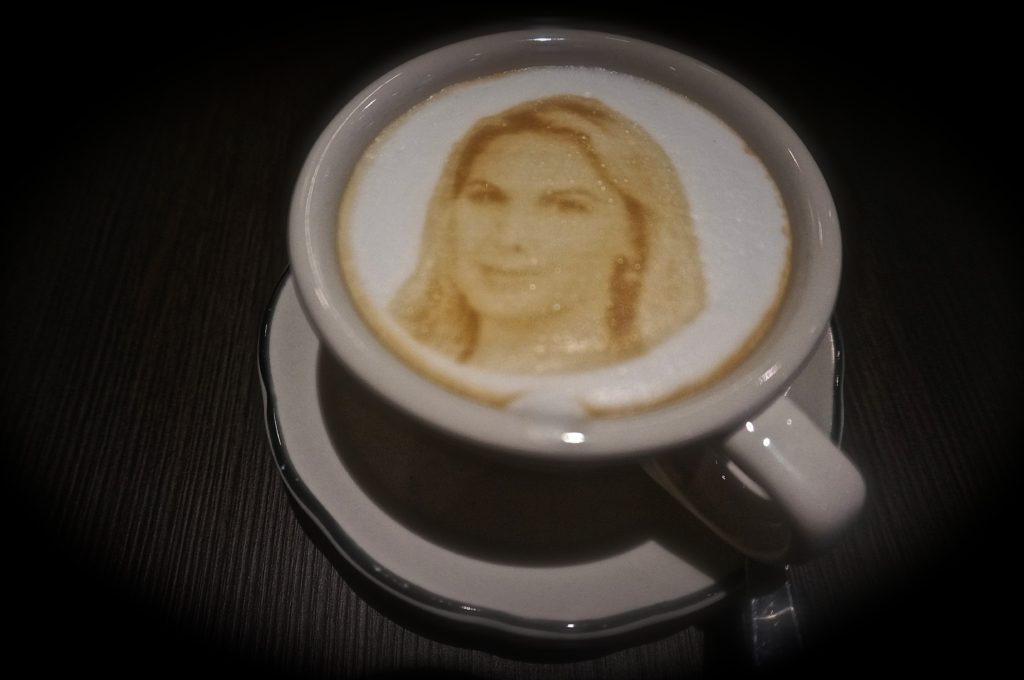 Concluding Remarks
What a day with Celebrity Cruises and what a mindset completely changed. Will I be cruising in the future? We shall see, my friends. All I know for sure is that it will only be on a Celebrity quality ship, with high-end food and personalized service.
Readers, ladies, travel lovers – My conclusion today is that Celebrity Cruises offers a luxury resort experience rather than a "cruise ship" experience, hence why my mindset has drastically changed. When on board toasting over gourmet cuisine you feel as though you are in a 5-Star Hotel… well, a 5-Star Hotel that just happens to be floating out to sea. Aside from the obvious lux factor, how about the fact that you will only have to unpack your suitcase just one time? That is a pretty awesome idea, especially since you can visit multiple cities and countries in just one single trip aboard a Celebrity Cruise. Breaking it all down in my top three reasons why luxury travelers should consider cruising with Celebrity:
Top 3 Reasons to Cruise with Celebrity
Safety and Security: With our world unfortunately being plagued with violence and terrorism, cruising is one of the safest ways of traveling and seeing the world. On board you will be rest assured to know that all guests must go through intensive security before boarding. Avoid airports, highways and trains by being on a secure vessel taking you from one fantastic place to the next.
Visit More Destinations in One Vacation: Cruising allows you to see more in one trip than you could otherwise. Leaving each evening toward a new destination, you will be able to visit multiple countries and sites in just a week of cruising. Additionally, you will not need to stress over coordinating flights, transfers, taxis and pick-ups, while everything is seamlessly coordinated through your chosen cruising itinerary.
Luxury Perks at Your Beck and Call: As you can see in my featured experience above, Celebrity does not cut corners when it comes to the finer things of cruising. From food, drinks and service, enjoy these high-end indulgences while en route to your next adventure. Forget long buffet lines with hot dogs and fried food and imagine carefully crafted plates. Personalized excursions can be planned with the help of a concierge, while spa services and entertainment at your fingertips at all times.
Thank you to the team at Celebrity for inviting me to come aboard, and more importantly, thank you for completely transforming the stigma and my stubborn lady mindset about getting on a cruise ship! I hope to get back on board soon. Until the next sweet escape.