While all travel experiences come to an end, the memory of a mind blowing hotel can never be forgotten. Whether you are seeking the perfect honeymoon, babymoon or just the ultimate vacation experience with loved ones, get ready for an insider peek at one of the world's most unforgettable hotels. The glorious La Residence is an exclusive sanctuary in the lowlands of pristine South African wine country.  A blissful 45 minute drive from the Cape Town International Airport, you will discover this enchanting 30 acre estate located in the charming town of Franschhoek.
In this post, I will be sharing a full recap of La Residence by highlighting my favorite hotel amenities and personal experiences. As always, you can skip the detailed review and head straight to the bottom of this post for a comprehensive travel guide to ensure an unforgettable experience at La Residence.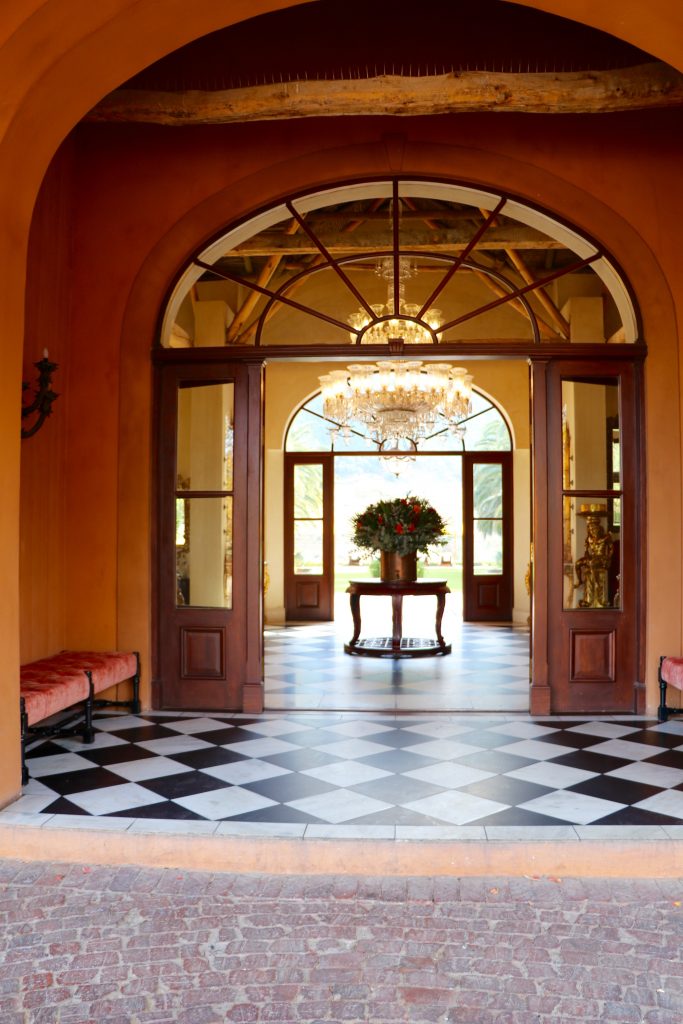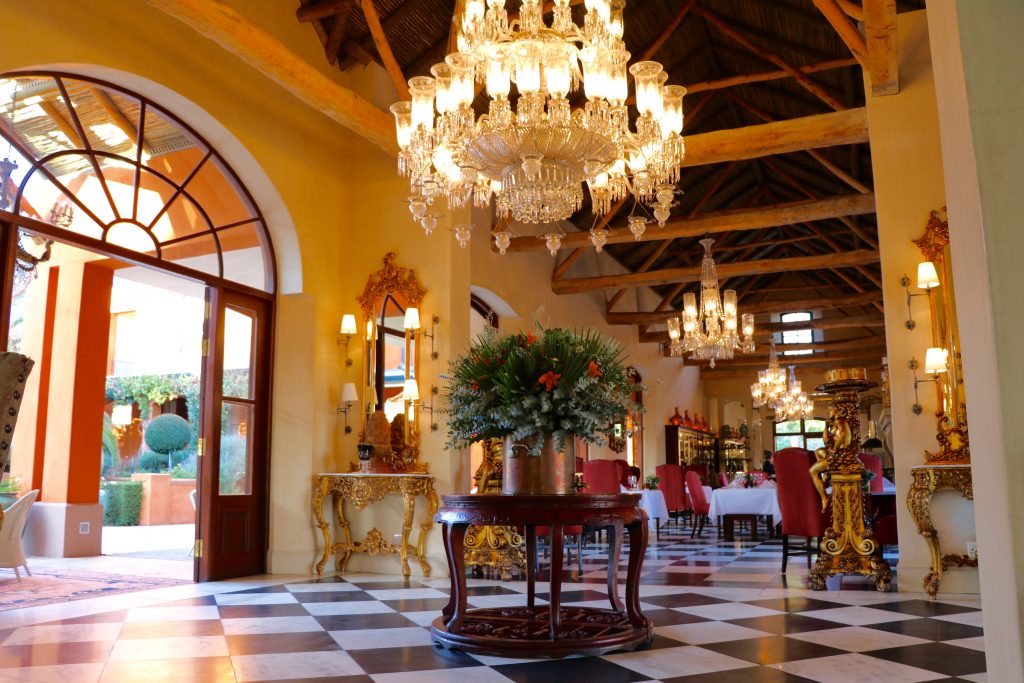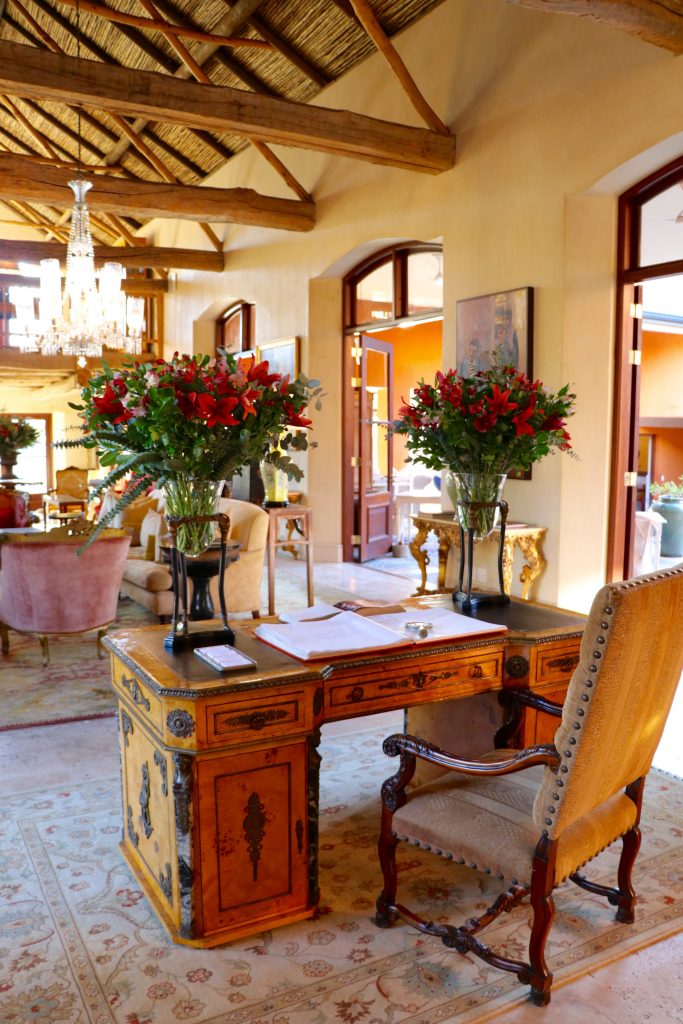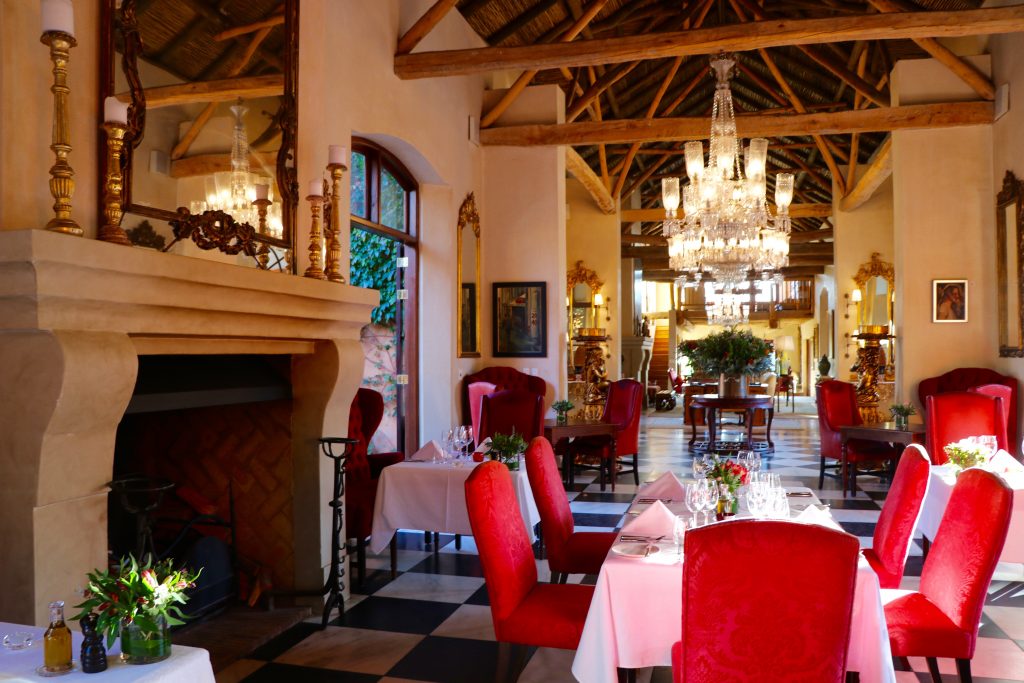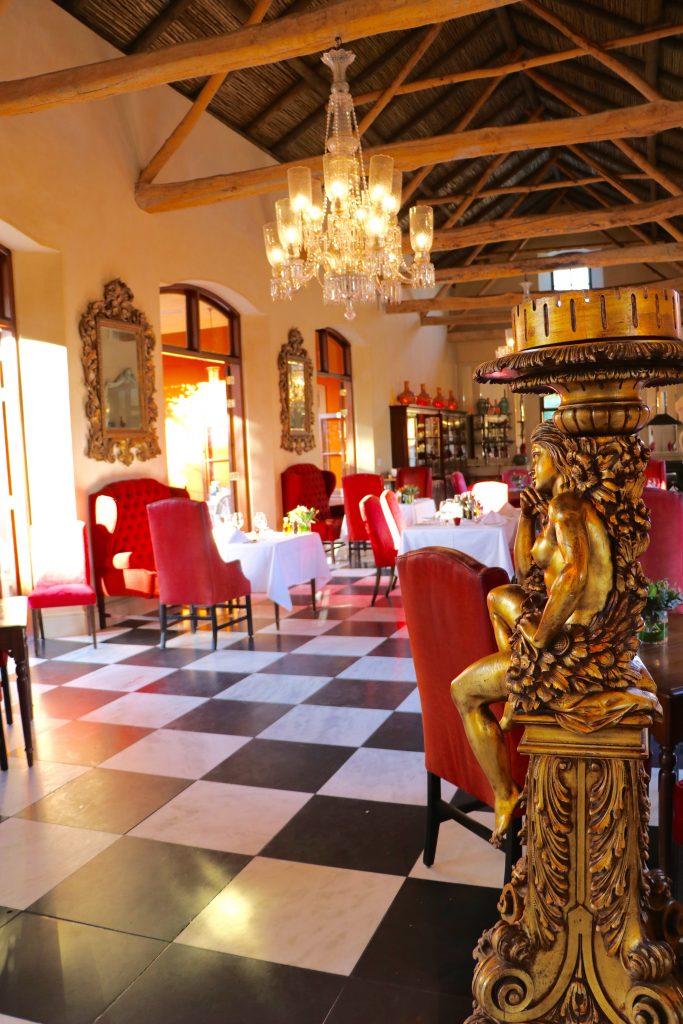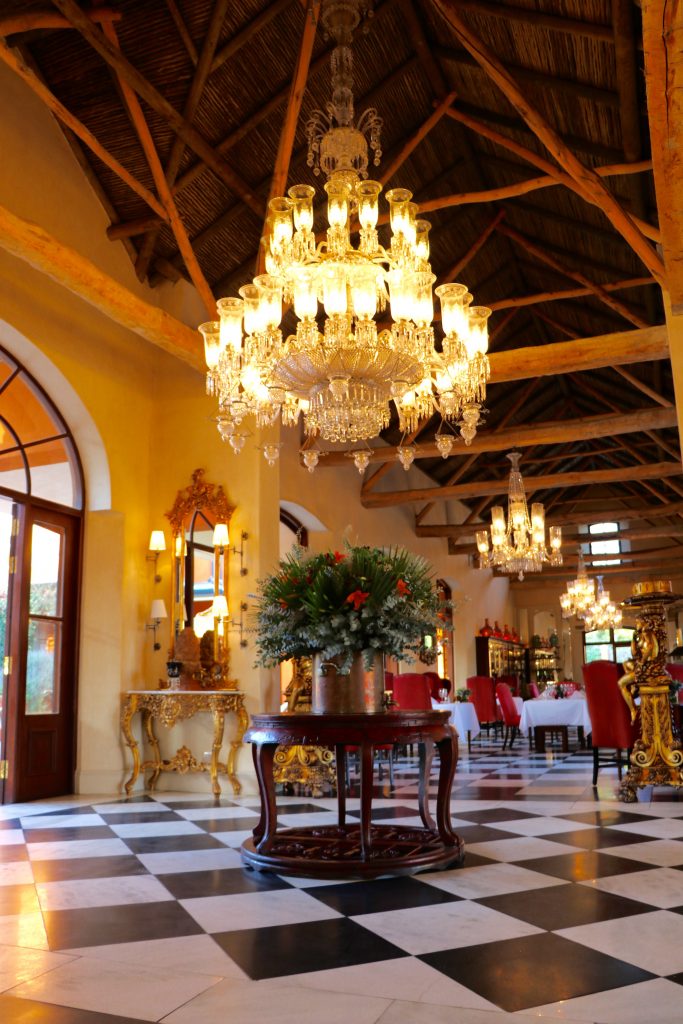 Pool with a View
Beyond the glamorous lobby bedazzled with crystal chandeliers dropped over a black-white marble foyer, guests can find a manicured outdoor patio and infinity pool. The pool is surrounded by canopied day beds and lounge chairs facing out over vineyards and plum orchards. Grab a book and glass of house wine. You could easily spend all day baking in the sun and gazing out at the most vibrant colors this region has to offer. Don't be alarmed by the wild peacocks and birds grazing the nearby gardens, they are harmless and delightful to look at.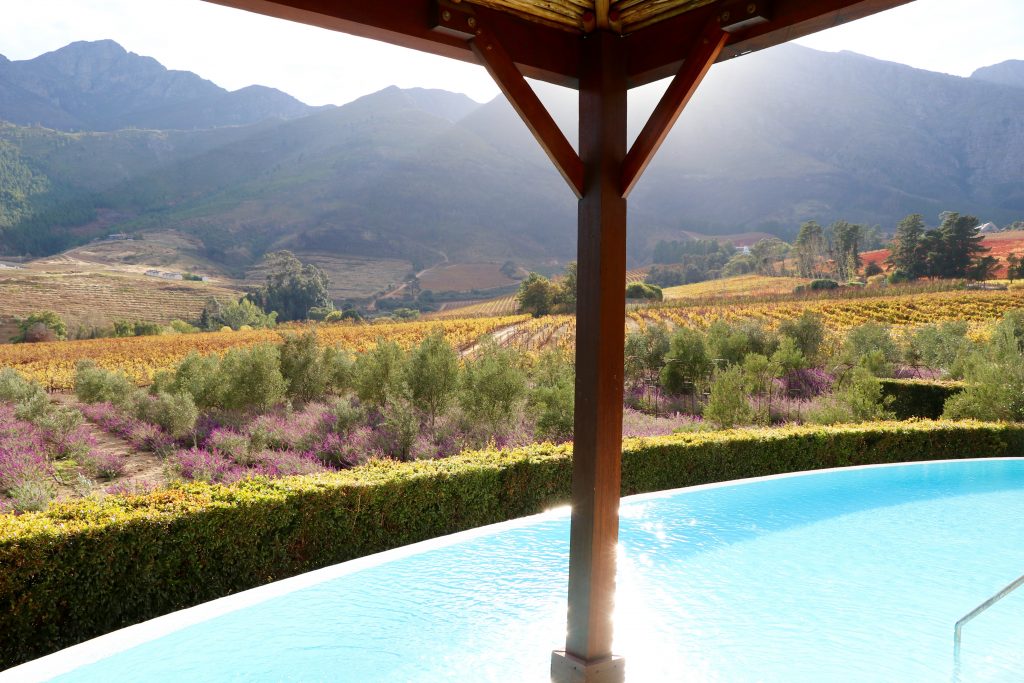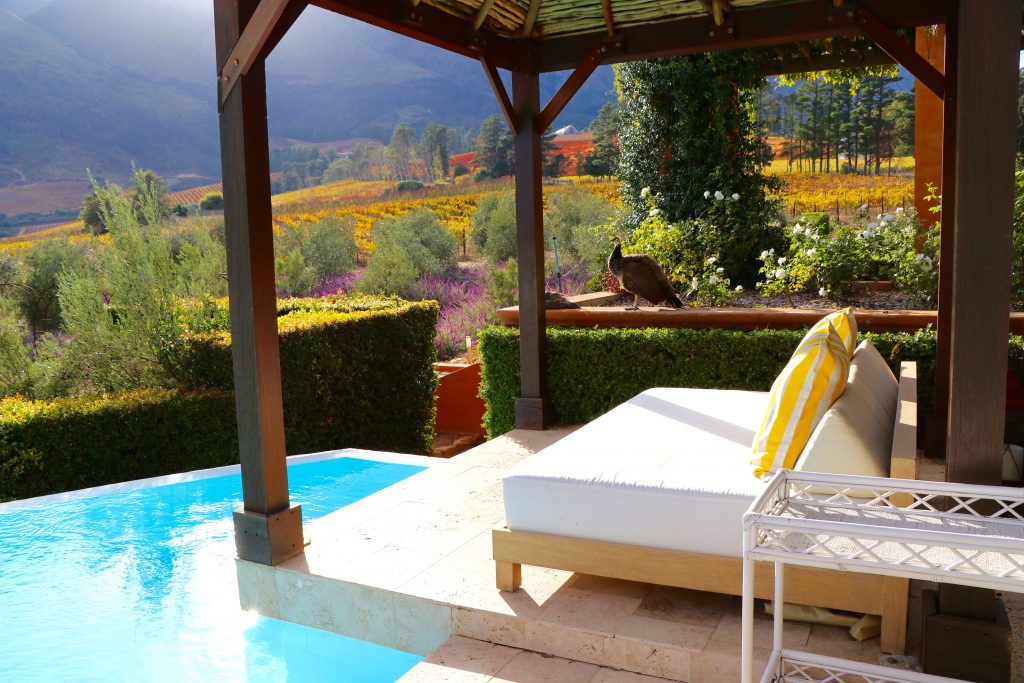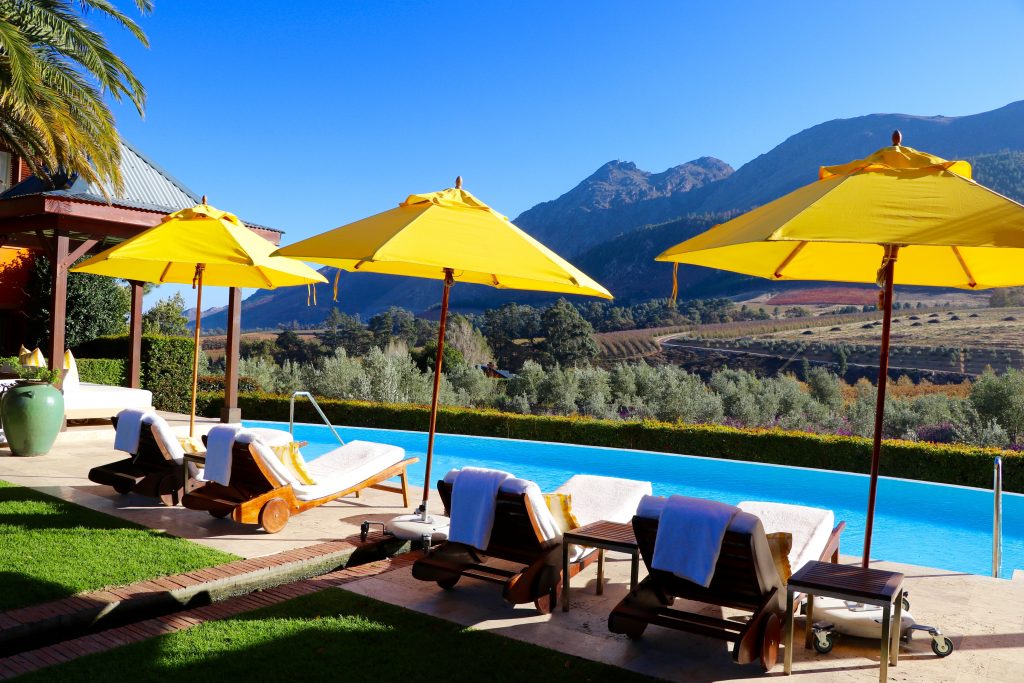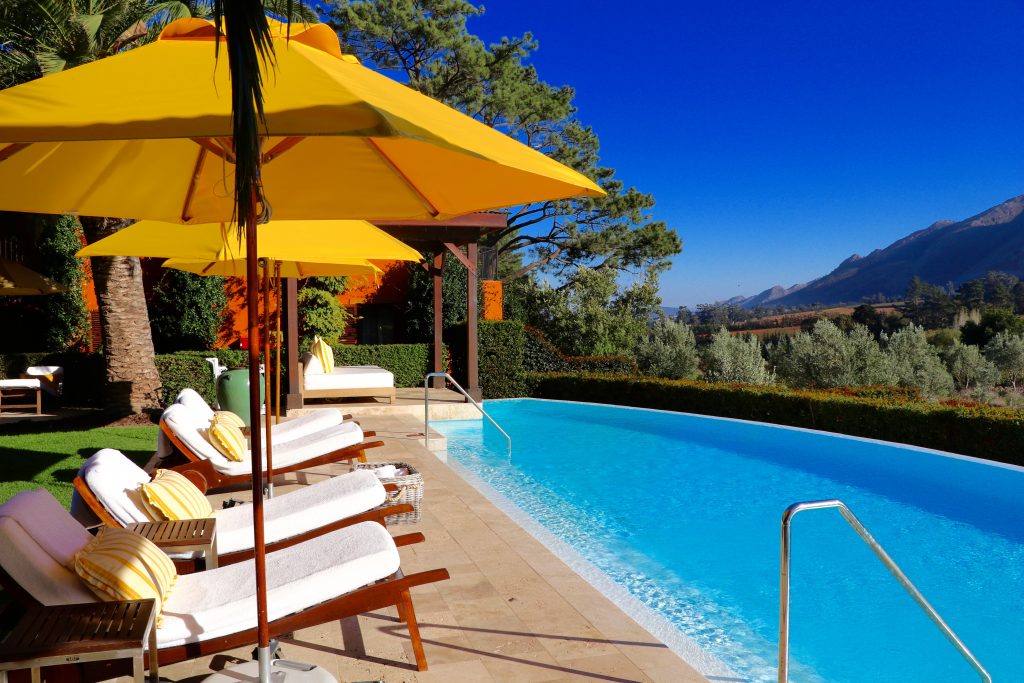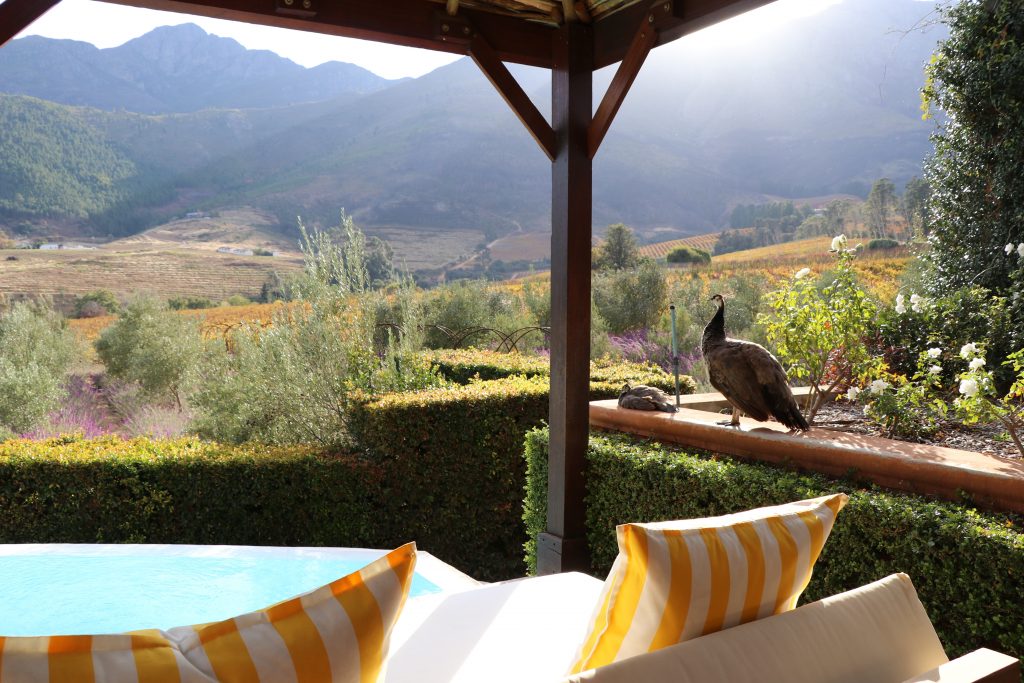 The Rooms
One of the key components to why this particular destination is truly unforgettable, is the attention to detail in the design and decoration. The unique interior of each suite allows the imagination to run wild and ensures that the experience of each guest is anything but ordinary.  Space in the hotel comes to life with the placement of carefully picked antiques, artwork, and vivacious color schemes all crafted by a legend in the hospitality industry.
Hotel owner and decorator, Liz Biden, was recently featured as a Vanity Fair Game Changer for recognition as a visionary who puts "hot into hotelier" through her captivating work photographed below. What I loved most about my particular room, was the placement of a large soaking tub in the middle of a white marble bathroom fit for a queen, or perhaps Ladyhattan. Beside the tub I found a perfectly placed side table with antique crystal jars filled with soapy oils, salts and rose petals. Bubbles and bubbly anyone? After a 19 hour journey from Manhattan, I indulged in one of the best bubble baths of my life here at La Residence.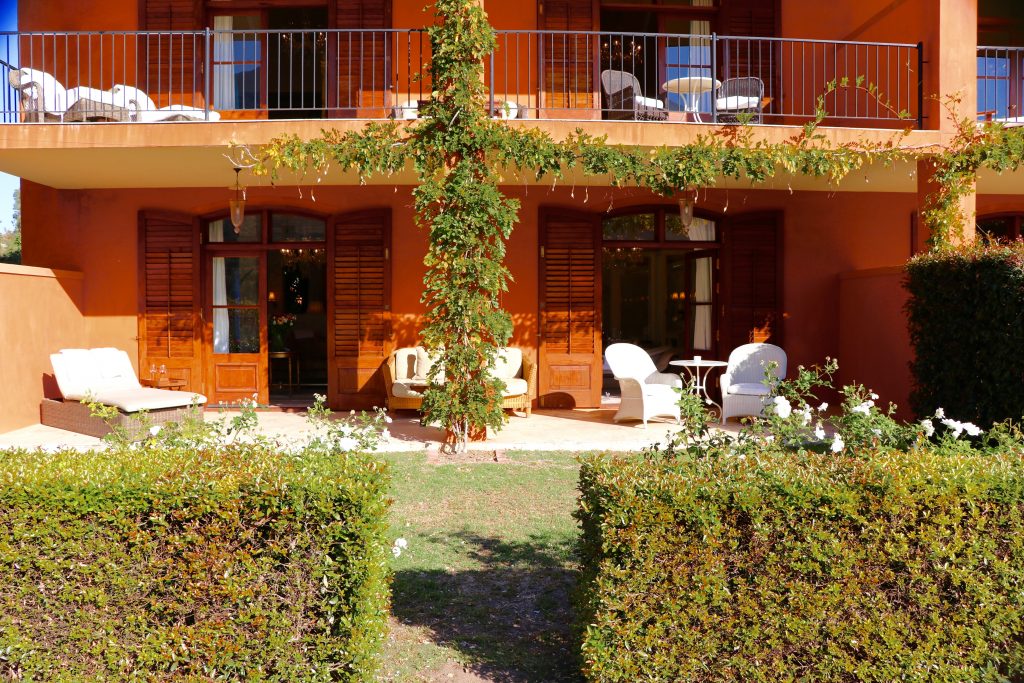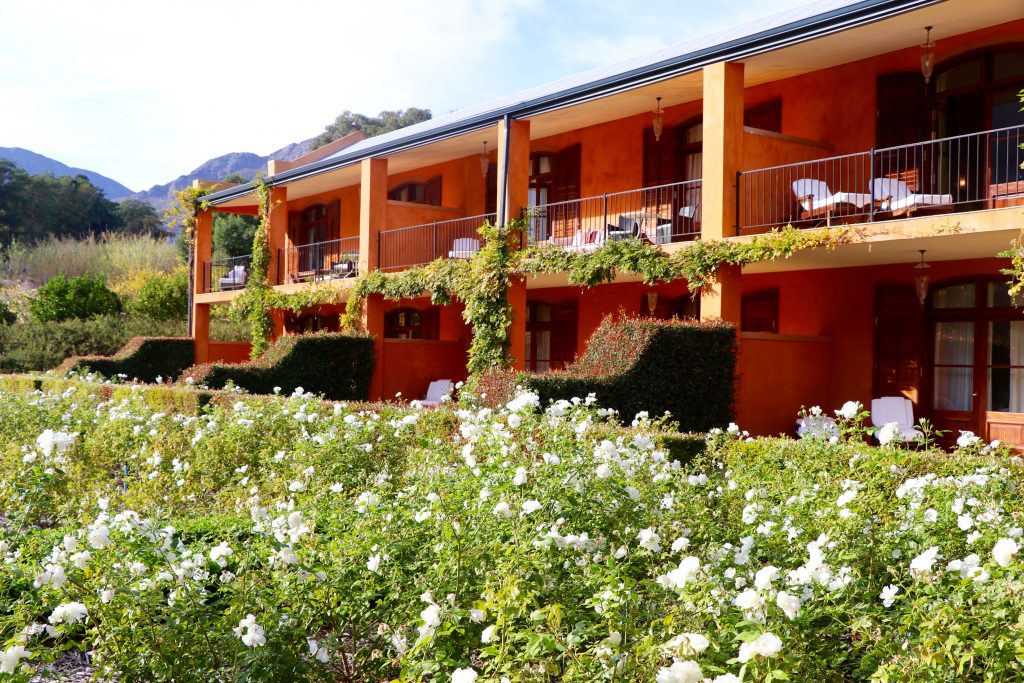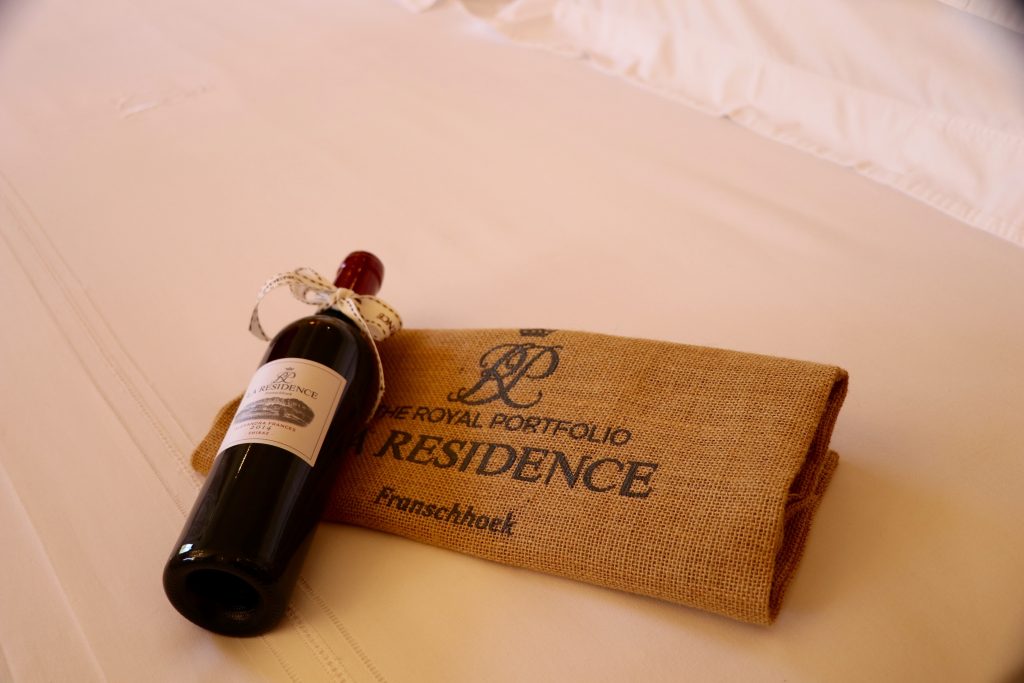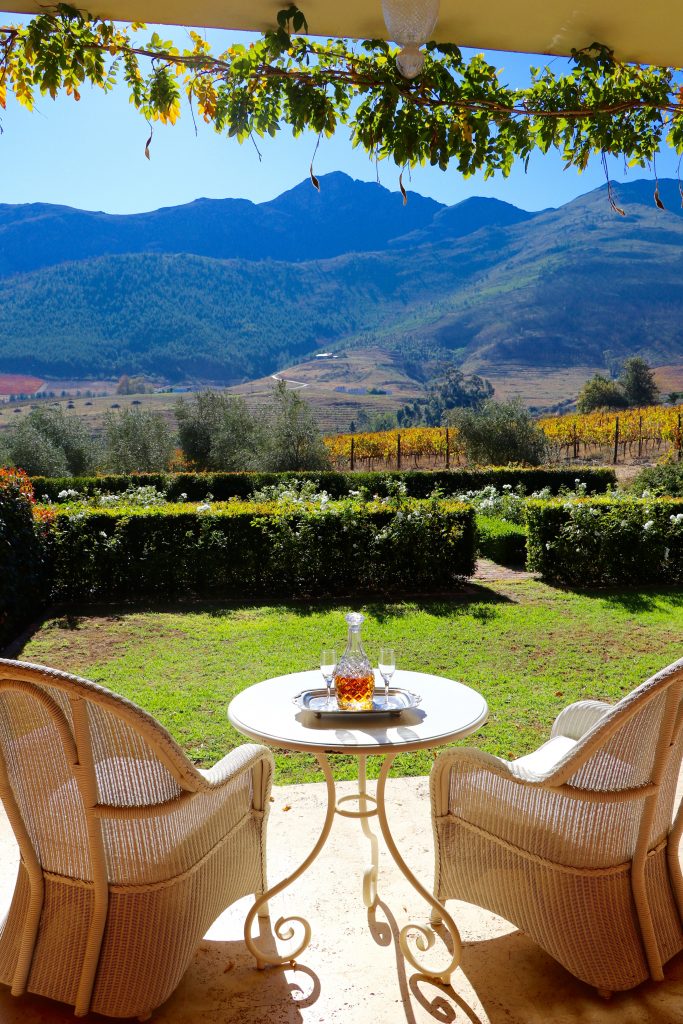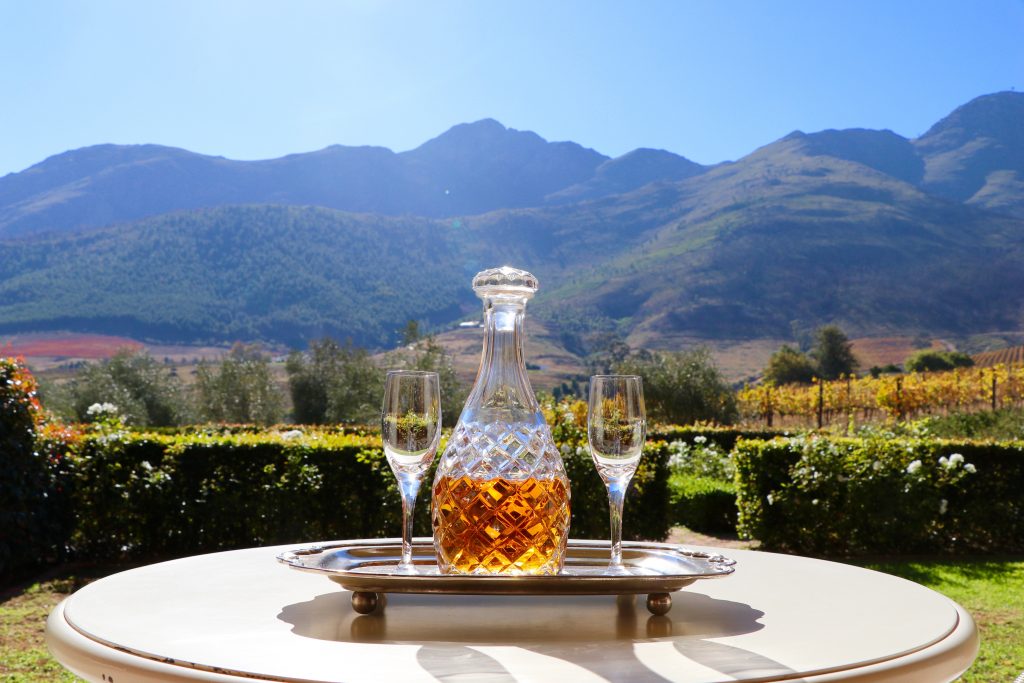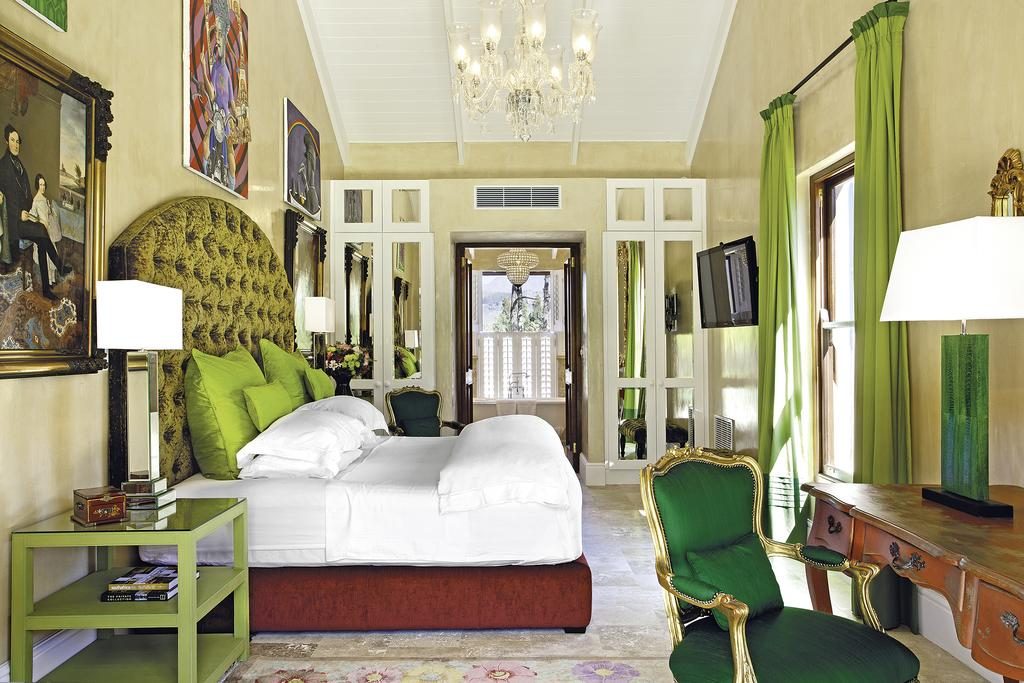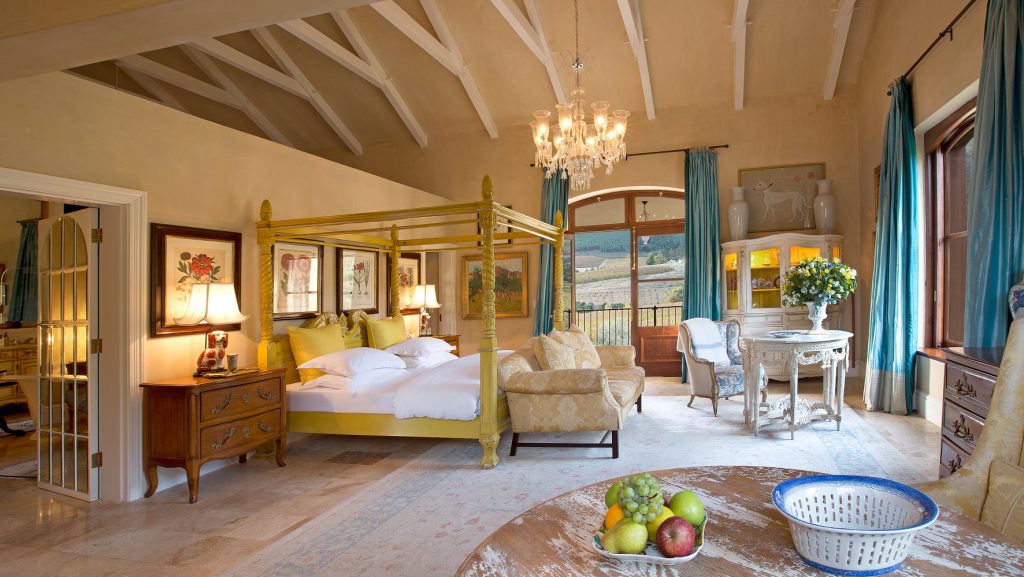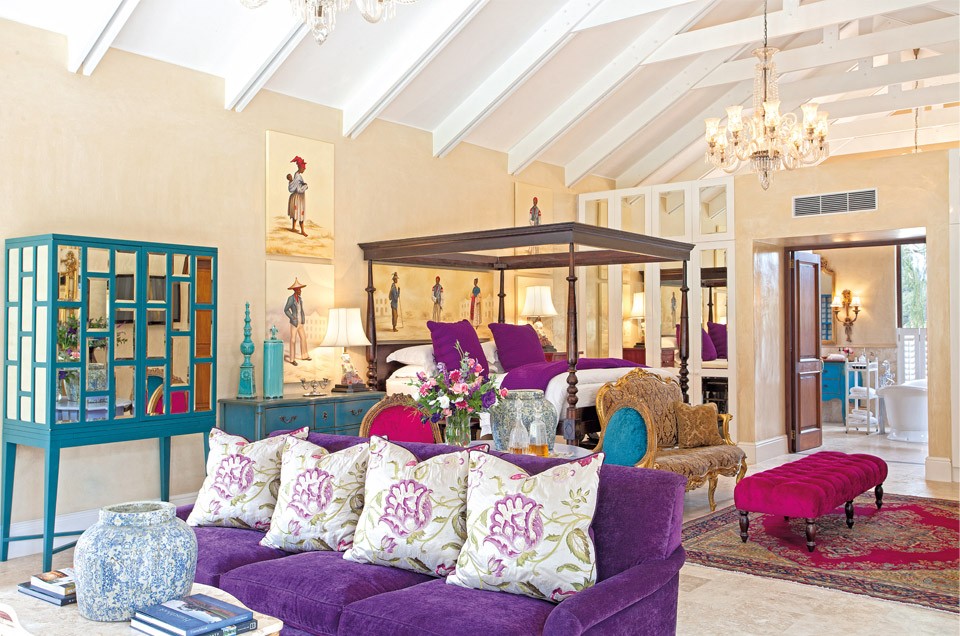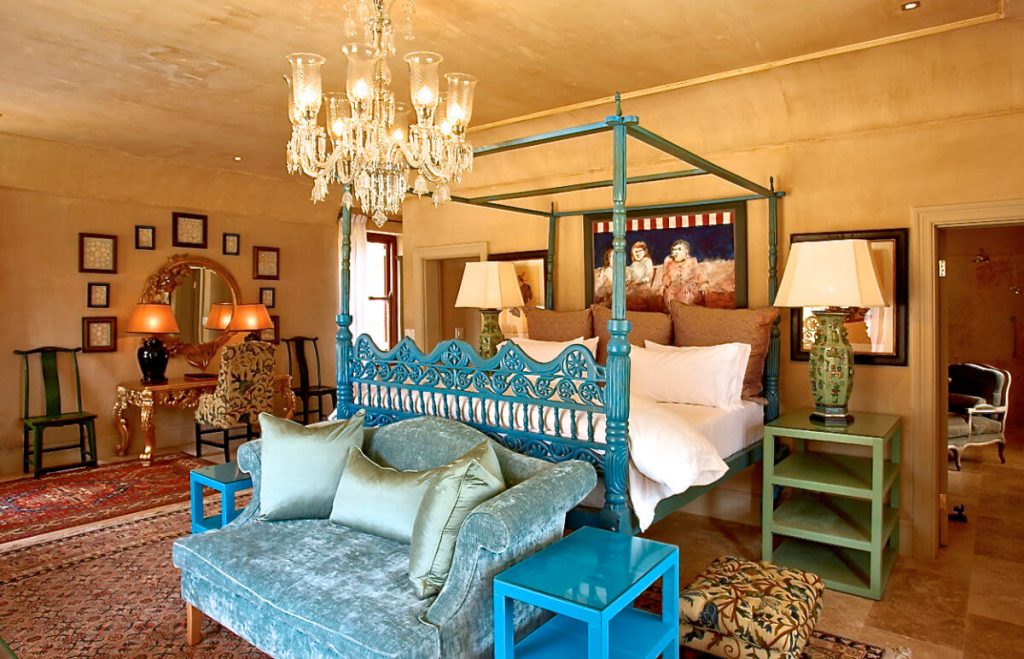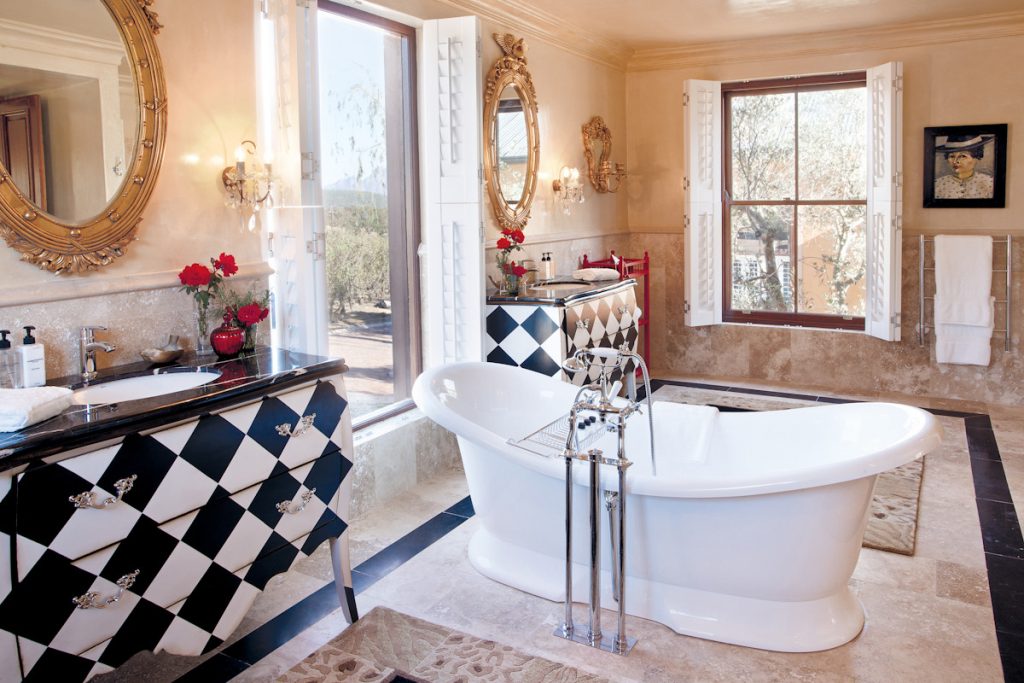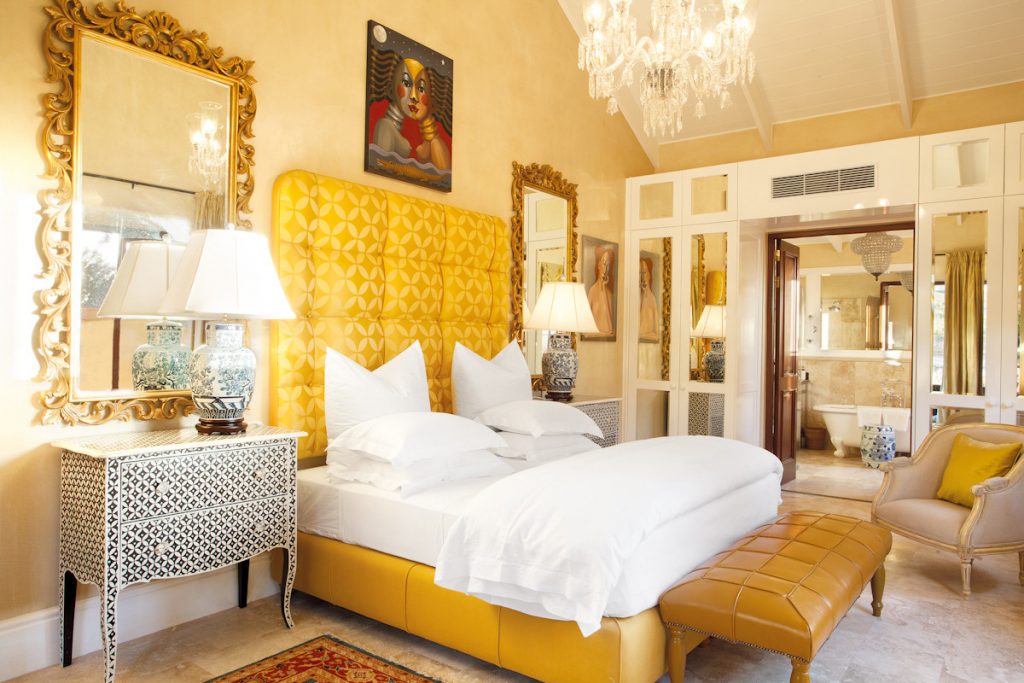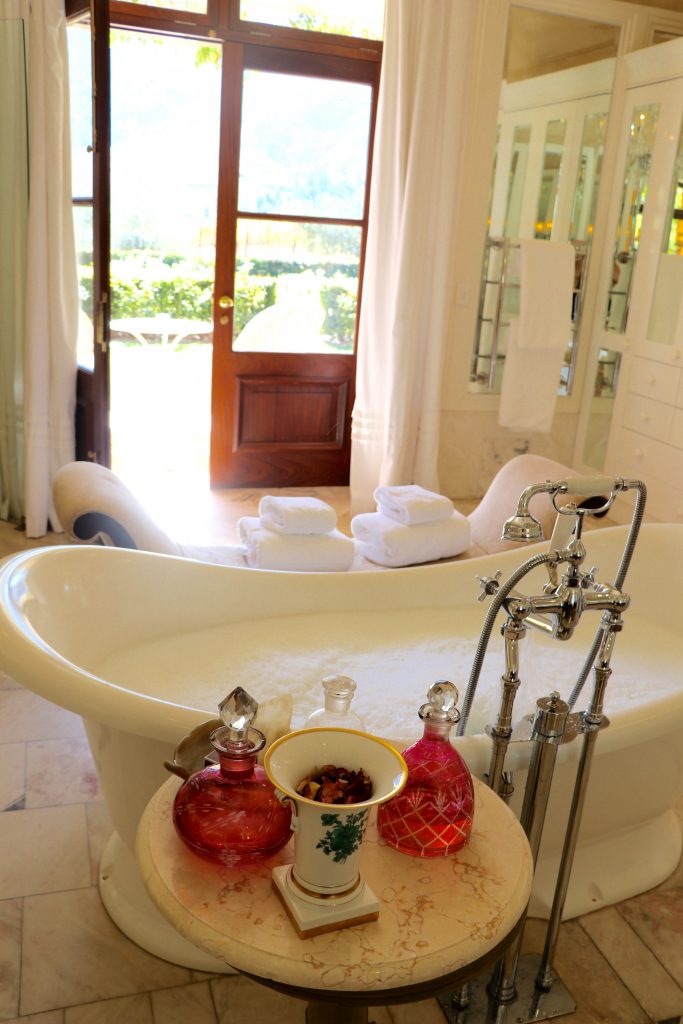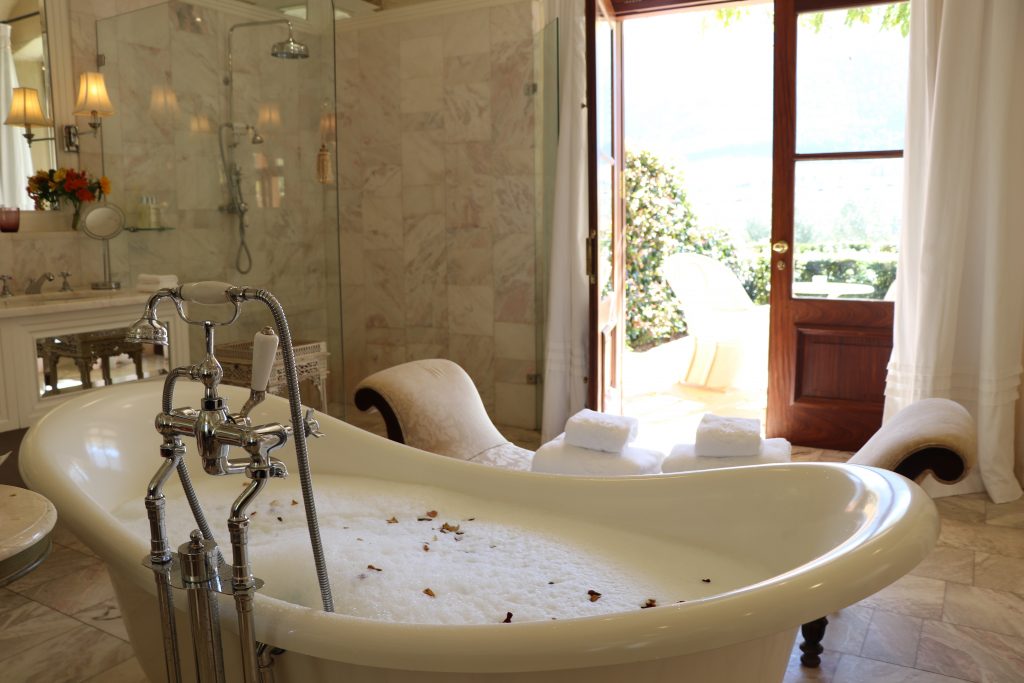 Sips at Sunset
At the end of my first day at La Residence, I spent the evening catching a colorful sunset to the backdrop of a wine tasting experience with the hotel's featured house-made bottles. As for perks as a hotel guest, I was pretty shocked that all house wine is included in your rate. How convenient and enjoyable for a boozy vacation holiday? This means that even the wines stocked in your room's minibar are included in the nightly rate. Because this is not typical practice for US based hotels, I would like to highlight this important perk for travelers considering whether or not to book here. Justify the hotel rate with the fact that both your breakfast and alcohol are included. Who would not want to spend their holiday sipping away on unlimited wines at all hours of the day, especially sunset?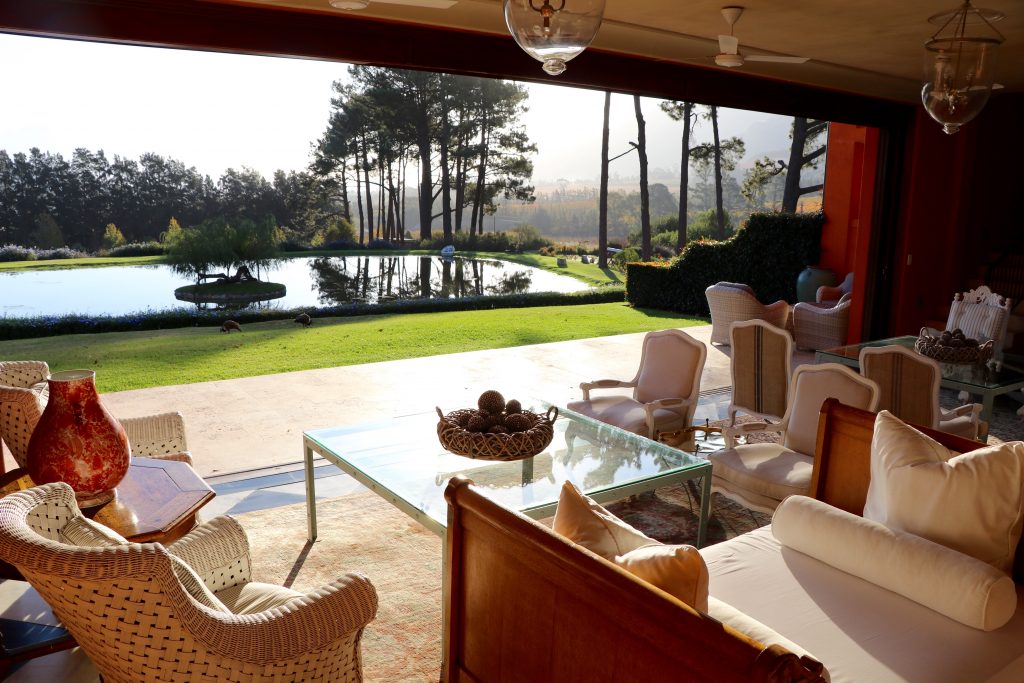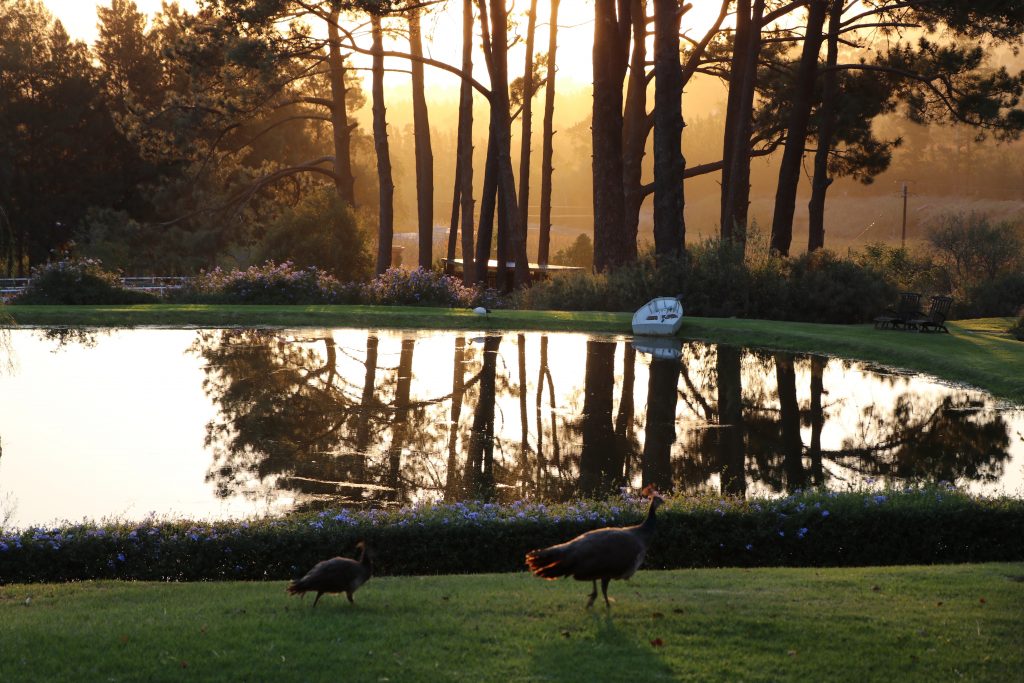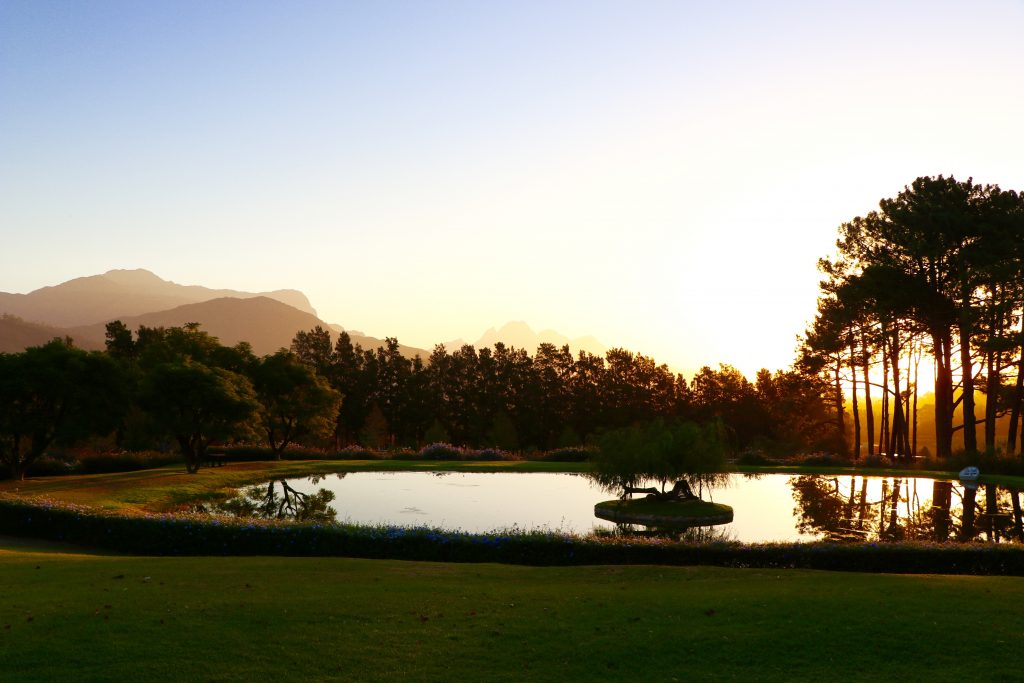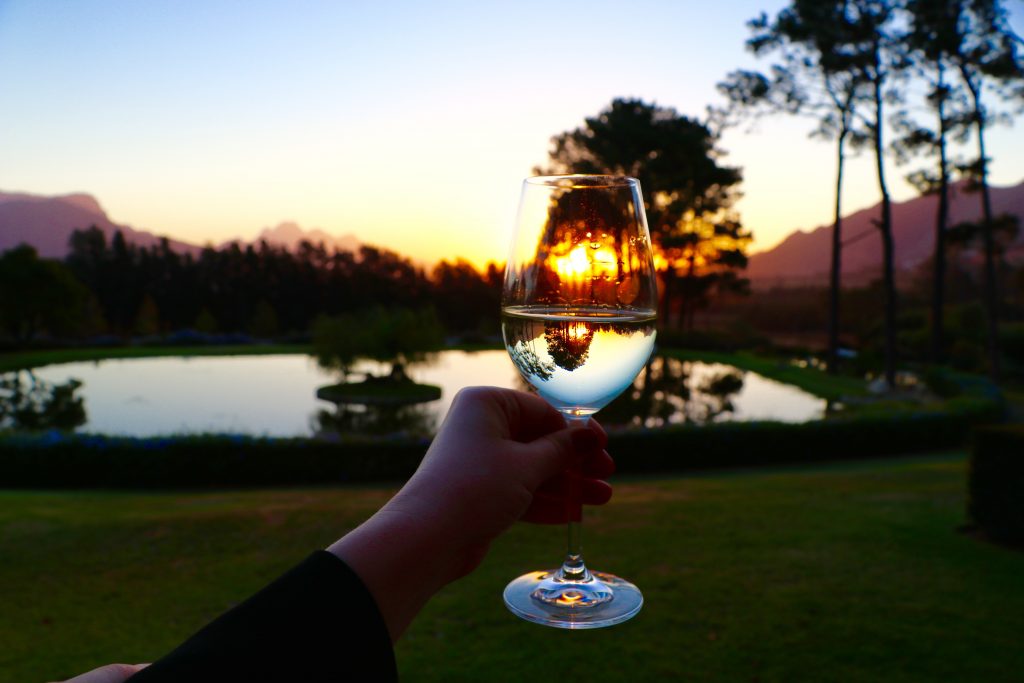 Breakfast
No you are not still dreaming, the breakfast spread just looks like one. Wake up to a lavish buffet affair with fruits, cheeses, pastries and meats. Your rate includes a full breakfast including hot options, such as my farm to table veggie frittata, that can be selected from the menu. And once again I was enamored by the delicate details curated by decorative genius, Liz Biden, when I noticed the English china plates and serving pieces used for the breakfast spread. Who says "no" to a cheese spread like this at breakfast time? Maybe I was just dreaming after all.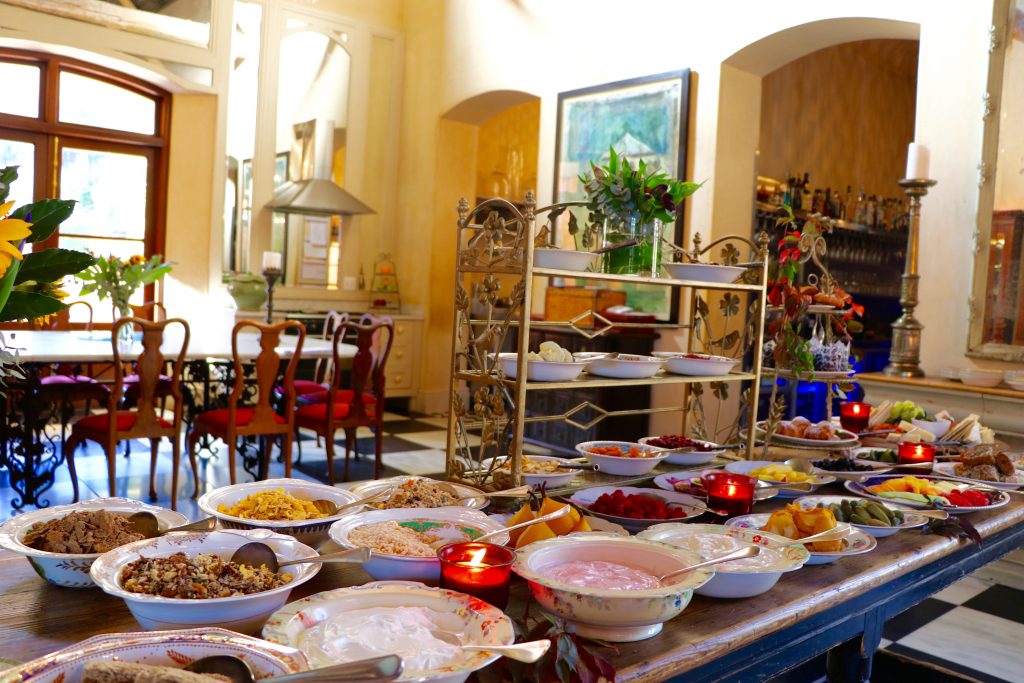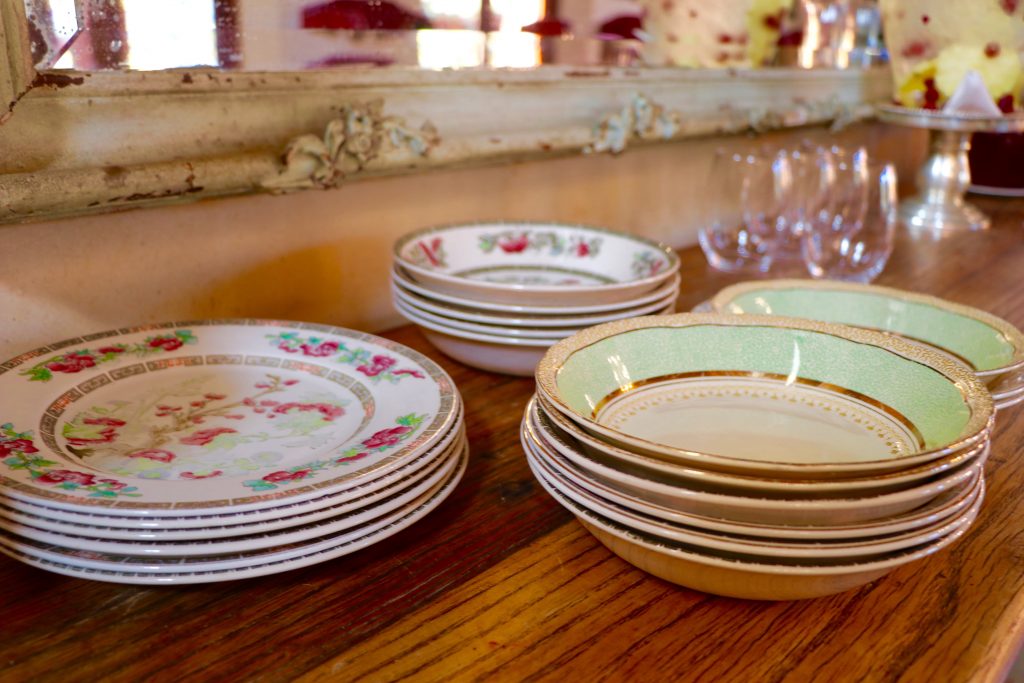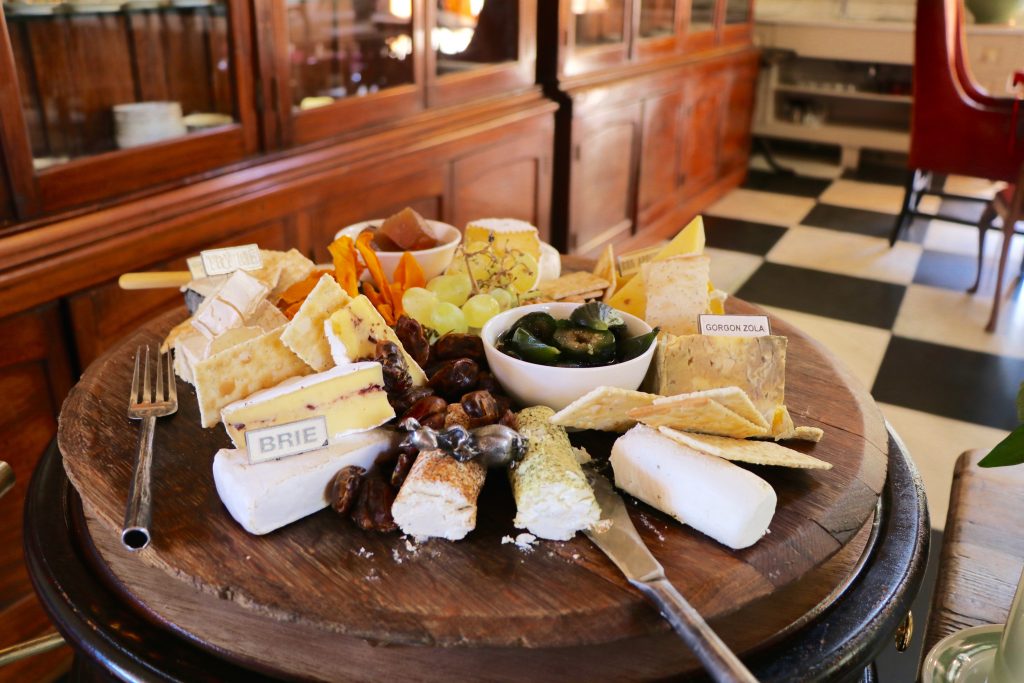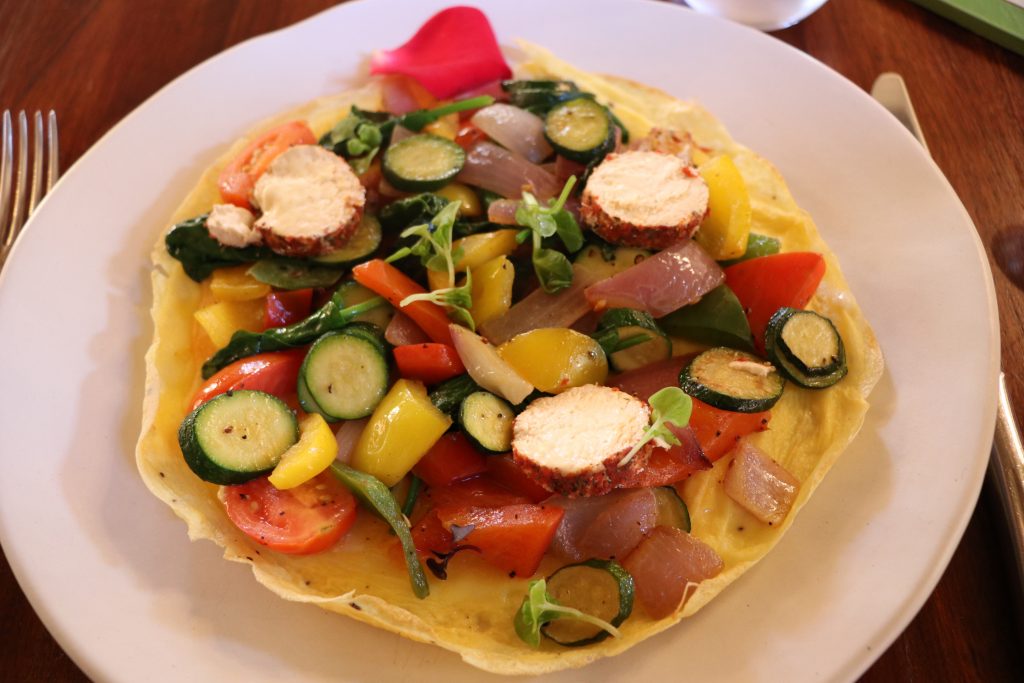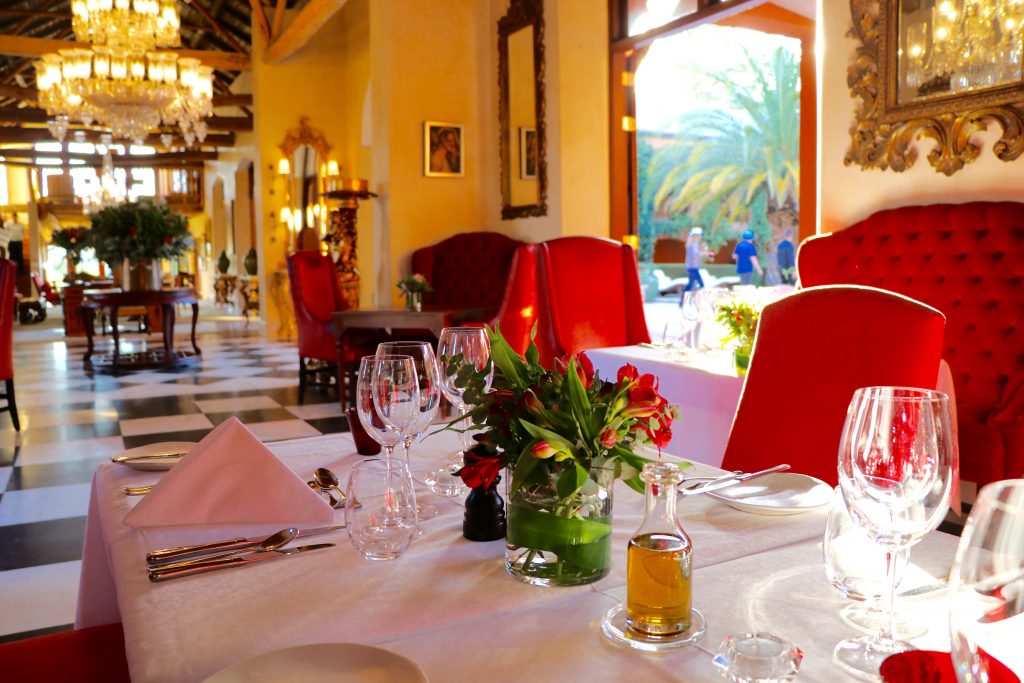 Onsite Activity
If you want to relax and do absolutely nothing but lounge, eat, drink and repeat, you can be perfectly happy doing so at La Residence. Despite facilitating the premiere ambiance to unwind and indulge on vacation, the hotel also offers a variety of onsite and nearby activities that are perfect for both romantic couples and families with children. Grab complimentary bikes and head out for a leisurely ride. Take a stroll through the vineyards with a local expert and engage in an educational wine tasting experience. Wrap up in a robe for a sensual spa day. Enjoy the lively restaurants, shops and galleries in downtown Franschhoek, located just around the corner from the hotel. Or try my personal favorite activity and ask the friendly staff for a basket of apples. With the help of the juicy apples, I made new friends who habitat the expansive farm area of the hotel property. Come on, who doesn't love a little pony?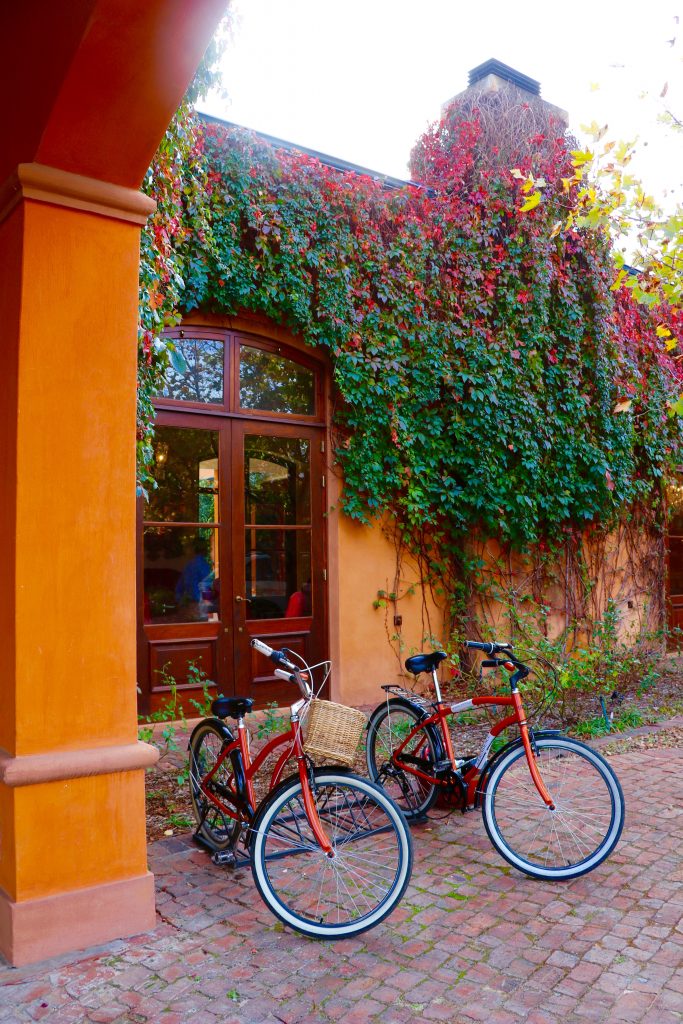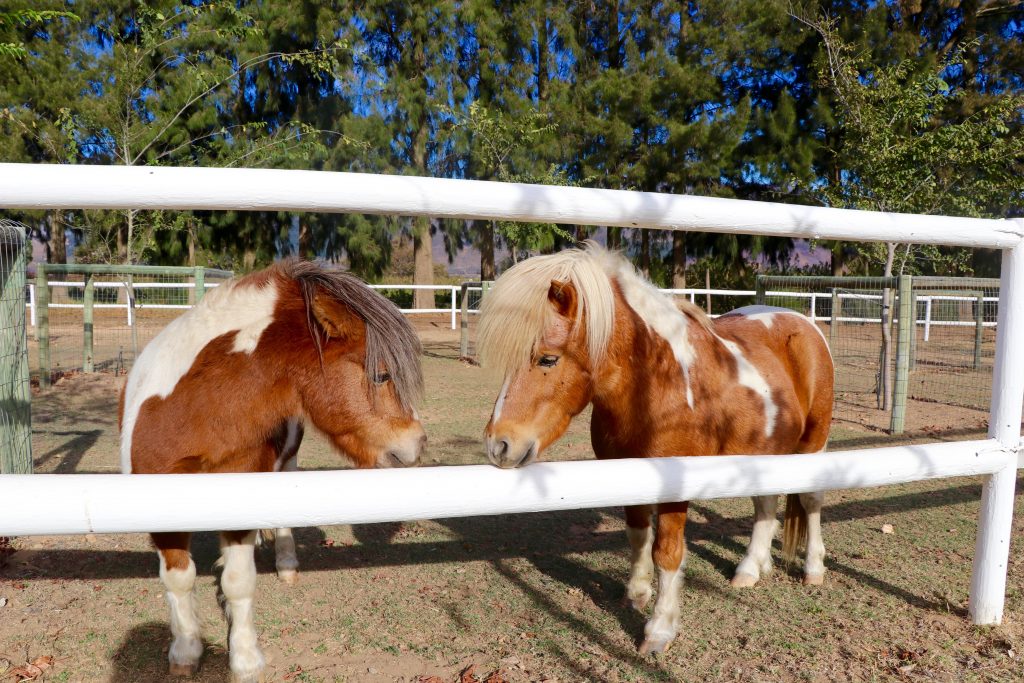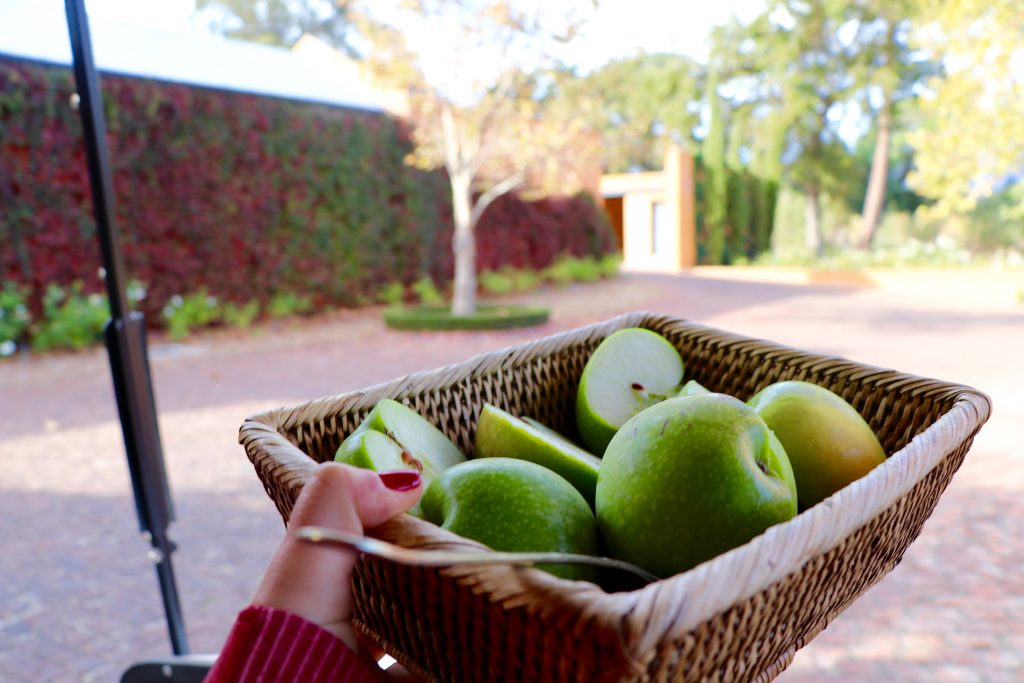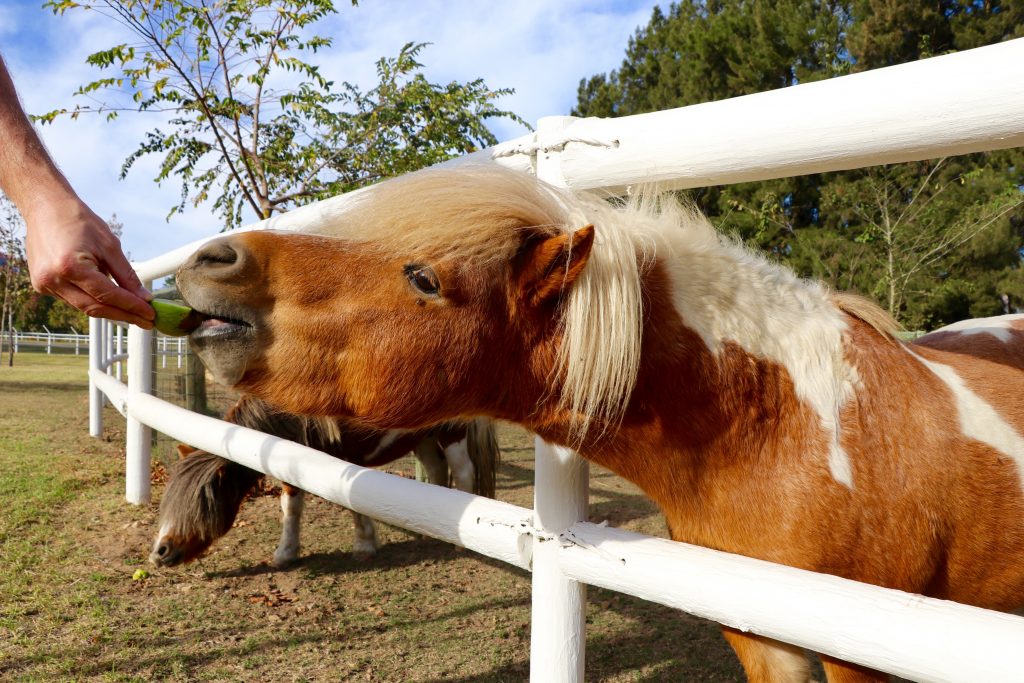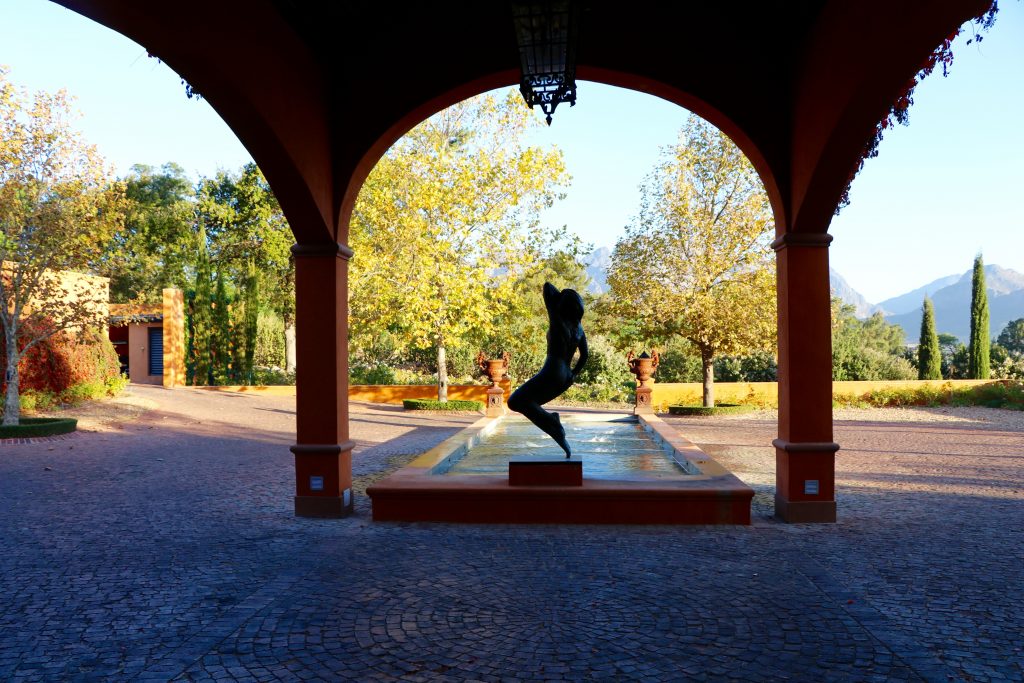 Ladyhattan's Guide to Franschhoek