Many of my friends (locals and foreigners to New York City), ask me what are my favorite neighborhood spots for a yummy meal. I live on the Upper East Side of Manhattan. Although this neighborhood is stereotypically a feeding frenzy for yuppie families and rich old folks, the rumors you may hear are indeed FALSE. Believe it or not, this is not the case at all. Yes, of course there are a few fancy private schools, elite clubs and wealthy people — but hey, it's Manhattan and there is wealth on every block you look these days… The Upper East has surprisingly blossomed into a young, hip and vibrant place of life and culture. Of course my neighborhood will never be as trendy as Tribeca or the West Village, but it sure does have everything a Manhattan lady could possibly need to survive happily: lively bars, fine restaurants, salons, museums, the park and fashionable boutiques.
With that said, if you are a resident of the neighborhood or looking to spend a night exploring what the Upper East Side has to offer, I bring you my list of must-try eats. Read below, where I have carefully compiled a list of some of my favorite restaurants in the neighborhood. Because these spots range in price, atmosphere and cuisine, you will have a wide spectrum of options to choose from. Whether you want to do some greasy grub or a fancy tasting night on the town, Ladyhattan has got you covered! Drum roll, please.
1. UVA
This is our go-to neighborhood spot – Uva. A cozy and welcoming environment with delicious Italian comfort foods served in small or large plate options. In warmer weather, there is ample outdoor seating on the sidewalk area or seats located in the back courtyard. Everyone here, including myself, raves about the Gnocchi pasta – served in a truffle sauce. They have the absolute best brushette – try the sheep's ricotta cheese and black truffle honey, absolutely delicious! While not officially on the menu, make sure to ask for the almonde tarte special for dessert… You will not be dissapointed. The prices are great relative to NYC restaurants and the atmosphere is buzzing with groups of happy people enjoying their night out in the city — including Katie Couric and Bradley Cooper who have become regulars at this local gem. Average meal with wine: $50/person
1486 2nd Ave, New York, NY 10075
(212) 472-4552
2. LUKE'S LOBSTER
What is better than a buttery lobster roll on a summer day? Or any day for that matter? Head on over to Luke's for a taste of the Cape Cod right in the heart of New York City. They serve up lobster rolls, house-made clam chowder and potato chips, as well as a selection of craft beers. We enjoy going here for a Saturday lunch when we want to "taste the beach" but can't manage to escape the city. I always go with the lobster roll – and you should too! Average meal with a beer: $30/person
242 E 81st St, New York, NY 10028
(212) 249-4241
3. ATLANTIC GRILL
The perfect brunch spot for a group of friends! Here you will find an eclectic menu, including fresh raw sushi specialties – welcome to the Atlantic Grill. The atmosphere here on Sundays is contagious with positive energy, laughter and mimosas, as this is a "go to" brunch spot for many Upper East Siders. I love the specialty tuna rolls and the curried chicken salad. You really can't go wrong with anything on the brunch menu. During the warmer months, this restaurant sets up cafe style tables on the sidewalk. Average meal with a cocktail: $50/person
1341 3rd Ave, New York, NY 10021
(212) 988-9200
4. SHAKE SHACK AT 86th STREET
Oh Shake Shack, you got me again. Located on East 86th Street, this is the perfect guilty pleasure meal to include in your weekend plans. They have a nice little park located on the side of the restaurant with plenty of tables and chairs. If you have never experienced Shake Shack, then you are truly missing out! Try a classic burger with a side of fries and a shake of your choice. Although this may be a whopping 1,000+ calorie meal, every savory bite is worth it. Located right near the movie theater, this is the perfect quick meal to have before seeing a new flick. If you are feeling extra glutenous, make it a double and add cheese to your fries. YOLO, right? Average burger meal with a shake: $20/person
154 E 86th St, New York, NY 10028
(646) 237-5035
5. DANIEL
I warned you there was a large spectrum of Ladyhattan restaurant picks. From Shake Shack, we make our way down to my fancy favorite – the legendary DANIEL. Daniel Boulud's namesake restaurant features contemporary, seasonal French cuisine in a setting that combines striking neoclassical architecture with elegant modern furnishings. The sophisticated bar and lounge are a welcoming spot for before and after dinner drinks. While the tasting menu is quite a splurge and costs a pretty penny, it is a lifetime dining experience that you are paying for. This restaurant is the prime spot for a special occasion, anniversary, and perhaps an engagement night. For those of you traveling from out of town, you should definitely put this on your bucketlist (especially if you rarely get to visit Manhattan). Tasting menu per person: $225 (add an additional $125 per person for wine pairings)
60 E 65th St, New York, NY 10065
(212) 288-0033
6. THAI ON LEX
Hot, spicy, fresh and delicous… THAI! Whether you want delivery brought right to your front door, or would prefer to sit at one of the five tiny tables in the small restaurant space, you will taste some of the best Thai of your life… on LEX! We only order the green curry specials, as they are fiery hot and exquisitely spicy – just the way Thai is supposed to be. Another staple from the menu is the standard pad Thai. For something sweet with your meal, ask for the Thai tea – they make it homemade and fresh daily. Average meal with a tea: $25/person
1244 Lexington Ave, New York, NY 10028
(212) 288-6060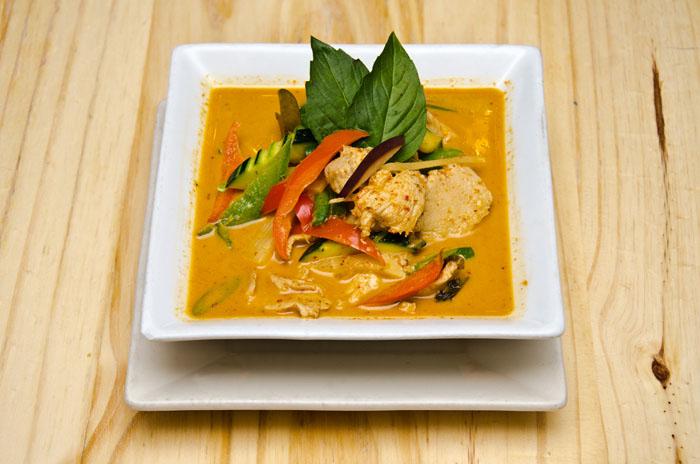 7. TWO BOOTS PIZZA
Located throughout Manhattan, Two Boots is a pizzeria favorite for many. With a variety of crazy pizza selections including pies topped with spicy craw-fish or hamburger meat, you won't get bored here. The funky decor inside is quite entertaining, so sit down and enjoy your slice. For all you late-night party people, they stay open relatively late so you can always grab a 1:00 AM slice en route home. My pizza pick? I love the Larry Tate or the V is for Vegan when I am feeling on the healthier side. Average meal of 2 Slices and a soda: $10/person
1617 2nd Ave, New York, NY 10028
(212) 734-0317
8. ARLINGTON CLUB
I recently shared the Arlington Club as one of my favorite lady "steakhouses" in the Big Apple. With a sexy Gatsby vibe inside, this swanky restaurant offers much more than juicy steaks! From sushi to delicious dishes of fish, chicken, and specialty pastas – they have something for everyone's taste. On Sundays they do a special upscale BBQ style menu which is a great option for those craving some southern grub. Average meal per person with drinks: $80/person
1032 Lexington Ave, New York, NY 10021
(212) 249-5700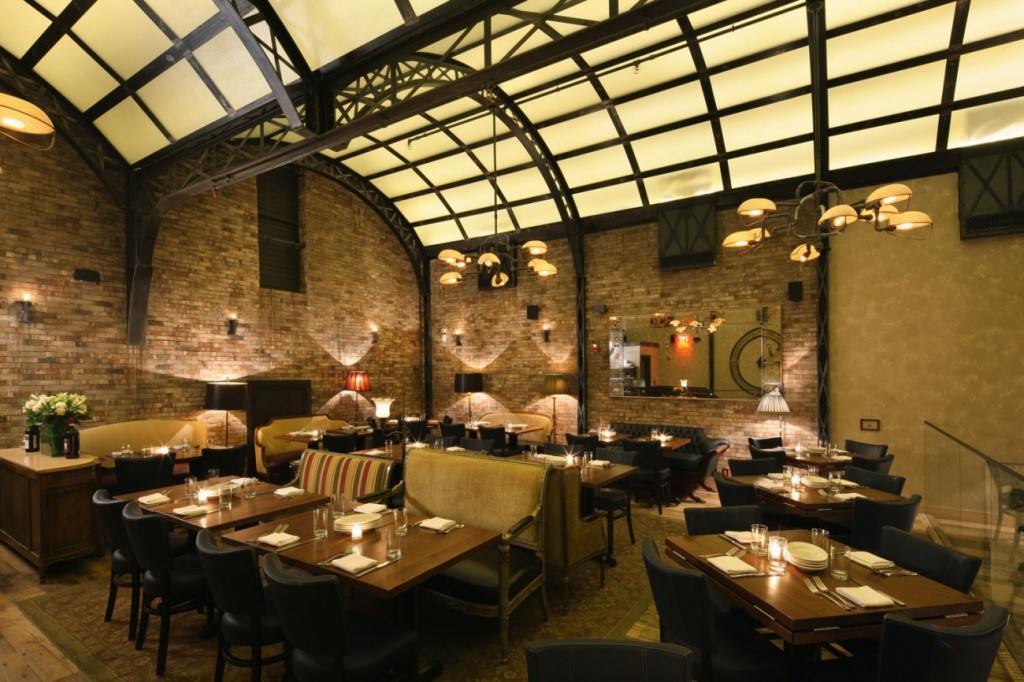 9. CAMPAGNOLA RESTAURANT
Every New Yorker needs an Italian restaurant to call "home" for Sunday supper. With so many Italian favorites to choose from, I had to narrow it down and go with Campagnola. I must say that Nica's on East 84th was a close contender — this is a local spot that I go to for a home cooked meal and warm environment (the owner literally sits at the table with you as you enjoy the dish he prepared for you). However, when the general manager of Del Frisco's (a total foodie) exclaimed that Campagnola has the best Italian in the city, I was immediately intrigued. This is quite a bold statement, especially with fine eateries like Babbo or Elio's in the competition pool. I had to see for myself, so I ventured over and boy was he right! From the fresh antipasto options and handmade pastas, I was sold on Campagnola. You wouldn't believe that you are right in the heart of the Upper East Side because the food literally takes you right to the hills of Tuscany. Average meal per person with a bottle of wine: $100/person
1382 1st Avenue, New York, NY 10021
(212) 861-1102
10. LADY M CONFECTIONS
Last but not least, every lady with a sweet tooth has to enjoy a savory dessert to end the evening properly. What is sweeter than a slice of cake at Lady M? Lady M's signature cake and most famous worldwide are the Lady M Mille Crêpes – featuring no less than twenty paper-thin handmade crêpes layered with ethereal light pastry cream. Delicate and irresistible, the top gently caramelized till golden. Sink right in, alternating crêpe and cream layers literally melt in your mouth leaving a subtle sweet finish. Despite the old saying, I will have my cake and eat it too! Average price cake: $45
41 E 78th St, New York, NY 10075
(212) 452-2222
I hope that you find these restaurant suggestions helpful for exploring my wonderful neighborhood – the Upper East Side. And for my friends from afar, put these spots on your itinerary the next time you make it to the greatest city in the world – New York! Come on by and checkout the Upper East Side, you be pleasantly surprised that this part of town is bustling with deliciousness. Remember, if you have any questions at all, or would like your business featured on Ladyhattan, please feel free to contact me at Ladyhattan@gmail.com. Until the next Manhattan treat.