Ha Long Bay of Vietnam
Ha Long Bay, in northeast Vietnam, is known for its emerald waters and thousands of towering limestone islands topped by rainforests. Junk boat tours (aka small cruise ships) and sea kayak expeditions take visitors past hundreds of limestone karsts that rise dramatically straight up from the water. Several of the islands are hollow, with enormous caves. So why not enjoy dinner inside one of those caves? Wait, is that even possible? By choosing to cruise with the most luxurious travel company in the Bay, Indochina Junk, then yes, having a candlelight dinner with friends inside a naturally made cave is indeed possible.
While venturing through the beautiful country of Vietnam, I decided to explore the country's world famous waterways on an Indochina Junk. There are numerous reasons why I would recommend choosing to cruise with Indochina Junk. But for one obvious reason, this particular cruising company owns its very own private island with a beach, magnificent views of the bay, and of course exclusive access to one of the largest caves in the Bay.  This Ladyhattan feature shares insider glimpses of the cave dinner experience hosted by Indochina Junk in Ha Long Bay, Vietnam. Specific tips and contact information for booking this unbelievable travel experience when planning your next trip to Vietnam can be found  below.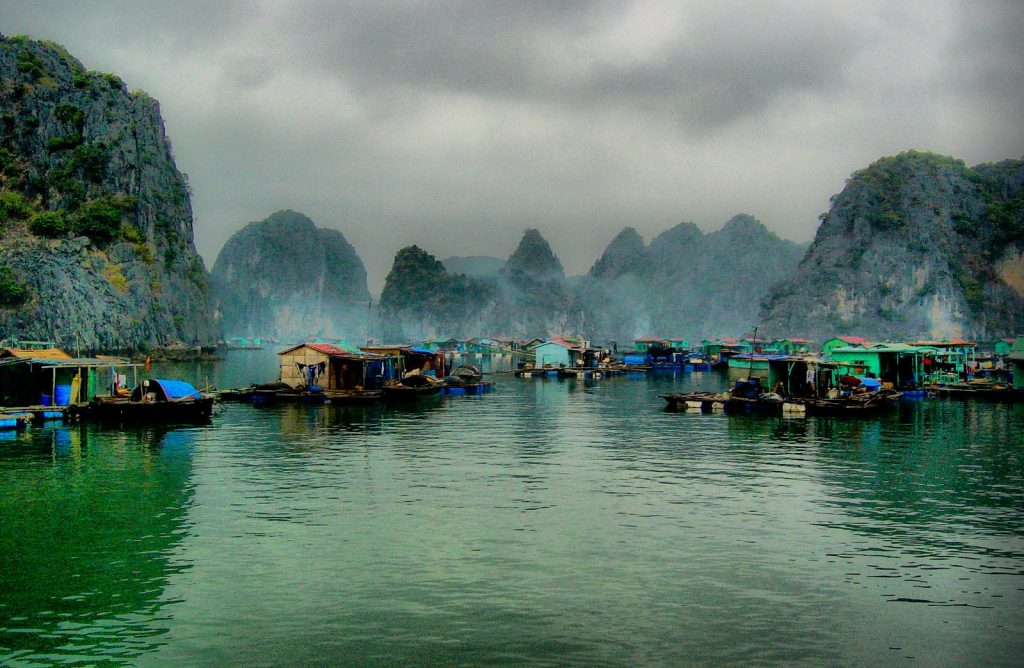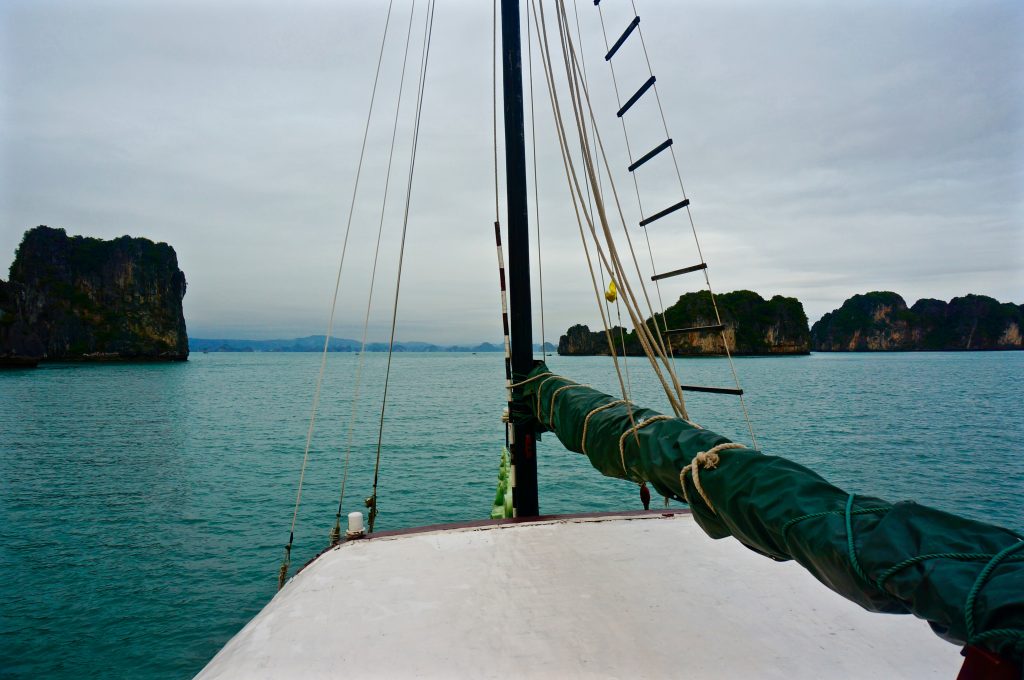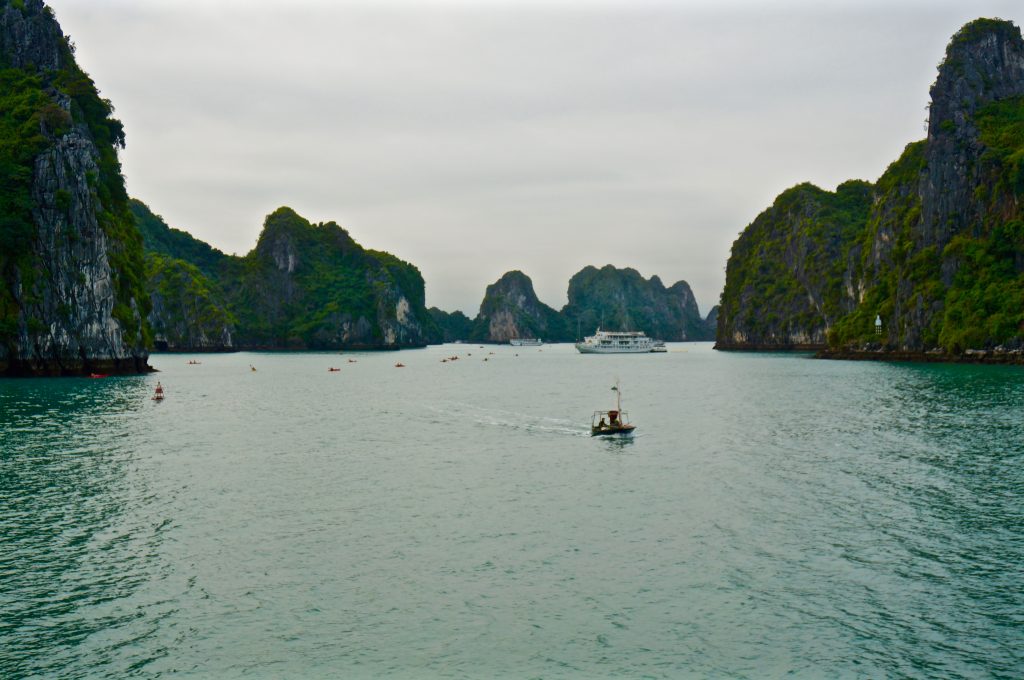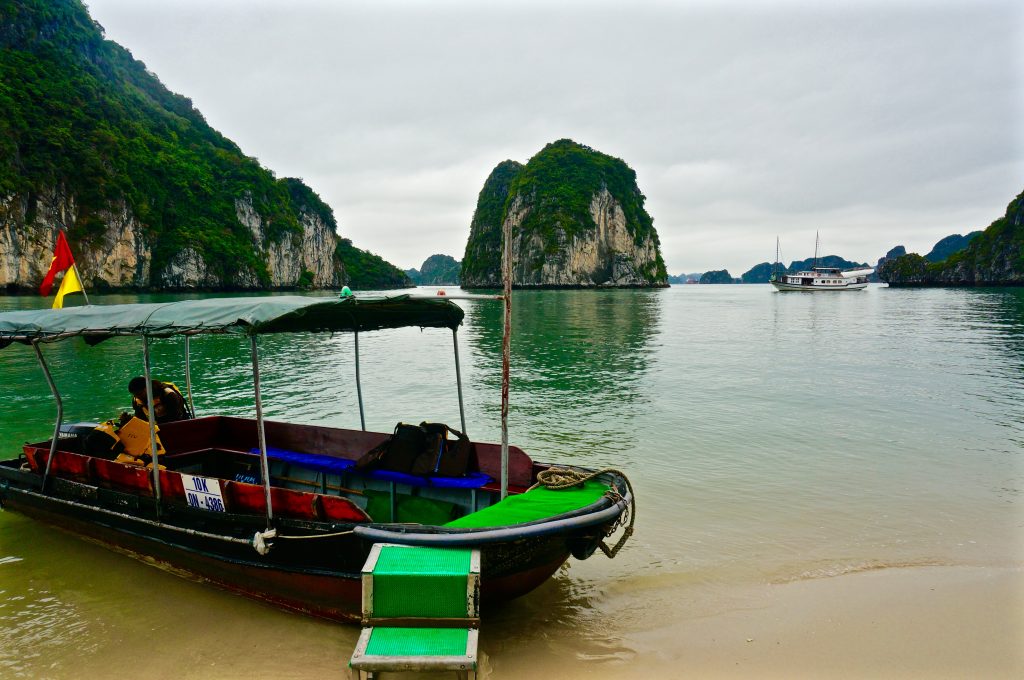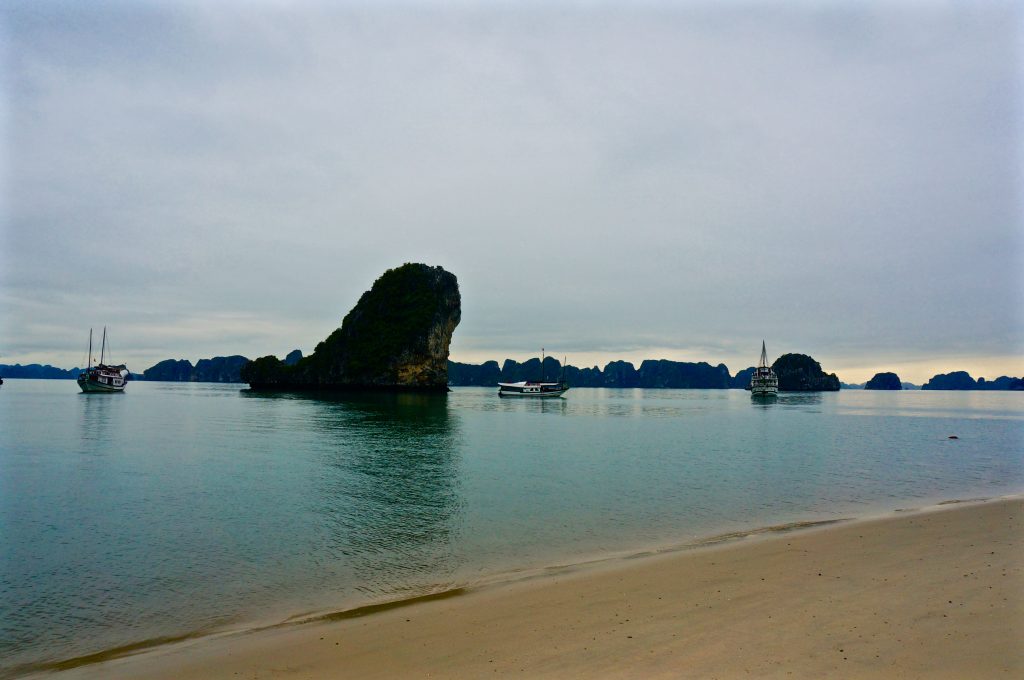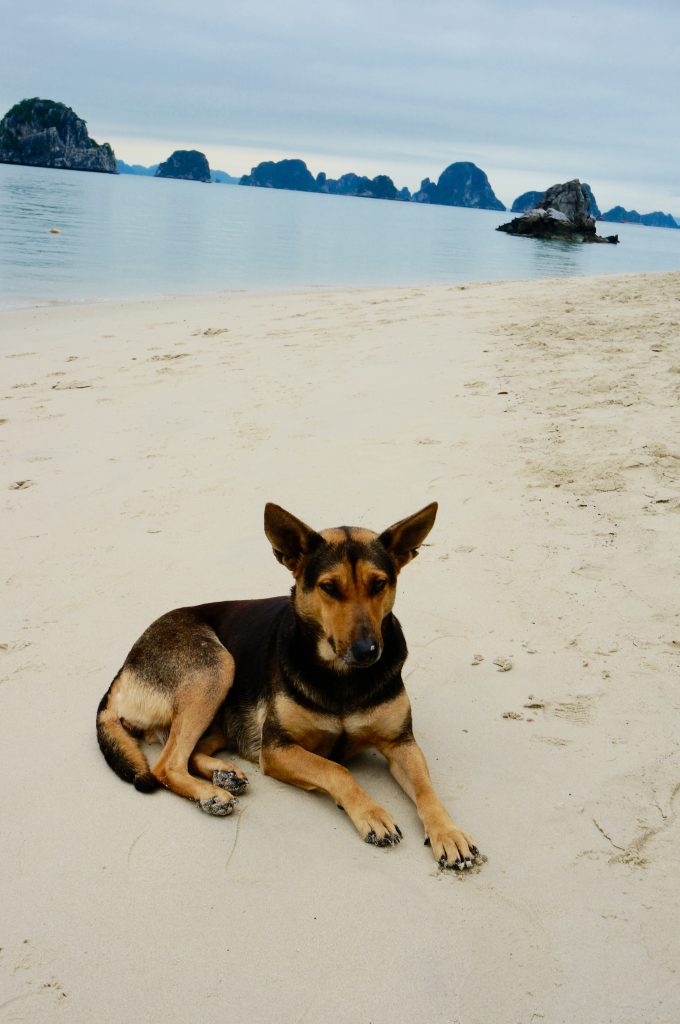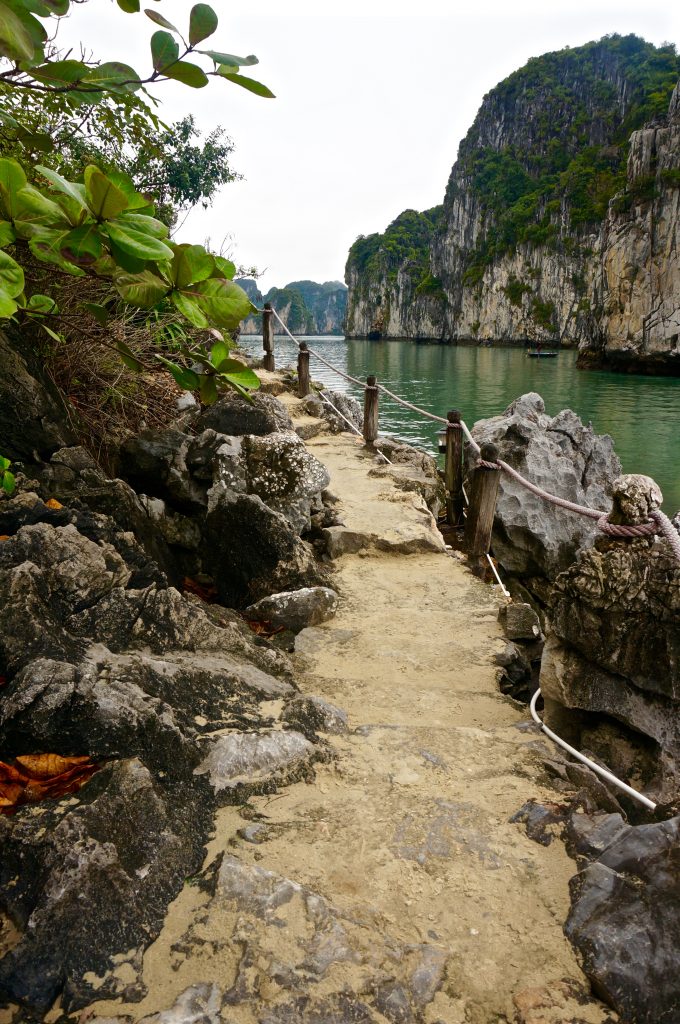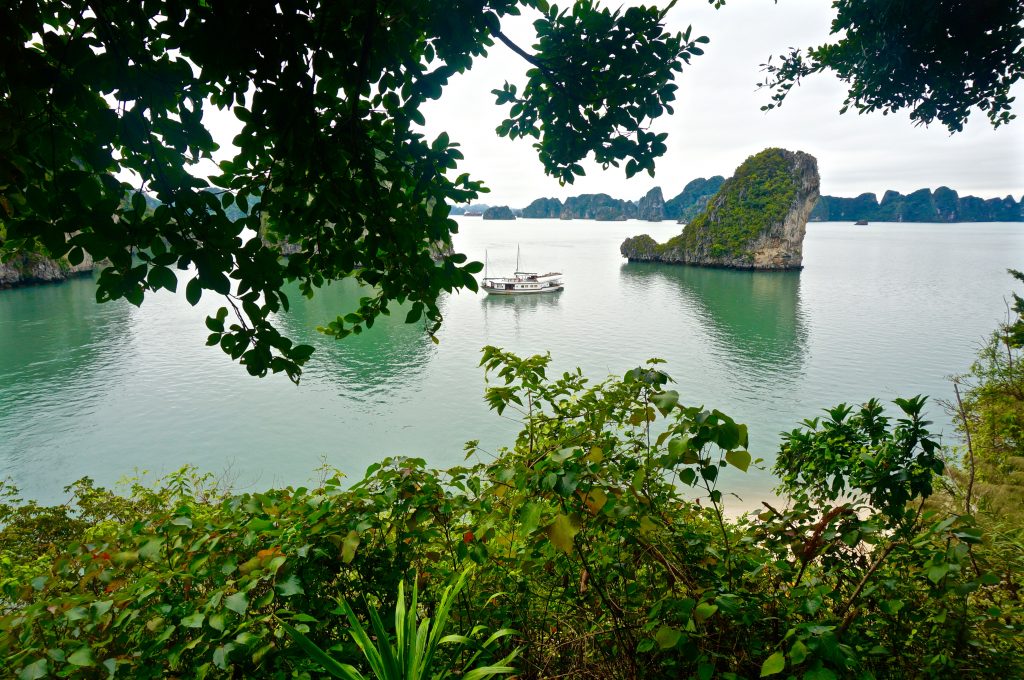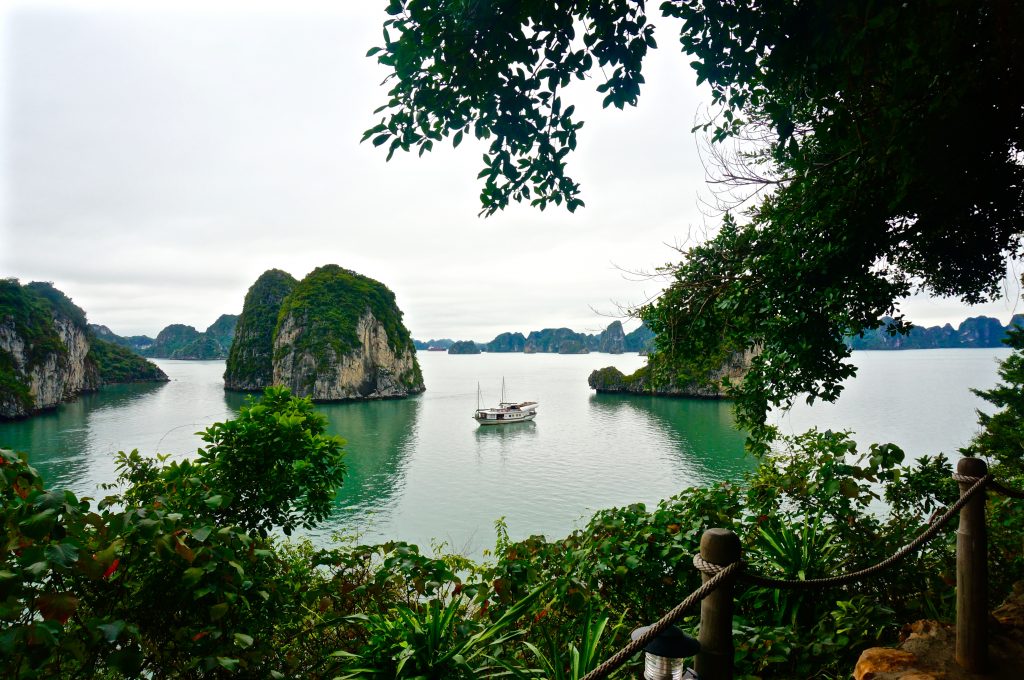 DINNER IN THE CAVE
En route to dinner you will cruise aboard your Junk and catch glimpses of the spectacular natural scenery of islands and water, as well as the floating fishing villages occupied by locals. Approaching the private island, we anchored at a secluded harbor to access the cave. We walked right up to the beach from shallow water where a friendly dog greeted us. From there, we climbed up a narrow pathway to the top of the gigantic rock structure. Along the steep pathway to the top, I snapped numerous photographs that captured the legendary emerald green waters and limestone structures. How cool are those photographs above? These images have all been shot through the eyes of yours truly, this lady.
Out of the corner of my eye, I noticed a glimmer shining through a narrow crack in the rock formation. As I looked closer through this small opening, I noticed a pathway of perfectly placed candles to help guide you inside the cave. The experience of following the candlelit pathway was enchanting. I slid my body through the narrow opening and followed the flickering candlelit path. As we made our way downward into the cave, small candles were placed throughout the hanging rocks and enclaves to create a romantic ambiance. In the middle of the cave, a gorgeous table was carefully prepared for a traditional Vietnamese meal.
The Captain of our Junk, along with his crew, uncorked a bottle of wine and gave a toast. With the wine generously flowing and candles burning strong, we indulged in delicious foods complimented by carved fruits and vegetables. The art of arranging and carving fruits and vegetables into beautiful artwork has existed for a long time in the spiritual and cultural life of Vietnamese people. The chef creatively carved a giant ripe melon to resemble a mini Junk Boat and used pineapples to bring to life dragons and birds on our dining table. A trip to Ha Long Bay is only complete with this once in a lifetime dining experience. Thank you to Indochina Junk for welcoming us aboard in Vietnam!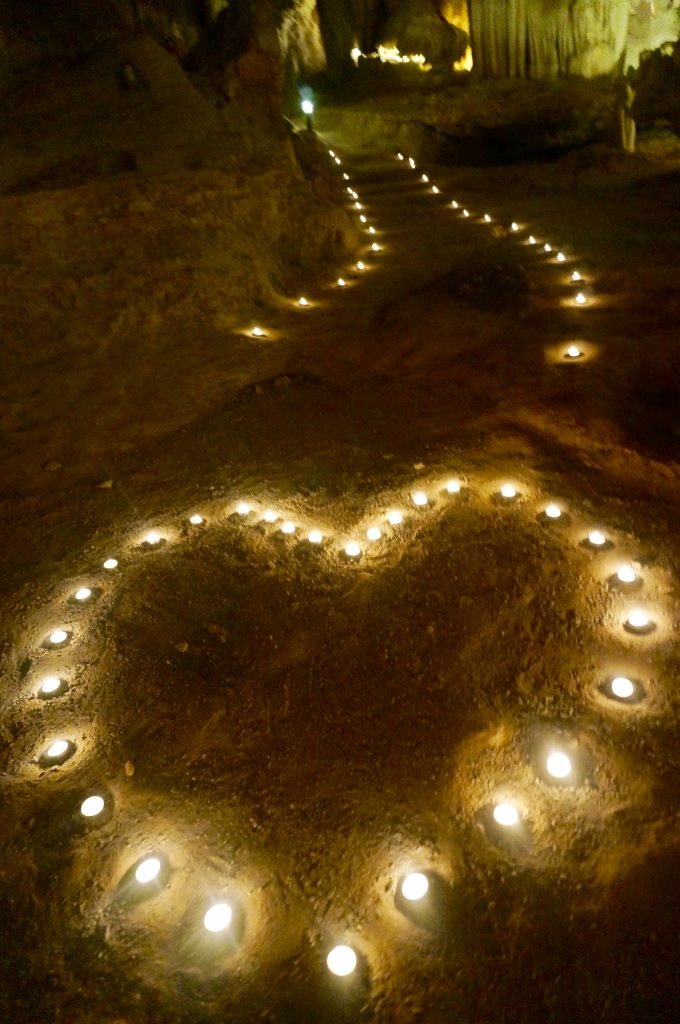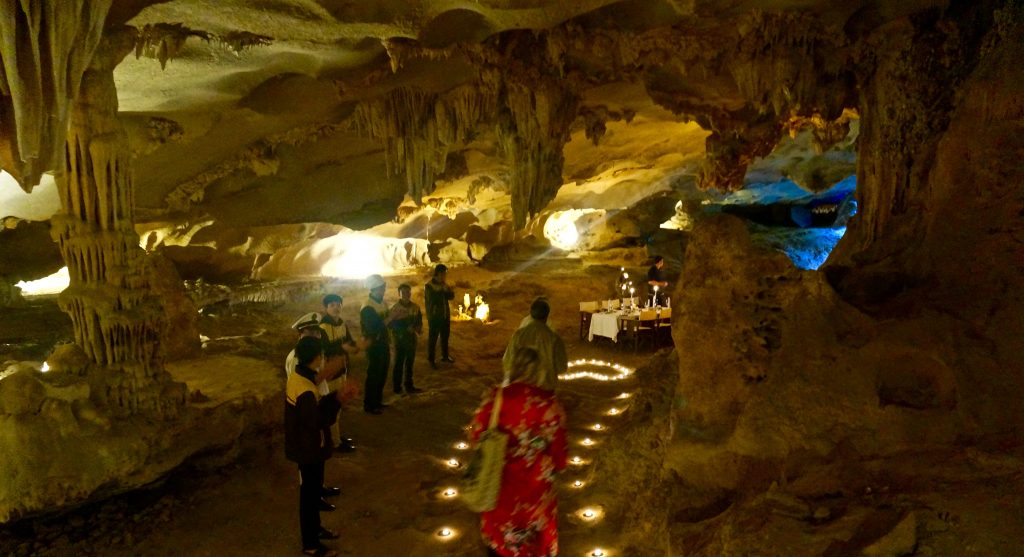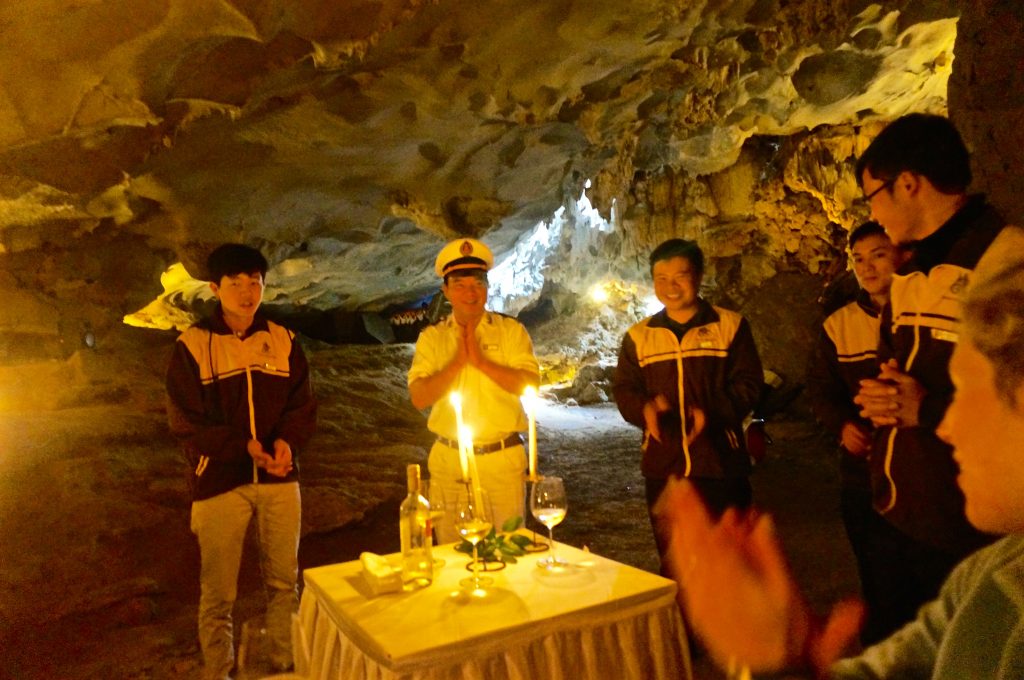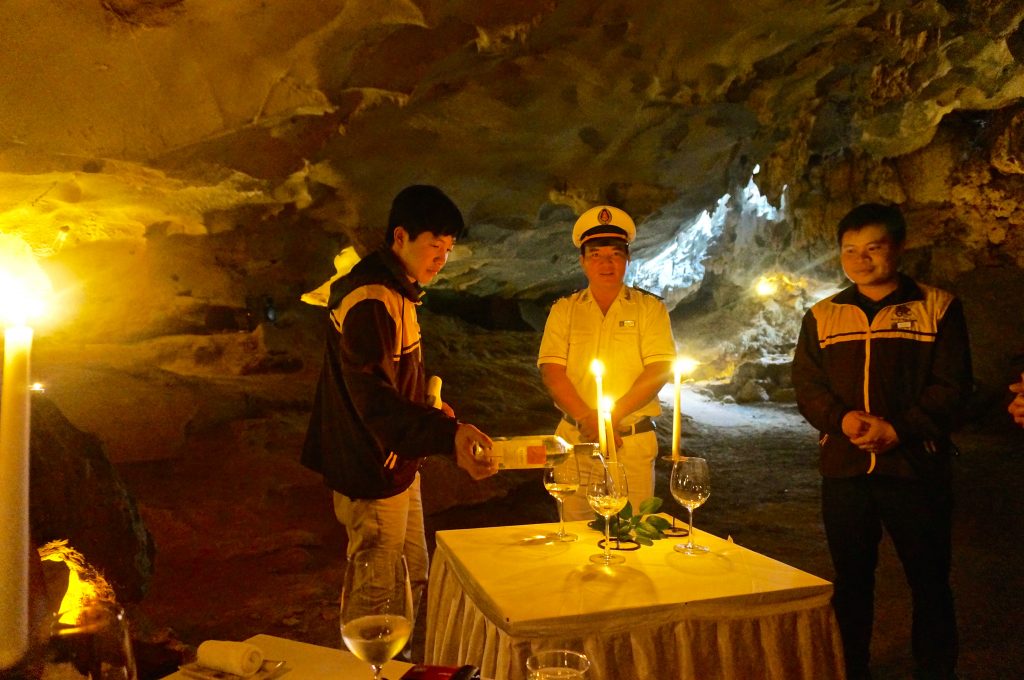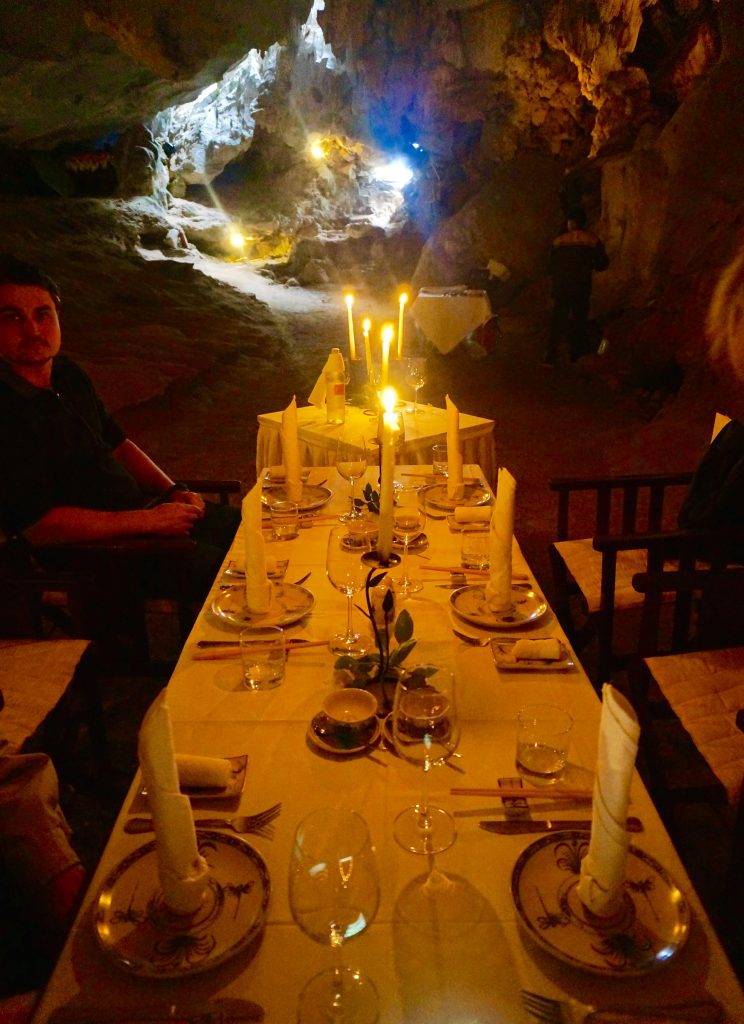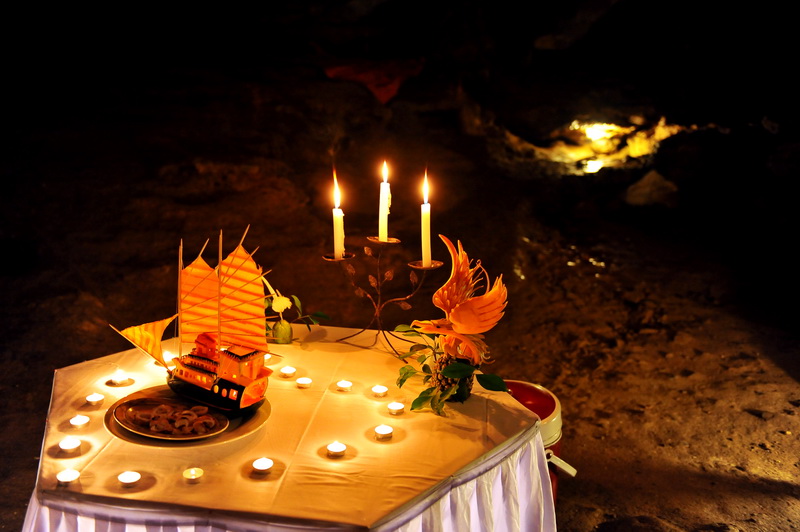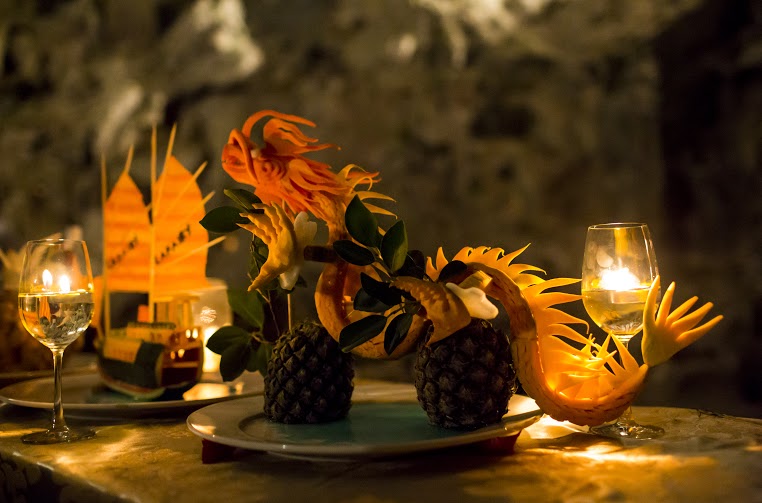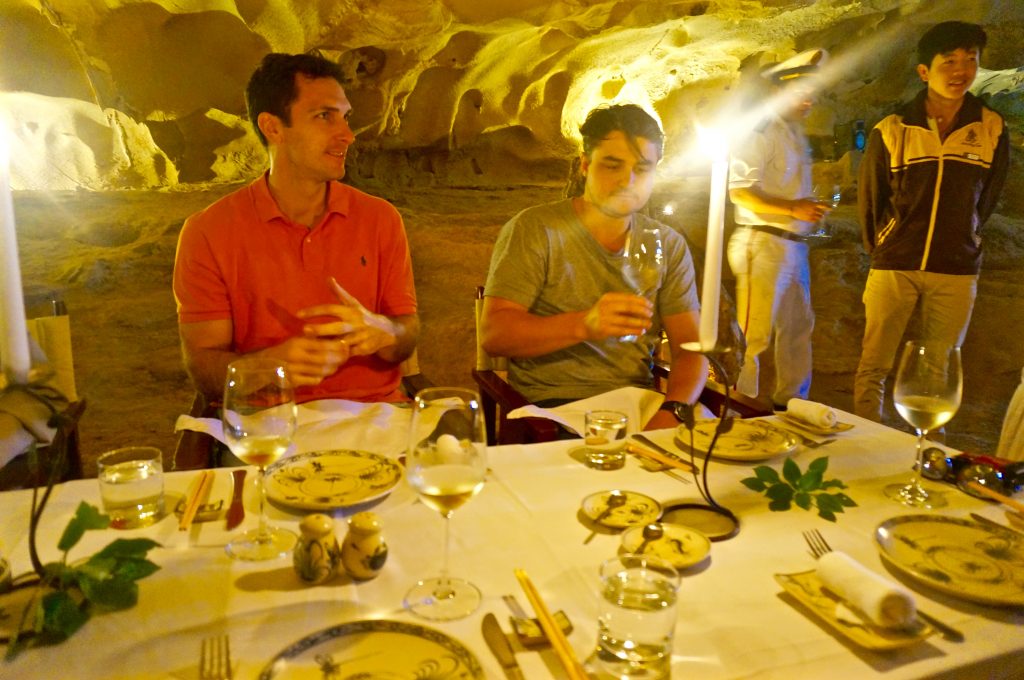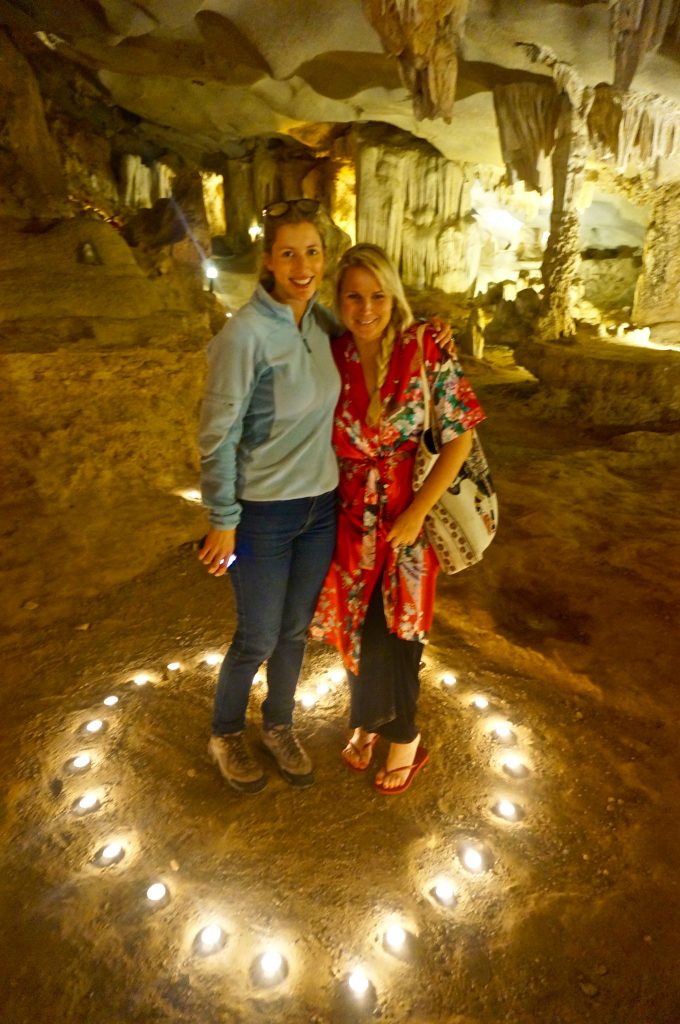 LADYHATTAN TIPS FOR HA LONG BAY:
Getting here: Fly to Hanoi, Vietnam.  The Indochina Junk Company will pick you up in a luxury van from your hotel. From there, it is an easy 3 hour drive out to the dock where you embark on your journey through Ha Long Bay.
Perfect Package: The dining in cave experience is included when you book the Dragon's Pearl Junk, 3 day 2 night trip.
Booking: Contact info@indochina-junk.com directly for the best booking and tell them Ladyhattan sent you to receive the most competitive rates.
Best Time to Go: There is never a bad time of year to visit Ha Long Bay. The spring/summer season is most popular, as the temperature is warmer and makes swimming easy. While the winter season is a bit cold and rainy, all you need is a comfortable sweatshirt for chillier nights and you will be fine.
Visa: American travelers will need a visa to enter the country. When booking a trip, plan in advance and give yourself time to apply for a visa, which can take a few weeks on average.